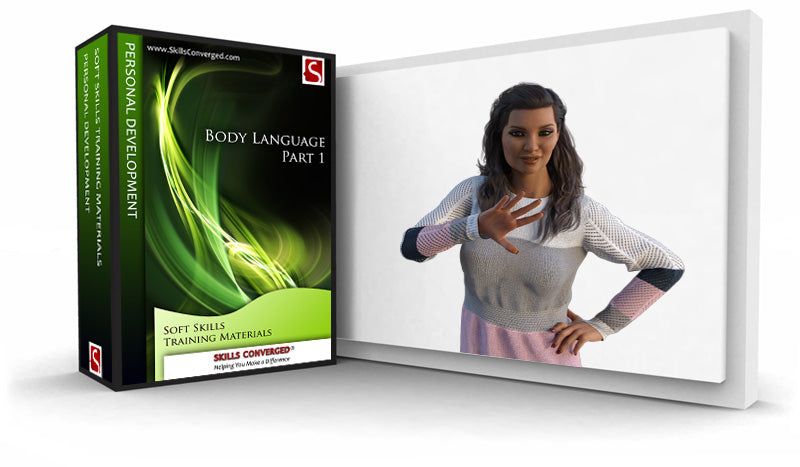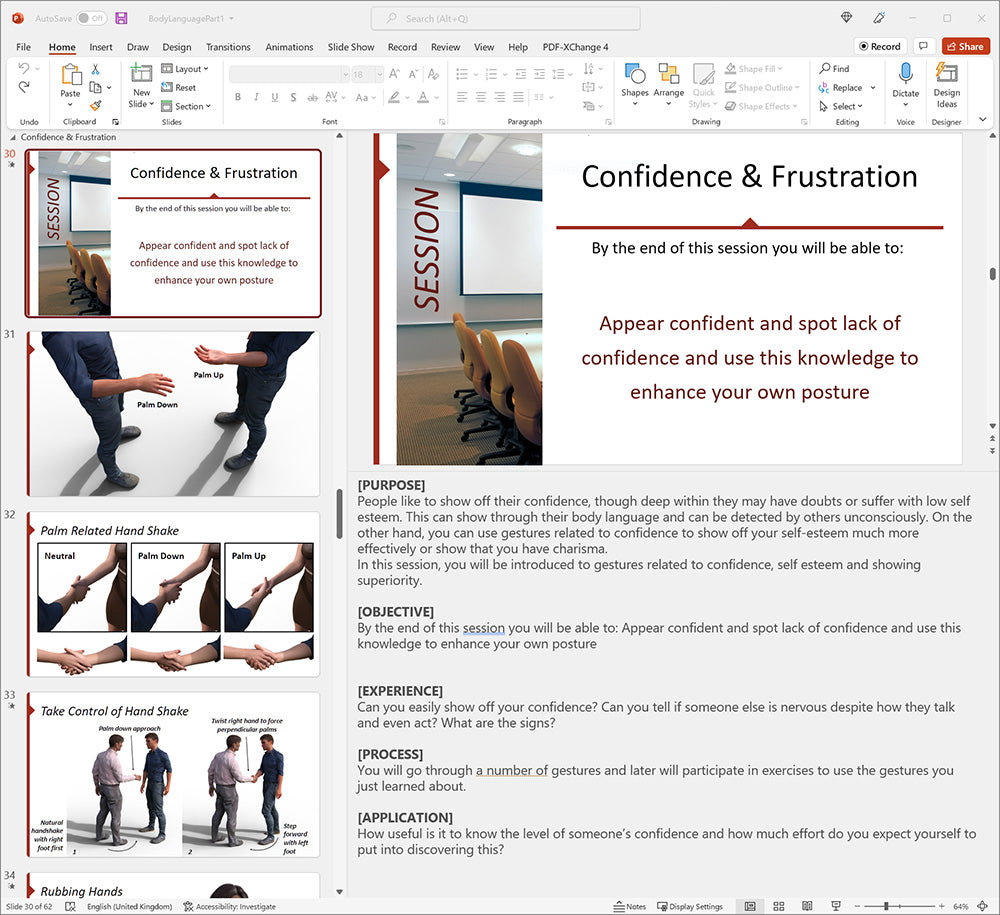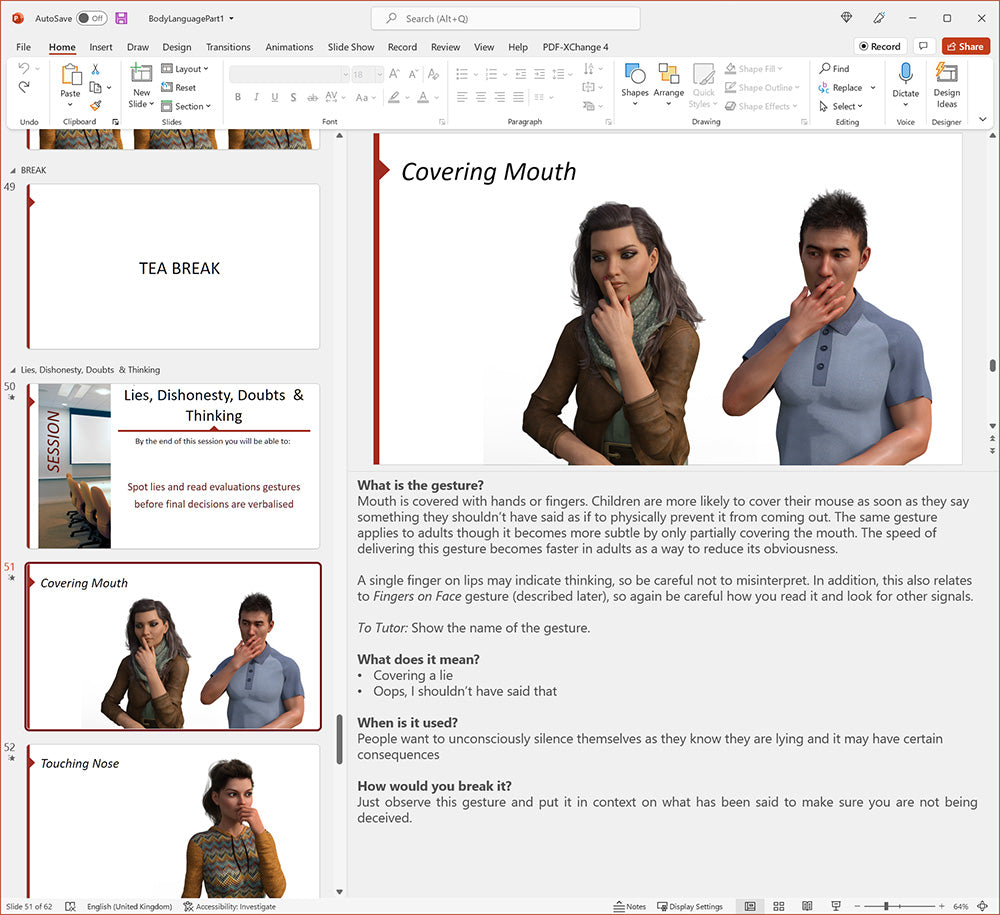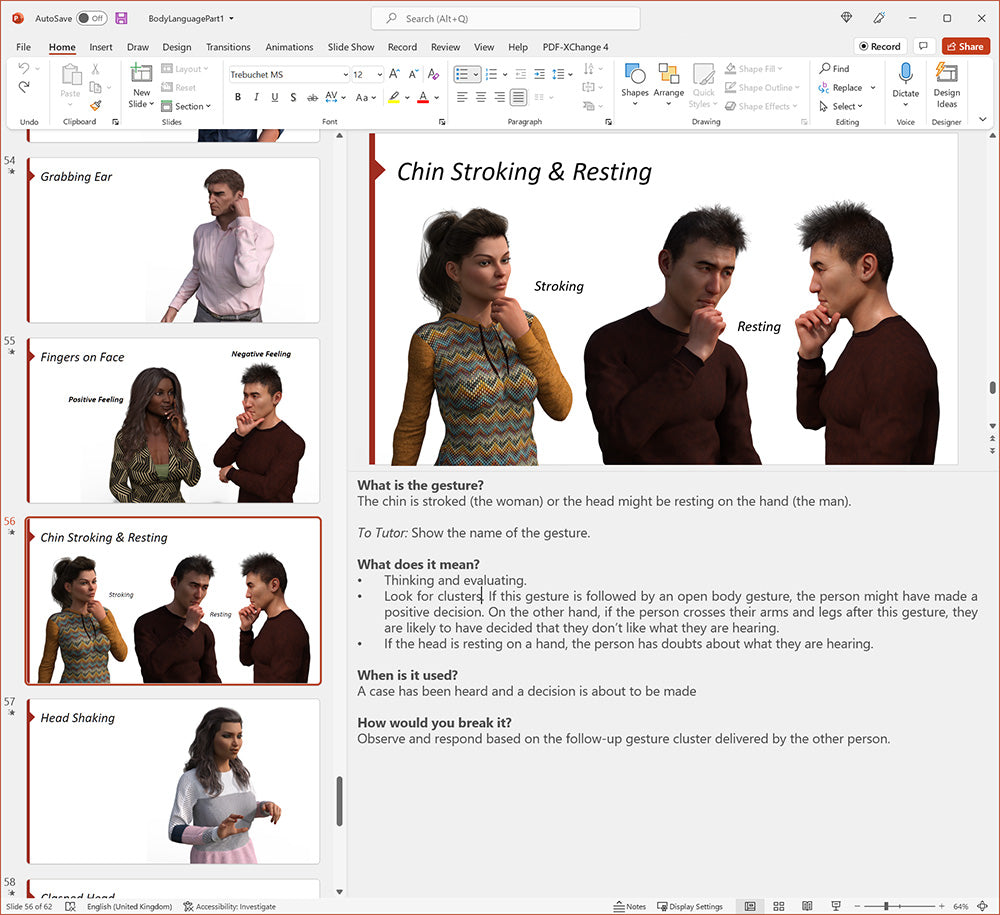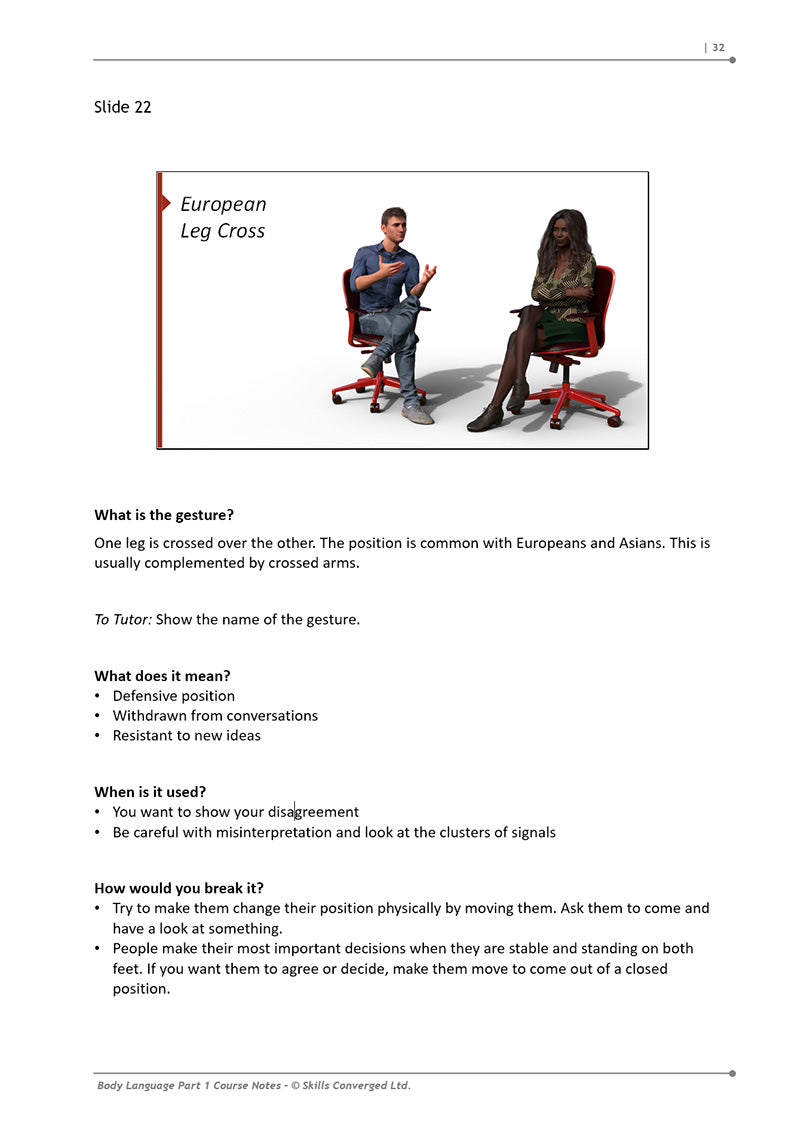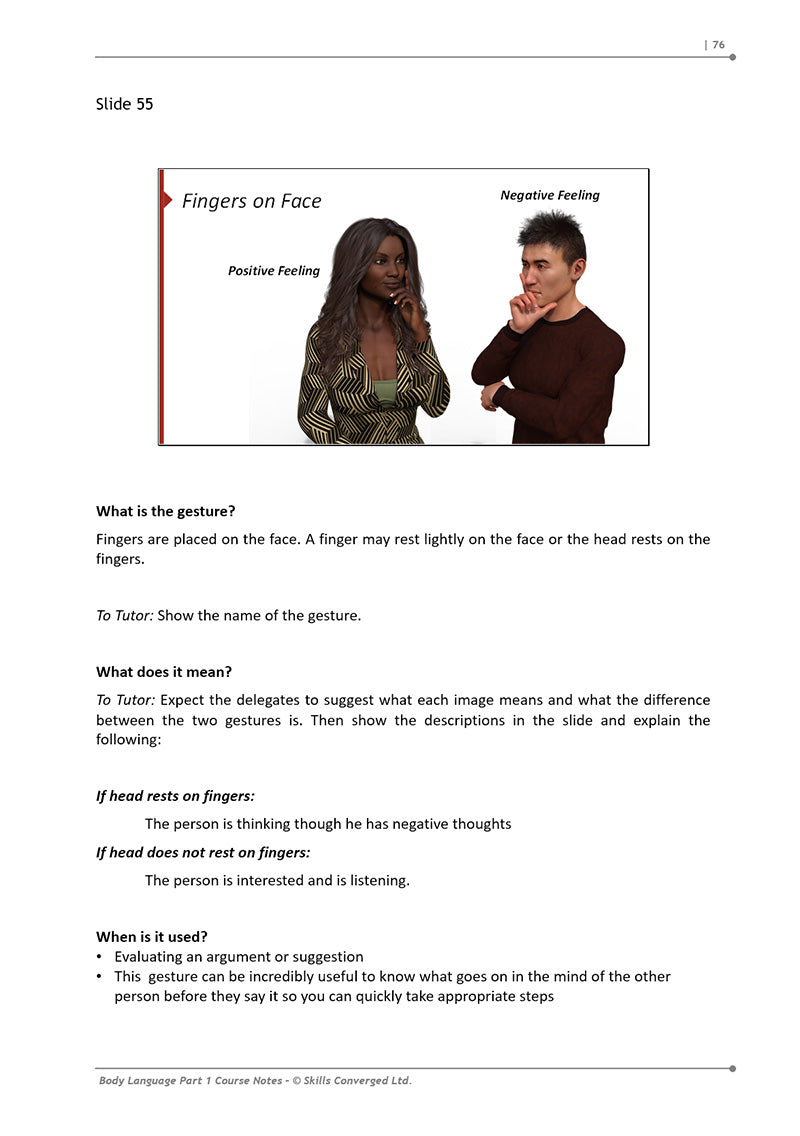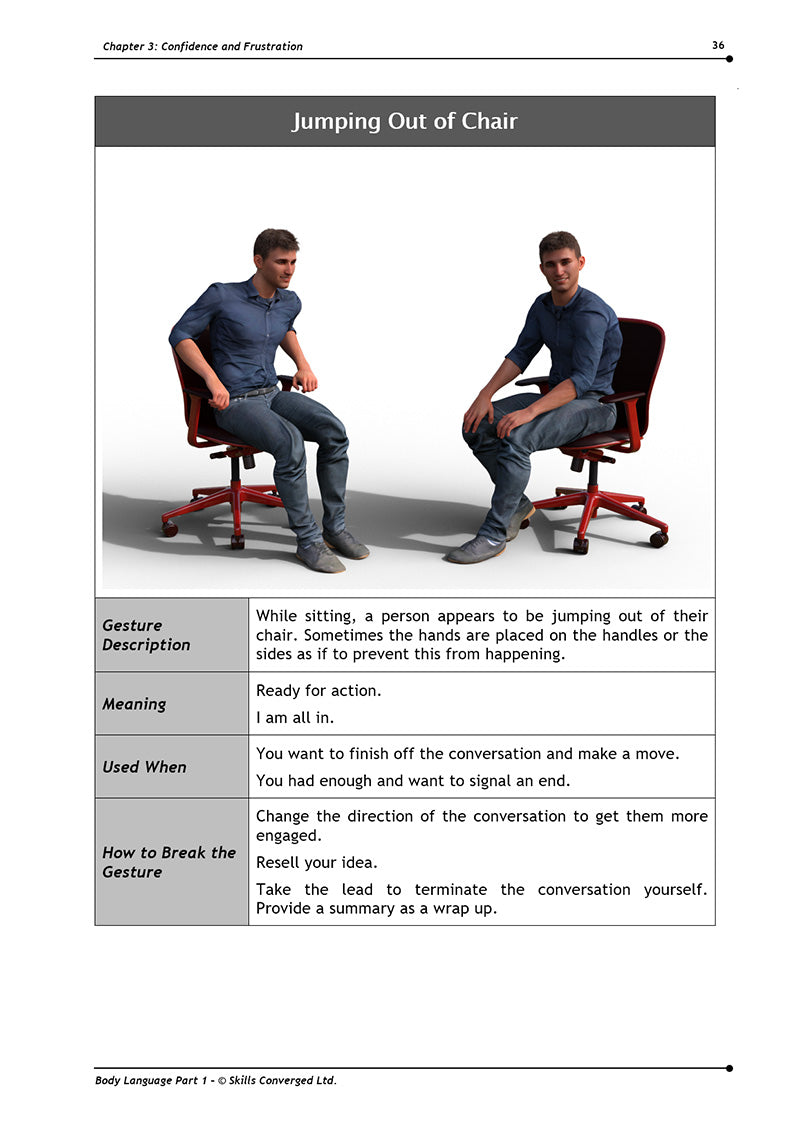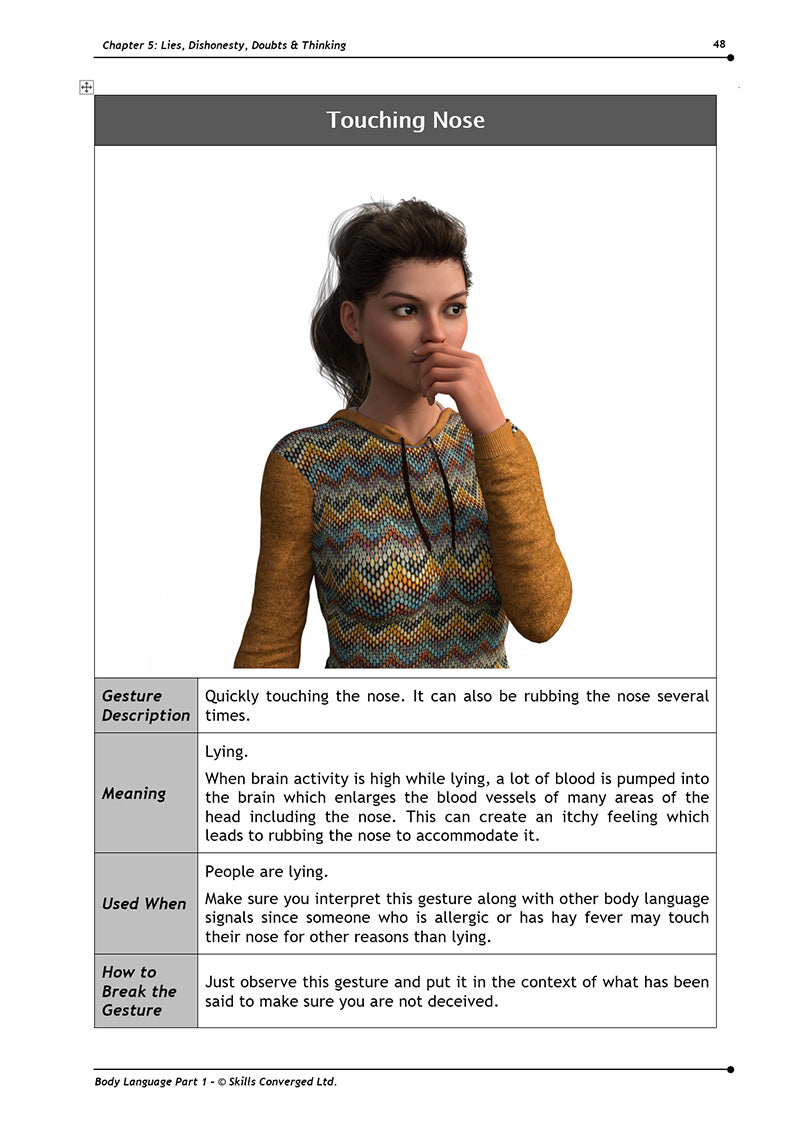 Body Language Part 1
---
---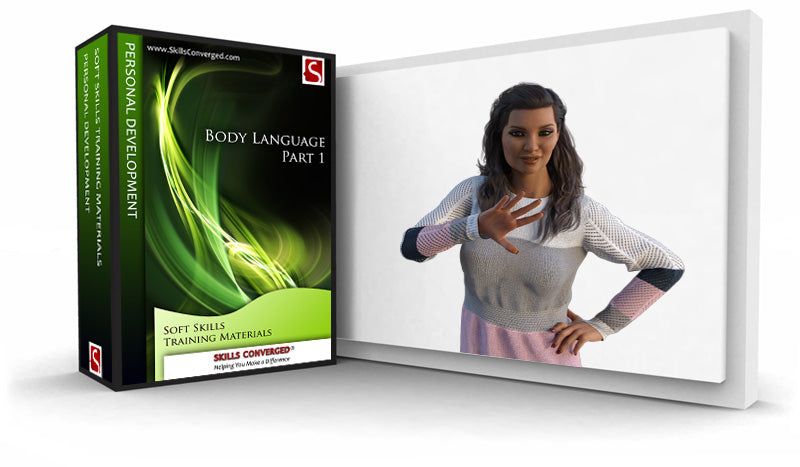 Course Includes Illustrated Examples on Body Language Postures and Gestures
Fully Customisable Training Course Material
Description
"The face is the mirror of the mind, and eyes without speaking confess the secrets of the heart."

St. Jerome quotes
Many studies show that we use body language extensively when we communicate, especially when we are in an emotional state. Since many of our achievements in life depend on how well we interact with others, it is quite critical to know how to communicate beyond using words.
Imagine how much you can gain if you knew how to read people just by observing their gestures, postures, body orientation, hands and facial expressions. Imagine if you could read their minds even if they have not said a single word. Knowledge of body language  can greatly help you with improving your relationship with people, whether professionally or in your personal life. Many times, a simple eye contact can make all the difference in gaining a person's trust and building rapport, leading to better communication.
Visual and Modular Design
There are many non-verbal signals to learn about such as hands, arms and legs placements, body orientation, gestures and other signals. Body language is highly visual and the best way to learn is by imitation, observing case studies and roleplays. As a result, this course is specifically designed in a modular way around examples or what we call 'Body Language Cards'.
To teach delegates, you simply need to show an image of a case or illustrate it yourself, discuss it with delegates, get them to practice it and then move on to the next case.
Integrate with Other Courses
Since body language is applicable to many soft skills courses, you can use the modular design to address body language in any of your courses. Simply pick the appropriate 'Body Language Cards' from this package and integrate them to your other courses such as conflict management, customer service skills, anger management and communication skills.
Comes with Body Language Images in 4K Resolution, Designed In-House, Ready to Integrate into any ILT or Online Courses
What Is New in Version 2.0
The training materials have gone under a major revision and update. Since the course is mainly visual, we wanted to make sure you get the best and most expressive artwork. You can easily integrate these artworks in your courses when you want to teach body language. 
The updates are as follows: 
In-house design. All artwork has been internally designed for the purpose of this course and rendered in 3D with great attention to posing, drapery, lighting and finished quality. 
Includes PNG images. The artwork is provided in the workbook and the slides as usual, but we have also included them as separate files in the package. So now you have all the images in PNG, with alpha transparency for background. Please see licensing and extended rights below to see how you can use these images. 
4K resolution. Images in the workbook can be printed with a minimum resolution of 300 DPI. Each course in the series contains in excess of 50 images.
Updated text and cases. All text has been reviewed and cases have been updated or added to make the course consistent within the Body Language Series. 
Updated layout. The workbook layout has been updated to make it easier to use or edit if you want to add your own content. 
Stylish slides. The slides have all been updated to reflect the new artwork and to make them look stylish. 
There is an introduction to body language included in Part 1 which is now present only in this product. Bear in mind that if you are teaching other parts of the series, you still have to go through an introduction of some kind for your delegates. For example, you can use the intro included in Part 1 so that they know how to interpret body language correctly and not make conclusions based on a single signal. 
Each body language example is illustrated with stylish 3D graphics showing exactly how it works in practice
Royalty Free
Body language images are provided royalty-free. You can use and print them as many times as you want for the workbooks that you distribute to your delegates.
Standard License with Extended Rights
In addition to the standard license for our editable training materials, we also offer extended rights for this course and the images provided in the package. You can:
Use the training materials and images in online courses and e-learning solutions.
Use the images for marketing, including online, email and printed marketing, digital documents, or software.
Please see our terms & conditions for specific details on allowed use cases and exclusions.  
Stock Images for E-learning Solutions
You can use the PNG images provided as well as the content of this course for custom made e-learning and online training course solutions.
In this highly practical course delegates will learn:
What body language is all about
Universal gestures
How to read body language
How to avoid misinterpretation and deliberate faking
Positive versus negative body language
Confidence and frustration
Eye contacts and eye cues
Lies, dishonesty, doubts and thinking
Many elaborate topics are covered. Examples are:
What is the difference between showing the back of your hand or your palm?
How would you respond to a dominant handshaker who wants to show they are in charge?
How would you know if someone is nervous even if they display signals that are signs of confidence?
Where to look at in someone else's face to appear trustworthy or to be taken seriously?
How can you spot liars based on their gestures?
How would you know what someone has decided before they state it?
How would you know if someone is not convinced, despite showing that they are still thinking about your argument?
This course is continued with Body Language Part 2 which contains more advanced gestures and postures provided in the same format.
Our digital staff having a discussion between the takes for the Body Language Series
(Some seem to have stayed in character!)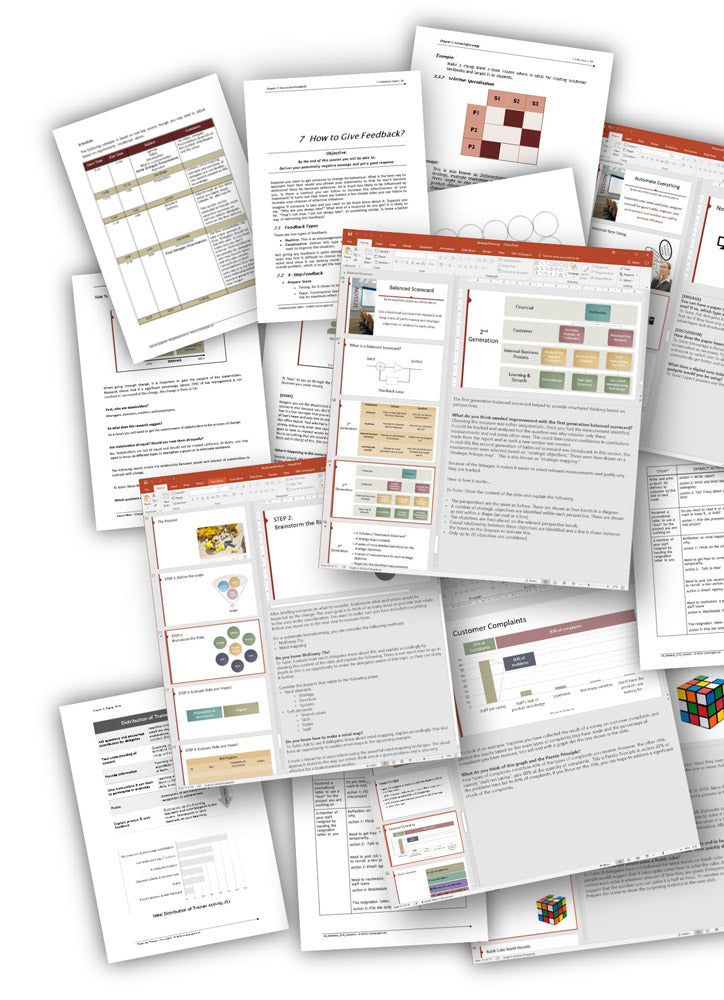 What Is Included
Everything you need to run the course:
Slides
Workbook
Exercises
Handouts
Trainer Notes
Specific Course Guidelines
Agenda
Guidelines on Training Methodology
Course Outline
Recommended Readings
Feedback Forms
Certificate of Achievement
Course Objectives
By the end of this course delegates will be able to:
Courseware Features
Buy & Download Training Materials
Choose your training materials
Add to shopping cart
Get multiple courses to get discounts and create tailored training
Pay using all major debit / credit cards, PayPal, Apple Pay and Google Pay.
After payment processing, you are redirected to a download page
You will also receive emails with download links
Unzip the package and access all the training resources in MS Office format
How to Get Training Packages
Editting
You can customise, edit and modify the content as you desire
Rights
Unlimited workbook reprinting rights
Comprehensive
The downloadable training package contains all you need to deliver a course
Extensively Researched
Designed based on the latest research in educational psychology, cognitive psychology, social sciences and business practices
Facilitation Training
Designed in line with the principles of accelerated learning

Interactive
Designed to include many examples, case studies and exercises to improve learning and retention
Download
Order online and download immediately after purchase
Source Files
Receive editable source files in MS Office 365 (Word DOC/DOCX and Power Point PPT/PPTX) and previous Office versions 2003, 2007, 2010, 2013 & 2016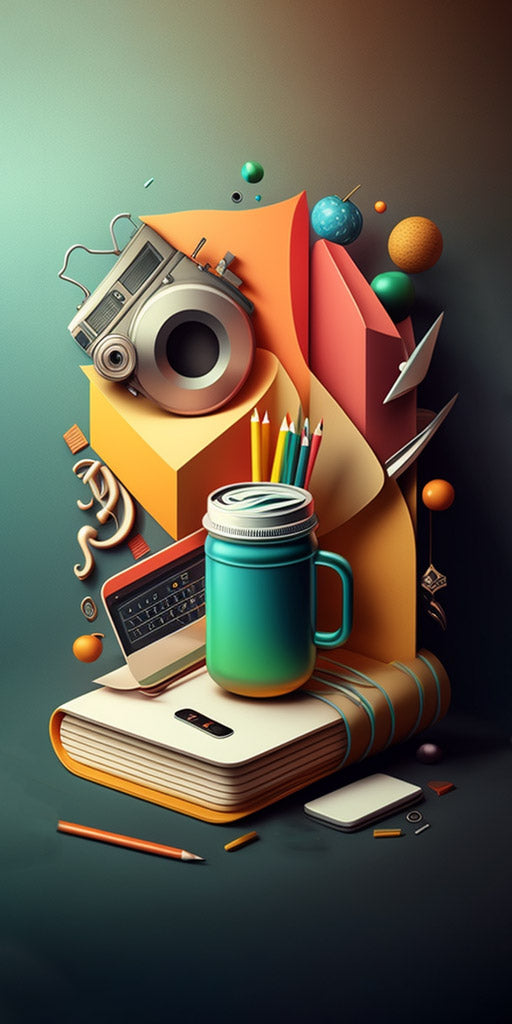 About the Design Philosophy of Body Language Part 1 Course
100+ Countries
Used by Trainers Worldwide
Our mission is to help you deliver memorable courses with long lasting results, while taking the least amount of effort and time to run.
Save Time & Boost Training
Skills Converged is a unique company that provides professionally designed fully-customisable training course materials based on the latest research in learning & development. Courses are designed with attention to detail both on content and style so that you can deliver unique state-of-the-art courses to your clients and get maximum results.
For Trainers
Use ready-made modular courseware, tailor to your audience, respond to market quickly & effortlessly
For People Developers
Increase HR efficiency and save by supplying consistent professionally designed training materials to your trainers and help employees reach full potential