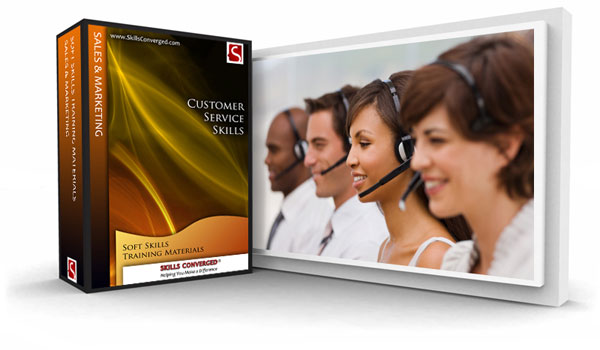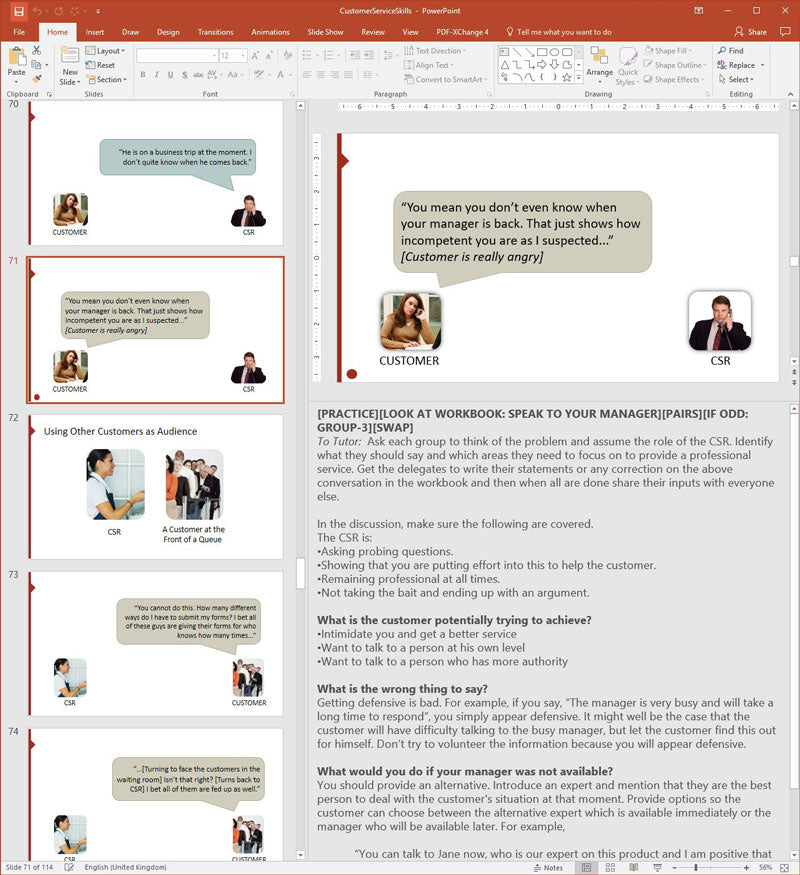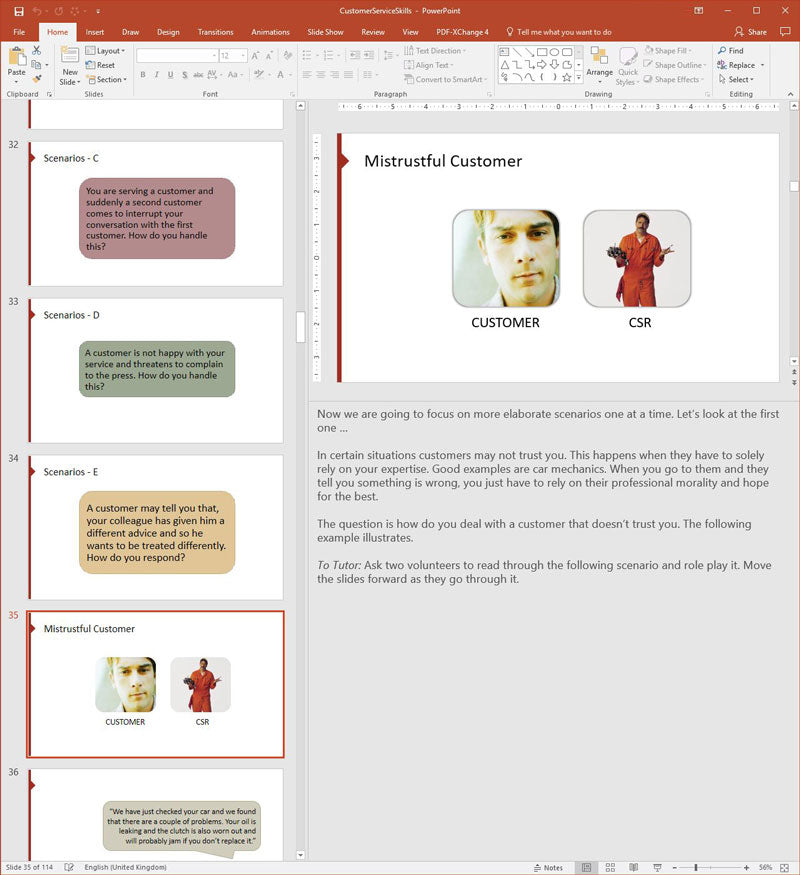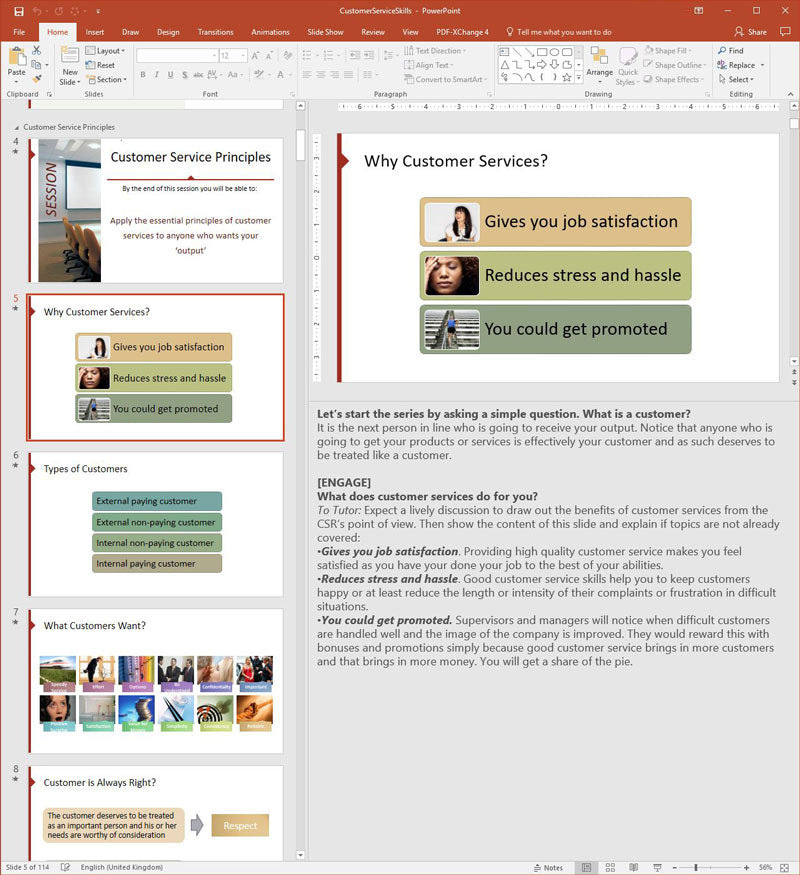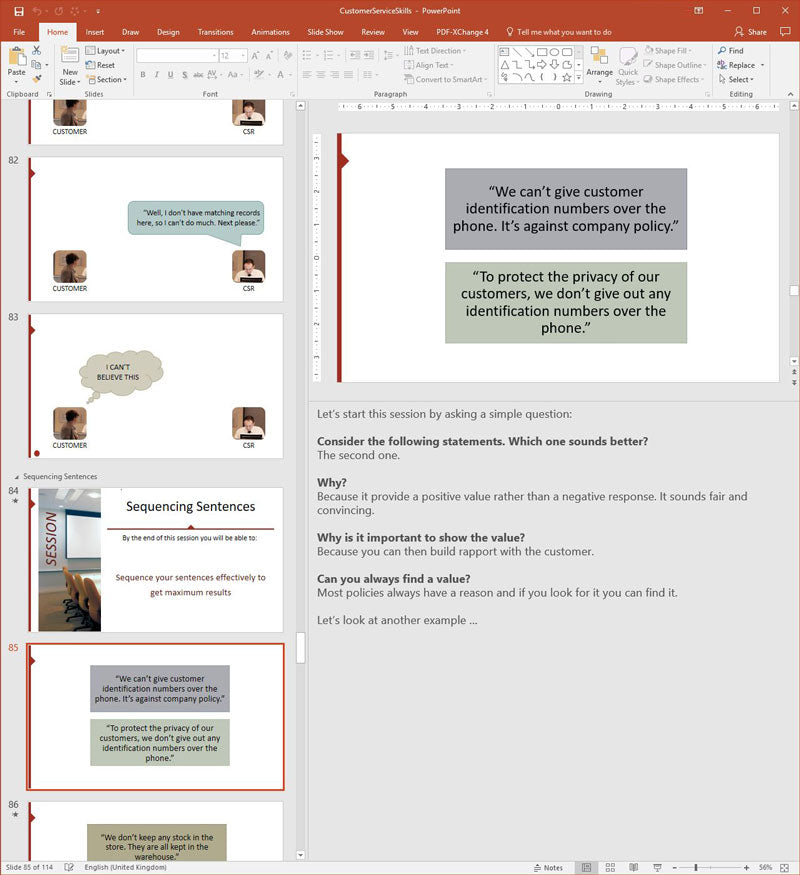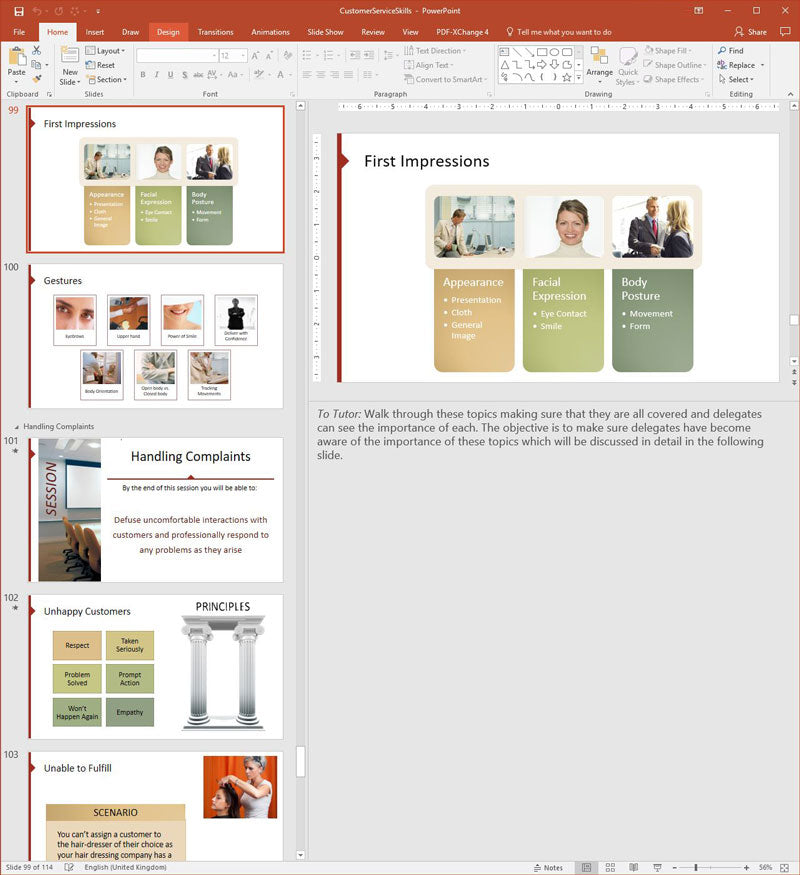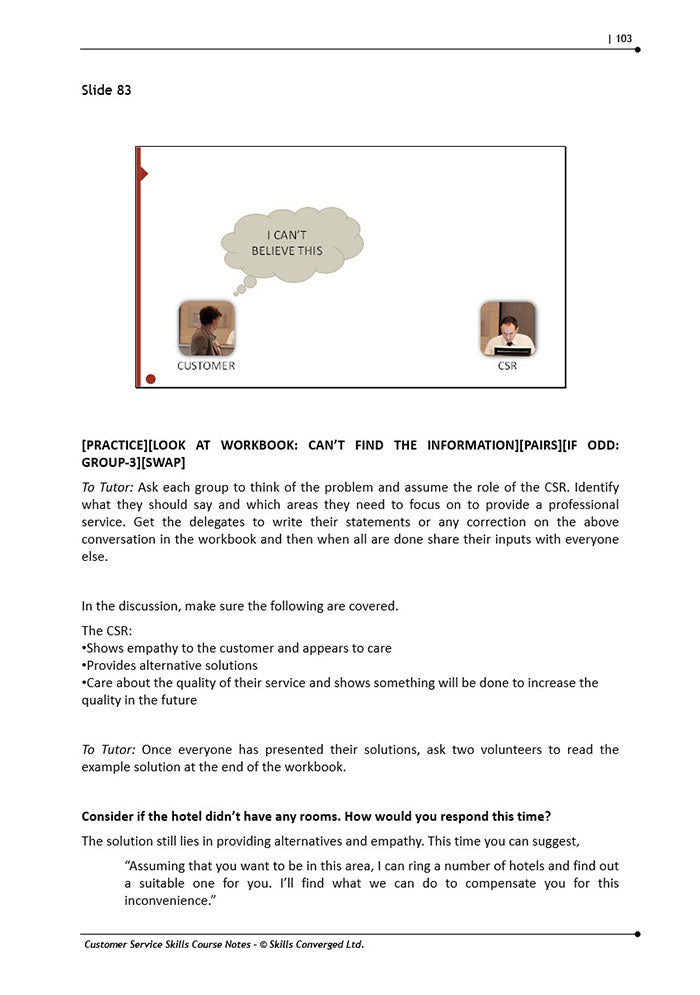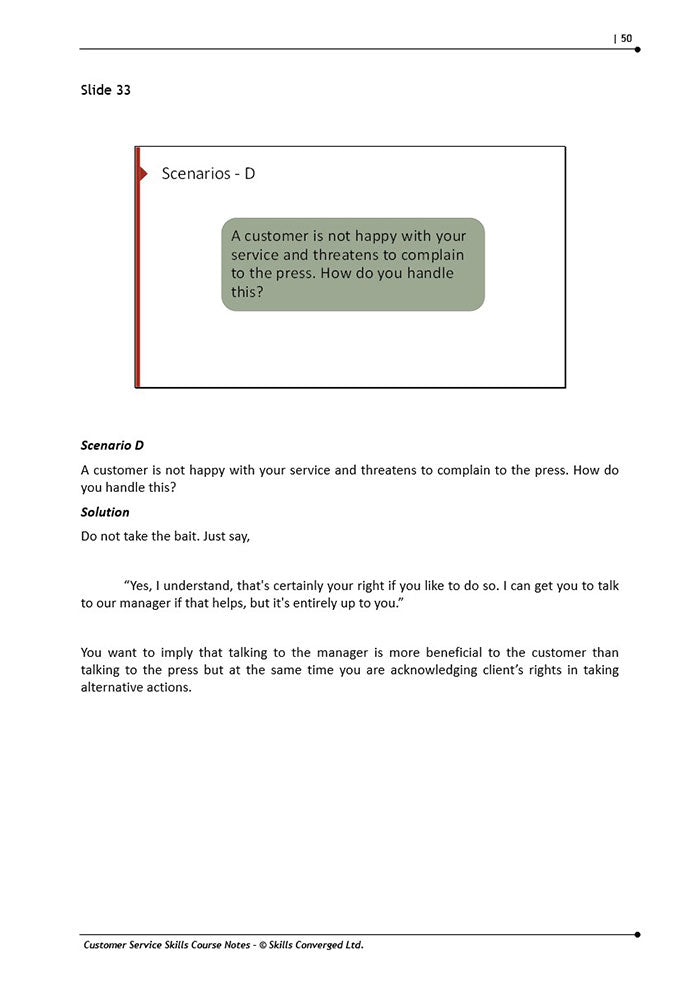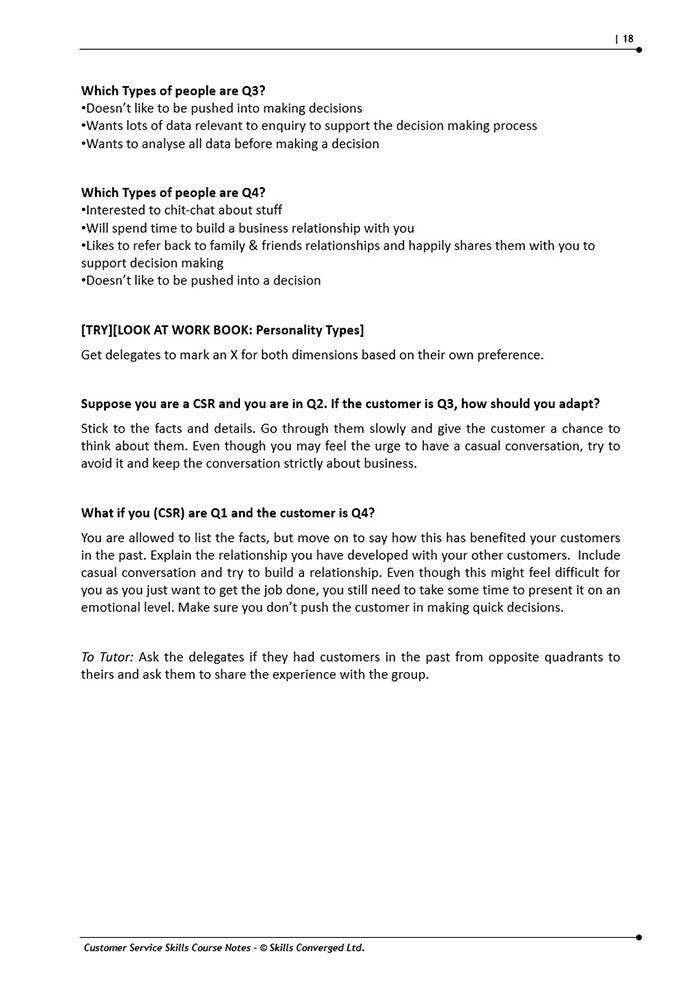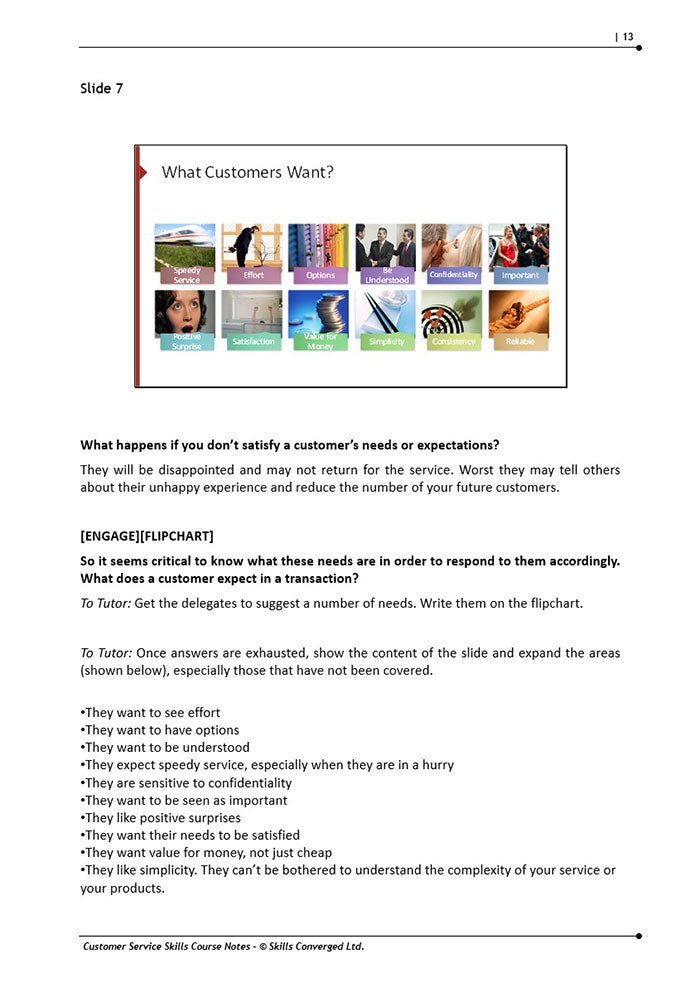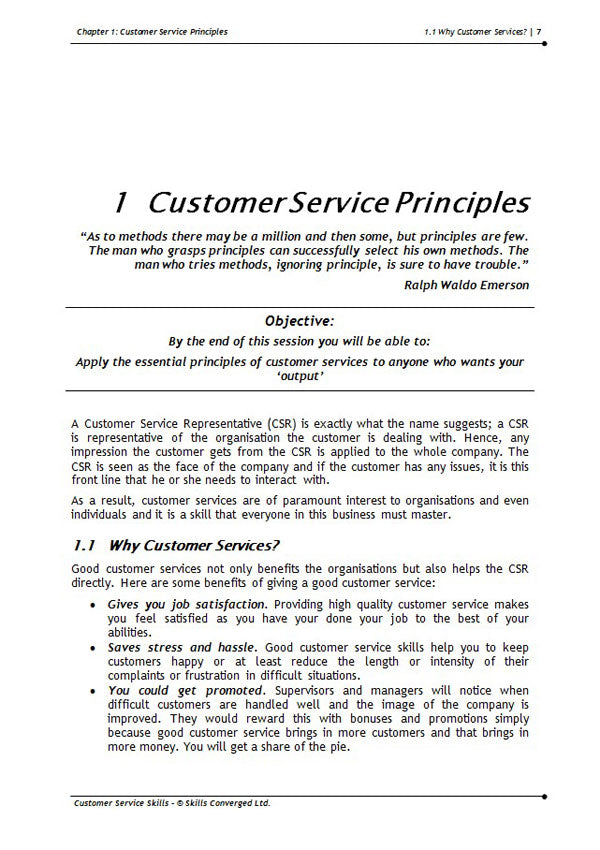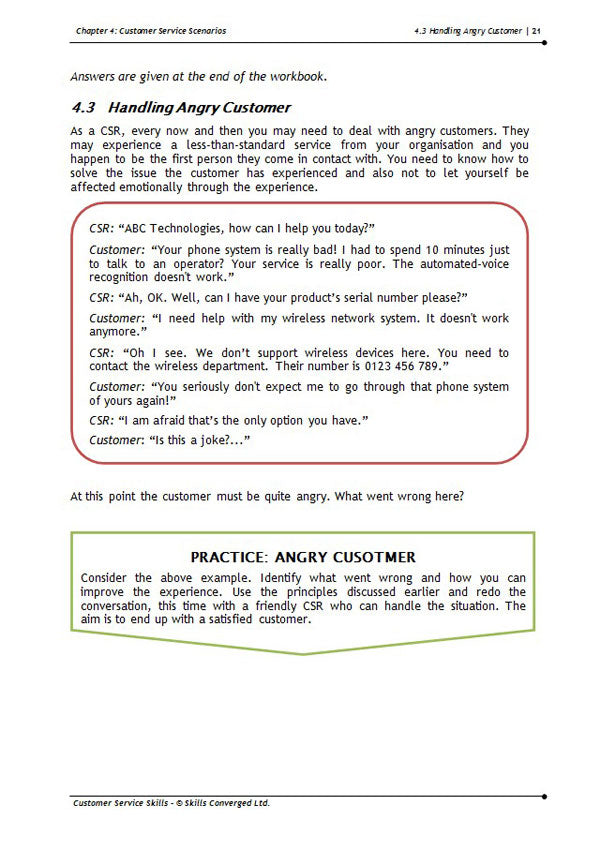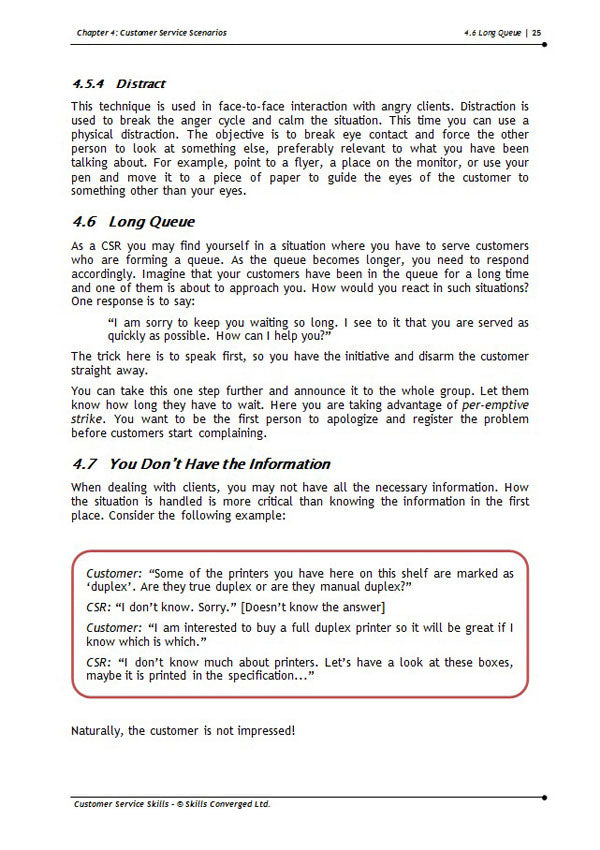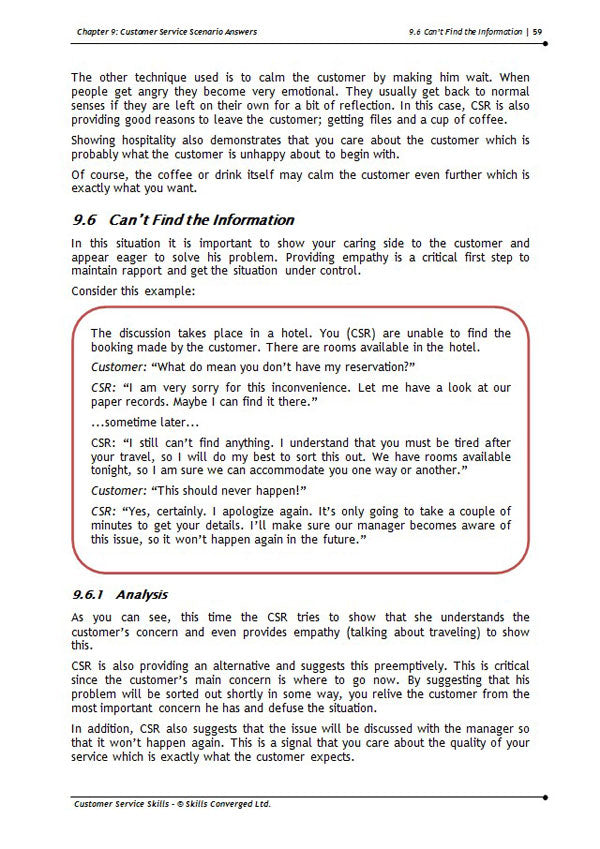 Customer Service Skills
---
---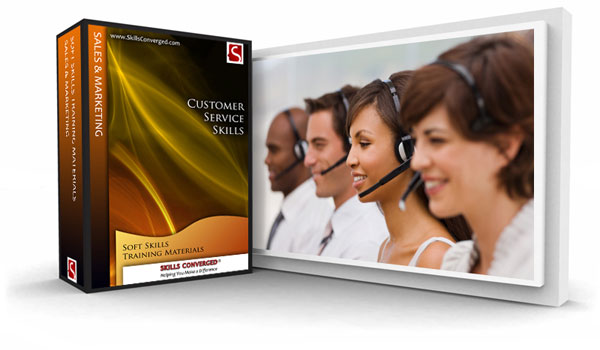 Course Covering Principles of Outstanding Customer Service and Includes Many Customer Care Scenarios and Role Plays
Fully Customisable Training Course Material
Description
"As to methods there may be a million and then some, but principles are few. The man who grasps principles can successfully select his own methods. The man who tries methods, ignoring principle, is sure to have trouble."

Ralph Waldo Emerson
Every time you offer your service or products to another person, you become a customer service representative and that person is now your customer. Anyone involved in business or organisation therefore needs to know the principals of effective customer service skills. Knowing how to deal with customers in difficult situations, how to response to their requests or concerns or simply providing a positive and memorable experience for your clients helps you and your company to rise above the competition. Customer service is a skill which can be learned and mastered through practice and persistence.
This course introduces delegates to the core principles of customer services. By employing these values and adopting the correct attitude, delegates will be able to handle the vast majority of customer interactions with ease no matter how unusual or complicated they are.
The focus of the course is to teach handling customer service scenarios through a variety of examples as this is the quickest way that delegates learn. Examples are provided for many environments such as retail, face-to-face customer service, help-desk, client meetings, call centre support, medical support and so on. Delegates also explore a number of methods to handle customer complaints, learn how to say 'no' and discover how to tackle different challenges professionally.
Contains many case studies and customer facing scenarios addressing common communication problems.
In addition, related communication skills are also covered. Topics such as body language, correctly structuring sentences for maximum effect and communicating on the phone are discussed and best practices are shown.
In this highly practical course delegates will learn:
Customer Service Principles
What are the fundamentals of customer service principles?
How to interact with different types of customers and different personalities
What customers want and how to satisfy them?
Questioning Techniques
How to encourage a customer to give you more information by using correct questioning techniques
How to use leading questions
How to sequence your sentences for maximum effect
Emotional Intelligence
How to empathise with customers and maintain rapport
How to show you understand the customer and care about their problems
Customer Service Scenarios
What does it mean to handle a customer professionally?
What are the common challenging customer service scenarios and how to handle them?

How to handle angry customers
How to handle swearing customers
How to handle mistrustful customers
How to handle demanding customers
How to handle a developing long queue
Handling Complaints
How to handle complaints
What are the principles of handling unhappy customers?
How to deliver a "Soft No"
Telephone Skills
How to handle phone calls
How to put a customer on hold
How to refer a customer to a colleague
How to end a phone call
Body Language
What body language signals are most critical for a great first impression?
What gestures put customers at ease and let you establish rapport with them?
How to spot the lies through body language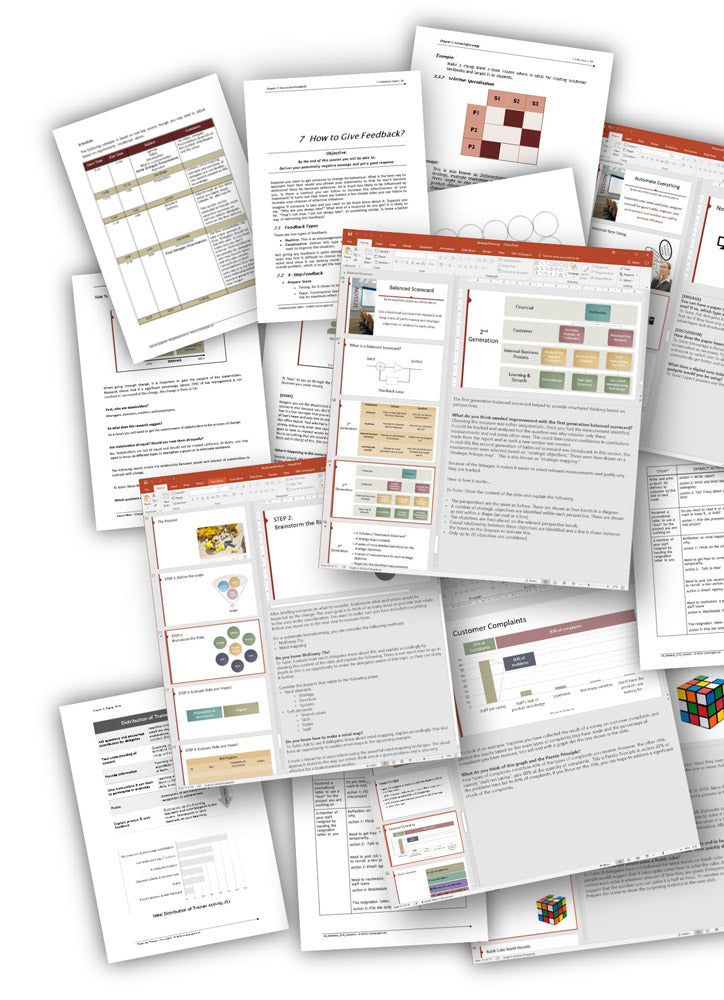 What Is Included
Everything you need to run the course:
Slides
Workbook
Exercises
Handouts
Trainer Notes
Specific Course Guidelines
Agenda
Guidelines on Training Methodology
Course Outline
Recommended Readings
Feedback Forms
Certificate of Achievement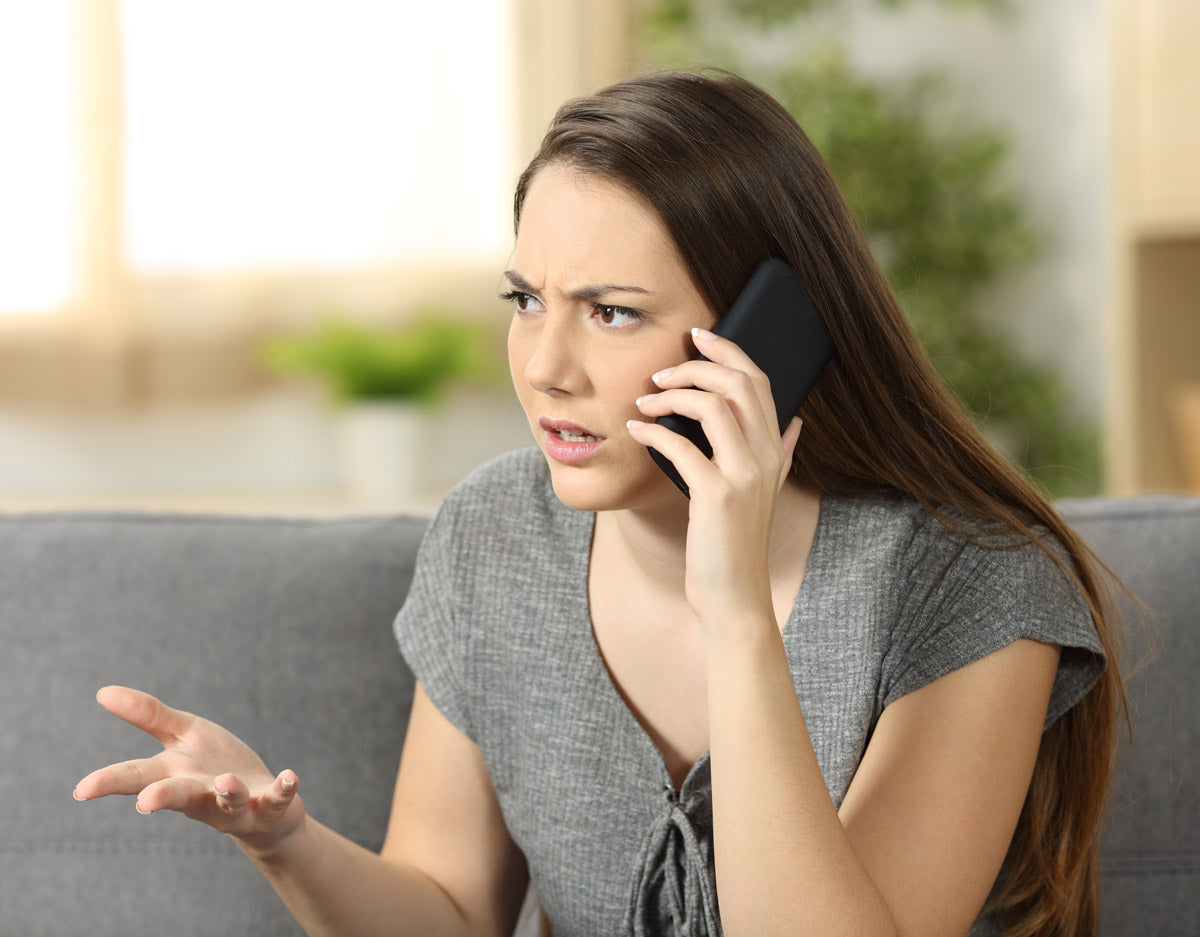 Course Objectives
By the end of this course delegates will be able to:
Courseware Features
Buy & Download Training Materials
Choose your training materials
Add to shopping cart
Get multiple courses to get discounts and create tailored training
Pay using all major debit / credit cards, PayPal, Apple Pay and Google Pay.
After payment processing, you are redirected to a download page
You will also receive emails with download links
Unzip the package and access all the training resources in MS Office format
How to Get Training Packages
Editting
You can customise, edit and modify the content as you desire
Rights
Unlimited workbook reprinting rights
Comprehensive
The downloadable training package contains all you need to deliver a course
Extensively Researched
Designed based on the latest research in educational psychology, cognitive psychology, social sciences and business practices
Facilitation Training
Designed in line with the principles of accelerated learning

Interactive
Designed to include many examples, case studies and exercises to improve learning and retention
Download
Order online and download immediately after purchase
Source Files
Receive editable source files in MS Office 365 (Word DOC/DOCX and Power Point PPT/PPTX) and previous Office versions 2003, 2007, 2010, 2013 & 2016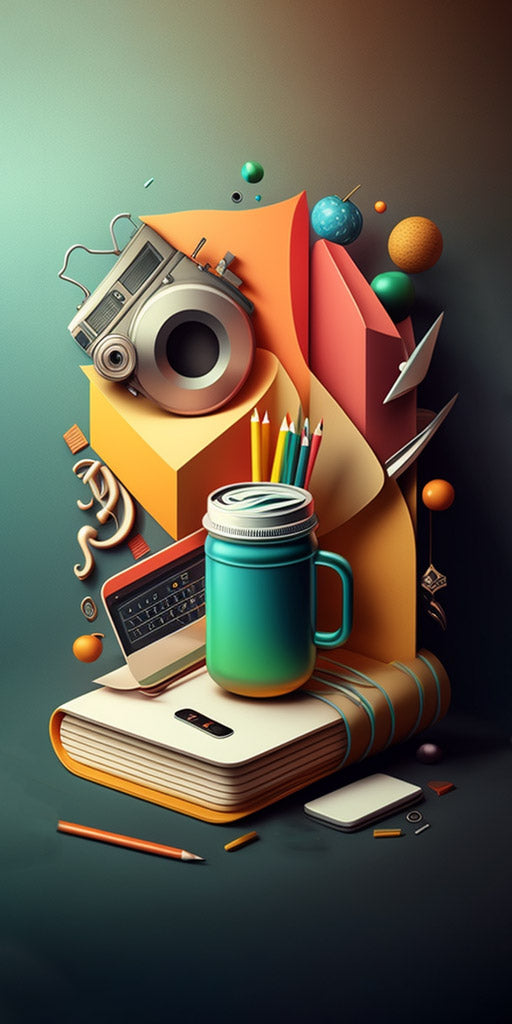 About the Design Philosophy of Customer Service Skills Course
100+ Countries
Used by Trainers Worldwide
Our mission is to help you deliver memorable courses with long lasting results, while taking the least amount of effort and time to run.
Save Time & Boost Training
Skills Converged is a unique company that provides professionally designed fully-customisable training course materials based on the latest research in learning & development. Courses are designed with attention to detail both on content and style so that you can deliver unique state-of-the-art courses to your clients and get maximum results.
Testimonials for Customer Service Skills
"I just bought the training pack for Customer service - they are excellent material. Thank you. Essentially, I can take this and run with it. Just like that. ... Thanks again. Great artwork, Great thoughts. Great wow."
"I was planning to make a new course on customer services for a long time and continuously put it aside for lack of time. When I came across your site, it suddenly all clicked. I could just use your content, shape it with my own ideas and use my real-world examples I have collected over the years and quickly make a course out of it. Indeed your product saved me tons of time. The quality of your materials exceeded my expectation by a wide margin. Thanks again and will shop back when I have more time to do my next course."

Peter Stevenson, Bristol, UK
More about our customers and what they think of our products
For Trainers
Use ready-made modular courseware, tailor to your audience, respond to market quickly & effortlessly
For People Developers
Increase HR efficiency and save by supplying consistent professionally designed training materials to your trainers and help employees reach full potential