In-House Train the Trainer Courses in UK
In-Company Courses
2-Day Course
If you have any questions about the course, call us or alternatively drop us an email.
TEL: 020 3286 9260
Booking Form
Contact Us
Fixed-Price
£2190
(VAT exempt)
We offer a fixed-price for the 2-day in-house train the trainer course for up to 6 delegates.
This is only £365 per delegate.
Tutor travel expenses are included (for UK).
In-Company Courses
2-Day Course
If you have any questions about the course, call us or alternatively drop us an email.
TEL: 020 3286 9260
Booking Form
Contact Us
Fixed-Price
£2190
(VAT exempt)
We offer a fixed-price for the 2-day in-house train the trainer course for up to 6 delegates.
This is only £365 per delegate.
Tutor travel expenses are included (for UK).
About the Course
Our Train the Trainer course can be delivered in-house over 2 days. We offer a fixed price. We will train your staff to become better at teaching through an intensive proven course based on facilitation training and accelerated learning principles.
The course is designed to boost a trainer's confidence and authority in the class, helping them to constantly keep delegates engaged. We will teach you techniques on how to maximise long-term learning for students through participation and exercises.
What You Get From This Course
By the end of this course, your staff attending the course will:
Learn how to systematically approach any teaching activity
Be able to deliver an engaging course using participatory techniques
Get to deliver a mini training session and receive feedback
Be able to methodically structure and design a course
Be given homework and assignment to complete
Be assessed by the tutor on the day
Get a 120-page detailed workbook and useful checklists
Receive video analysis and critique
Receive a certificate of achievement  
Why Knowing How to Teach Is an Essential Skill
We believe that you can significantly increase your organisational productivity if your staff know how to teach well so they can pass on their hard-earned knowledge to others in your organisation.
Experts are often time-constrained and poor training delivery can be a waste of time on all sides. Knowing how to train others is a different skill and needs to be mastered to avoid leaving many frustrated colleagues.
Teaching can be formal, like in a classroom, or informal, like on-the-job training. Either way, teaching well follows set discovered principles that we share with your staff in our Train the Trainer course.
When your staff know how to teach well, they will be more satisfied having shared their expertise efficiently. You will also end up with a more skilled workforce.  
Who Is the Train the Trainer Course For
The course is for trainers (full-time or part-time), subject matter experts and managers who want to expand their teams. Anyone who wants to learn delivery skills, participative techniques or improve training impact in a classroom or on-the-job setting.
Why Get In-House Training
If you have several people in your organisation who have the same learning needs, an in-house Train the Trainer course is an ideal training option.
We can easily teach different experts from different fields in the same class on training methodologies. In fact, this leads to a better course with cross-fertilisation of ideas and techniques.
It is easy to book and arrange our in-house courses to run at your own premises. We can also select a suitable venue off-site if you wish.
Why Us
We are specialists in training design and delivery. We design training materials and provide them to the training industry. We offer numerous products and services to improve training methodologies. Train the trainer is what we do.
Testimonials of Students Attending the Train the Trainer Course
What Is Covered in the Course
The overall aim of the course is to help attendees learn and practice proven training techniques that help them train others on whatever subject they are expert on. They will learn:
How to structure a course
Use facilitation skills to run it
Keep their students engaged at all times
Maximise long-term learning  
Your staff will learn about four broad areas: on Method, Setup, Expression and Teaching.  
This is an extremely hands-on workshop. Numerous focused exercises have been designed thoughtfully to help attendees learn and memorise what has been taught during the course and to give them an opportunity to try it out for themselves. By working together with other participants in the course, they can see how each technique is used in practice and how to apply them to their own courses.
Our in-house Train the Trainer courses are run similar to our public Train the Trainer courses with the addition of any tailored changes you require. For full syllabus, please see the details on our public Train the Trainer Course.

Quality Controlled
This course has been rigorously assessed in terms of content and quality by an independent body.
Certification
Upon completing the train the trainer course and delivering a live demo which is assessed, delegates will receive a premium hard copy Certificate of Achievement at the end of the course.
In-House Courses Are Much Cheaper
Reduced training costs. We offer a substantially cheaper rate per delegate for our in-house courses. In-house courses are typically 30% to 50% cheaper than sending staff to public courses.
No need to travel for your staff. Save time and money.
No need to book accommodation for your staff. Save admin time and money. 
Reduced admin time. Save effort in dealing with sending delegates to a public course, handling travel expenses, etc.
In-House Courses Are Flexible
We run the course based on your ideal schedule. This is much easier to arrange than sending staff to pre-scheduled public courses.
Have access to key personnel if necessary. Maintain contact with your staff outside tuition times.
In-House Courses Lead to Better Training
Receive in-context training. Use your own organisation's familiar environment.
Relevant training. Get to work on your own work examples and case studies during the course, making training much more relevant and personalised. 
Team building. Delegates go through a shared experience, can brainstorm ideas and learn from each other in the context of their own shared work. Learning continues easily after the course. 
Can be customised. We are specialist course designers and so we know all about designing, tailoring and customising courses.
In-House Courses Are Environmentally Friendly
In-house face-to-face training is green as only the tutor needs to travel.
How Much Does It Cost
For a 2-day course, we offer a fixed rate shown at the top of this page.
The rate is for the whole course for a maximum of 6 delegates. This is the optimum number for our Train the Trainer courses as we want to let everyone demo their training delivery and get evaluated on their performance. 
For 6 people attending the course, this comes down to be less than half the cost of attending our public courses.
The course is for a minimum of 4 delegates. It is important to have enough delegates to have productive exercises and discussions. 
If you require more than 6 delegates to attend, please let us know and we will advise. We can run several courses with 6 delegates each and we can provide you discounts when we run multiple courses. 
Tutor's Travel Expenses Included
The travel expenses in the UK are already included in the above rate and so there are no extra charges other than the rate mentioned above.
Available Where You Are
We provide our in-company Train the Trainer courses anywhere in the UK. For outside UK please contact us.
What You Need
All you need is the following:
A meeting room with a projector / screen or TV to connect laptops to
A tutor desk
Flipchart
It is ideal if the room can be set in the traditional U-shape training room configuration, but this is not essential
Enough room at the back to place a tripod so we can record the session for the delegates
The hours of engagement are: 9:30 am – 5:30 pm
We need access to the room an hour before start and half an hour after finishing the course.  
If needed, we can arrange off-site training for you.
What We Bring
The in-house course includes the following at no extra cost:
Printed workbooks
Exercises
Handouts
Printed certificates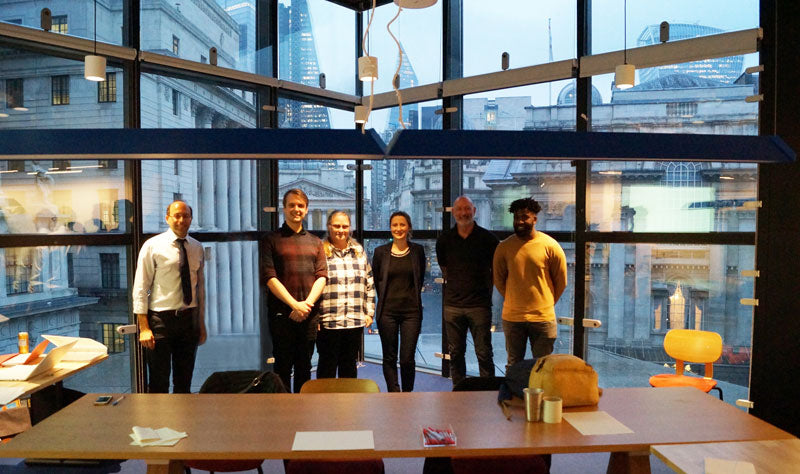 About Your Instructor
This course is delivered by Dr. Ethan Honary who is the founder of Skills Converged. Through his work on training materials and train the trainer courses, Ethan has helped trainers in more than 100 countries. He is a passionate trainer, researcher, writer and designer who is on a mission to improve the training world and empower the trainers worldwide.
The course is delivered by Ethan in all venues across UK, so you are guaranteed to get the same high standards everywhere.
Find out more about Ethan Honary.
Methods of Payment
We accept several forms of payment:
Invoice. Receive an invoice for the in-house course and pay by direct bank to bank transfer or cheque. 
Book online. Pay by debit / credit card or PayPal. We will send you the payment page upon completing the in-house booking form.
The easiest way to pay is by invoice and bank to bank transfer.
We will tell you how to proceed after we have received the booking form from you.
How to Book
Decide how many delegates are attending and which dates are suitable for you.
Decide if you what to tailor the course or if you have any specific requirements.
Contact us to book the course using the form below and tell us about your requirements. We will then agree to a date.
We will then invoice you for the in-house course or you can book online using debit / credit card or PayPal desired.
We will prepare the course for you along with all the training materials required.
We arrive on the day at your premises and deliver the course.
To show your interest in our in-house Train the Trainer courses, simply fill in the following form. We will contact you to discuss your requirements. Once your requirements have been processed we will send you a confirmation email with all the booking information included. By booking you agree to the in-house booking terms and conditions.
You can always contact us for support if you wish.