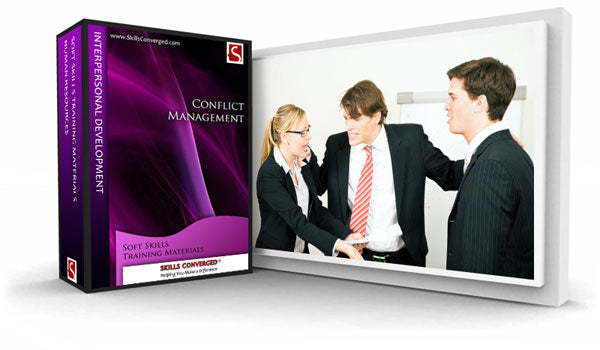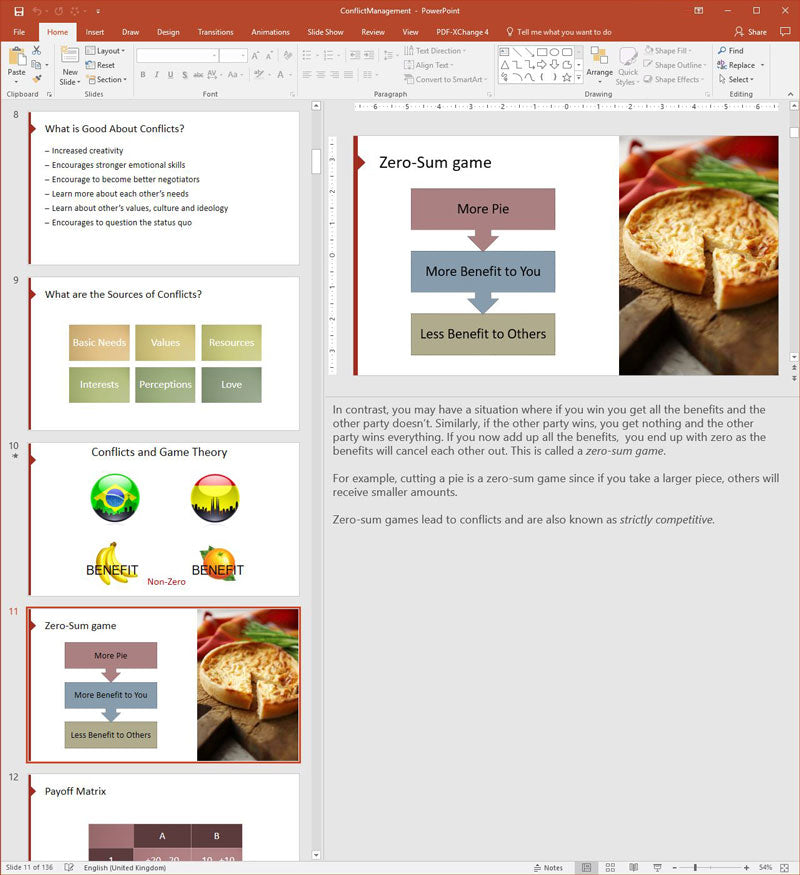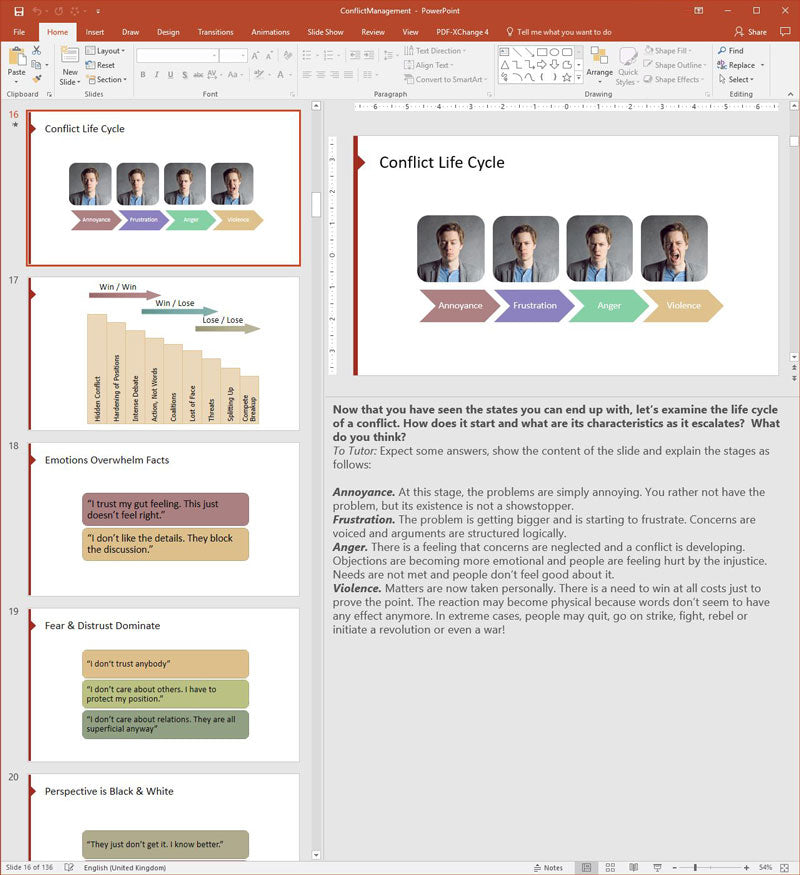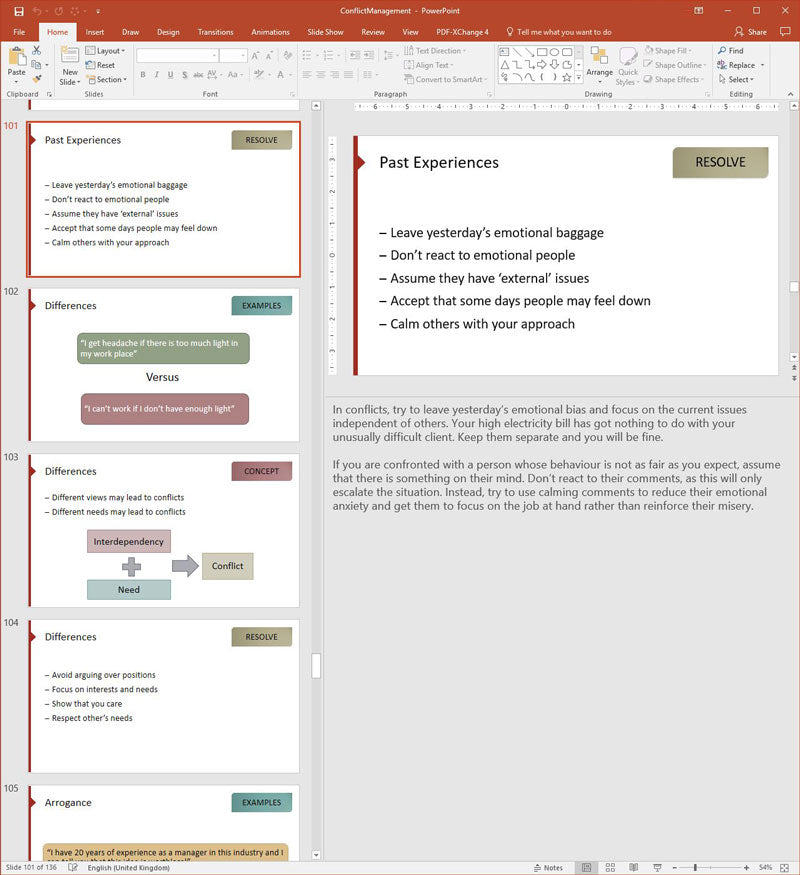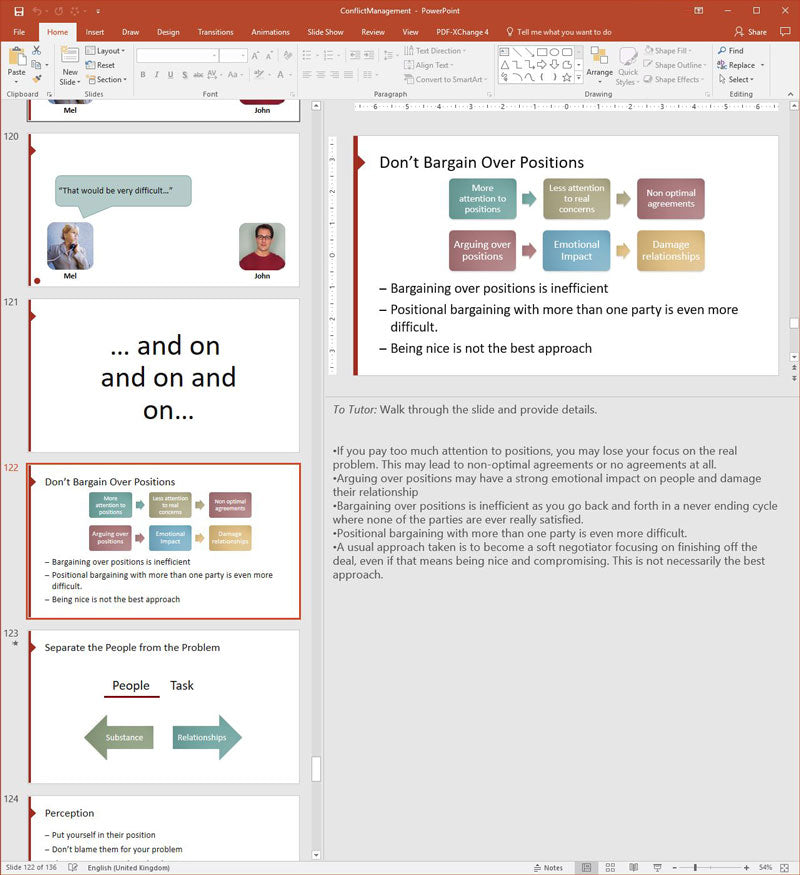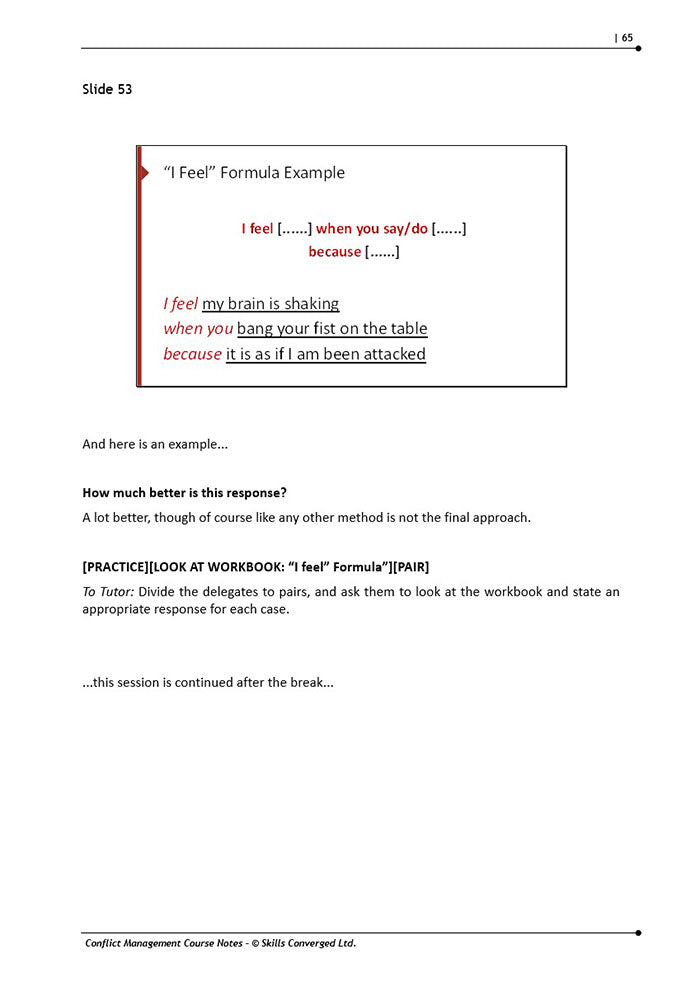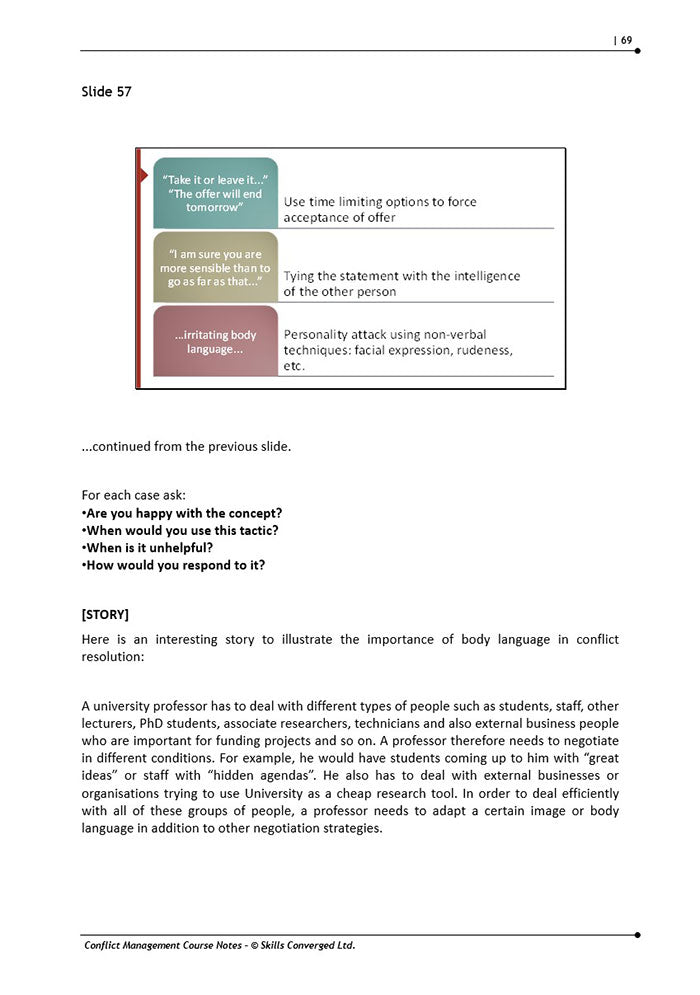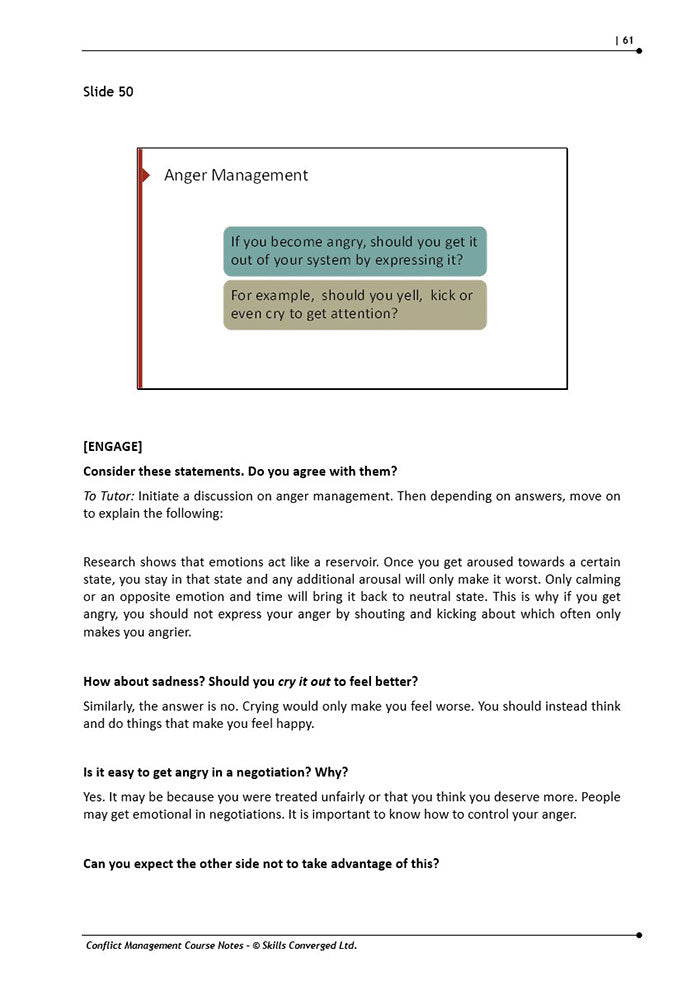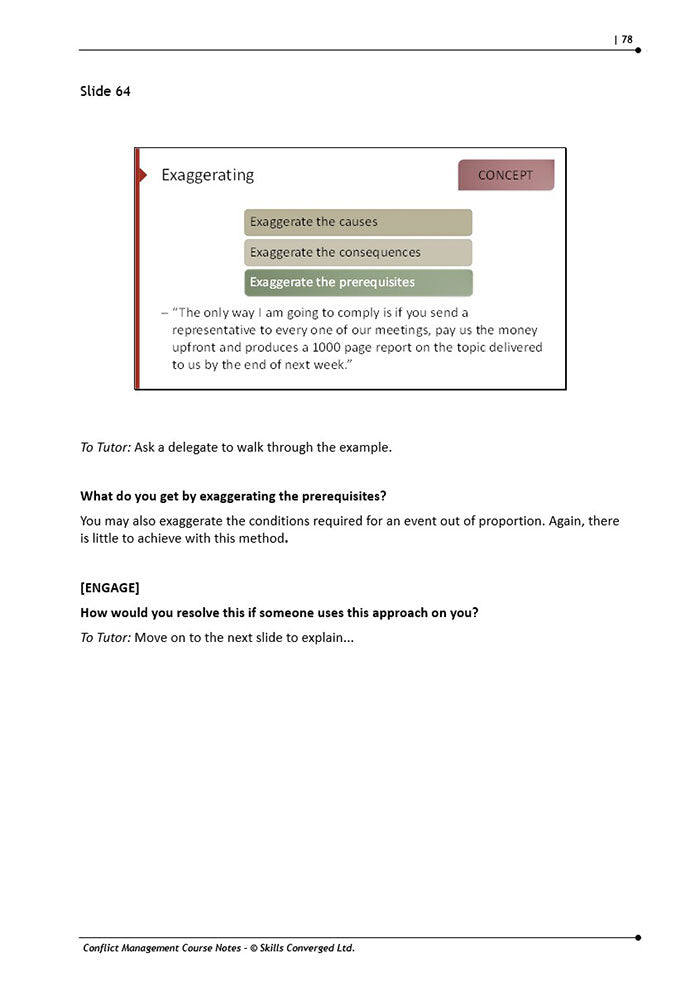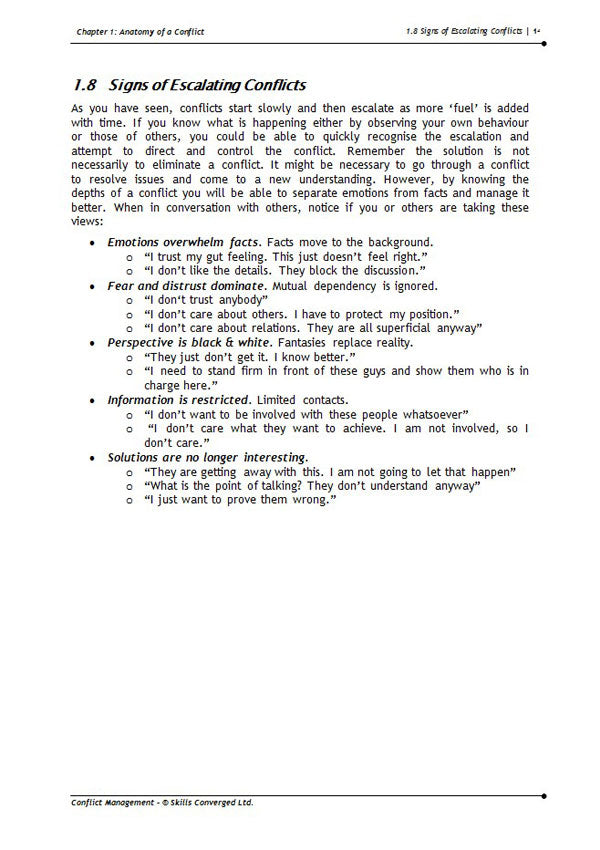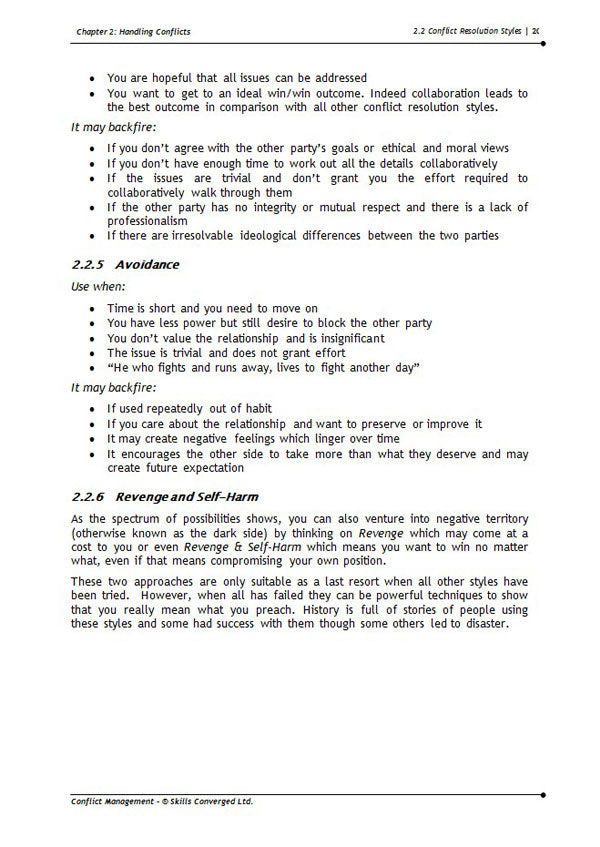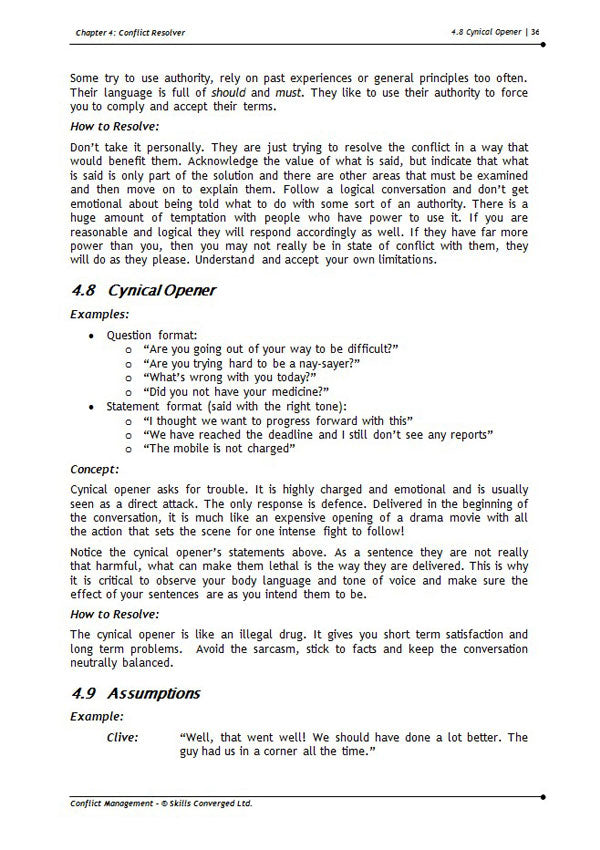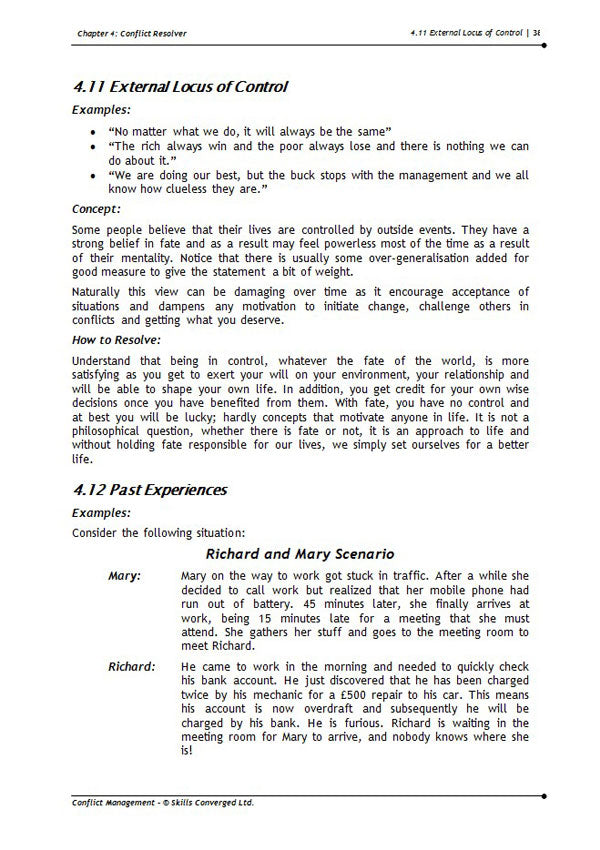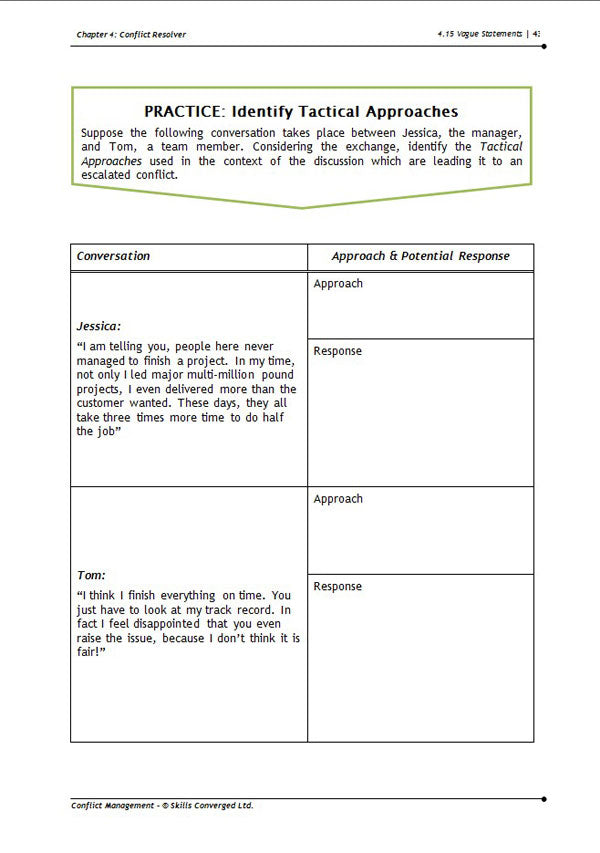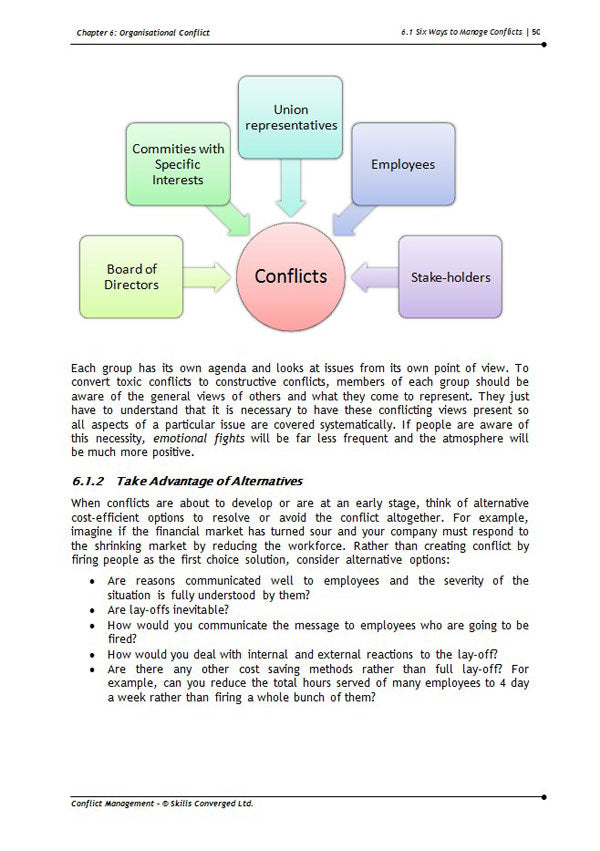 Conflict Management
---
---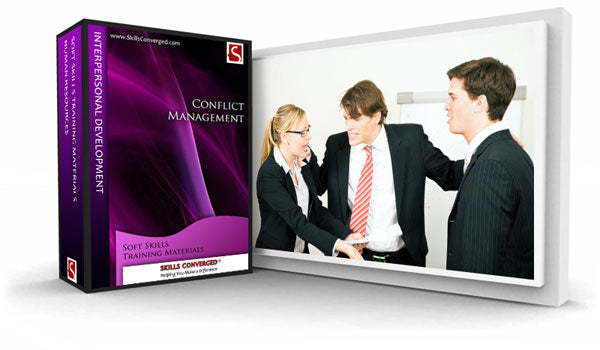 Course Covering Core Principles Behind Conflict Management, with a Rich Selection of Exercises, Activities and Case Studies
Fully Customisable Training Course Material
Description
"Conflict is the gadfly of thought. It stirs us to observation and memory. It instigates to invention. It shocks us out of sheep-like passivity, and sets us at noting and contriving."

John Dewey
Conflicts can be hard. We get so emotional that sometimes we feel we can't take it at all. Do you know anyone who is good at conflict management? Do you admire them? Do you envy them? Not so surprisingly most people want to avoid conflicts altogether. Many get so emotional that they feel they can't even say a single word. Others may rely on a simple age-old technique of silence treatment, which doesn't really do them or others any good.
So, what should we do when we are in a conflict? Should we just leave it and hope that it goes away? The chances are that it probably doesn't go away and will come back to haunt you. Conflicts have a tendency to escalate when untreated, they can make the environment toxic and unproductive and eventually the conflict may come to control you rather you controlling it.
Handling conflicts is much like fixing your teeth. You may put it aside, eventually go through some pain and come out of the dental surgery, relieved that it is all over. In fact, on reflection you may decide that it wasn't that bad after all and you should have even done it sooner.
Conflicts are actually good since they push you and others to move forward in your relationship. The post-conflict result is usually more mature and you usually end up appreciating others' point of view as well. After all, you want to arrive at a resolution that is satisfactory to all sides. Hence, conflict management skill is a must have for anyone in today's market.
Contains a rich selection of case studies and training exercises on conflict resolution, life cycle of conflicts and mental attitudes
Course Design
The systematic design of this course facilitates understanding conflict, detecting signs of conflict escalation, responding to such signs with appropriate action and finally using effective techniques to resolve the conflict.
This course focuses on positive and productive aspects of conflicts and explains how we can benefit from situations which are often perceived as negative and destructive. Conflicts, if managed correctly, increase understanding and wisdom.
Delegates will be introduced to a variety of psychological tactics sometimes used by others as a way to create a conflict. Understanding such tactics and mind games enables one to prepare and respond effectively in order to prevent a conflict.
Delegates will also explore emotional skills critical in dealing with other people and learn how to control their emotions as well as those of others and guide the debate towards a win/win outcome.
The rich selection of scenarios and exercises in this course will help delegates to master these skills quickly and efficiently.
In this day-long highly practical course delegates will learn:
What Is Conflict?
How conflicts evolve
What is good or bad about conflicts?
What is the life cycle of conflicts?
How conflicts escalate
What can you learn from Game Theory to manage conflicts?
How to Handle Conflicts
How many different ways can you approach a conflict and what are their advantages and disadvantages?
How to systematically analyse conflicts based on the benefits to you or the other party and how to use this knowledge to resolve them
How to decline a request while avoiding conflicts
What is an effective conflict resolution process?
How to use a 6-step conflict resolution formula
How to Manage Emotions
How emotions affect discussions
How to avoid emotional decision making
How to use anger management in resolving conflicts
Learn about a series of psychological tactics used in conflicts and know how to respond to them when used on you, or exploit them yourself.
What are the 15 main causes of conflicts?
How to Respond to Escalating Situations
What approaches are used in a discussion to win the conflict?
How to respond to such approaches when used on you
Learn how to react to arrogance, vague statements, personality attacks, exaggerations and many other commonly used tactics in conflict.
How to Negotiate
How to negotiate effectively to get to a win/win outcome
What is Principled Negotiation?
What is Organisational Conflict  and what are the 6 ways you can use to manage it?
How can you use well established negotiation strategies to resolve conflicts?
How can you use third-party intervention and what types are available?
How to Prevent Conflicts
What systems should be put in place in organisations to prevent destructive conflicts?
What resources do you need to manage conflicts efficiently?
What kind of third-party interventions exist and how can you use them to resolve conflict?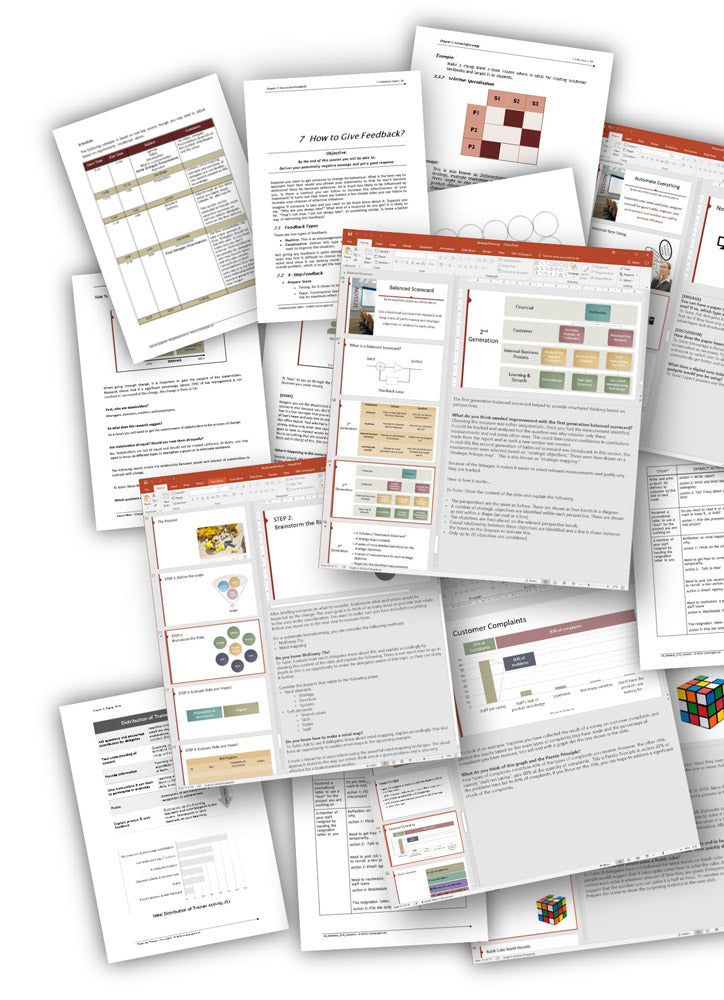 What Is Included
Everything you need to run the course:
Slides
Workbook
Exercises
Handouts
Trainer Notes
Specific Course Guidelines
Agenda
Guidelines on Training Methodology
Course Outline
Recommended Readings
Feedback Forms
Certificate of Achievement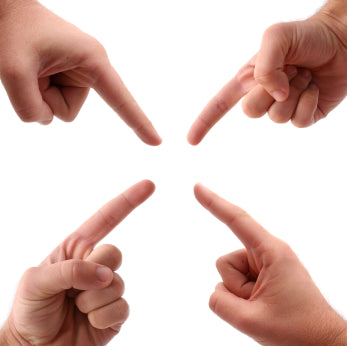 Course Objectives
By the end of this course delegates will be able to:
Courseware Features
Buy & Download Training Materials
Choose your training materials
Add to shopping cart
Get multiple courses to get discounts and create tailored training
Pay using all major debit / credit cards, PayPal, Apple Pay and Google Pay.
After payment processing, you are redirected to a download page
You will also receive emails with download links
Unzip the package and access all the training resources in MS Office format
How to Get Training Packages
Editting
You can customise, edit and modify the content as you desire
Rights
Unlimited workbook reprinting rights
Comprehensive
The downloadable training package contains all you need to deliver a course
Extensively Researched
Designed based on the latest research in educational psychology, cognitive psychology, social sciences and business practices
Facilitation Training
Designed in line with the principles of accelerated learning

Interactive
Designed to include many examples, case studies and exercises to improve learning and retention
Download
Order online and download immediately after purchase
Source Files
Receive editable source files in MS Office 365 (Word DOC/DOCX and Power Point PPT/PPTX) and previous Office versions 2003, 2007, 2010, 2013 & 2016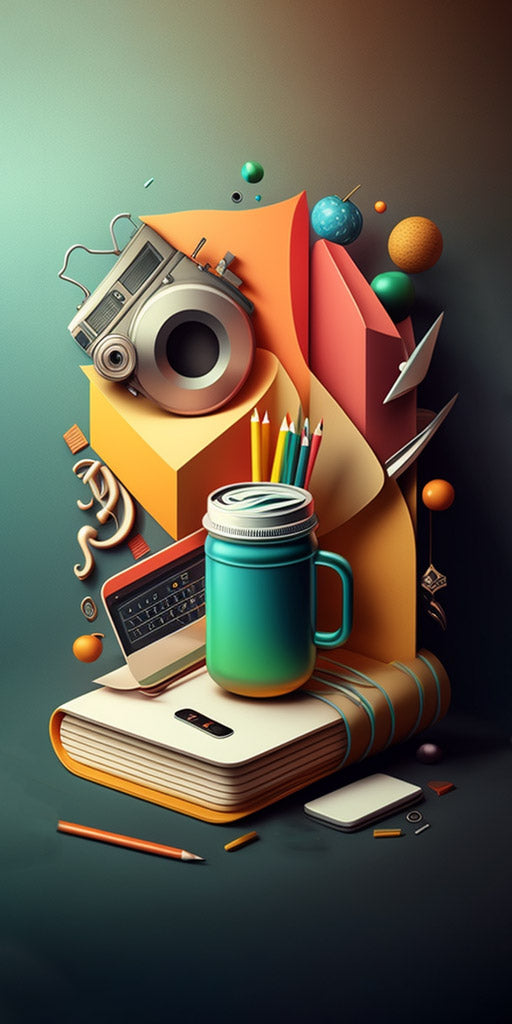 About the Design Philosophy of Conflict Management Course
100+ Countries
Used by Trainers Worldwide
Our mission is to help you deliver memorable courses with long lasting results, while taking the least amount of effort and time to run.
Save Time & Boost Training
Skills Converged is a unique company that provides professionally designed fully-customisable training course materials based on the latest research in learning & development. Courses are designed with attention to detail both on content and style so that you can deliver unique state-of-the-art courses to your clients and get maximum results.
For Trainers
Use ready-made modular courseware, tailor to your audience, respond to market quickly & effortlessly
For People Developers
Increase HR efficiency and save by supplying consistent professionally designed training materials to your trainers and help employees reach full potential