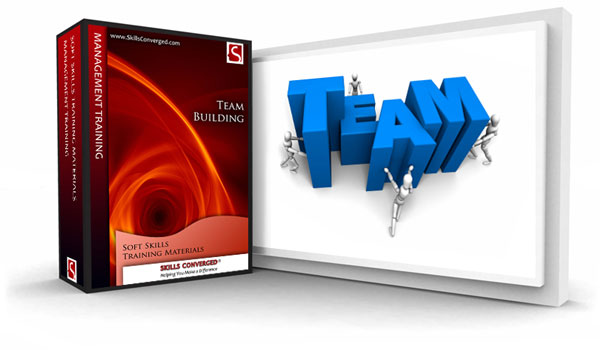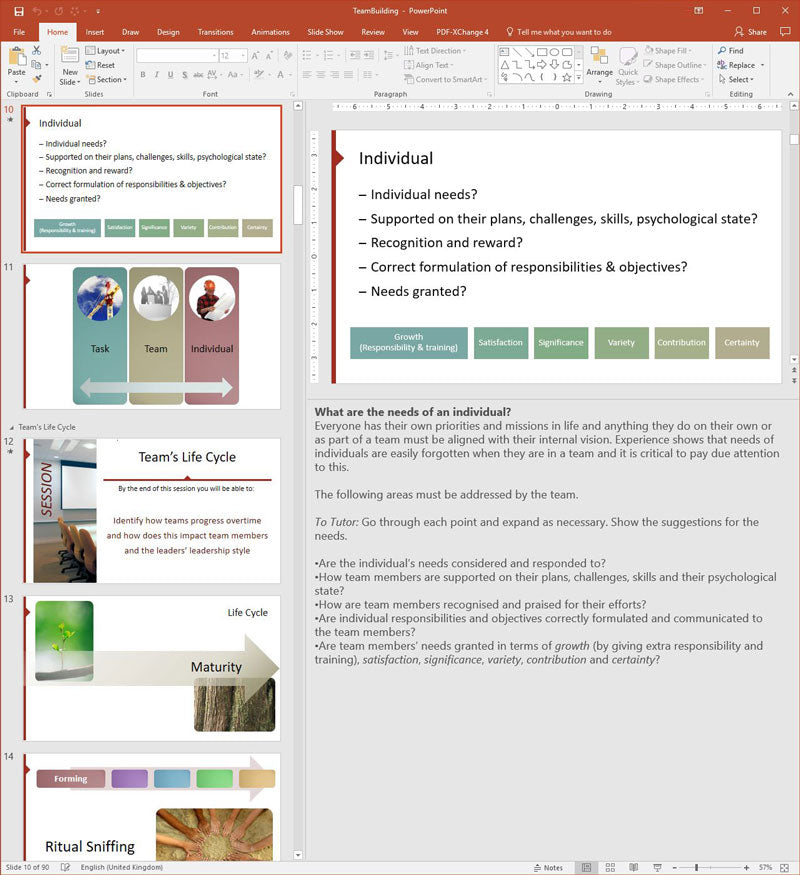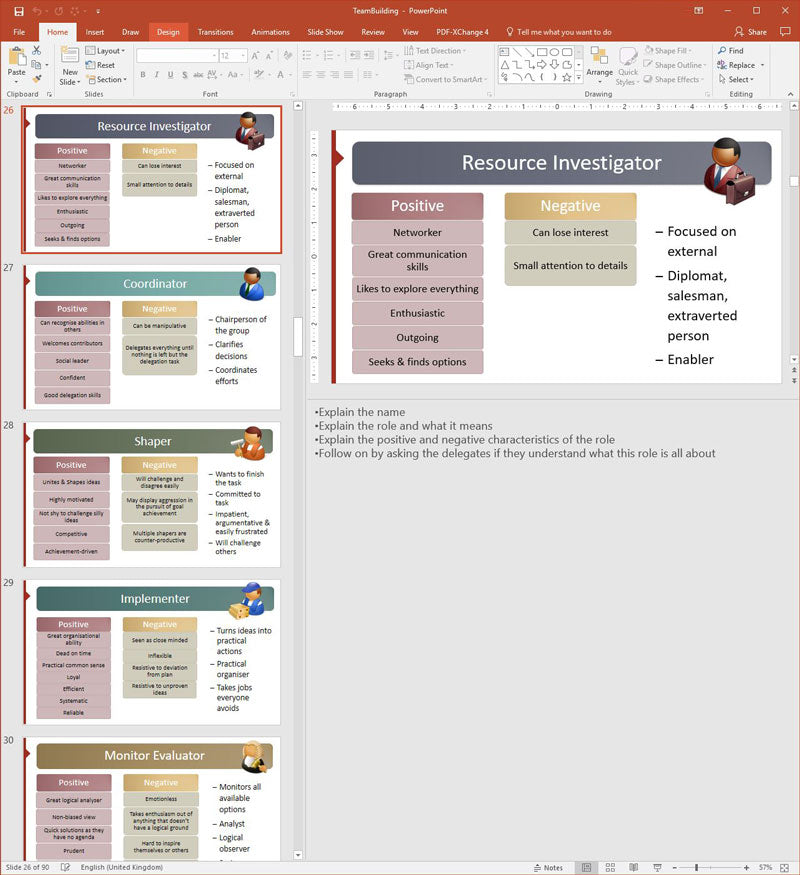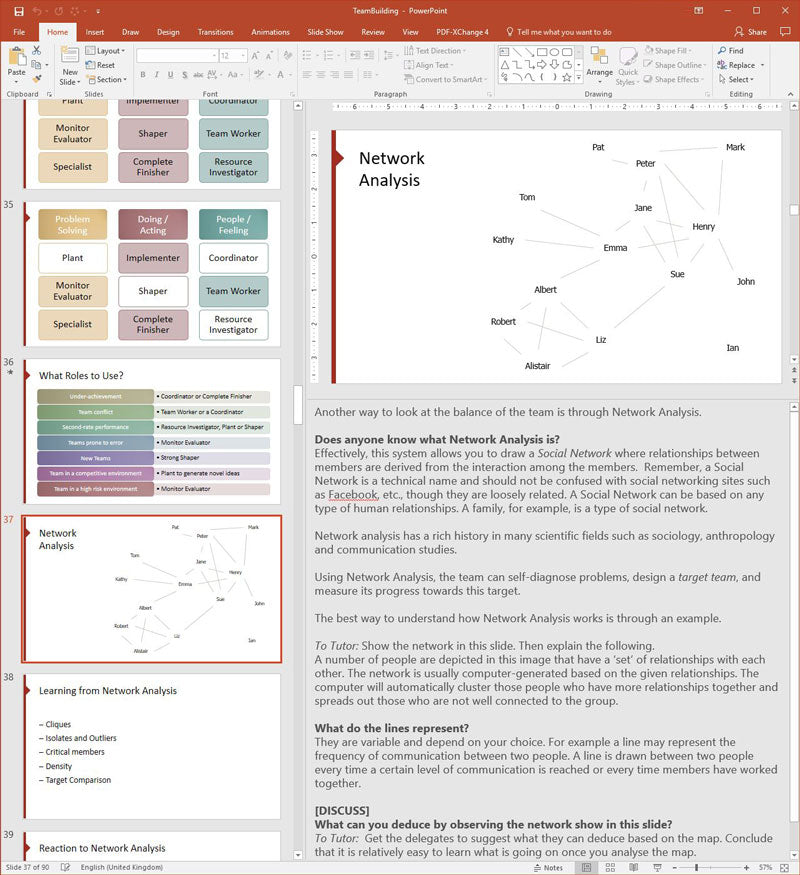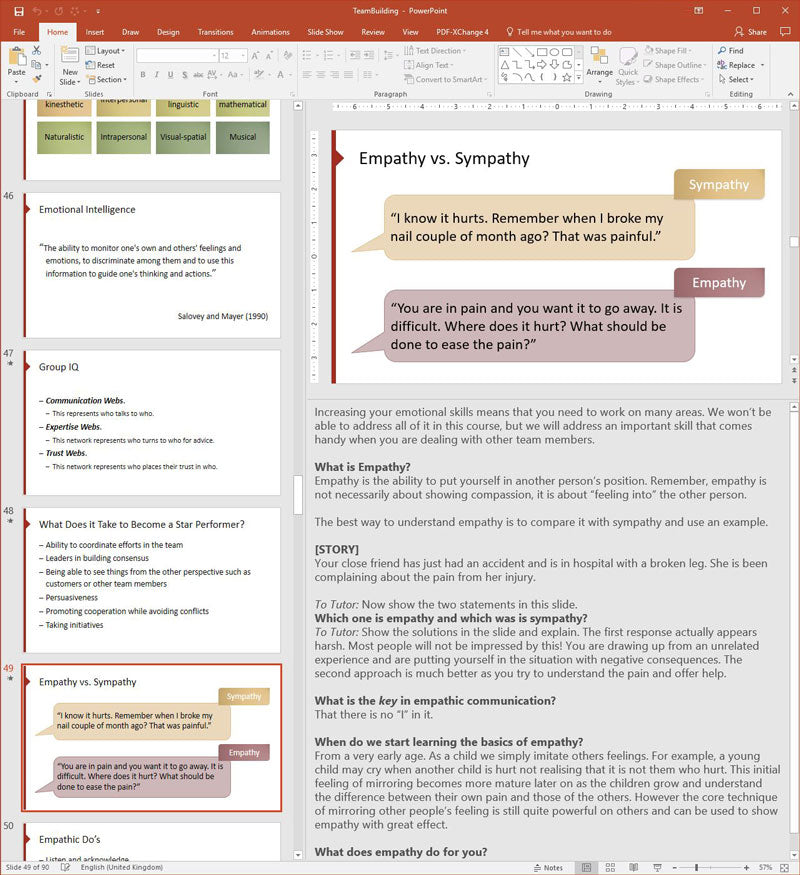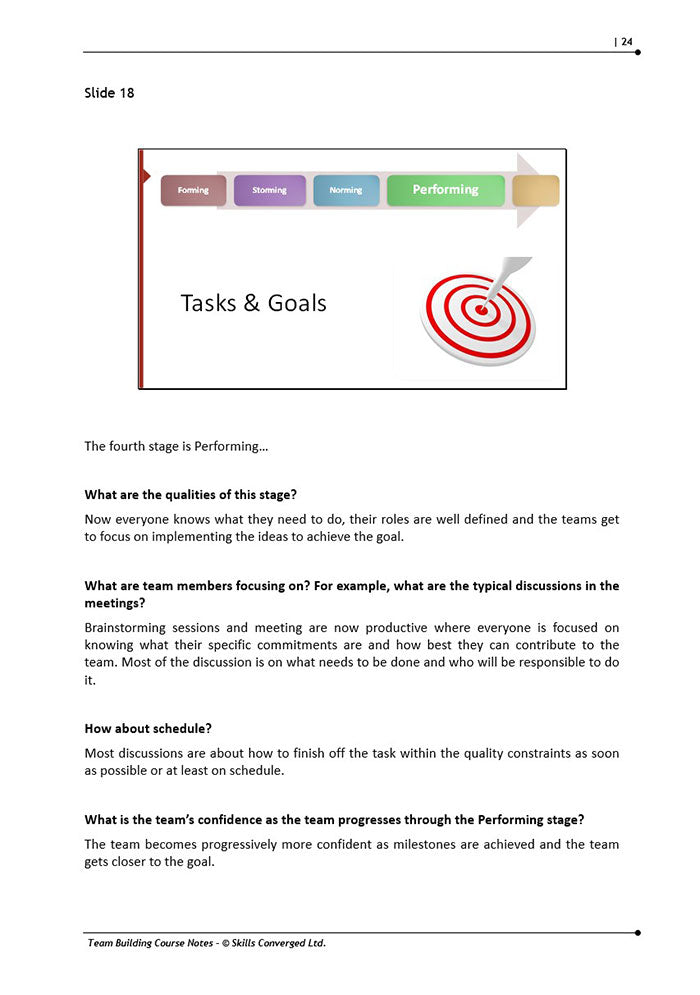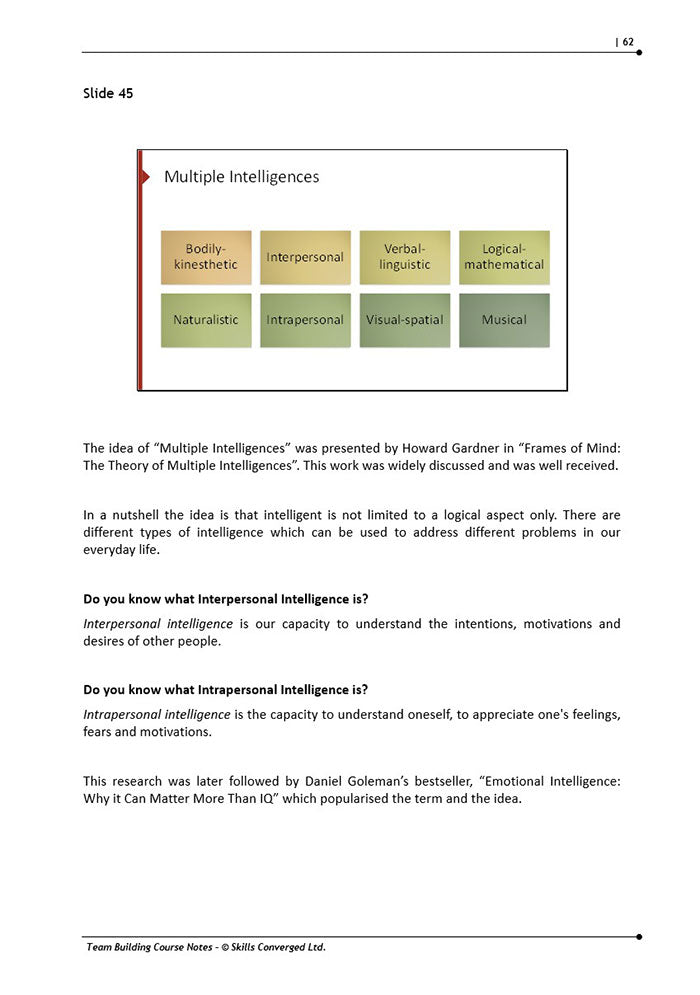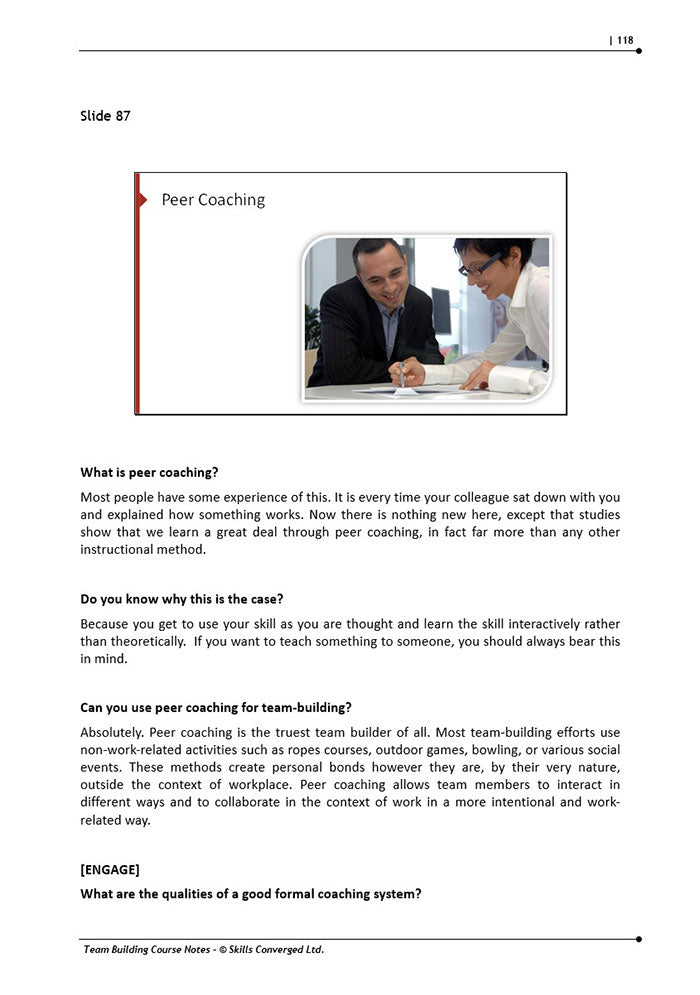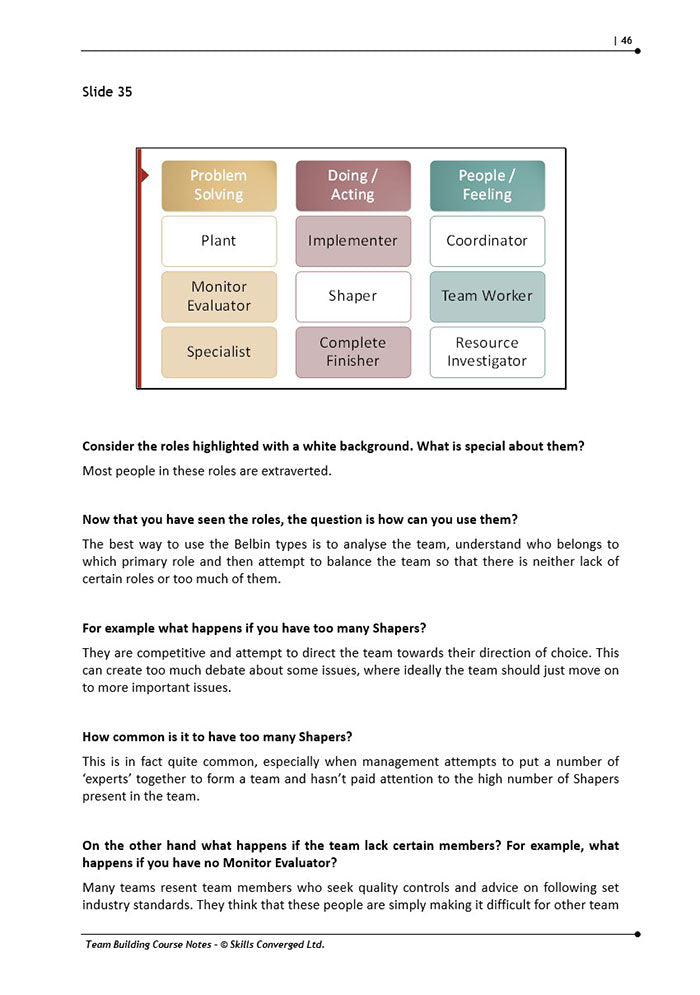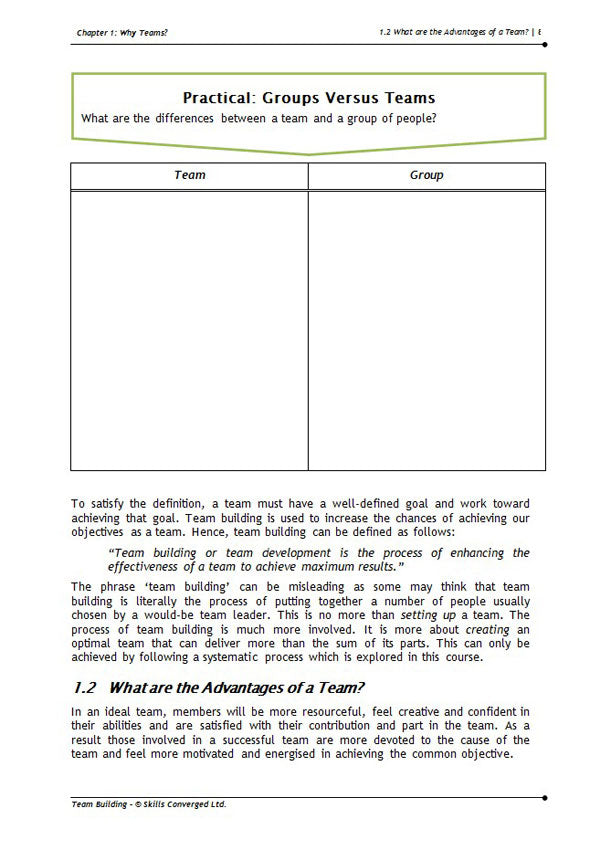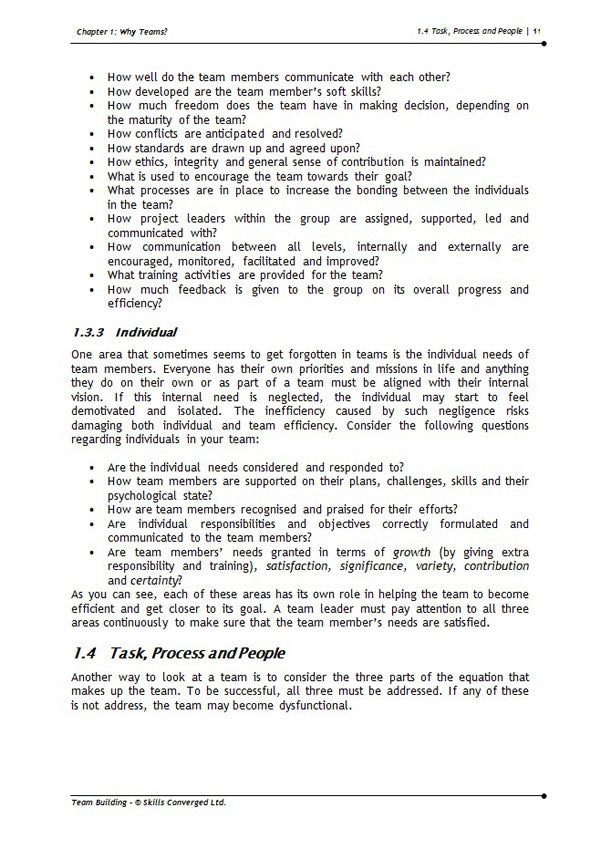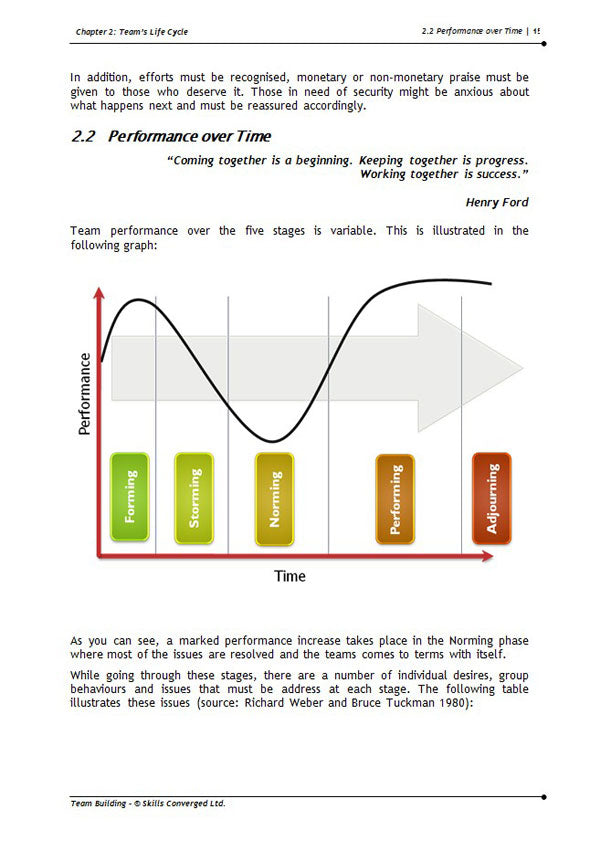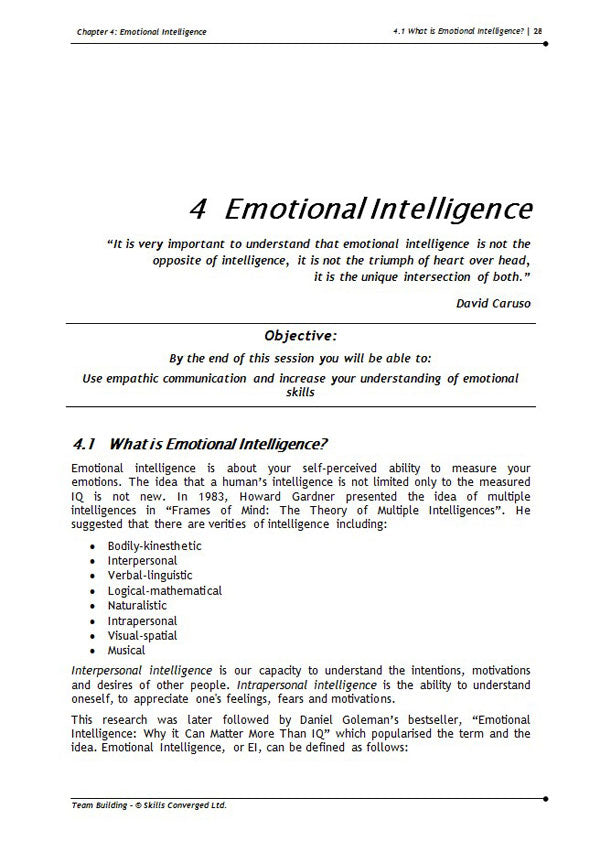 Team Building
---
---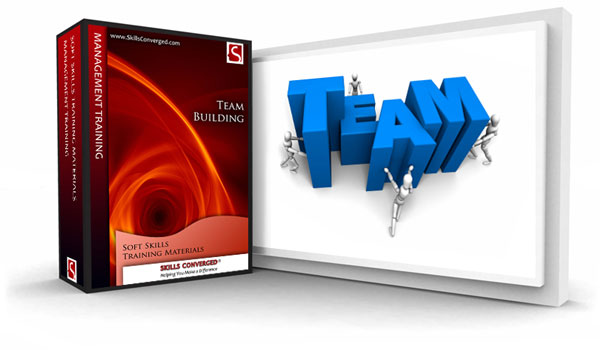 Packed with Effective Team Building Methods and Concepts, Complemented with a Variety of Interactive Exercises
Fully Customisable Training Course Material
Description
"A group becomes a team when each member is sure enough of himself and his contribution to praise the skill of the others."

Norman S. Hidle
Great products and services are made and delivered by great teams. Working in a successful and happy team is extremely satisfying. The cooperative atmosphere, the ease of achieving big results and the sense of significance of belonging to a successful team is very appealing. Working as part of such optimal teams is the dream of any individual and organisation.
This course focuses on transforming a group of people to a team of motivated individuals who work smoothly towards a common goal. Delegates are introduced to the concept of Team Roles and explore different ways of recognising and establishing their roles within the team. This knowledge enables team workers to manage their roles and responsibilities in the team and avoid gaps or overlaps in roles.
This course accommodates two needs:
Your first option is to teach a series of theoretical learning points about an ideal team followed by exercises.
Your second option is to get a number of people participate in a series of exercises so that they accumulate a shared experience and end up feeling more as a team.
With the content provided in this course, as explained below, you can achieve both options. The first model is ideal for members of a team who have worked with each other in the past and now want to streamline their communication and eliminate bad habits that might have developed. The second option is more ideal for a newly assembled team.
In this course delegates will learn:
Ideal Teams
What are the advantages of working in a team and why should you care?
What are the three core management responsibilities and what does this mean for team members?
What three elements should be addressed to avoid ending up with a dysfunctional team?
Team Life Cycle
How teams progress over time
How quickly can teams go from one stage to another towards the ideal team?
What are the ideal leadership styles for an ideal team?
Team Roles
What roles can each team member take and how does this affect the rest of the team?
What are the positive and negative qualities of these roles?
What are the examples of these roles?
What combinations of roles do you need to have in an ideal team?
Which types of people are ideal for which types of roles?
Network Effect
How to visualise a team's communication channels
How to identify isolated, overloaded, under-loaded, critical and other types of members? What does this mean for a team
What are structural components of a team and how do they contribute to a team's success?
Emotional Intelligence
How does IQ compare with EQ in teams
What is empathy?
How to deliver an empathic communication
How to give and receive feedback
How to praise
How to take advantage of non-verbal communications and body language
Team Coaching
How to systematically manage teams based on their maturity
How to encourage teams to solve problems collectively
How to increase a team's efficiency using peer-to-peer and management coaching
What techniques lead to increase bonding, trust and professionalism in teams
A team building course is about getting people to interact with each other. As a result the course is designed to teach the theory through practice. Every concept explained in the course is followed by a relevant exercise which a trainer can use to further emphasise a key point.
The course contains more than 20 practical exercises that a trainer can choose from to tailor the course based on the delegates' needs. Delegates will have a chance to participate in exercises on subjects such as coaching, cooperation, problem solving, trust and emotional skills. The exercises include 12 optional activities which can be used to extend the course further or to focus on specific areas based on delegates' needs. These exercises can be used to increase the bonding between team members through shared experience or collective problem solving. All exercises are exclusive to this course and each exercise has been designed specifically in line with a concept vital to the making of a successful team.
By the end of this course, delegates will learn how to communicate with each other to get better results, how to think beyond the little details and think of the main objective, how to support each other using emotional skills and coaching skills to provide feedback and increase trust and reliability throughout the team. 
Use the Team Building course in combination with Leadership Skills and Project Management for a package on 5-day team management. 

You can save 20% on the total price when you buy the training products together.
Exercises Included

Here is the list of exercises included in this training courseware:

E49: How Was Your Team
E50: Qualities of the Best Team
E51: Analyse Your Team
E52: Team Participation Skills
E53: Team Coaching Questionnaire
E54: Measure it on the ForceField Scale
E55: Belbin Team Roles
E56: How to Balance Your Team
E57: Form a Continuum
E16: Johari Window
E58: More About Us
E59: I Have the Best Staff
E60: Please Cross the Line
E61: High Stakes Bidding Contest
H16: Coaching Form
E69: Facial Expressions
E62: Build The Highest Tower
E63: Avoid the Lightening
E64: Don't Break the Egg
E65: Stepping Stones on Lava
E66: The Ultimate Team
E67: Cooperative Piping
E68: Turn the Sheet Over
E1: Blindfold Communications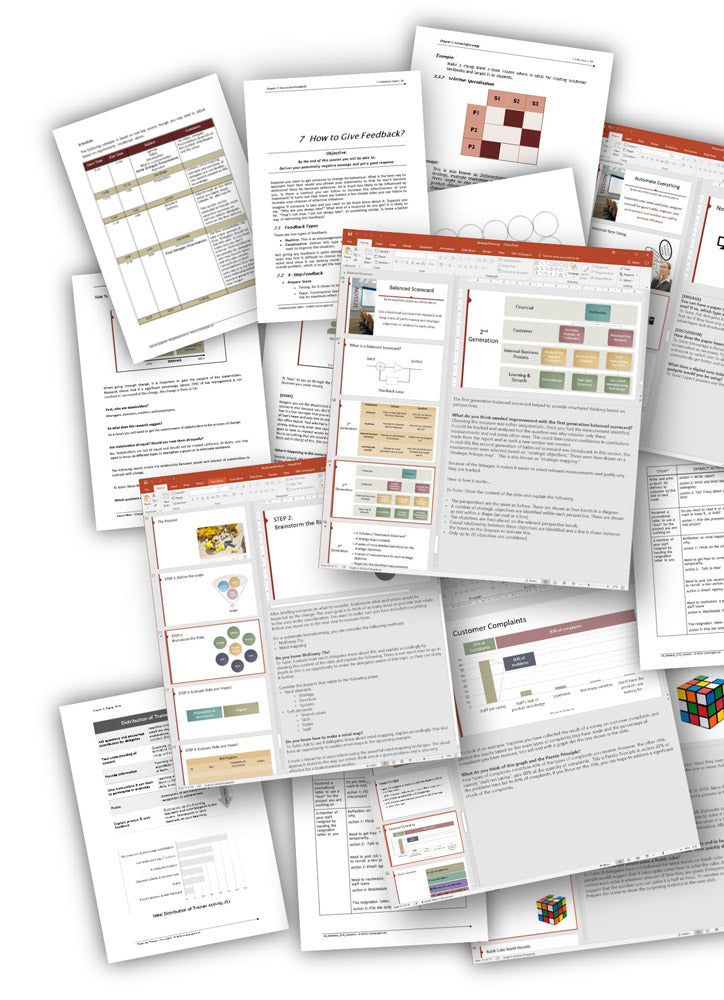 What Is Included
Everything you need to run the course:
Slides
Workbook
Exercises
Handouts
Trainer Notes
Specific Course Guidelines
Agenda
Guidelines on Training Methodology
Course Outline
Recommended Readings
Feedback Forms
Certificate of Achievement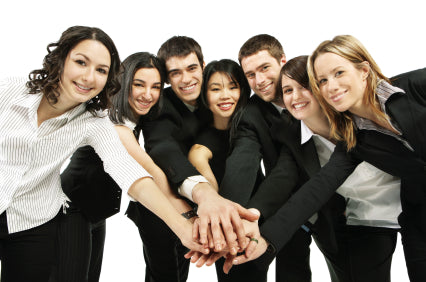 Course Objectives
By the end of this course delegates will be able to:
Courseware Features
Buy & Download Training Materials
Choose your training materials
Add to shopping cart
Get multiple courses to get discounts and create tailored training
Pay using all major debit / credit cards, PayPal, Apple Pay and Google Pay.
After payment processing, you are redirected to a download page
You will also receive emails with download links
Unzip the package and access all the training resources in MS Office format
How to Get Training Packages
Editting
You can customise, edit and modify the content as you desire
Rights
Unlimited workbook reprinting rights
Comprehensive
The downloadable training package contains all you need to deliver a course
Extensively Researched
Designed based on the latest research in educational psychology, cognitive psychology, social sciences and business practices
Facilitation Training
Designed in line with the principles of accelerated learning

Interactive
Designed to include many examples, case studies and exercises to improve learning and retention
Download
Order online and download immediately after purchase
Source Files
Receive editable source files in MS Office 365 (Word DOC/DOCX and Power Point PPT/PPTX) and previous Office versions 2003, 2007, 2010, 2013 & 2016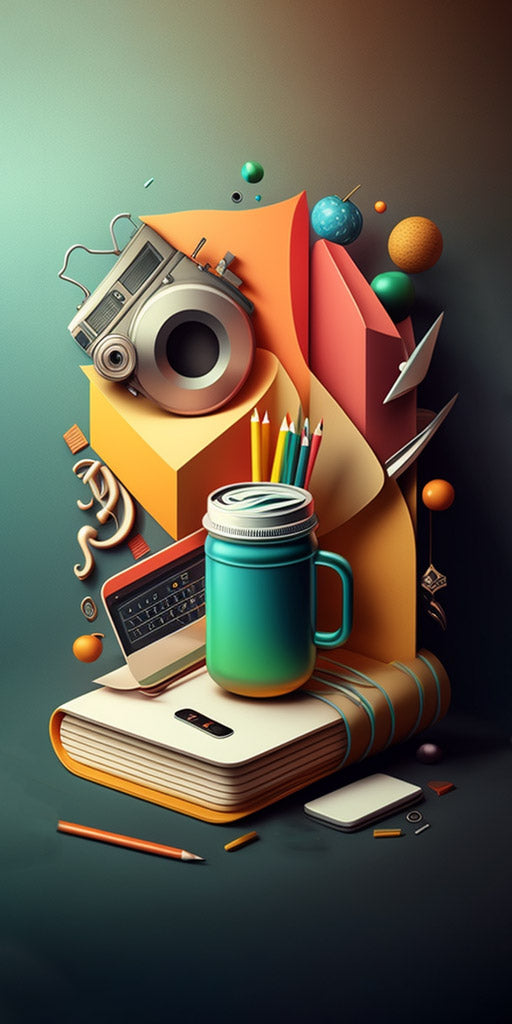 About the Design Philosophy of Team Building Course
100+ Countries
Used by Trainers Worldwide
Our mission is to help you deliver memorable courses with long lasting results, while taking the least amount of effort and time to run.
Save Time & Boost Training
Skills Converged is a unique company that provides professionally designed fully-customisable training course materials based on the latest research in learning & development. Courses are designed with attention to detail both on content and style so that you can deliver unique state-of-the-art courses to your clients and get maximum results.
For Trainers
Use ready-made modular courseware, tailor to your audience, respond to market quickly & effortlessly
For People Developers
Increase HR efficiency and save by supplying consistent professionally designed training materials to your trainers and help employees reach full potential