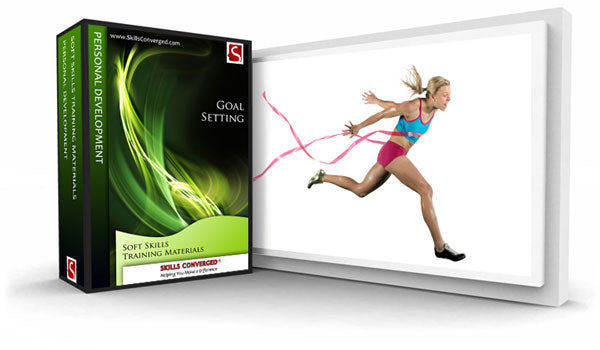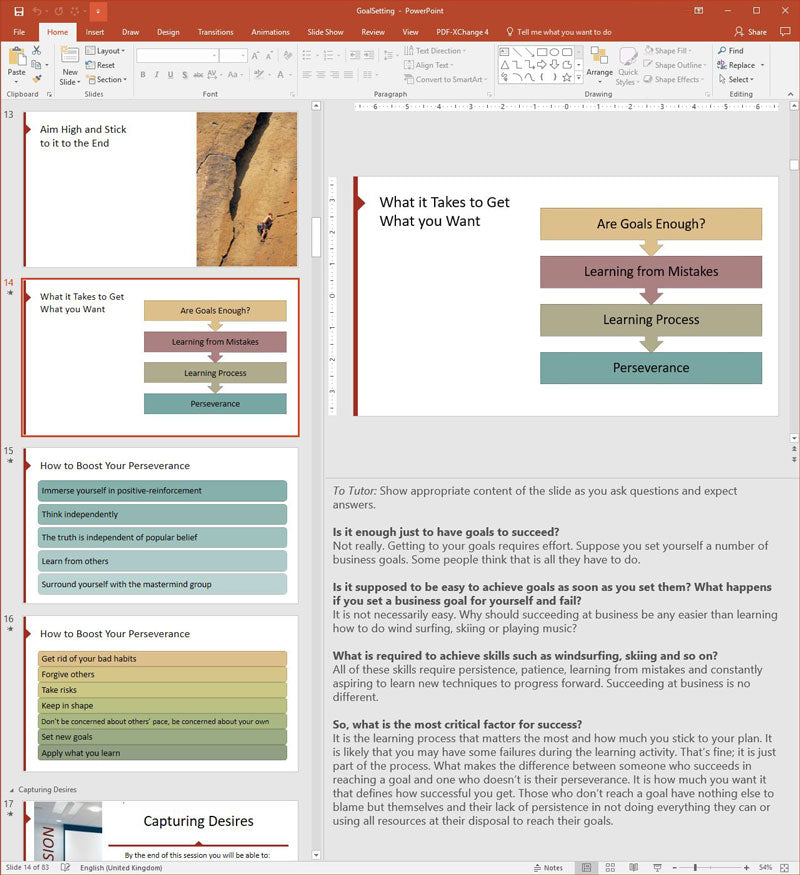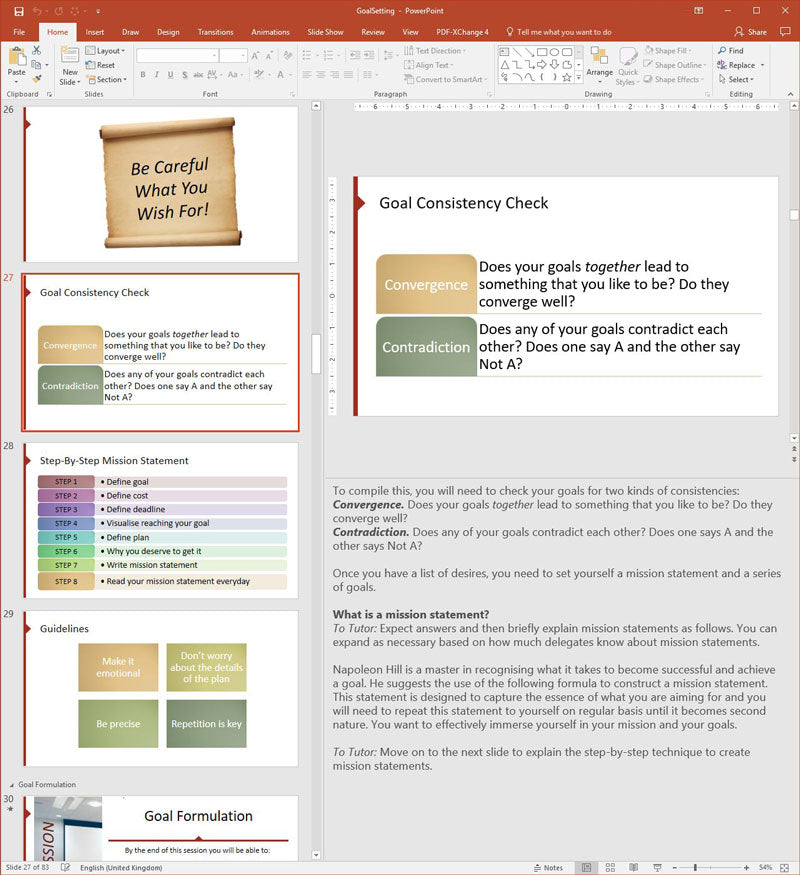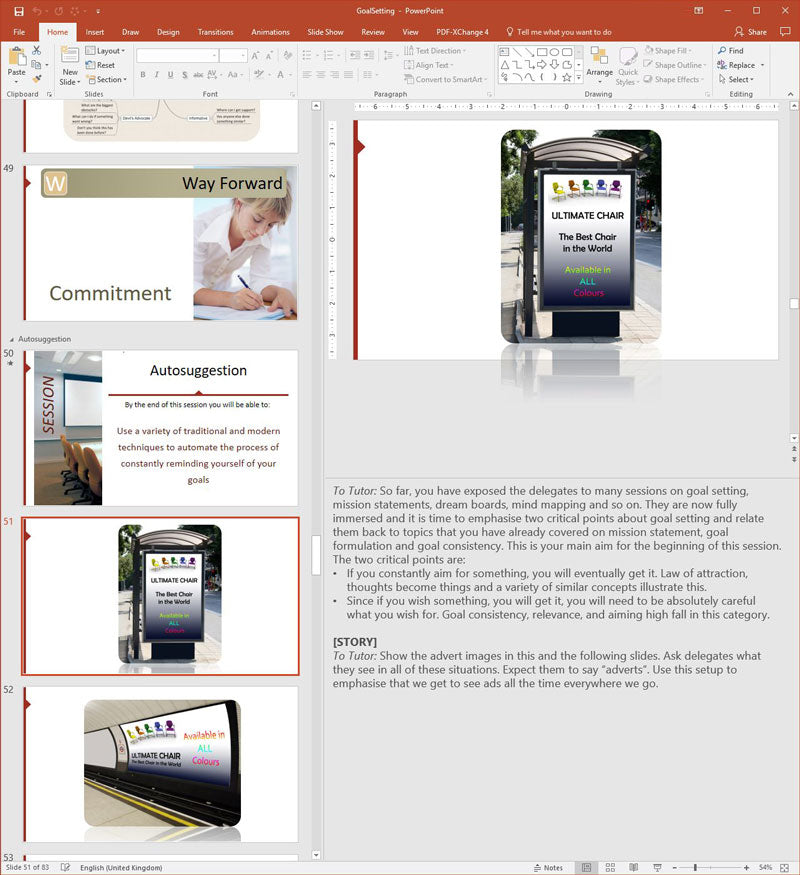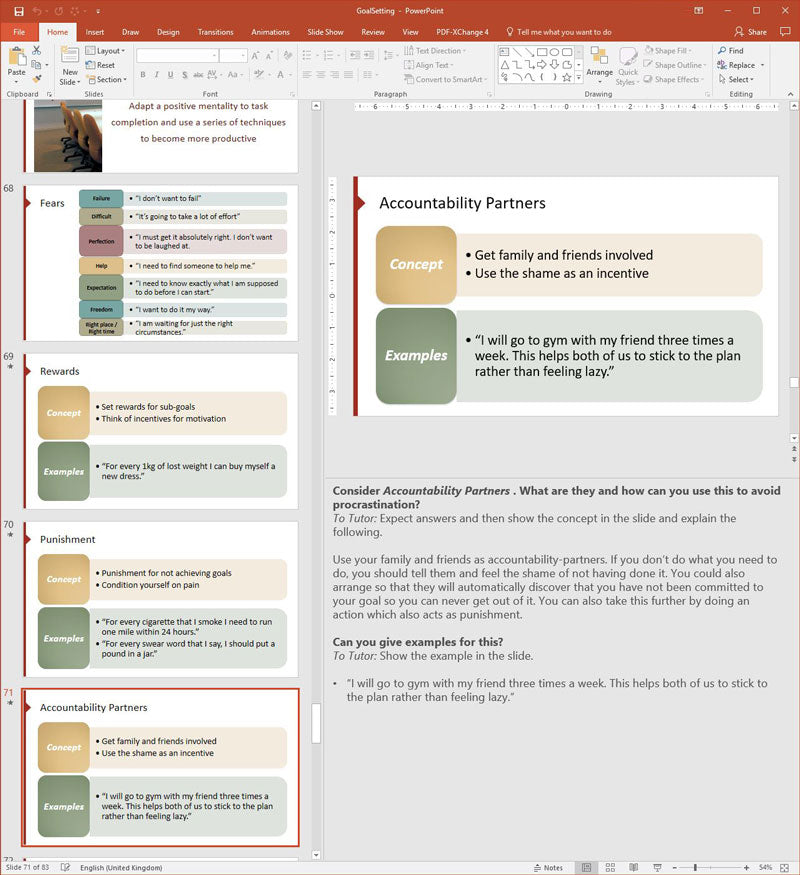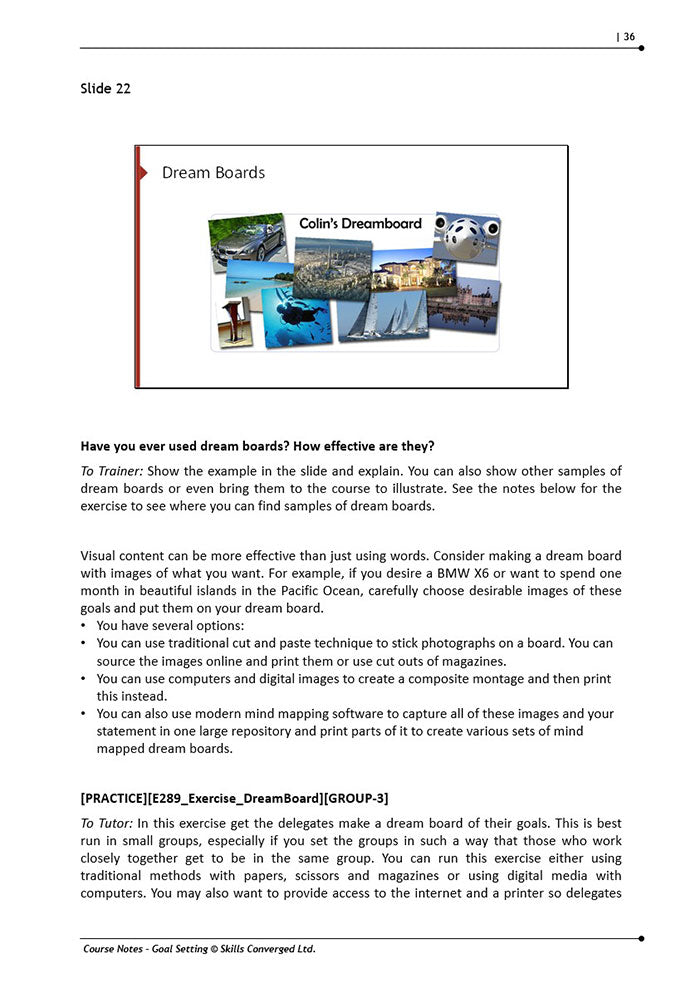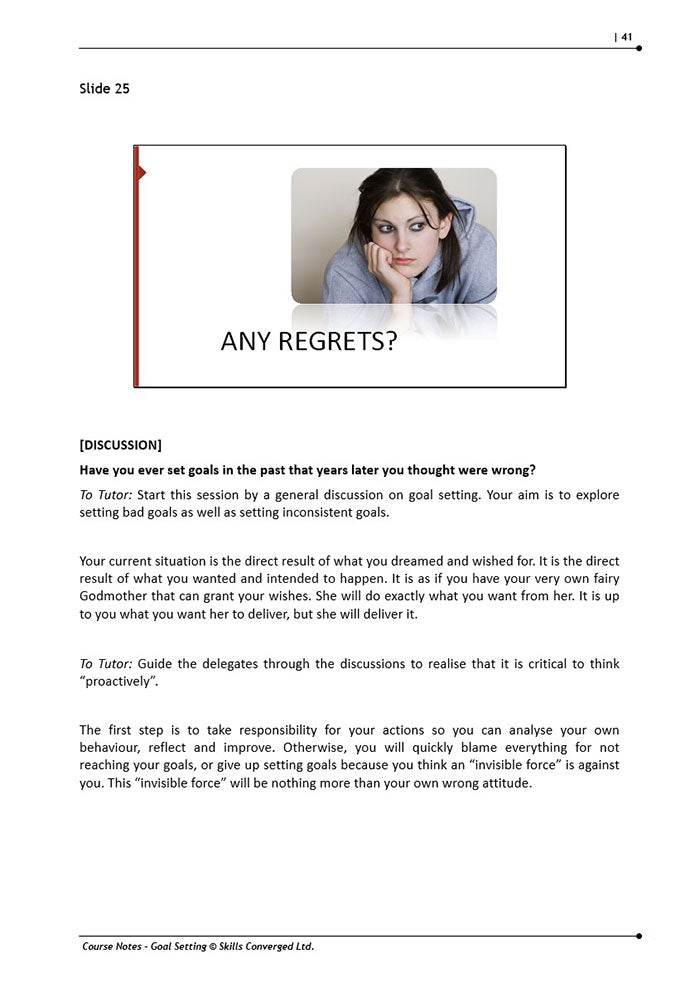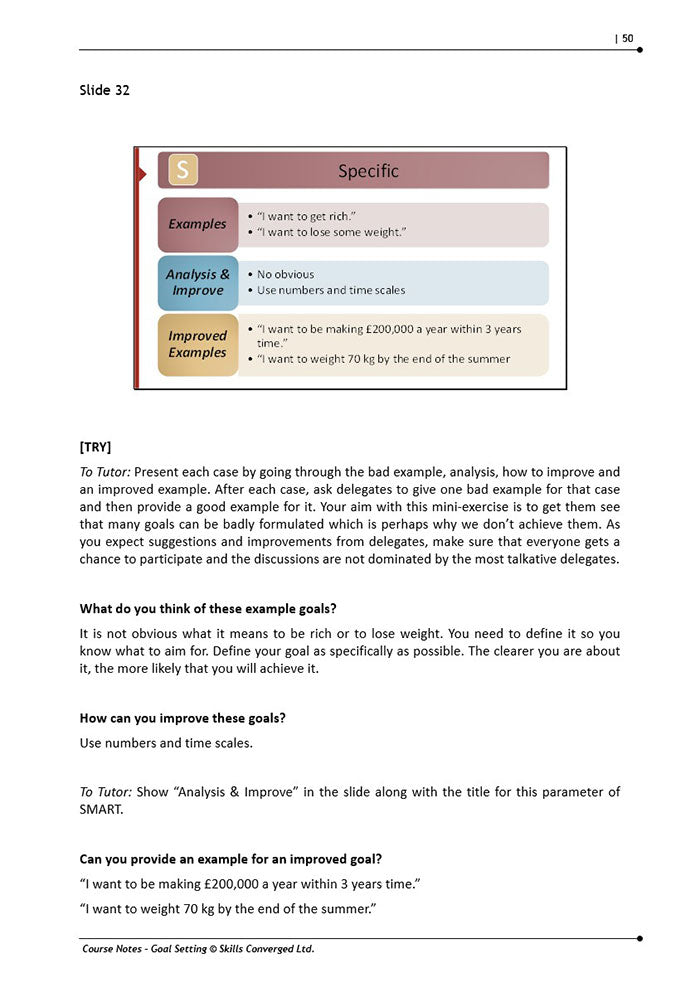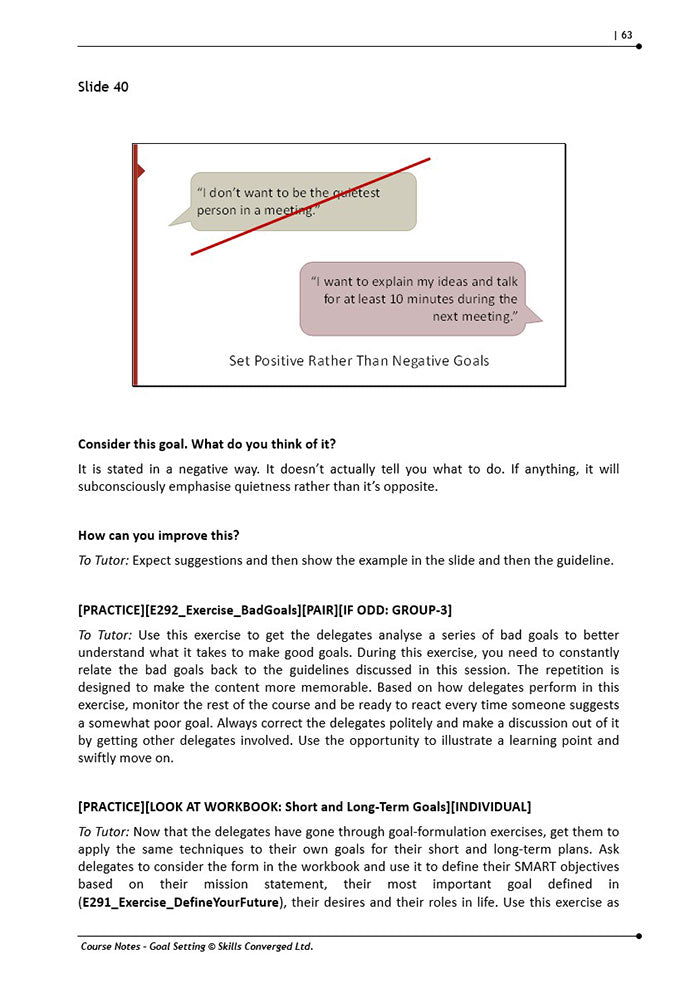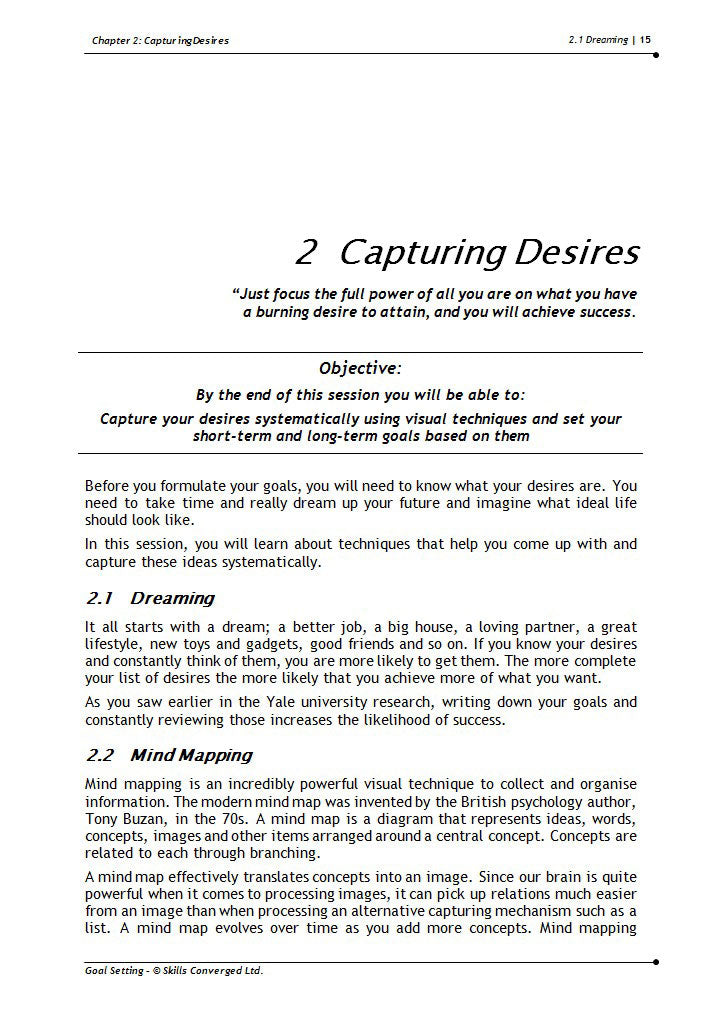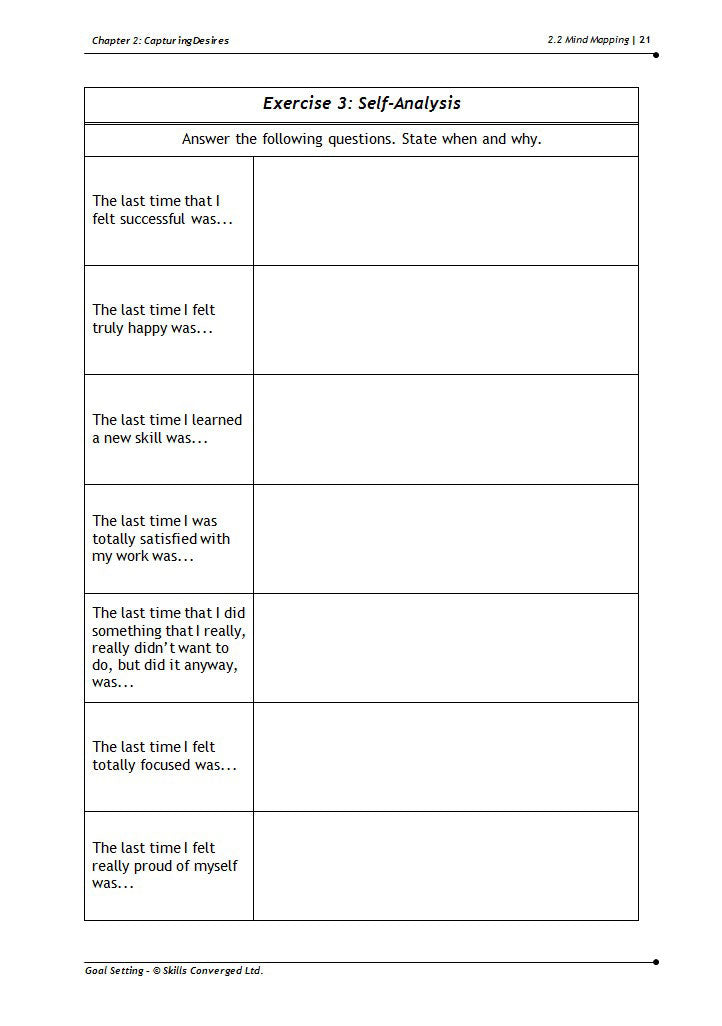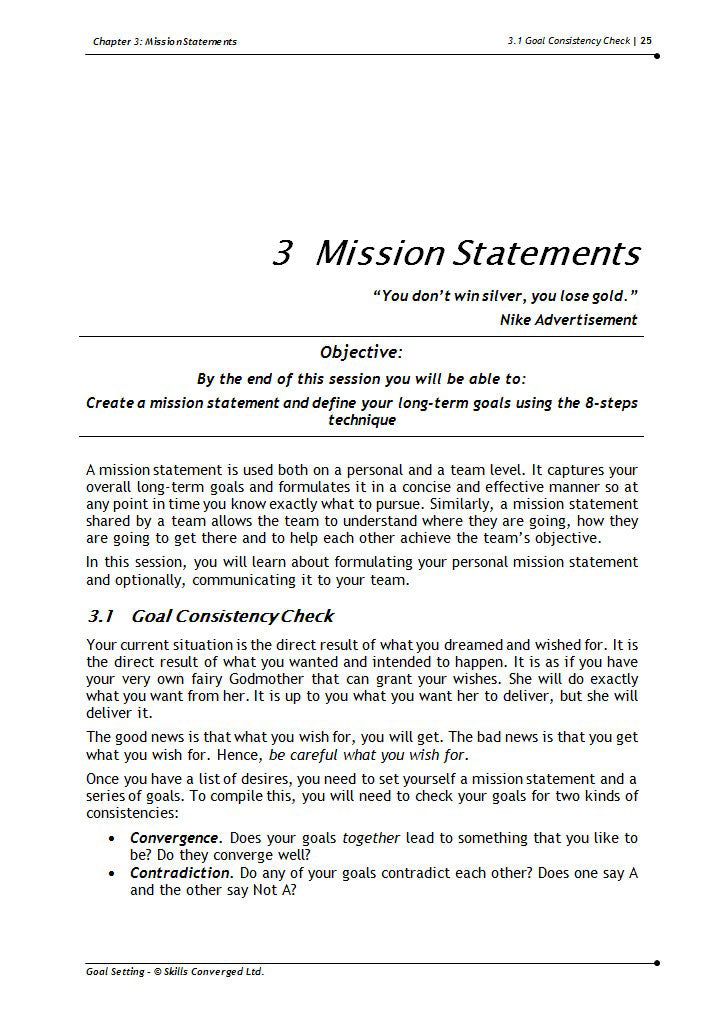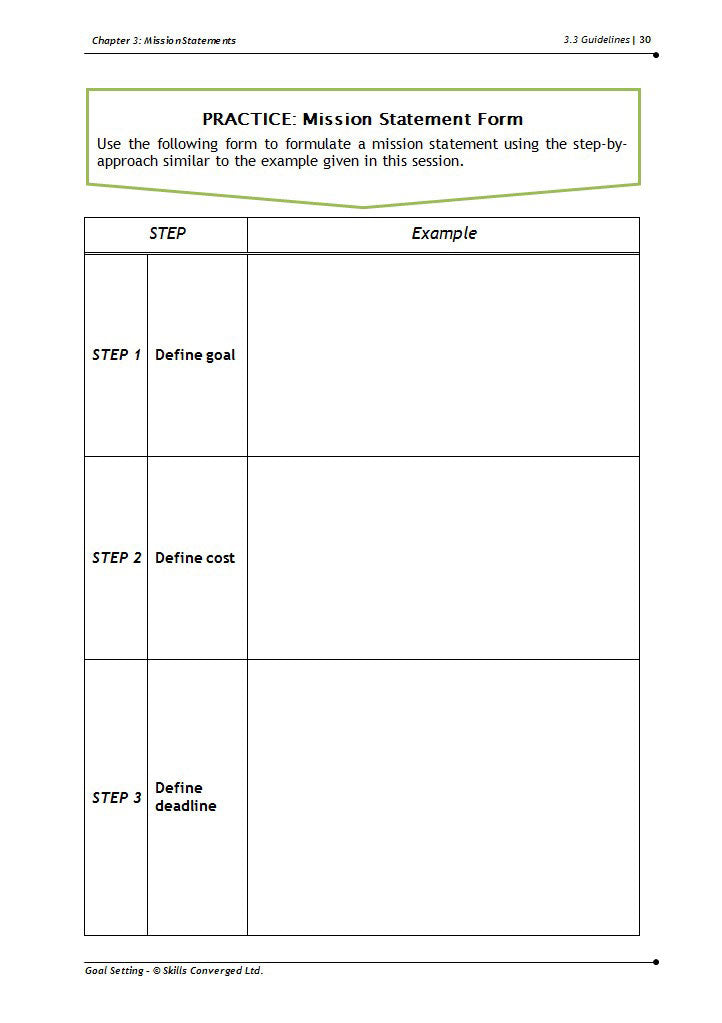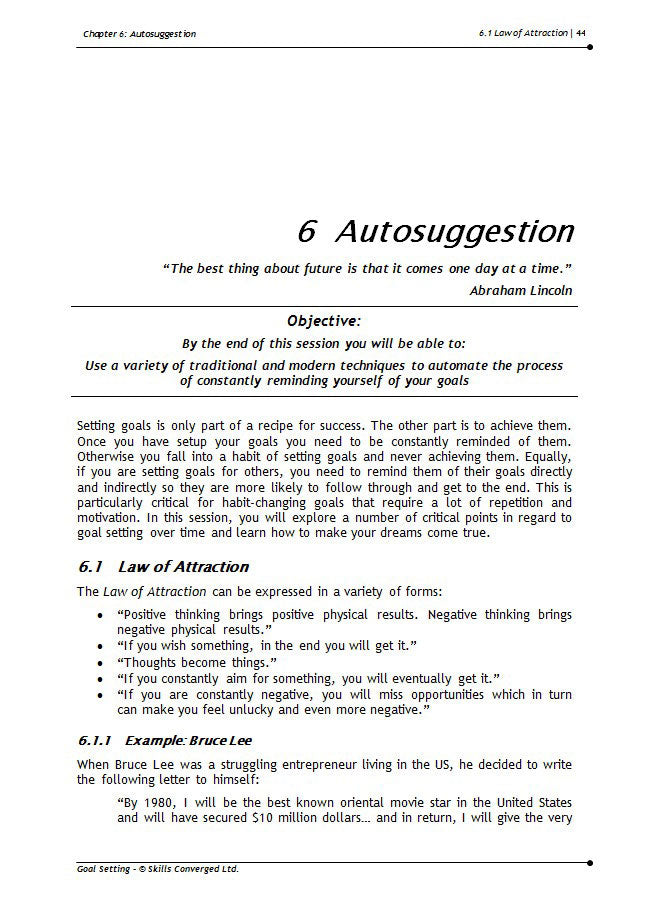 Goal Setting
---
---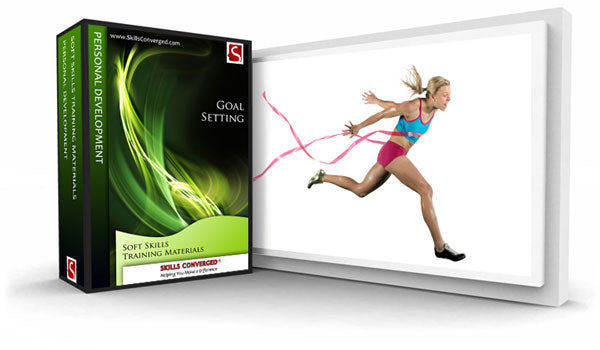 Course on Defining Goals Correctly and Using Tools and Techniques to Achieve Them
Fully Customisable Training Course Material
Description
"If you don't set goals for yourself,
you may be doomed to work to achieve the goals of someone else."

Popular Proverb
We are all on a quest to find out our ultimate goals and purpose in life and ways to achieve these goals. While some of us find our life goals and objectives and even exceed our wildest dreams and expectations, others struggle to find their objective in life and end up feeling confused and frustrated. Understanding your desires and being able to set goals to get you to said desires is the difference between successful people and others. So what is the secret?
Successful people are often determined, focused and persistent in going after what they want. Famous studies illustrate that goal setting, autosuggestion and correct formulation of goals can significantly boost productivity and quality of life. Knowing goals also helps leaders to share them with their teams so everyone knows where they are heading.
This course helps delegates systematically explore goal setting on low-level day-to-day objectives as well as on a grander scale on life mission statements, career goals and long-terms goals. This course is not just about setting goals, it is also about using effective techniques to achieve them.
Sessions are designed to help delegates explore goal setting from many angles, using associations, visual techniques, roles, mind maps and so on. Delegates also participate in exercises on goal formulation to learn about the best ways to express their goals and therefore increase their chances of achieving them.
The course also contains numerous guidelines and exercises on how to self-coach and get immersed in goal finding by engineering the environment. Delegates learn how to avoid procrastination and explore critical techniques on productivity and achieving success.
The course is packed with individual and group exercises to allow delegates examine their goals on their own as well as with the help of others. Comprehensive trainer script is provided so you can guide the delegates through these exercises, encourage discussions and provide assignments for them for after-course activity.
In this highly practical course participants will learn:
Importance of Goal Setting
What are the benefits of goal setting?
How goal setting can help your team and organisation?
How to boost your perseverance
How to Capture Desires
What are mind maps and how can they help you capture your desires?
How to make a visual representation of your desires
How to use the power of association to make sure you don't leave anything out
Mission Statement
What is a mission statement?
How can mission statements help you in your long-term and short-term goal setting?
How to make sure your goals are consistent
How to use an easy step-by-step approach to create a mission statement
Goal Formulation
How to formulate goals so that you know you are progressing forward towards them
How to formulate goals so that you get to achieve them
How to formulate goals so that you don't get overwhelmed by them
How to formulate goals so that they motivate you rather than discourage you
How to formulate goals so that you know what is involved
What is the different between positive and negative goals and why this matters?
Coaching
How to coach others
How to self-coach
What is an ideal sequence of activities to go through when coaching?
How can self-coaching help you reach your goals?
Autosuggestion
What is autosuggestion and what is its significance on goal setting?
What is Law of Attraction and how can it help you achieve your goals?
What are the traditional techniques on immersing yourself in activities that help you to achieve your goals?
How can you use technology and modern software tools to boost the power of autosuggestion?
Procrastination
What is procrastination?
What causes procrastination?
How can you avoid procrastination?
How can you take advantage of techniques such as The 10 Minutes Rule or Head Start to avoid procrastination?
Goal Visualisation
What is NLP and how does it relate to goal setting?
How can you use NLP to visualise your goals and facilitate your progress towards them?
"If you do not see great riches in your imagination, you will never see them in your bank balance. There is one quality which one must possess to win, and that is definiteness of purpose, the knowledge of what one wants, and a burning desire to possess it."

Napoleon Hill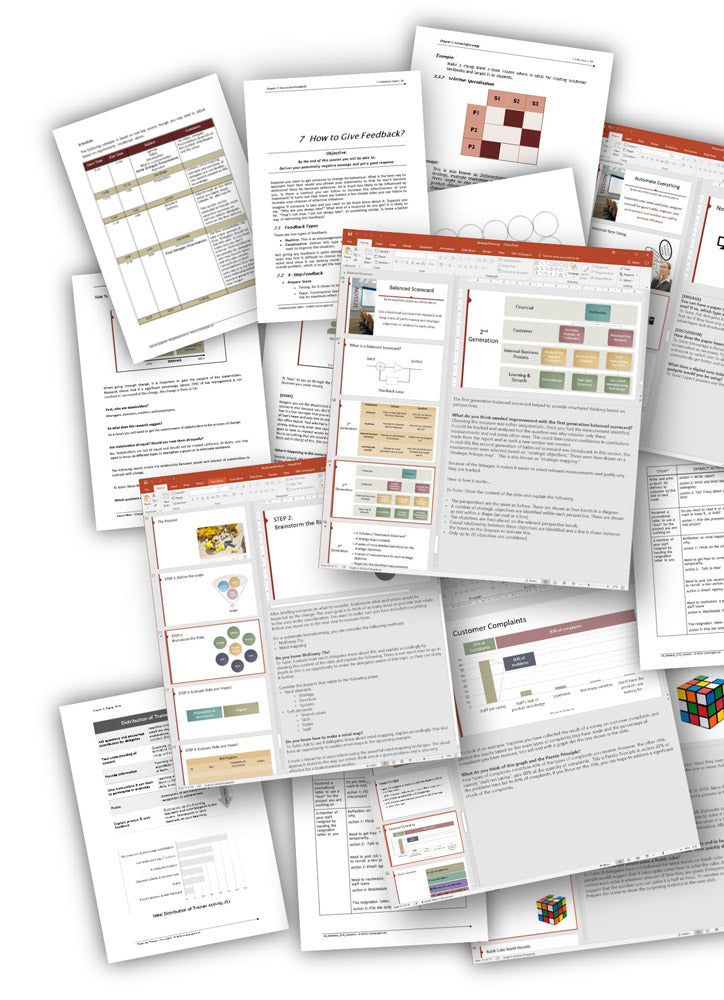 What Is Included
Everything you need to run the course:
Slides
Workbook
Exercises
Handouts
Trainer Notes
Specific Course Guidelines
Agenda
Guidelines on Training Methodology
Course Outline
Recommended Readings
Feedback Forms
Certificate of Achievement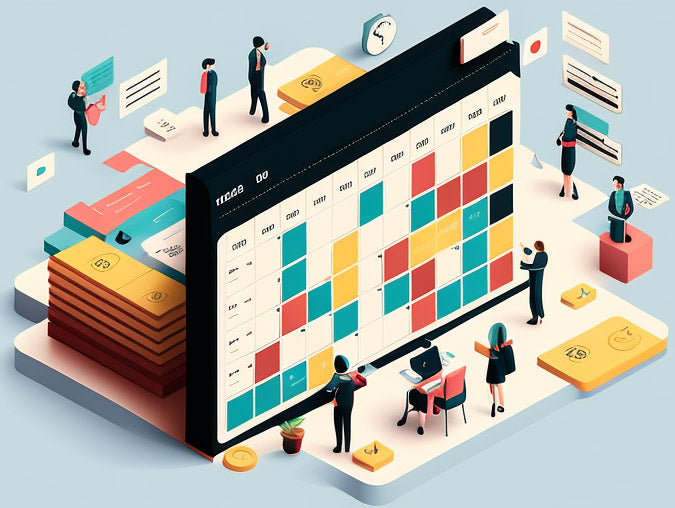 Course Objectives
By the end of this course delegates will be able to:
Courseware Features
Buy & Download Training Materials
Choose your training materials
Add to shopping cart
Get multiple courses to get discounts and create tailored training
Pay using all major debit / credit cards, PayPal, Apple Pay and Google Pay.
After payment processing, you are redirected to a download page
You will also receive emails with download links
Unzip the package and access all the training resources in MS Office format
How to Get Training Packages
Editting
You can customise, edit and modify the content as you desire
Rights
Unlimited workbook reprinting rights
Comprehensive
The downloadable training package contains all you need to deliver a course
Extensively Researched
Designed based on the latest research in educational psychology, cognitive psychology, social sciences and business practices
Facilitation Training
Designed in line with the principles of accelerated learning

Interactive
Designed to include many examples, case studies and exercises to improve learning and retention
Download
Order online and download immediately after purchase
Source Files
Receive editable source files in MS Office 365 (Word DOC/DOCX and Power Point PPT/PPTX) and previous Office versions 2003, 2007, 2010, 2013 & 2016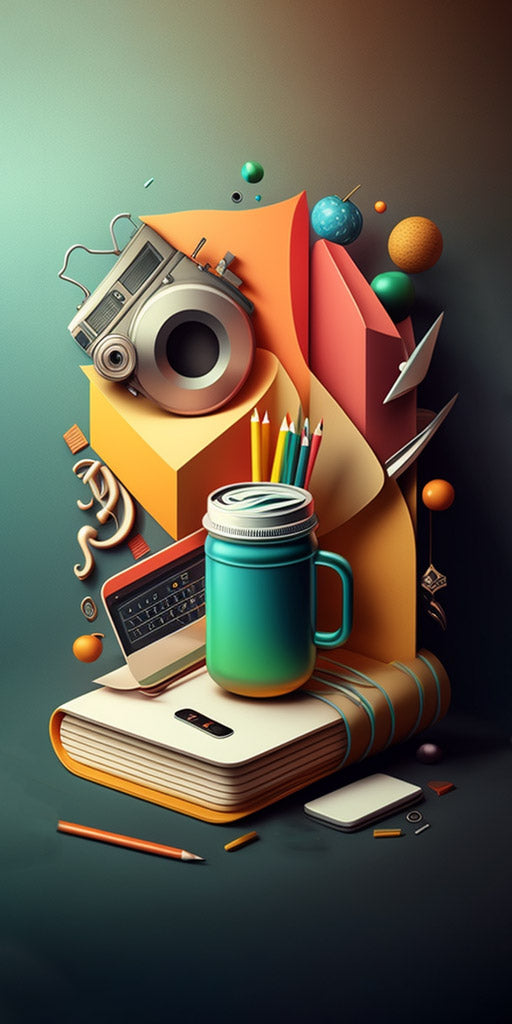 About the Design Philosophy of Goal Setting Course
100+ Countries
Used by Trainers Worldwide
Our mission is to help you deliver memorable courses with long lasting results, while taking the least amount of effort and time to run.
Save Time & Boost Training
Skills Converged is a unique company that provides professionally designed fully-customisable training course materials based on the latest research in learning & development. Courses are designed with attention to detail both on content and style so that you can deliver unique state-of-the-art courses to your clients and get maximum results.
A Companion Book For This Course
You can use the following companion book as part of your training resources. You can provide the self-study book yourself or refer the delegates to obtain and read it. You can ask them to go through the exercises in the book as an assignment. If you have a follow-on course you can encourage a discussion and highlight key points on what they learned from the book.

Focused Determination: How to Engineer Your Life to Maximise Your Happiness
For Trainers
Use ready-made modular courseware, tailor to your audience, respond to market quickly & effortlessly
For People Developers
Increase HR efficiency and save by supplying consistent professionally designed training materials to your trainers and help employees reach full potential