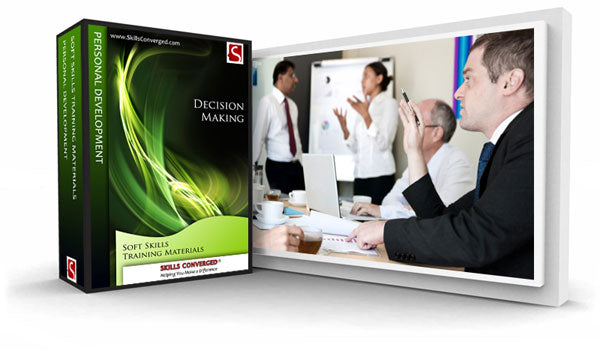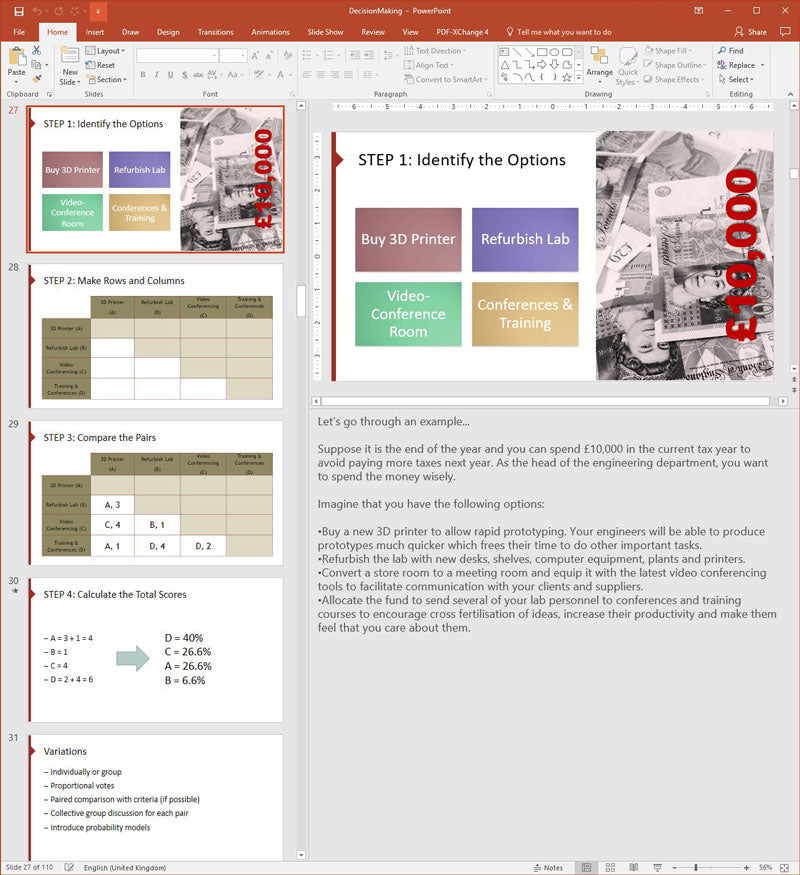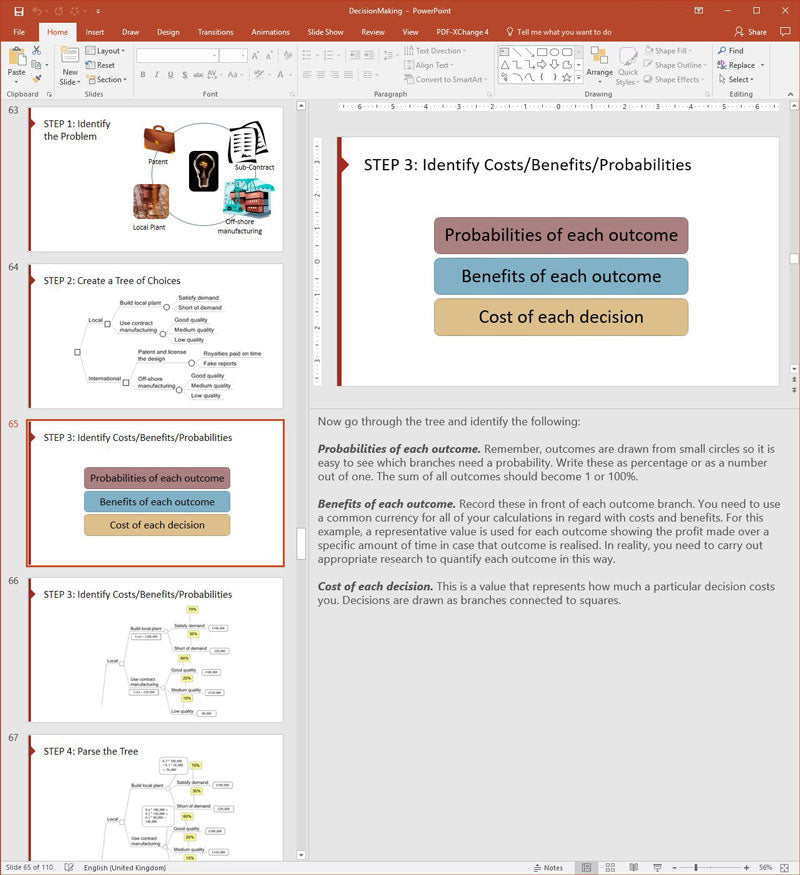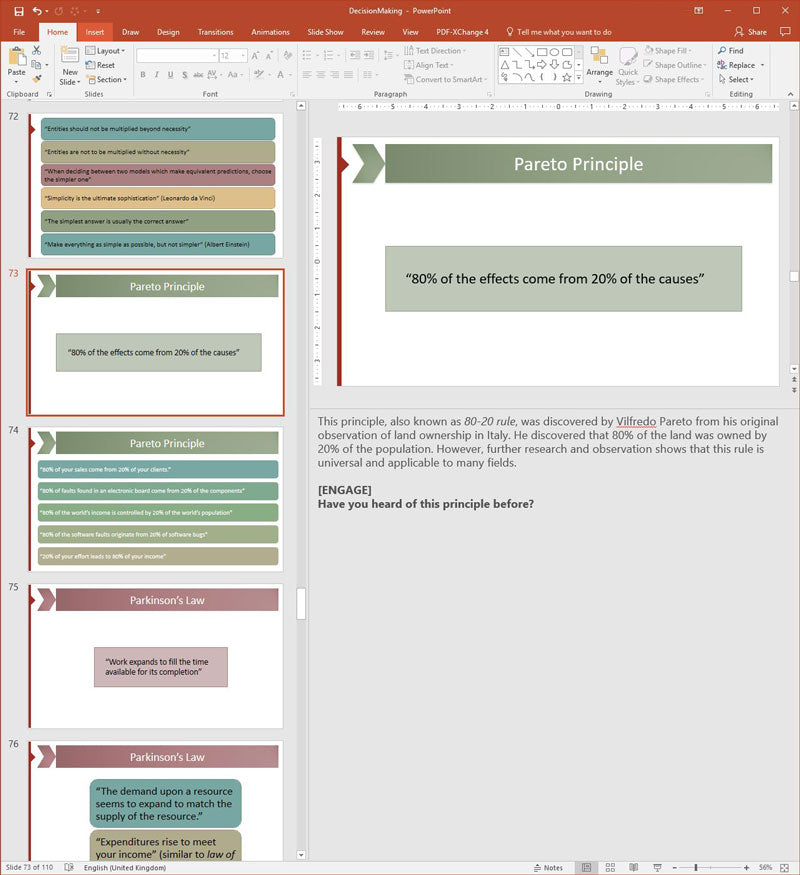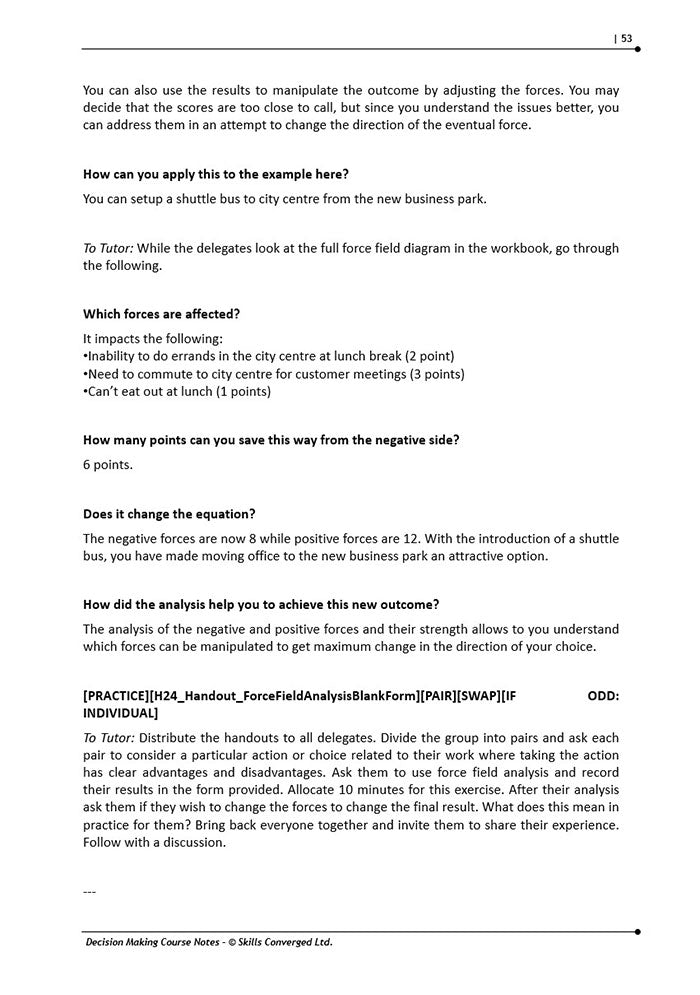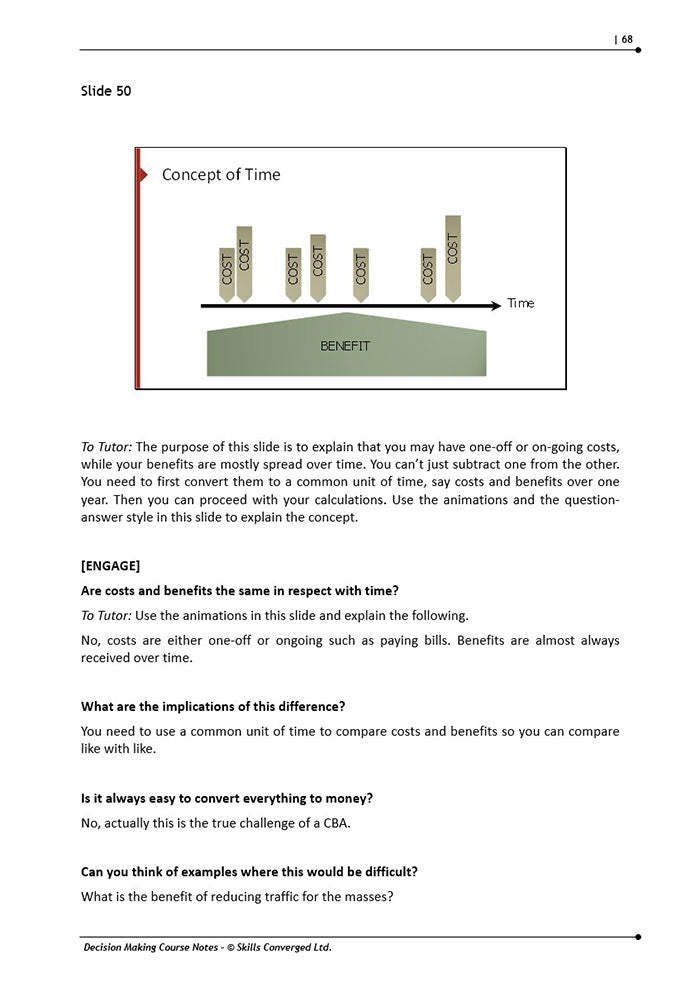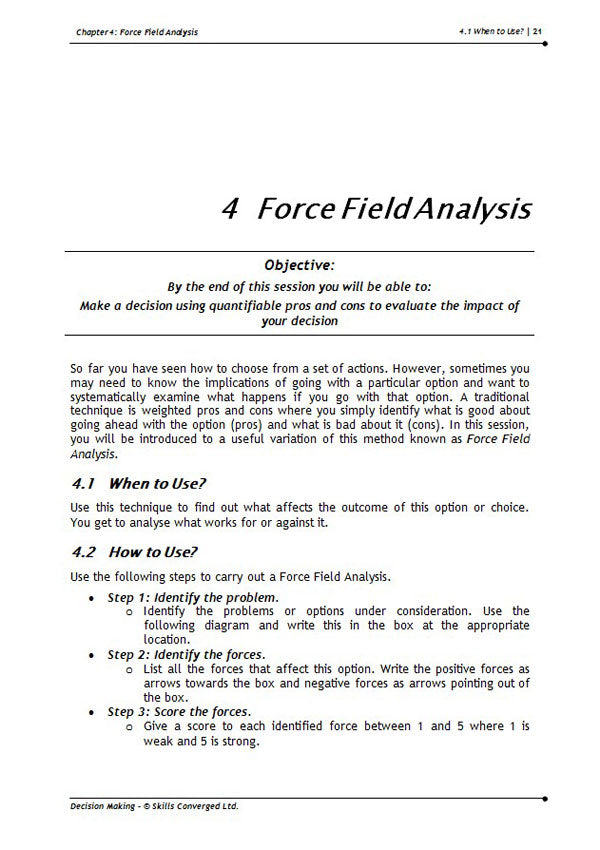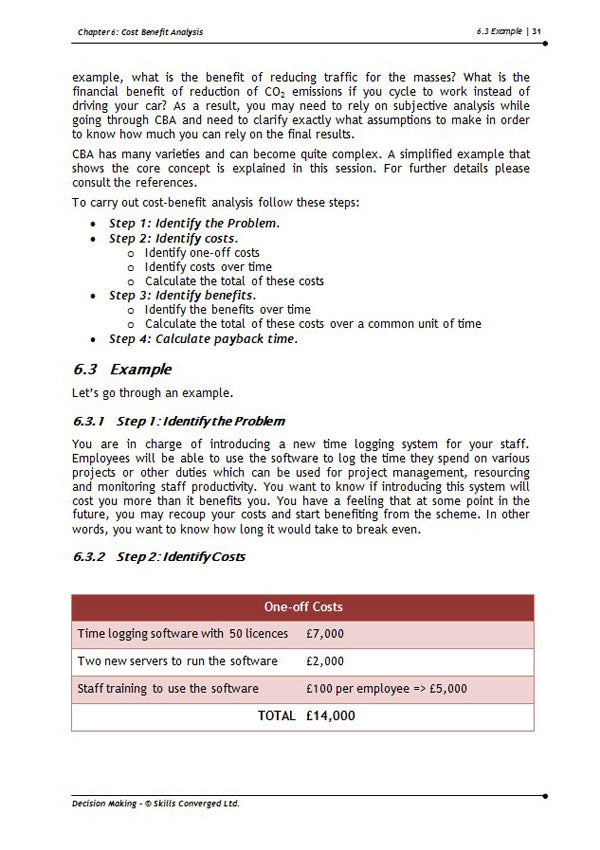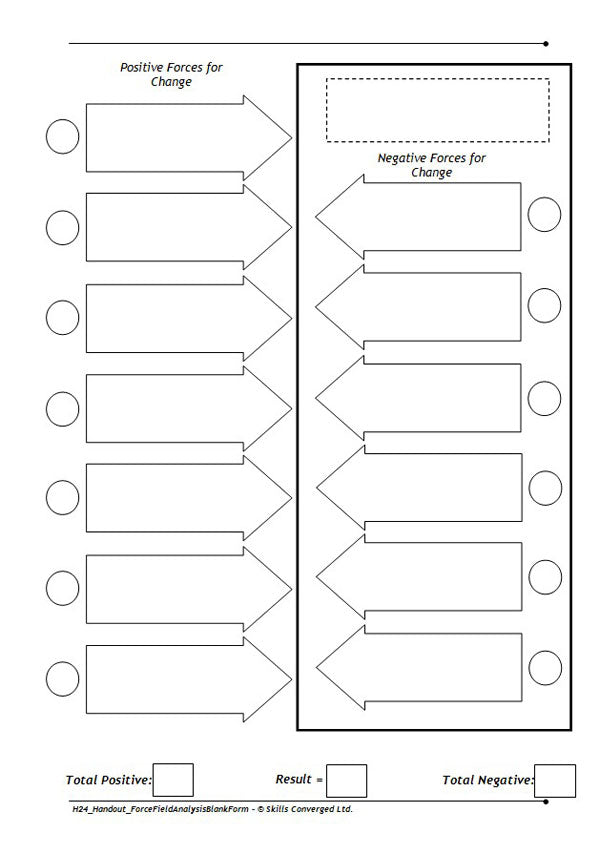 Decision Making
---
---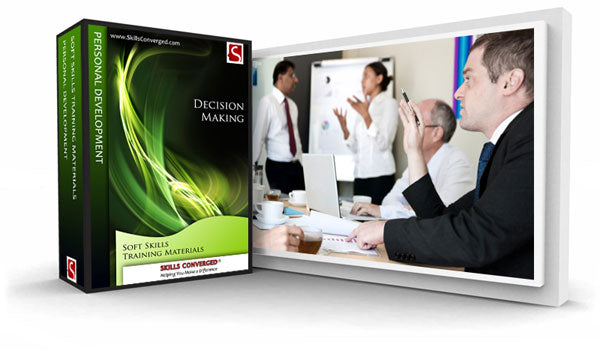 Course Packed with Powerful Tools and Techniques to Facilitate Individual and Group Decision Making & Problem Solving
Fully Customisable Training Course Material
Description
"Successful leaders have the courage to take action while others hesitate."

John C. Maxwell
We make decisions every day. These decisions come to define our life and some of them may have a profound effect on the journey we take. However, making decisions is not an easy task and sometimes you may find yourself pondering on alternative courses of actions for hours, days or even months.
The recent increase in the complexity of our lives, both personal and professional, has made decision making even more critical and time consuming. Fortunately, we have also progressed significantly on decision making tools and now have a comprehensive toolbox, established philosophies and guidelines to use which can make decision making process and problem solving easier than ever before.
This course teaches a series of proven techniques that simply help you to decide. Broadly the course can be divided into three sections:
What actions can you take and how to choose the best one?
Is the action you are about to take going to improve the situation?
How to make optimal decisions as a group?
For each part, a series of techniques are provided, each suitable for a different problem. Each technique is described briefly and is then followed by an example fully describing the technique. Research shows, that delegates always learn better with an example and this course takes full advantage of this fact. Next, after each example, delegates participate in an exercise to learn that specific technique with a hands-on experience which helps them to understand and remember the technique even better.
Each technique is described using an example, followed by detailed explanation of steps taken and an exercise that lets the delegates master the skill.
A series of important philosophical principles are also presented in this course. These concepts help to raise the awareness of delegates on the impact of their decisions on others, how personal benefit may not always be to their best interest and so on.
In this highly practical course delegates will learn:
What Is Decision Making?
What are the characteristics of a good and bad decision maker?
How much analysis do you need to do?
What is involved in decision making process?
How to Choose Actions
How to choose between a set of options where each has its own advantages and disadvantages
How to make a quantifiable comparison between alternative options
How to systematically compare related options
How to systematically compare unrelated options
How to Analyse the Impact of Your Actions
How to use a measure to compare pros and cons
How to carry out a force field analysis
How to compare the benefits versus the costs of taking different options
How to systematically analyse a cascade of decisions where one leads to another
How to visualise your decision making process
What tools can you use to increase your creativity when making decisions so you can come up with more options?
How to Decide in Groups
What are the implications of deciding in groups?
Why thinking in groups can sometimes be so frustrating?
What can you do to increase the efficiency of your meetings?
How to prevent dominant people from take over the meeting or the decision making process
How to encourage newcomers or those who are shy to present their views without fear of criticism
What tools can you use to streamline the process of group decision making?
How to avoid groupthink, where participants are so eager to reach a decision without causing conflicts that they end up choosing a wrong solution
What Are the Principles of Decision Making?
Do you always have to make sure you get a better bargain than others?
What are the philosophical implications of complexity when making decisions?
What is the best way to plan your course of action and what principles you need to be aware of?
What can you learn from game theory when making decisions?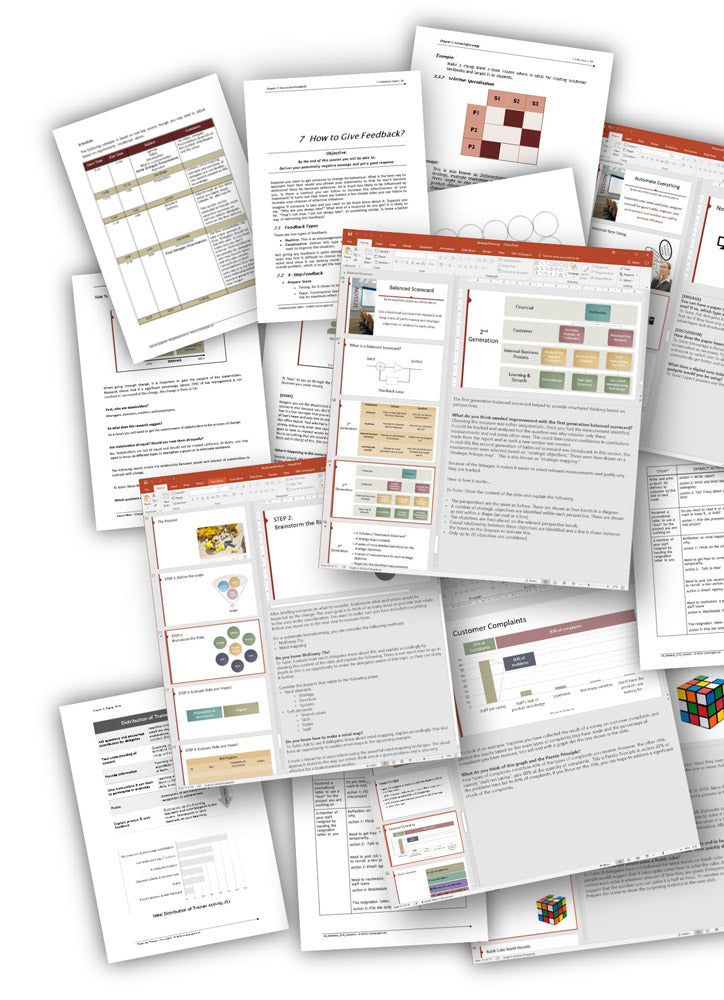 What Is Included
Everything you need to run the course:
Slides
Workbook
Exercises
Handouts
Trainer Notes
Specific Course Guidelines
Agenda
Guidelines on Training Methodology
Course Outline
Recommended Readings
Feedback Forms
Certificate of Achievement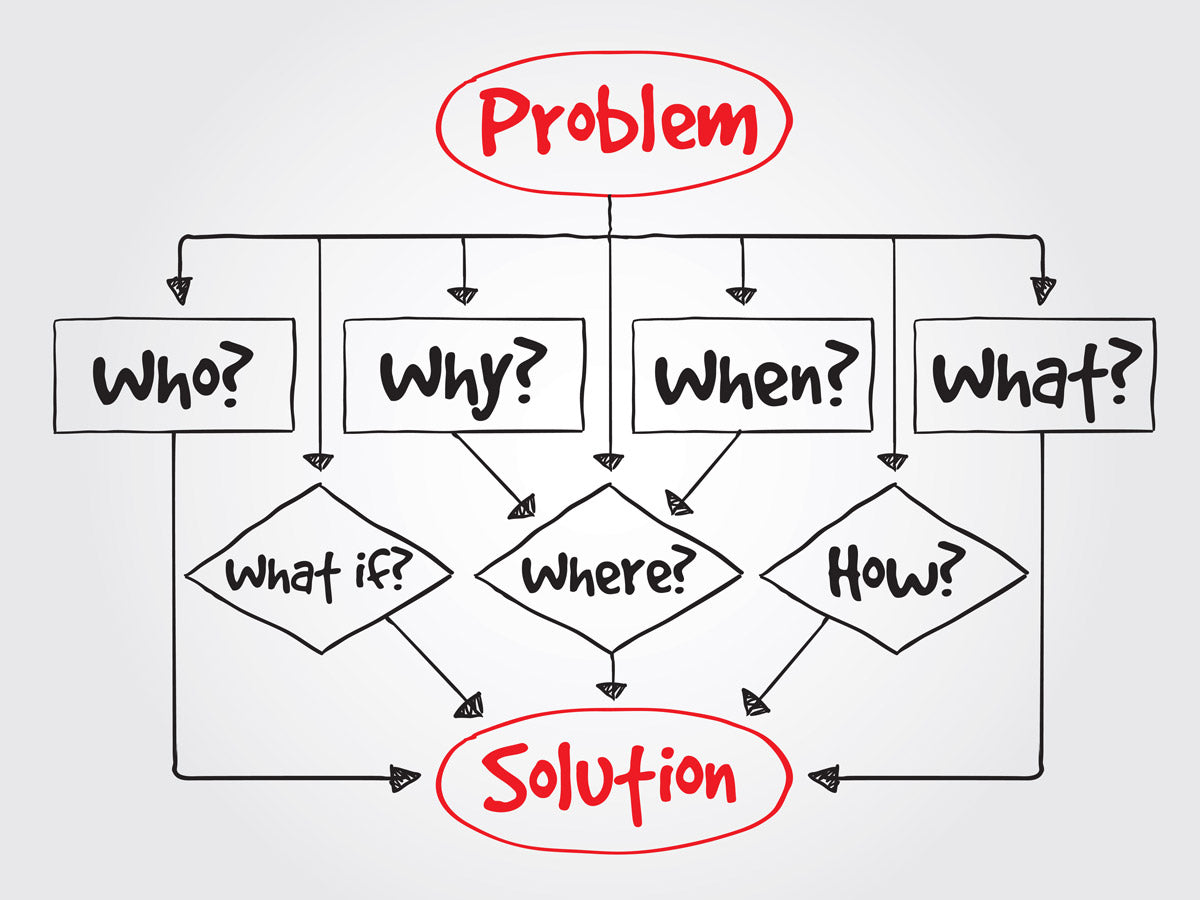 Course Objectives
By the end of this course delegates will be able to:
Courseware Features
Buy & Download Training Materials
Choose your training materials
Add to shopping cart
Get multiple courses to get discounts and create tailored training
Pay using all major debit / credit cards, PayPal, Apple Pay and Google Pay.
After payment processing, you are redirected to a download page
You will also receive emails with download links
Unzip the package and access all the training resources in MS Office format
How to Get Training Packages
Editting
You can customise, edit and modify the content as you desire
Rights
Unlimited workbook reprinting rights
Comprehensive
The downloadable training package contains all you need to deliver a course
Extensively Researched
Designed based on the latest research in educational psychology, cognitive psychology, social sciences and business practices
Facilitation Training
Designed in line with the principles of accelerated learning

Interactive
Designed to include many examples, case studies and exercises to improve learning and retention
Download
Order online and download immediately after purchase
Source Files
Receive editable source files in MS Office 365 (Word DOC/DOCX and Power Point PPT/PPTX) and previous Office versions 2003, 2007, 2010, 2013 & 2016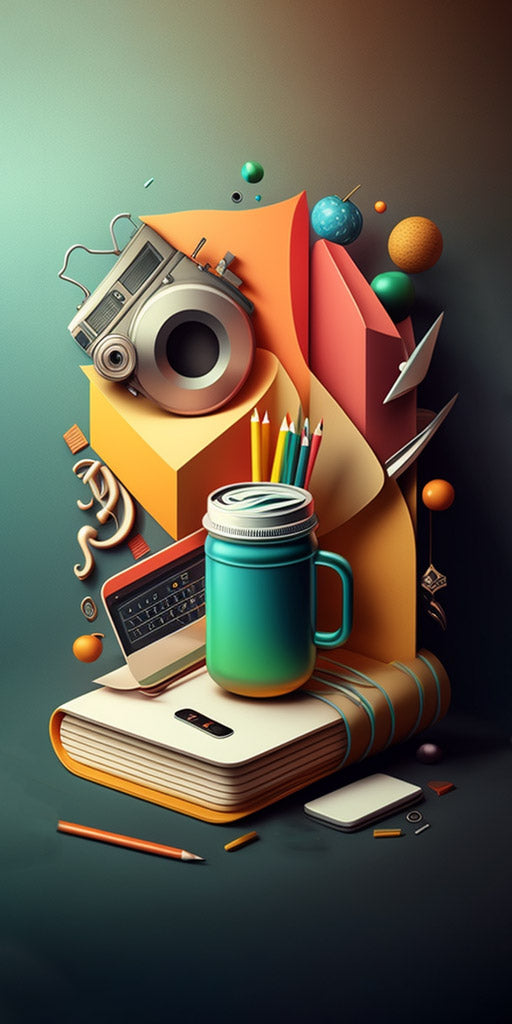 About the Design Philosophy of Decision Making Course
100+ Countries
Used by Trainers Worldwide
Our mission is to help you deliver memorable courses with long lasting results, while taking the least amount of effort and time to run.
Save Time & Boost Training
Skills Converged is a unique company that provides professionally designed fully-customisable training course materials based on the latest research in learning & development. Courses are designed with attention to detail both on content and style so that you can deliver unique state-of-the-art courses to your clients and get maximum results.
For Trainers
Use ready-made modular courseware, tailor to your audience, respond to market quickly & effortlessly
For People Developers
Increase HR efficiency and save by supplying consistent professionally designed training materials to your trainers and help employees reach full potential