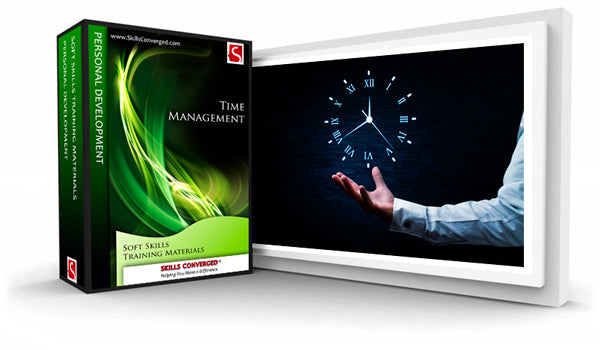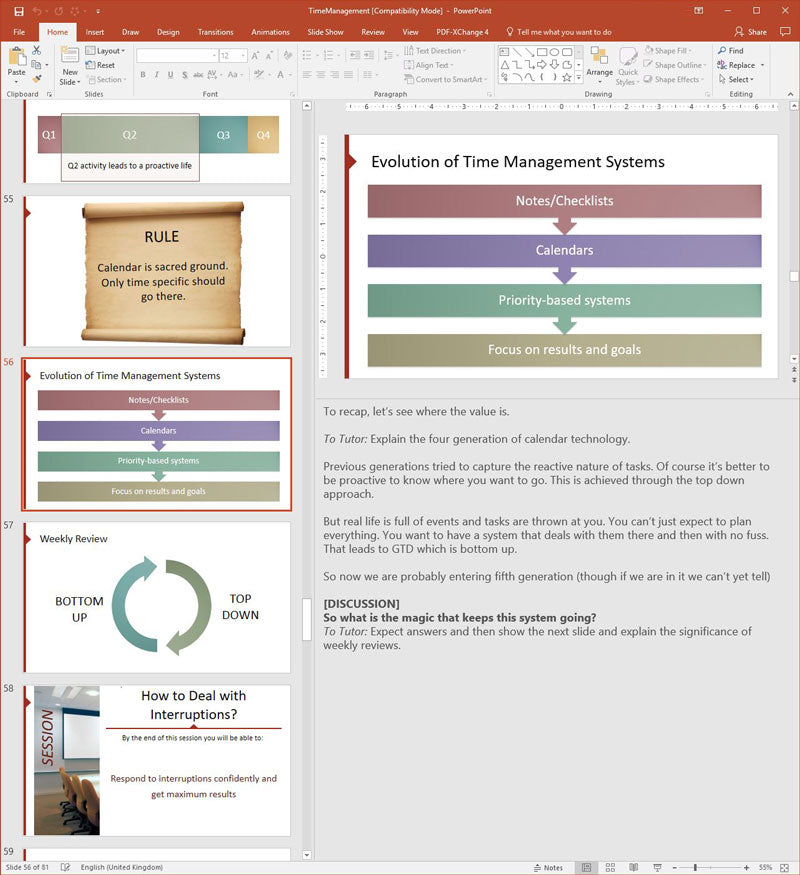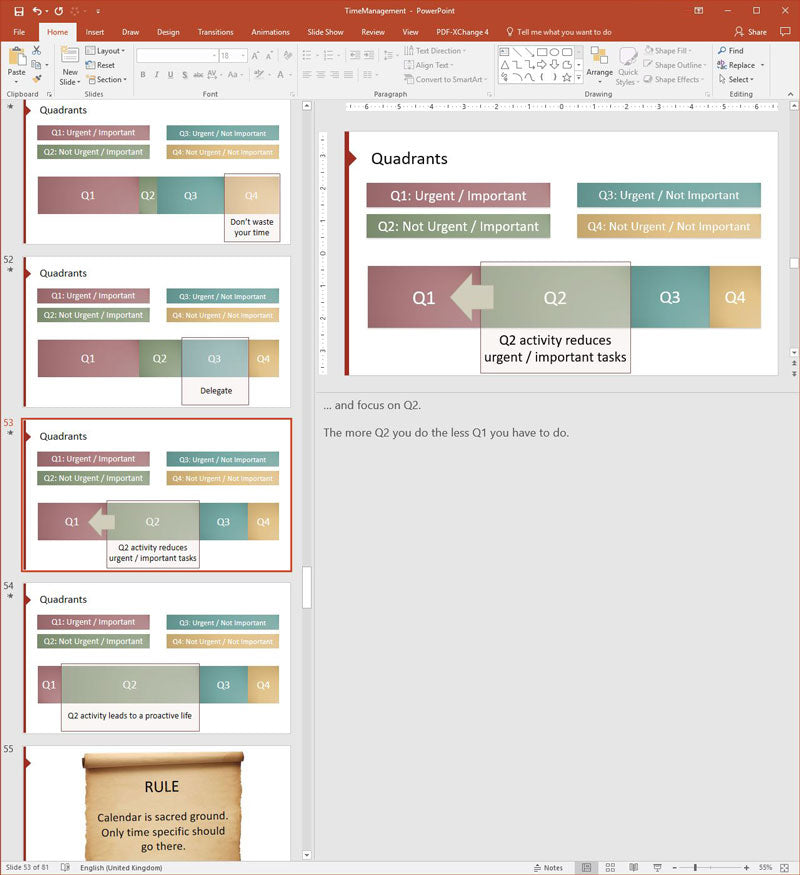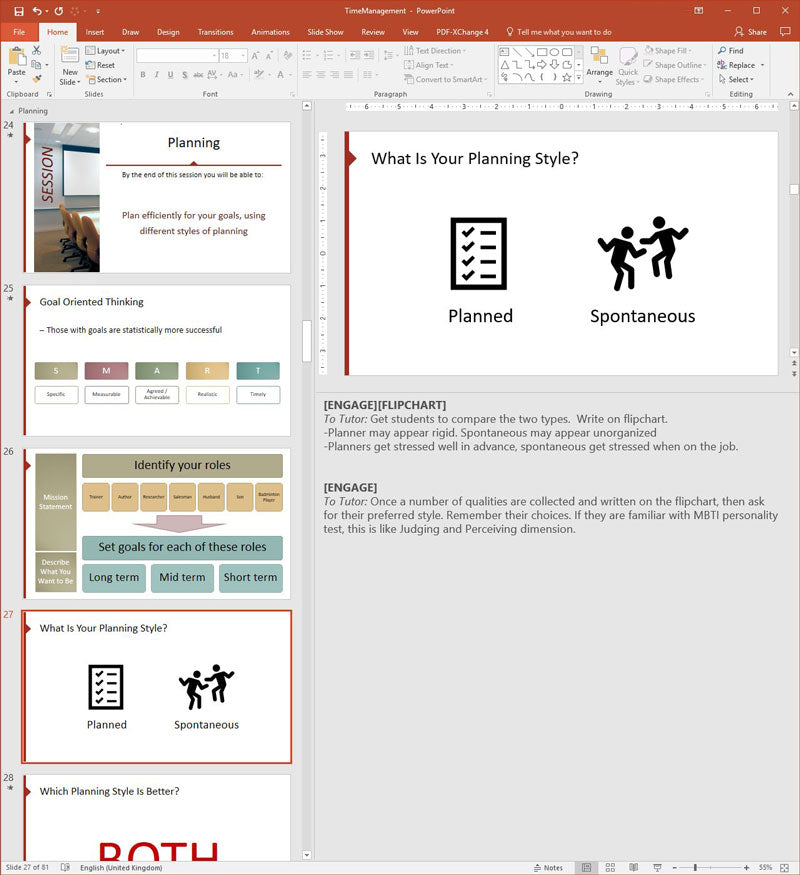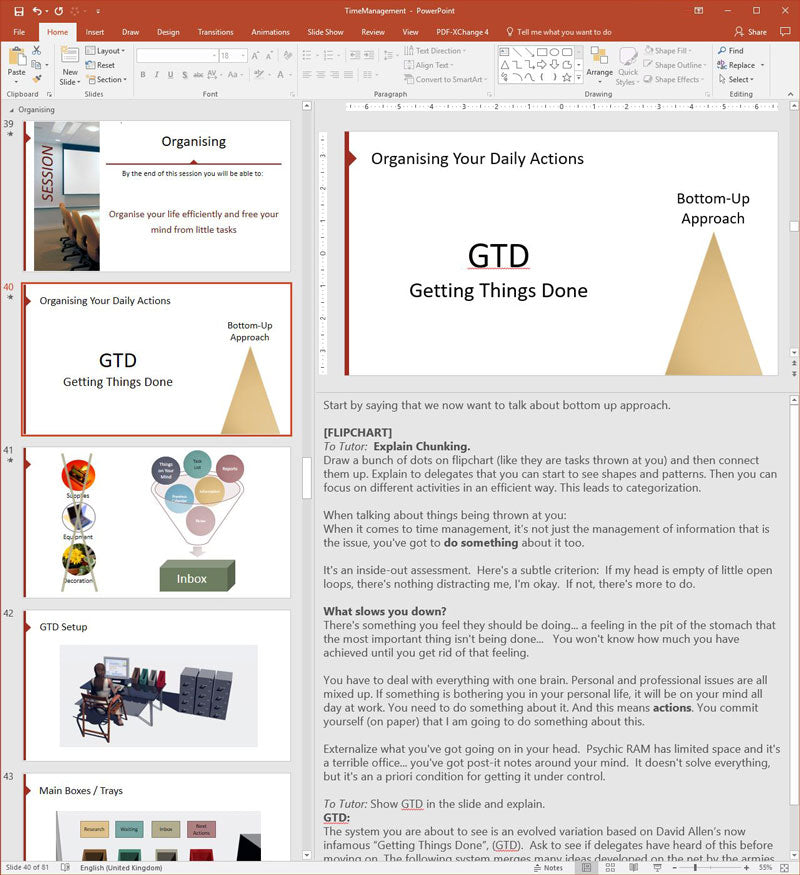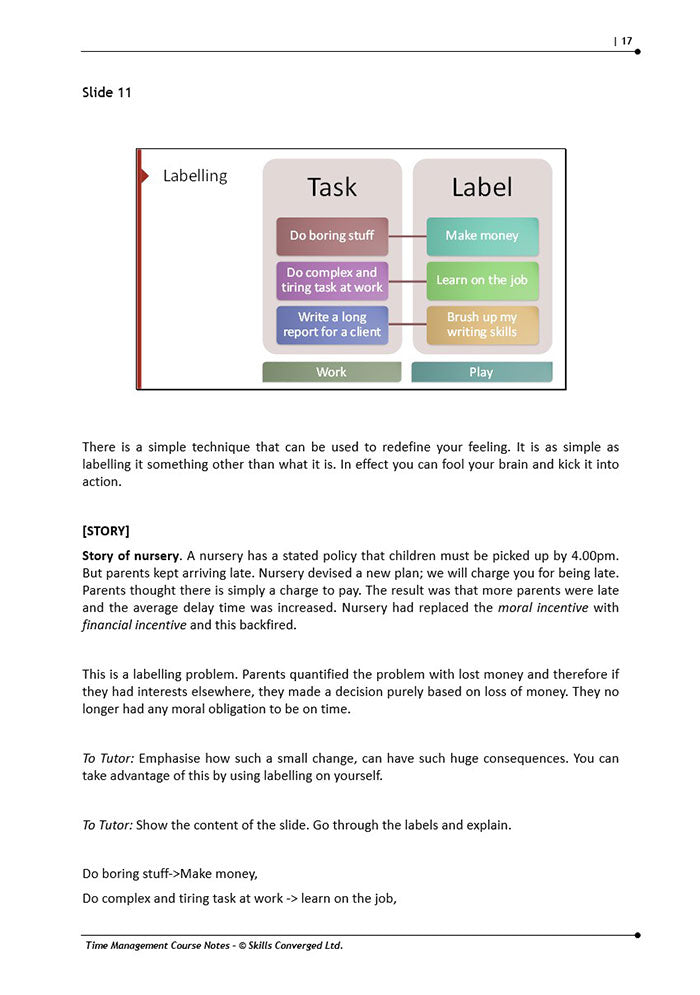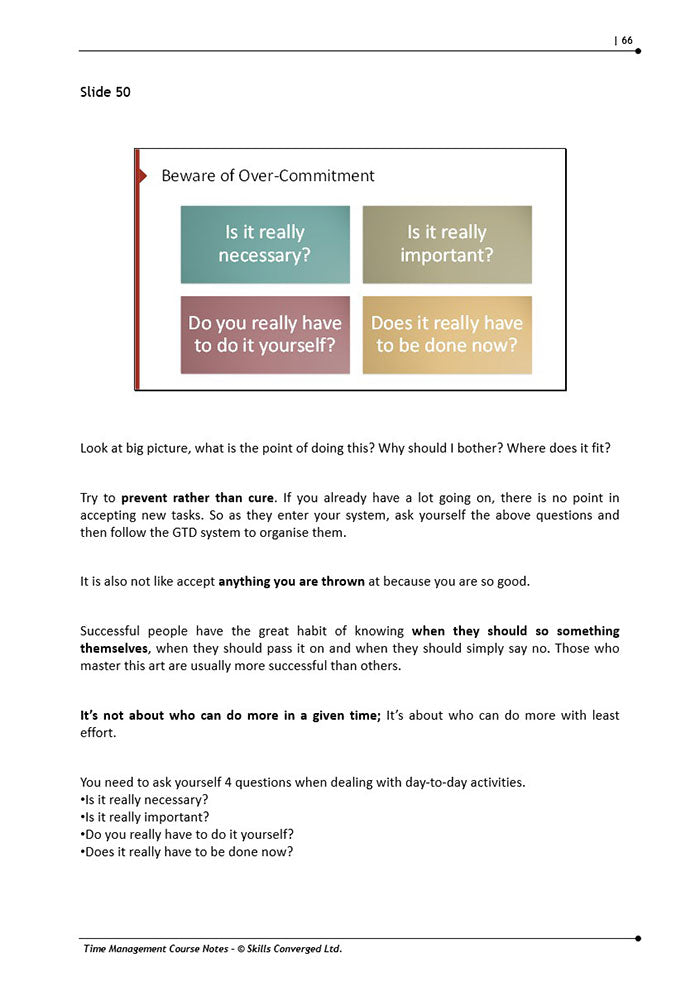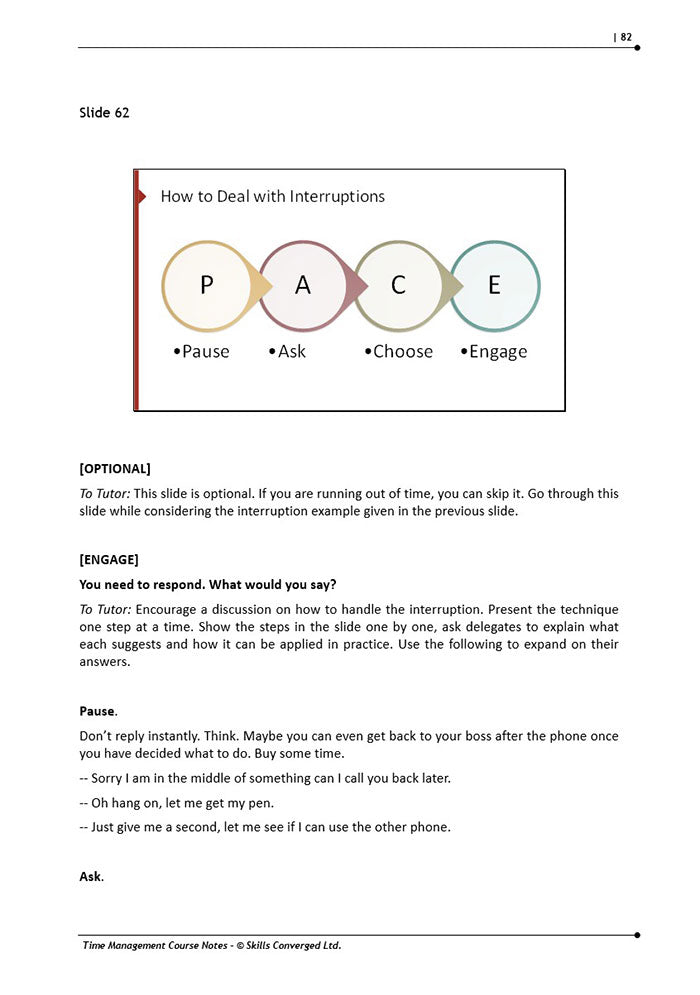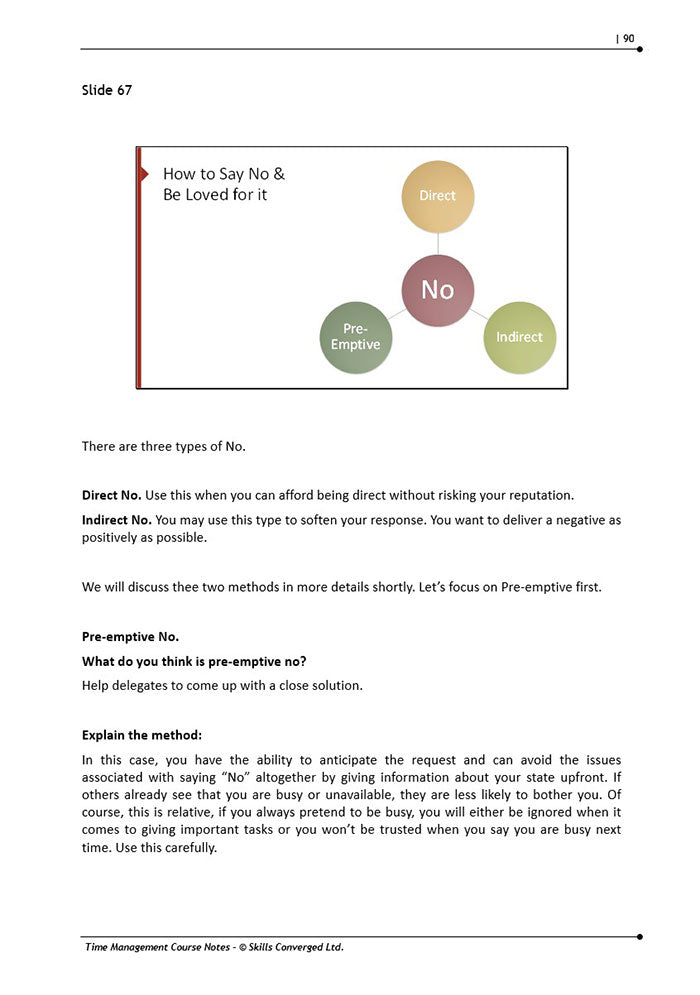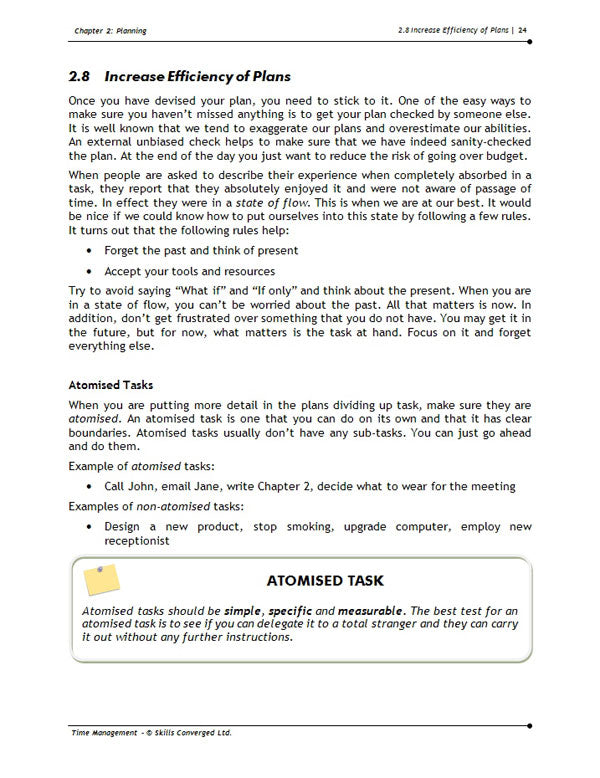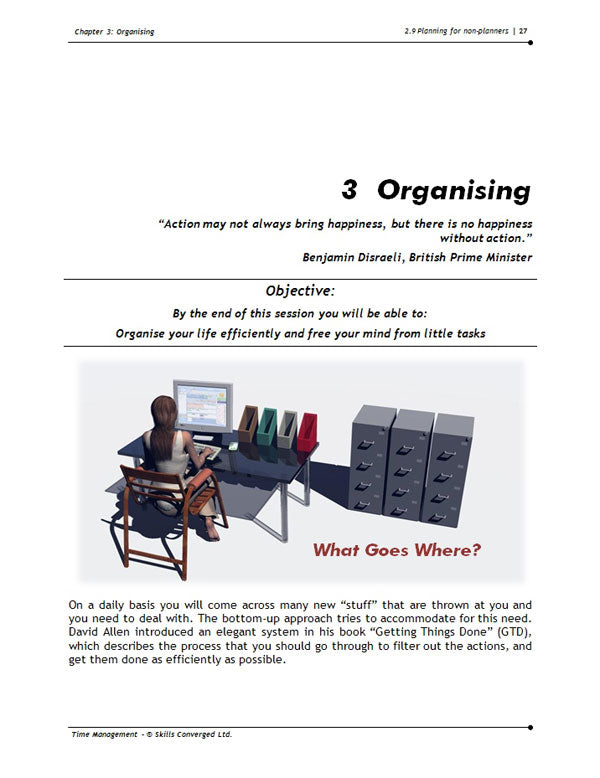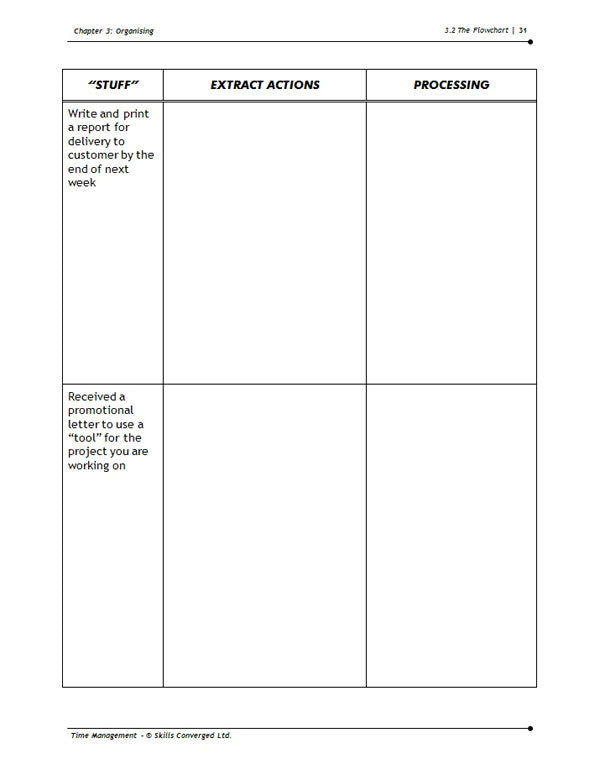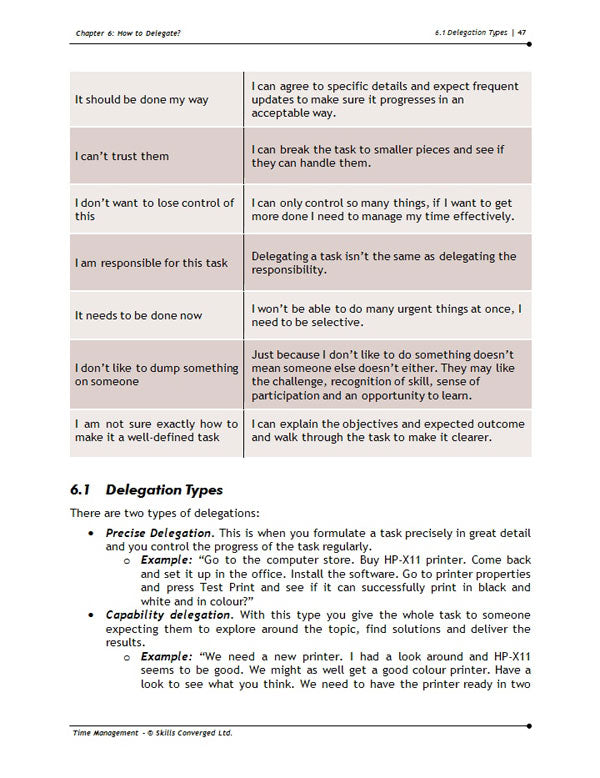 Time Management
---
---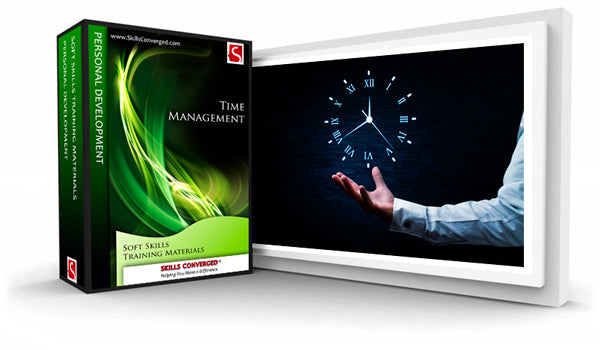 Course Covers Core Principles and Techniques on Time Management and How to Achieve More in Less Time
Fully Customisable Training Course Material
Description
"I hear and I forget, I see and I remember, I do and I understand."
Old Aphorism
Everyone needs to deal with incoming "stuff" on a daily basis, whether they are mails, emails, calls, information packs, messages, your own thoughts or even random events like the breakdown of your car. We need to deal with a collection of unrelated stuff at work and at home using only "one" mind. If you increase your efficiency in dealing with these, you stand to gain enormously.
Many systems exits and numerous productivity books and courses attempt to impose one system or other to their audience. These systems prove to be effective at first, but seem to get forgotten over time and people fall back to their bad habits once more. Over time, as more systems are learned and tested, a sense of hopeless develops that no matter what time management system is used, the result is never good.
Our Approach
At Skills Converged, we deliver the Time Management course continuously and we have realised that imposing any particular system on delegates does not necessarily lead to increased productivity. As a result, we have tailored this course to make it as effective as possible not just in the short term, but also in the long term.
To achieve this, the course focuses on fundamental principles, guidelines, attitudes and organisation systems. Based on these principles and examples of such systems, delegates form their own system based on their own life style. In our experience, this has proven to be much more effective and even months after the course, our delegates report that they have become more productive as a result of this course. We are proud of this and continuously work to improve this course.
In this day-long highly practical course delegates will learn:
Attitude Towards Time
How different people look at time and what are the implications of this
What mental techniques can you use to increase your productivity?
What is the impact of perfectionism on your productivity and how can you manage it?
What stops you from starting a task and how can you overcome it?
What techniques can you use to avoid procrastination?
How to take advantage of "dead time"
How to free your mind from thinking continuously about critical tasks
How can you optimise your day based on your capabilities and your workload?
Planning
How to set goals systematically to maximise your productivity
How to set your mission statement based on everything you do in life
Which planning style is better?
How to brainstorm
How to plan if you don't like planning
What is a bottom-up and top-down approach to productivity?
What is the best way to plan in meetings to make the best use of time and produce a good plan? 
Explore bottom-up and top-down approaches to time management and see why they are critical and complementary for anyone interested to increase efficiency
Organising
How to organise your physical and digital environments
What reference system works best and what its critical qualities?
What tray system works best?
What calendar system works best?
How to take advantage of GTD principles (Getting Things Done) to organise your life
How to set up and use your calendar using the latest methodologies such as GTD
How to prioritise your tasks based on urgency and importance
How to use GTD with Microsoft Outlook
Learn About GTD

What kinds of trays are better?
How many trays should you use?

What should you use the trays for?

How should you label your trays or folders?

How should you organise your desk?

What filing system works best?

What are the best categories or contexts to use when organising your tasks?

How to manage the physical versus digital world

How to close "open loops" so you don't have to constantly worry about forgetting to do a task
Dealing with People
How to say "No" and be loved for it
How many different ways to say "No" and what are advantages and disadvantages of each type?
How to deal with interruptions politely and stay in control
How to delegate to increase your productivity
How many different ways can you delegate and when should you use each style?
How to handle phone interruptions
How to "engineer" your environment to minimise interruptions?
"Once you have mastered time, you will understand how true it is that most people overestimate what they can accomplish in a year, and underestimate what they can achieve in a decade!" 

Tony Robbins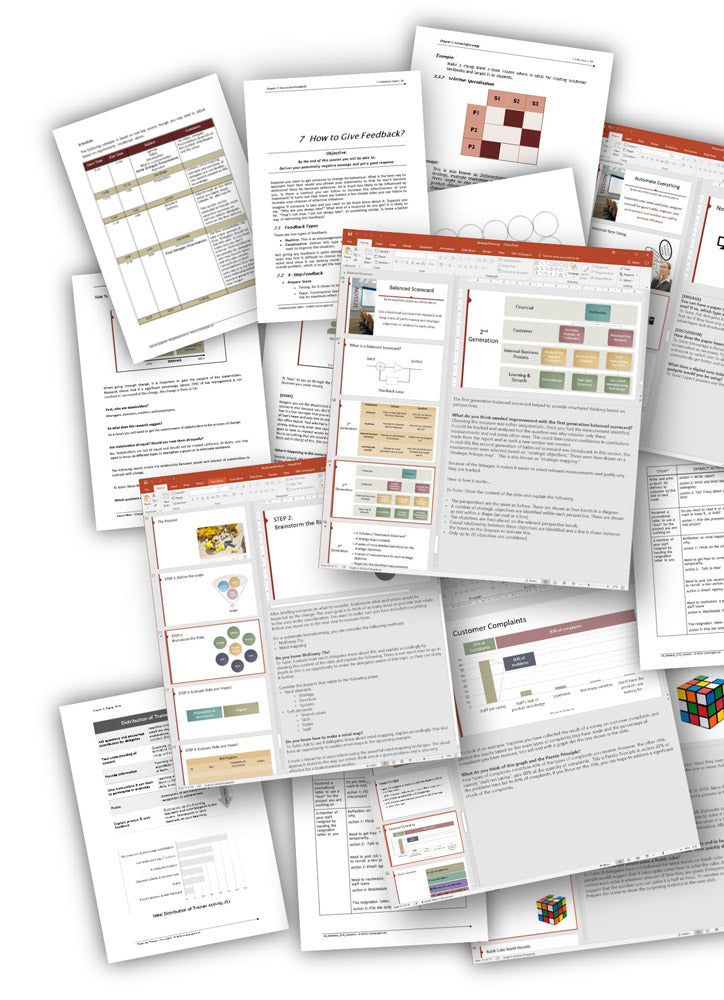 What Is Included
Everything you need to run the course:
Slides
Workbook
Exercises
Handouts
Trainer Notes
Specific Course Guidelines
Agenda
Guidelines on Training Methodology
Course Outline
Recommended Readings
Feedback Forms
Certificate of Achievement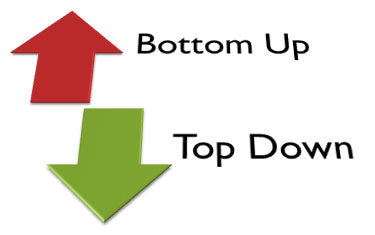 Course Objectives
By the end of this course delegates will be able to:
Courseware Features
Buy & Download Training Materials
Choose your training materials
Add to shopping cart
Get multiple courses to get discounts and create tailored training
Pay using all major debit / credit cards, PayPal, Apple Pay and Google Pay.
After payment processing, you are redirected to a download page
You will also receive emails with download links
Unzip the package and access all the training resources in MS Office format
How to Get Training Packages
Editting
You can customise, edit and modify the content as you desire
Rights
Unlimited workbook reprinting rights
Comprehensive
The downloadable training package contains all you need to deliver a course
Extensively Researched
Designed based on the latest research in educational psychology, cognitive psychology, social sciences and business practices
Facilitation Training
Designed in line with the principles of accelerated learning

Interactive
Designed to include many examples, case studies and exercises to improve learning and retention
Download
Order online and download immediately after purchase
Source Files
Receive editable source files in MS Office 365 (Word DOC/DOCX and Power Point PPT/PPTX) and previous Office versions 2003, 2007, 2010, 2013 & 2016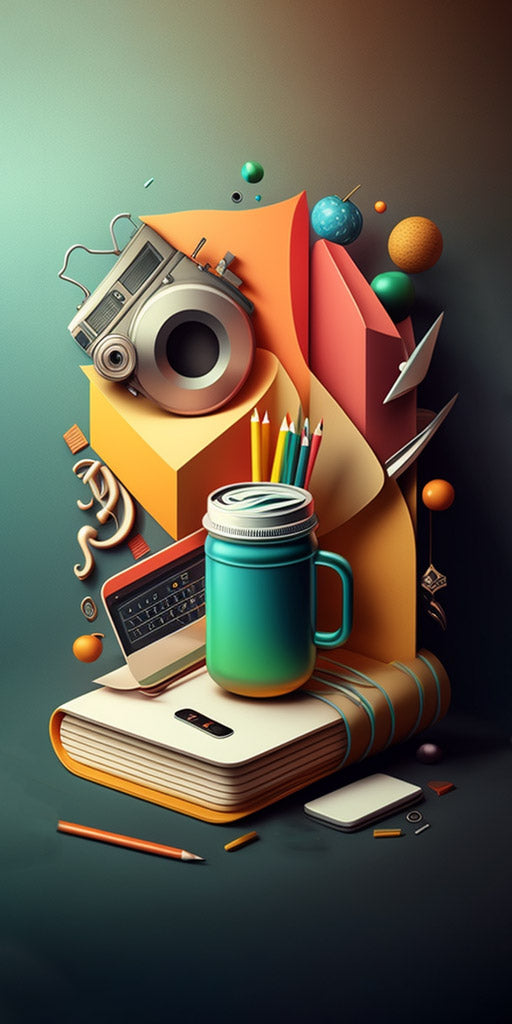 About the Design Philosophy of Time Management Course
100+ Countries
Used by Trainers Worldwide
Our mission is to help you deliver memorable courses with long lasting results, while taking the least amount of effort and time to run.
Save Time & Boost Training
Skills Converged is a unique company that provides professionally designed fully-customisable training course materials based on the latest research in learning & development. Courses are designed with attention to detail both on content and style so that you can deliver unique state-of-the-art courses to your clients and get maximum results.
Testimonials for Time Management
"The time management course we purchased from you proved very valuable to our business and we have seen increased productivity and time awareness within the team since implementing the techniques suggested in the course."
"Pleased with content and customer service. Package is as described. Interactive slides in Time Management where very helpful."

Sandy Thomson, Newcastle, UK
"I've purchased two training courses, Influence and Time management and I've been happy with both of them. The quality of both products is very high compare to their prices. Thank You."

Helen Davis, Cardiff, UK
More about our customers and what they think of our products
For Trainers
Use ready-made modular courseware, tailor to your audience, respond to market quickly & effortlessly
For People Developers
Increase HR efficiency and save by supplying consistent professionally designed training materials to your trainers and help employees reach full potential