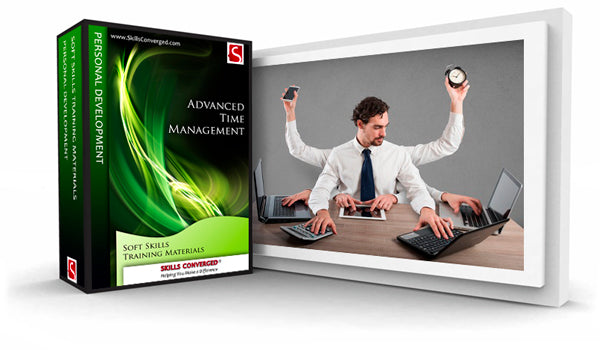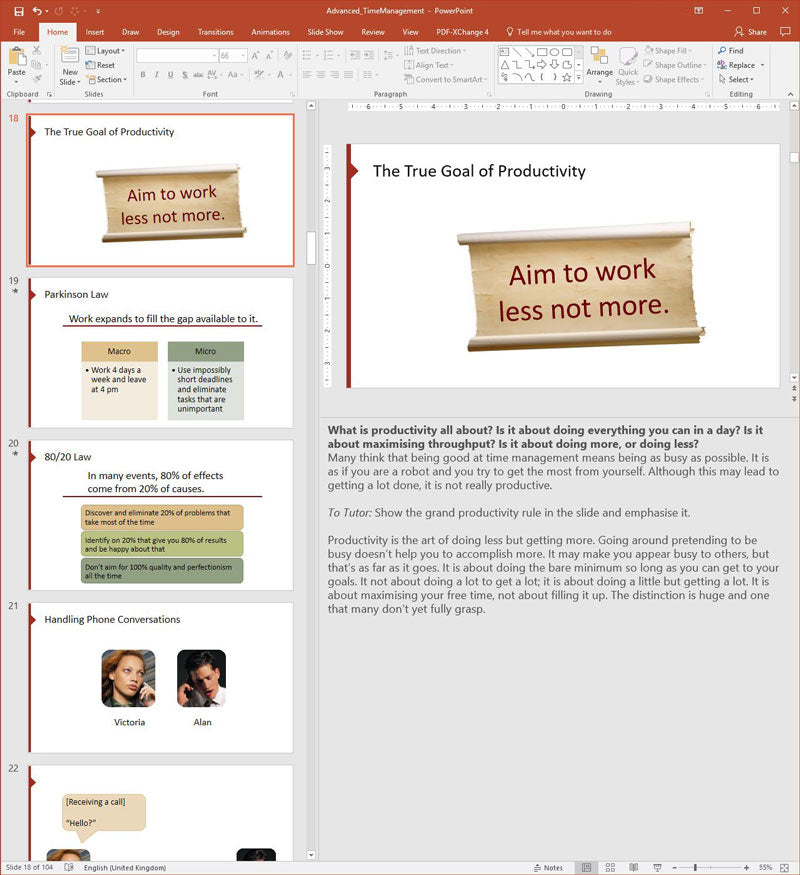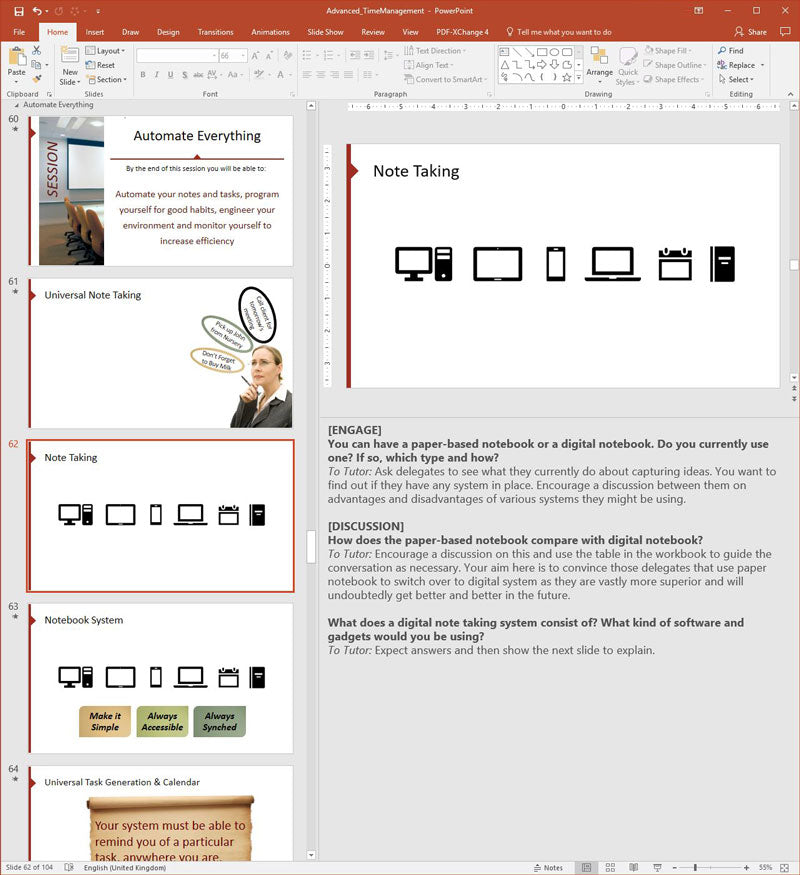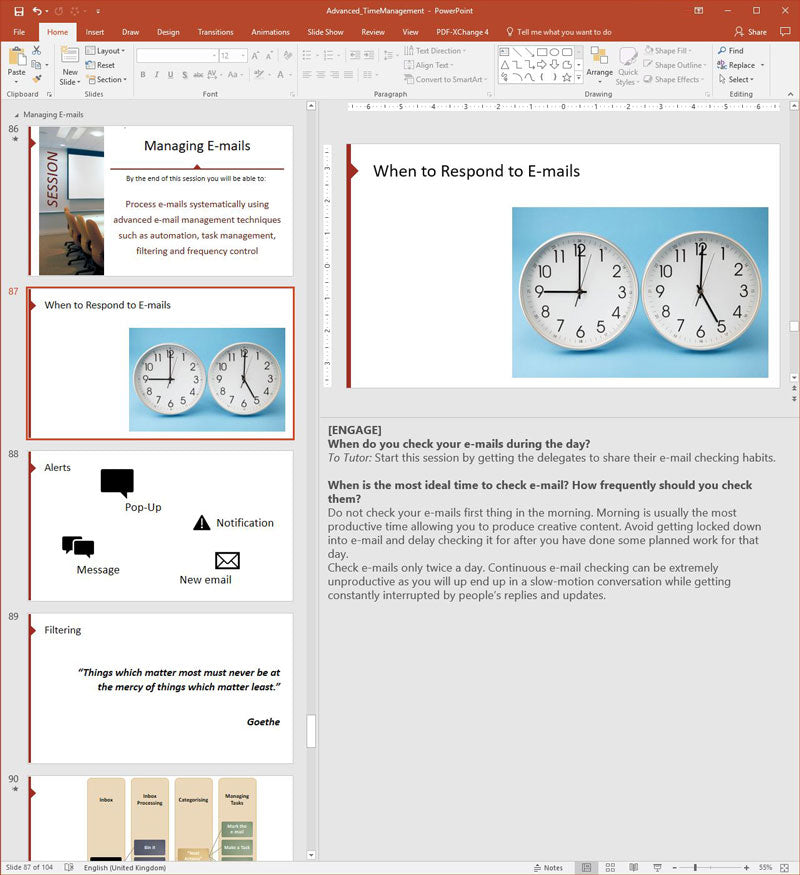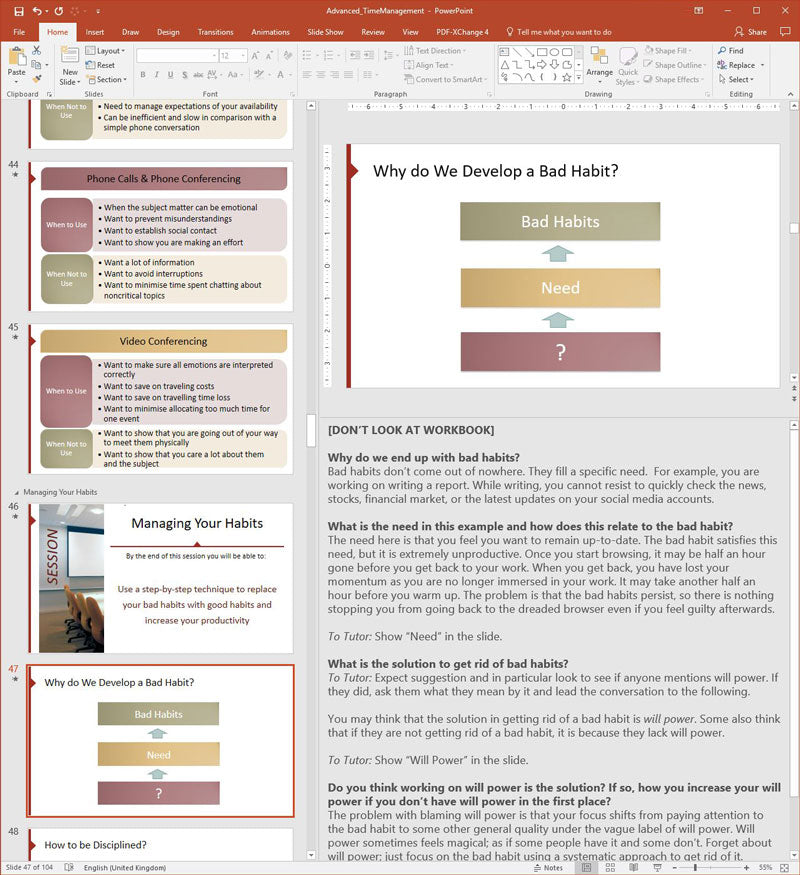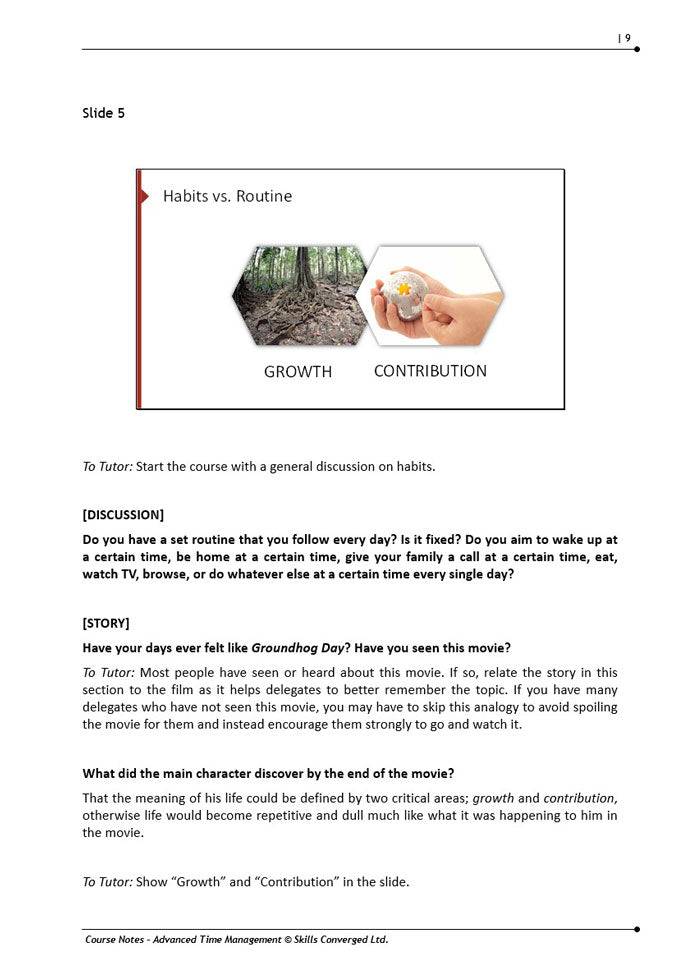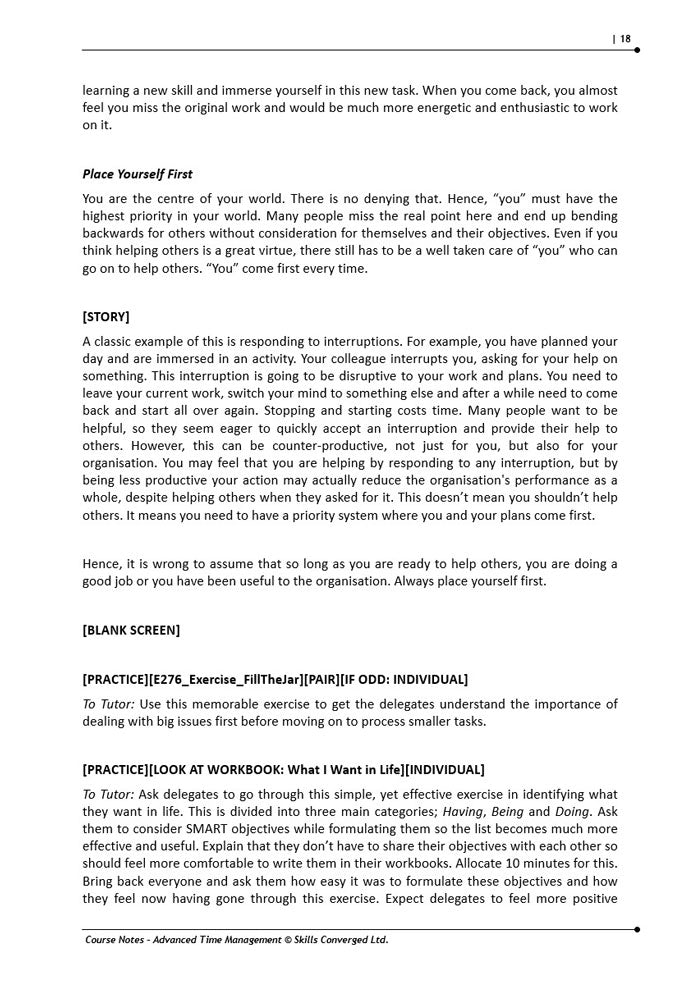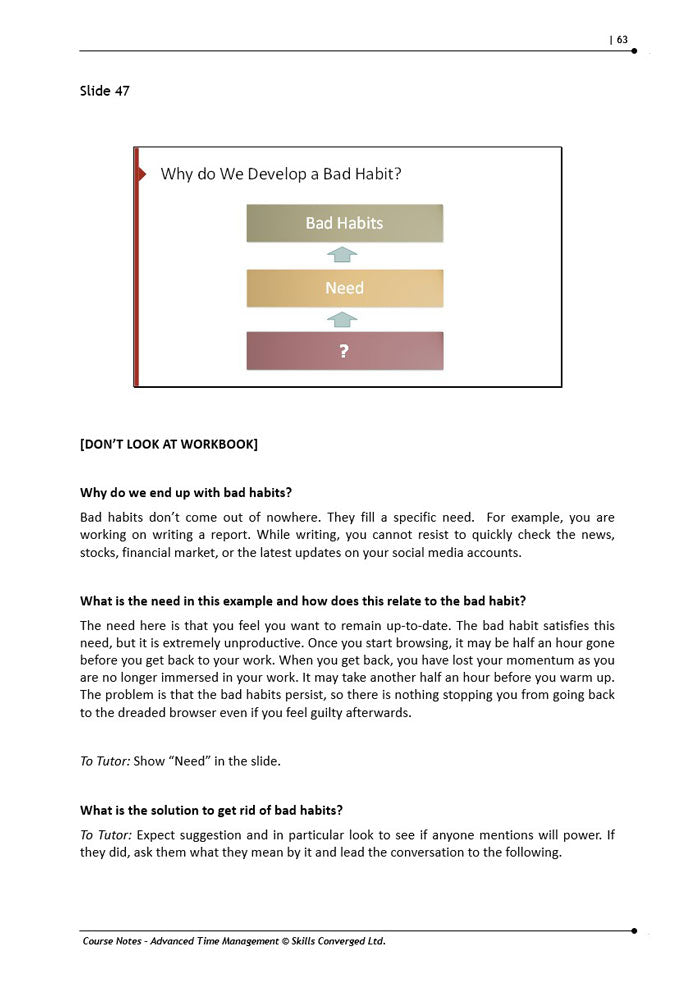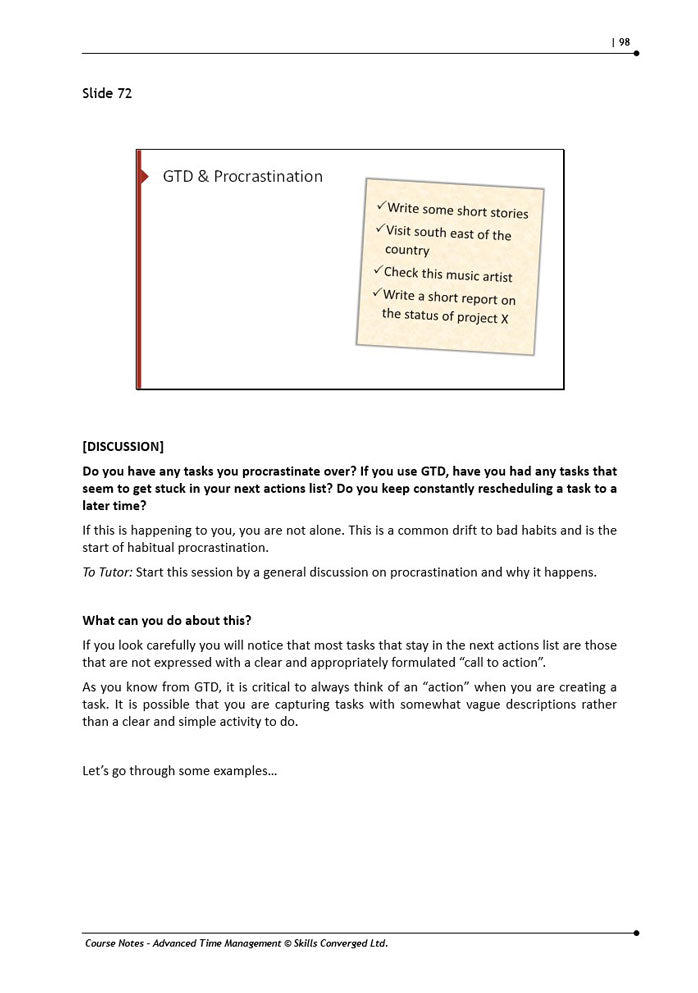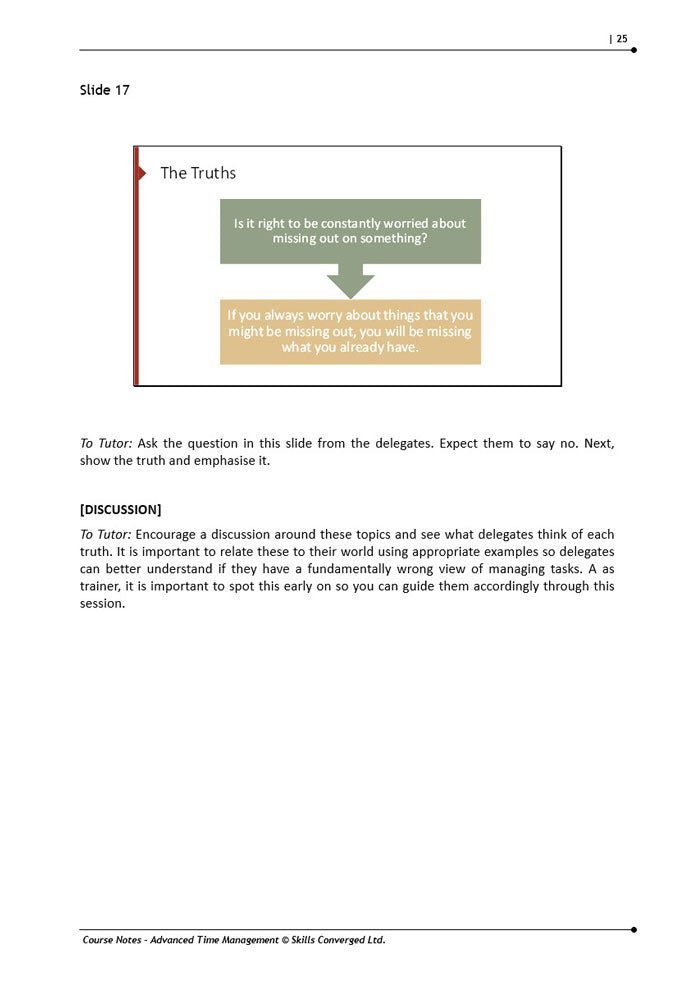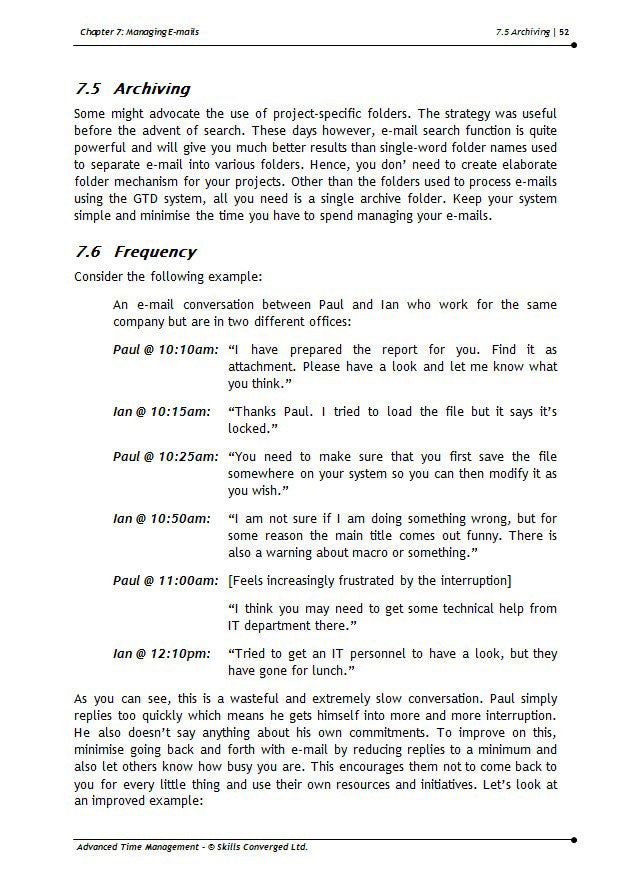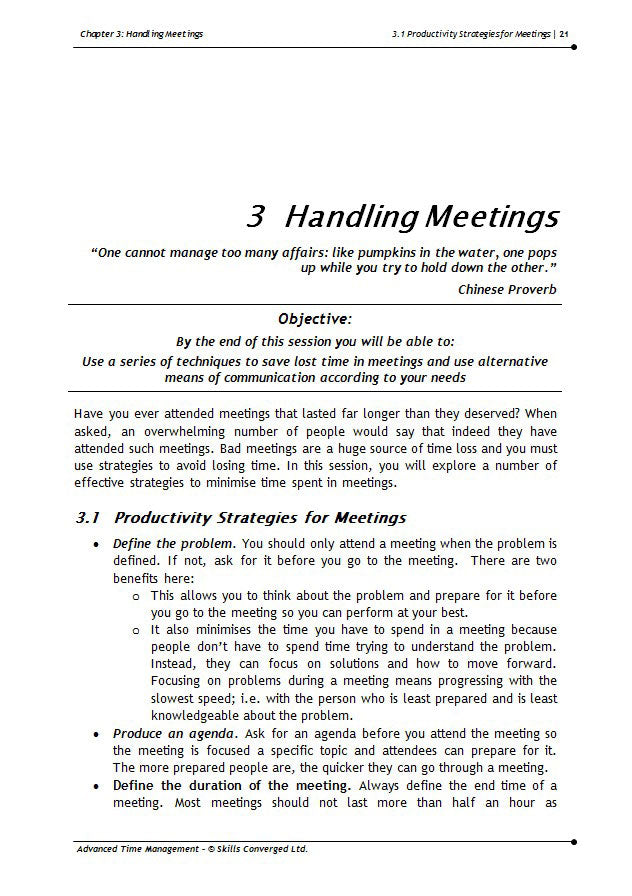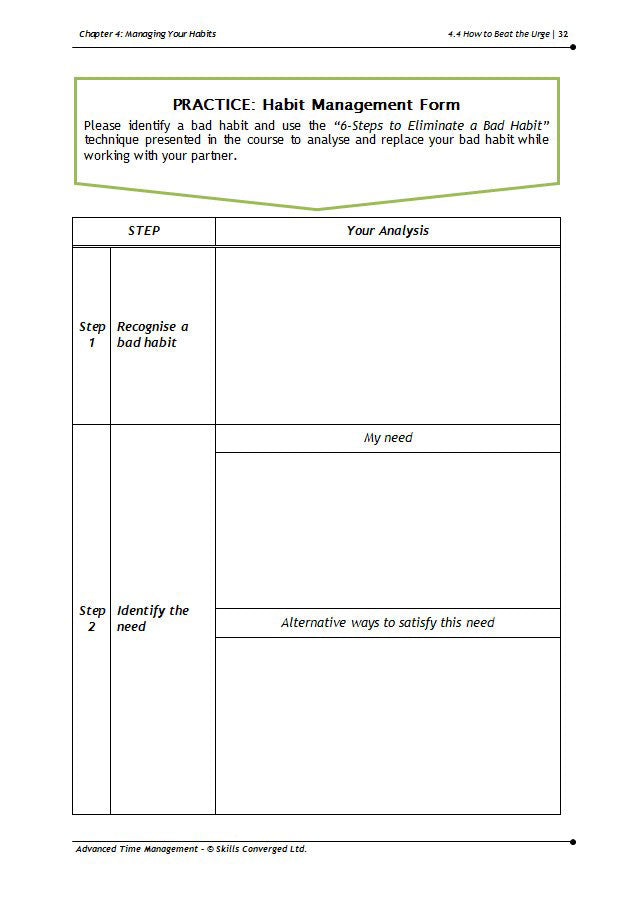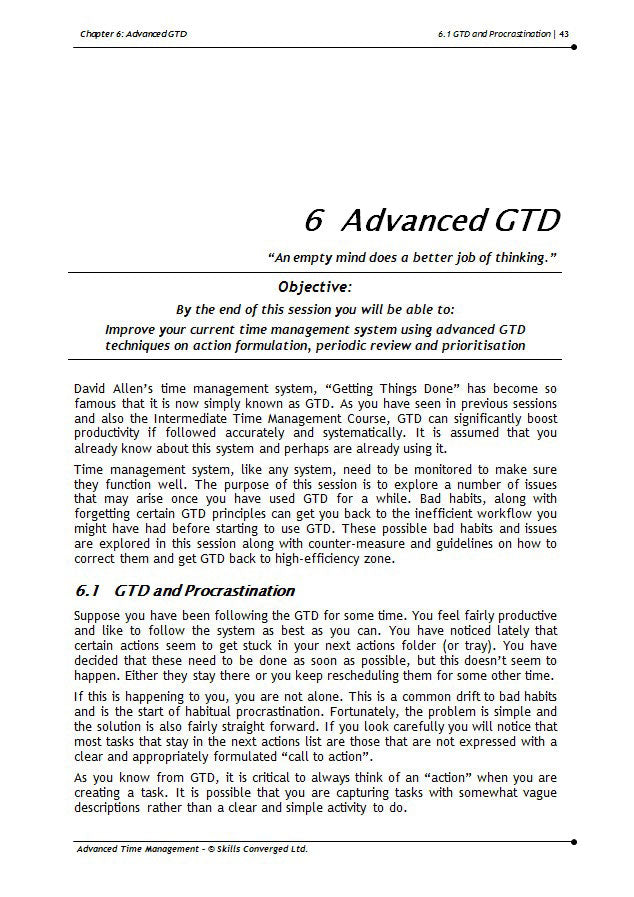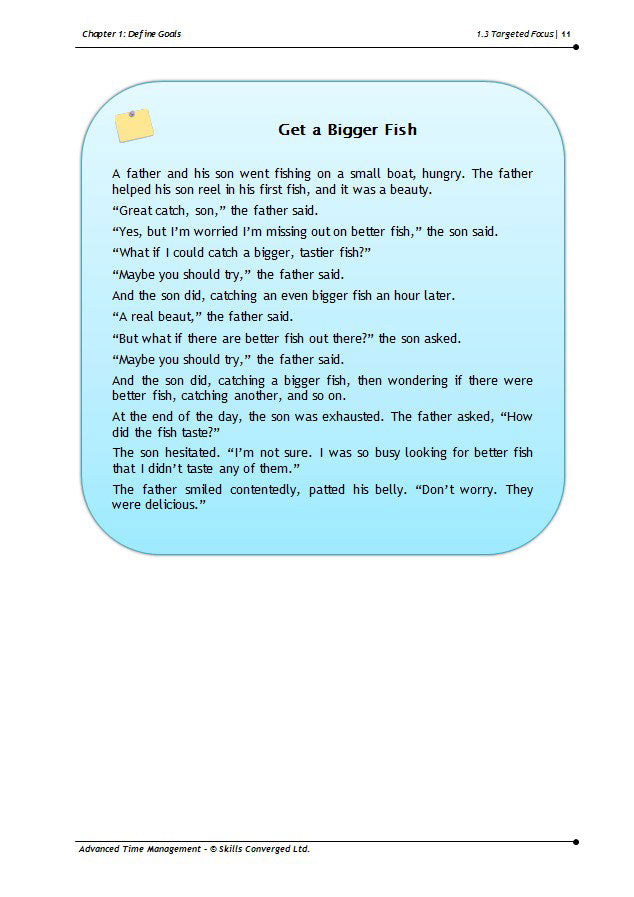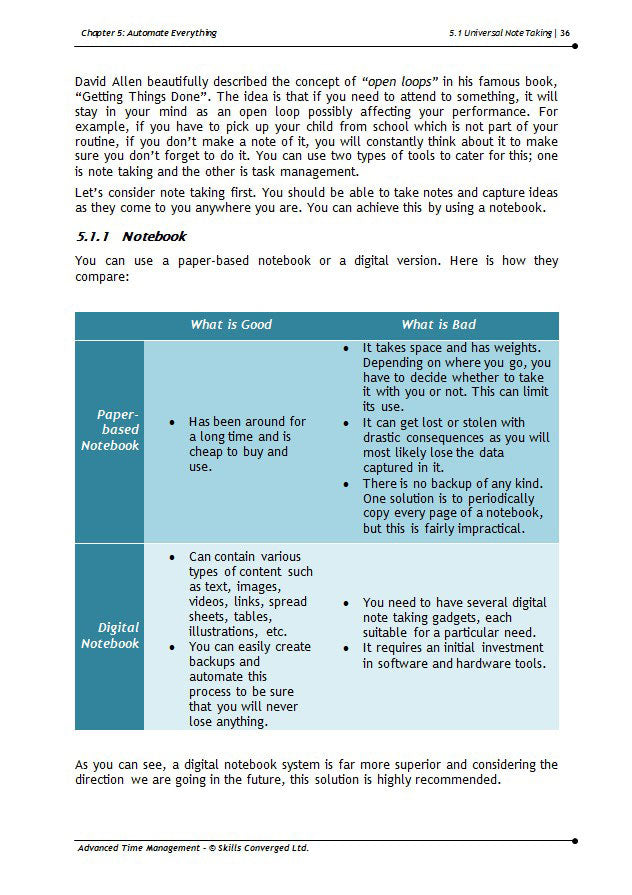 Advanced Time Management
---
---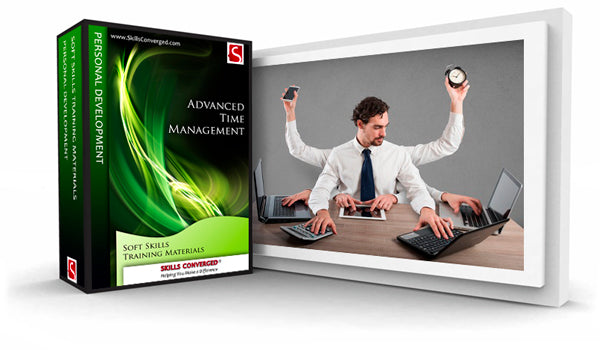 Course on Advanced Productivity Techniques, Task Management, E-Mail Management, Automation, Habits and Goals
Fully Customisable Training Course Material
Description
"Riches do not respond to wishes. They respond only to definite plans, backed by definite desires, through constant PERSISTENCE."
Napoleon Hill
Do you suffer from having to deal with too many e-mails? Do you follow a task management system, but still get overwhelmed by all the tasks that need doing? Do you suffer from information overload? Do you constantly feel like you want to check your social media site right in the middle of work? Do you attend too many time-wasting meetings and wish you could somehow avoid them?
The secret to keeping an effective time management system is to constantly review it and make sure you don't gradually fall back to bad habits. This course provides a series of advanced guidelines for those who want to push the boundaries and stay on top of their workloads. It follows from Intermediate Time Management assuming that delegates already have a system of time management in place and are familiar with fundamental productivity techniques. Usually, anyone who is in need of an advanced course on productivity is likely to be a knowledge worker. The course specifically caters for their needs providing numerous examples, case studies and ways to take advantage of what technology can offer.
"Where was it, I can't find it. I just put it here 5 minutes ago..."
This course is designed to encourage discussions among delegates so not only they can benefit from the guidelines provided but also from each other. Many people develop tricks or come across useful time saving tips. The course is carefully designed to maximise this interaction so delegates can constantly learn new materials during the course.
The course focuses on two aspects of productivity; attitude adjustment and environmental engineering. Correct attitude helps an individual filter through tasks and focus on what matters the most. Environmental engineering helps individuals free their mind from tracking mundane tasks and instead focus on critical activities. This allows users to constantly focus on goals and push forward through the clutter encountered in day-to-day life.
It is assumed that delegates are familiar with GTD (A popular system of time management known as Getting Things Done from David Allen). Here, this topic is expanded and various advanced guidelines are provided. 
In this highly practical course participants will learn:
Define Goals
How to have goal-oriented thinking
How to formulate your goals
What is important to focus on and what should be left out?
What does it mean to place yourself first?
Eliminate Unnecessary Stuff
What is the grand rule of productivity?
What are two fundamental laws of productivity that can significantly help you get more done?
What is the secret to success and how knowing this can make you more productive?
How many different ways can you delegate a task
How to increase the efficiency of your phone conversations
Is there a way other than multi-tasking to save time?
Handling Meetings
What strategies can you use to increase productivity while attending meetings?
How can you avoid face-to-face meetings to increase productivity?
When and how to use alternative methods of communication?
Managing Your Habits
Why people develop a bad habit?
What does it mean to be disciplined?
How can you be disciplined?
How to use a 6-Steps technique to eliminate a bad habit
How to beat the urge of falling back to bad habits
Automate Everything
What can be automated and why this matters?
How to implement a universal task management system
What are the critical points to consider when considering such a system?
How to take advantage of automatic reminders to program yourself
How to log your life and why is this significant
Digital or paper; what are the advantages and disadvantages of each type to manage tasks or log your life?
How to control and engineer your internet browsing habits
Advanced GTD
How to make sure tasks don't get stuck in your "Next Actions" list
How to stop procrastinating and get things done
How to formulate actions
When and how to review your GTD time management system
Managing E-mails
When is the ideal time to respond to e-mails?
How to prioritise and filter emails to reduce time spent handling unnecessary e-mails
How to process e-mails? What are your options after reading an e-mail
What are the fundamental productivity principles of e-mail management?
What is an ideal folder structure and e-mail workflow?
How to minimise slow moving e-mail conversations
How to manage e-mail when you are on the move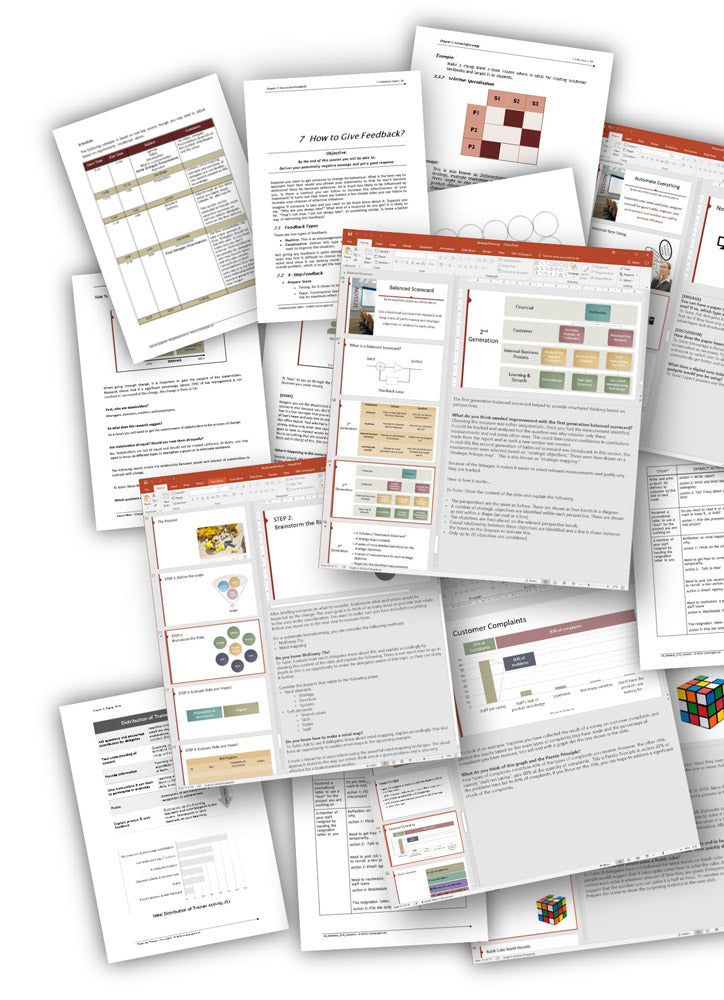 What Is Included
Everything you need to run the course:
Slides
Workbook
Exercises
Handouts
Trainer Notes
Specific Course Guidelines
Agenda
Guidelines on Training Methodology
Course Outline
Recommended Readings
Feedback Forms
Certificate of Achievement
Course Objectives
By the end of this course delegates will be able to:
Courseware Features
Buy & Download Training Materials
Choose your training materials
Add to shopping cart
Get multiple courses to get discounts and create tailored training
Pay using all major debit / credit cards, PayPal, Apple Pay and Google Pay.
After payment processing, you are redirected to a download page
You will also receive emails with download links
Unzip the package and access all the training resources in MS Office format
How to Get Training Packages
Editting
You can customise, edit and modify the content as you desire
Rights
Unlimited workbook reprinting rights
Comprehensive
The downloadable training package contains all you need to deliver a course
Extensively Researched
Designed based on the latest research in educational psychology, cognitive psychology, social sciences and business practices
Facilitation Training
Designed in line with the principles of accelerated learning

Interactive
Designed to include many examples, case studies and exercises to improve learning and retention
Download
Order online and download immediately after purchase
Source Files
Receive editable source files in MS Office 365 (Word DOC/DOCX and Power Point PPT/PPTX) and previous Office versions 2003, 2007, 2010, 2013 & 2016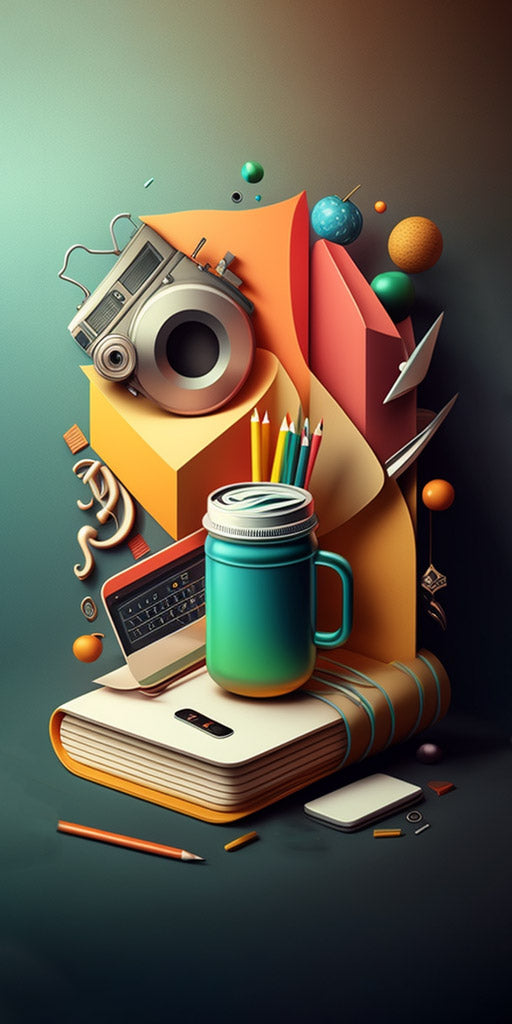 About the Design Philosophy of Advanced Time Management Course
100+ Countries
Used by Trainers Worldwide
Our mission is to help you deliver memorable courses with long lasting results, while taking the least amount of effort and time to run.
Save Time & Boost Training
Skills Converged is a unique company that provides professionally designed fully-customisable training course materials based on the latest research in learning & development. Courses are designed with attention to detail both on content and style so that you can deliver unique state-of-the-art courses to your clients and get maximum results.
For Trainers
Use ready-made modular courseware, tailor to your audience, respond to market quickly & effortlessly
For People Developers
Increase HR efficiency and save by supplying consistent professionally designed training materials to your trainers and help employees reach full potential