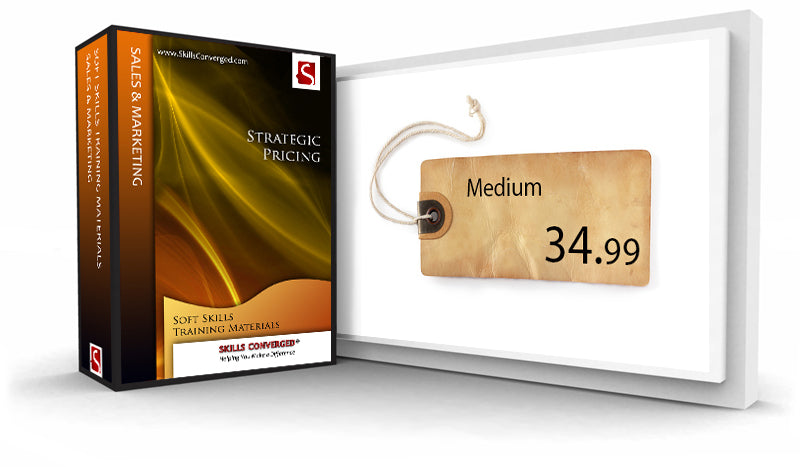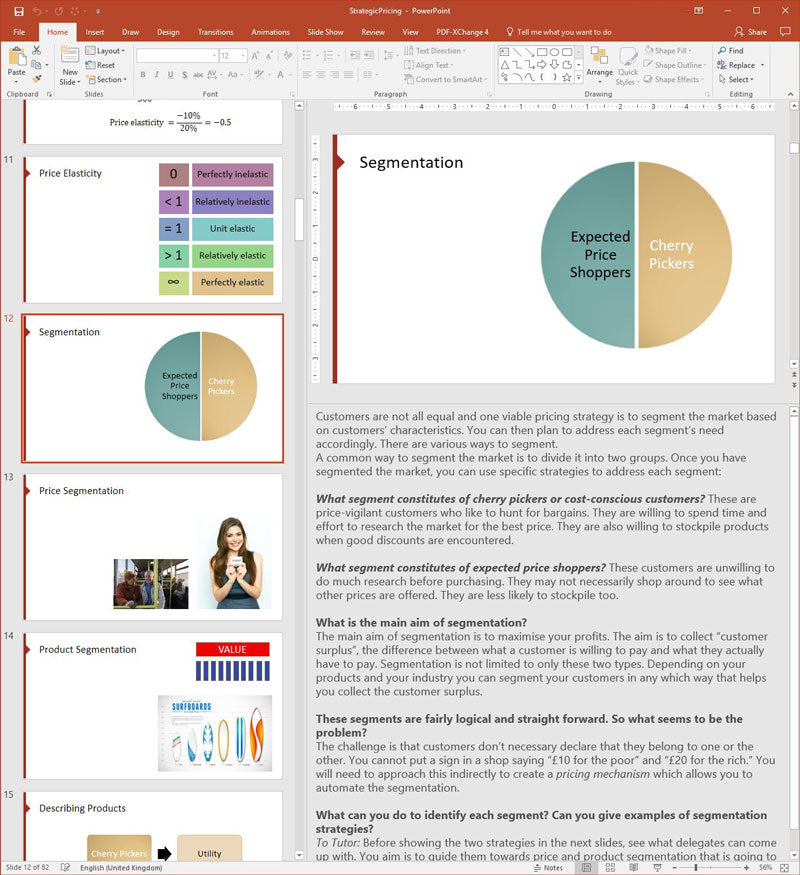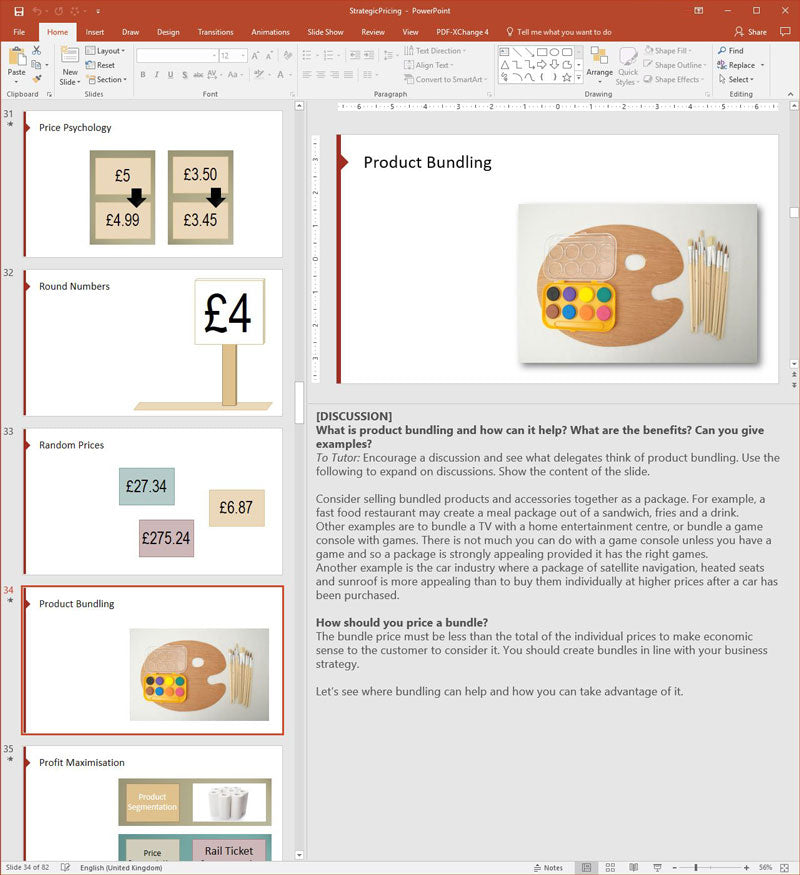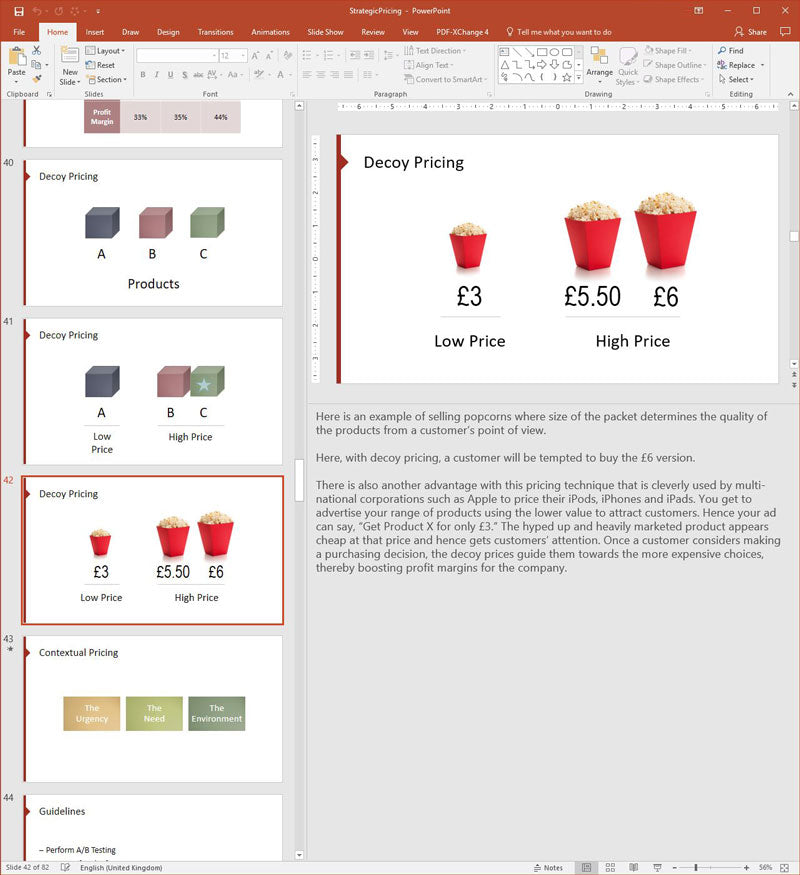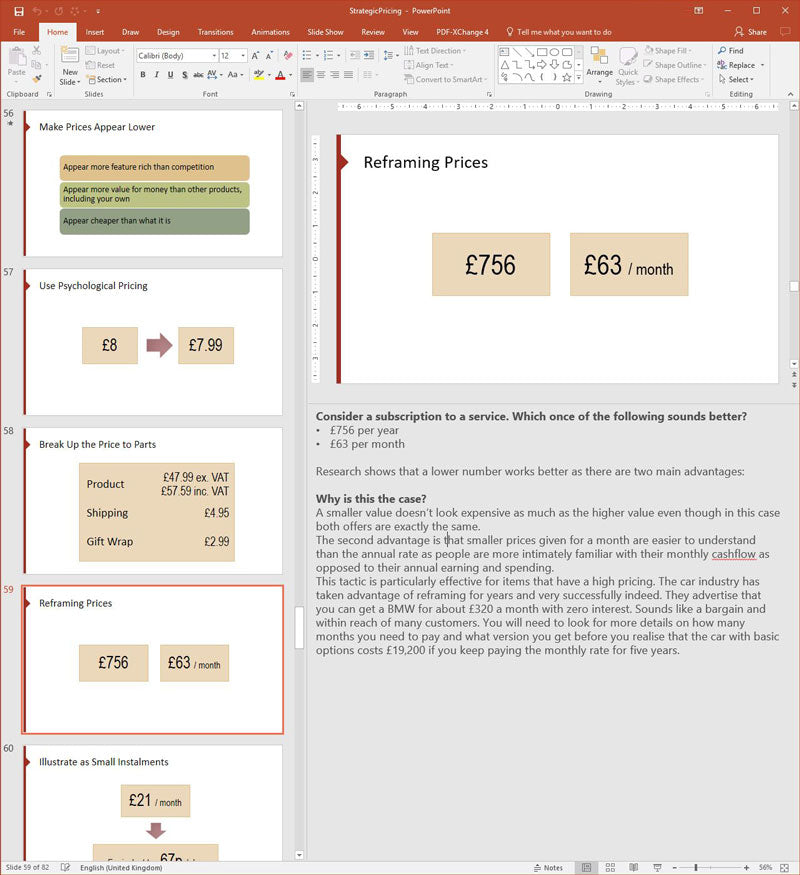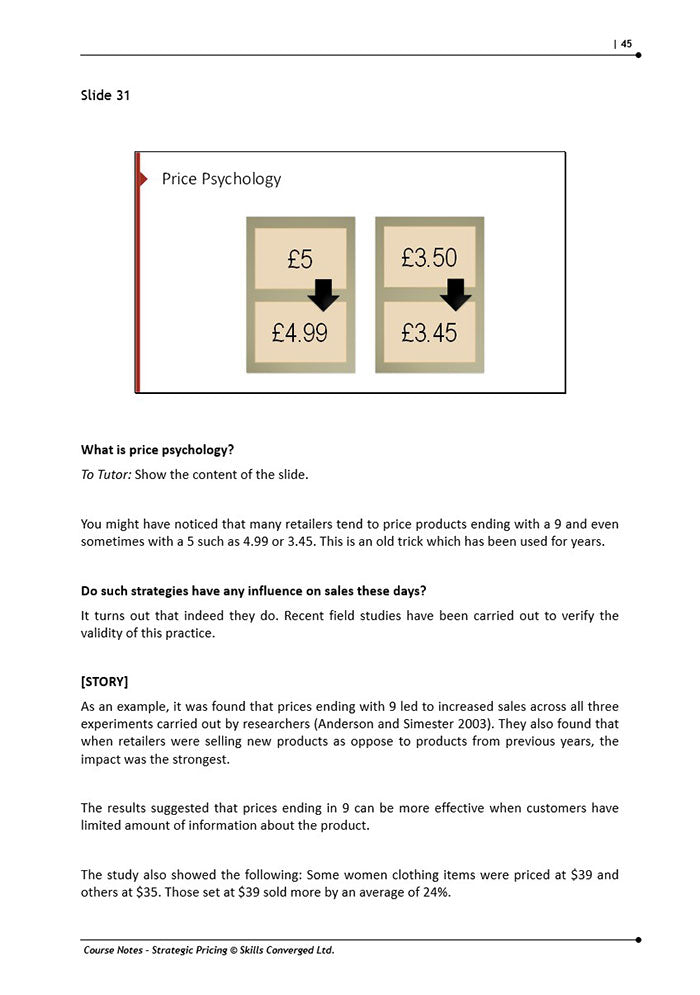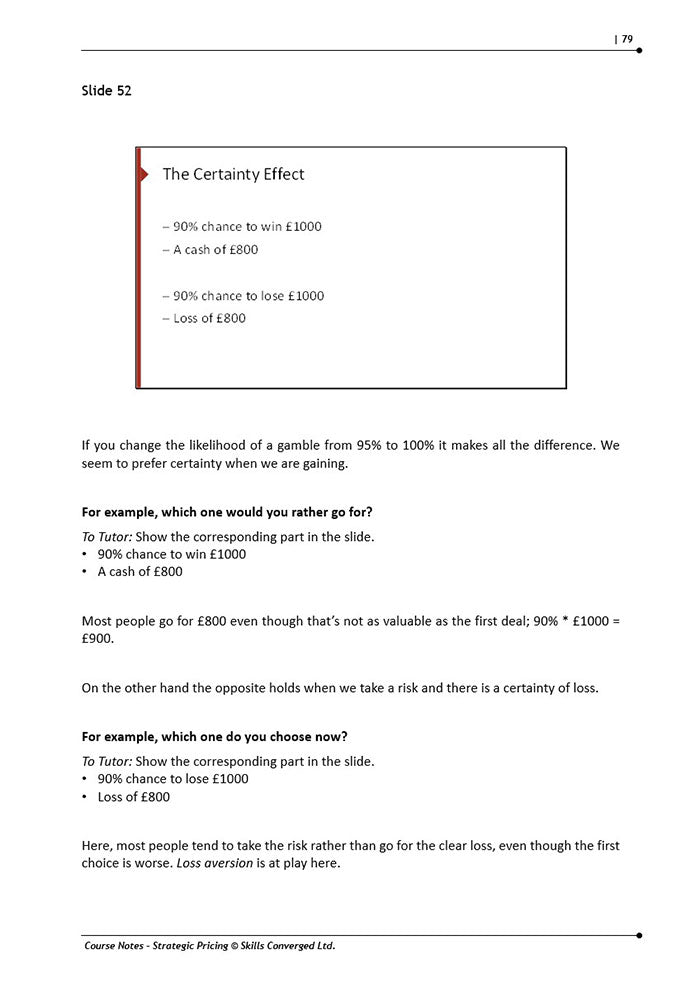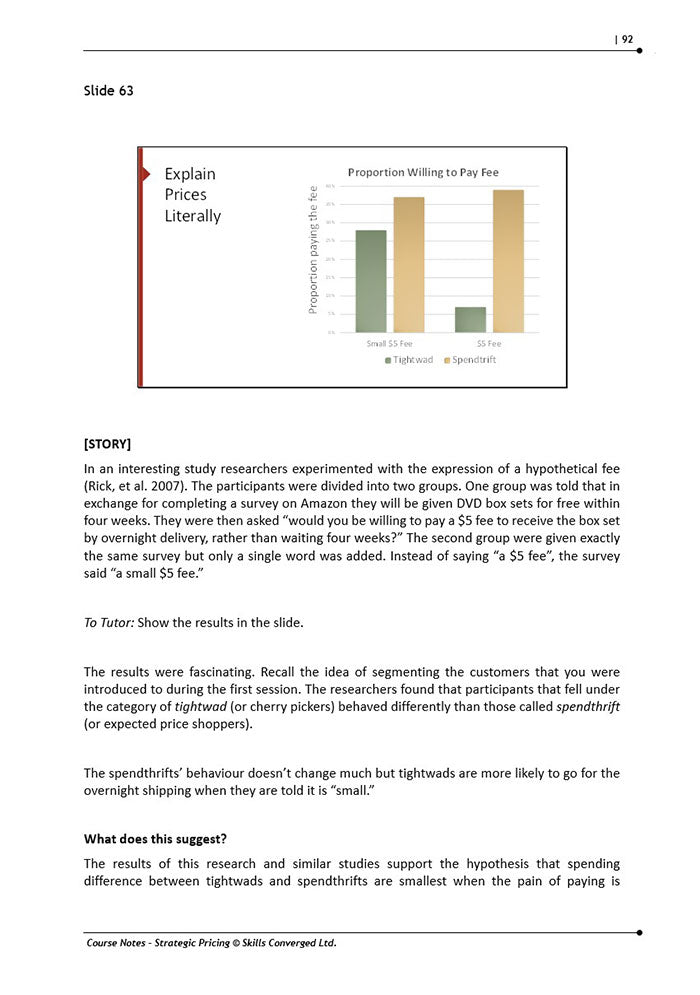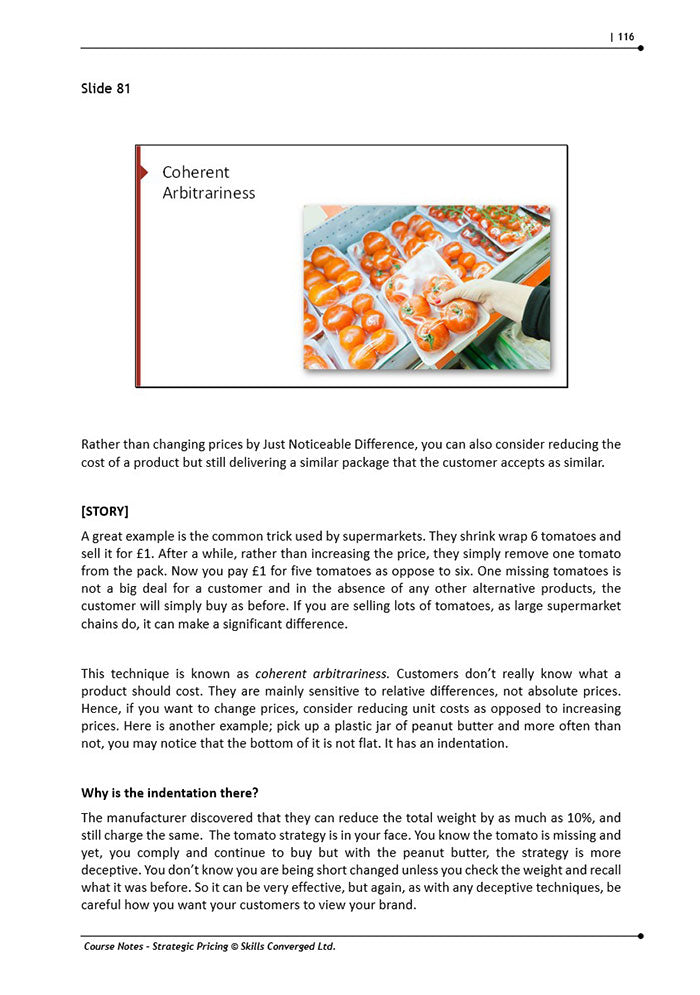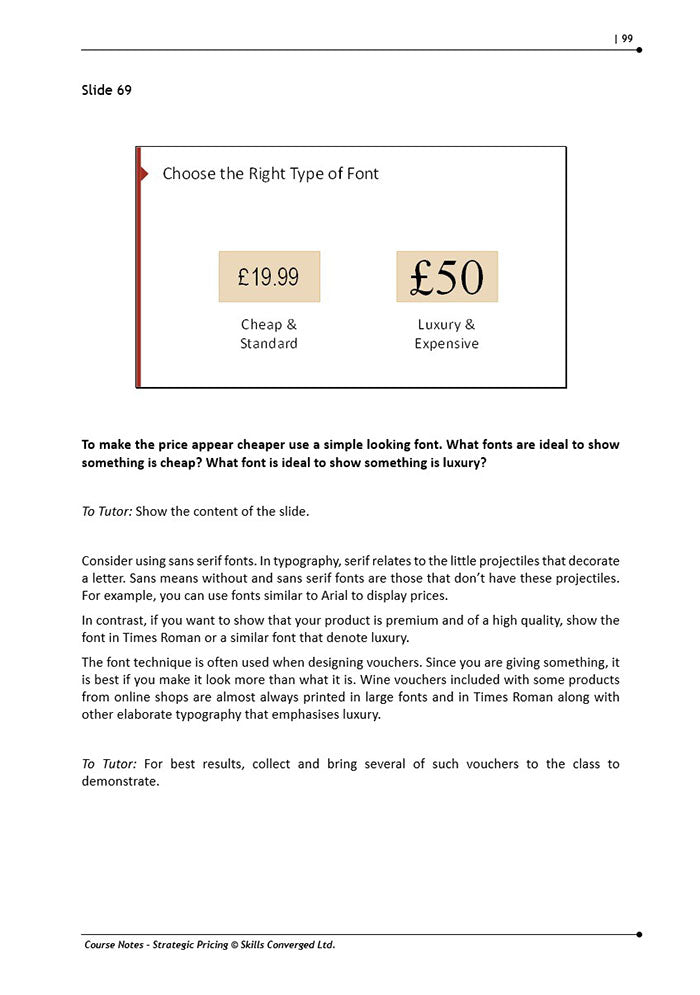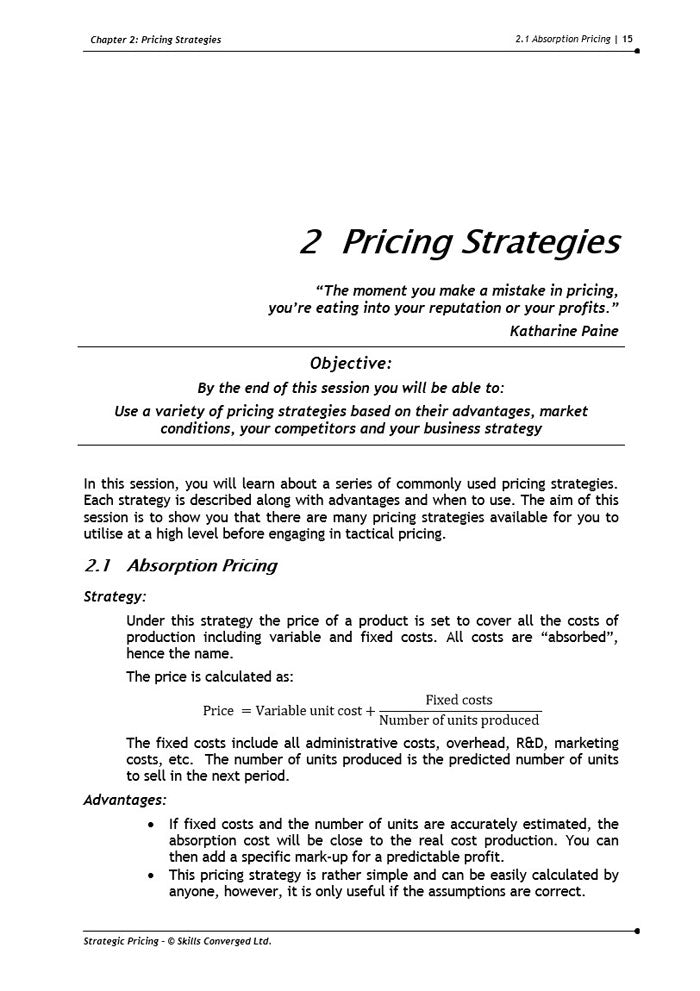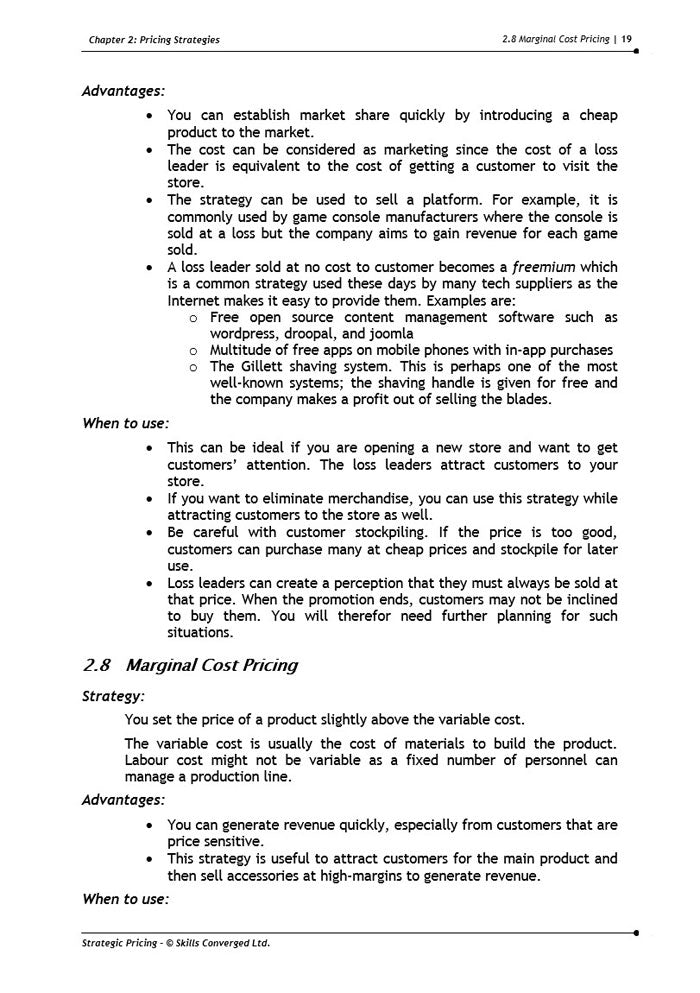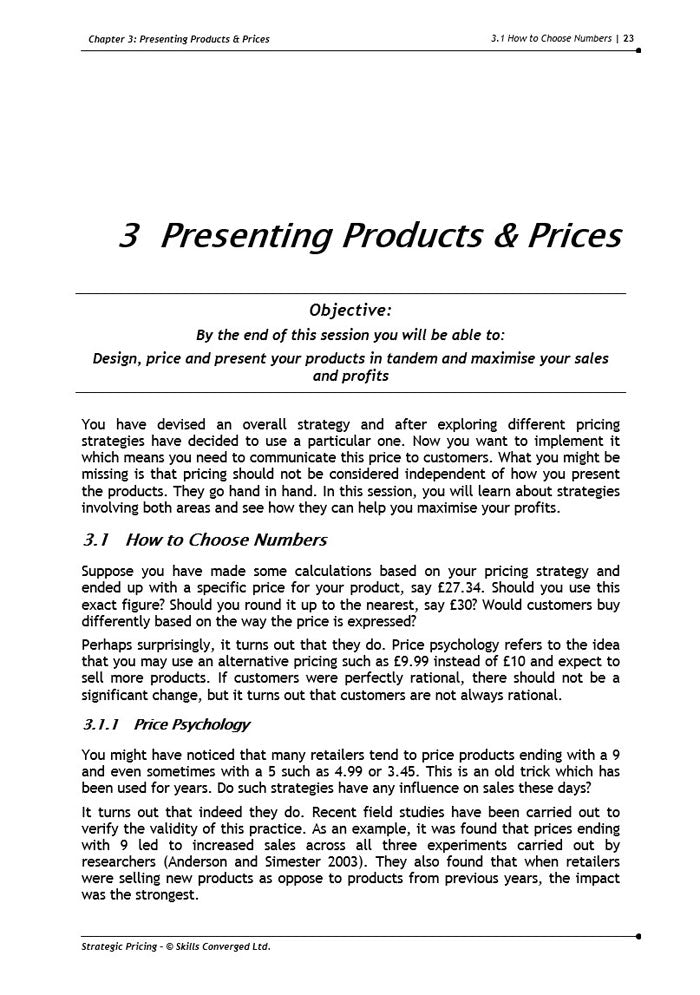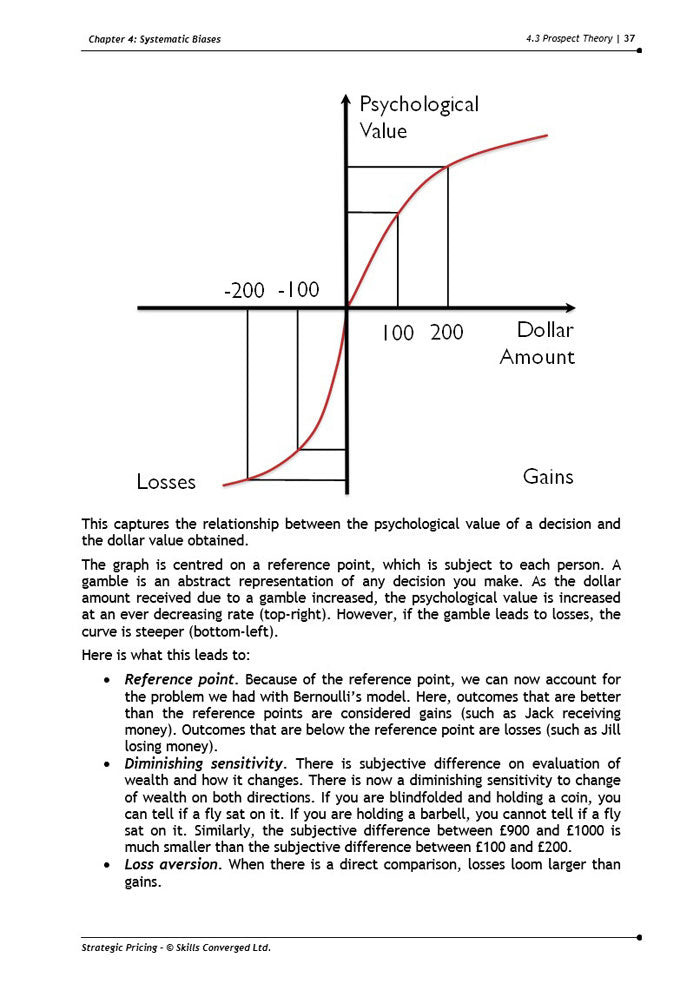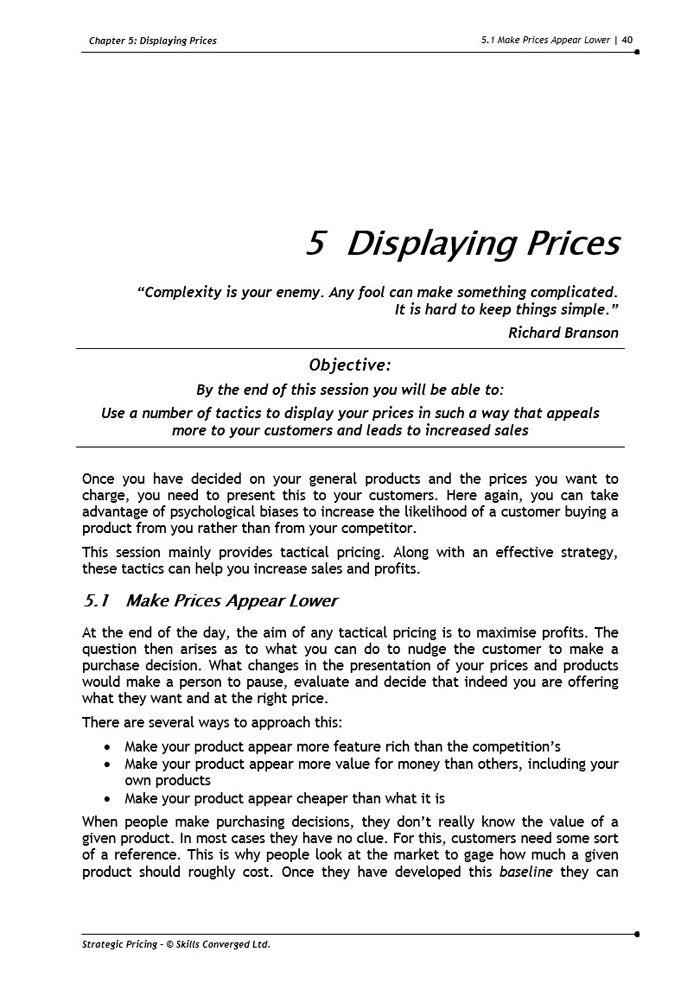 Strategic Pricing
---
---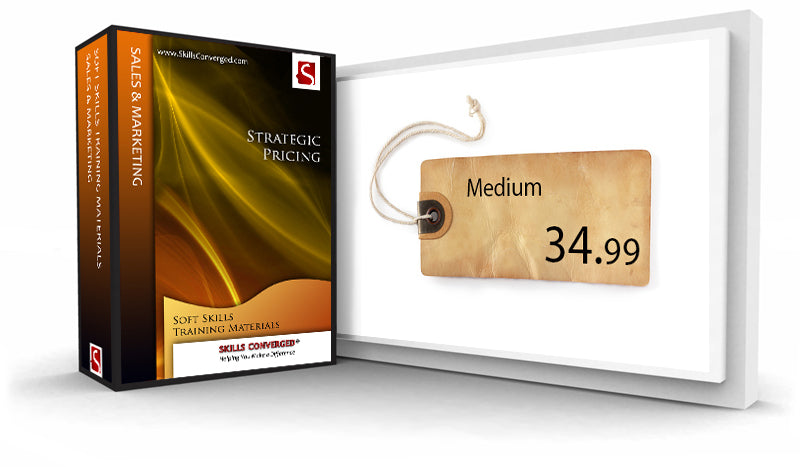 Course on How to Set Prices Strategically to Increase Profits Based on Your Customers' Behavioural Patterns and the Market
Fully Customisable Training Course Material
Description
"We can be blind to the obvious,
and we are also blind to our blindness."

Daniel Kahneman
Everything has a price. In today's world we have managed to put a price on anything and sell it in an ever-expanding global market. The moment you create something, a new service or product, you will need to decide how much you are going to charge for it. As such, pricing is an immensely important topic. Pricing tactics and strategies are important for managers and stakeholders aiming to maximise profits. Unfortunately, many managers are unaware of the latest developments and breakthroughs on understanding human psychology and decision making which can significantly influence pricing decisions.
The purpose of this one-day course is to prepare delegates to address strategic and tactical pricing across a wide range of pricing practices. They will learn how to choose prices based on their strategic planning, customer psychology, intended brand, competitors and marketing strategies. It is ideal for product managers, high level managers, management consultants, entrepreneurs and the self-employed who offer their products and services directly to customers.
Many successful business people have been busy developing their ideas into useful products and services. Quite often they have not attended an MBA course to master business skills or to learn about economic theories or pricing. This course aims to efficiently provide a set of handy tools and proven guidelines for people who need training in this area.
The course answers questions such as: How do you determine a price for a product? What is high-low pricing strategy? How would you know if the current price is suitable? How should you respond to competitors when they change their prices? What is segmentation strategy? How can you influence customer behaviour to boost profits?
The course contains many examples and case studies to illustrate key points using real-world examples used by some of the most successful corporations in the world. The course contains a variety of exercises which enables delegates to practice what they have learned during the course. These exercises along with subsequent discussions are immensely effective in training delegates and is one of the reasons why attending such a course can be very useful for delegates.
In this highly practical course participants will learn:
Strategic Objectives
What is the difference between tactical pricing and strategic pricing?
What is price elasticity?
What is segmentation and how can you use it for pricing and increasing profits?
How does strategic pricing fit into strategic planning?
Pricing Strategies
What are some of the most commonly used pricing strategies?
What are the advantages of each strategy and when should you use them?
Presenting Products and Prices
How can you choose the right price?
How should you take advantage of bundling strategies?
How can you use prices to influence behaviour?
What is contextual pricing?
What is price psychology?
How can you make customers more accepting of your prices?
What is A/B testing?
Systematic Biases
What are systematic biases and how does that apply to pricing?
What is anchoring and priming and how are customers influenced by them?
What is prospect theory and how does it relate to pricing and decision making?
Displaying Prices
What display strategies can help you show prices that appear smaller?
How should you apply psychological pricing?
How reframing prices helps to boost sales?
How can you use an analogy to illustrate your prices?
What strategies are effective when you want to display low or high prices?
What does it mean to use a pricing medium and how can it help?
How can you make discounts or vouchers more appealing by just changing the way they are displayed?
Changing Prices
What is Weber's law?
What is comparative selling?
What strategies are effective when pricing discounts?
What should you consider when changing prices?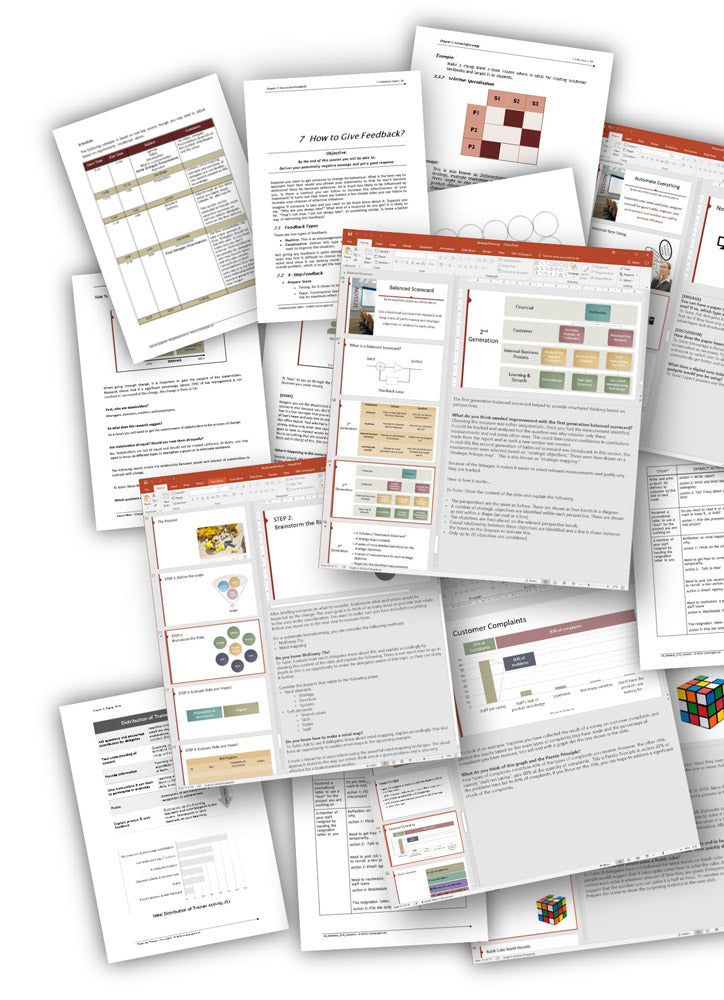 What Is Included
Everything you need to run the course:
Slides
Workbook
Exercises
Handouts
Trainer Notes
Specific Course Guidelines
Agenda
Guidelines on Training Methodology
Course Outline
Recommended Readings
Feedback Forms
Certificate of Achievement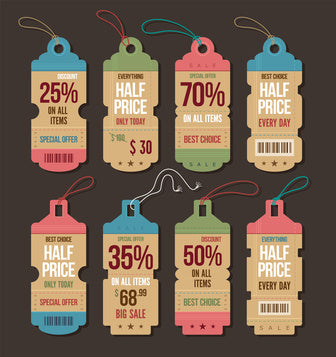 Course Objectives
By the end of this course delegates will be able to:
Courseware Features
Buy & Download Training Materials
Choose your training materials
Add to shopping cart
Get multiple courses to get discounts and create tailored training
Pay using all major debit / credit cards, PayPal, Apple Pay and Google Pay.
After payment processing, you are redirected to a download page
You will also receive emails with download links
Unzip the package and access all the training resources in MS Office format
How to Get Training Packages
Editting
You can customise, edit and modify the content as you desire
Rights
Unlimited workbook reprinting rights
Comprehensive
The downloadable training package contains all you need to deliver a course
Extensively Researched
Designed based on the latest research in educational psychology, cognitive psychology, social sciences and business practices
Facilitation Training
Designed in line with the principles of accelerated learning

Interactive
Designed to include many examples, case studies and exercises to improve learning and retention
Download
Order online and download immediately after purchase
Source Files
Receive editable source files in MS Office 365 (Word DOC/DOCX and Power Point PPT/PPTX) and previous Office versions 2003, 2007, 2010, 2013 & 2016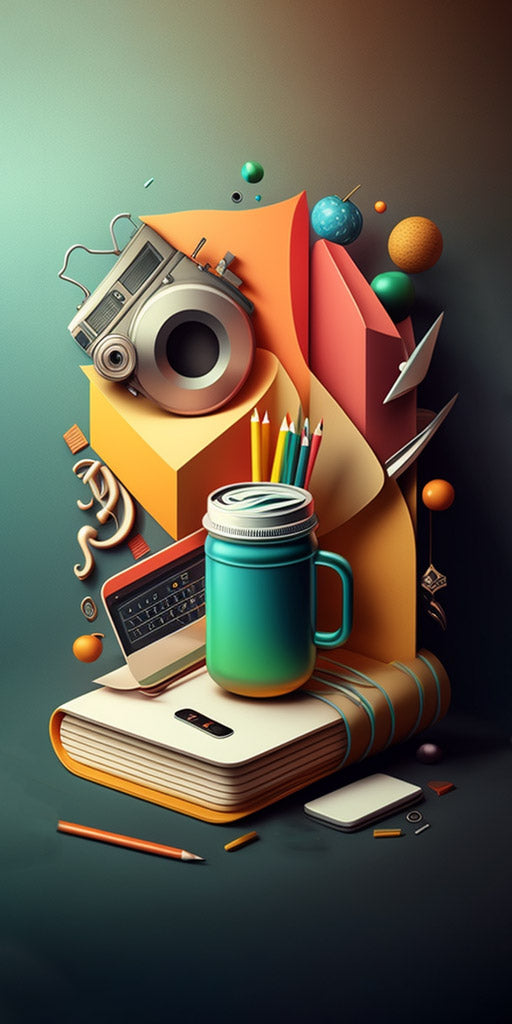 About the Design Philosophy of Strategic Pricing Course
100+ Countries
Used by Trainers Worldwide
Our mission is to help you deliver memorable courses with long lasting results, while taking the least amount of effort and time to run.
Save Time & Boost Training
Skills Converged is a unique company that provides professionally designed fully-customisable training course materials based on the latest research in learning & development. Courses are designed with attention to detail both on content and style so that you can deliver unique state-of-the-art courses to your clients and get maximum results.
For Trainers
Use ready-made modular courseware, tailor to your audience, respond to market quickly & effortlessly
For People Developers
Increase HR efficiency and save by supplying consistent professionally designed training materials to your trainers and help employees reach full potential