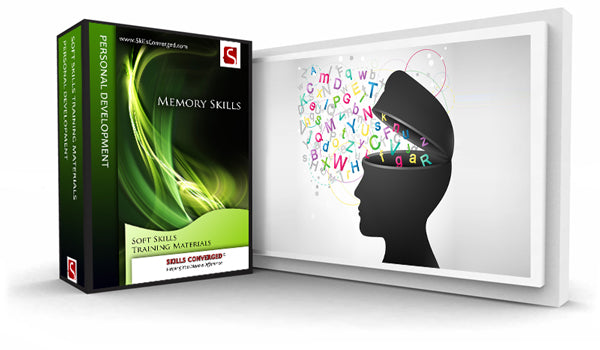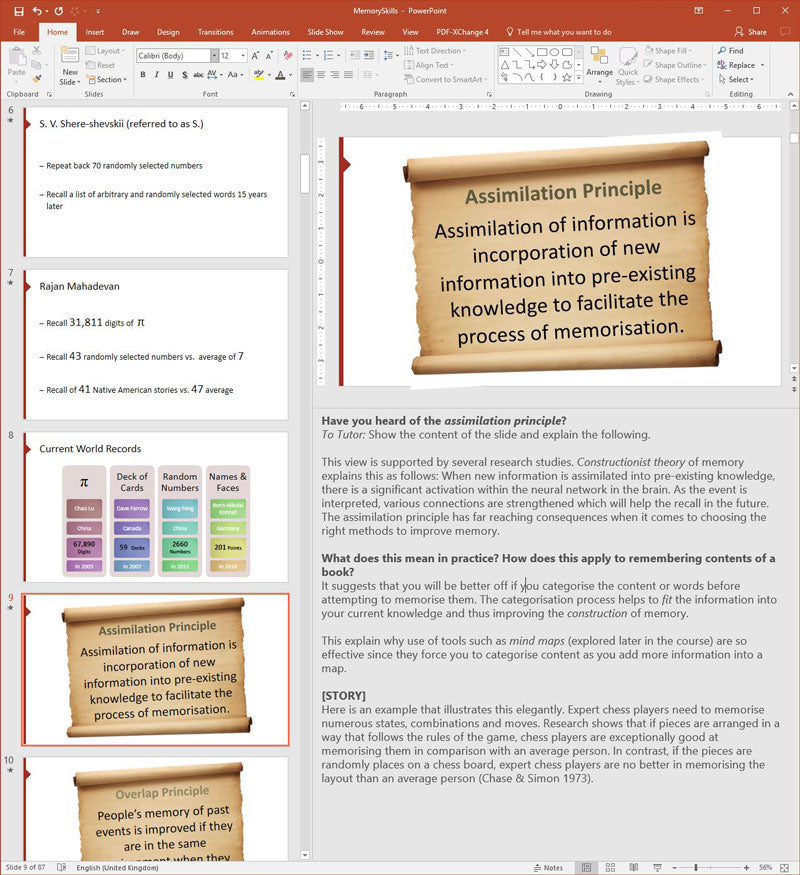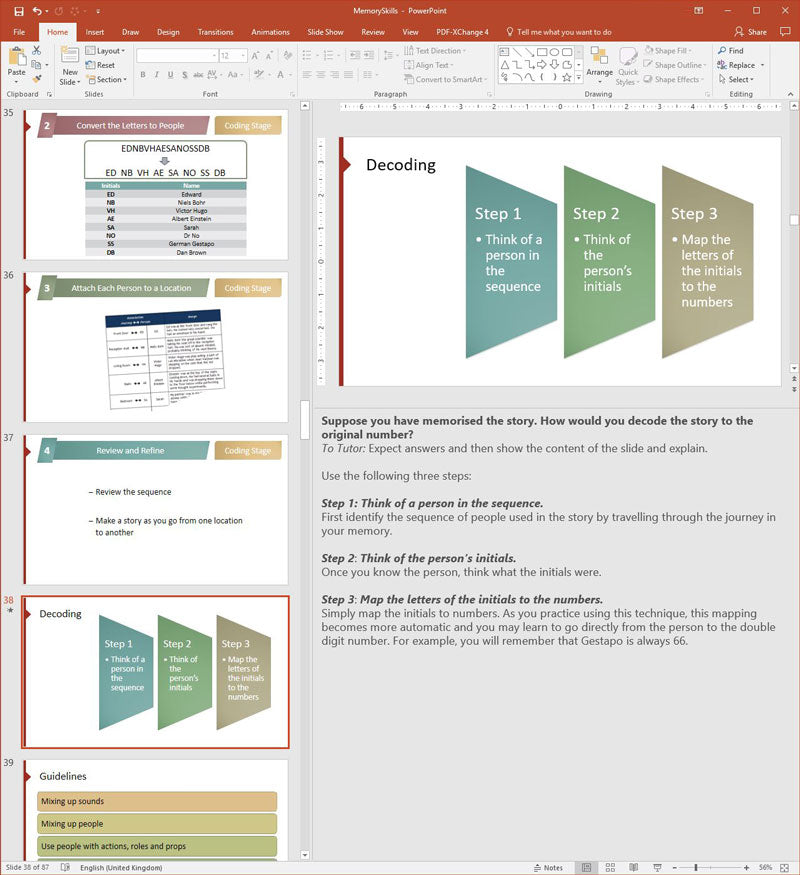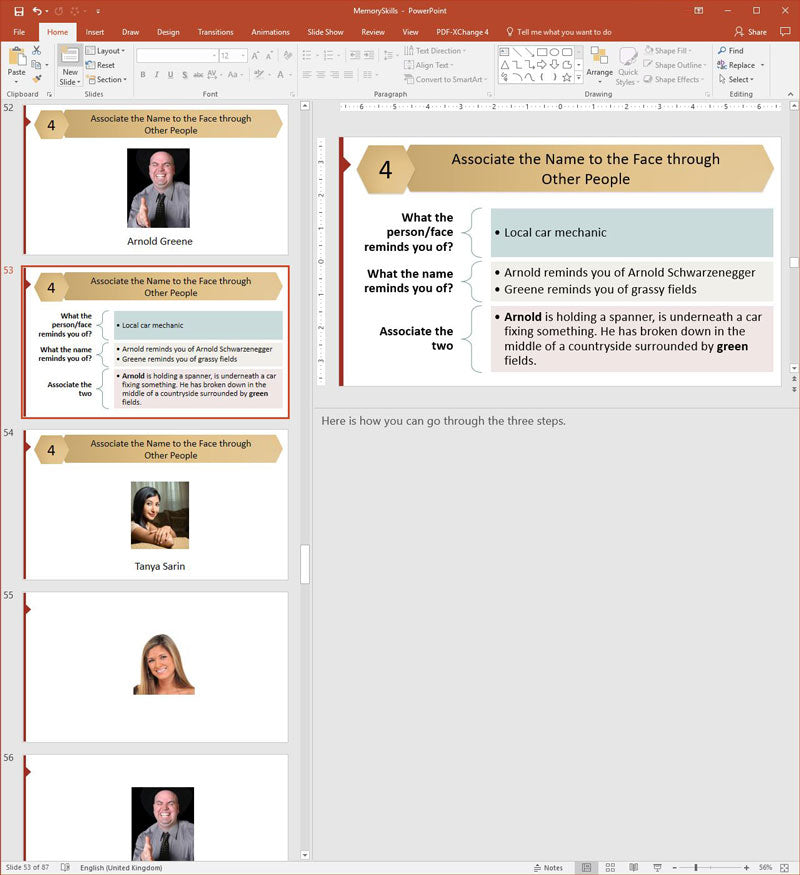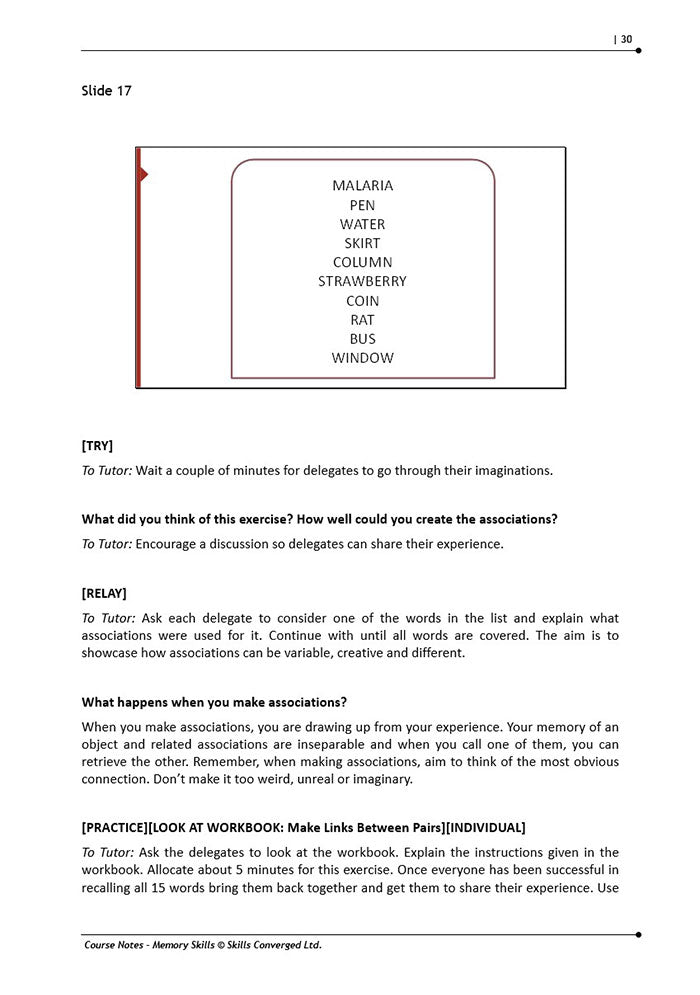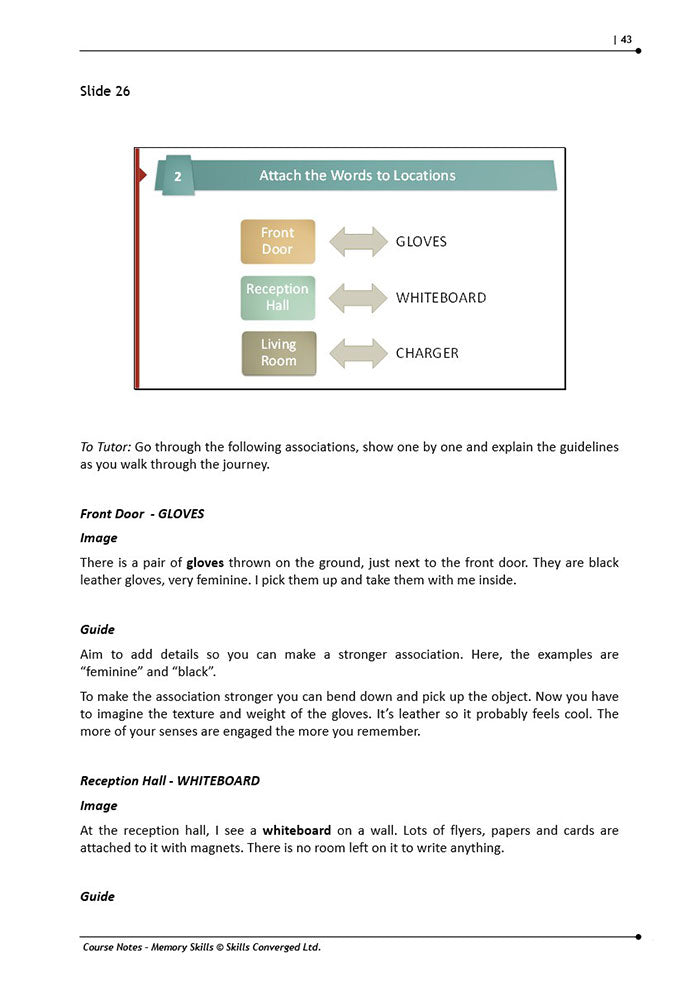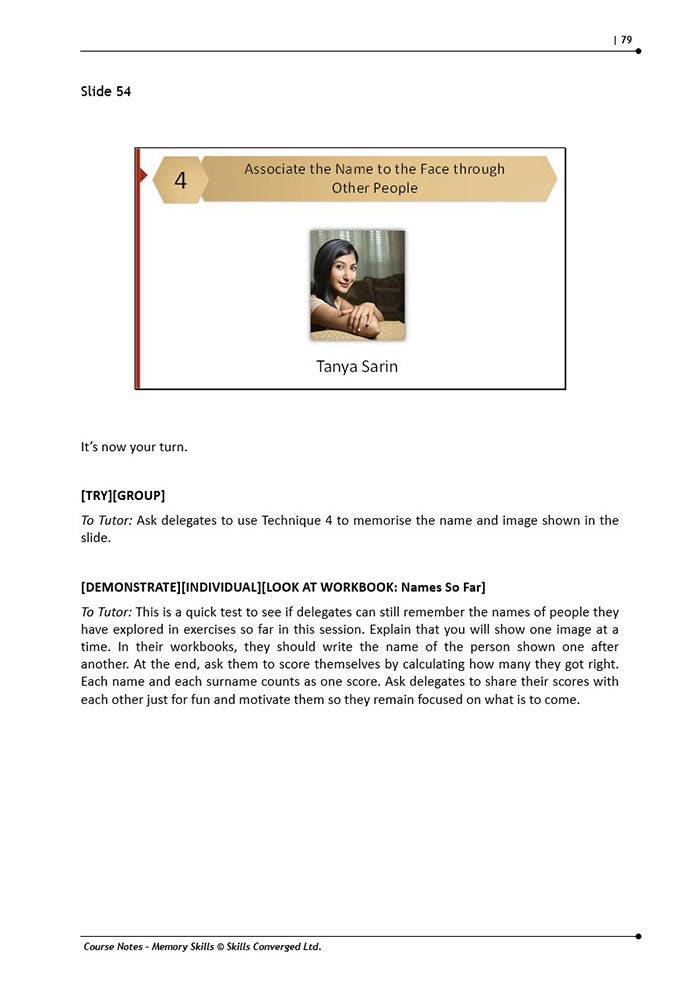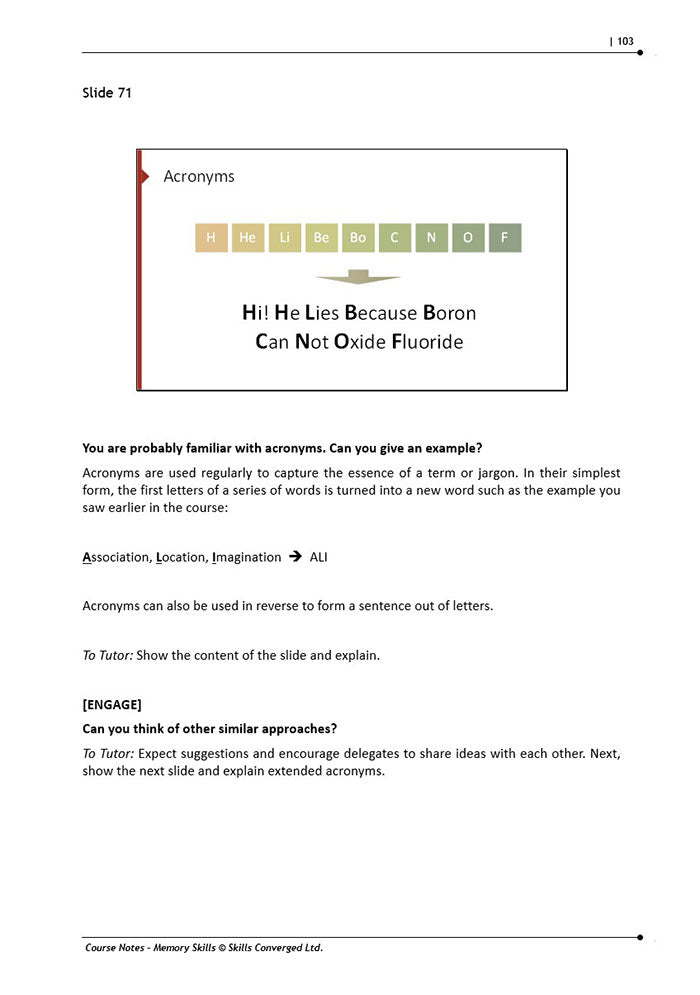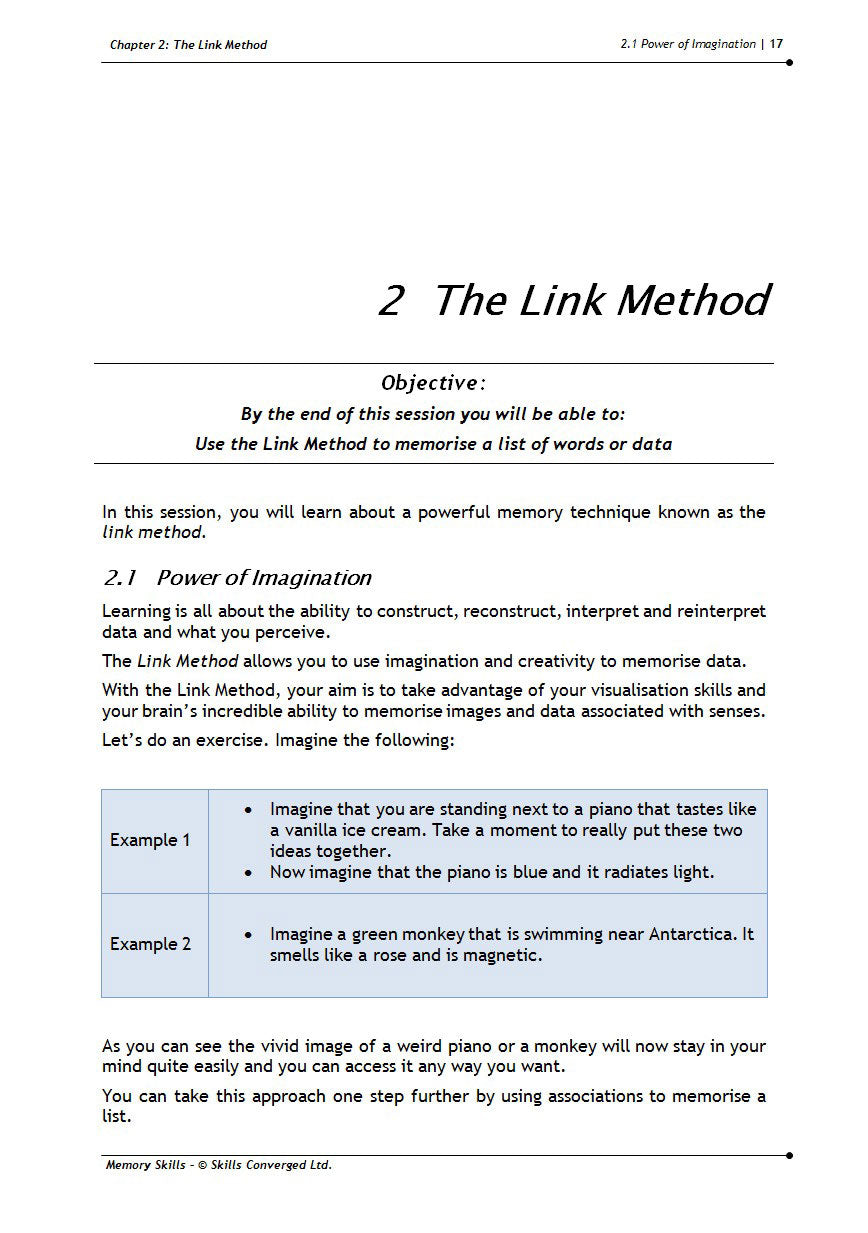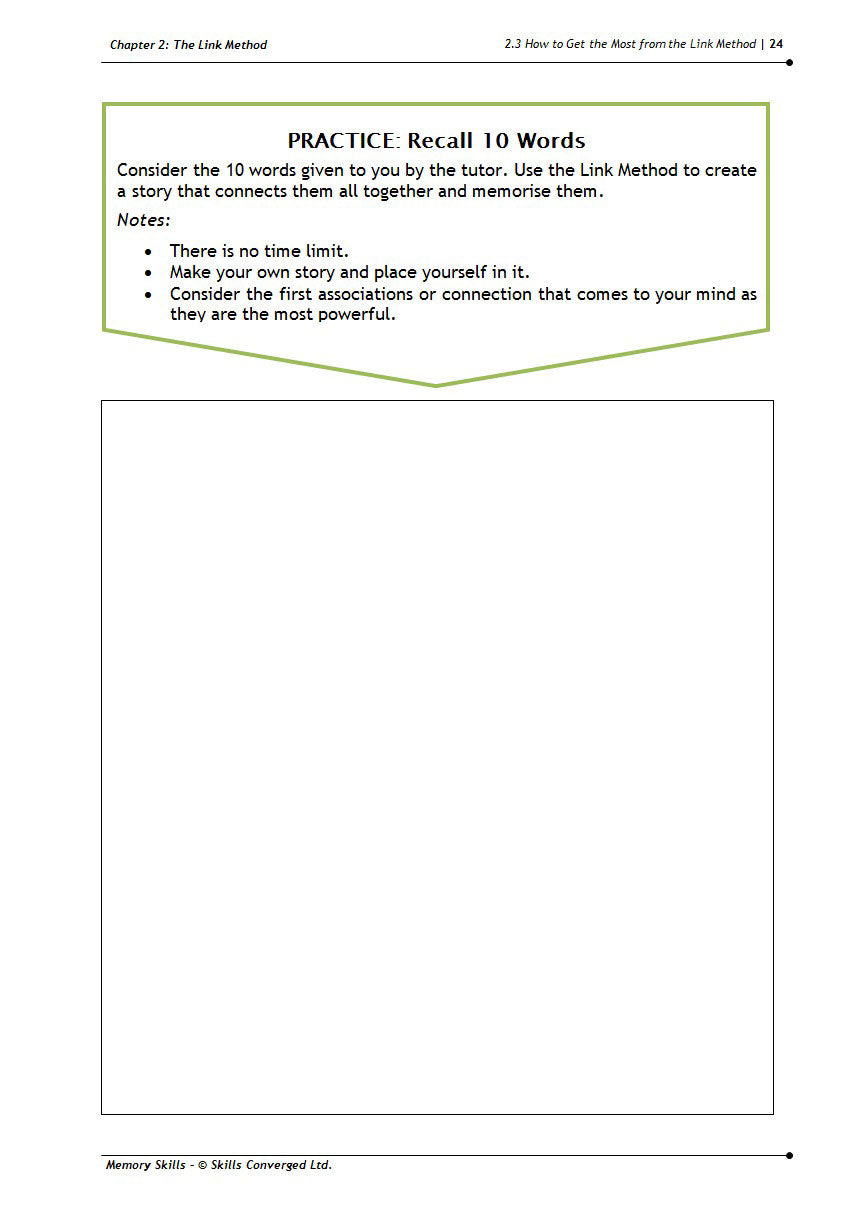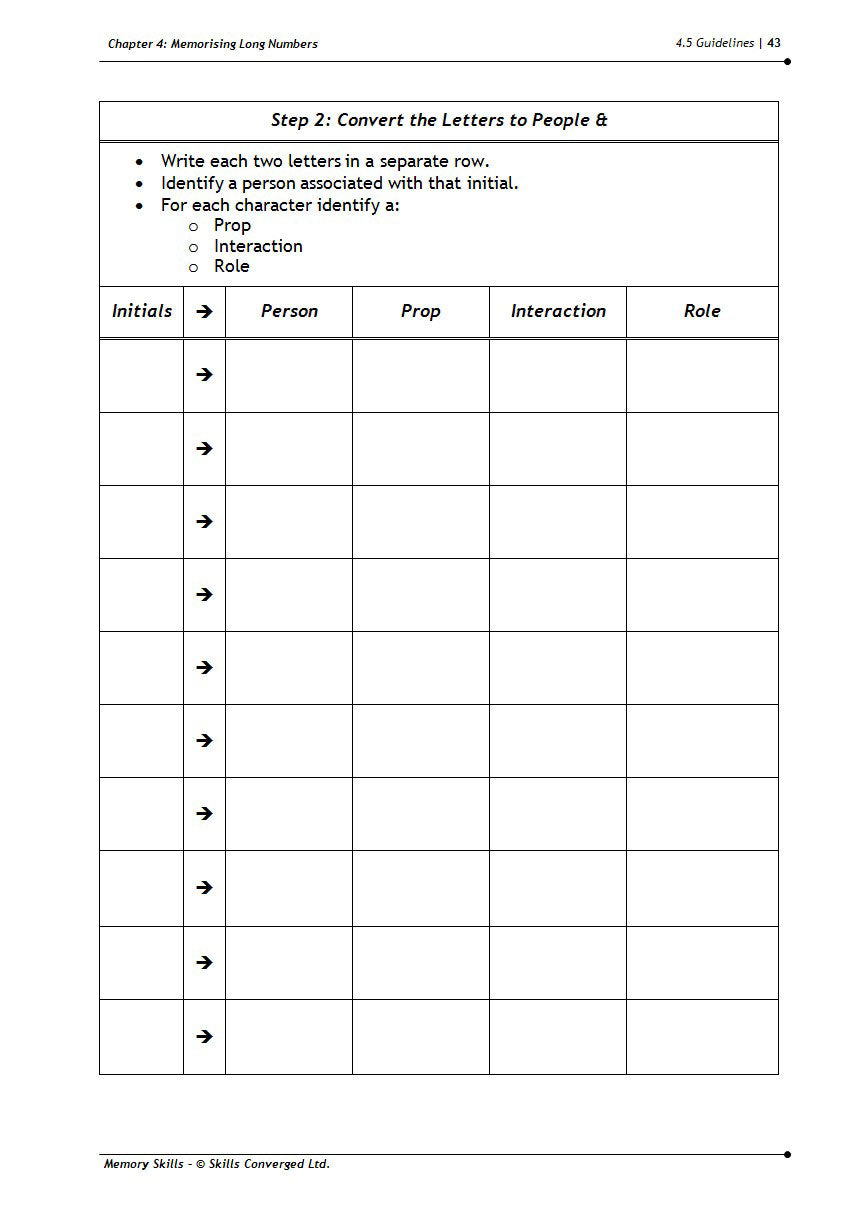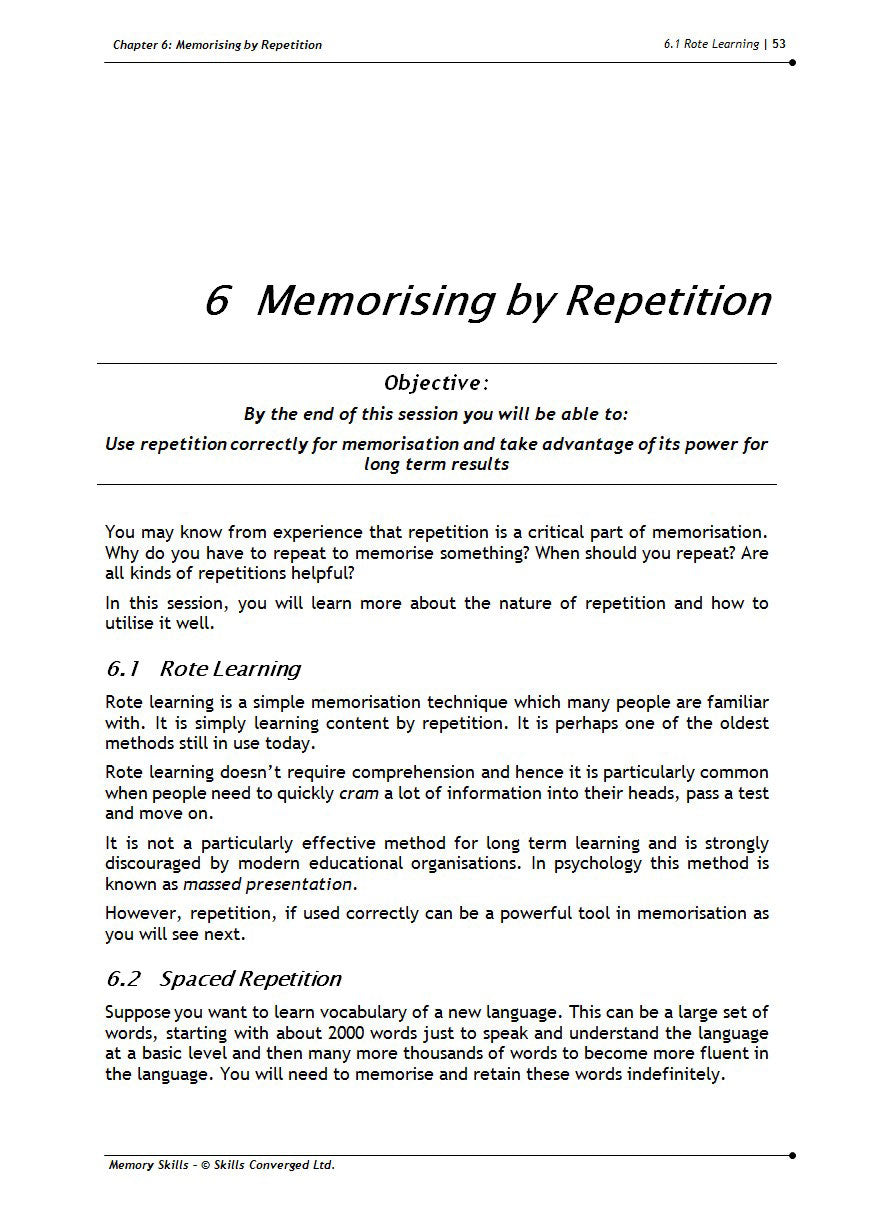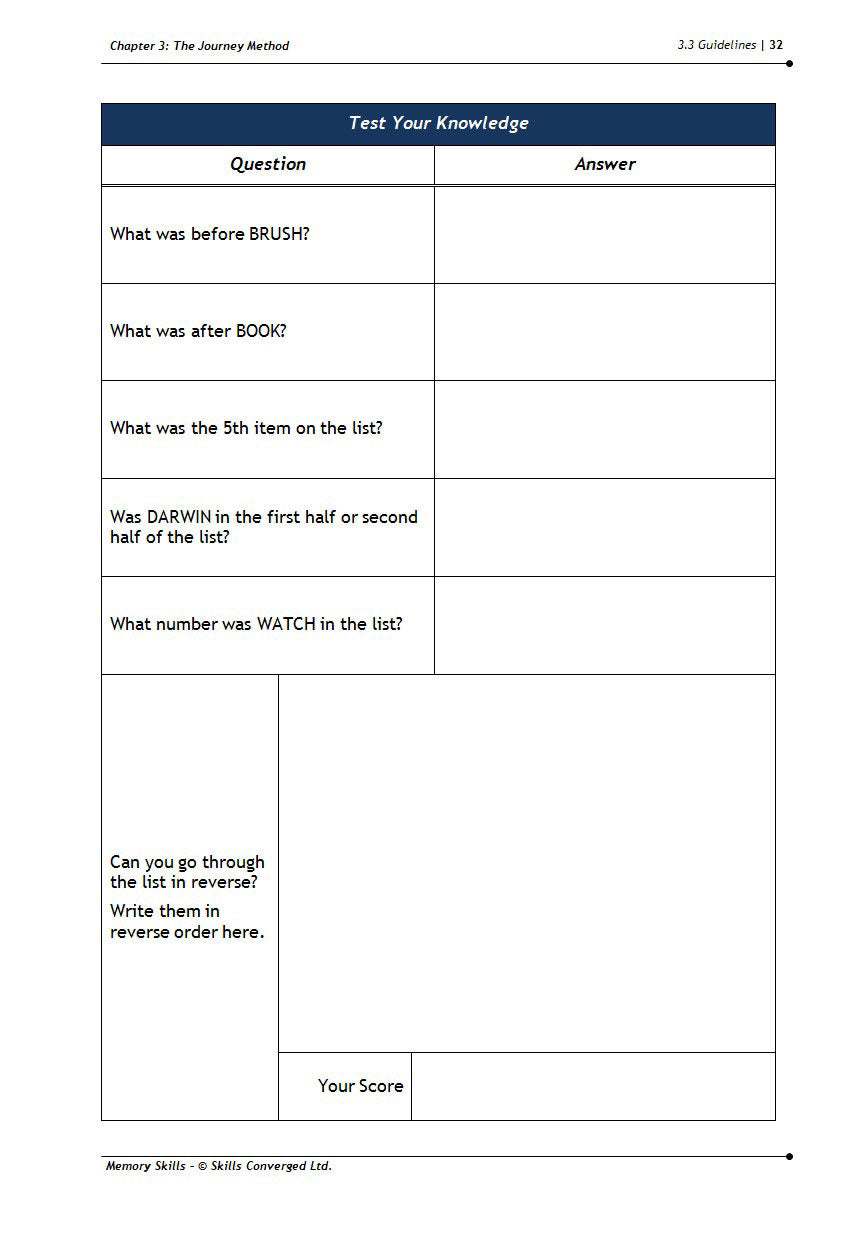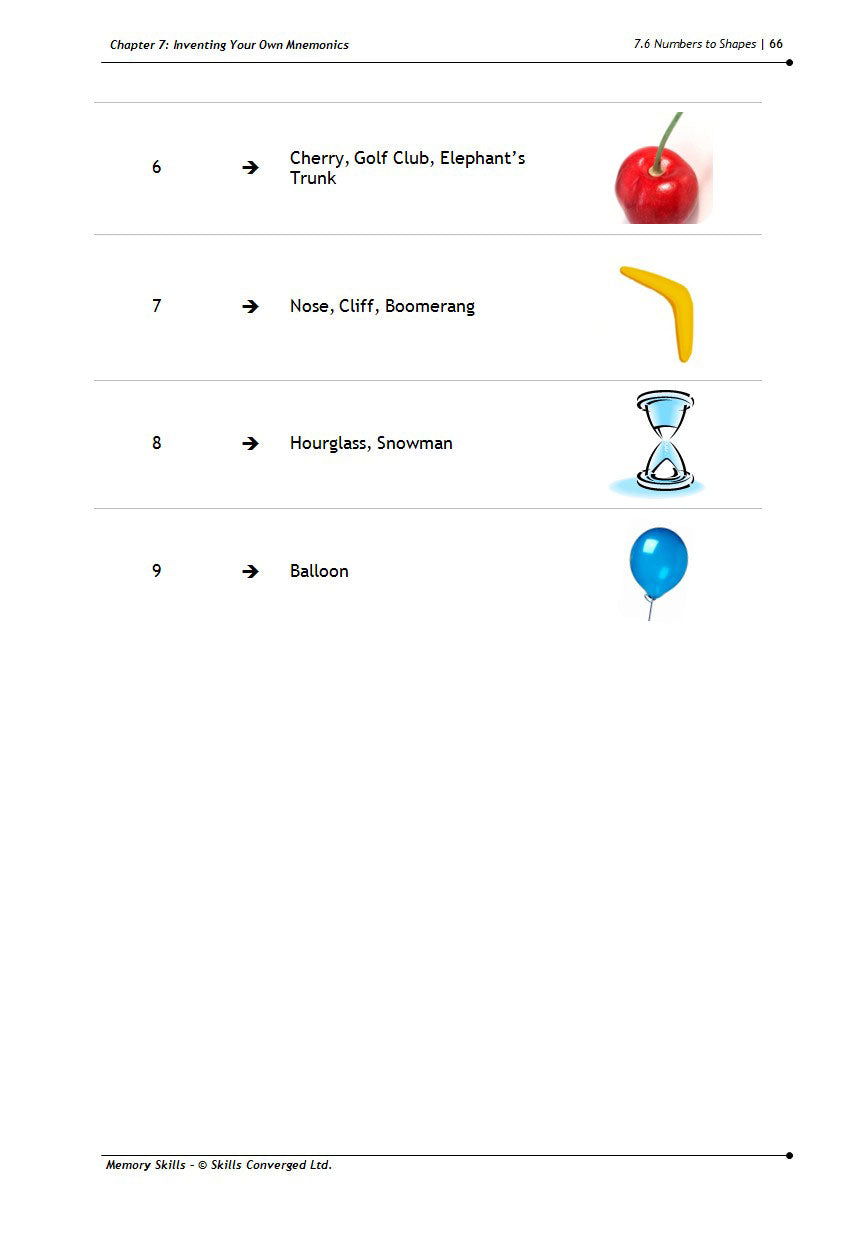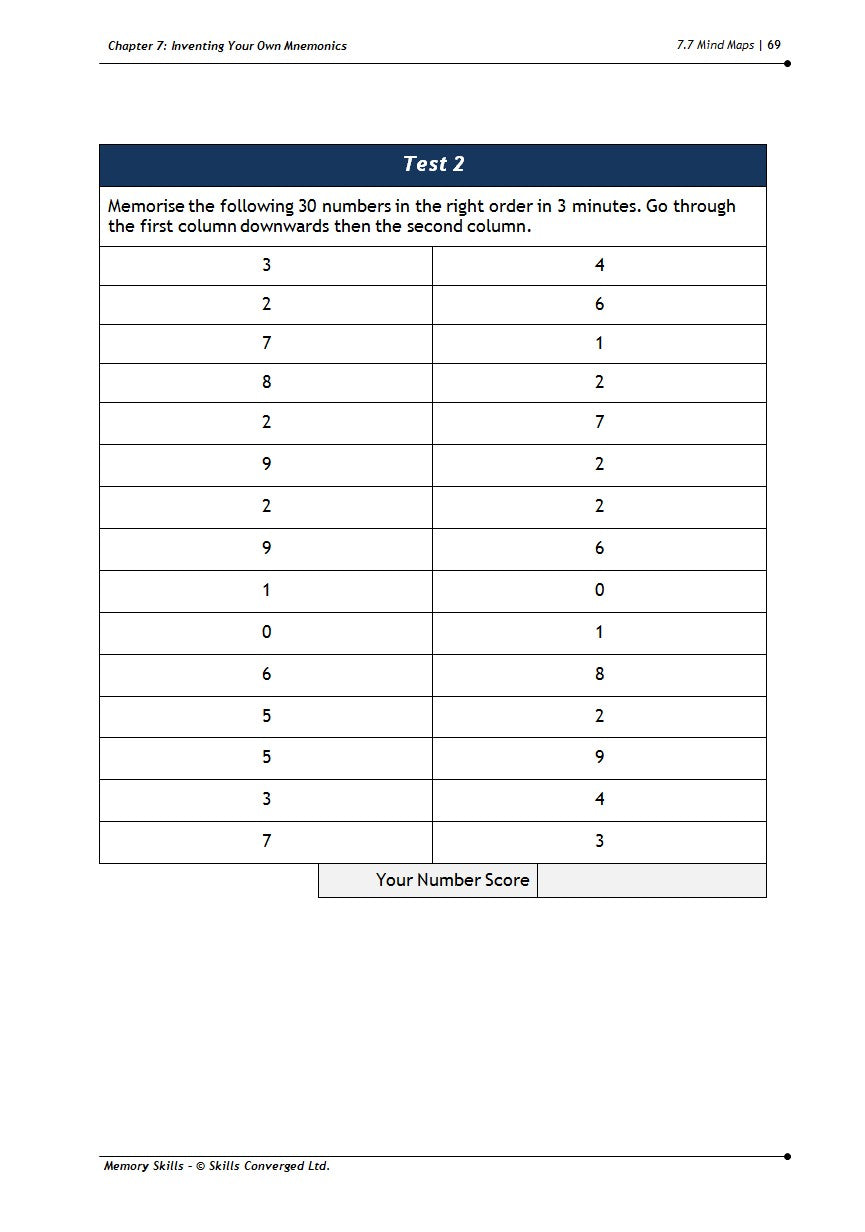 Memory Skills
---
---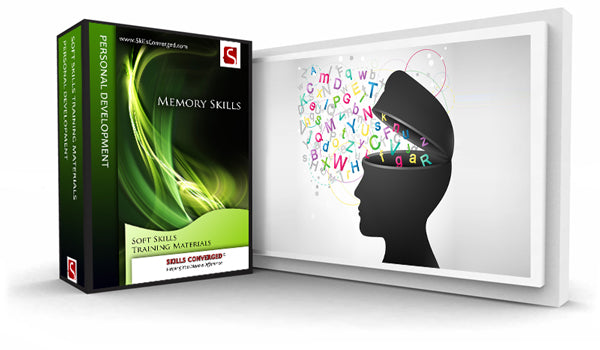 Course on How to Boost Memory, Covers Powerful Memory Techniques Used by Memory Champions
Fully Customisable Training Course Material
Description
"Be master of mind rather than mastered by mind."

Zen Proverb
You don't have to be blessed with good memory from birth to enjoy one. Anyone can enjoy the many benefits of good memory and recall by using powerful memory techniques. Methods, examples and exercises explained in this course can help delegates to improve their memory many times over.
The course provides immediate results. By the end of the course delegates will learn several techniques that they can put to use immediately. Delegates can use these methods to remember list of names, numbers, people and faces, jargons, vocabulary of foreign languages, information from books and school work.
The course is designed with the needs of everyone in mind. From university students to businessmen, academics and professionals, people from all industries and domains can benefit from this course.
By going through this course, delegates will be able to:
Recall a long list of words with ease
Pair words together and remember the pairing associations
Remember a long sequence of numbers
Remember the data for much longer such as weeks or months
Remember data by going over it only once
Avoid using repetition and rote learning techniques that consume so much time and lead to poor short-term results
Use the memory techniques for learning languages, school or university courses, industry jargons, people's names and so on
The real power behind the memory techniques explored in this course is that they are easy to understand, quick to apply and amazingly lead to near permanent recall even after being used only once. As explained in the course, the memory techniques can be used in conjunction with methods such as spaced repetition to get impeccable results.
The course focuses on teaching delegates how to remember useful everyday data. The aim is to focus on areas that most people struggle with and wish they could do something about.
This course can be used in conjunction with Learning to Learn for a two day course. It is best if delegates go through Learning to Learn first and then follow it with this course to focus on Memory Skills.
Designed for people in business environments as well as students.

This is perhaps one of the most entertaining courses offered by Skills Converged. Delegates learn numerous inspiring techniques while going through a memorable training course.
In this highly practical course participants will learn:
How Does the Brain Remember Data?
What is the brain capable of?
Can you have a photographic memory?
How does the brain incorporate new information?
What is the secret to the success of memory champions?
Why do people forget?
What is the Link Method?
How to employ the power of imagination
How to apply the method
How to get the most from it
How to Take Advantage of Metacognitive Techniques
What is a metacognitive technique?
How to apply it
What can you use it for?
How to design and customise it so it can be applied to any memory task
How to Remember Long Numbers
How to take advantage of a proven method used by exceptional memory champions
How to design the method to suit your needs
How to code numbers to take advantage of the power of your brain
How to Remember People and Faces
How to use several powerful techniques to remember faces and names
How to remember long or difficult names
How to remember the names of a group of people you have just been introduced to
How to Invent Your Own Mnemonic Devices
What common mnemonic systems are in use and what can you learn from them?
What are peg lists and how to use them?
How to take advantage of visual mnemonics
How to use several mnemonics devices to remember numbers
How to use mind maps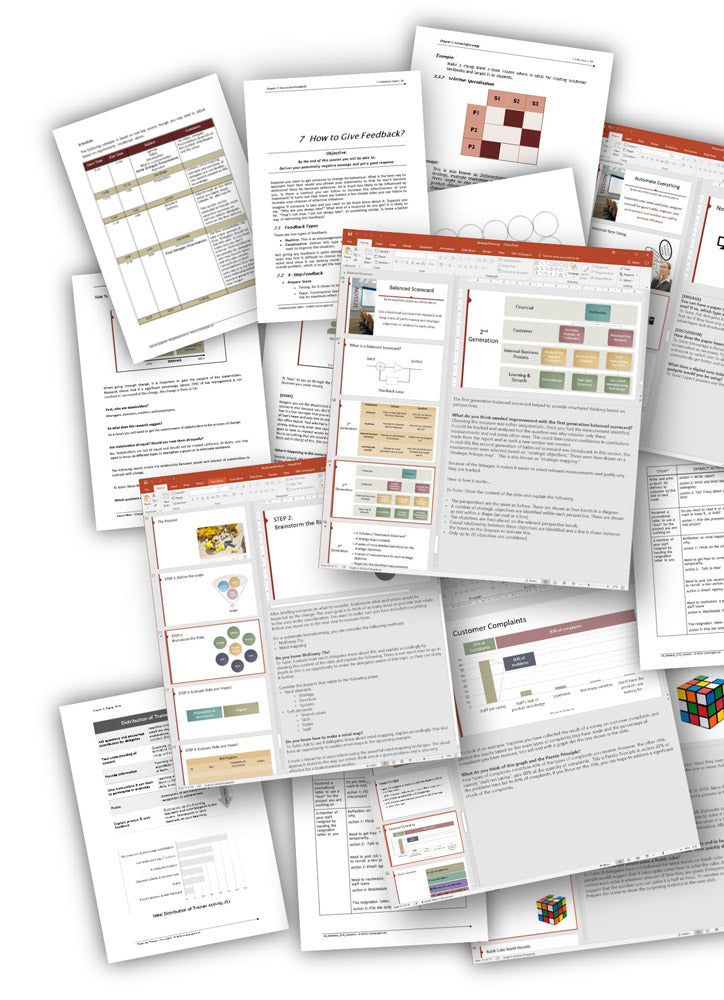 What Is Included
Everything you need to run the course:
Slides
Workbook
Exercises
Handouts
Trainer Notes
Specific Course Guidelines
Agenda
Guidelines on Training Methodology
Course Outline
Recommended Readings
Feedback Forms
Certificate of Achievement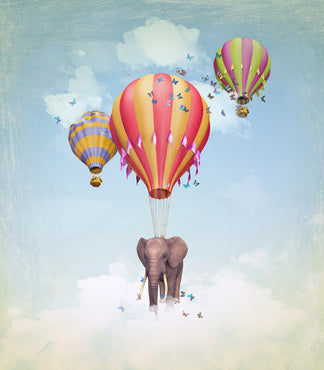 Course Objectives
By the end of this course delegates will be able to:
Courseware Features
Buy & Download Training Materials
Choose your training materials
Add to shopping cart
Get multiple courses to get discounts and create tailored training
Pay using all major debit / credit cards, PayPal, Apple Pay and Google Pay.
After payment processing, you are redirected to a download page
You will also receive emails with download links
Unzip the package and access all the training resources in MS Office format
How to Get Training Packages
Editting
You can customise, edit and modify the content as you desire
Rights
Unlimited workbook reprinting rights
Comprehensive
The downloadable training package contains all you need to deliver a course
Extensively Researched
Designed based on the latest research in educational psychology, cognitive psychology, social sciences and business practices
Facilitation Training
Designed in line with the principles of accelerated learning

Interactive
Designed to include many examples, case studies and exercises to improve learning and retention
Download
Order online and download immediately after purchase
Source Files
Receive editable source files in MS Office 365 (Word DOC/DOCX and Power Point PPT/PPTX) and previous Office versions 2003, 2007, 2010, 2013 & 2016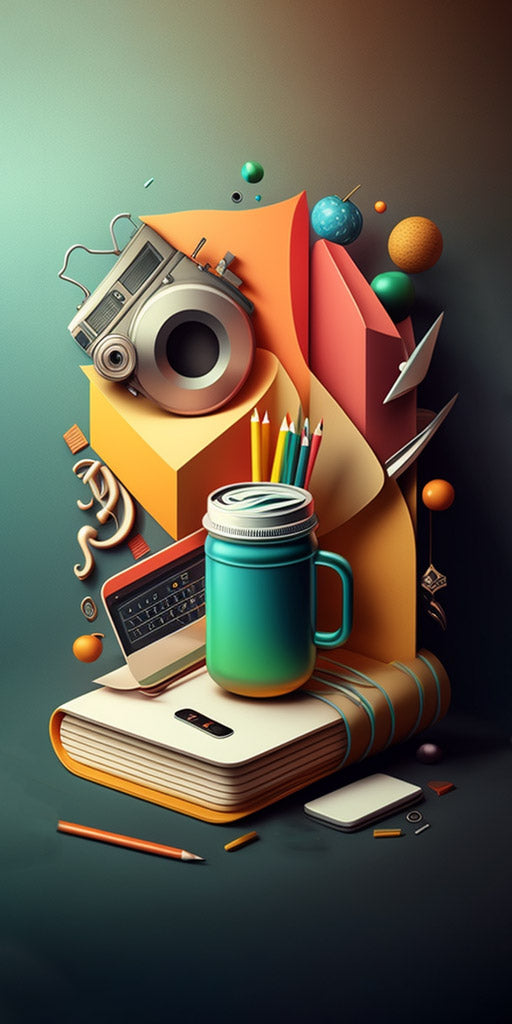 About the Design Philosophy of Memory Skills Course
100+ Countries
Used by Trainers Worldwide
Our mission is to help you deliver memorable courses with long lasting results, while taking the least amount of effort and time to run.
Save Time & Boost Training
Skills Converged is a unique company that provides professionally designed fully-customisable training course materials based on the latest research in learning & development. Courses are designed with attention to detail both on content and style so that you can deliver unique state-of-the-art courses to your clients and get maximum results.
For Trainers
Use ready-made modular courseware, tailor to your audience, respond to market quickly & effortlessly
For People Developers
Increase HR efficiency and save by supplying consistent professionally designed training materials to your trainers and help employees reach full potential