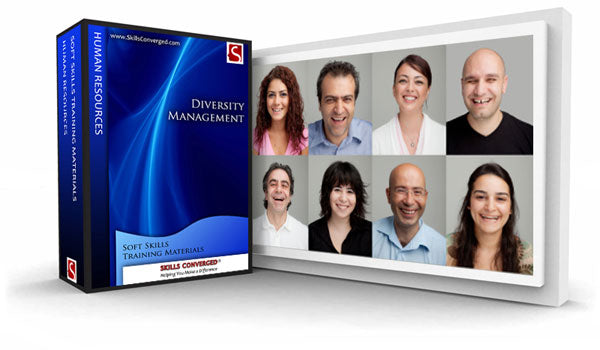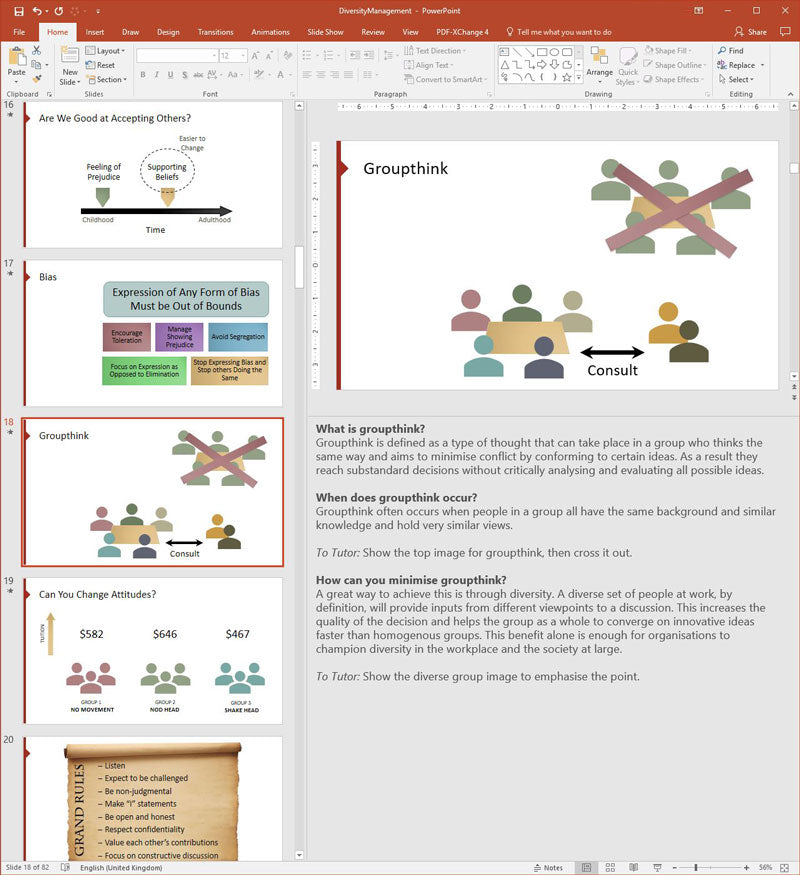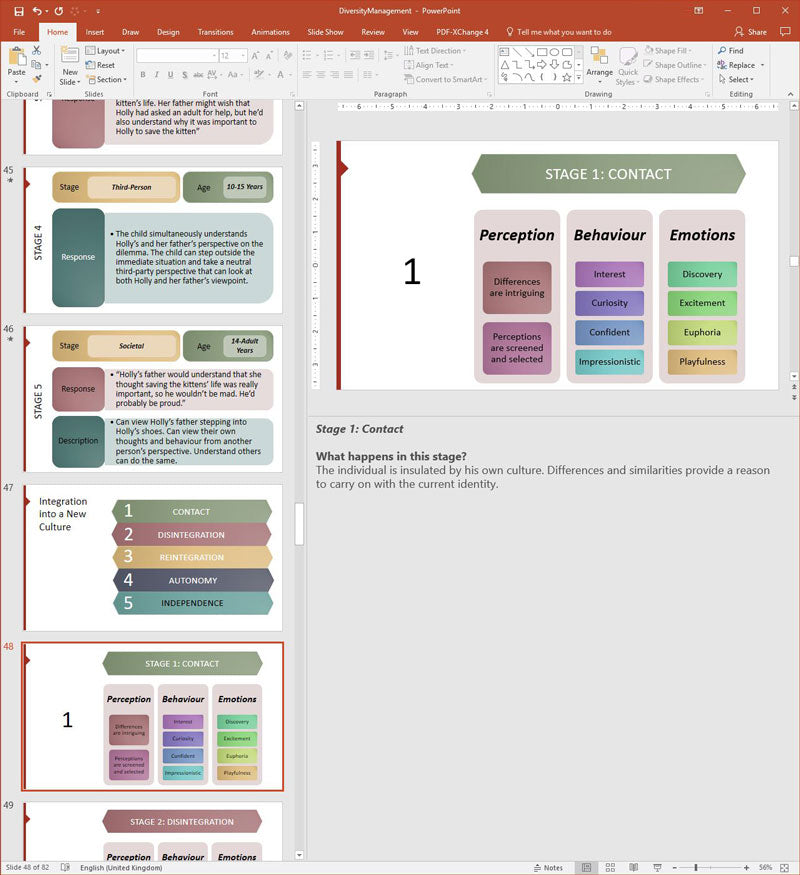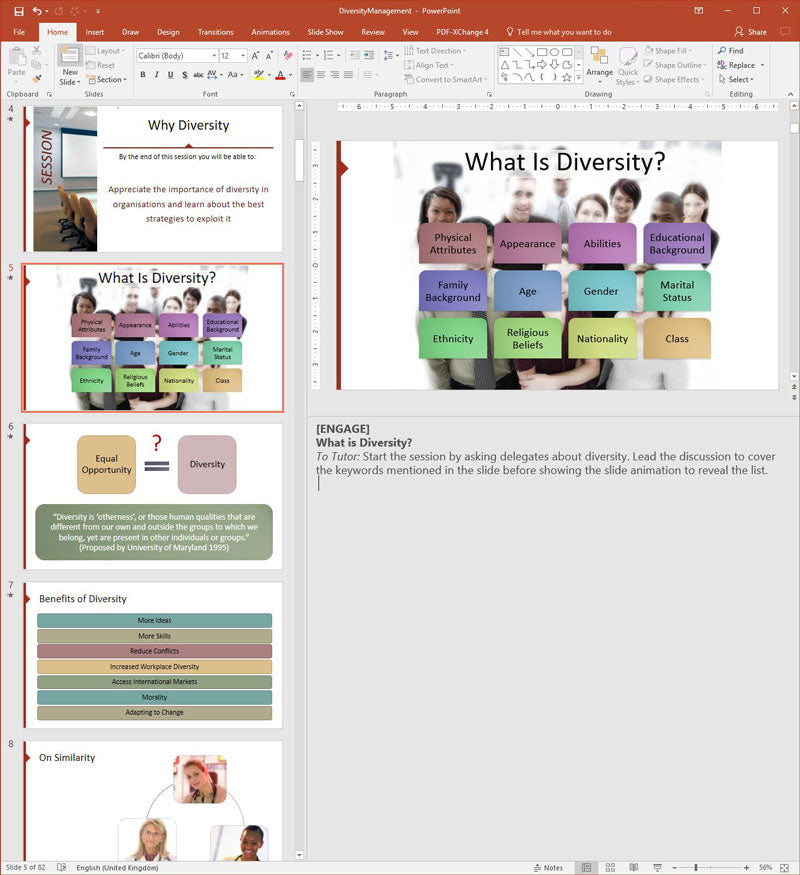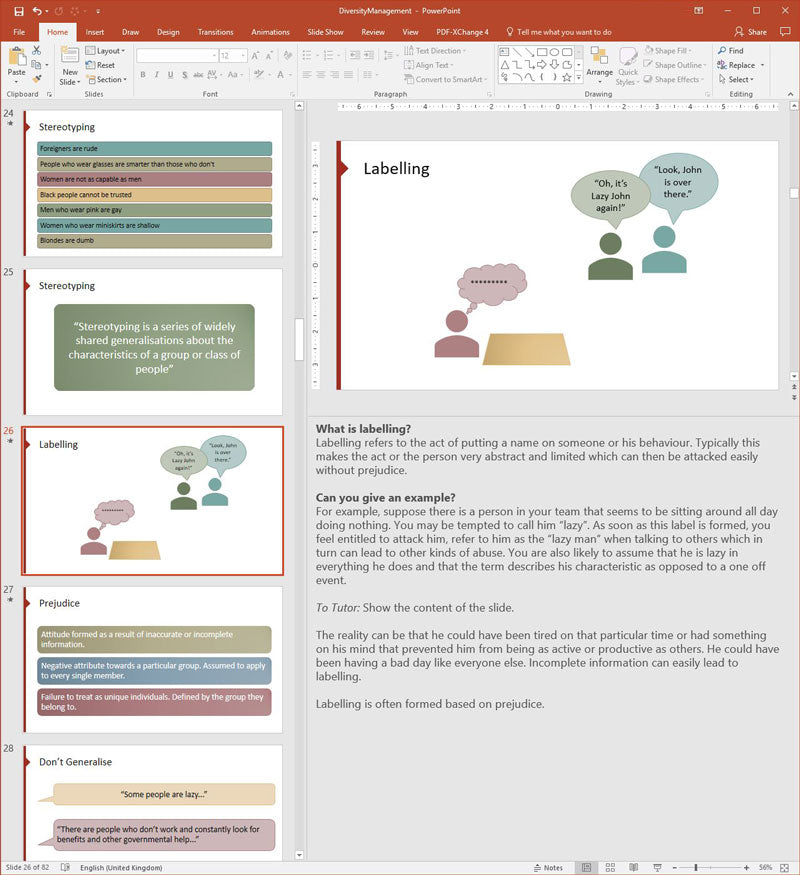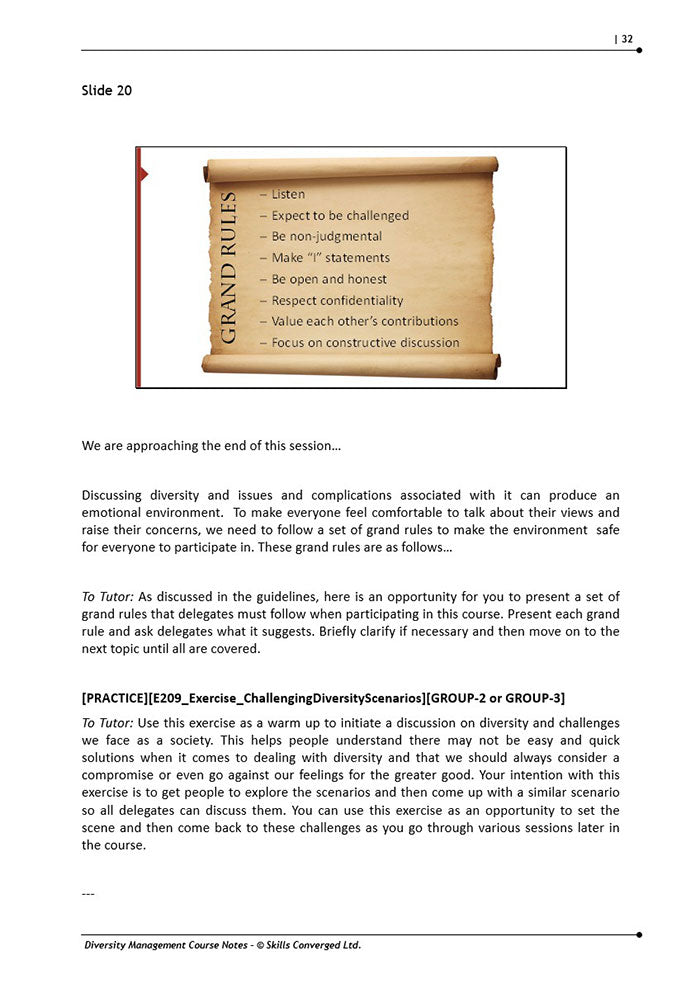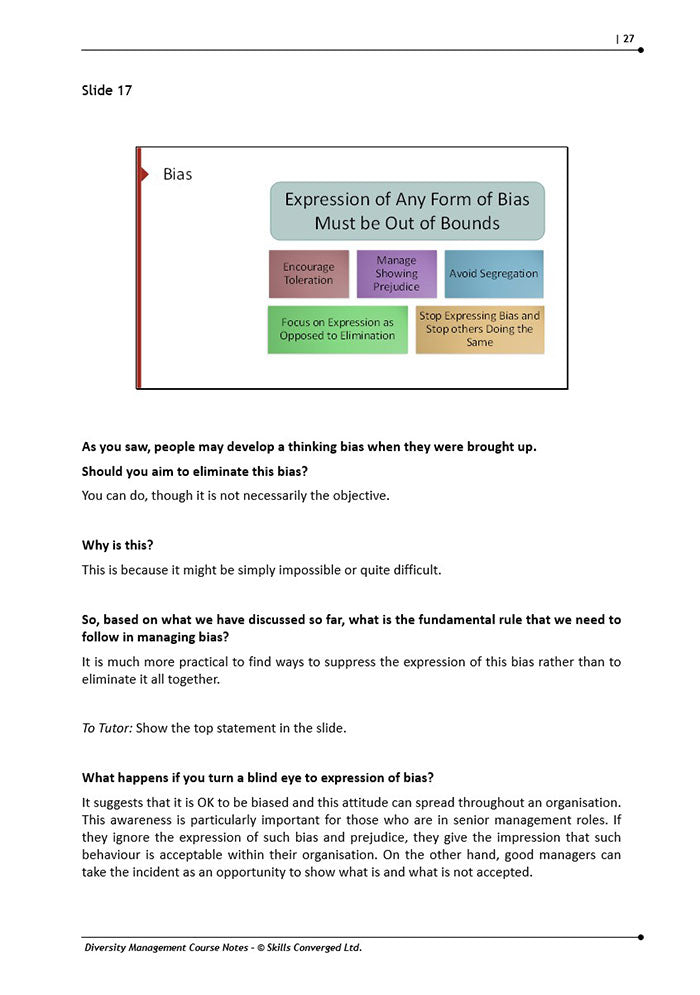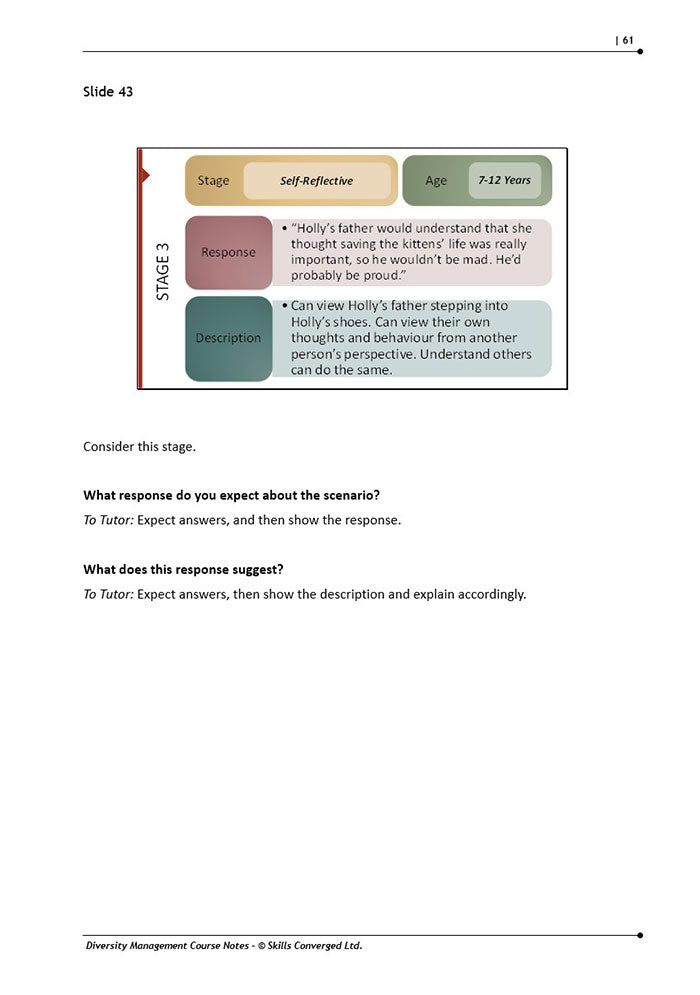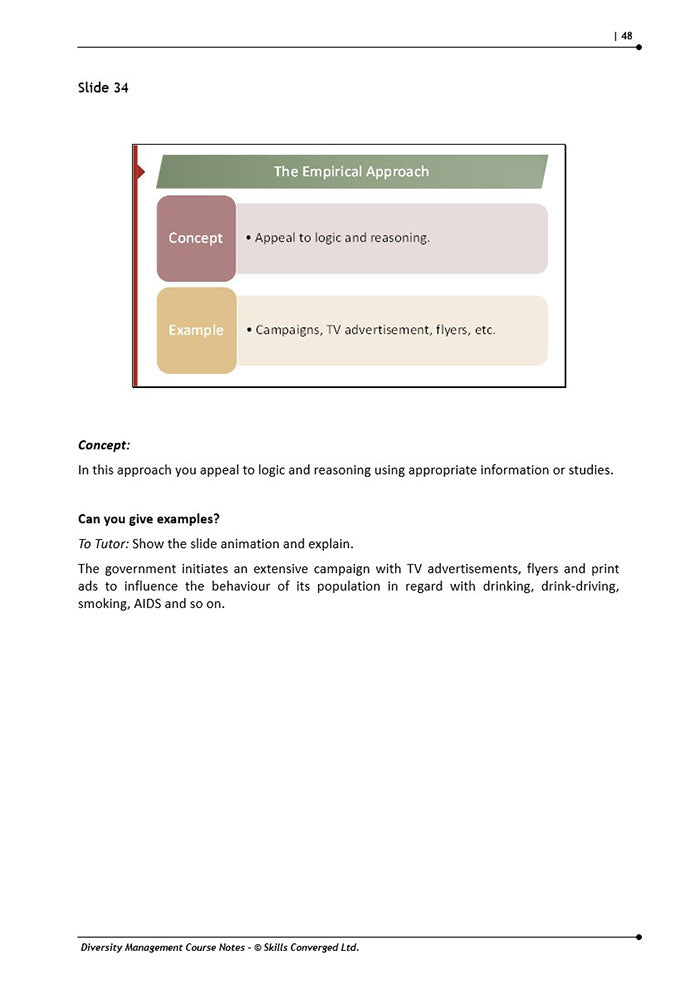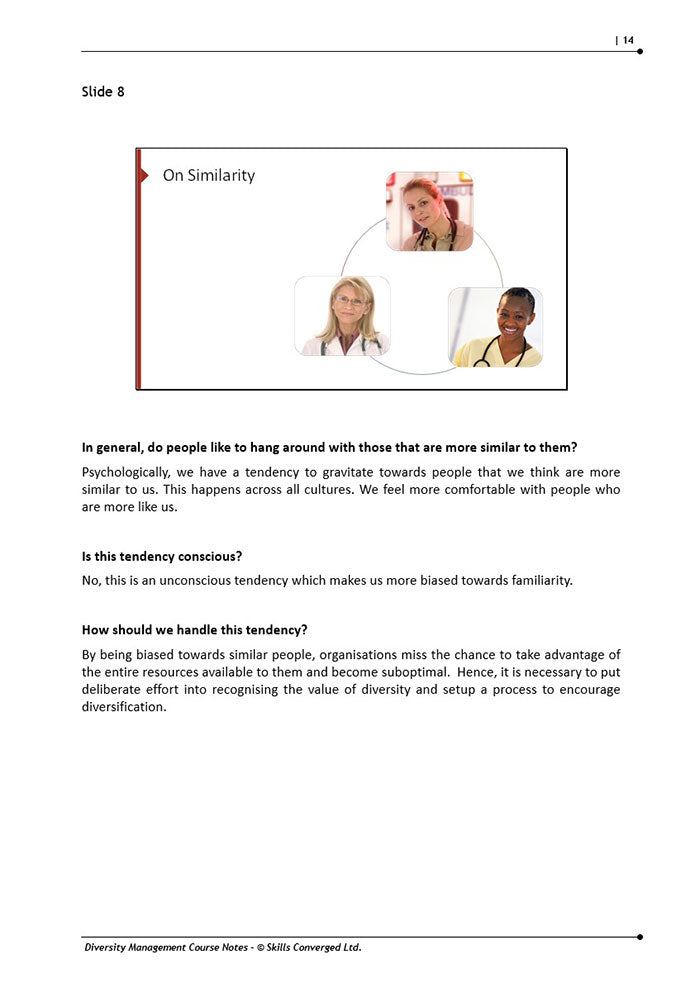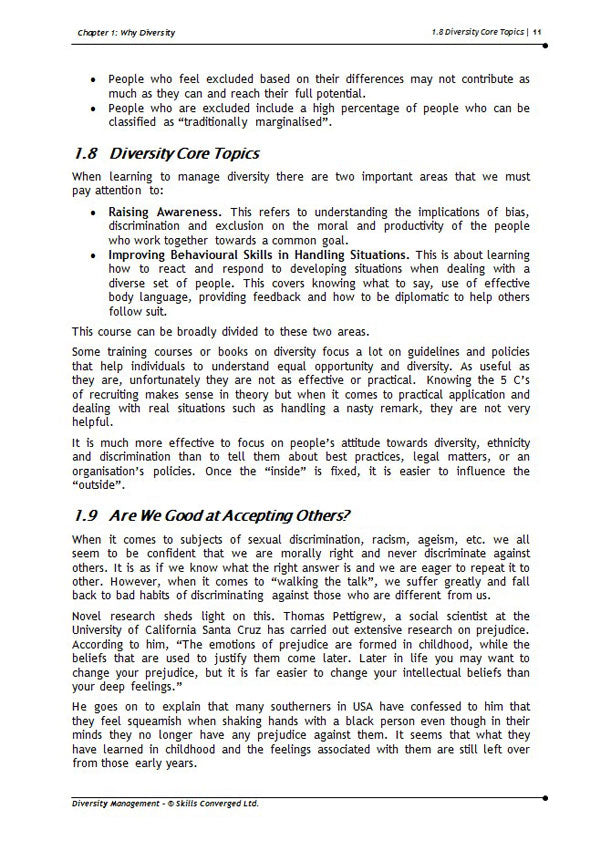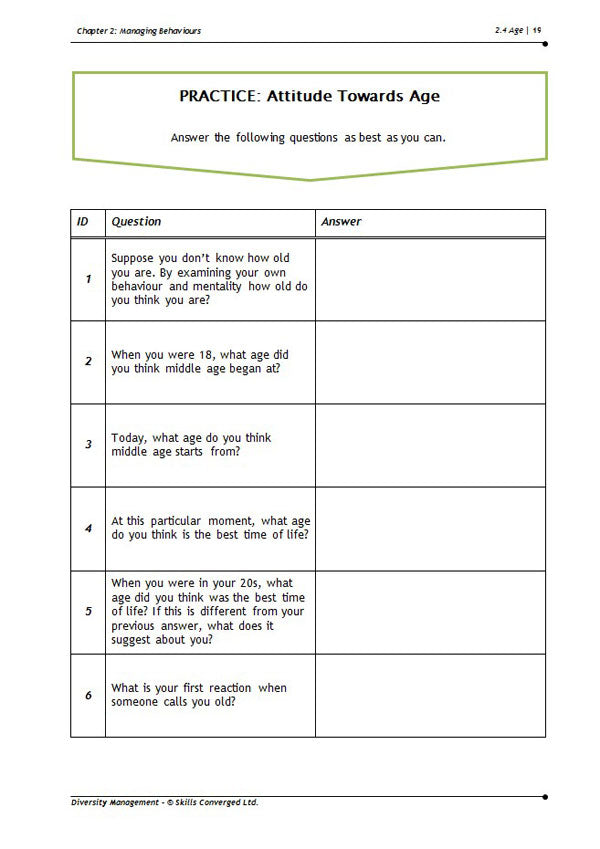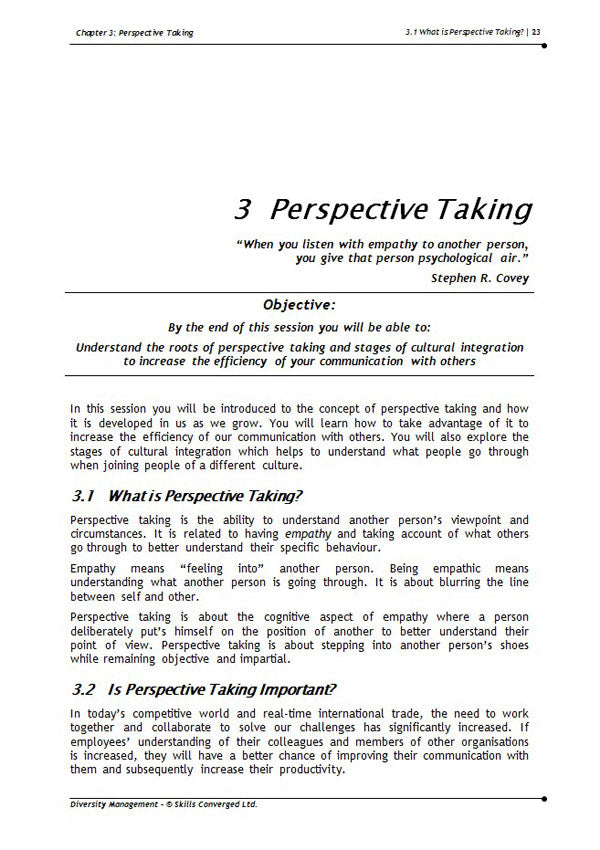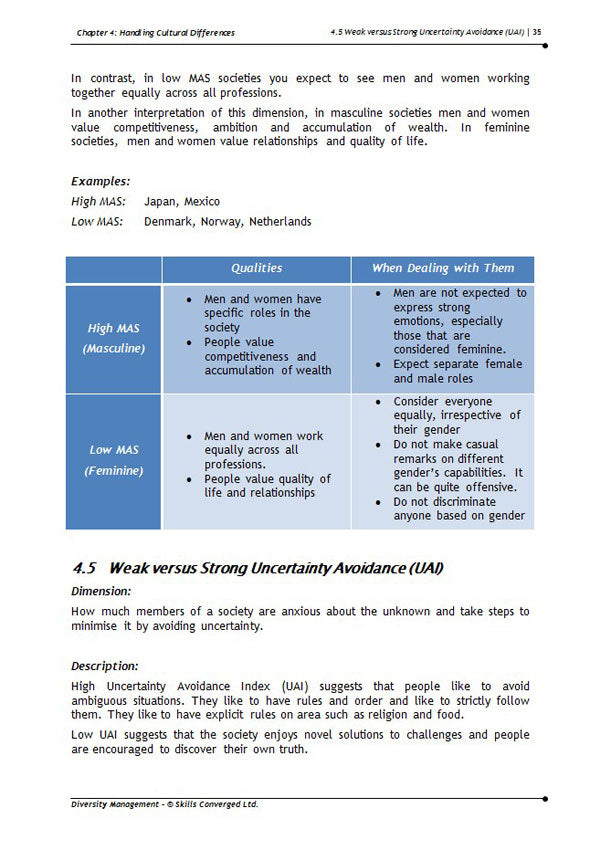 Diversity Management
---
---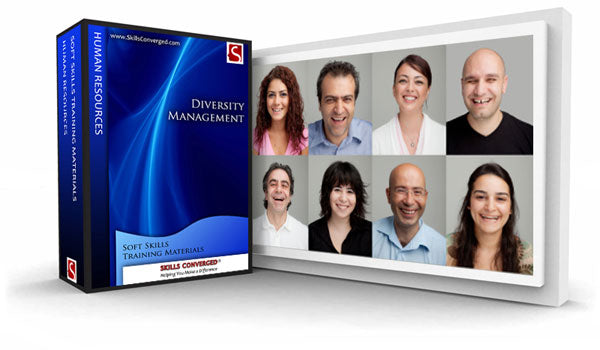 Course on Political Correctness and How to Improve Communication with Those Who Are Different
Fully Customisable Training Course Material
Description
"The wave of the future is not the conquest of the world by a single dogmatic creed but the liberation of the diverse energies of free nations and free men."

John F. Kennedy
Our societies have become vastly more diverse as a result of increased international travelling, real-time communication and improved awareness of people's strength and weakness. Understanding diversity will allow us to enjoy its benefits and learn how to communicate better with those with different cultural, educational and social backgrounds.
Some organisations are still going through the adaptation phase as their workforce is diversified and this can create a tension within staff as they need to get adjusted to the new trend. A training course on diversity management can prepare them to face other people who are different from them and learn how to be respectful, patient and understanding when it comes to dealing with minorities.
The course specifically addresses two important areas within diversity; skills and awareness. Diversity management is not about walking through a number of equal opportunity guidelines and local laws to force people to comply with regulation. Instead, it is about increasing staff's awareness to the advantages of diversity and how it can come to profit their organisation or the society as a whole. In addition to awareness, it is also important to work on skills such as listening to others, empathy, confronting inappropriate behaviour, giving feedback and so on. By progressing on these two dimensions, individuals can vastly increase the quality of their interaction and communications with those who are different from them and in turn improve productivity and efficiency.
This course applies to both staff and managers. Members of staff learn how to interact with each other and their clients and managers learn the important benefits of managing diversity systematically and successfully.
This is a highly practical course. The topic of diversity can be dull for some people. Our intention when designing this course was to make the content as interesting as possible while still delivering the core message. Through the interactive exercises, delegates are encouraged to examine their own beliefs and become more curious about other people's way of thinking. Several optional exercises are provided for the end of the course to encourage the delegates to apply what they have learned during the course to their specific issues and circumstances. Some exercises are specifically designed as frameworks so you can customise them with your own scenarios or case studies relevant to the objectives of your diversity management training.
In this highly practical course delegates will learn:
Introduction to Diversity
What is diversity?
How can you benefit from diversity management?
What is the difference between diversity management and equal opportunity?
What are the critical dimensions of diversity?
What is groupthink and how does it relate to diversity?
How can you change people's attitudes?
Managing Behaviours
How should you deal with behaviours such as stereotyping?
How to avoid labelling
How can you influence people's behaviour to change their attitudes?
How to eliminate prejudice
How to use three established methods to change behaviours
Perspective Taking
What is perspective taking?
Why is perspective taking important?
How does perspective taking develop in us as we grow and what are the implications?
Social Integration
What are the stages people go through when integrating into a new job, environment or culture?
What are the implications of these stages?
What emotions do people experience when going through these stages?
What behaviour do you expect people to exhibit at different stages?
Handling Cultural Differences
What are the defining characteristics of different nations?
How can you systematically compare members of different nationalities based on a number of established dimensions?
How can you use these dimensions to improve your interaction with other nationalities?
How to improve your meetings with clients, suppliers, customers and colleagues of different nationalities based on strategies derived from the model
Body Language
What gestures are most effective in putting another person at ease?
How to avoid appearing confrontational or defensive
How to show that you are interested and welcoming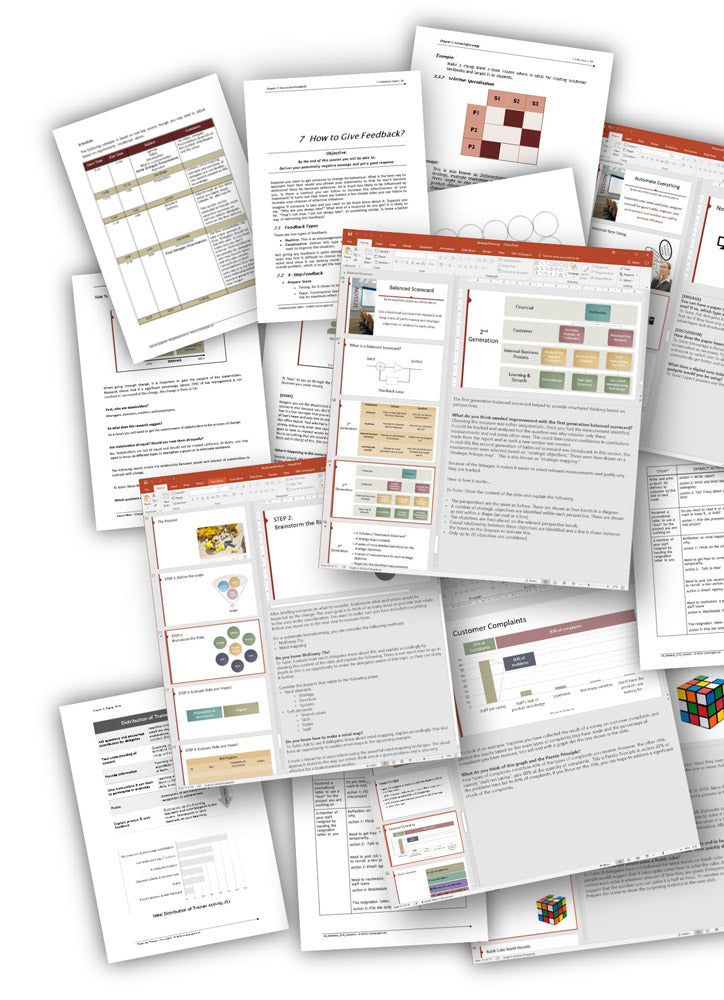 What Is Included
Everything you need to run the course:
Slides
Workbook
Exercises
Handouts
Trainer Notes
Specific Course Guidelines
Agenda
Guidelines on Training Methodology
Course Outline
Recommended Readings
Feedback Forms
Certificate of Achievement
Course Objectives
By the end of this course delegates will be able to:
Courseware Features
Buy & Download Training Materials
Choose your training materials
Add to shopping cart
Get multiple courses to get discounts and create tailored training
Pay using all major debit / credit cards, PayPal, Apple Pay and Google Pay.
After payment processing, you are redirected to a download page
You will also receive emails with download links
Unzip the package and access all the training resources in MS Office format
How to Get Training Packages
Editting
You can customise, edit and modify the content as you desire
Rights
Unlimited workbook reprinting rights
Comprehensive
The downloadable training package contains all you need to deliver a course
Extensively Researched
Designed based on the latest research in educational psychology, cognitive psychology, social sciences and business practices
Facilitation Training
Designed in line with the principles of accelerated learning

Interactive
Designed to include many examples, case studies and exercises to improve learning and retention
Download
Order online and download immediately after purchase
Source Files
Receive editable source files in MS Office 365 (Word DOC/DOCX and Power Point PPT/PPTX) and previous Office versions 2003, 2007, 2010, 2013 & 2016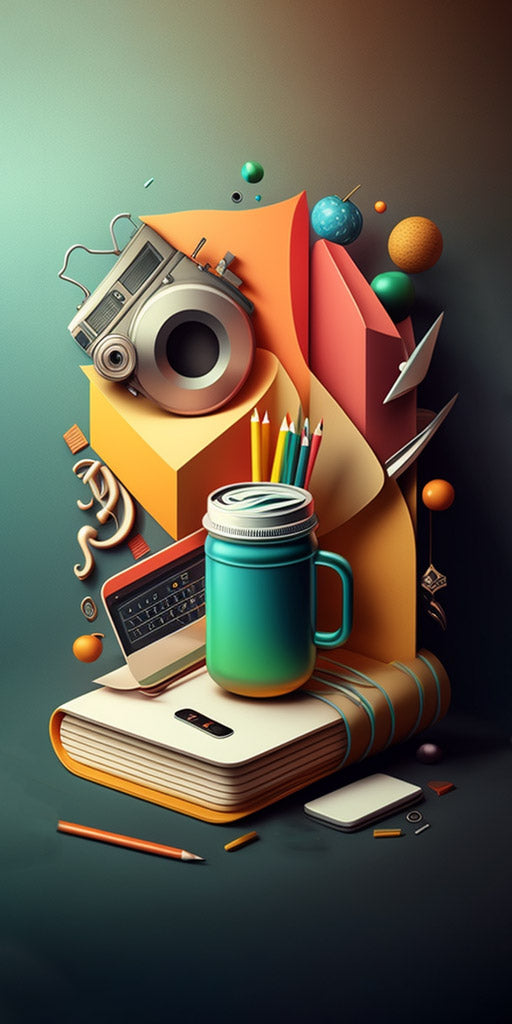 About the Design Philosophy of Diversity Management Course
100+ Countries
Used by Trainers Worldwide
Our mission is to help you deliver memorable courses with long lasting results, while taking the least amount of effort and time to run.
Save Time & Boost Training
Skills Converged is a unique company that provides professionally designed fully-customisable training course materials based on the latest research in learning & development. Courses are designed with attention to detail both on content and style so that you can deliver unique state-of-the-art courses to your clients and get maximum results.
For Trainers
Use ready-made modular courseware, tailor to your audience, respond to market quickly & effortlessly
For People Developers
Increase HR efficiency and save by supplying consistent professionally designed training materials to your trainers and help employees reach full potential