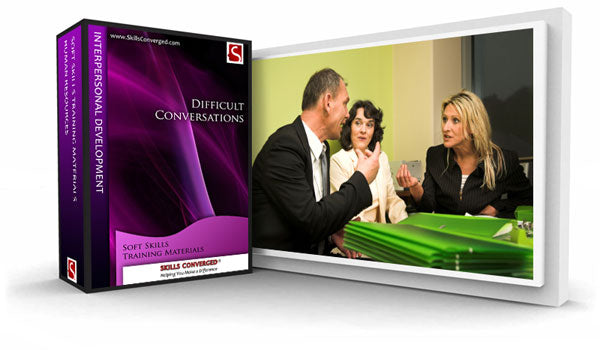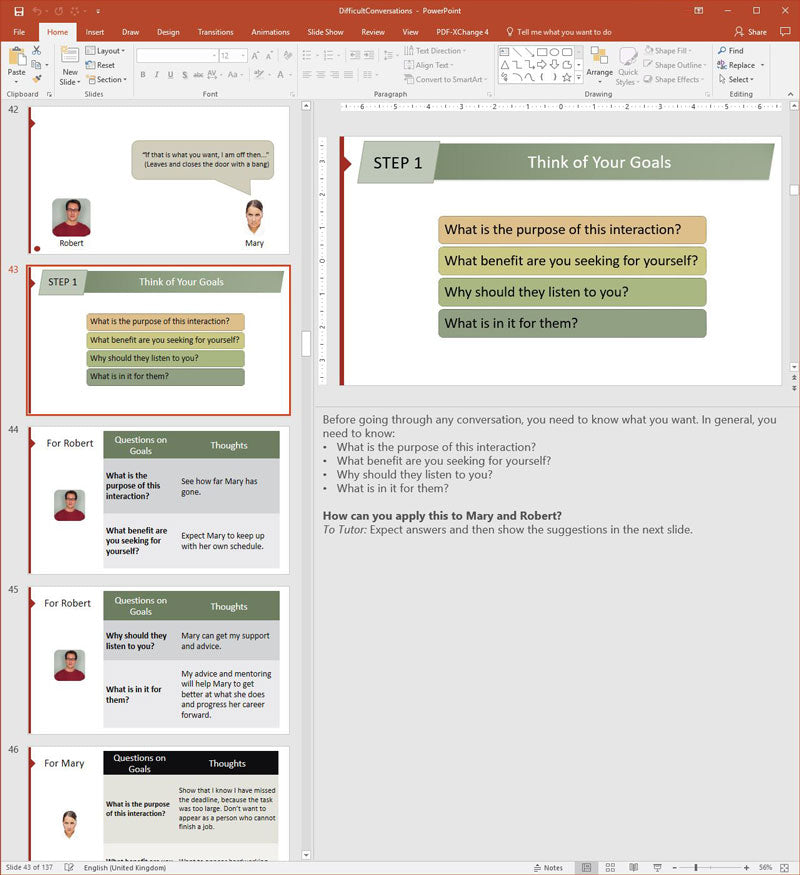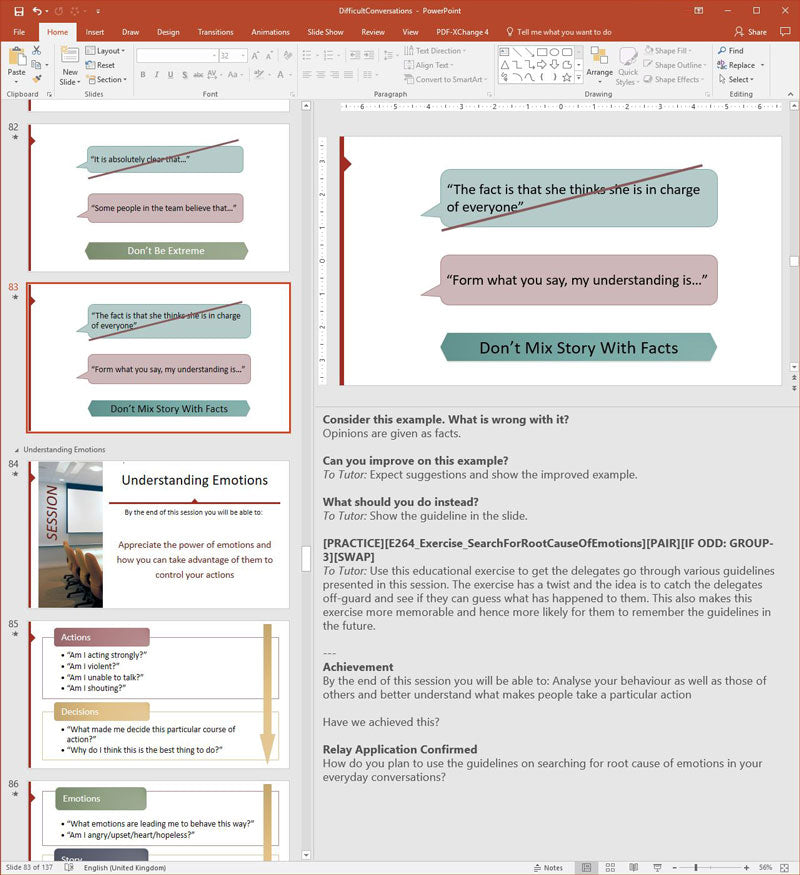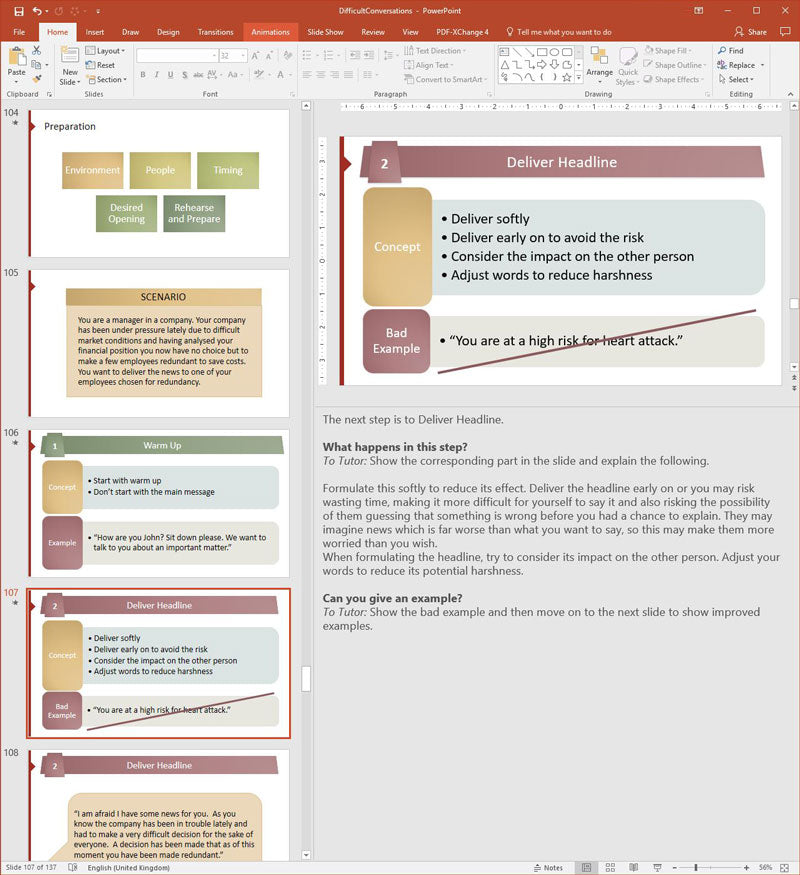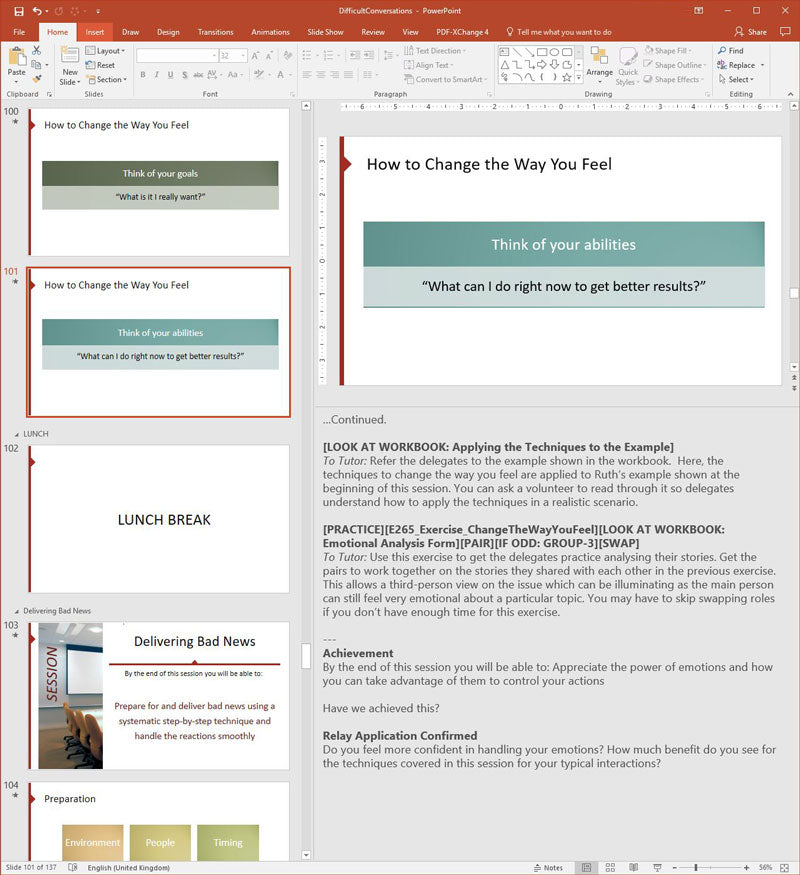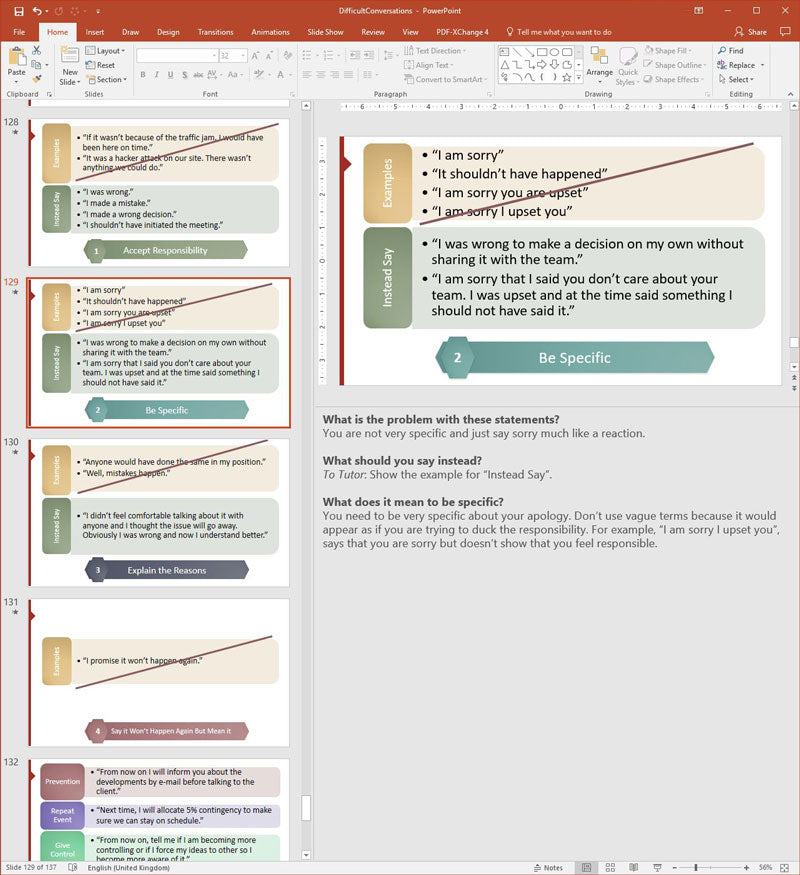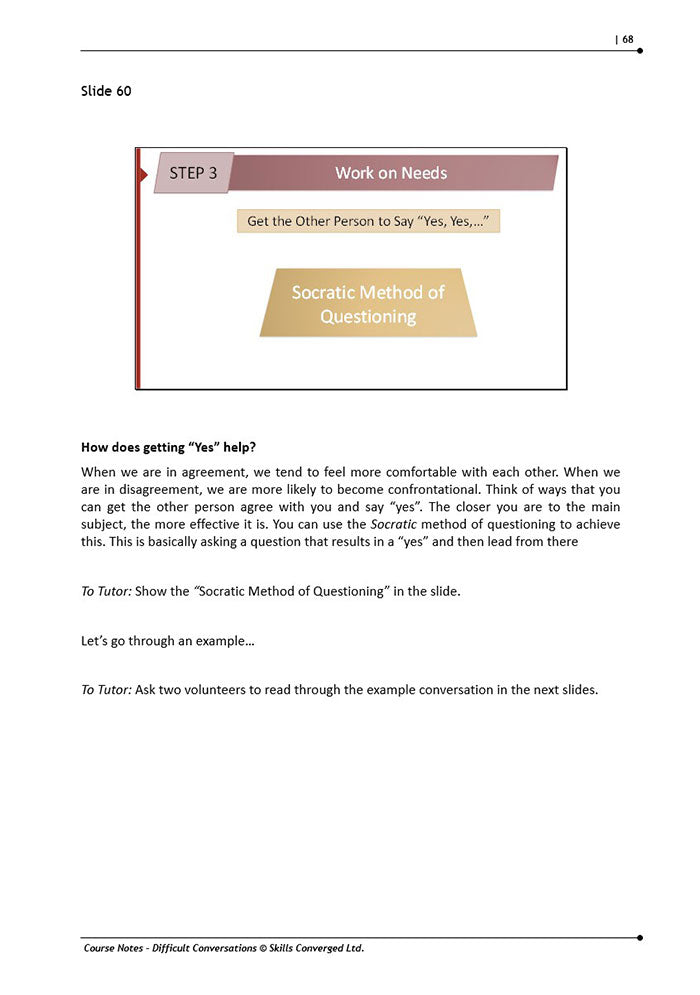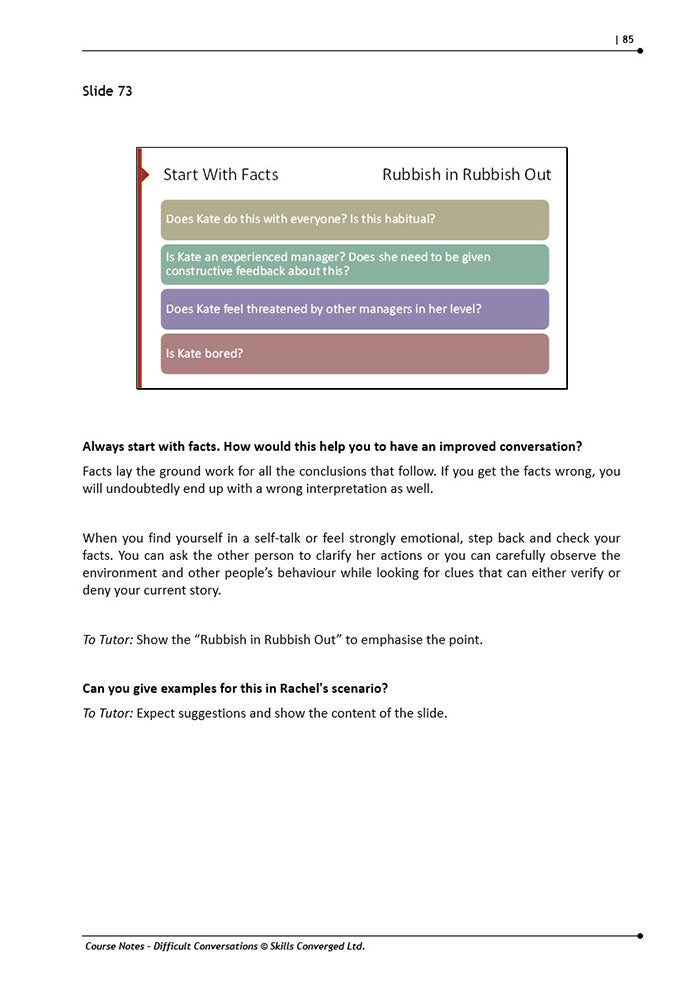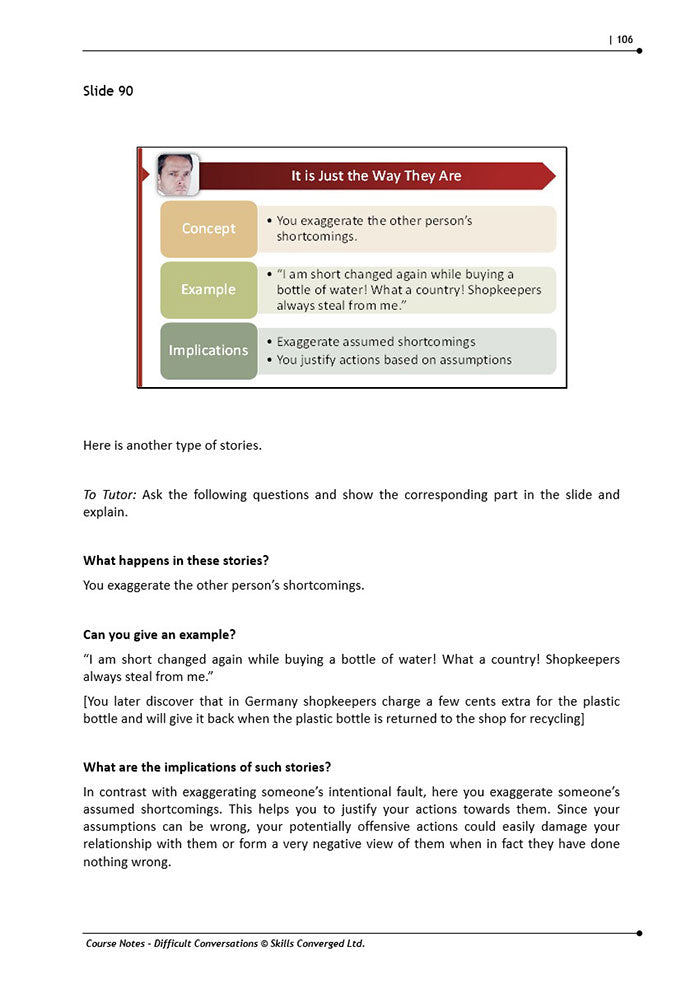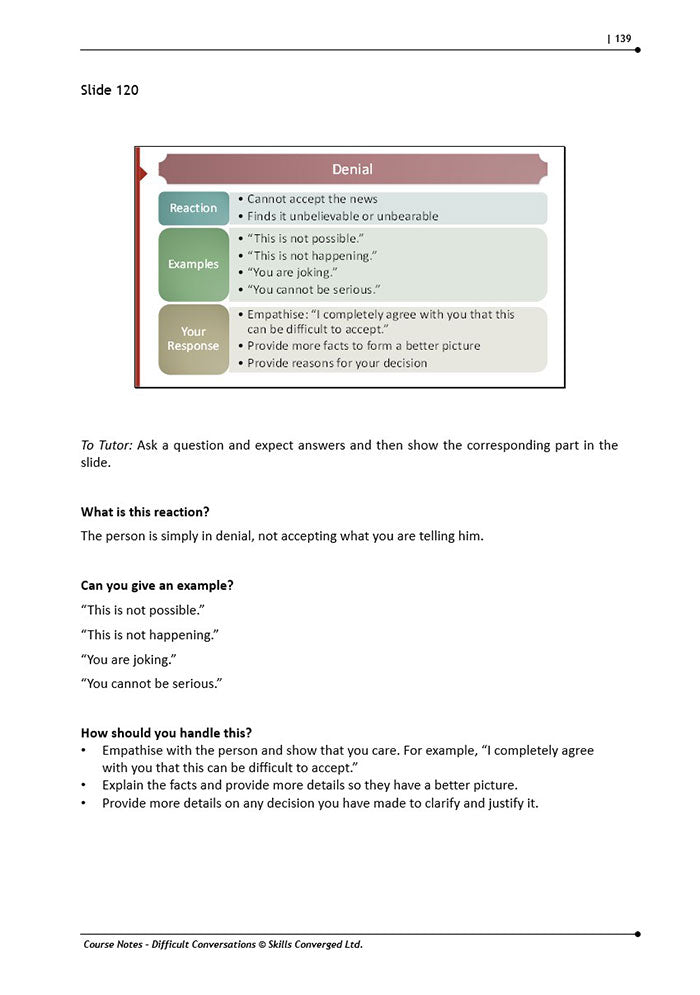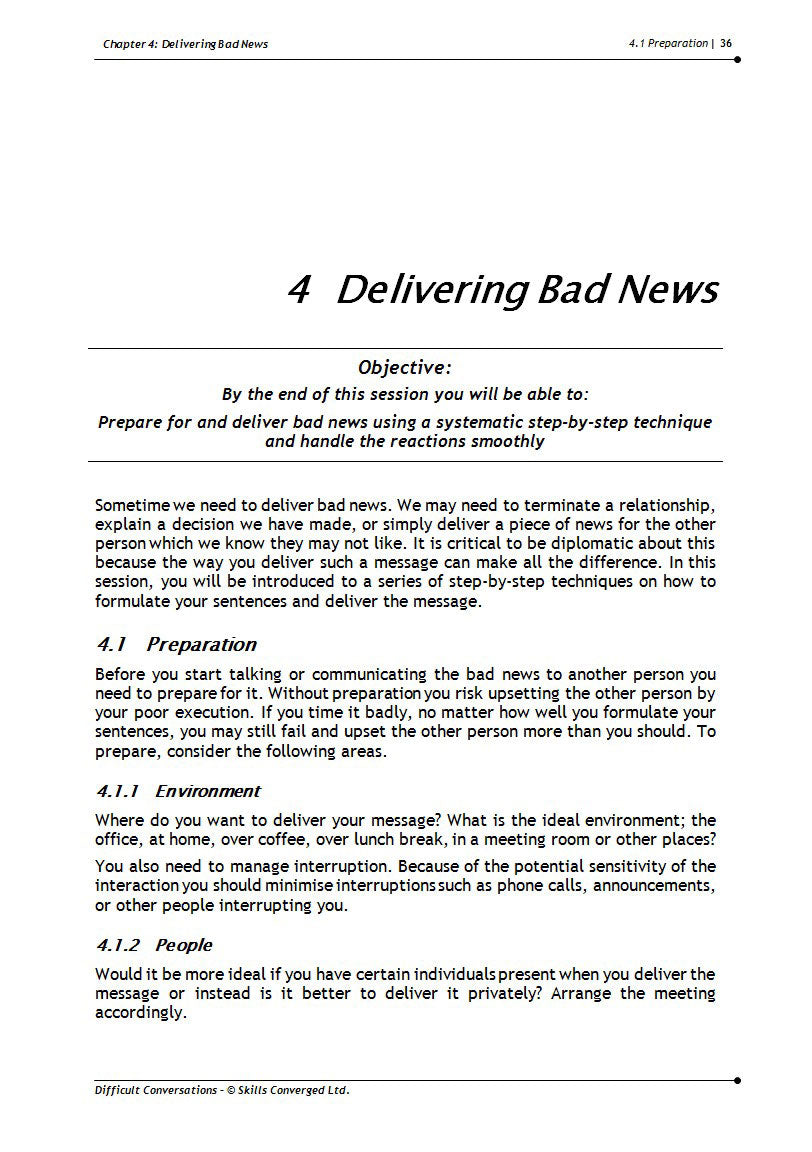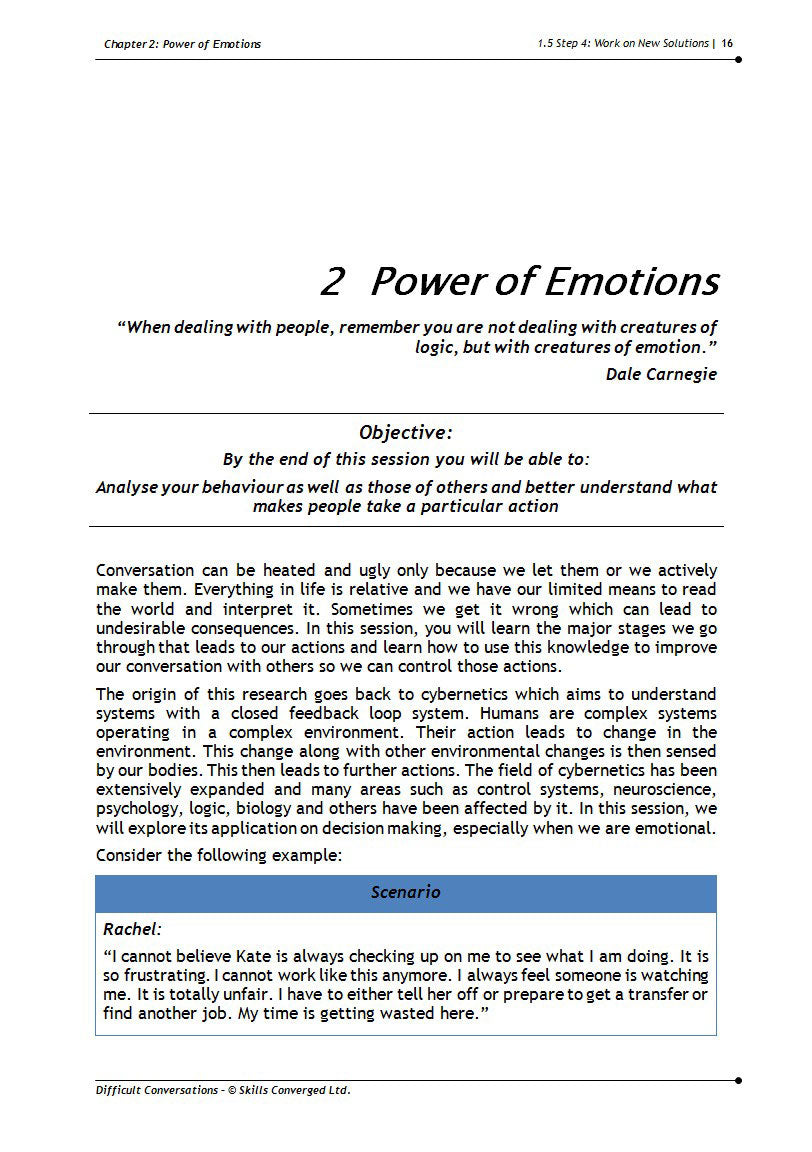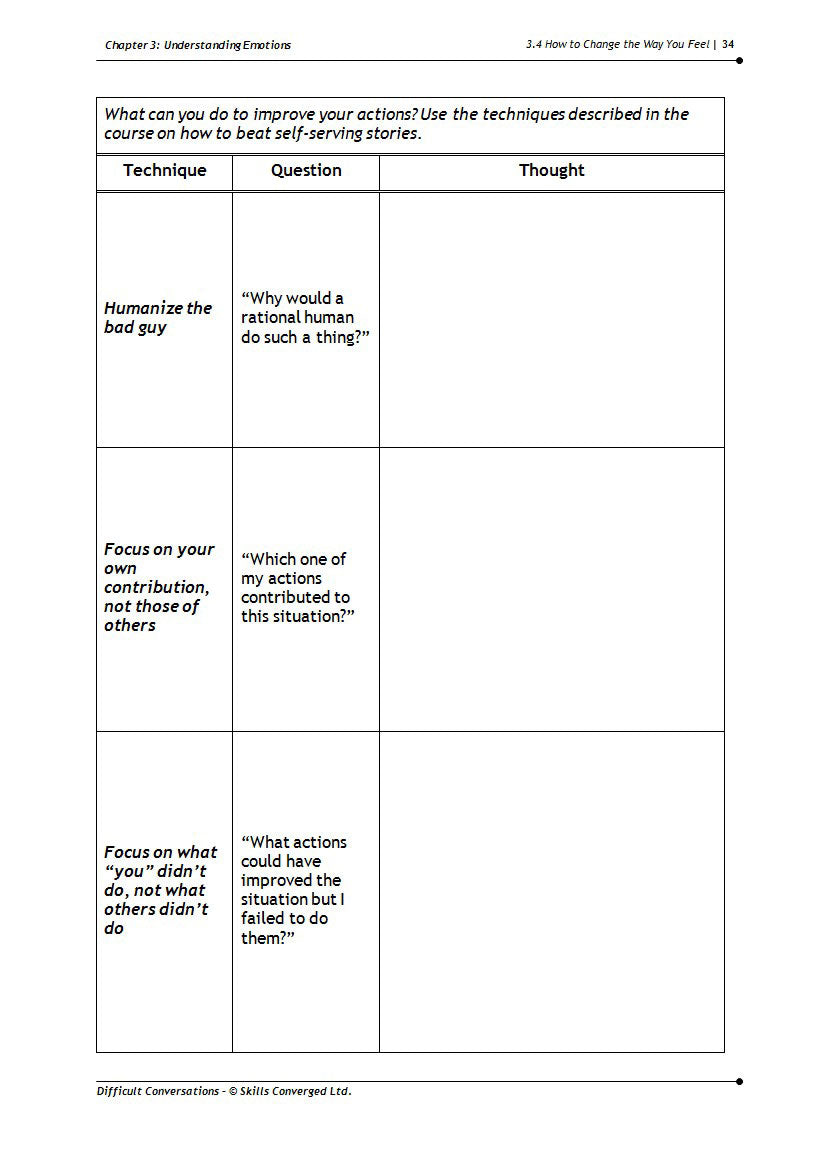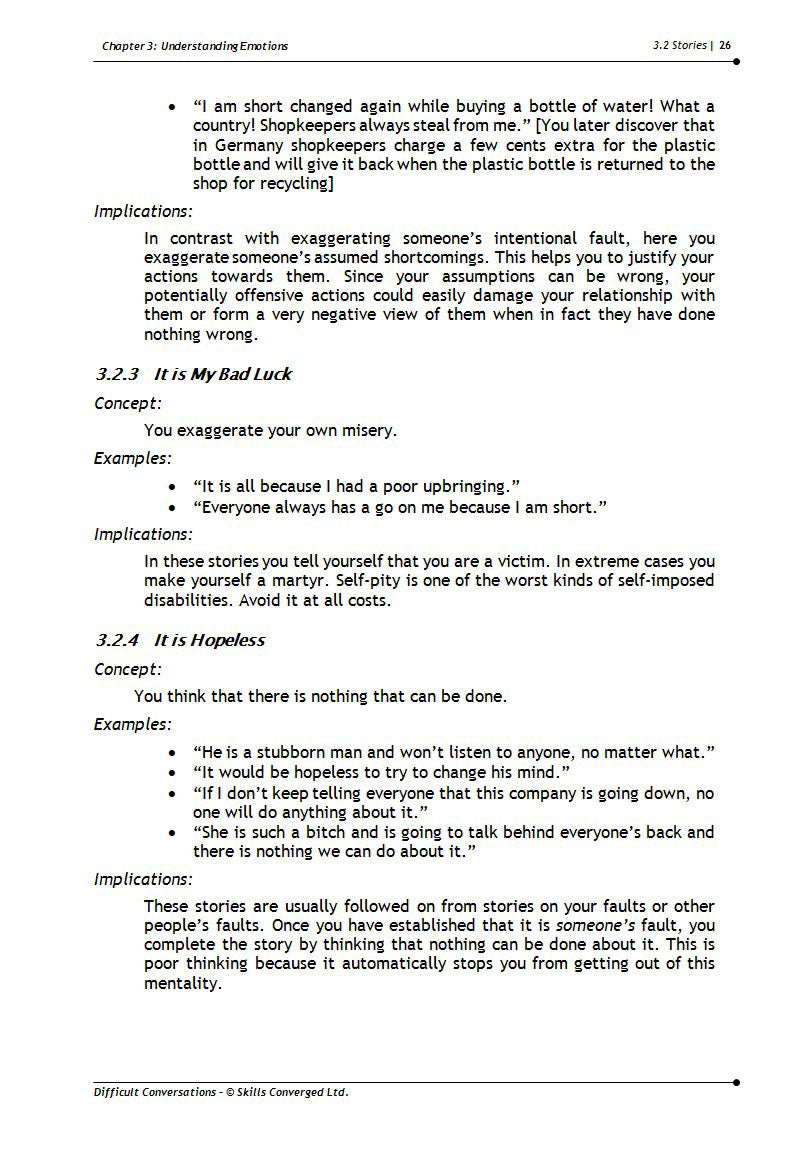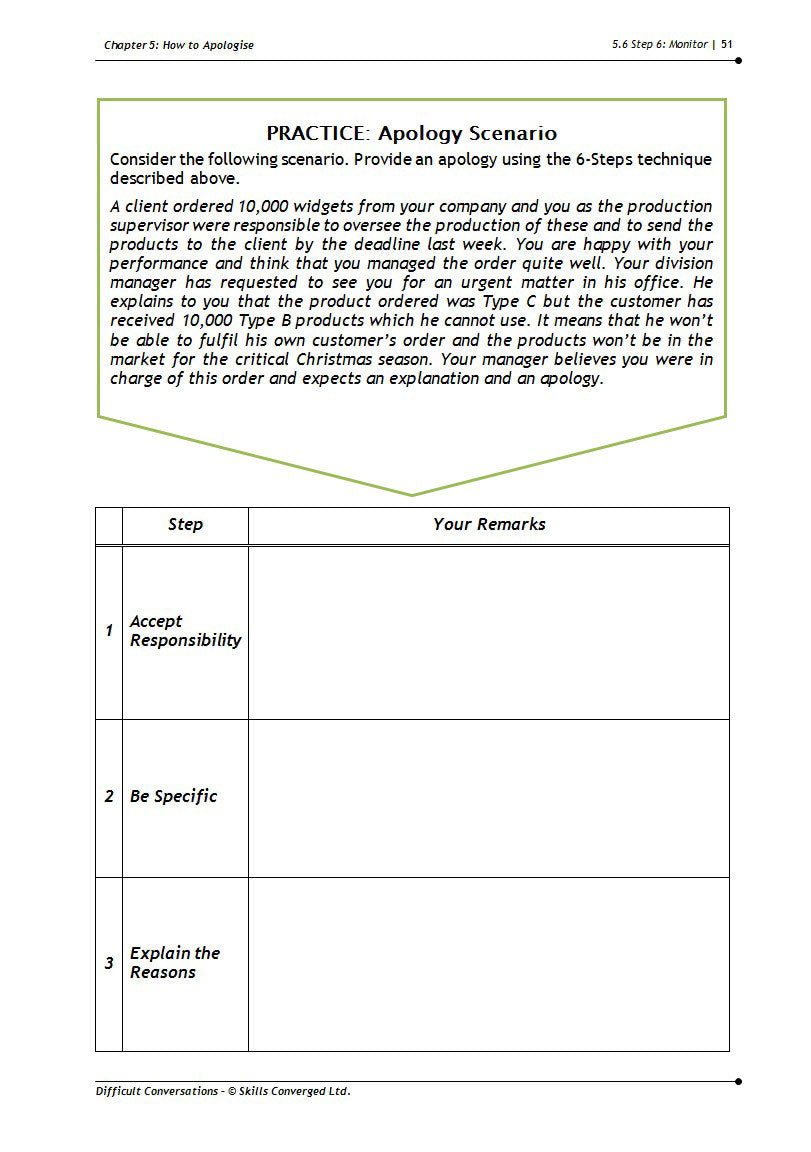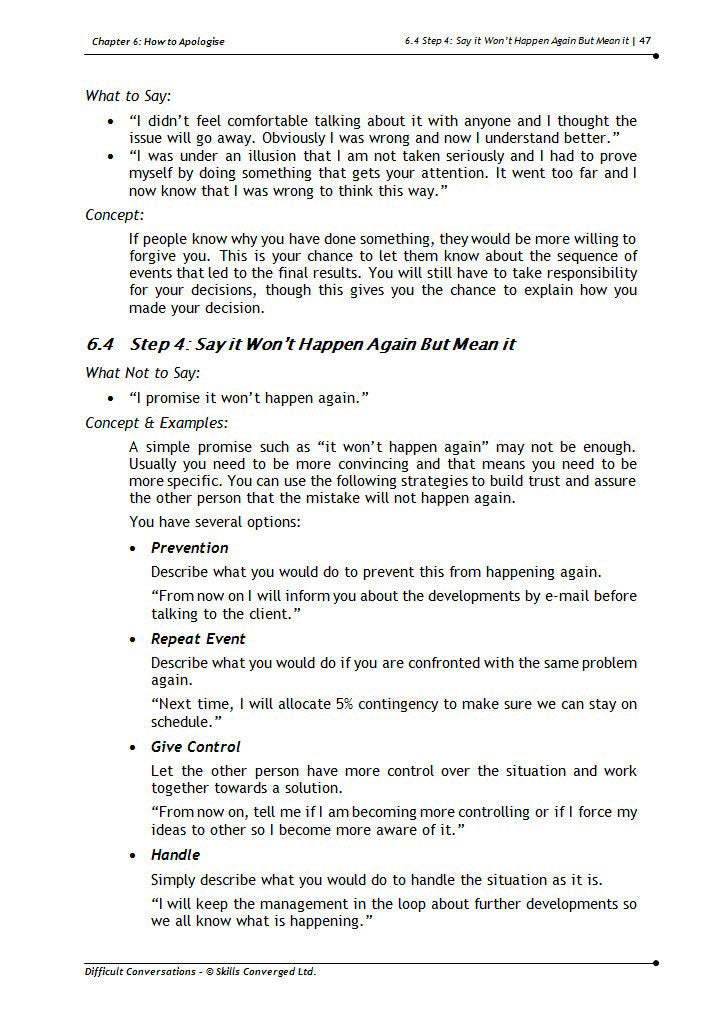 Difficult Conversations
---
---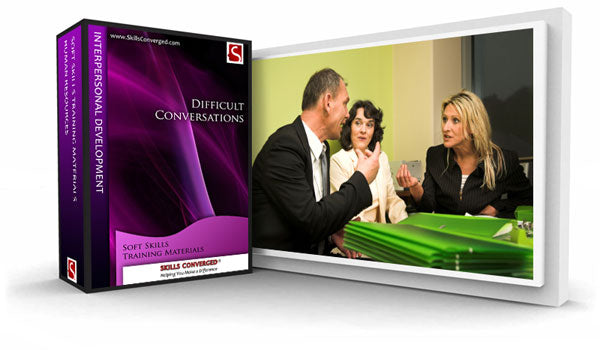 Course on Handling Challenging Conversations and Learning to Deal with Emotional Interactions
Fully Customisable Training Course Material
Description
"A good listener tries to understand what the other person is saying. In the end he may disagree sharply, but because he disagrees, he wants to know exactly what it is he is disagreeing with."

Kenneth A. Wells
Sometimes we find ourselves in an unpleasant conversation. Most people have a strong urge to avoid such conversations. Some adopt a "silent treatment" as a way to avoid the issues. Others avoid the person altogether so they never end up in such situation.
The problem however is not always other people or the nature of the conversation, but the way we handle it. Knowing how to handle difficult conversations such as providing feedback when somebody had done something wrong, delivering bad news and apologising is critical in maintaining and strengthening our relationships with others whether at work or in our personal life.
Equally, sometimes we go through an interaction that leaves us angry or upset. Sometimes we react based on our emotions which can have drastic consequences. We need to find out what makes us feel in a certain way and if this feeling is justified. Next, we need to take steps to correct our feelings in order to adjust our behaviour. There are several techniques that can be used to achieve this which is presented in this course.
A critical point about using techniques to improve a conversation is to be able to execute them flawlessly even in an emotional state. This means that the techniques must be fully memorised as you would not have time to think logically to work out the steps. This course contains several exercises for each of these techniques designed explicitly to maximise learning and memorisation of these methods. Delegates should be able to start using these techniques straight after the course and with more practice it would eventually become a habit.
The course contains all the necessary exercises and instructions as well as workbook, handouts and course guidelines to run the course as smoothly as possible.
In this highly practical course participants will learn:
Handling Conversations
What strategy to use in managing difficult conversations?
What are the critical body language signals and gestures to be aware of in a conversation?
Why is it important to understand other people's needs and how this can help you to improve your conversation?
How to gain respect and show it
Why aiming for win/win can make all the difference?
Power of Emotions
How do we make decisions and what influences our decision making process?
How much of your decision making process relies on emotions and the way you feel about something?
What are the best practice guidelines on improving your conversations with others?
Understanding Emotions
What are the 6 steps that lead you to an action and how to use this model to change the way you act?
How can you address self-talk and improve your self-awareness to better understand the world around you?
How to stop negative and destructive self-talk
How can you manipulate the way you think and feel to change the way you act?
Delivering Bad News
How to handle a conversation when you know the other person may become very emotional as a result of what you say
How to prepare to deliver potentially bad news
How should you start when you want to talk about bad news?
How to use the 7-Steps technique to deliver bad news
What kinds of reactions can you expect to receive when delivering bad news?
How to handle people's reactions to what you say when they become highly emotional or upset
How to Apologise
How can apologising significantly strengthen your relationship?
What happens when we don't apologise?
How to use a 6-steps technique to apologise in a way that shows you mean it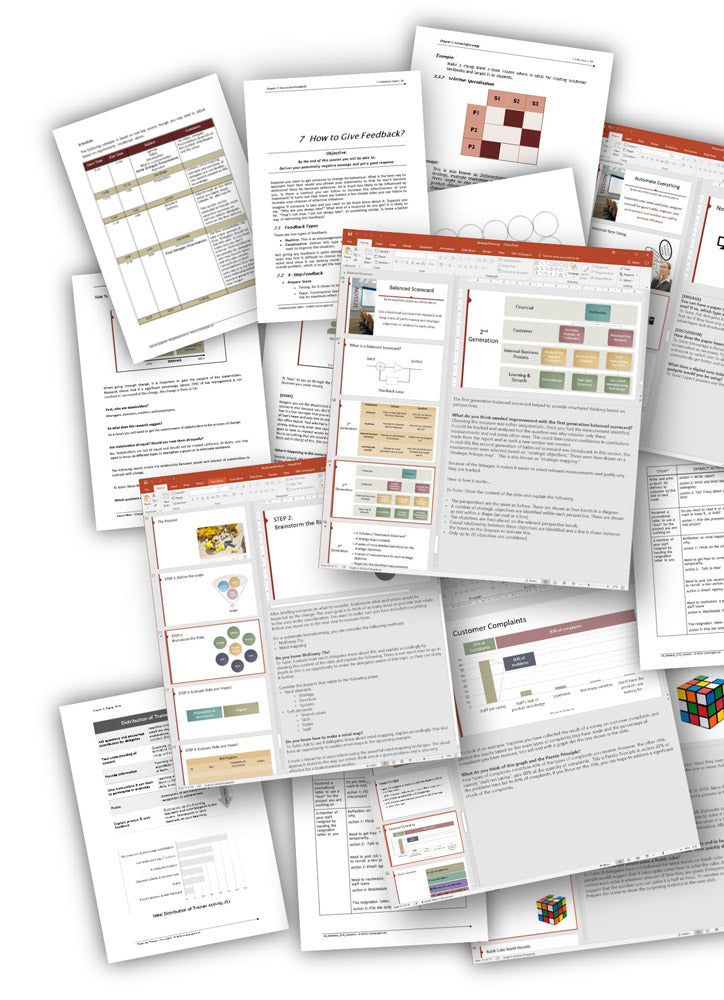 What Is Included
Everything you need to run the course:
Slides
Workbook
Exercises
Handouts
Trainer Notes
Specific Course Guidelines
Agenda
Guidelines on Training Methodology
Course Outline
Recommended Readings
Feedback Forms
Certificate of Achievement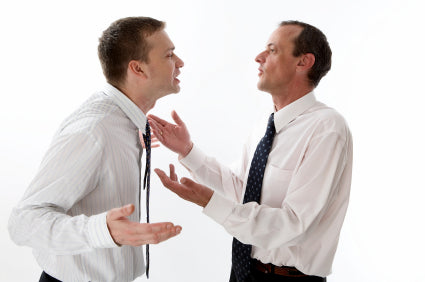 Course Objectives
By the end of this course delegates will be able to:
Courseware Features
Buy & Download Training Materials
Choose your training materials
Add to shopping cart
Get multiple courses to get discounts and create tailored training
Pay using all major debit / credit cards, PayPal, Apple Pay and Google Pay.
After payment processing, you are redirected to a download page
You will also receive emails with download links
Unzip the package and access all the training resources in MS Office format
How to Get Training Packages
Editting
You can customise, edit and modify the content as you desire
Rights
Unlimited workbook reprinting rights
Comprehensive
The downloadable training package contains all you need to deliver a course
Extensively Researched
Designed based on the latest research in educational psychology, cognitive psychology, social sciences and business practices
Facilitation Training
Designed in line with the principles of accelerated learning

Interactive
Designed to include many examples, case studies and exercises to improve learning and retention
Download
Order online and download immediately after purchase
Source Files
Receive editable source files in MS Office 365 (Word DOC/DOCX and Power Point PPT/PPTX) and previous Office versions 2003, 2007, 2010, 2013 & 2016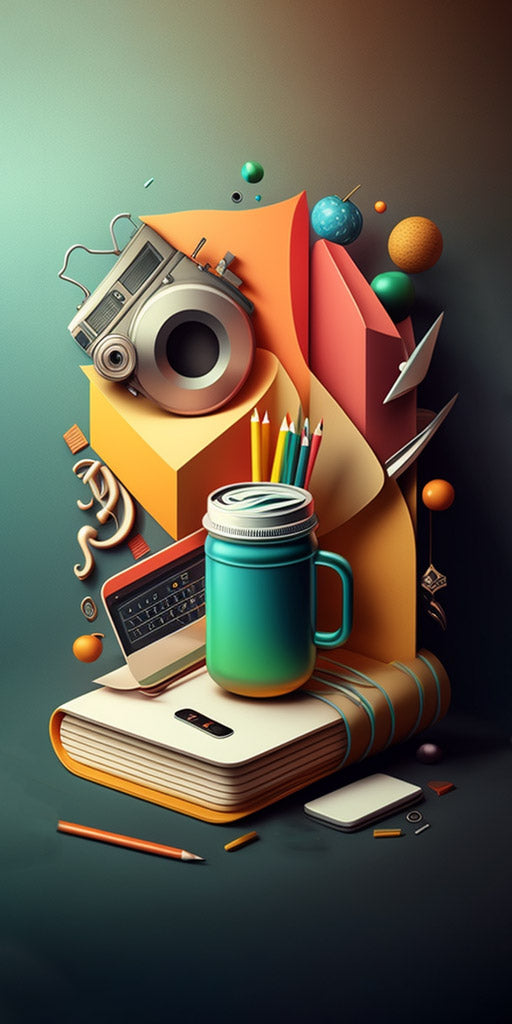 About the Design Philosophy of Difficult Conversations Course
100+ Countries
Used by Trainers Worldwide
Our mission is to help you deliver memorable courses with long lasting results, while taking the least amount of effort and time to run.
Save Time & Boost Training
Skills Converged is a unique company that provides professionally designed fully-customisable training course materials based on the latest research in learning & development. Courses are designed with attention to detail both on content and style so that you can deliver unique state-of-the-art courses to your clients and get maximum results.
Example Included in the Difficult Conversations Course
Here is an example of a conversation presented in the course along with techniques that can be used to improve the interaction.
The following conversation takes place between Andrew and Kelly. They are both managers and work in the same company. In this conversation, Andrew appears aggressive towards Kelly and she constantly reacts to his remarks. Andrew should use tentative remarks to express his concern so Kelly can listen to his real concern. This would then allow them to work together on the issue. Andrew's mistakes are highlighted in bold in this conversation.
| | |
| --- | --- |
| Andrew: | "Look Kelly, everybody knows [Generalisation] that this project is supposed to be finished by the end of March. The only reason we are not going to meet the deadline is because of your slow team. [Toxic Word]" |
| Kelly: | "Well, first of all my team is not slow. They have a much better record than other teams around here. Besides, the reason we cannot make the deadline is because we didn't have the resources…" |
| Andrew: | "Somehow I knew you were going to say that. I am not quite sure if this is true [Undermining yourself], but I heard that the management gave you three extra people to work on this part of the project." |
| Kelly: | "That's not true. I needed specific technical experts and we rotated the team members for this." |
| Andrew: | "The fact is that you think you can get anyone you want here for this little part of a big project and expect everyone to remain quiet [Mixing story with facts]." |
| Kelly: | "I cannot believe this! I feel that I am being marginalised here." |
| Andrew: | "It is absolutely clear [Extreme language] that the reason your team is failing is because they are not managed well…" |
This conversation did not go smoothly and is progressively getting out of control. Andrew needs to use less extreme remarks and stick to what he knows, not what he assumes. Here are a number of techniques that he can use:
Technique

Bad Example

Replace With

Stick to Facts

"As I understand…"
"There have been some developments which I believe you might not be aware of…"
"In my opinion…"

Don't Generalise

"Everyone thinks that this client is a major pain."

"My team had problems with this client in both projects we did for them."

Don't Undermine Yourself

"What I am telling you is a rumour…"
"I am not quite sure if this is true, but…"
"Call me crazy but…"
"This is probably not true, but I like you to correct me if I am wrong…"

"I have heard from two people that…"
"Here is an idea…"
"Can you tell me more about…"

Don't Be Extreme

"It is absolutely clear that…"

"Some people in the team believe that…"

Don't Mix Story With Facts

"The fact is… [followed by story]"
"The fact is that she thinks she is in charge of everyone"

"Form what you say, my understanding is…"
For Trainers
Use ready-made modular courseware, tailor to your audience, respond to market quickly & effortlessly
For People Developers
Increase HR efficiency and save by supplying consistent professionally designed training materials to your trainers and help employees reach full potential