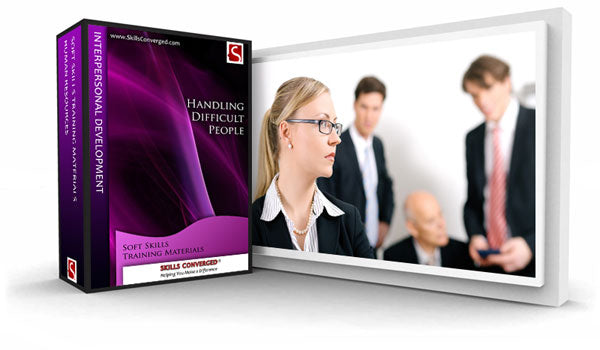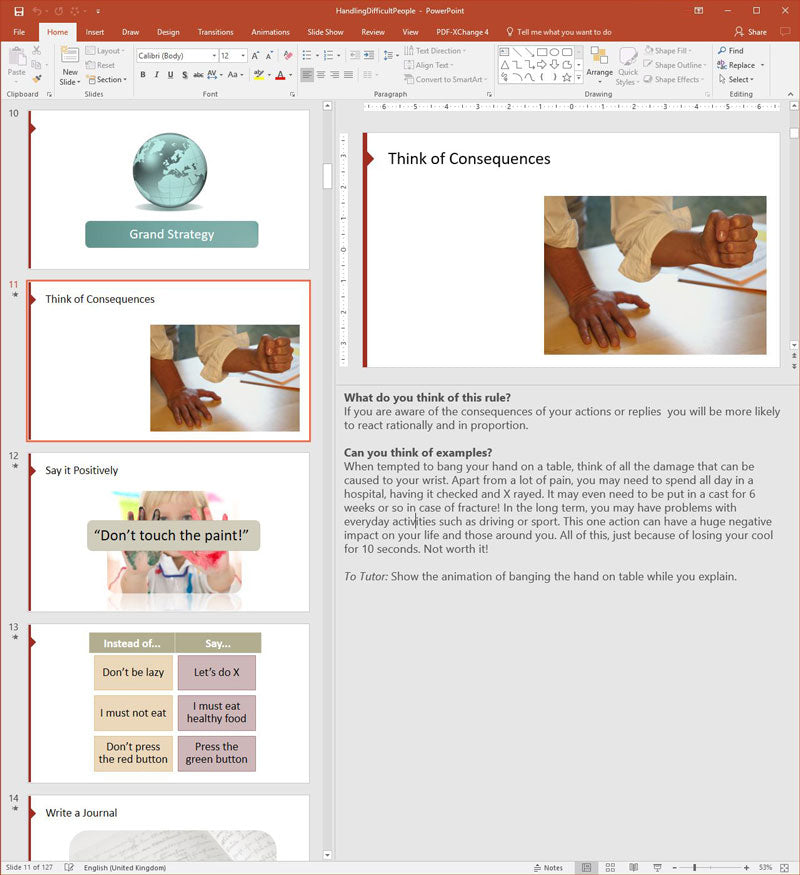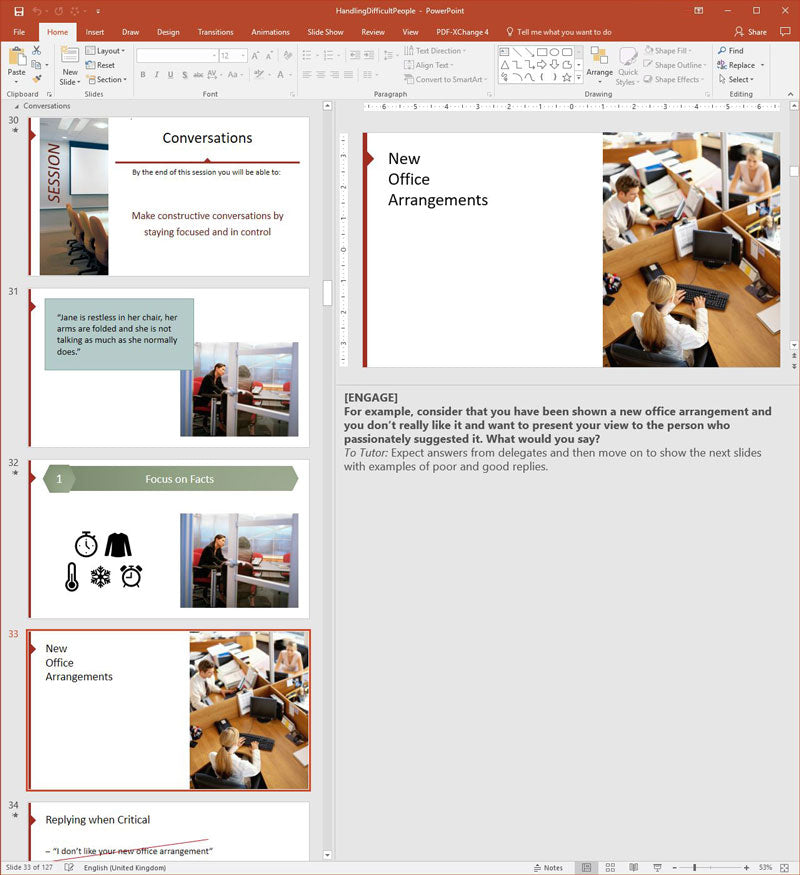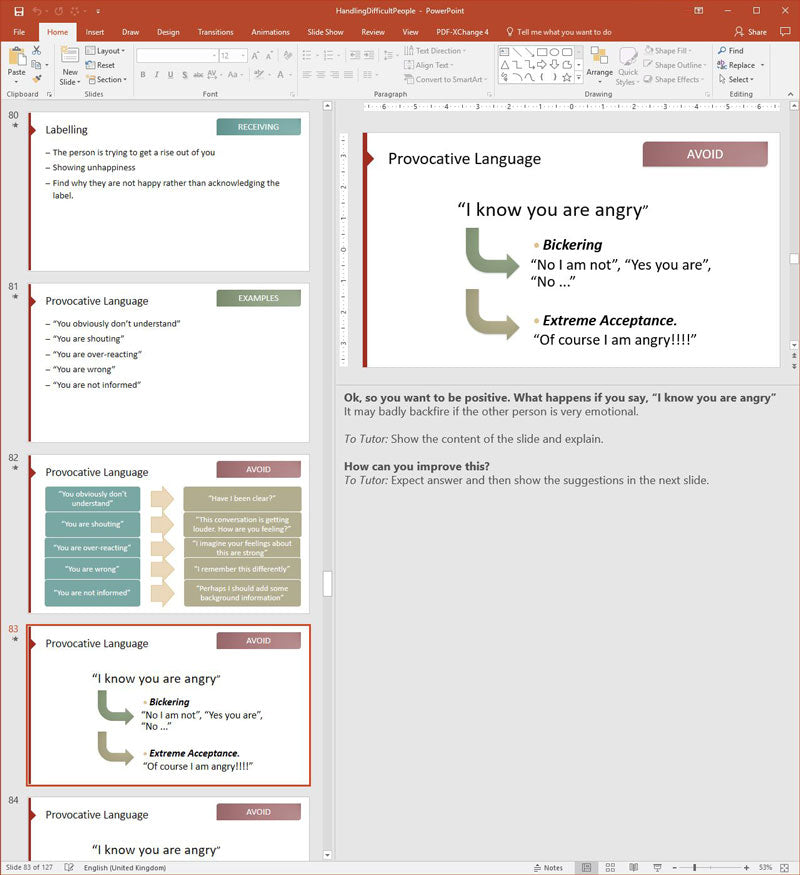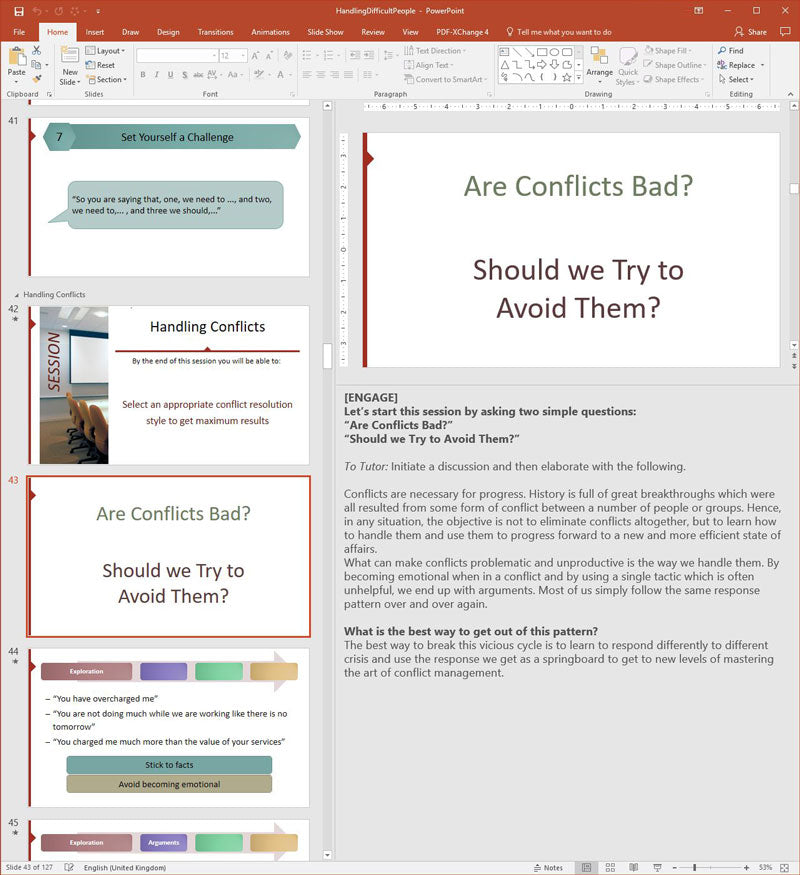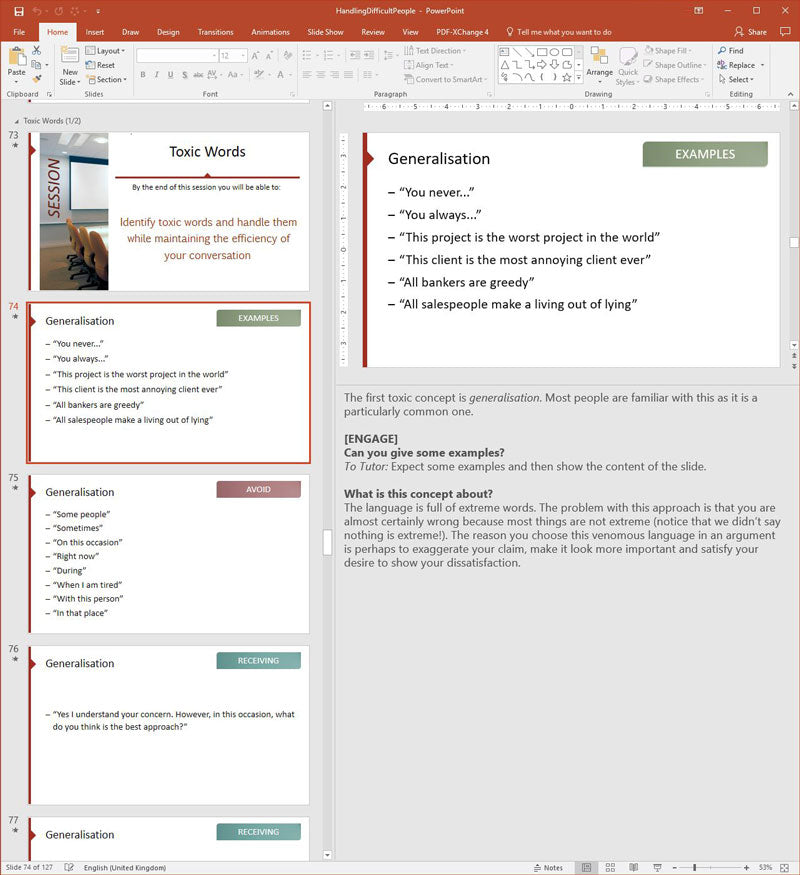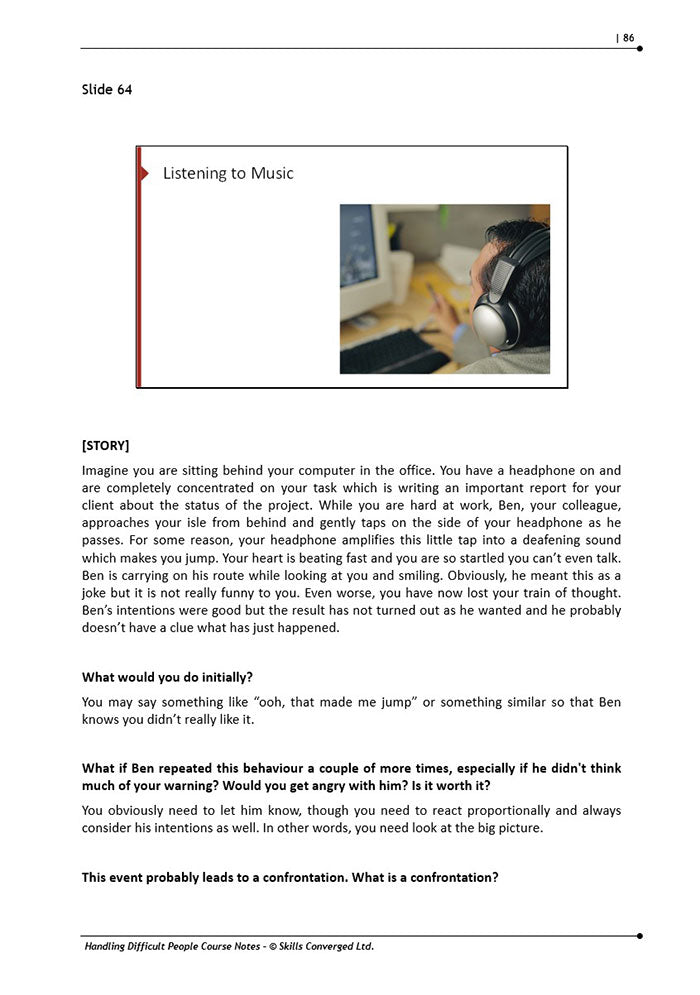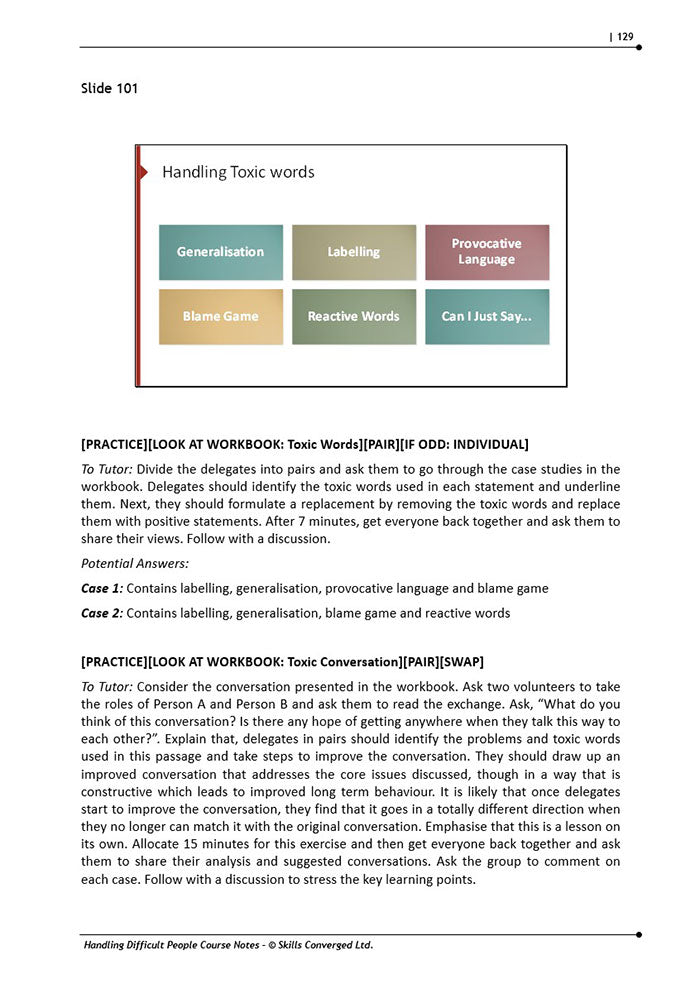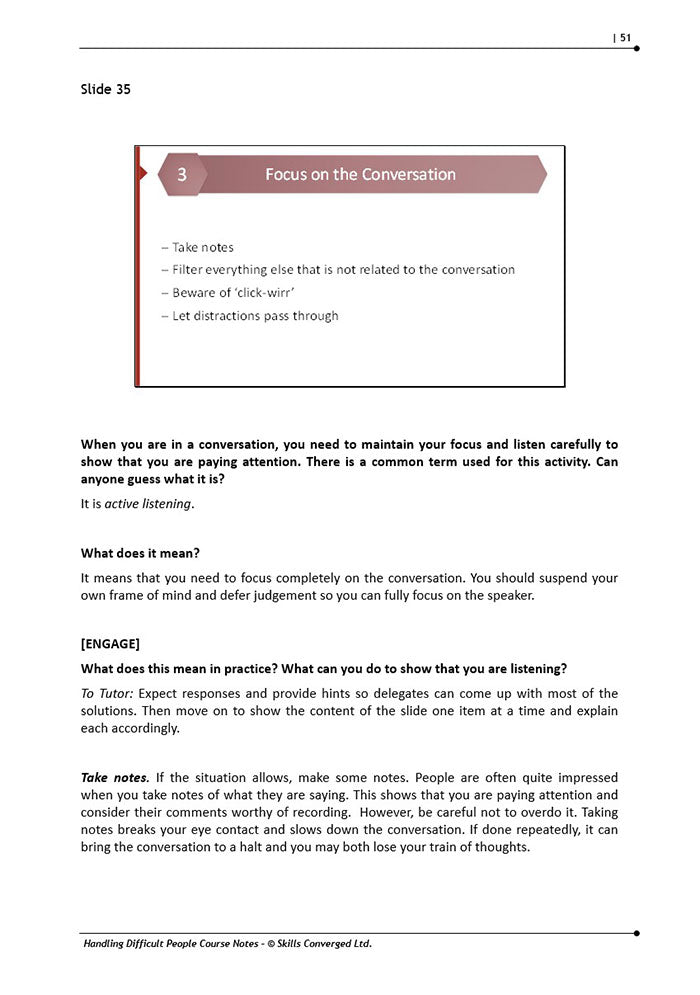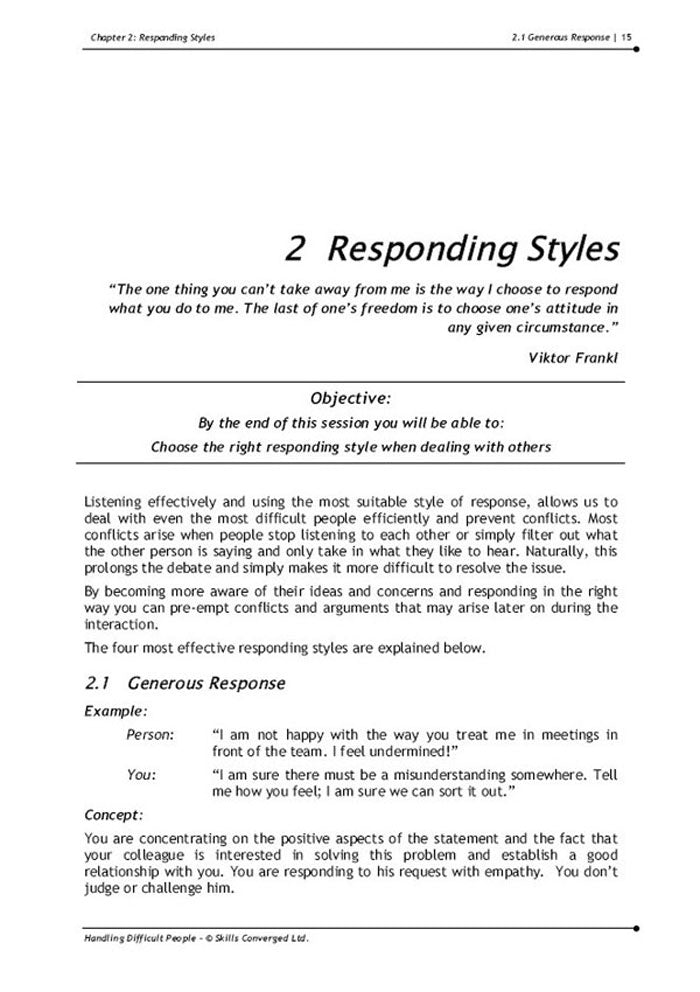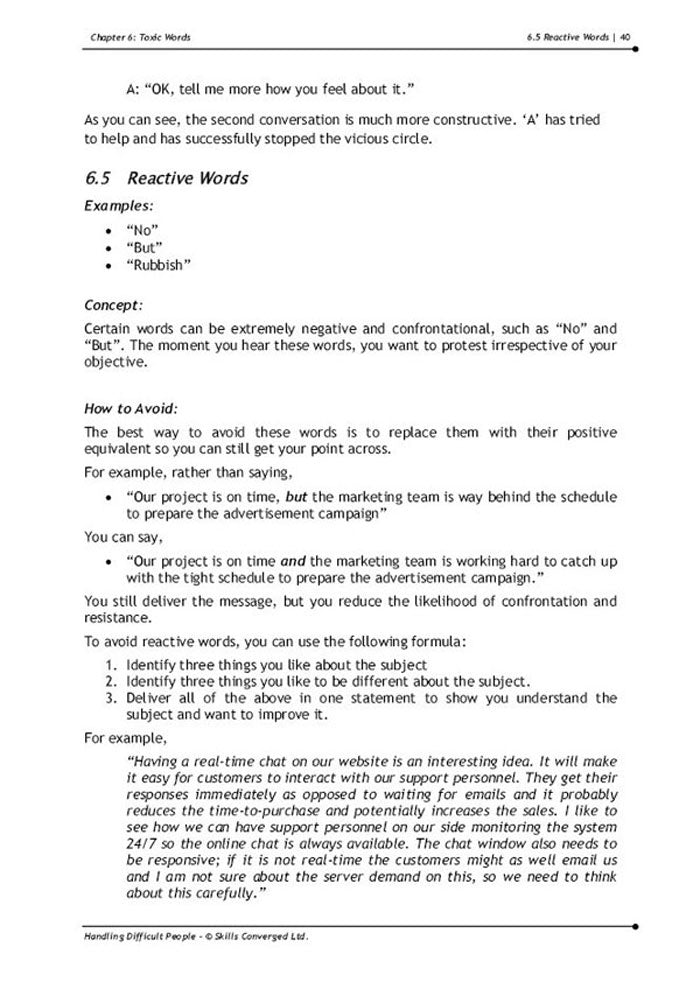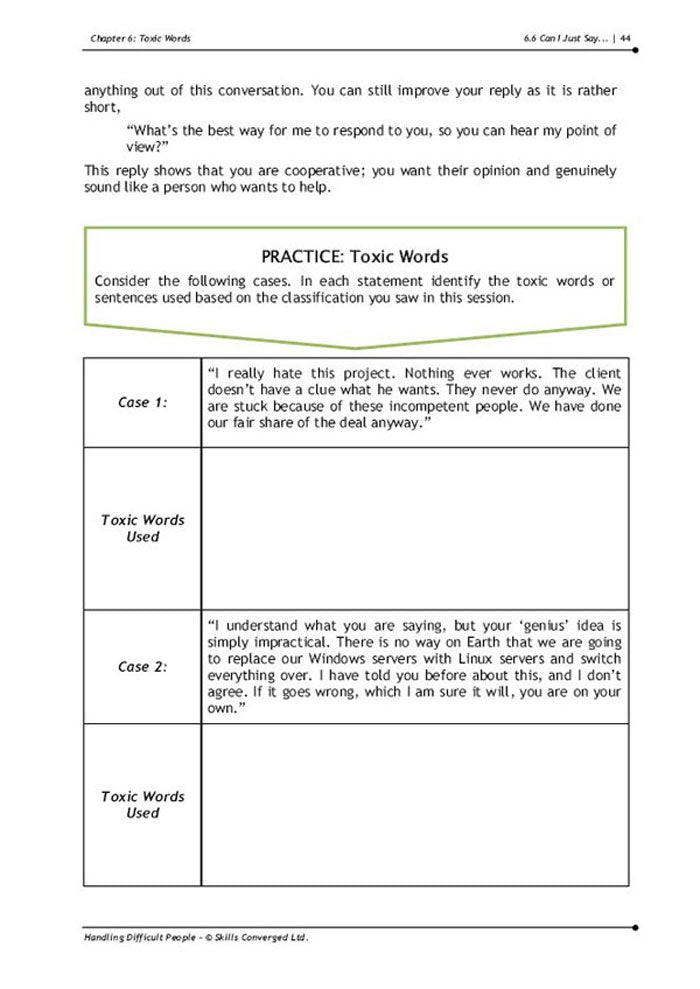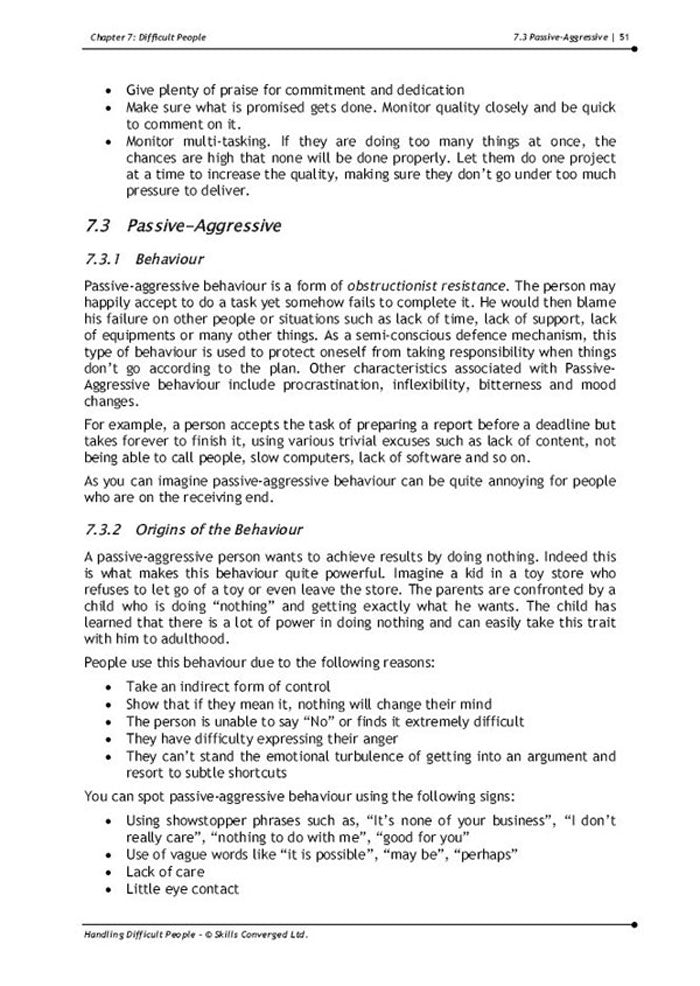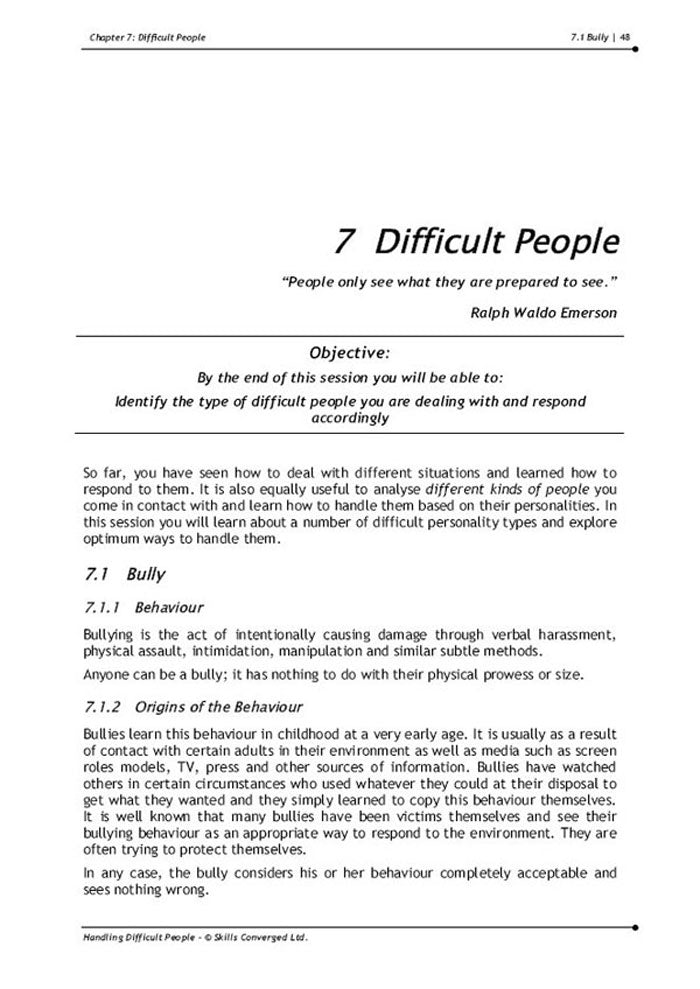 Handling Difficult People
---
---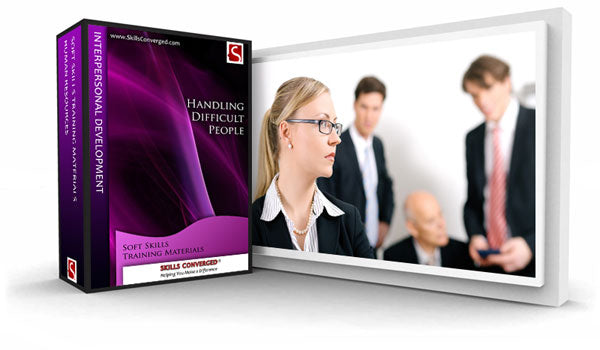 Course on How to Deal with Challenging People, Includes Many Case Studies, Scenarios, Roleplays and Exercises
Fully Customisable Training Course Material
Description
"If you don't like something change it; if you can't change it, change the way you think about it."

Mary Engelbreit
We often have to deal with difficult people in our professional environment and sometimes even in our personal everyday life. Any interaction or communication with such people can prove challenging and consumes a lot of our time and energy. Such situations can easily turn emotional and unproductive with long term effects on relationships.
Fortunately difficult people are well studied and psychologists have found a great deal on the origin of their behaviour and subsequently on how best to deal with them based on their inherent weaknesses. This course relies heavily on the latest psychological research and provides several concise easy-to-use formulas that delegates can use to deal with challenging situations promptly.
The course is packed with exercises, relevant case studies and role plays that enables delegates to understand the methods better and practice them immediately after introduction. Optional activities and exercises are also provided to easily extend the course and adjust the pace for different needs.
In this highly practical course you will learn:
What Is the Ideal Strategy?
What is the best mental attitude when confronted with challenging people?
What is an ideal long term strategy?
Why self-examination is important and how best to do it?
How to deal with conflicts, physically and emotionally
What is "ironic processes of mental control" and how can it help in optimising the delivery of your demands?
How to commit to action and get optimum results next time you are challenged by a difficult person
How to Respond to People
What are the four responding styles, when to use them and where should you avoid using them?
How to avoid unpredictable reactions to your comments by observing and analysing the other person for specific signs
How to listen and respond emphatically and connect when needed
How to Engage in a Conversation
What to do to stay focused on a conversation and avoid drifting away?
What is 'click-wirr' and how to use it in a conversation?
How to ask good questions based on your encounter
What non-verbal signals you should be aware of and use?
How to Handle Conflicts
What is the optimum process of conflict resolution?
What are conflict resolutions styles?
How to use the styles in sequence to get maximum results
How to Deal with Confrontations
What is APA communication model and how can you use it to manage difficult people?
How to use the 5-Step Guide to Confrontations
What can be learned from confrontation examples?
How to Deal with Reactive and Toxic Words
How to prevent a challenging conversation by choosing the right words
What are the toxic statements, phrases, gestures and attitudes that can significantly affect your conversation and relationship with the other person?
How to avoid using them and handle people who use them on you
How to Look for Patterns
What are the characteristics of difficult people and how to deal with them?
What are the example behaviours?
What are the origins of theirs behaviour?
How to use these patterns to handle difficult people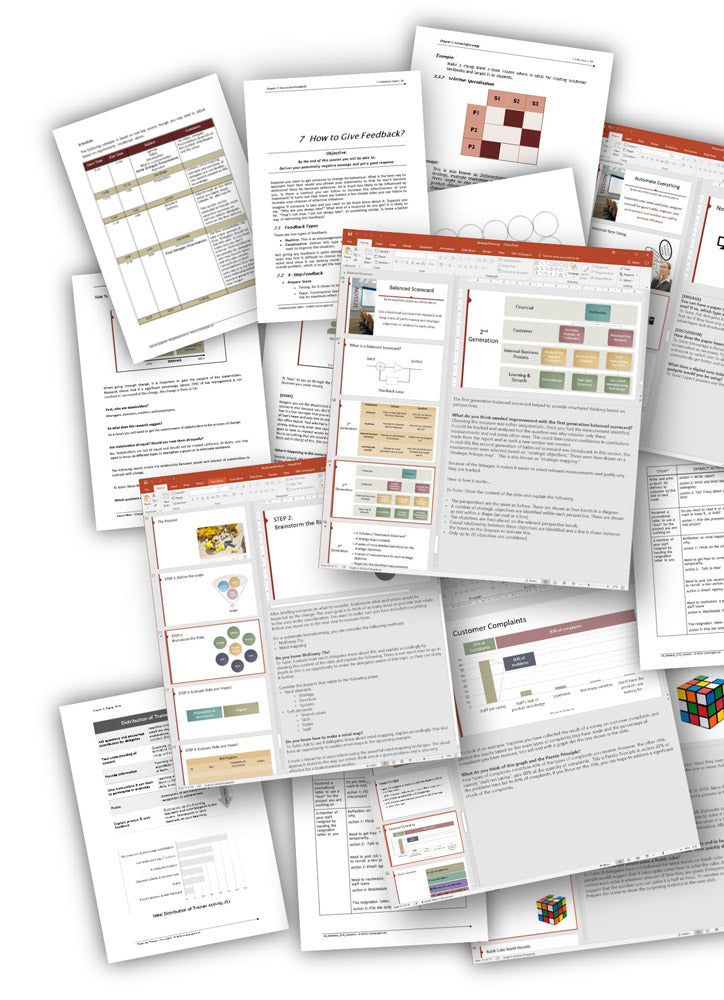 What Is Included
Everything you need to run the course:
Slides
Workbook
Exercises
Handouts
Trainer Notes
Specific Course Guidelines
Agenda
Guidelines on Training Methodology
Course Outline
Recommended Readings
Feedback Forms
Certificate of Achievement
Course Objectives
By the end of this course delegates will be able to:
Courseware Features
Buy & Download Training Materials
Choose your training materials
Add to shopping cart
Get multiple courses to get discounts and create tailored training
Pay using all major debit / credit cards, PayPal, Apple Pay and Google Pay.
After payment processing, you are redirected to a download page
You will also receive emails with download links
Unzip the package and access all the training resources in MS Office format
How to Get Training Packages
Editting
You can customise, edit and modify the content as you desire
Rights
Unlimited workbook reprinting rights
Comprehensive
The downloadable training package contains all you need to deliver a course
Extensively Researched
Designed based on the latest research in educational psychology, cognitive psychology, social sciences and business practices
Facilitation Training
Designed in line with the principles of accelerated learning

Interactive
Designed to include many examples, case studies and exercises to improve learning and retention
Download
Order online and download immediately after purchase
Source Files
Receive editable source files in MS Office 365 (Word DOC/DOCX and Power Point PPT/PPTX) and previous Office versions 2003, 2007, 2010, 2013 & 2016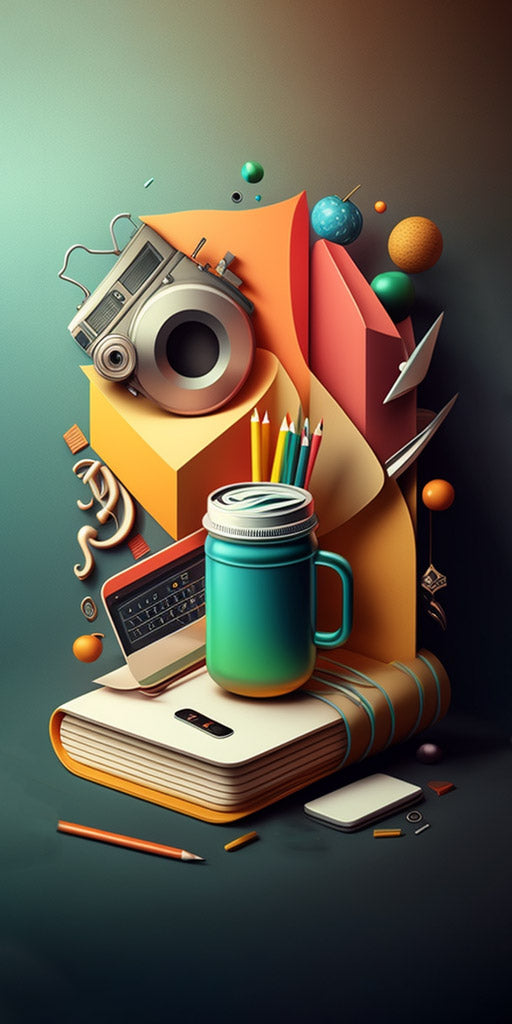 About the Design Philosophy of Handling Difficult People Course
100+ Countries
Used by Trainers Worldwide
Our mission is to help you deliver memorable courses with long lasting results, while taking the least amount of effort and time to run.
Save Time & Boost Training
Skills Converged is a unique company that provides professionally designed fully-customisable training course materials based on the latest research in learning & development. Courses are designed with attention to detail both on content and style so that you can deliver unique state-of-the-art courses to your clients and get maximum results.
For Trainers
Use ready-made modular courseware, tailor to your audience, respond to market quickly & effortlessly
For People Developers
Increase HR efficiency and save by supplying consistent professionally designed training materials to your trainers and help employees reach full potential