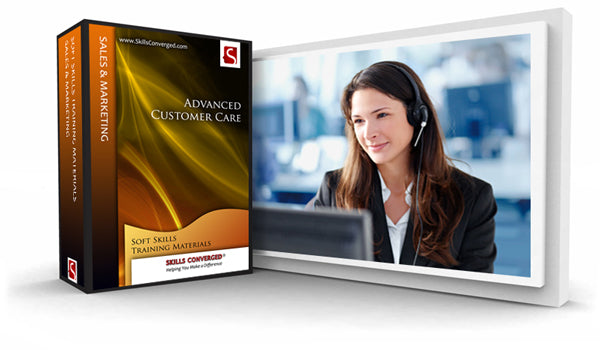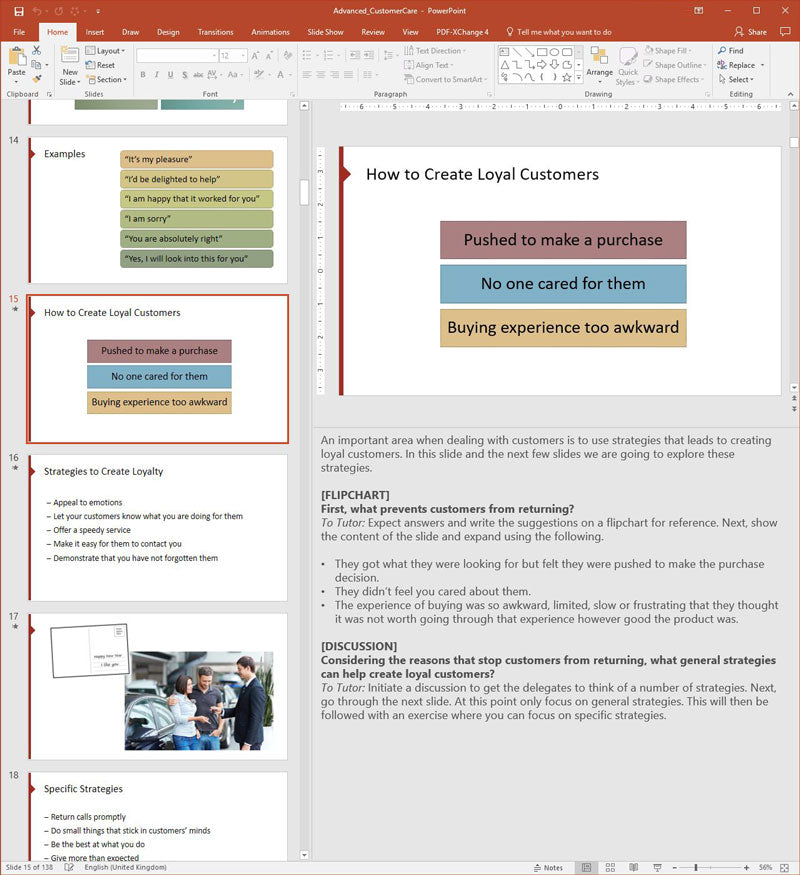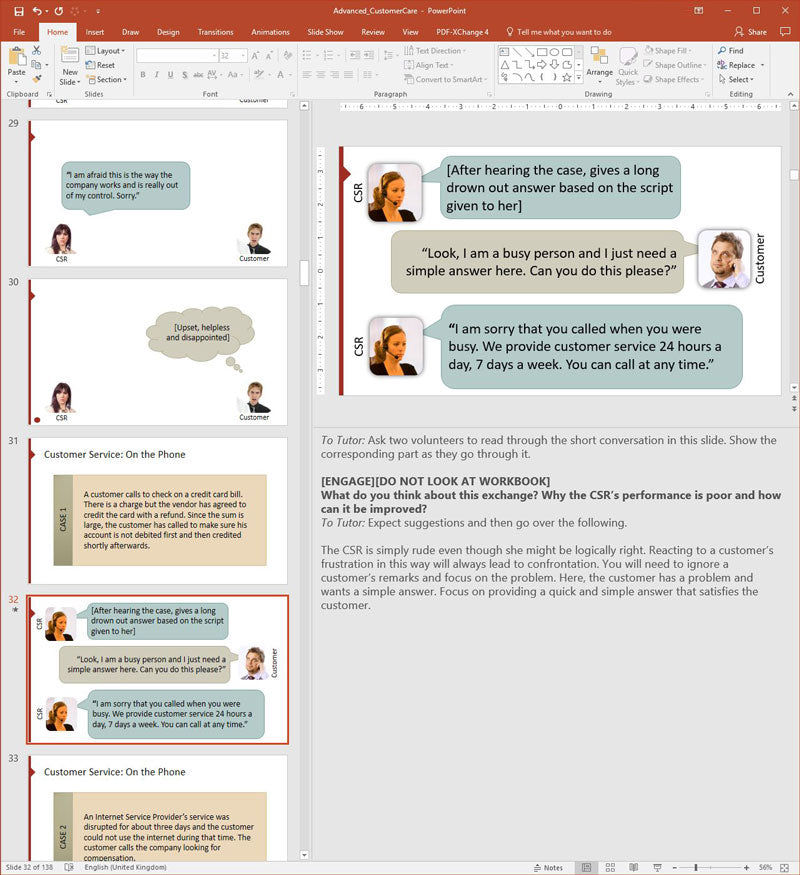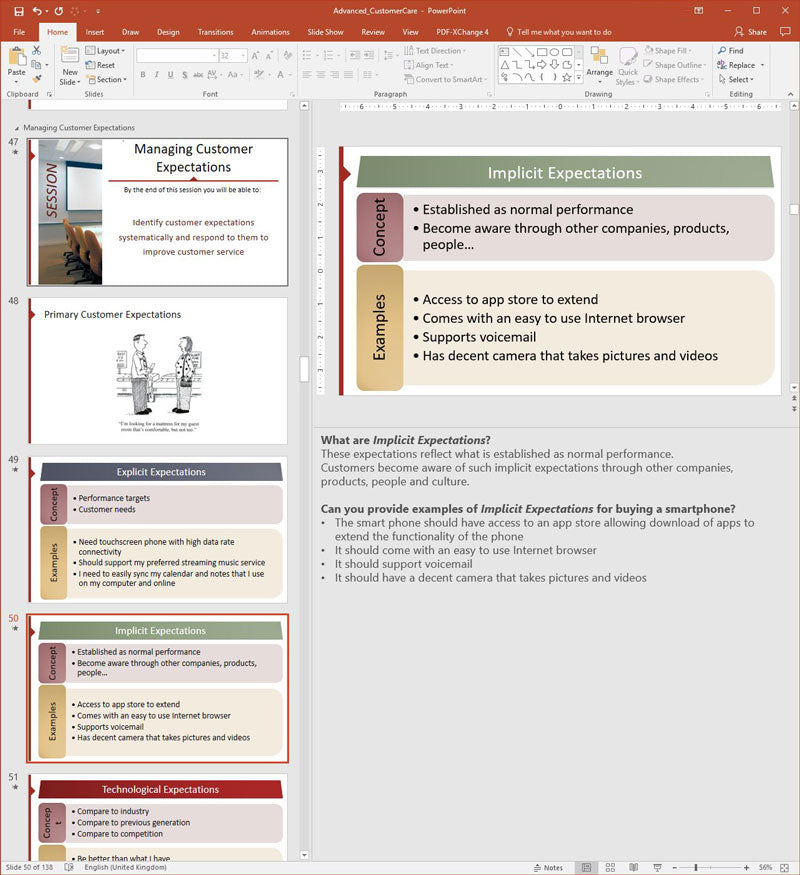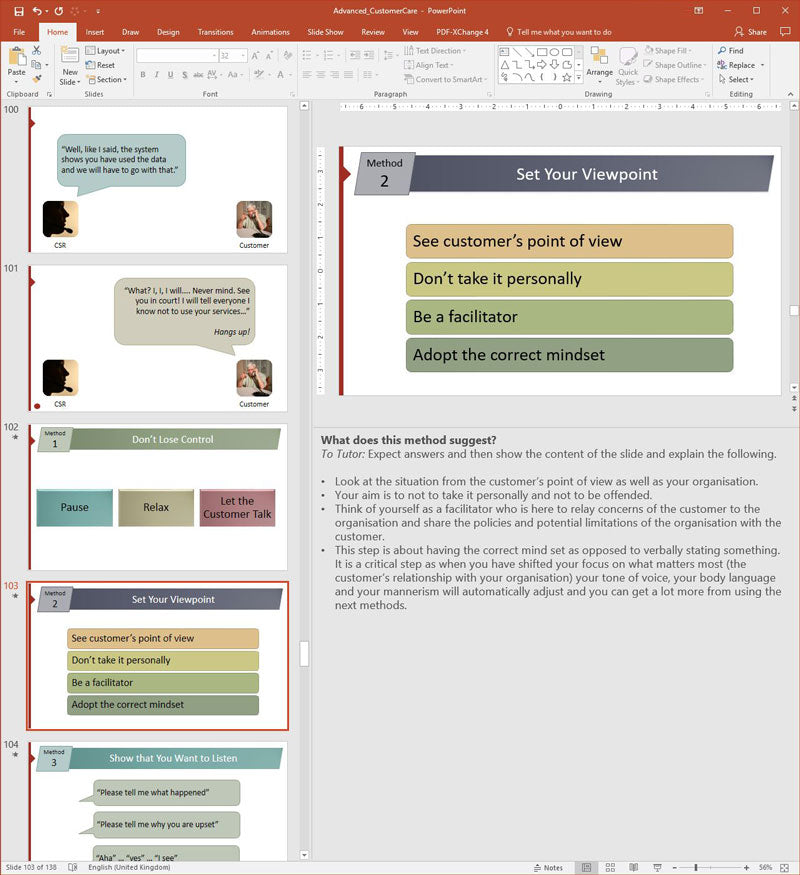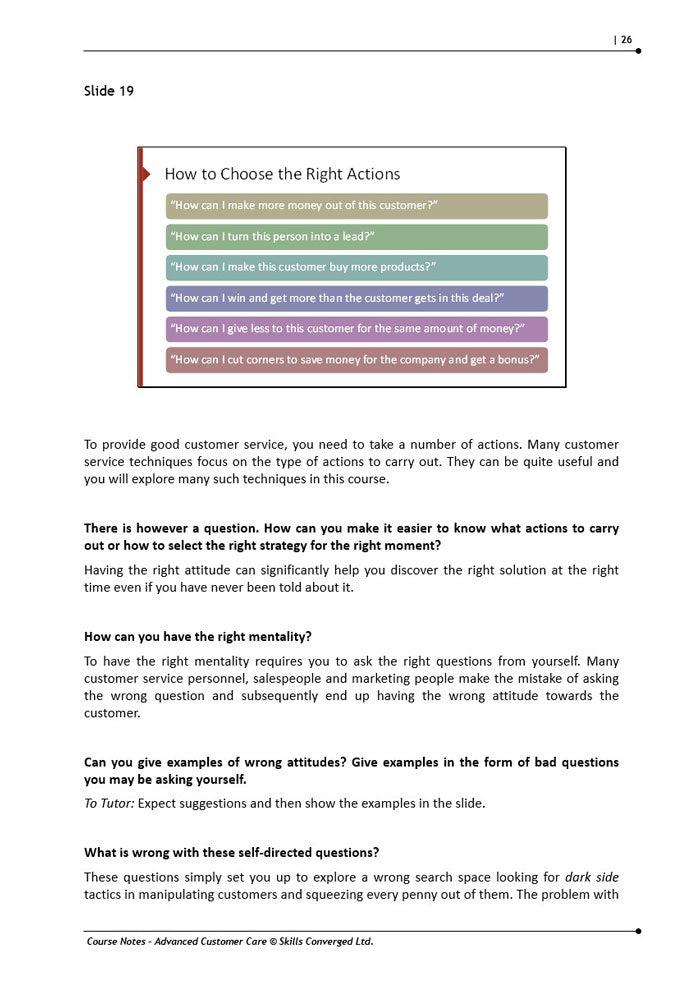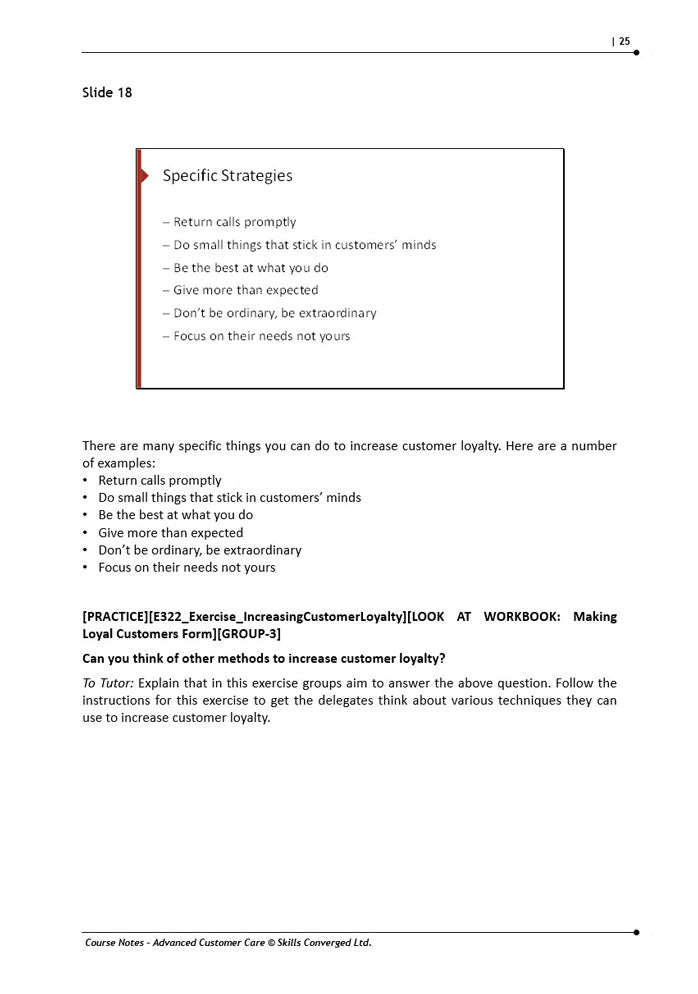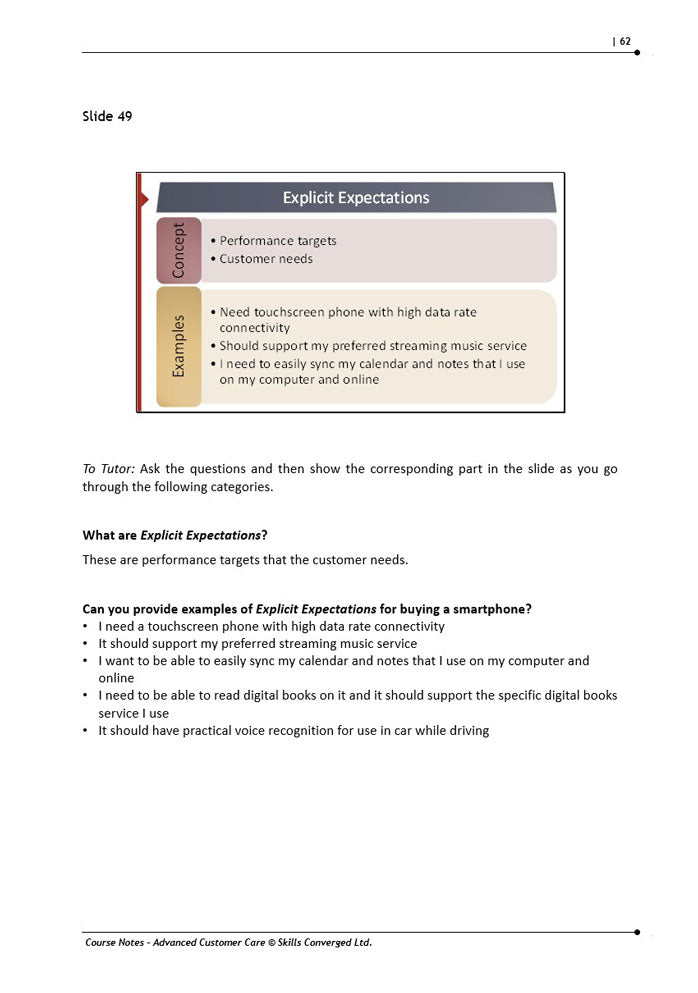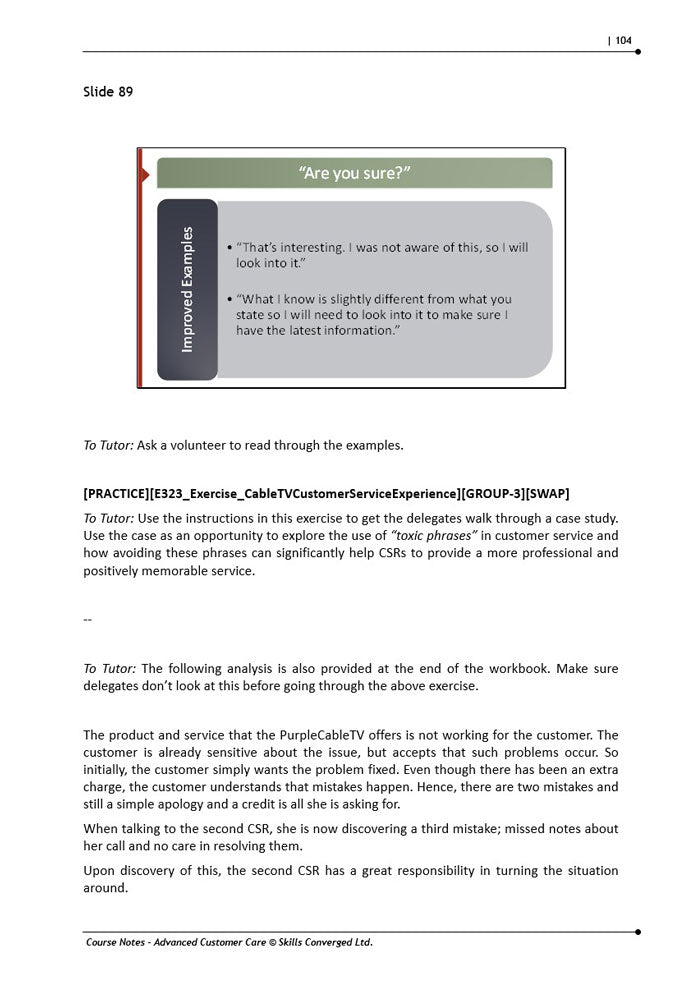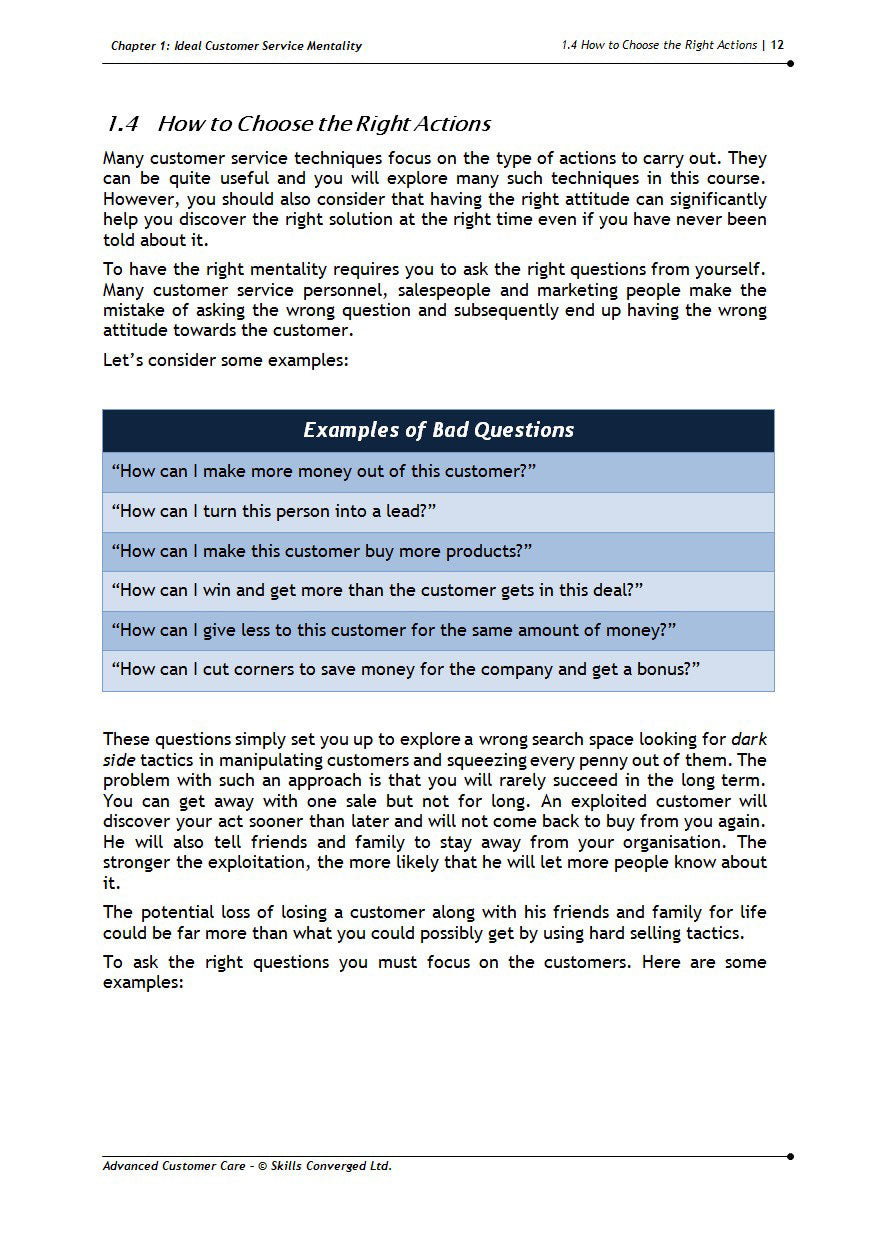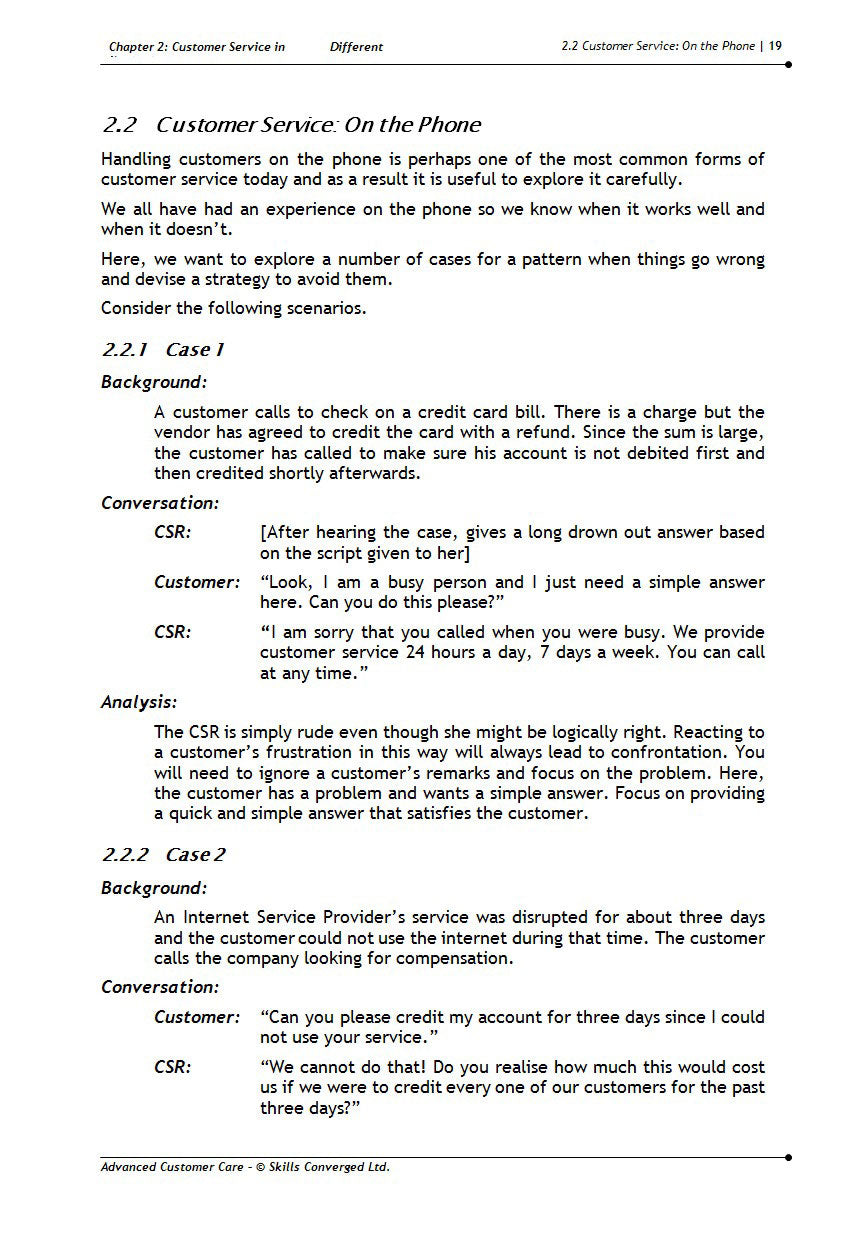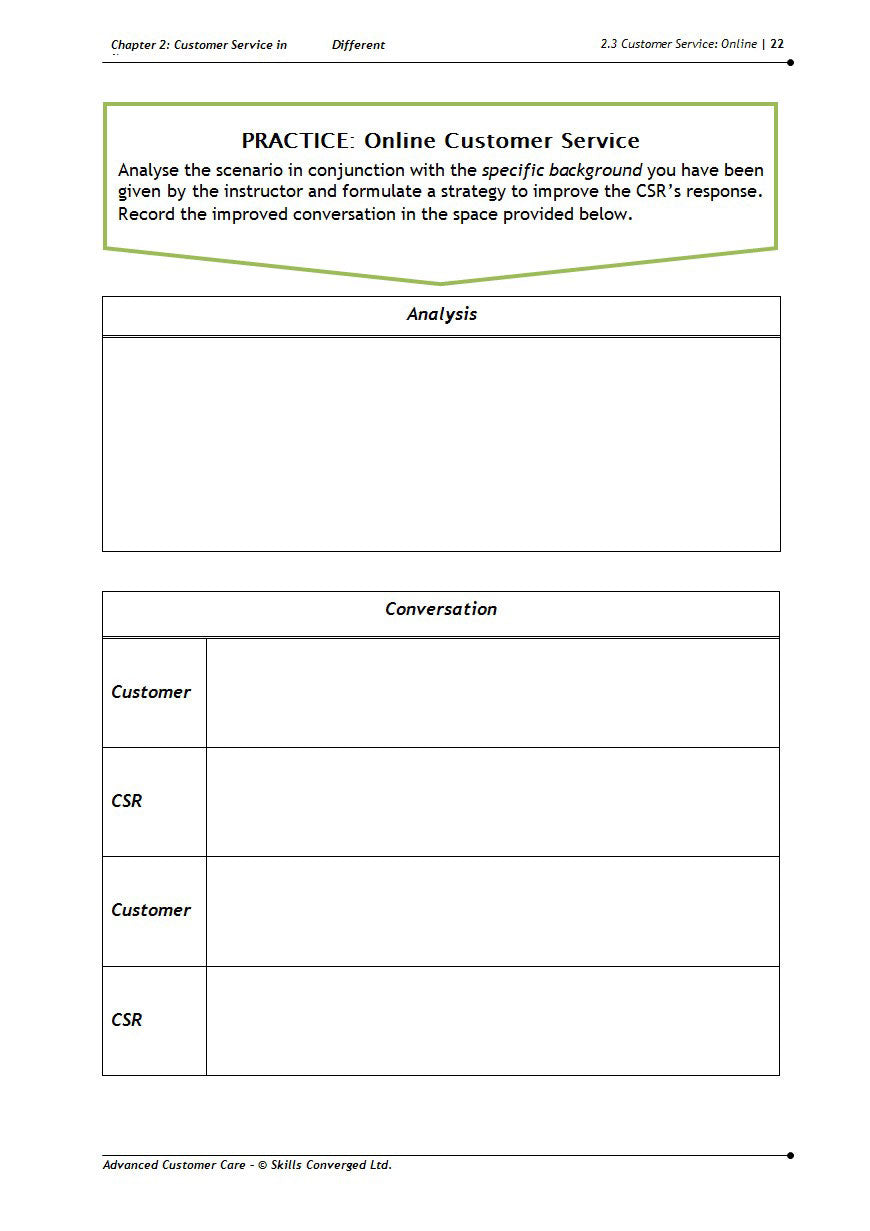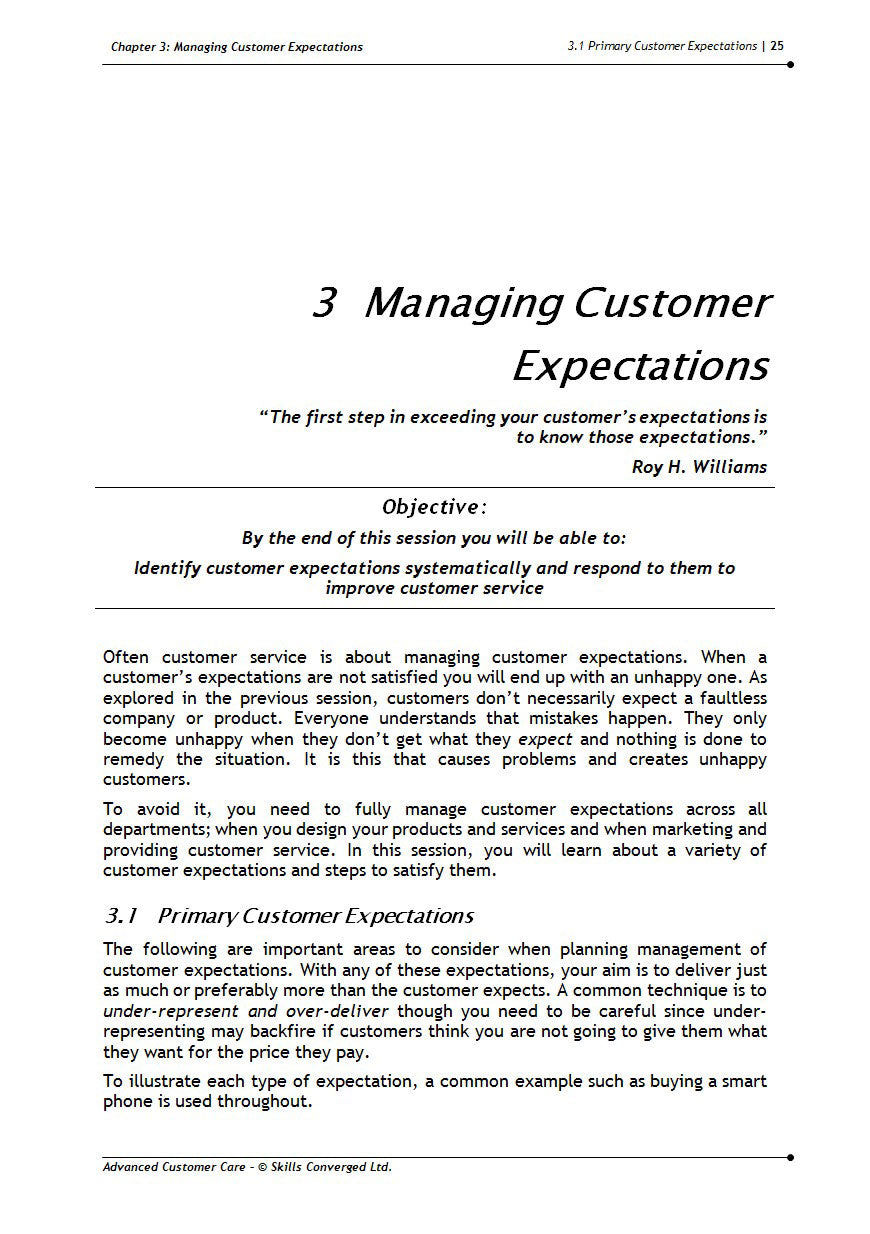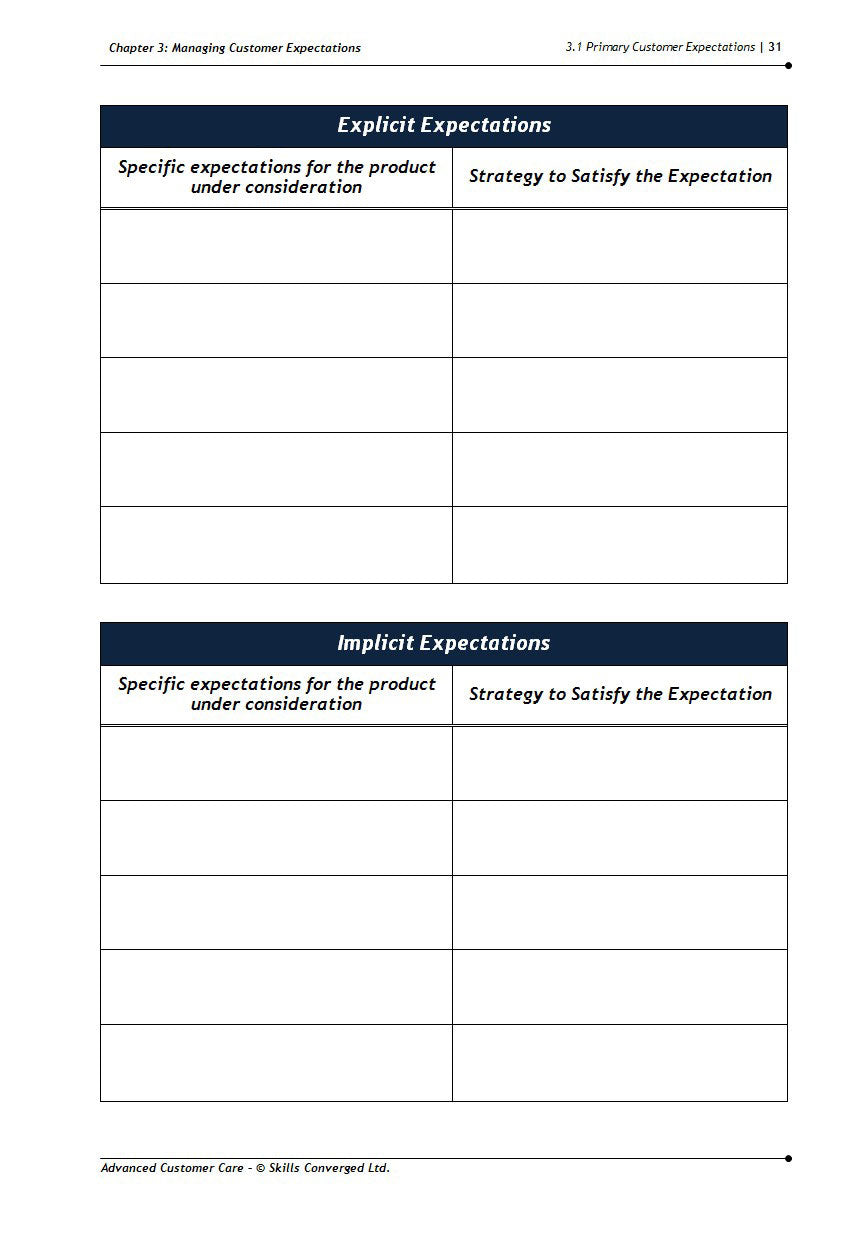 Advanced Customer Care
---
---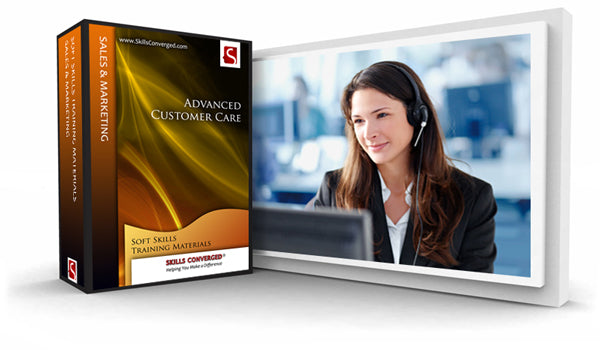 Course on How to Improve Customer Services, Includes Many Example Conversations and Case Studies
Fully Customisable Training Course Material
Description
"Customers don't expect you to be perfect. They do expect you to fix things when they go wrong."

Donald Porter
Any organisation that wants to become successful and remain successful must care for its customers. Satisfying customers' needs is an important objective of any organisation irrespective of whether it is for-profit or non-profit. To do that, a company needs to create customer loyalty where customers can rely on the brand which will satisfy their needs. To create loyal customers, you need strong customer care which is what this course is about.
In this course, it is assumed that delegates already have some experience with customer services and are now looking to expand their knowledge and skillset. Having served customers, they may also have a number of specific situations in mind that they would like to get advice on. Customer service is an art and much of it relies on good communication skills and emotional intelligence. To remain skilled it is important to review past experiences systematically and learn from them so when a CSR finds himself in a similar situation again, he would know what to do. This knowledge also adds to their confidence which in turn helps them to provide a better service and thereby standing out from the competition.
When companies become mature in a given industry, there is not a huge difference between their products. A customer can buy a service or product from any of these competitors as they would all have a similar established feature-set. This is when customer service becomes the greatest differentiator between these companies. This is why it is extremely important to allocate resources and training to it as part of a strategy to keep a company competitive.
This course is full of examples and case studies. Delegates are frequently introduced to poor examples of customer service and then learn how to improve them. Teaching by example helps delegates to understand and remember the lessons. It also helps you as the trainer to initiate discussions and get delegates to share their own specific experiences so you can address them directly for the benefit of all delegates.
In this highly practical course participants will learn:
How to Have the Right Attitude When Serving Customers
What is the effect of correct mentality?
How to avoid having the wrong mentality
How to create loyal customers
How Customer Service is Conducted in Different Settings
What can you learn from face-to-face interactions?
What can you learn from interactions on the phone?
What can you learn from online interactions?
How to Manage Customer Expectation
What is it that customers ultimately want?
What do customers expect to get now and in the future?
What do customers expect before or after making a purchase?
What factors influence purchase decisions and how to take advantage of these factors to improve customer care?
What Not to Say
How to avoid "toxic words"
Which phrases can be damaging to a conversation when serving a customer and how to avoid them?
How to Handle Angry Customers
Why customers become angry?
What is the real reason behind a customer's frustration and anger?
What can you do to address the underlying cause of anger?
How to use 8 practical methods to handle a frustrated customer and turn him into a loyal one
How to Respond to Complaints?
Why customers complain?
How to use strategies to directly handle a complaint
How to use pre-emptive strategies to minimise customer complaints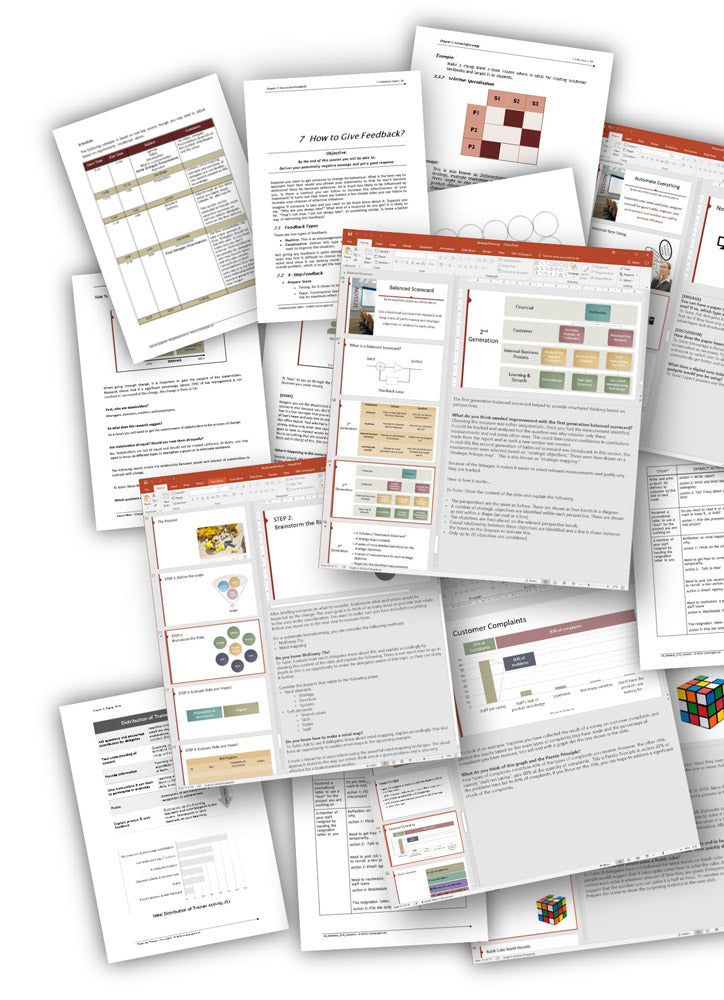 What Is Included
Everything you need to run the course:
Slides
Workbook
Exercises
Handouts
Trainer Notes
Specific Course Guidelines
Agenda
Guidelines on Training Methodology
Course Outline
Recommended Readings
Feedback Forms
Certificate of Achievement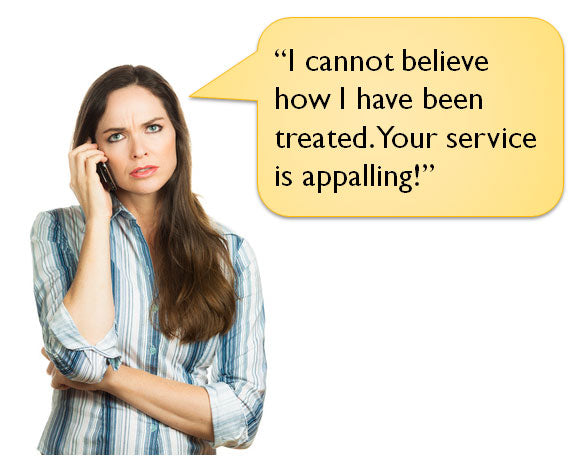 Course Objectives
By the end of this course delegates will be able to:
Courseware Features
Buy & Download Training Materials
Choose your training materials
Add to shopping cart
Get multiple courses to get discounts and create tailored training
Pay using all major debit / credit cards, PayPal, Apple Pay and Google Pay.
After payment processing, you are redirected to a download page
You will also receive emails with download links
Unzip the package and access all the training resources in MS Office format
How to Get Training Packages
Editting
You can customise, edit and modify the content as you desire
Rights
Unlimited workbook reprinting rights
Comprehensive
The downloadable training package contains all you need to deliver a course
Extensively Researched
Designed based on the latest research in educational psychology, cognitive psychology, social sciences and business practices
Facilitation Training
Designed in line with the principles of accelerated learning

Interactive
Designed to include many examples, case studies and exercises to improve learning and retention
Download
Order online and download immediately after purchase
Source Files
Receive editable source files in MS Office 365 (Word DOC/DOCX and Power Point PPT/PPTX) and previous Office versions 2003, 2007, 2010, 2013 & 2016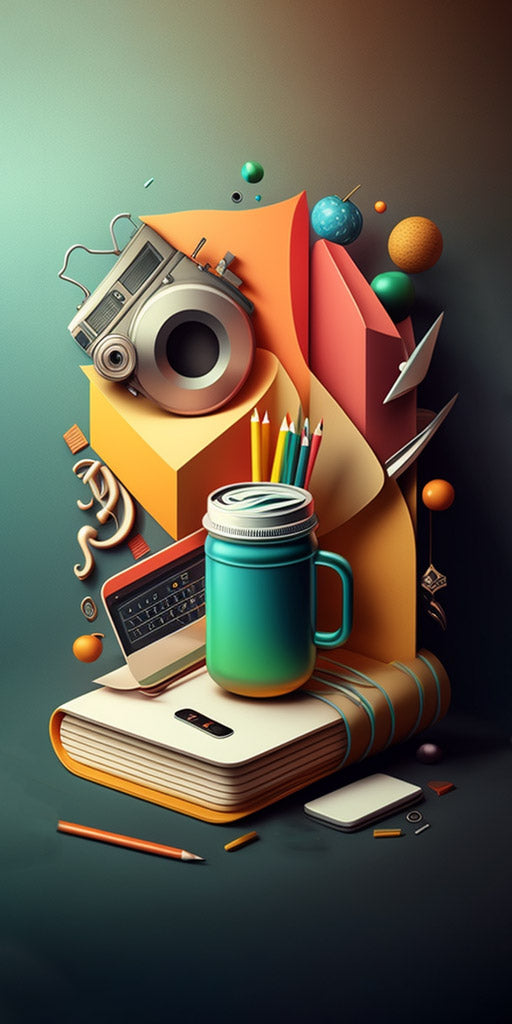 About the Design Philosophy of Advanced Customer Care Course
100+ Countries
Used by Trainers Worldwide
Our mission is to help you deliver memorable courses with long lasting results, while taking the least amount of effort and time to run.
Save Time & Boost Training
Skills Converged is a unique company that provides professionally designed fully-customisable training course materials based on the latest research in learning & development. Courses are designed with attention to detail both on content and style so that you can deliver unique state-of-the-art courses to your clients and get maximum results.
For Trainers
Use ready-made modular courseware, tailor to your audience, respond to market quickly & effortlessly
For People Developers
Increase HR efficiency and save by supplying consistent professionally designed training materials to your trainers and help employees reach full potential