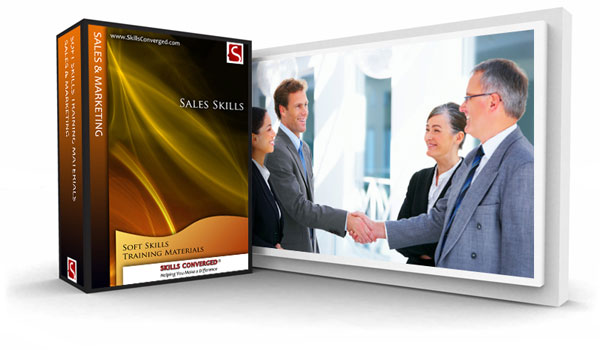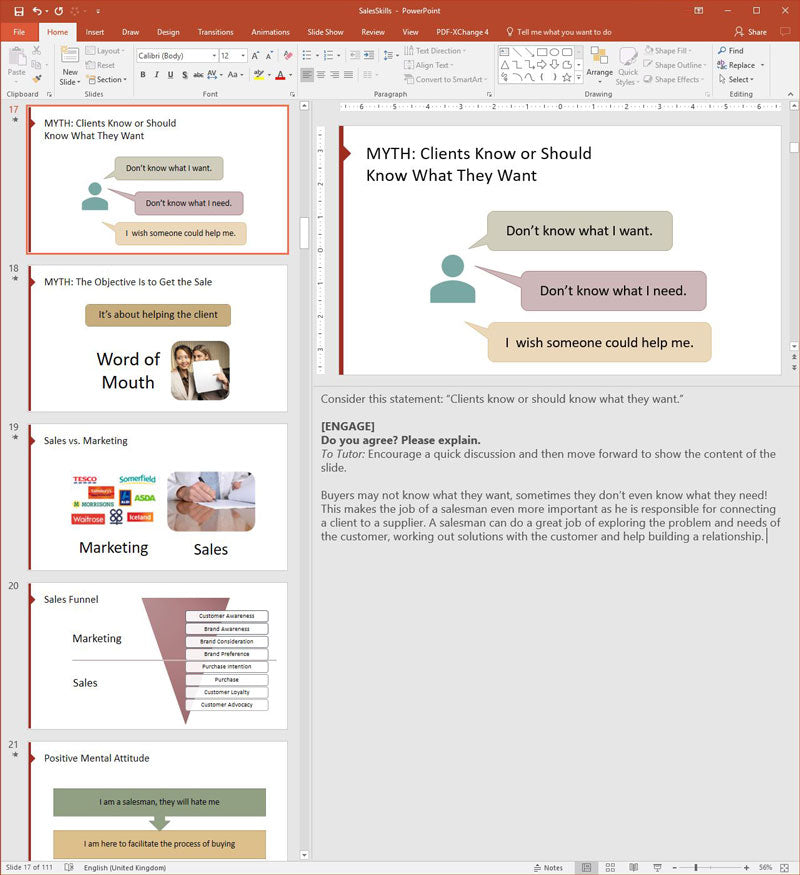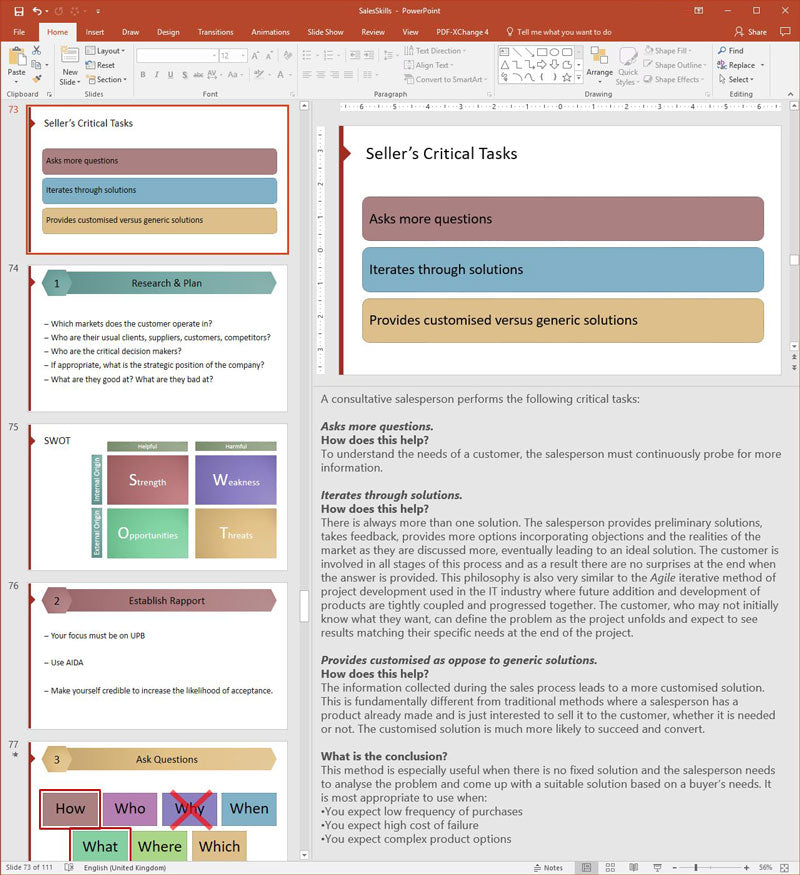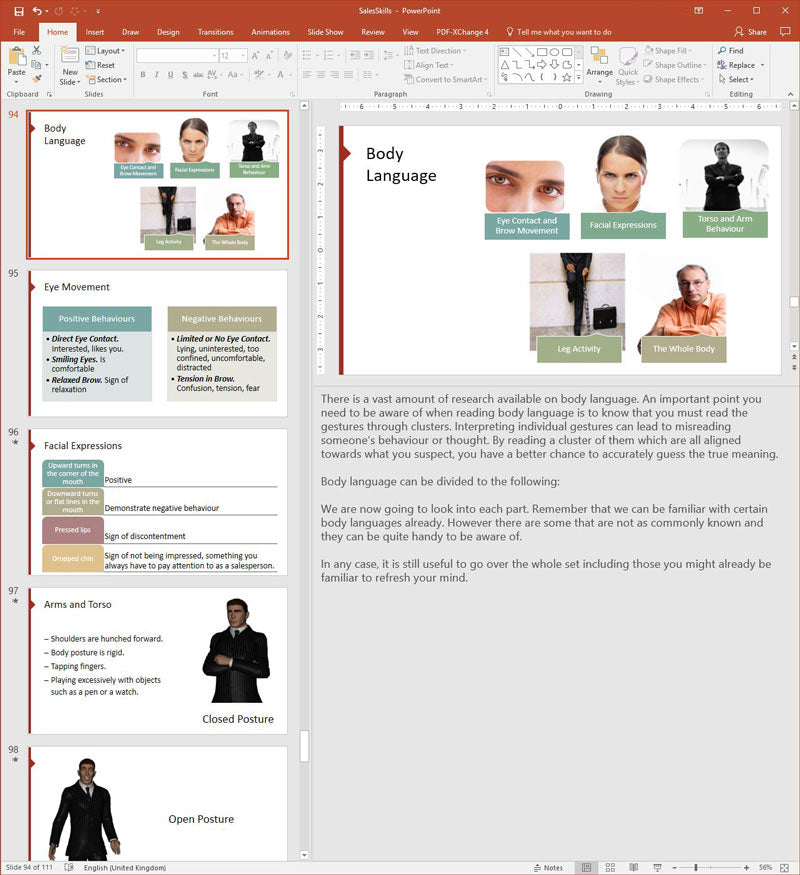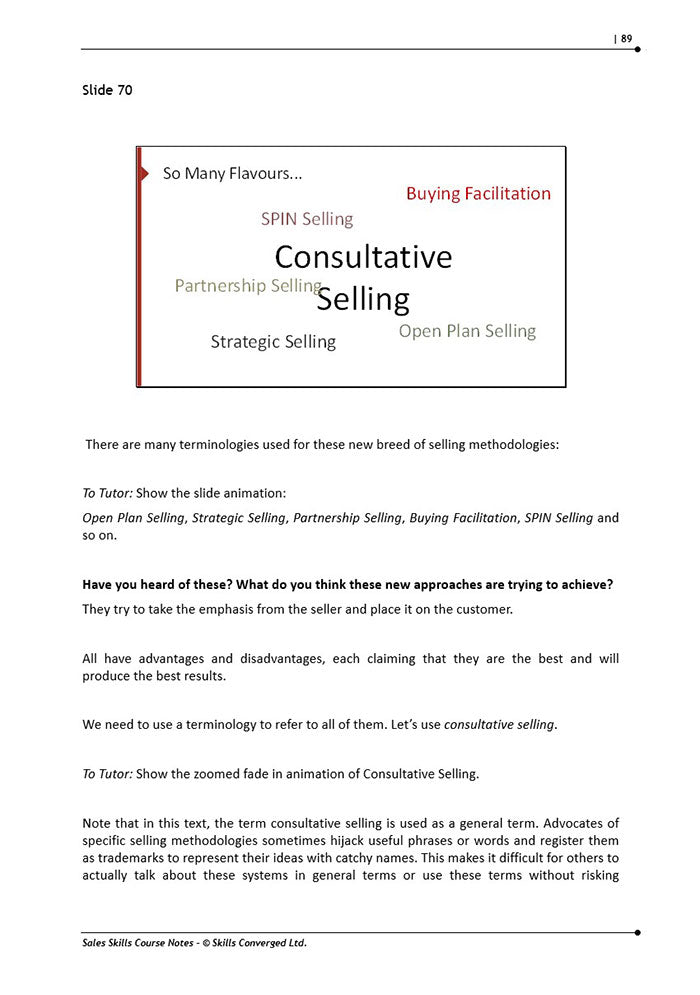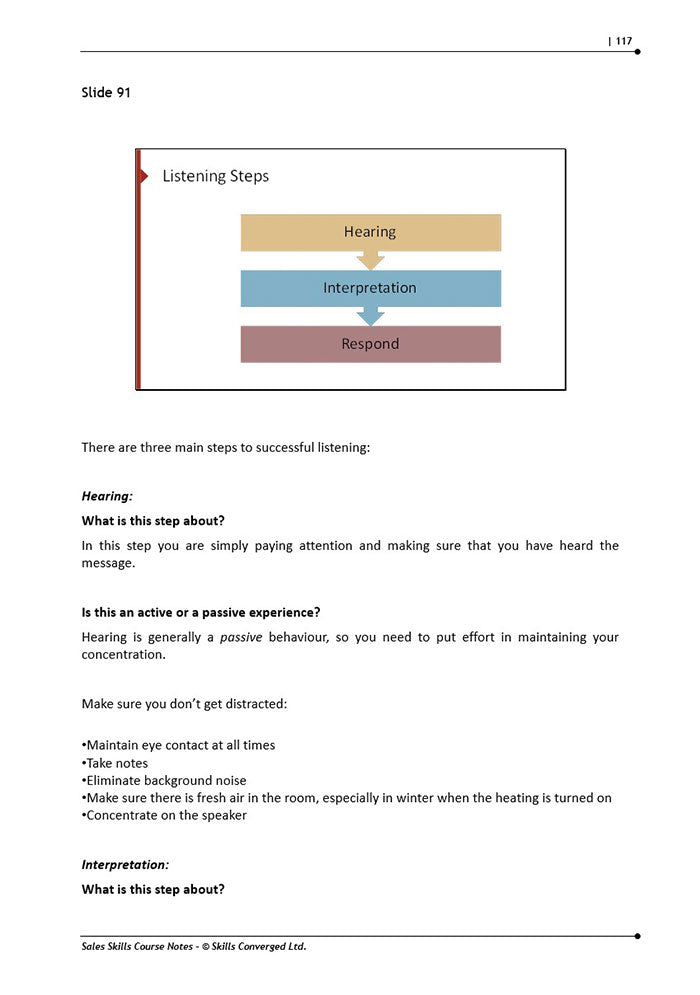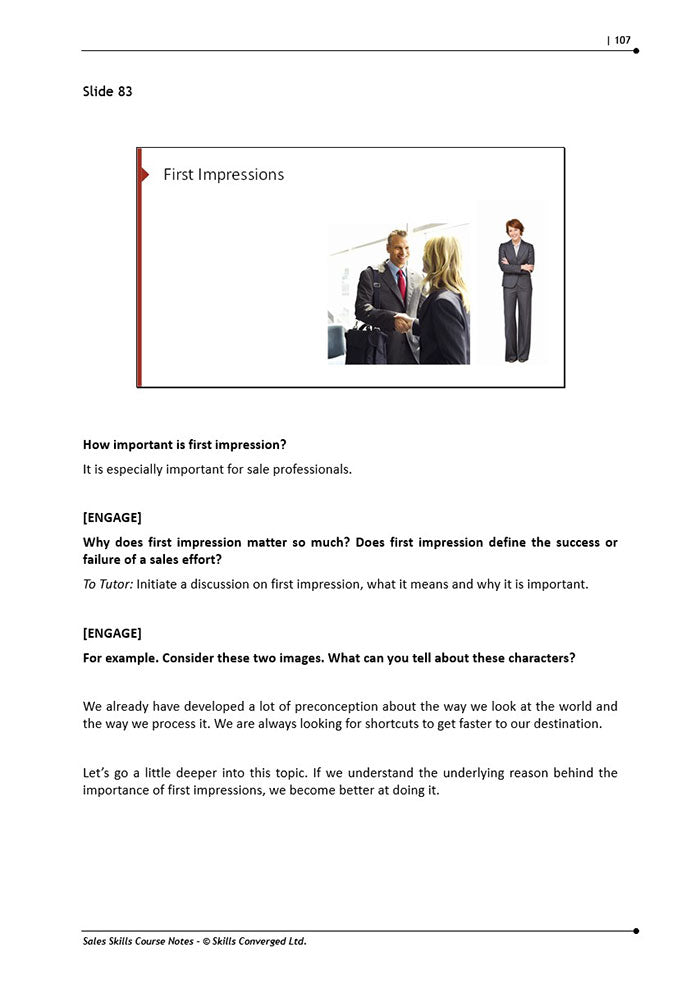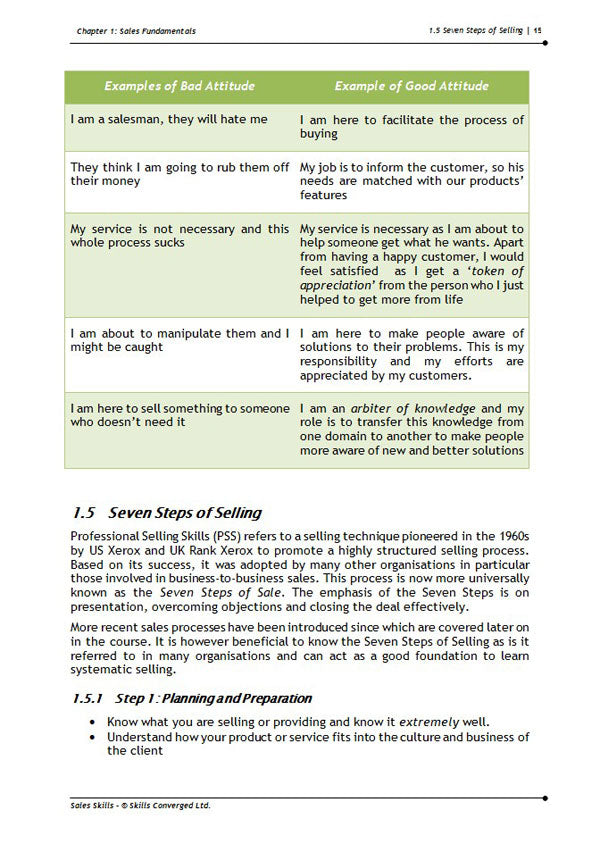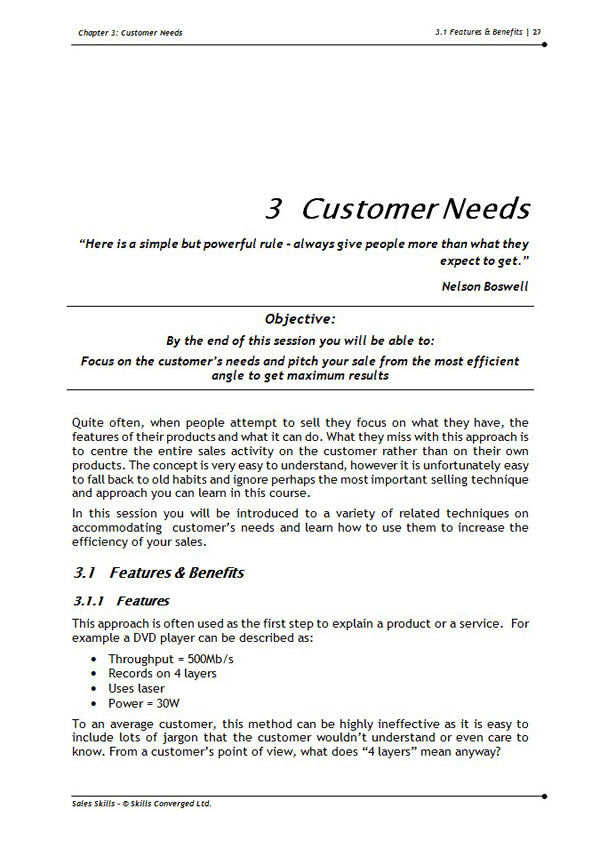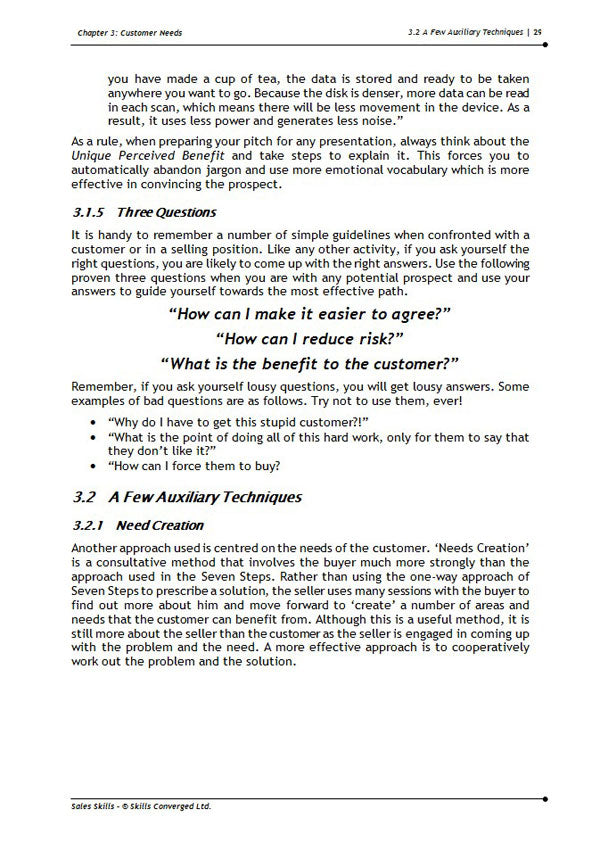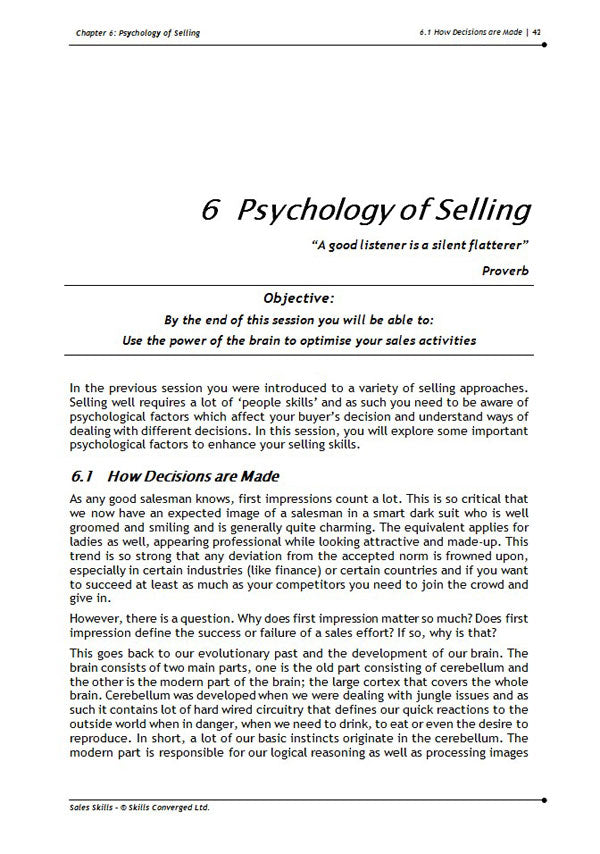 Sales Skills
---
---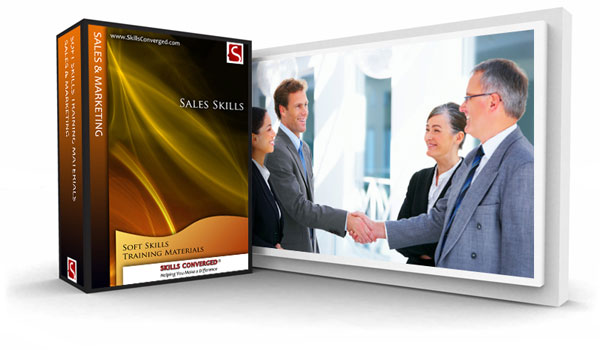 Training Course Exploring Traditional and Modern Approaches of Selling and How to Create Loyal Customers
Fully Customisable Training Course Material
Description
"A sale is not something you pursue, it is something that happens to you while you are immersed in serving your customer."

Unknown
Since the industrial revolution, the world has gone though a major development frenzy leading to the production of the vast number of products and services that we enjoy today. As the number of products, ideas and concepts have increased, so is the need to inform and convince others of their benefits and applications to personal and professional lives. Sales skills therefore have become a vital part of any successful business and organization. The sophisticated sales industry active today has introduced new selling philosophies and pioneered modern techniques and sales methodologies.
Whether you are directly involved in sales as a salesperson or the production of these products or services, knowing how to sell is an incredibly useful skill. This comprehensive course, introduces traditional (influence-based) and modern (facilitative and consultative based) selling techniques and prepares the delegates for a variety of sales environments from retail and customer facing selling to sophisticated business-to-business trade involving large projects.
Psychology is one of the main components of this course. There is an emphasis on customer loyalty which is responsible for most sales and long term profitability of any business. As a salesperson you need to take specific steps (relying heavily on many psychological aspects) to create a loyal customer that keeps coming back to you time and again.
This course contains many exercises, roleplays, and guidelines to help the delegates master the sales skills during the course and start applying their newly acquired knowledge to their professional lives straight away. Bite sized group exercises are also provided that focus on specific concepts. These are then followed by more comprehensive sales exercises that help the delegates to put a series of smaller skills into practice and learn how to approach sale events as a whole.
In this day-long highly practical course delegates will learn:
Why People Buy?
What are sales myths?
What attitudes work best to make the most conversations?
What is the relationship between sales and marketing?
What makes people accept a salesperson's offer?
What Framework Should You Follow When Selling?
What are the historical approaches to selling?
What steps should you follow explicitly to get results?
How to close a deal with ease
What Strategies Should You Follow?
How to overcome objections
How to produce a convincing presentation
How to prepare for a sales activity and what should you pay attention to before attending a sales meeting to increase your chances of success
How to be an ethical salesperson
What are the historical sales strategies and how have they progressed through time?
What Is The Best Way to Structure Your Sales Pitch?
What formula works best?
How to create a loyal customer by delivering a pitch directly targeted at them
How to respond to a customer's needs
How to Use Modern Approaches of Selling?
What are the best strategies to use in business-to-business sales activities?
How to establish rapport and gain the trust of the customer
What are the differences between modern and traditional sales techniques and how can you take advantage of these new trends?
How does a successful salesperson cope with changes in modern trading?
How to Present Yourself Optimally Using Psychology?
How does first impression work and how to take advantage of it?
How to read the body language of a customer and use your own body language to emphasise key points
How to improve your listening skills
How to appear more confident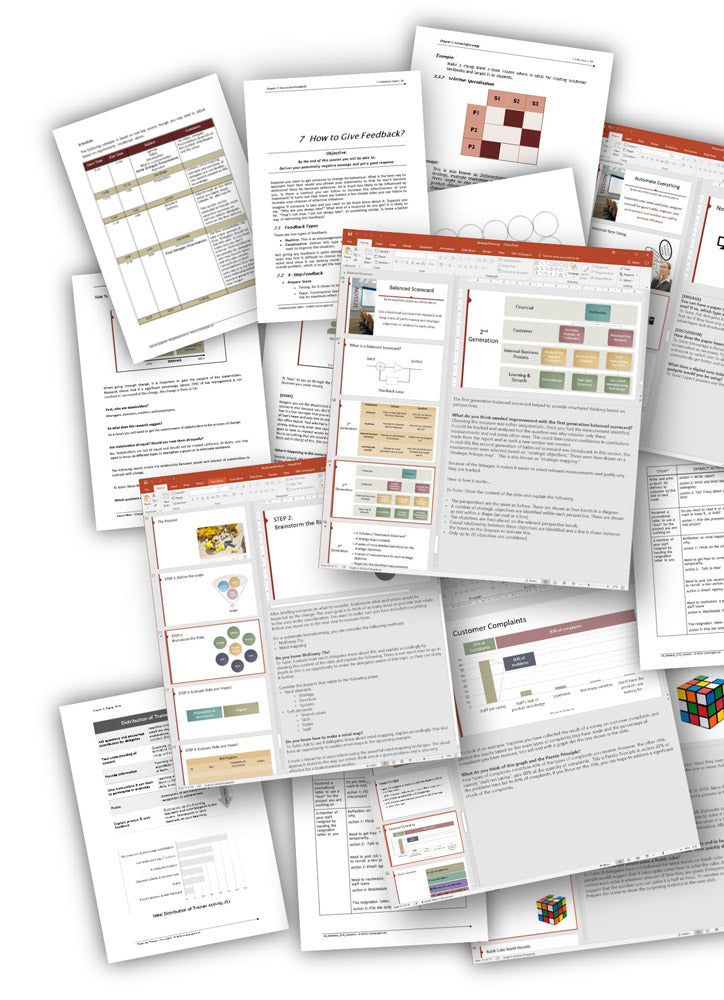 What Is Included
Everything you need to run the course:
Slides
Workbook
Exercises
Handouts
Trainer Notes
Specific Course Guidelines
Agenda
Guidelines on Training Methodology
Course Outline
Recommended Readings
Feedback Forms
Certificate of Achievement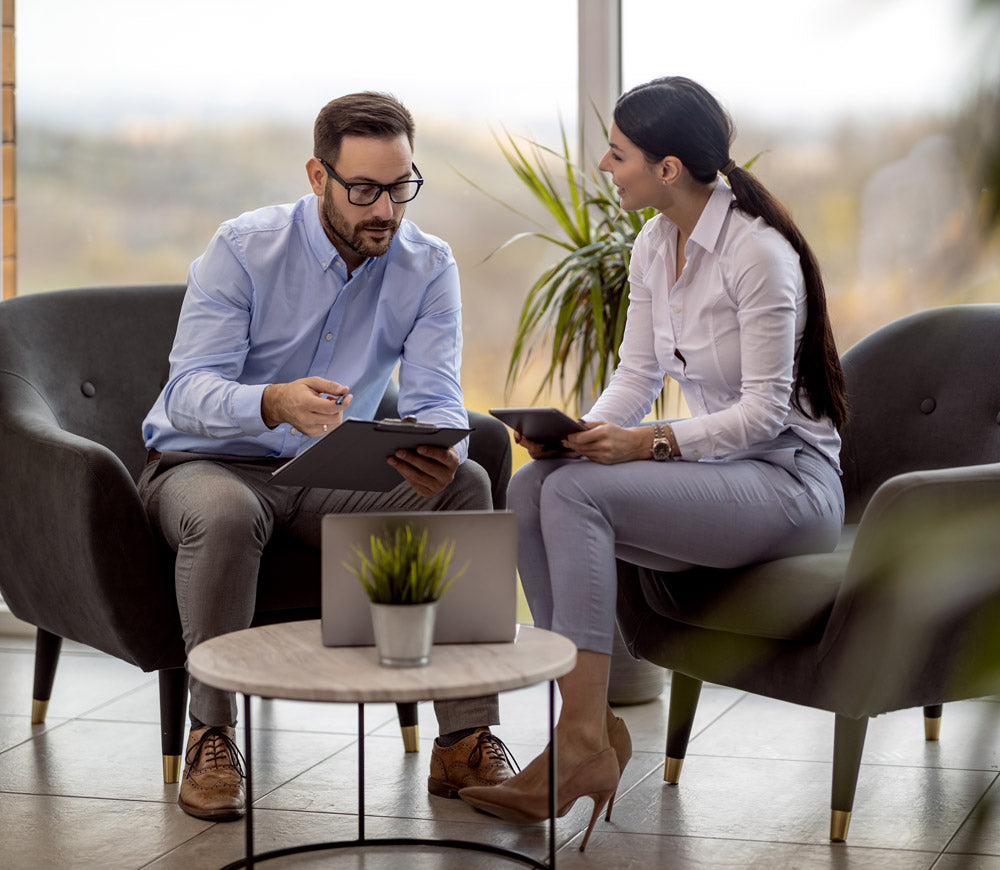 Course Objectives
By the end of this course delegates will be able to:
Courseware Features
Buy & Download Training Materials
Choose your training materials
Add to shopping cart
Get multiple courses to get discounts and create tailored training
Pay using all major debit / credit cards, PayPal, Apple Pay and Google Pay.
After payment processing, you are redirected to a download page
You will also receive emails with download links
Unzip the package and access all the training resources in MS Office format
How to Get Training Packages
Editting
You can customise, edit and modify the content as you desire
Rights
Unlimited workbook reprinting rights
Comprehensive
The downloadable training package contains all you need to deliver a course
Extensively Researched
Designed based on the latest research in educational psychology, cognitive psychology, social sciences and business practices
Facilitation Training
Designed in line with the principles of accelerated learning

Interactive
Designed to include many examples, case studies and exercises to improve learning and retention
Download
Order online and download immediately after purchase
Source Files
Receive editable source files in MS Office 365 (Word DOC/DOCX and Power Point PPT/PPTX) and previous Office versions 2003, 2007, 2010, 2013 & 2016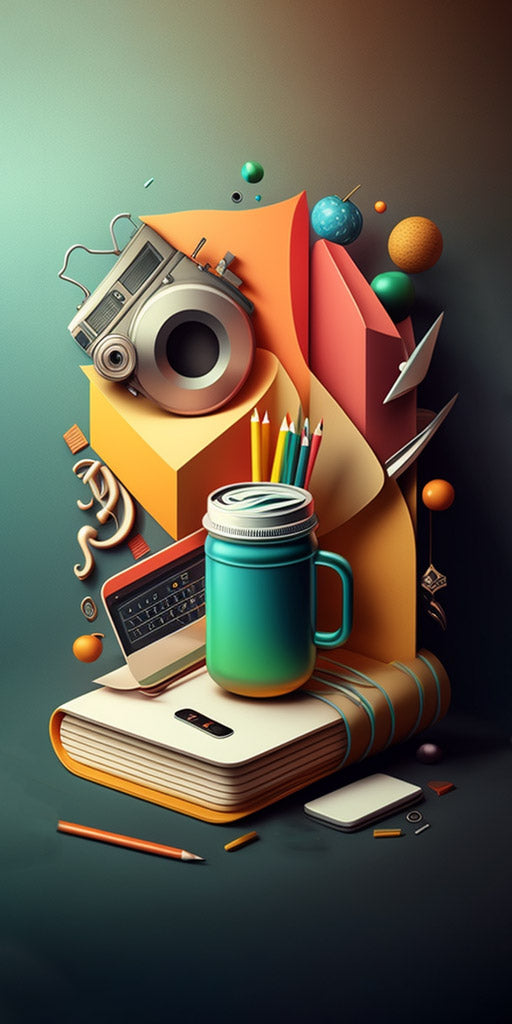 About the Design Philosophy of Sales Skills Course
100+ Countries
Used by Trainers Worldwide
Our mission is to help you deliver memorable courses with long lasting results, while taking the least amount of effort and time to run.
Save Time & Boost Training
Skills Converged is a unique company that provides professionally designed fully-customisable training course materials based on the latest research in learning & development. Courses are designed with attention to detail both on content and style so that you can deliver unique state-of-the-art courses to your clients and get maximum results.
For Trainers
Use ready-made modular courseware, tailor to your audience, respond to market quickly & effortlessly
For People Developers
Increase HR efficiency and save by supplying consistent professionally designed training materials to your trainers and help employees reach full potential