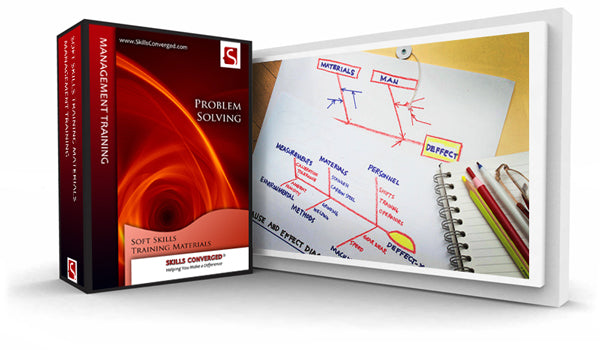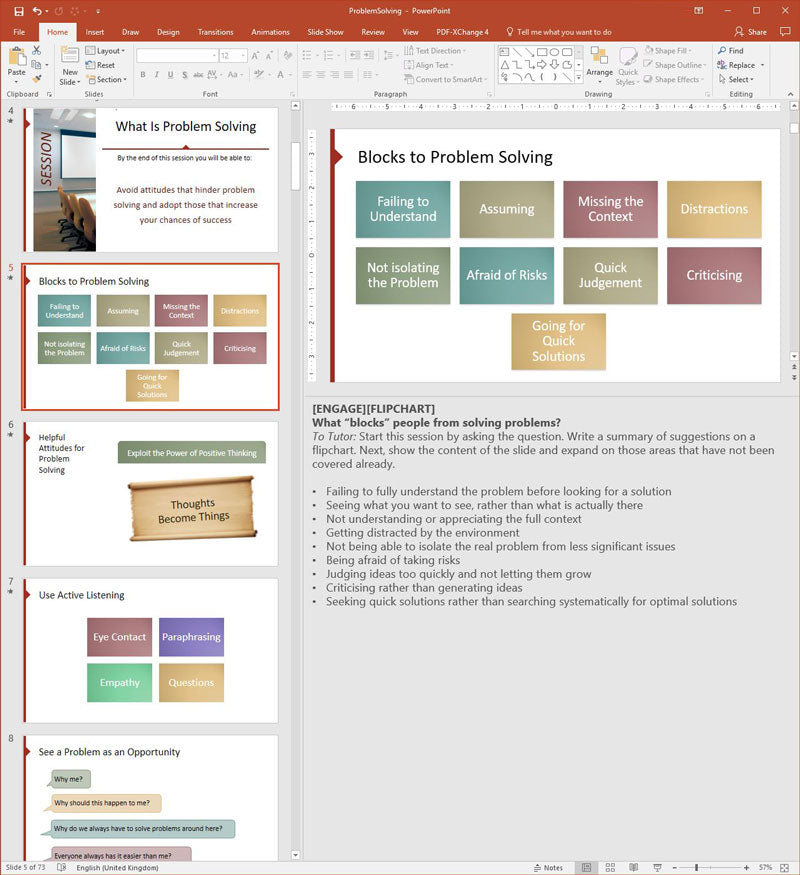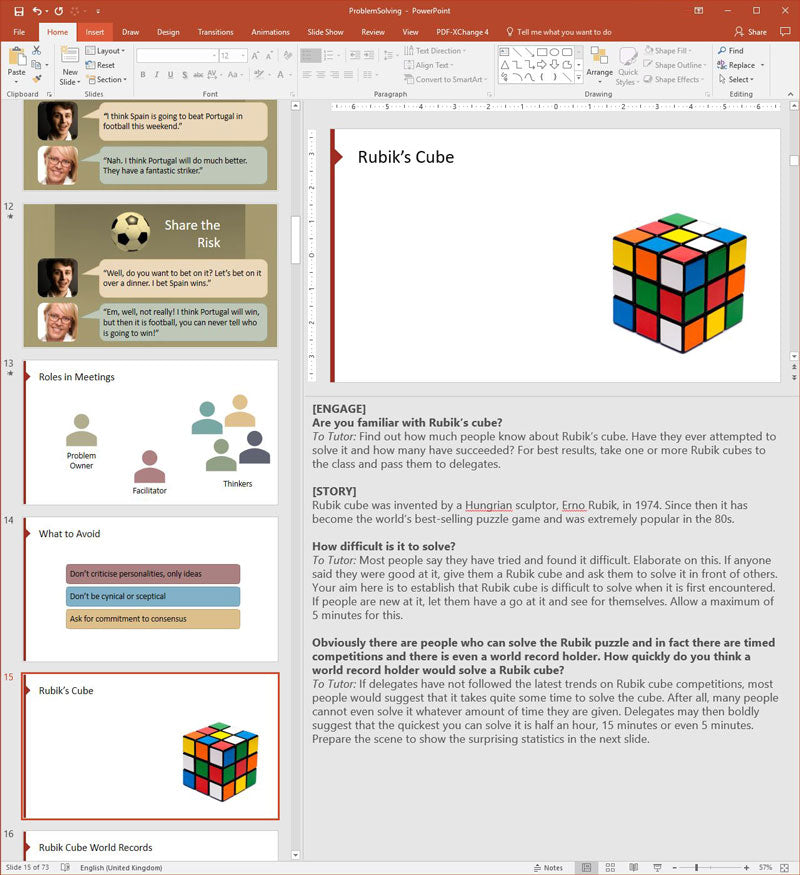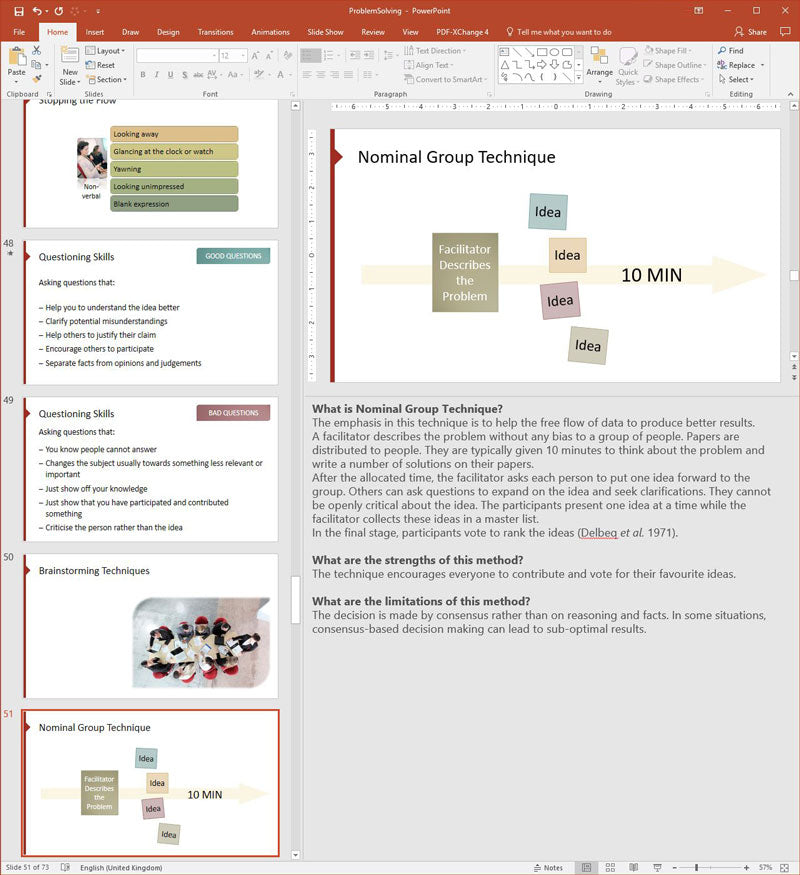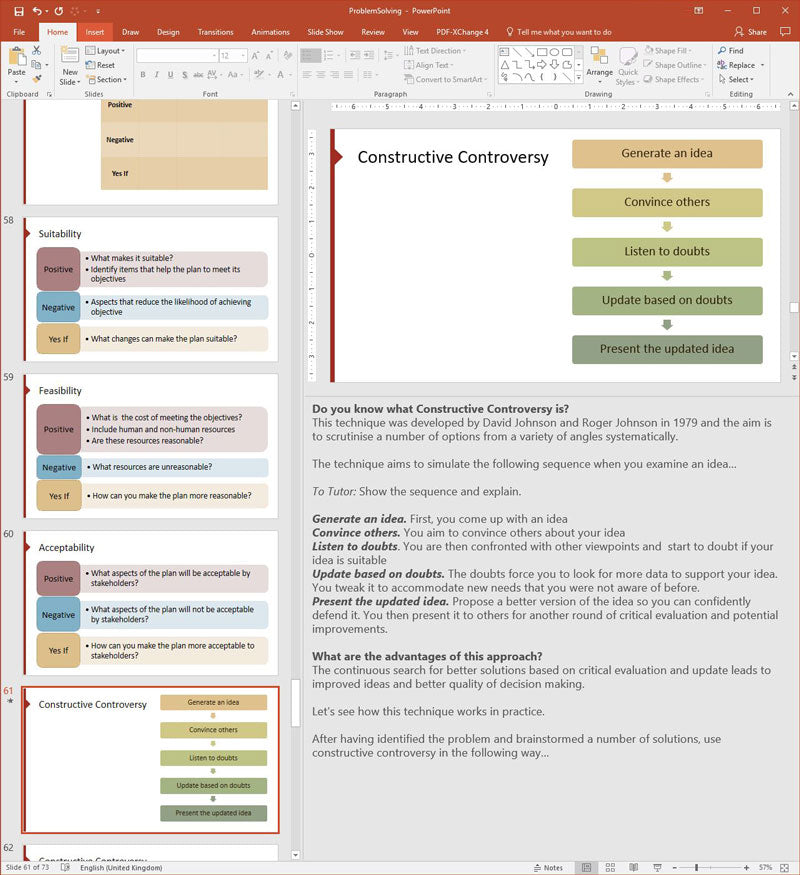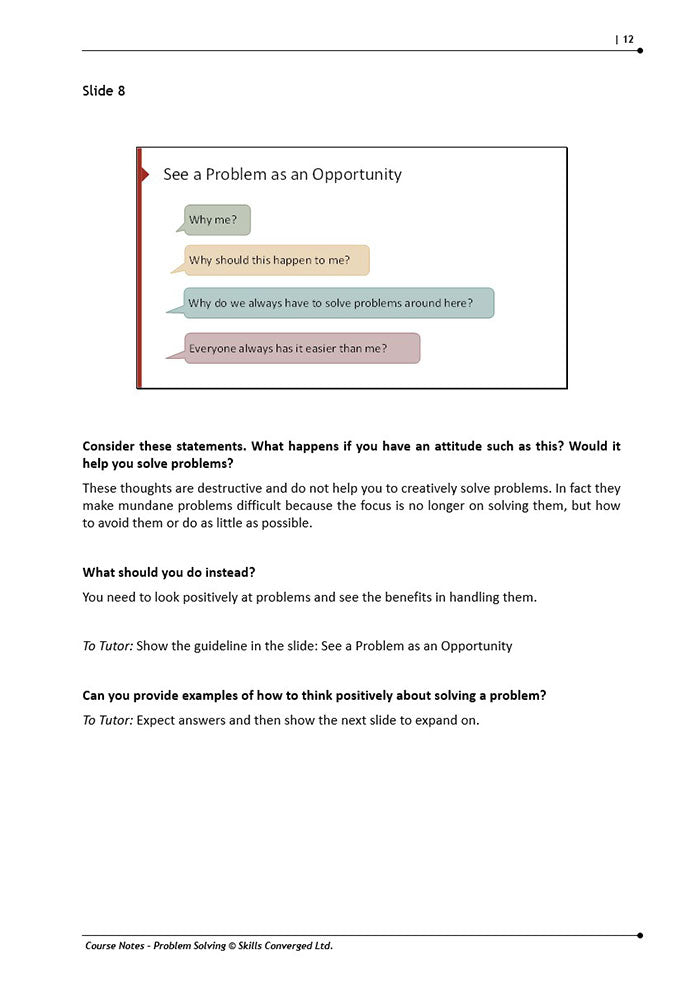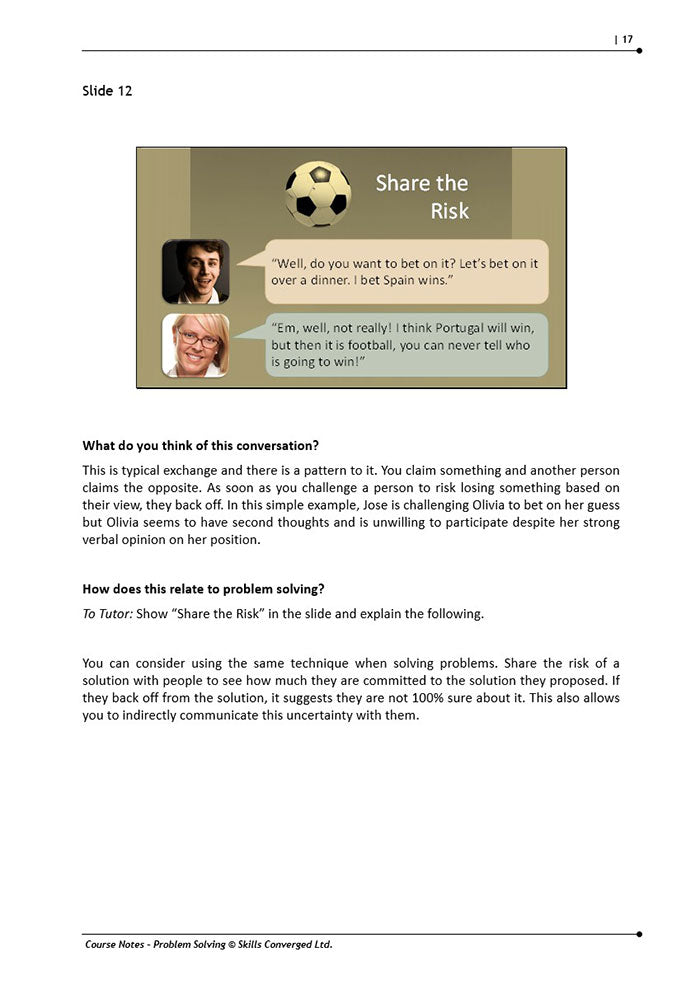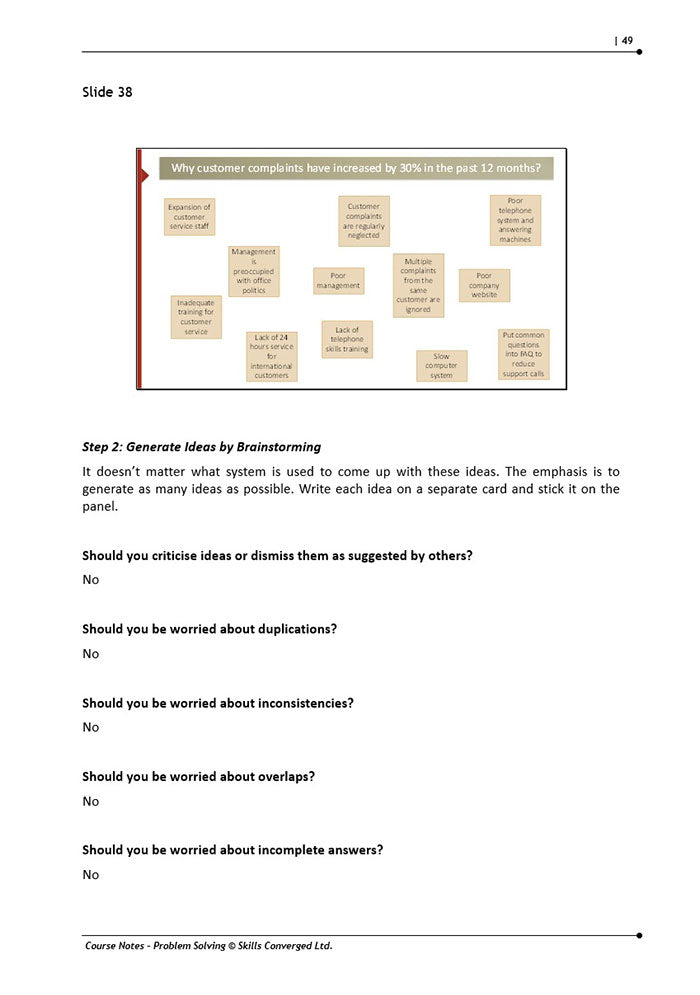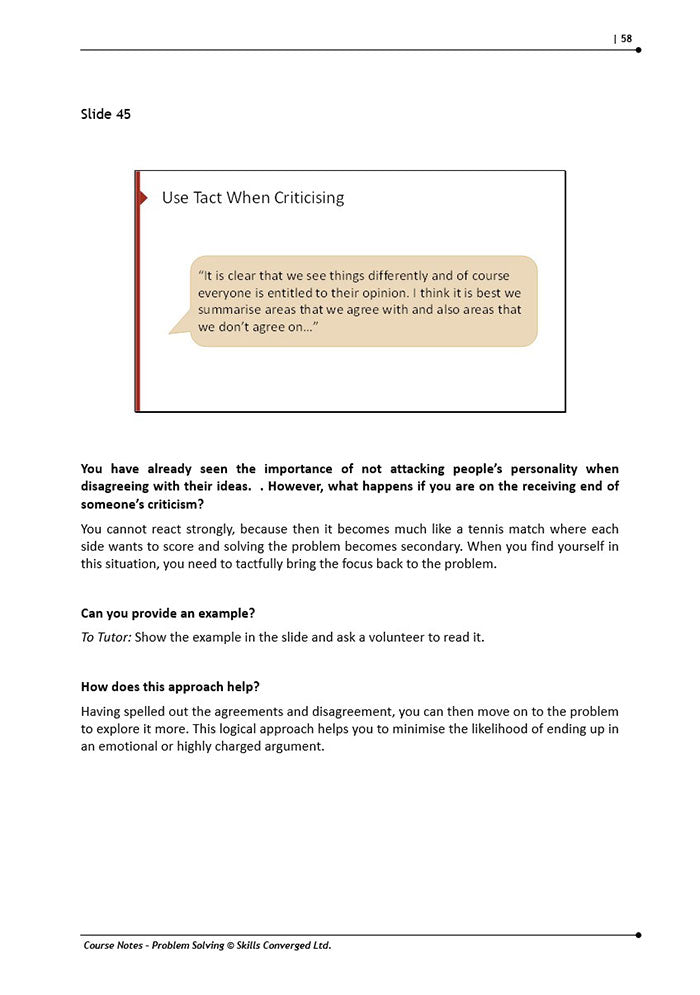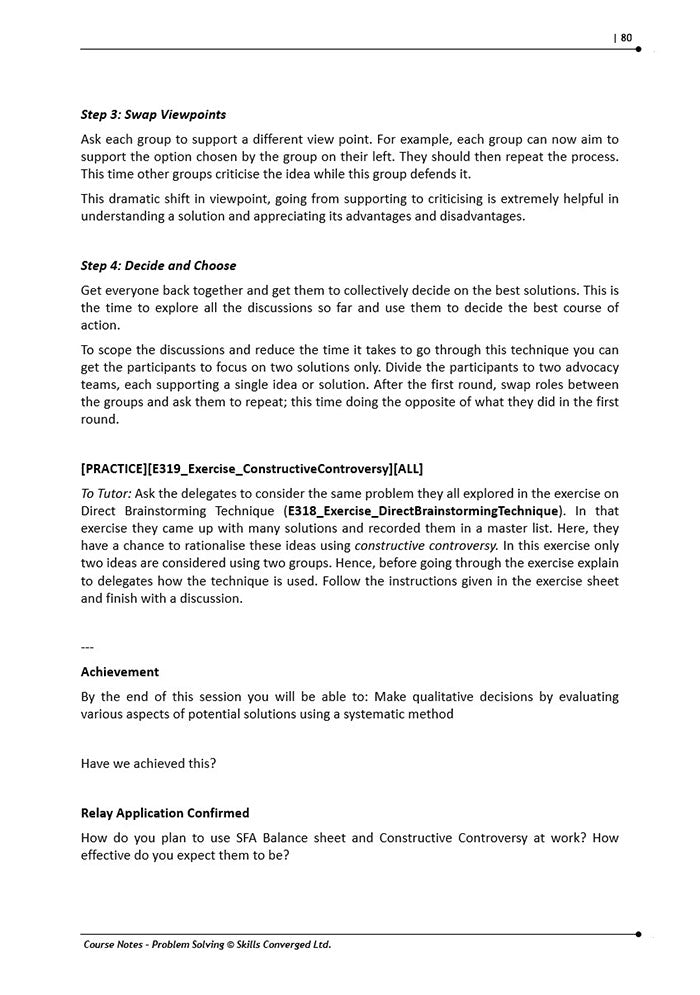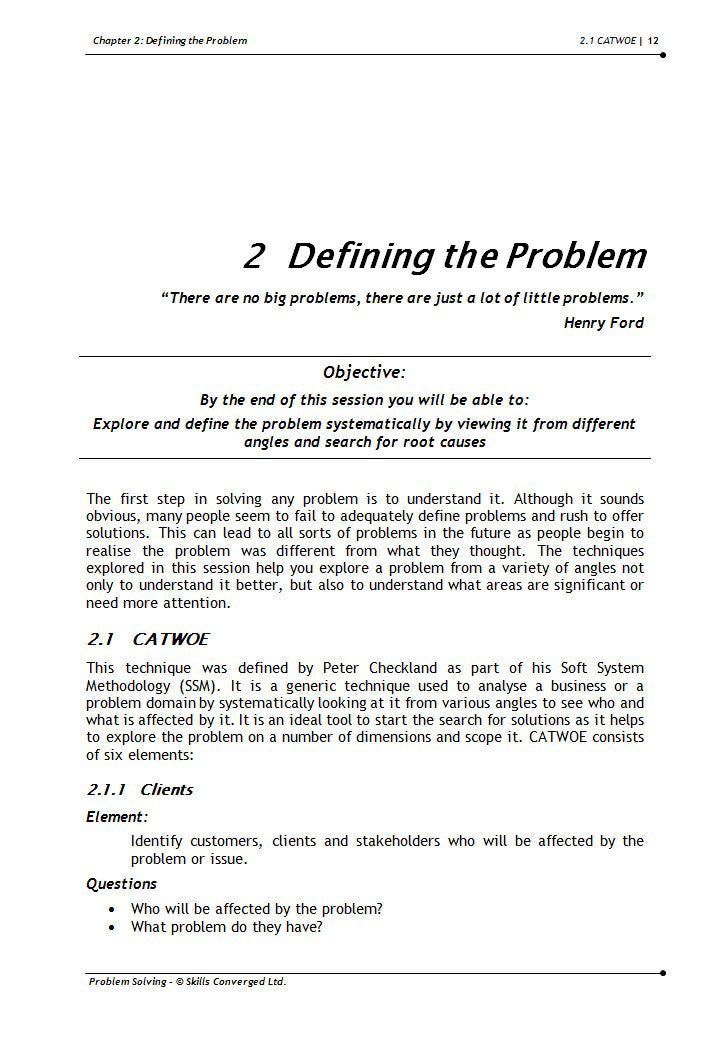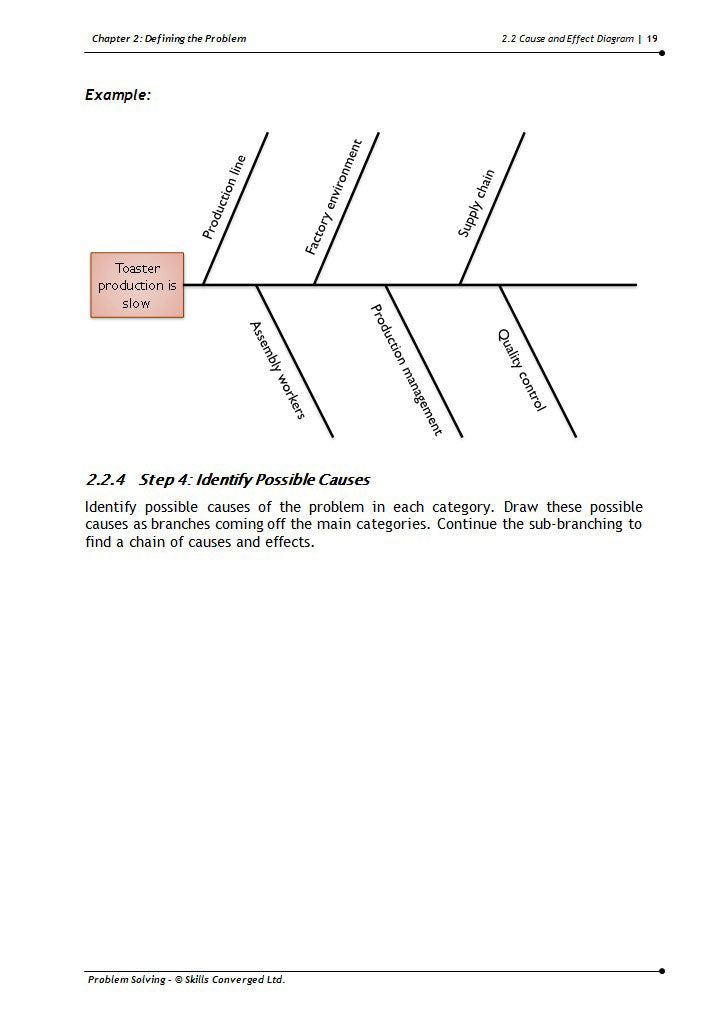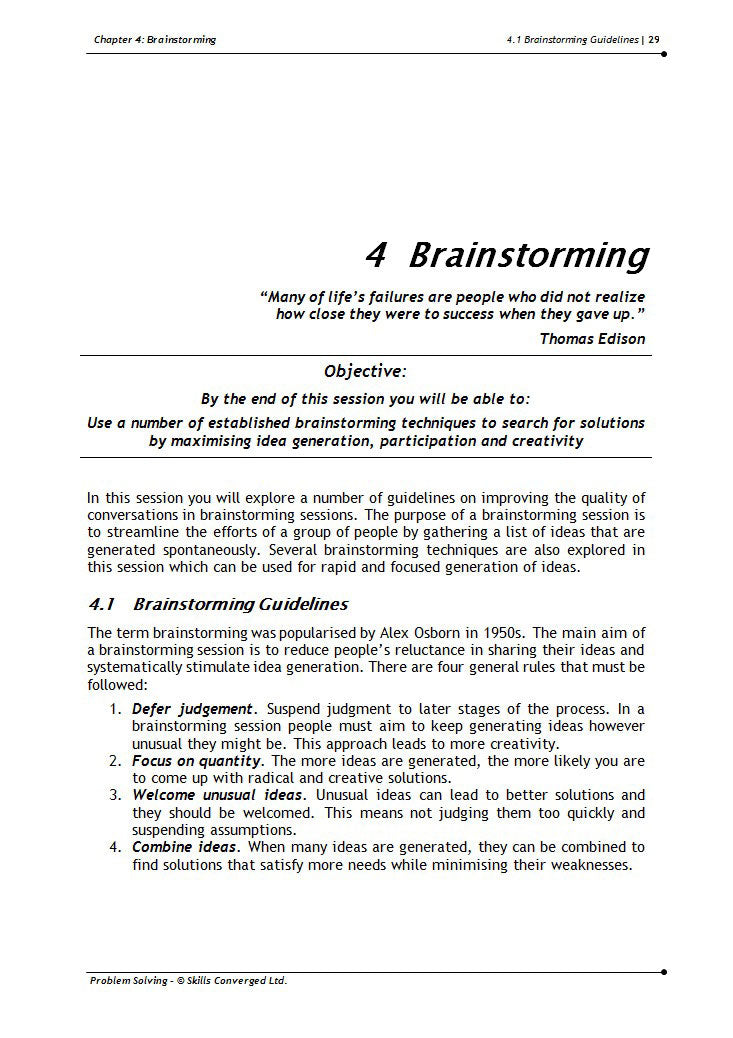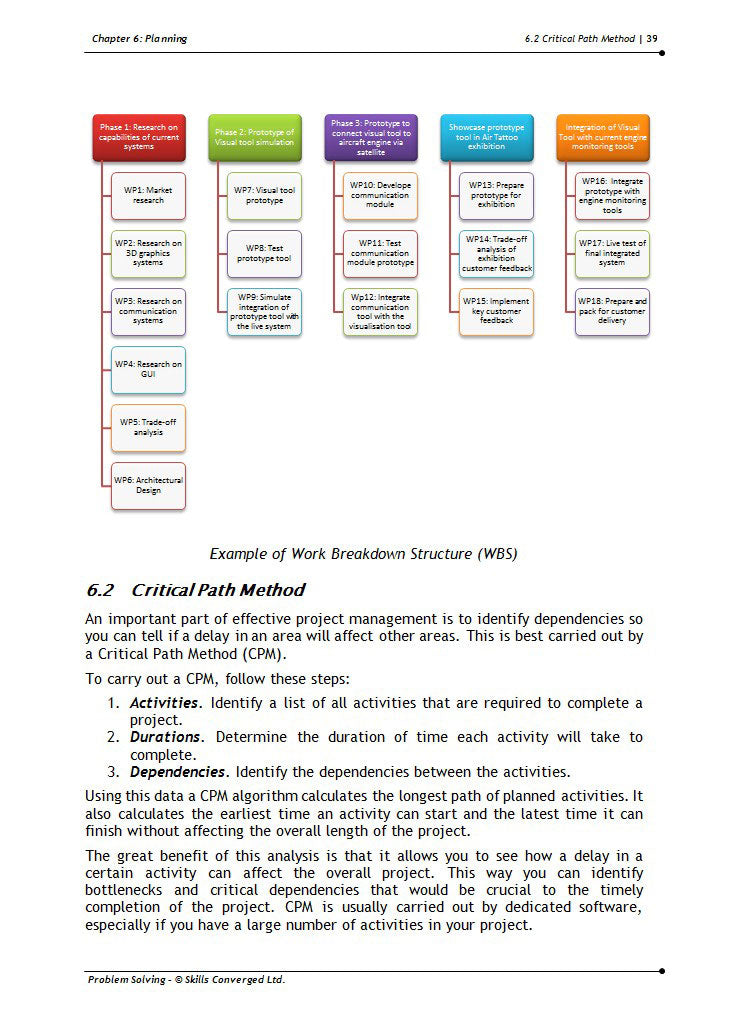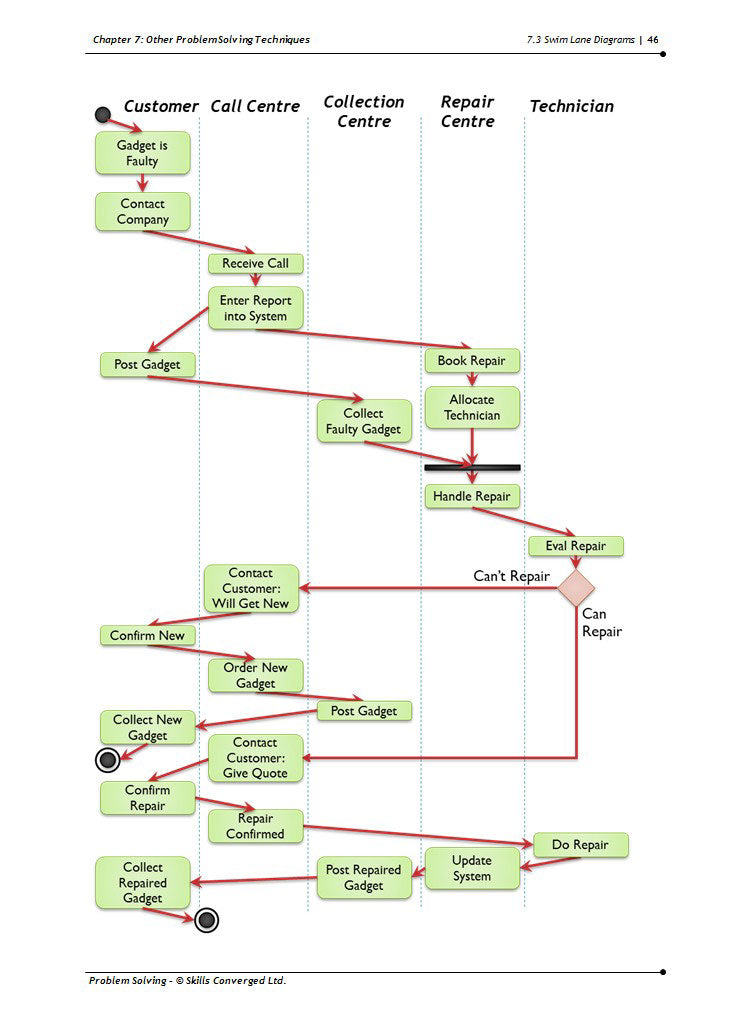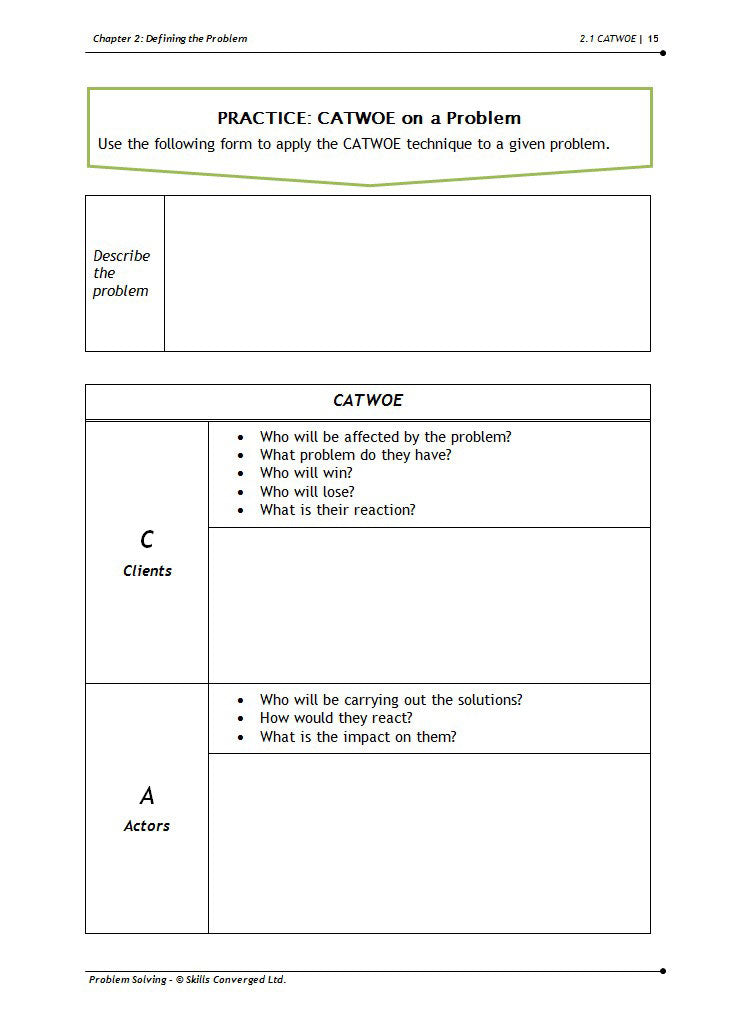 Problem Solving
---
---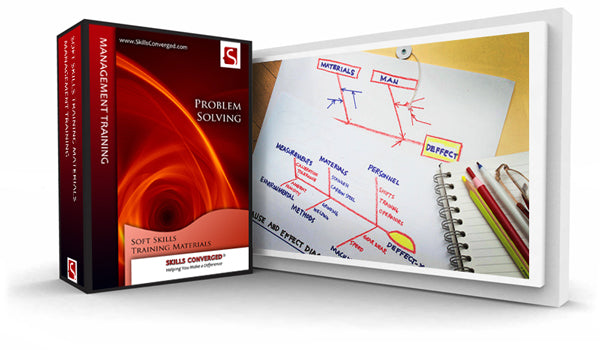 Course on How to Solve Problems as a Group by Brainstorming, Idea Generation and Collective Decision Making
Fully Customisable Training Course Material
Description
"It's not that I'm so smart,

it's just that I stay with problems longer."

Albert Einstein
In just about any industry or any role, we are almost constantly involved in solving problem. It is what makes humanity progress forward by constantly searching for better solutions to common problems or new solutions to new problems as our societies become more complex.
As the problems have become more complex, the need to solve problems in a group has increased. Groups now contain a variety of experts looking at a problem in relation to their own respective domains. This course is ideal for groups of people who aim to solve problems collectively together. Solving problems as a group has its own unique issues. For example, some people like to dominate a meeting with their ideas at the expense of other less talkative members. This could be because of their character or a political agenda. This can lead to suboptimal solutions. Without a good thinking system a group may never come across novel ideas and even if it does, the idea might quickly be put aside, criticised or ridiculed.
Today, there are many powerful group-based problem solving and brainstorming techniques that can be used to increase creativity and productivity.
The aim of this exercise-driven course is to get the delegate practice these techniques in a simulated environment working on smaller problems. This allows them to learn how these techniques work. If the delegates are from the same organisation, you can also run it as a team building course where delegates go through a shared experience while solving problems. They will learn how to work together and improve their communication skills.
The course is also effective if delegates are from different organisations as they can focus on the details of the techniques and learn from each other's approaches or how various techniques might be used in different industries.
The course contains many exercises. Optional exercises are also provided so the content of the course can be biased based on the requirements of the delegates.
A series of extra problem solving techniques are also discussed briefly at the end of the workbook. These can be explored by those interested to know more about this topic after the course.
In this highly practical course participants will learn:
What Is Problem Solving?
Why people fail in solving problems?
What are the helpful attitudes that can help to solve problems more efficiently?
What are the ideal roles in a productive meeting?
What techniques help to improve problem solving?
Defining the Problem
What techniques are helpful in systematically exploring a problem domain?
How to search for root causes of problems and visualise this using a powerful technique
Generating Ideas
How to generate lots of ideas as a group and methodically organise them as they are generated
How to use a powerful visual technique to increase the creativity of a group in coming up with new ideas
How to avoid killing new ideas before they can be given a chance
How to get a group to cooperate with each other when solving a problem rather than competing with each other
Brainstorming
What should you do to improve your brainstorming sessions?
What are good questions to ask in a meeting or when someone suggests an idea?
What are bad questions?
What are commonly used brainstorming techniques?
What are their strengths and limitations?
Decision Making
How to take advantage of a number of powerful qualitative decision making techniques to decide on a course of action
How to use a system that helps to look at making a decision from many angles
Planning
What is a Work Breakdown Structure?
How can you use Gantt charts to plan?
How to analyse work package dependencies to find out how late a work can finish without affecting the overall schedule
How to analyse requirements to make sure you only focus on those that matter the most and can prioritise your plan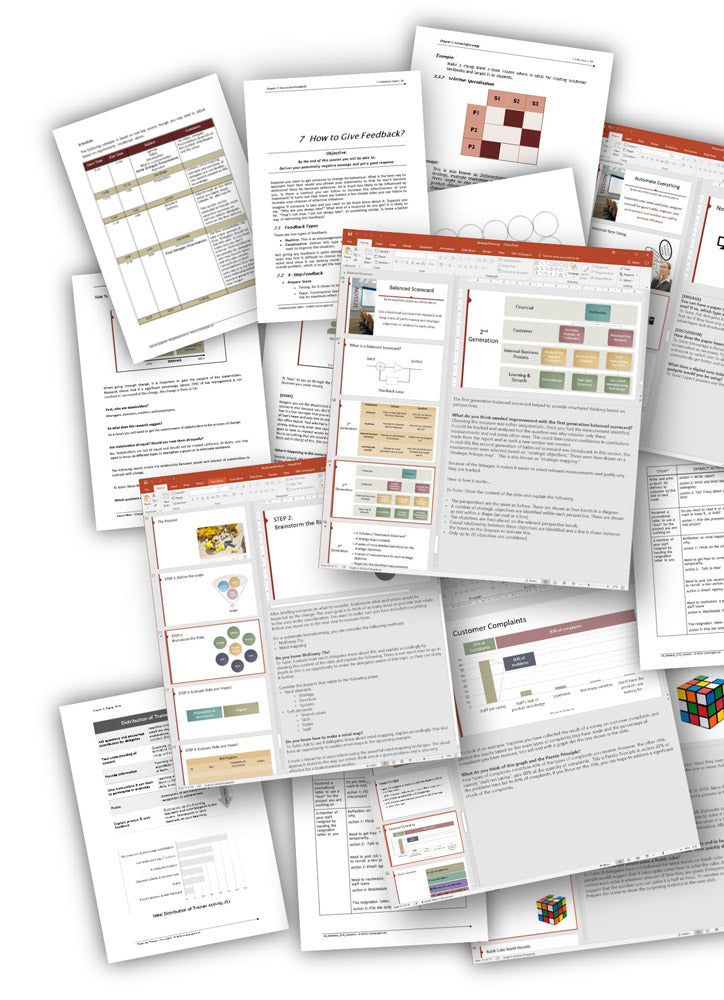 What Is Included
Everything you need to run the course:
Slides
Workbook
Exercises
Handouts
Trainer Notes
Specific Course Guidelines
Agenda
Guidelines on Training Methodology
Course Outline
Recommended Readings
Feedback Forms
Certificate of Achievement
Course Objectives
By the end of this course delegates will be able to:
Courseware Features
Buy & Download Training Materials
Choose your training materials
Add to shopping cart
Get multiple courses to get discounts and create tailored training
Pay using all major debit / credit cards, PayPal, Apple Pay and Google Pay.
After payment processing, you are redirected to a download page
You will also receive emails with download links
Unzip the package and access all the training resources in MS Office format
How to Get Training Packages
Editting
You can customise, edit and modify the content as you desire
Rights
Unlimited workbook reprinting rights
Comprehensive
The downloadable training package contains all you need to deliver a course
Extensively Researched
Designed based on the latest research in educational psychology, cognitive psychology, social sciences and business practices
Facilitation Training
Designed in line with the principles of accelerated learning

Interactive
Designed to include many examples, case studies and exercises to improve learning and retention
Download
Order online and download immediately after purchase
Source Files
Receive editable source files in MS Office 365 (Word DOC/DOCX and Power Point PPT/PPTX) and previous Office versions 2003, 2007, 2010, 2013 & 2016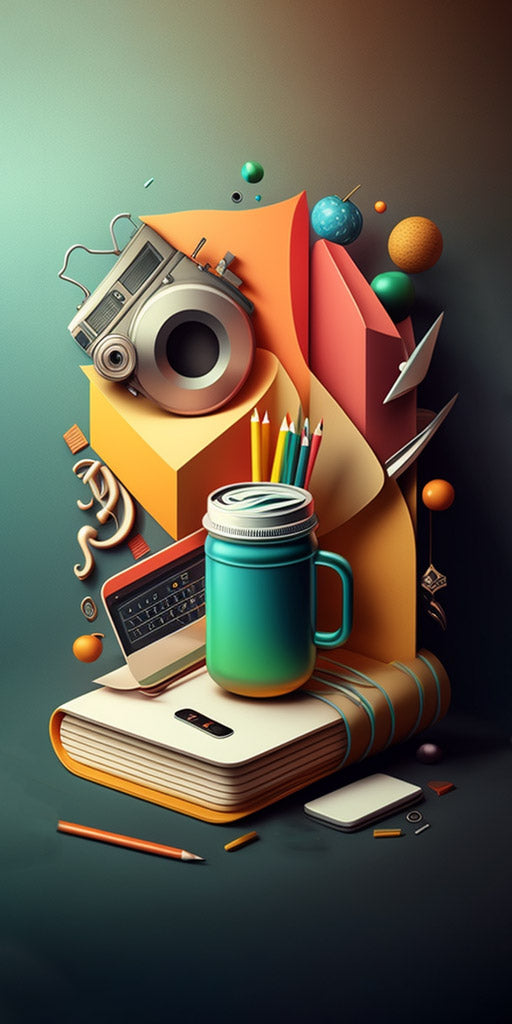 About the Design Philosophy of Problem Solving Course
100+ Countries
Used by Trainers Worldwide
Our mission is to help you deliver memorable courses with long lasting results, while taking the least amount of effort and time to run.
Save Time & Boost Training
Skills Converged is a unique company that provides professionally designed fully-customisable training course materials based on the latest research in learning & development. Courses are designed with attention to detail both on content and style so that you can deliver unique state-of-the-art courses to your clients and get maximum results.
For Trainers
Use ready-made modular courseware, tailor to your audience, respond to market quickly & effortlessly
For People Developers
Increase HR efficiency and save by supplying consistent professionally designed training materials to your trainers and help employees reach full potential