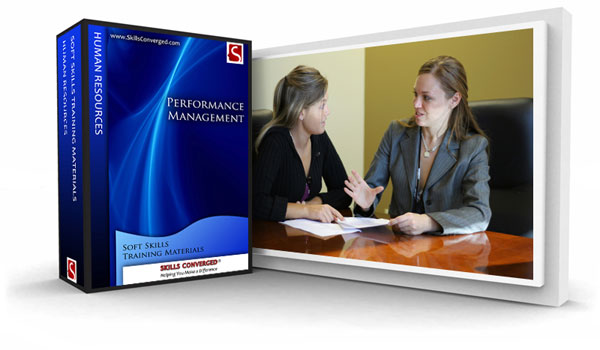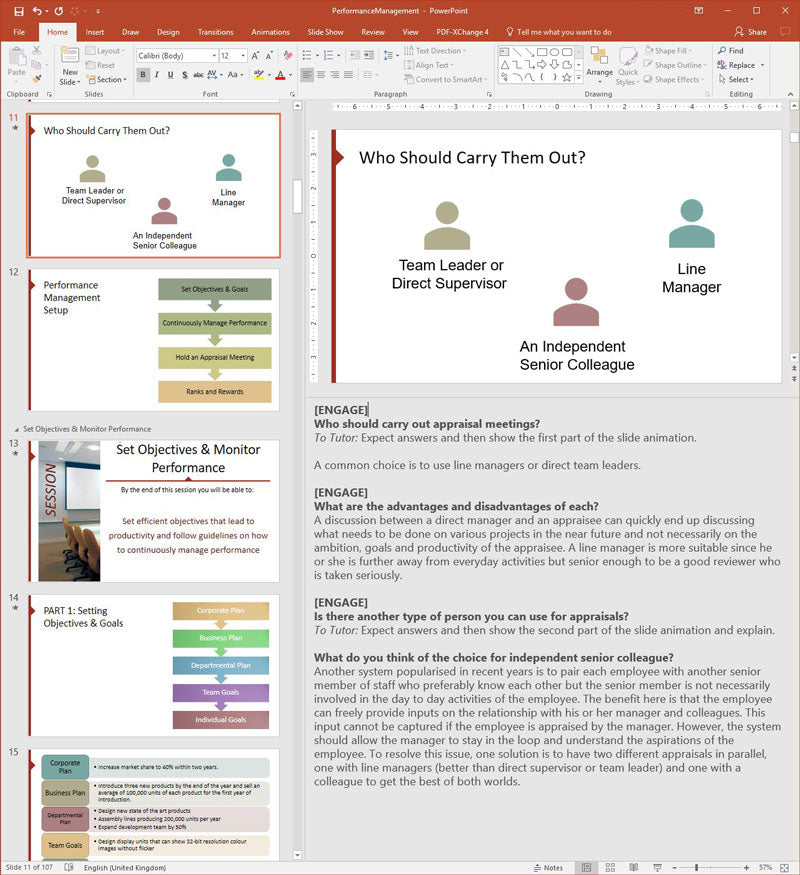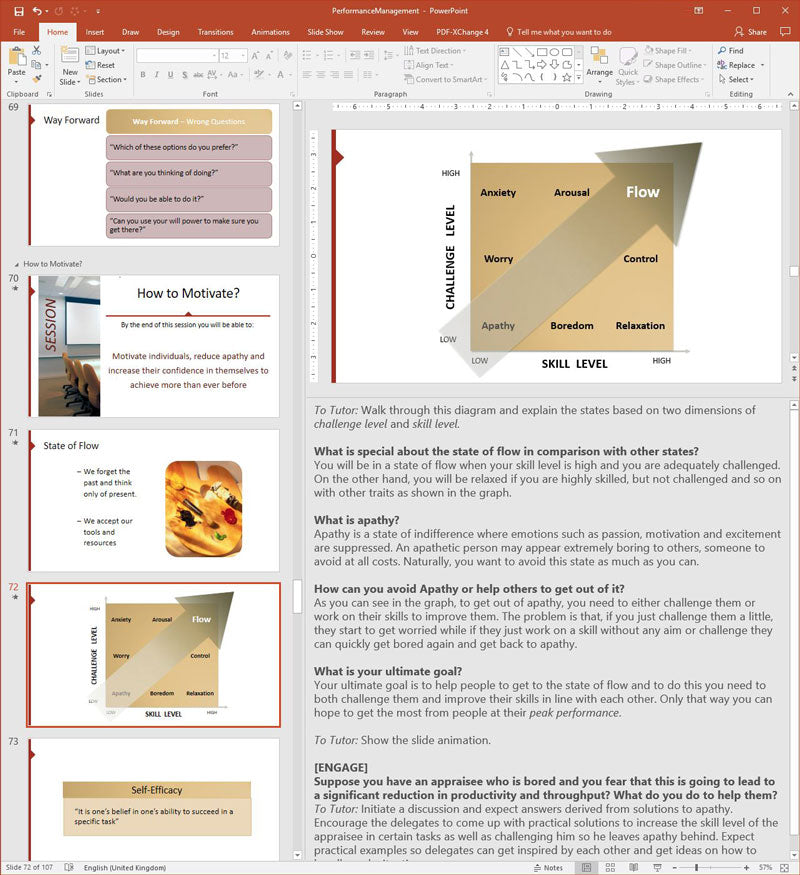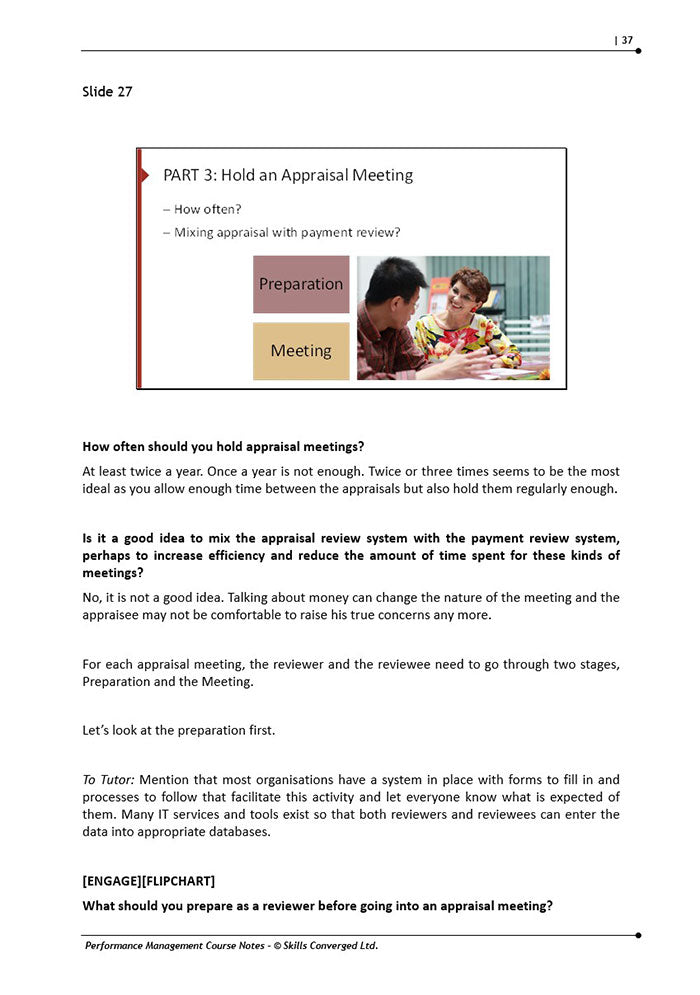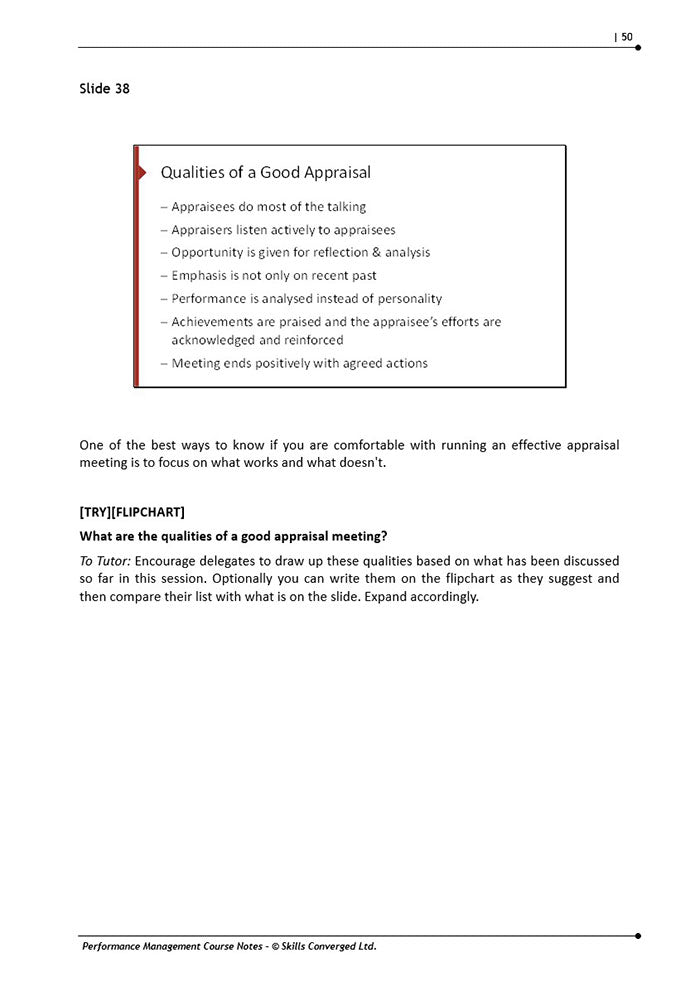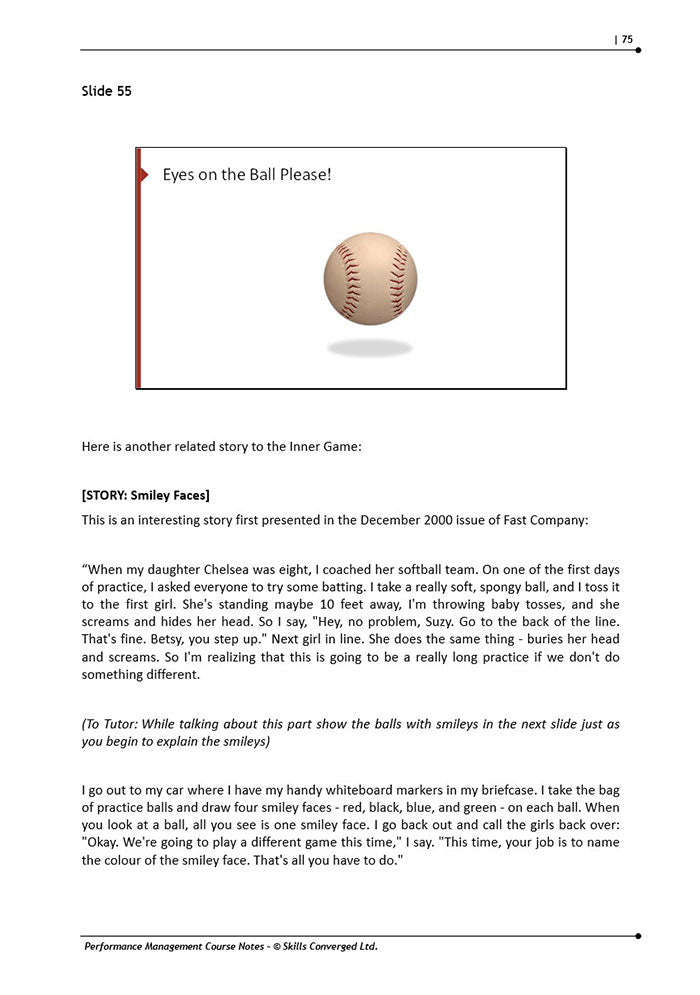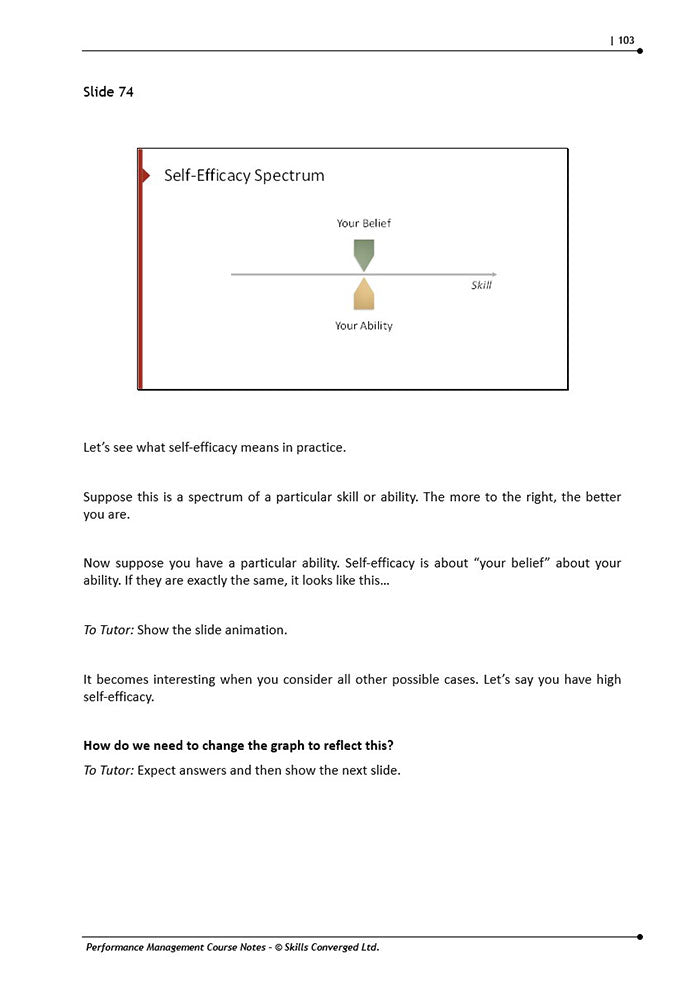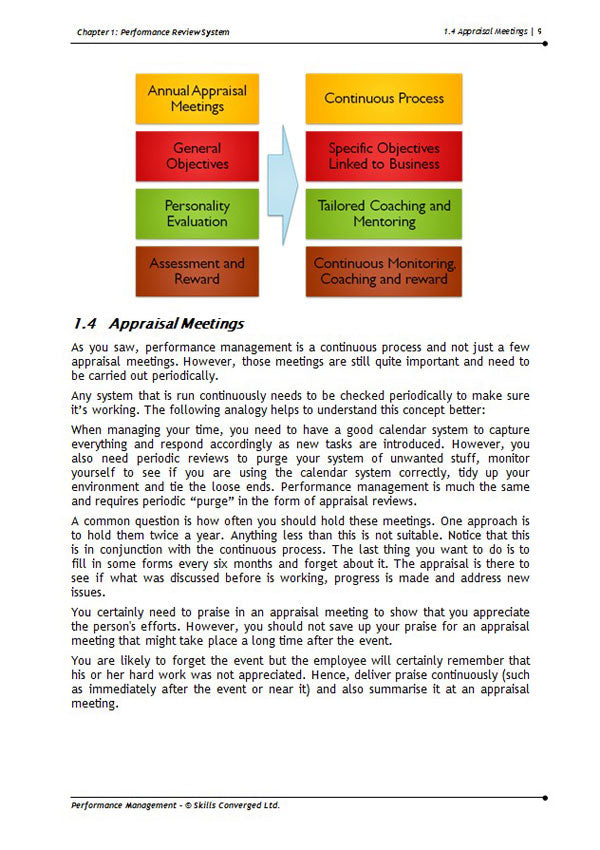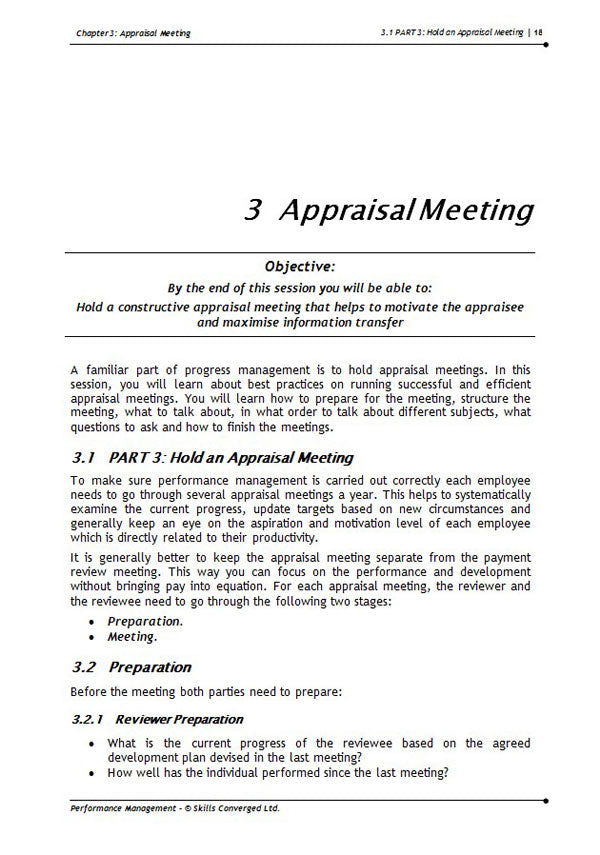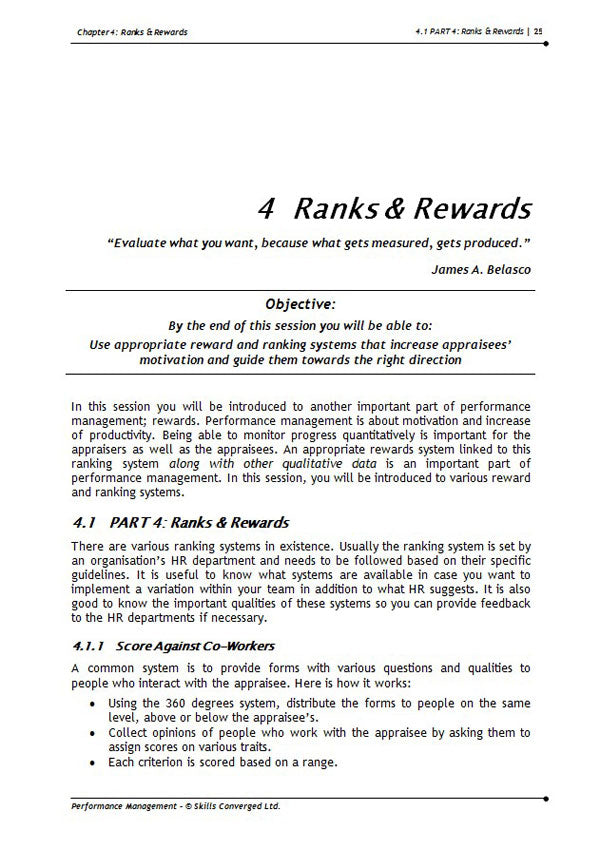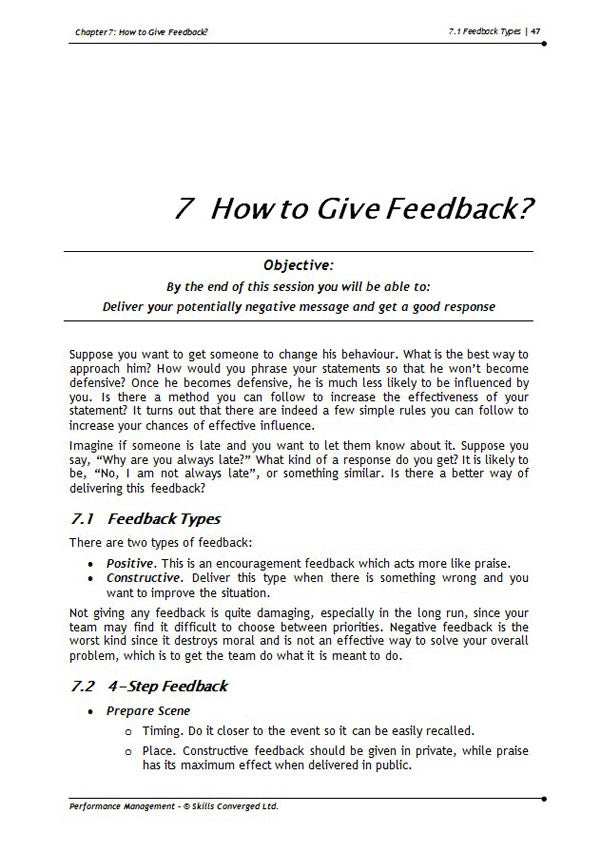 Performance Management
---
---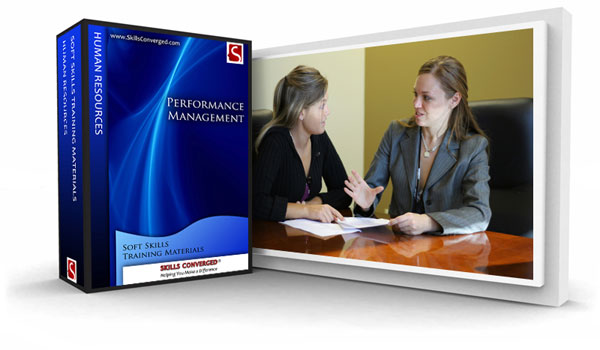 Course on Appraisal Meetings, Increasing Staff Productivity, Motivating, Coaching and Rewarding People
Fully Customisable Training Course Material
Description
"The gem cannot be polished without friction, nor man perfected without trials."

Chinese proverb
In today's competitive market, it is absolutely essential to systematically manage the performance of employees to make them as motivated and productive as possible. Any organisation that risks neglecting this important systematic review, is bound to fail when competing against those who use such optimisation.
It is well known that motivated staff not only work harder and longer, but are also much more likely to innovate and bring new ideas than others. Innovative companies are much more competitive and can handle bigger challenges swiftly and come out stronger than their competitors.
To create a productive atmosphere, an organisation simply needs to respond to the needs of its staff. Understating what motivates employees and aligning it with organisation's objectives is the essence of an effective performance management system. This system requires HR support, periodic appraisals and constructive coaching sessions.
In this course, delegates learn how to perform the role of an appraiser or a coach who needs to interact with employees, co-workers, team member or others to provide feedback to them. This role can be assigned to anyone including team leaders, managers, supervisors, colleagues or ever staff from other departments. Whatever the role of an appraiser, this course prepares them to provide continuous and periodic feedback to appraisees. Continuous feedback is provided through regular coaching and mentoring sessions while periodic feedback is provided through appraisal meetings. Delegates learn how to ask the right questions, help appraisees to set goals and targets, how to motivate them, how to deliver difficult messages and in short how to help them to increase their productivity.
The course is divided to various distinct sessions where delegates learn the specific skills and get to practice each skill in carefully designed exercises.
In this highly practical course delegates will learn:
Performance Management
What is performance management?
What is the difference between modern and traditional methods and why this matters?
What is involved in a performance management system?
What should an appraiser do?
What is 360 degrees feedback program and how can it help?
Appraisal Meetings
How to hold an appraisal meeting
How to prepare for the meeting as an appraiser or appraisee
How to structure the meeting
What to talk about at the meeting?
What is the preferred order of topics to go through in an appraisal meeting?
How to encourage openness
What types of questions work best in an appraisal meeting?
Goal Setting
How to set useful goals
How to motivate an employee to follow and reach his goals
How to avoid setting bad objectives
How to make sure performance targets are consistent with business objectives
What is KPI and how does it relate to performance management?
How to reduce apathy and encourage individuals to reach peak performance
How to influence individuals by modifying their thought patterns using the latest research in behavioural psychology
Rewards
What reward systems help to boost staff's performance?
How to rank employees against their colleagues and co-workers
How can ranking systems fail and what should you be aware of in the context of performance management?
Coaching
What is the best way to coach?
What are the principles of learning?
What is the best way to coach individuals?
How should you formulate your sentences to have maximum effect in a coaching session?
Communication Skills
How to provide constructive feedback
How to deliver praise
How to provide feedback on difficult situations
How to systematically help individuals to become aware of what others think of them and how they can reflect on this to improve their performance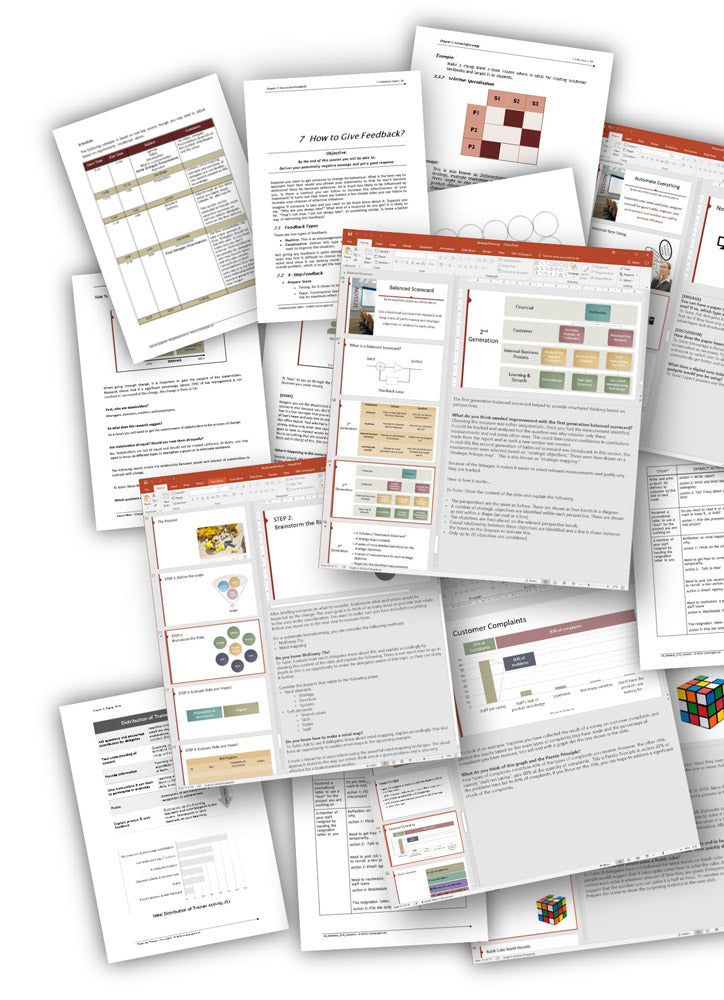 What Is Included
Everything you need to run the course:
Slides
Workbook
Exercises
Handouts
Trainer Notes
Specific Course Guidelines
Agenda
Guidelines on Training Methodology
Course Outline
Recommended Readings
Feedback Forms
Certificate of Achievement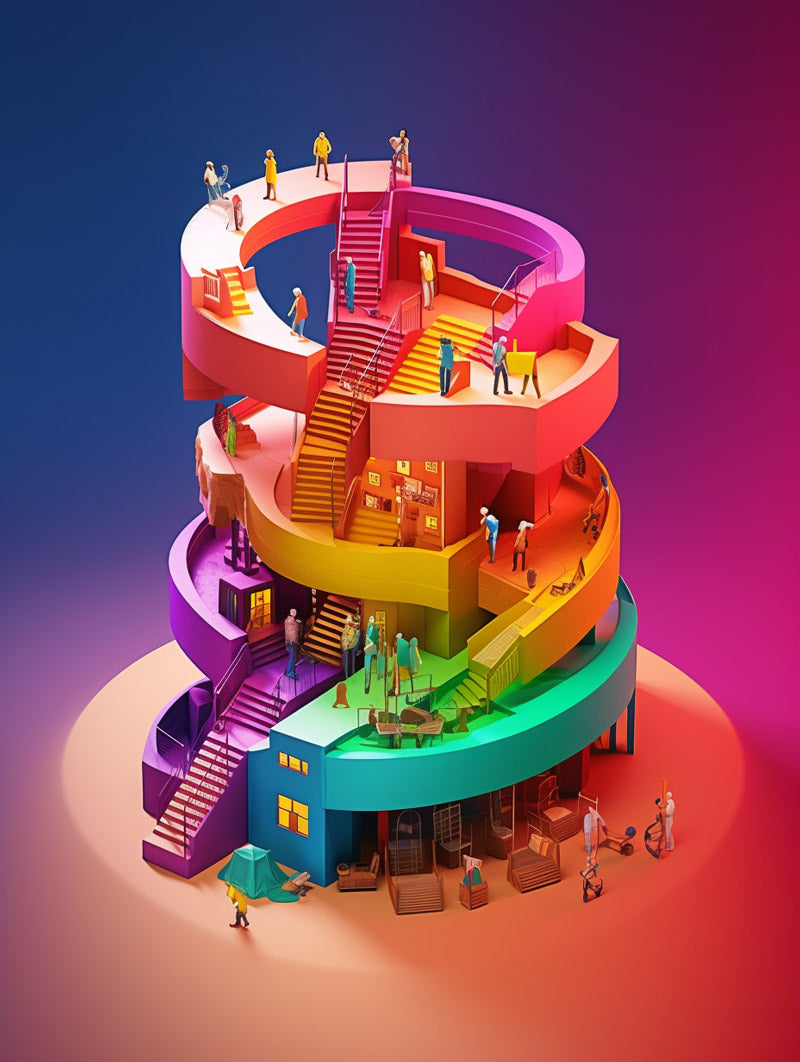 Course Objectives
By the end of this course delegates will be able to:
Courseware Features
Buy & Download Training Materials
Choose your training materials
Add to shopping cart
Get multiple courses to get discounts and create tailored training
Pay using all major debit / credit cards, PayPal, Apple Pay and Google Pay.
After payment processing, you are redirected to a download page
You will also receive emails with download links
Unzip the package and access all the training resources in MS Office format
How to Get Training Packages
Editting
You can customise, edit and modify the content as you desire
Rights
Unlimited workbook reprinting rights
Comprehensive
The downloadable training package contains all you need to deliver a course
Extensively Researched
Designed based on the latest research in educational psychology, cognitive psychology, social sciences and business practices
Facilitation Training
Designed in line with the principles of accelerated learning

Interactive
Designed to include many examples, case studies and exercises to improve learning and retention
Download
Order online and download immediately after purchase
Source Files
Receive editable source files in MS Office 365 (Word DOC/DOCX and Power Point PPT/PPTX) and previous Office versions 2003, 2007, 2010, 2013 & 2016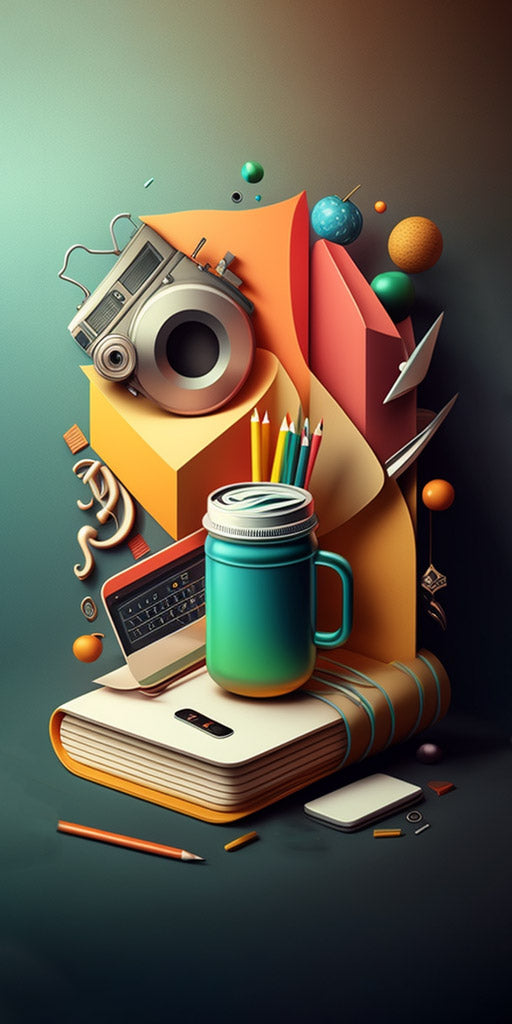 About the Design Philosophy of Performance Management Course
100+ Countries
Used by Trainers Worldwide
Our mission is to help you deliver memorable courses with long lasting results, while taking the least amount of effort and time to run.
Save Time & Boost Training
Skills Converged is a unique company that provides professionally designed fully-customisable training course materials based on the latest research in learning & development. Courses are designed with attention to detail both on content and style so that you can deliver unique state-of-the-art courses to your clients and get maximum results.
For Trainers
Use ready-made modular courseware, tailor to your audience, respond to market quickly & effortlessly
For People Developers
Increase HR efficiency and save by supplying consistent professionally designed training materials to your trainers and help employees reach full potential