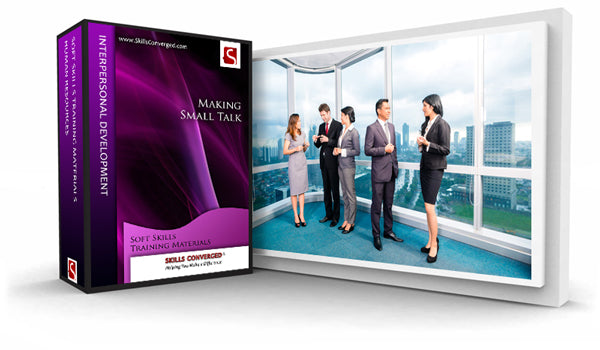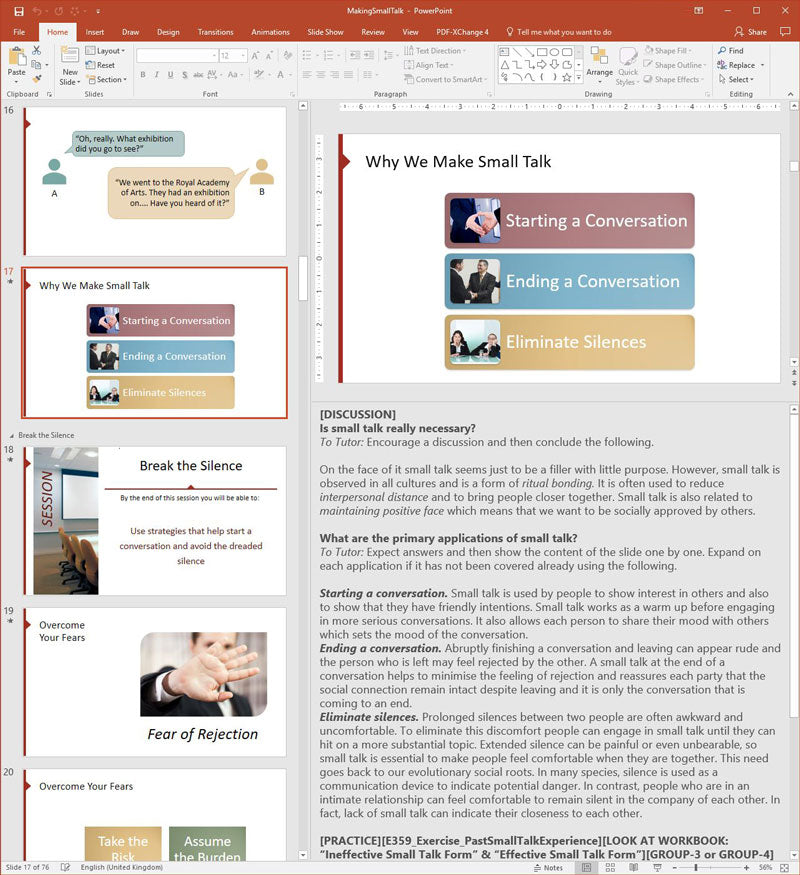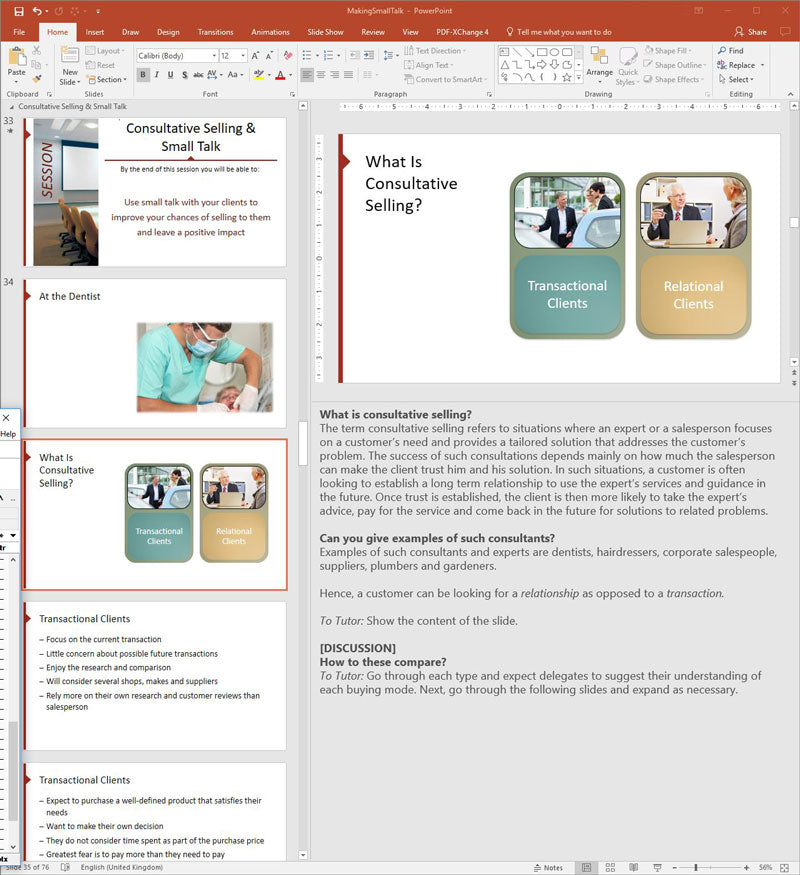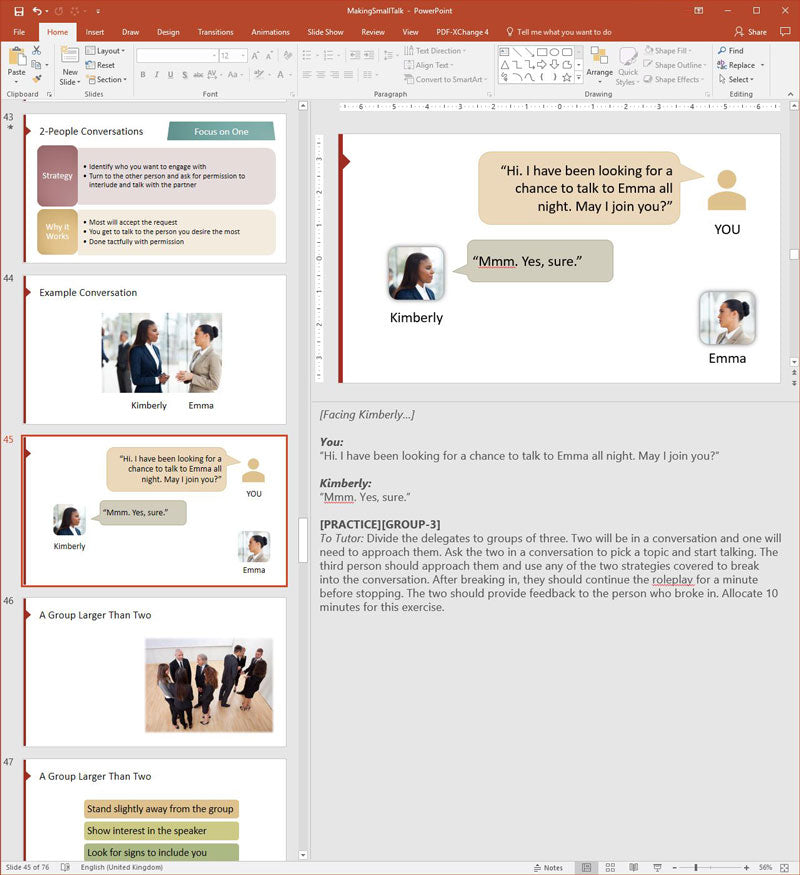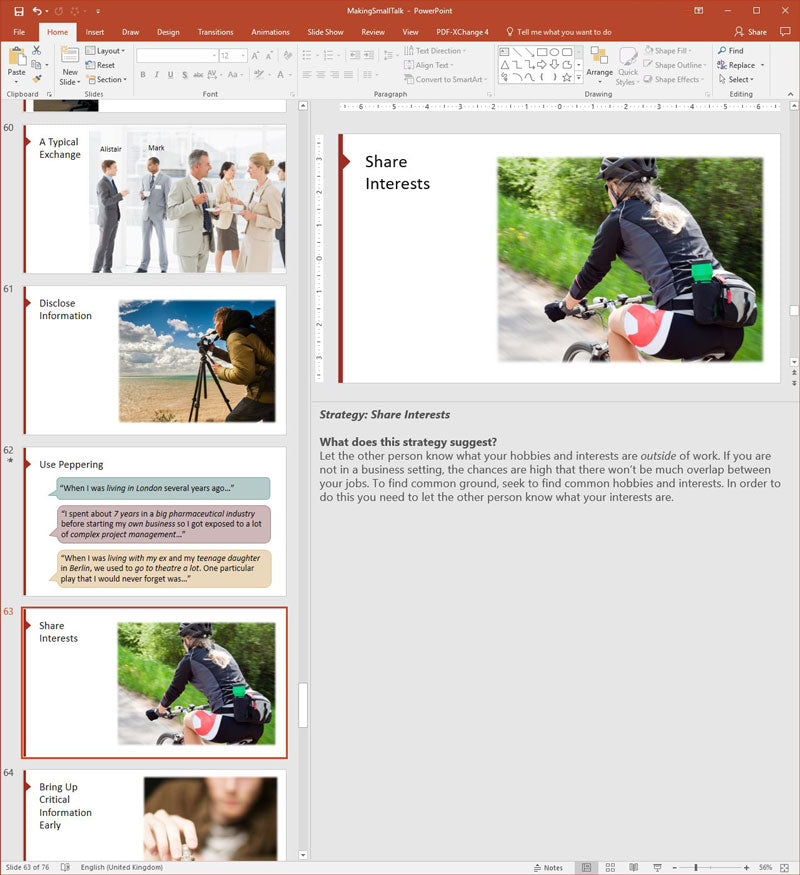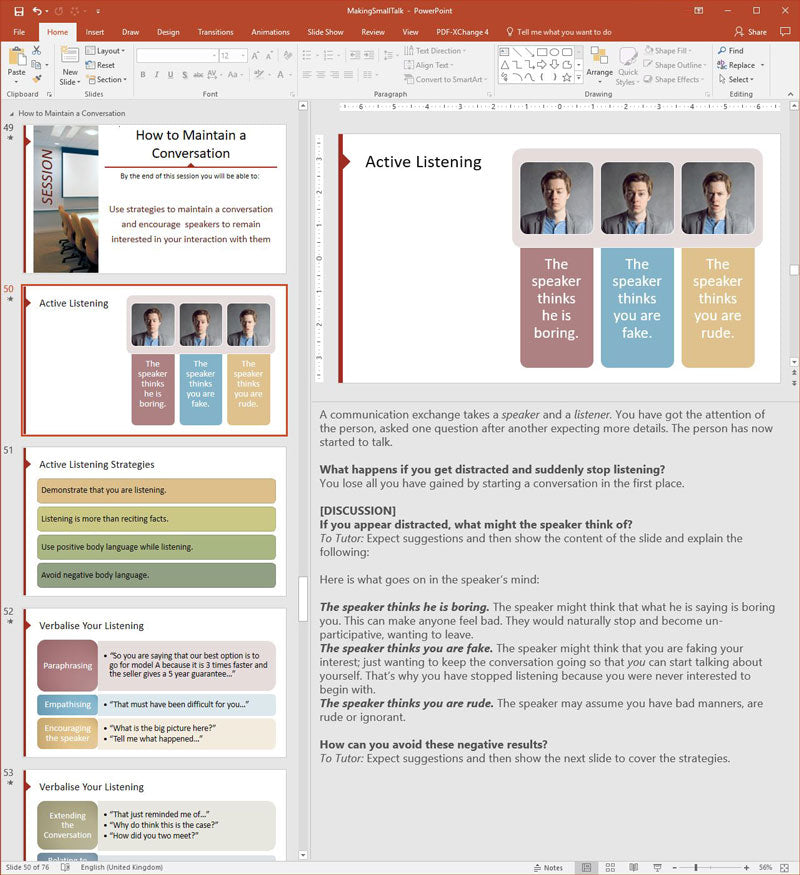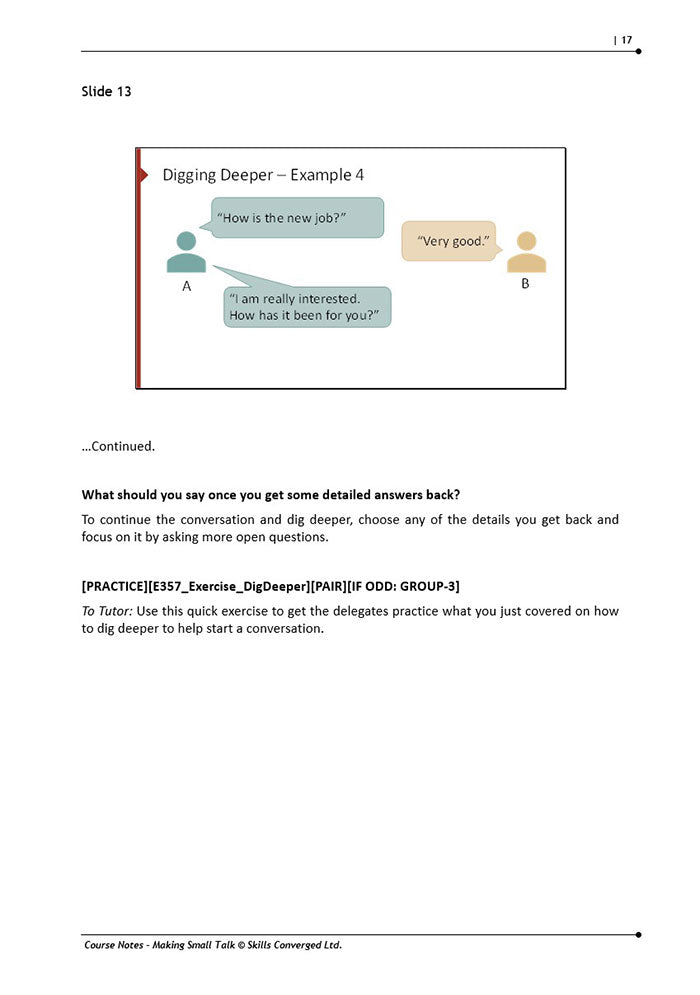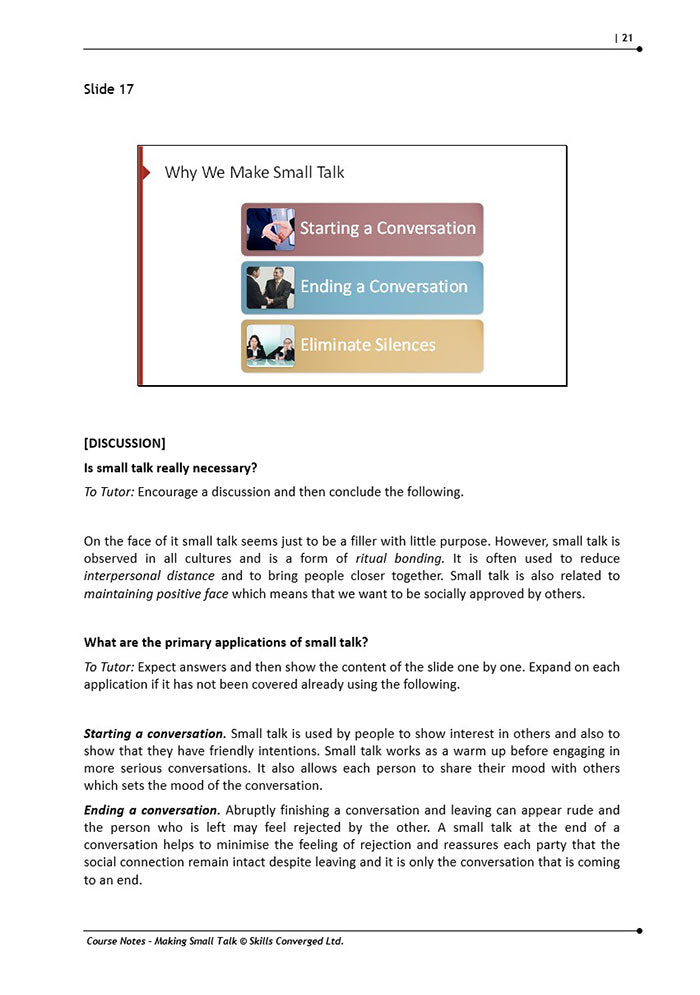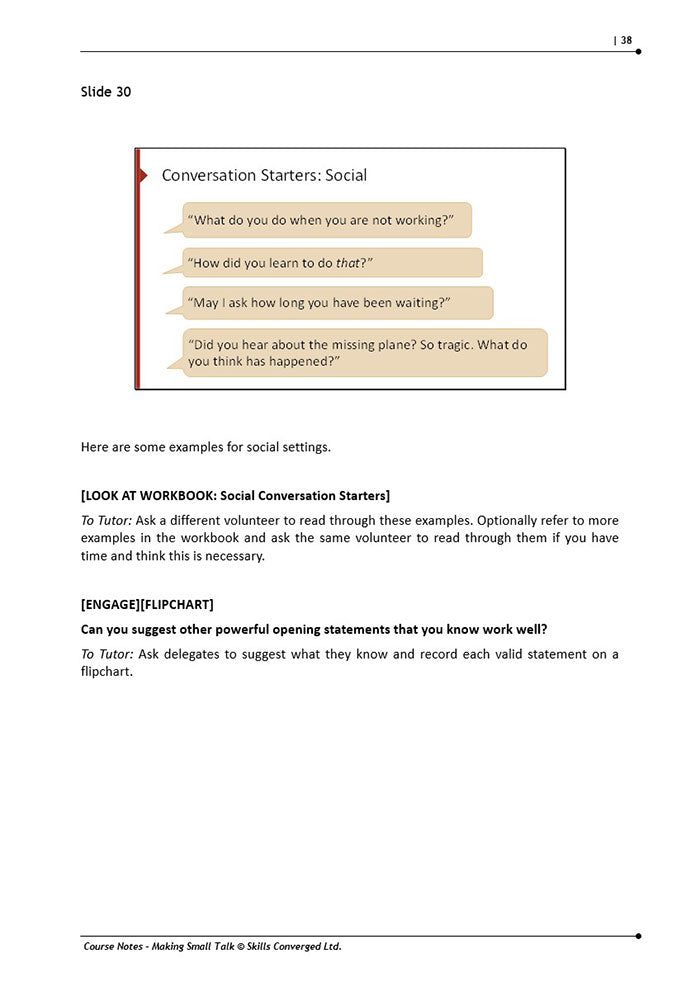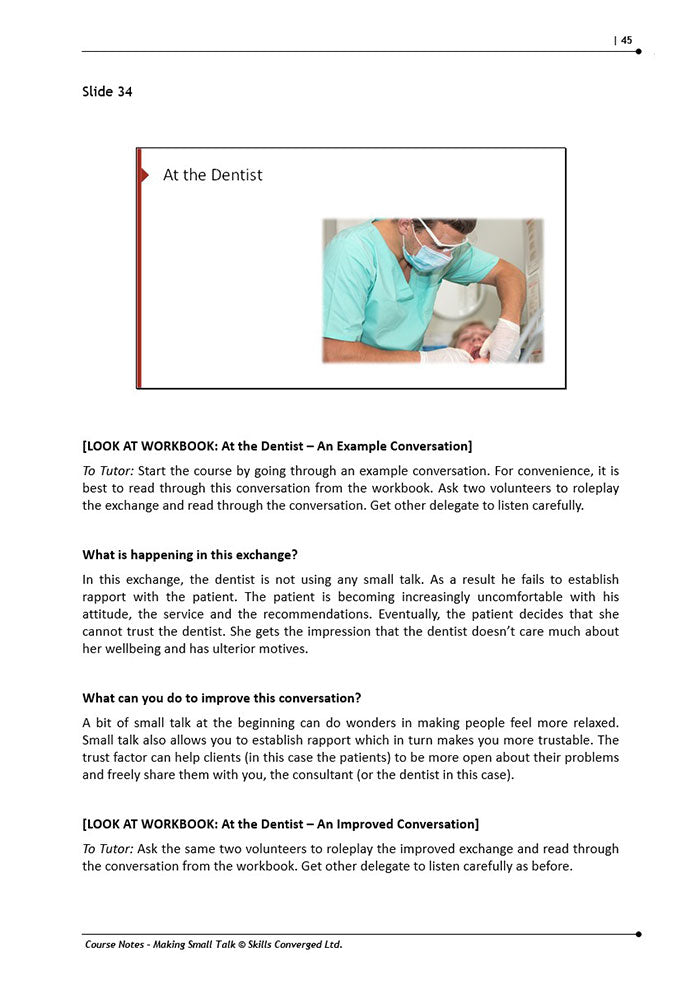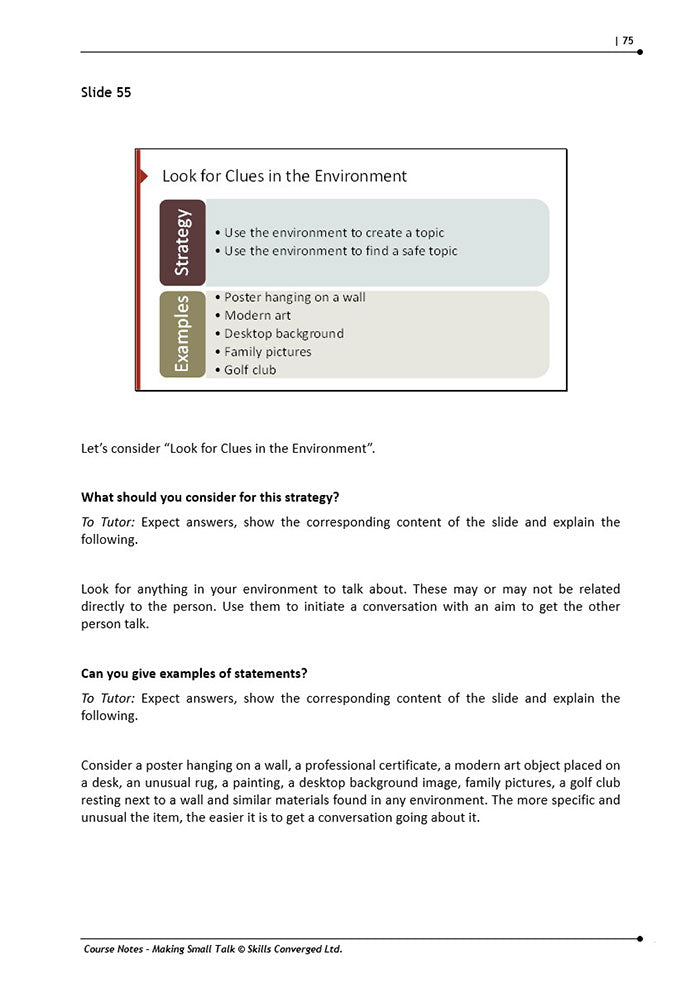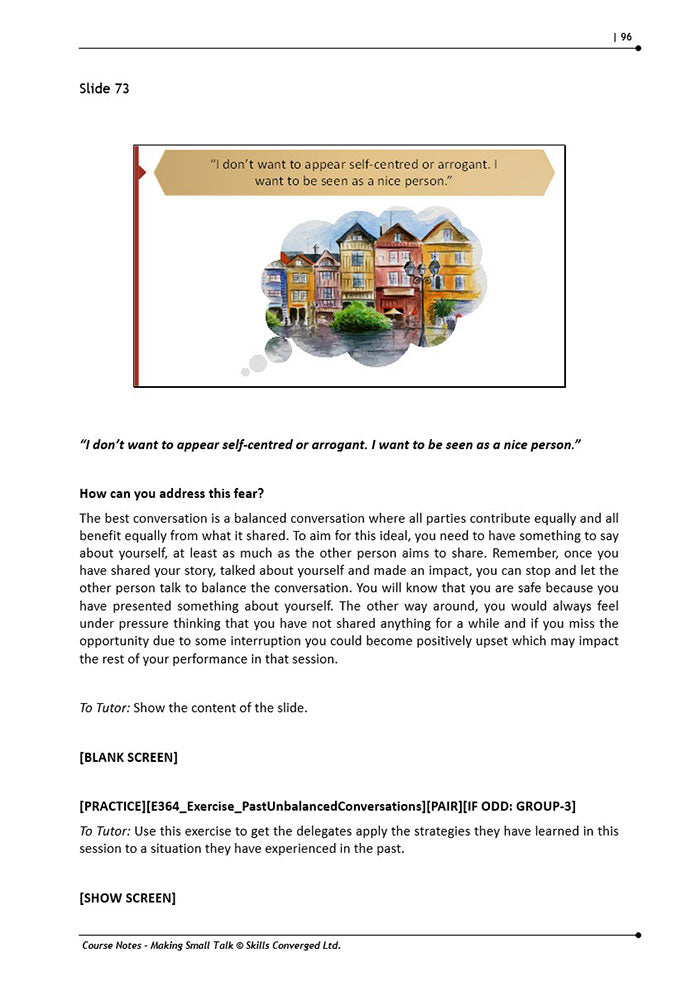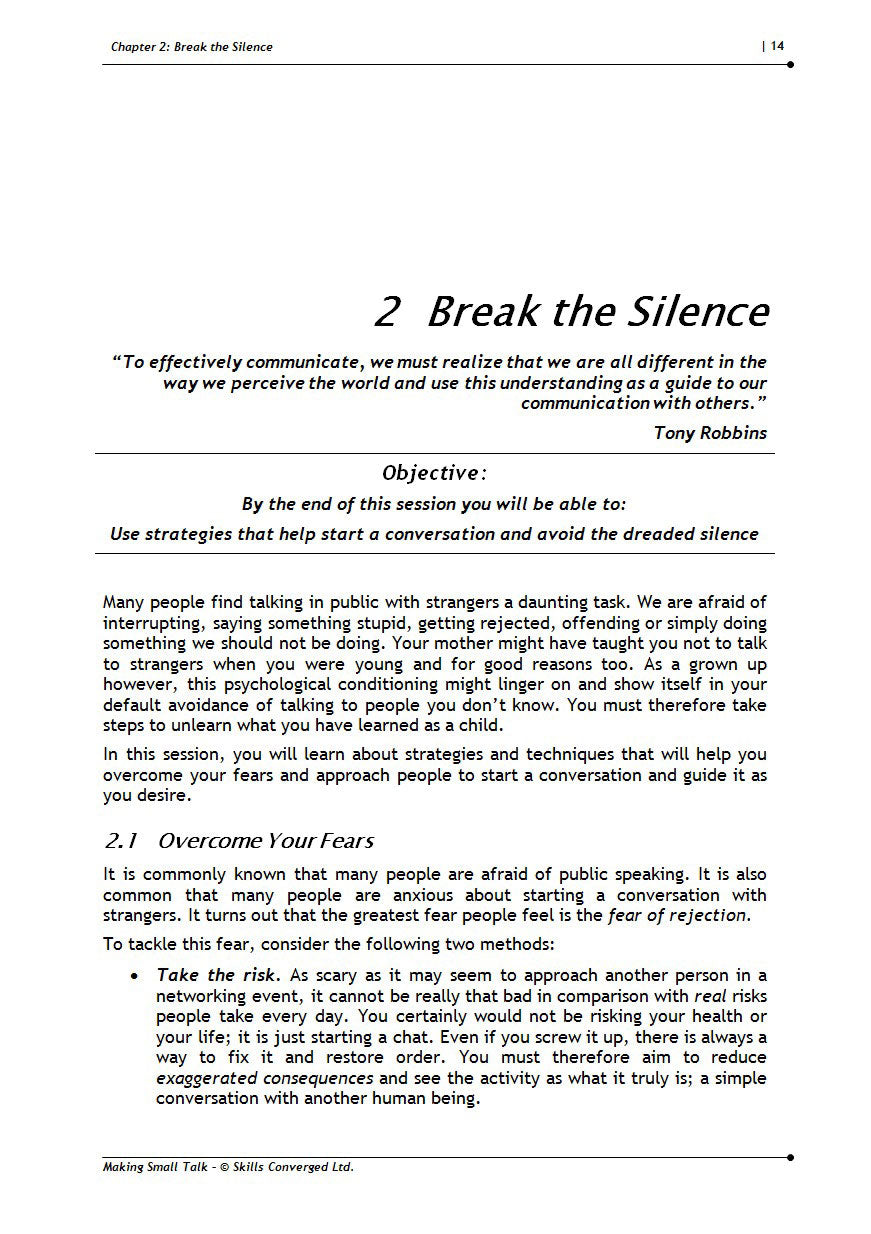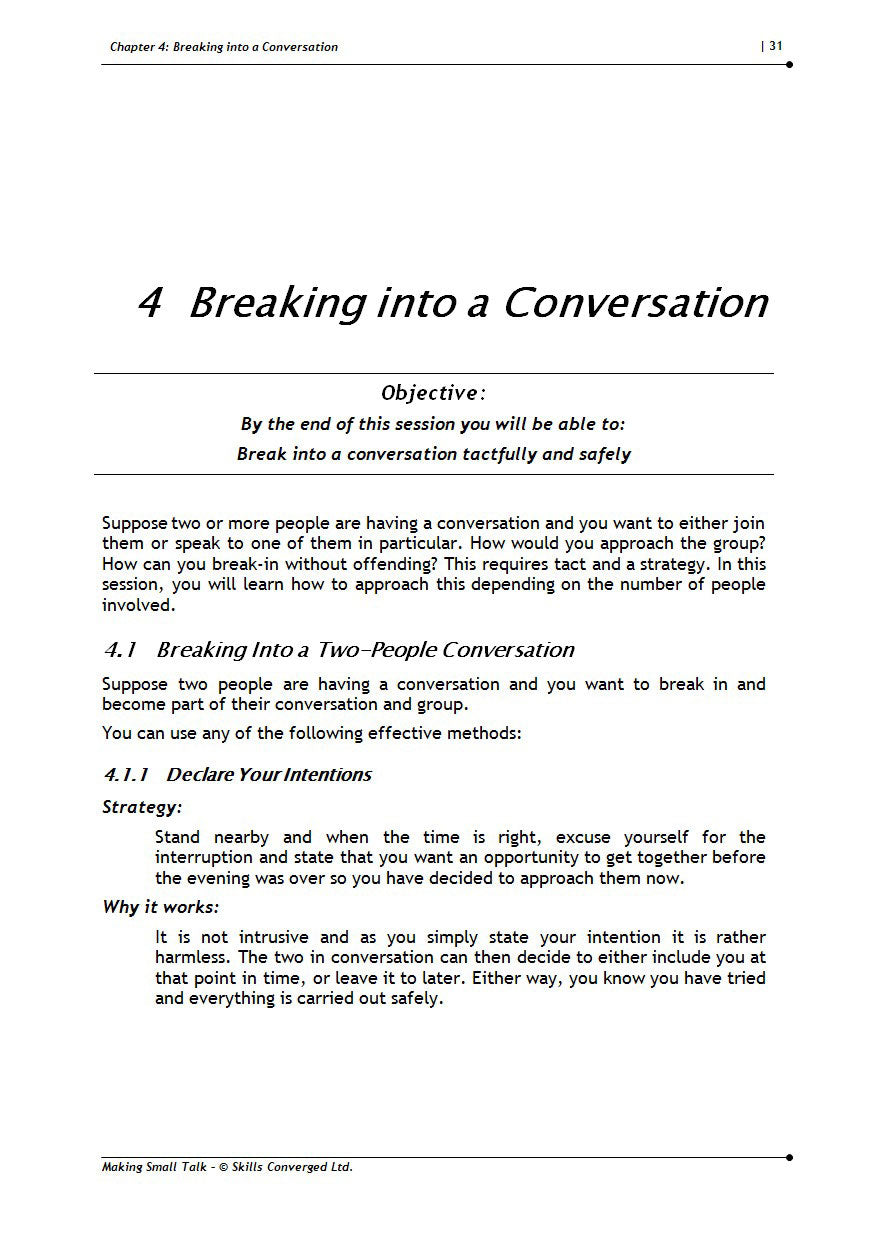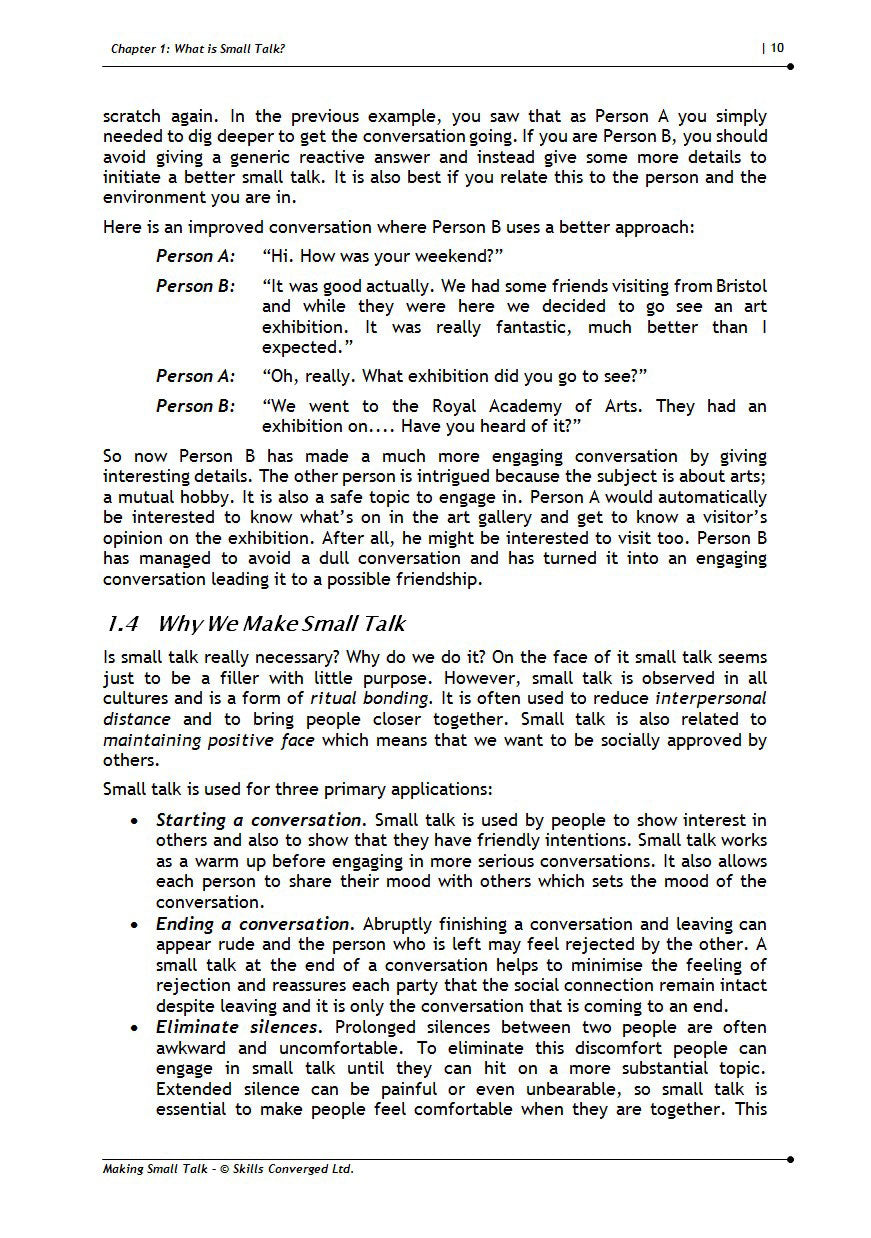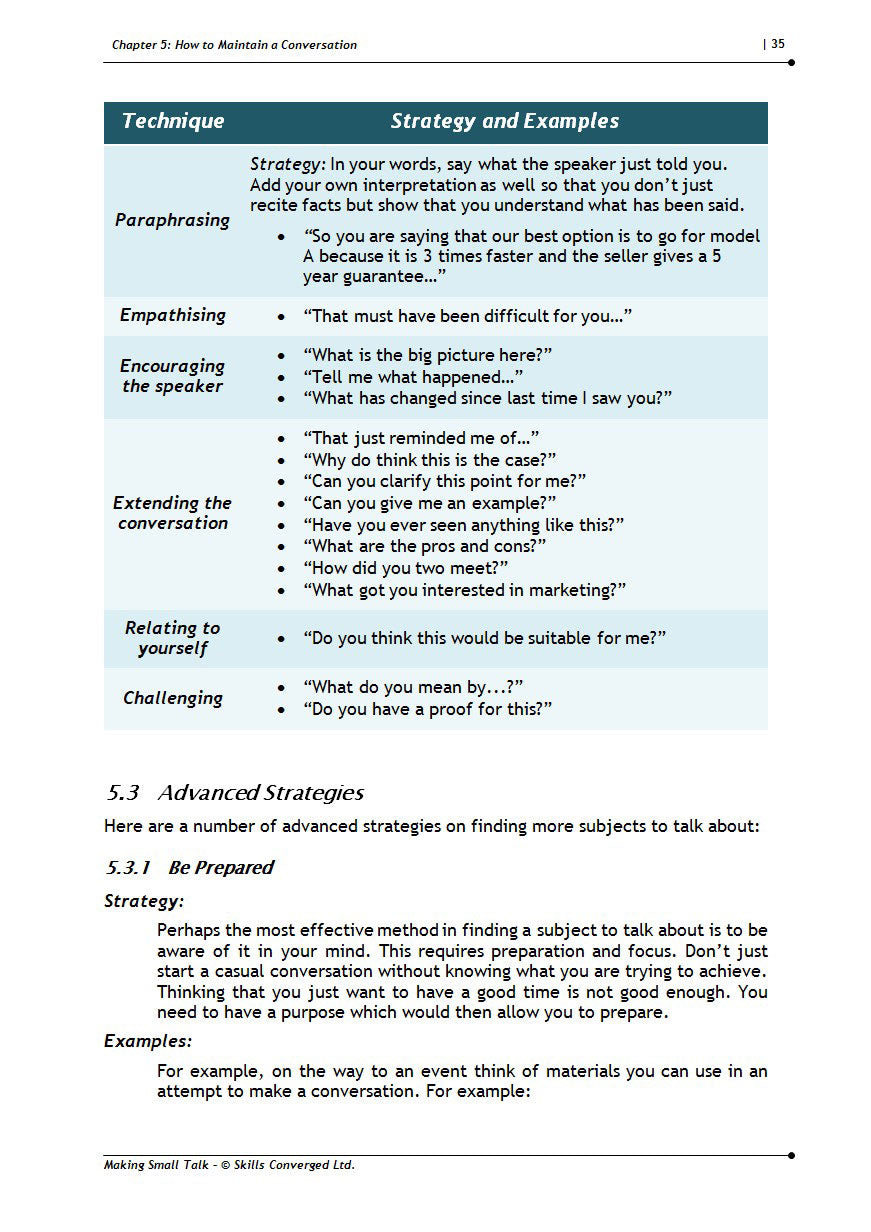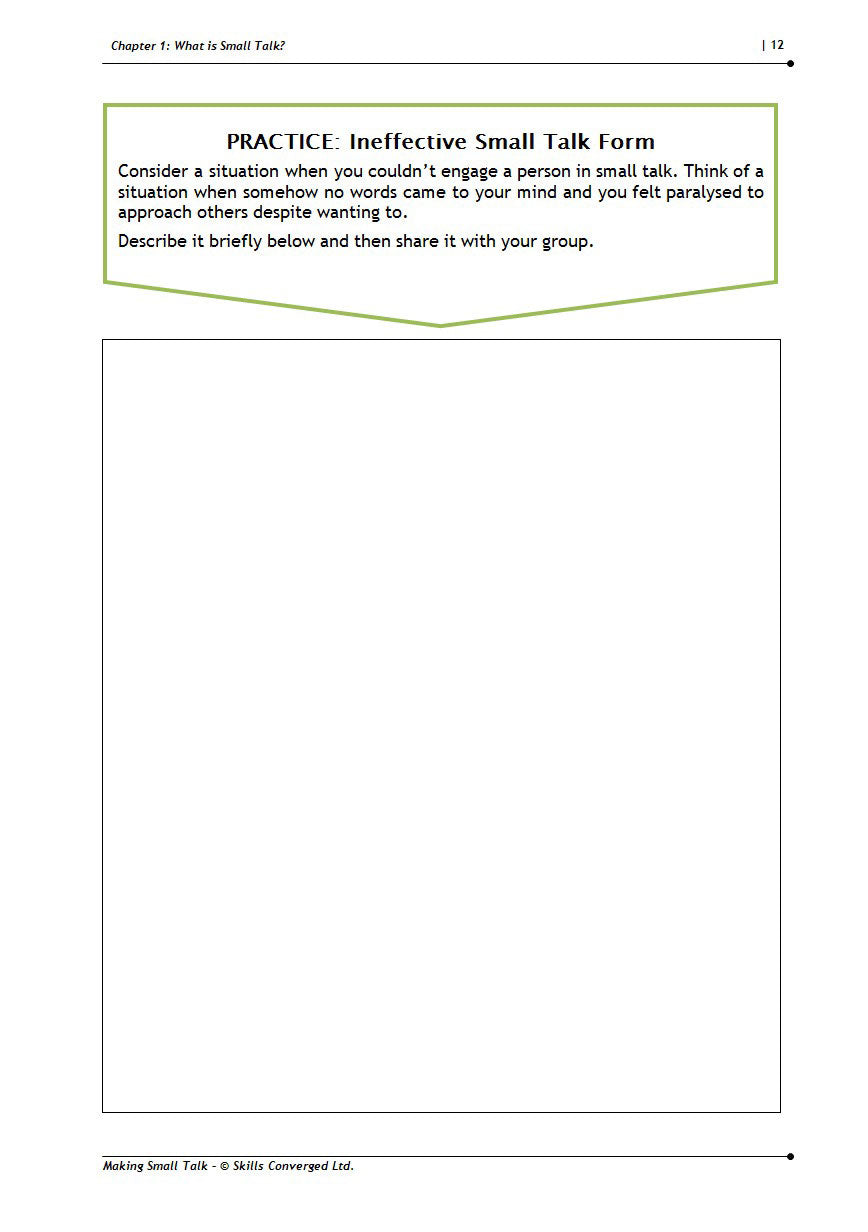 Making Small Talk
---
---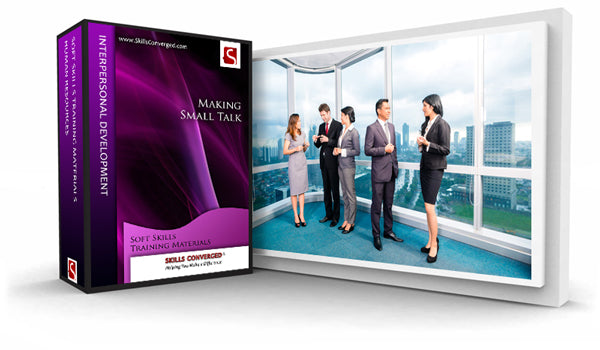 Course on How to Initiate and Maintain Effective Conversations
Fully Customisable Training Course Material
Description
"Conversation should be pleasant without scurrility, witty without affection, free without indecency, learned without conceitedness, novel without falsehood."

William Shakespeare
We all desire to communicate with others. This need for social connection is embedded in our genes and is universal among all cultures. Yet, many people consider approaching strangers a daunting task. Why should it be difficult to approach others when this is such an obvious need?
Suppose you are attending a business networking event and need to connect with others. Most people know the incredible value of such connections and how it can help them with their businesses, personal branding, networking and gaining recognition in their respective communities. Yet, most also find it difficult to approach others in such events, perhaps feeling shy, unsure of what to say, how to initiate or maintain a conversation or how to approach a group. Many may simply prefer to hang around until someone else approaches them which mean they lose control over who they communicate with or may even end up not communicating at all. This in turn can have a negative effect on self-esteem leading to self-fulfilling prophesies that one is simply not good enough in socialising.
In non-business social settings, you may want to approach others to engage in a conversation and share something about your life and learn something about theirs. In order to be remembered, you need to leave a positive impression; but how can you achieve this quickly and effectively?
This course helps delegates learn the art of small talk to address all such situations. It provides numerous strategies, techniques and examples on what works and what does not so delegates can clearly see what to do and say in a given situation.
The power of this course lies in the interactive exercises since there is nothing better than learning such skill than practicing it with other people. Through numerous exercises delegates go through a number of structured and simulated activities that will help them converse with each other and learn how to make small talk. No amount of reading, watching videos or even e-learning solutions can be a substitute for a training based on exercises with people in person and in realistic situations. The exercise also allows the tutor as well as the delegates to provide specific feedback which will quickly help people to learn what to say and what to avoid.
The course is designed to cater for both social and business settings covering universal strategies that are known to help with connecting to people, increasing engagement and establishing rapport.
The course comes with a comprehensive workbook with example conversations that delegates can easily refer to after the course for reference. The training materials also include exercises and instructions on how run them efficiently.
In this highly practical course participants will learn:
What Is Small Talk?
Why some attempts in starting conversations fail?
Why mastering small talk is important?
What should you avoid when starting conversations?
How to Break the Silence
Why silence can be bad?
What stops you from breaking the silence?
How can you overcome your fears to break the silence?
What strategies can you employ to approach a person to talk to?
What kinds of information should you exchange in the initial parts of a conversation with a stranger?
What strategies will help you kick-start a conversation?
What statements are useful at the beginning of a conversation?
Consultative Selling and Small Talk
What is consultative selling?
How can you benefit from small talk during consultative selling?
What are two primary buying and selling modes?
How does buying and selling mode relate to small talk?
How to Break into a Conversation
How can you break into a 2-person conversation?
How can you break into a conversation among 3 or more people?
How to Maintain a Conversation
How to use active listening to maintain a conversation
How can you demonstrate that you are actually listening?
What methods can you use to encourage a speaker to continue with a conversation?
How to Improve Your Small Talk Performance
What strategies can you use to improve your small talk performance?
Why people remain quiet and how can you address it?
How to use small talk to increase your personal impact
How to leave a lasting positive impression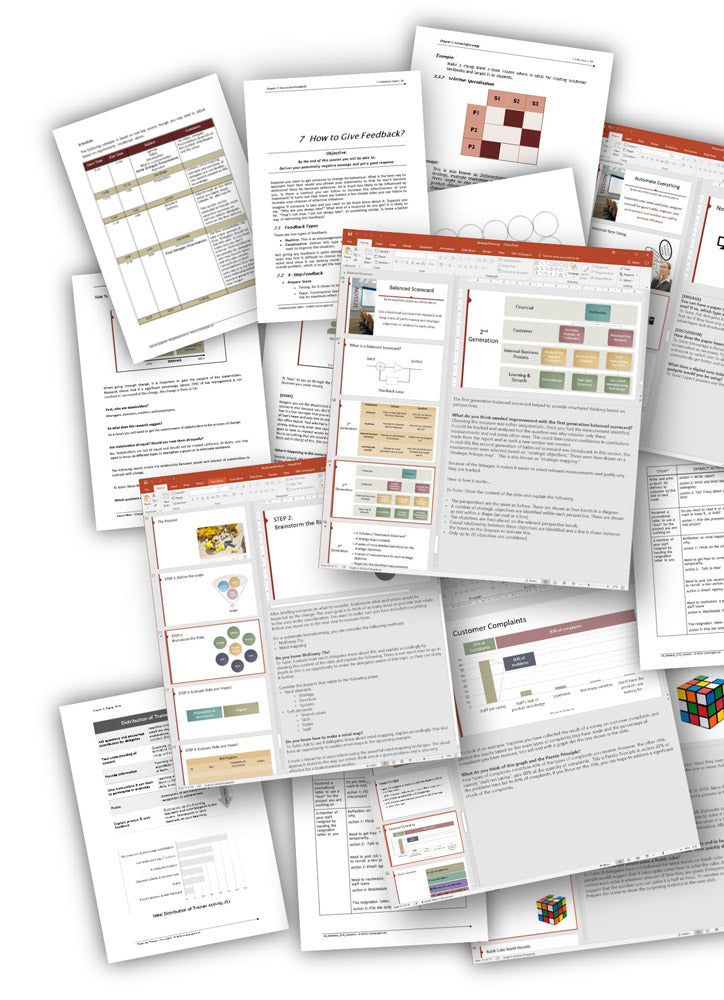 What Is Included
Everything you need to run the course:
Slides
Workbook
Exercises
Handouts
Trainer Notes
Specific Course Guidelines
Agenda
Guidelines on Training Methodology
Course Outline
Recommended Readings
Feedback Forms
Certificate of Achievement
Course Objectives
By the end of this course delegates will be able to:
Courseware Features
Buy & Download Training Materials
Choose your training materials
Add to shopping cart
Get multiple courses to get discounts and create tailored training
Pay using all major debit / credit cards, PayPal, Apple Pay and Google Pay.
After payment processing, you are redirected to a download page
You will also receive emails with download links
Unzip the package and access all the training resources in MS Office format
How to Get Training Packages
Editting
You can customise, edit and modify the content as you desire
Rights
Unlimited workbook reprinting rights
Comprehensive
The downloadable training package contains all you need to deliver a course
Extensively Researched
Designed based on the latest research in educational psychology, cognitive psychology, social sciences and business practices
Facilitation Training
Designed in line with the principles of accelerated learning

Interactive
Designed to include many examples, case studies and exercises to improve learning and retention
Download
Order online and download immediately after purchase
Source Files
Receive editable source files in MS Office 365 (Word DOC/DOCX and Power Point PPT/PPTX) and previous Office versions 2003, 2007, 2010, 2013 & 2016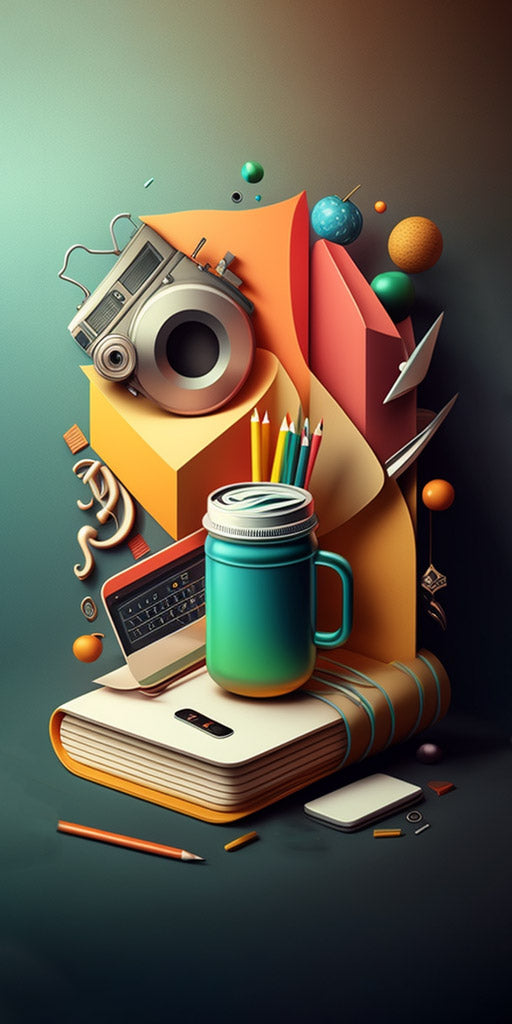 About the Design Philosophy of Making Small Talk Course
100+ Countries
Used by Trainers Worldwide
Our mission is to help you deliver memorable courses with long lasting results, while taking the least amount of effort and time to run.
Save Time & Boost Training
Skills Converged is a unique company that provides professionally designed fully-customisable training course materials based on the latest research in learning & development. Courses are designed with attention to detail both on content and style so that you can deliver unique state-of-the-art courses to your clients and get maximum results.
For Trainers
Use ready-made modular courseware, tailor to your audience, respond to market quickly & effortlessly
For People Developers
Increase HR efficiency and save by supplying consistent professionally designed training materials to your trainers and help employees reach full potential