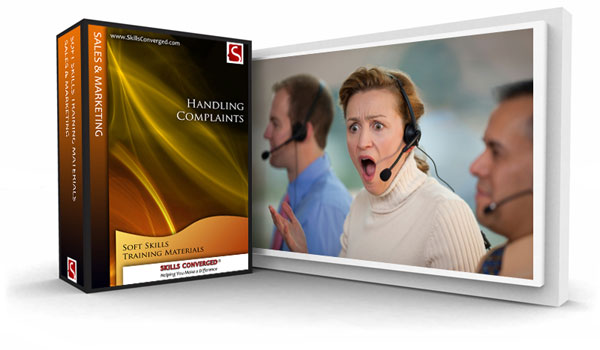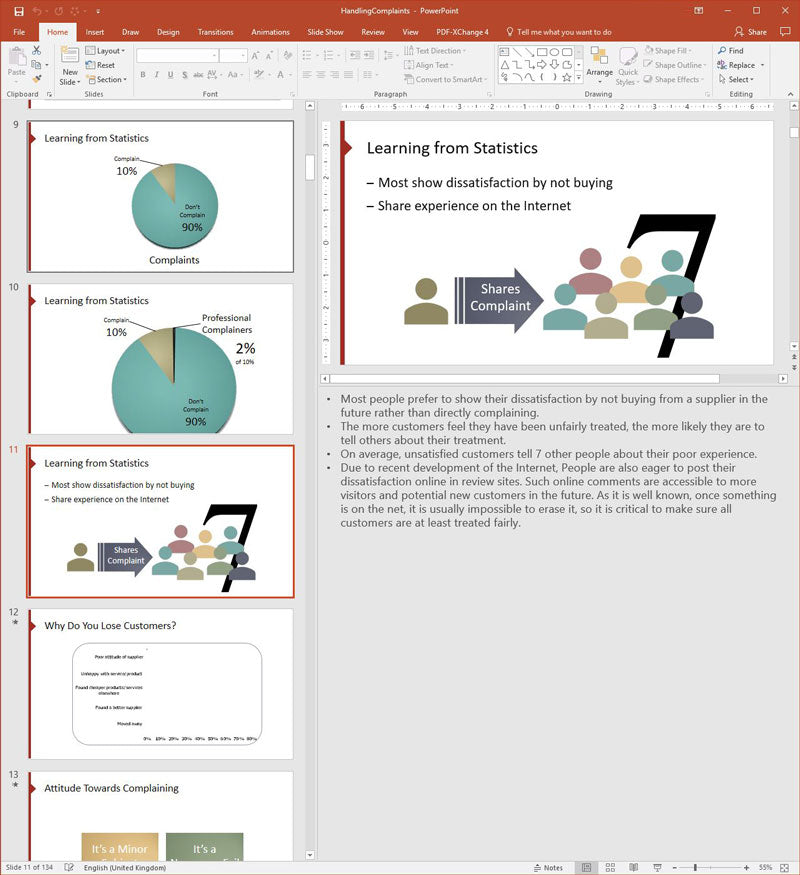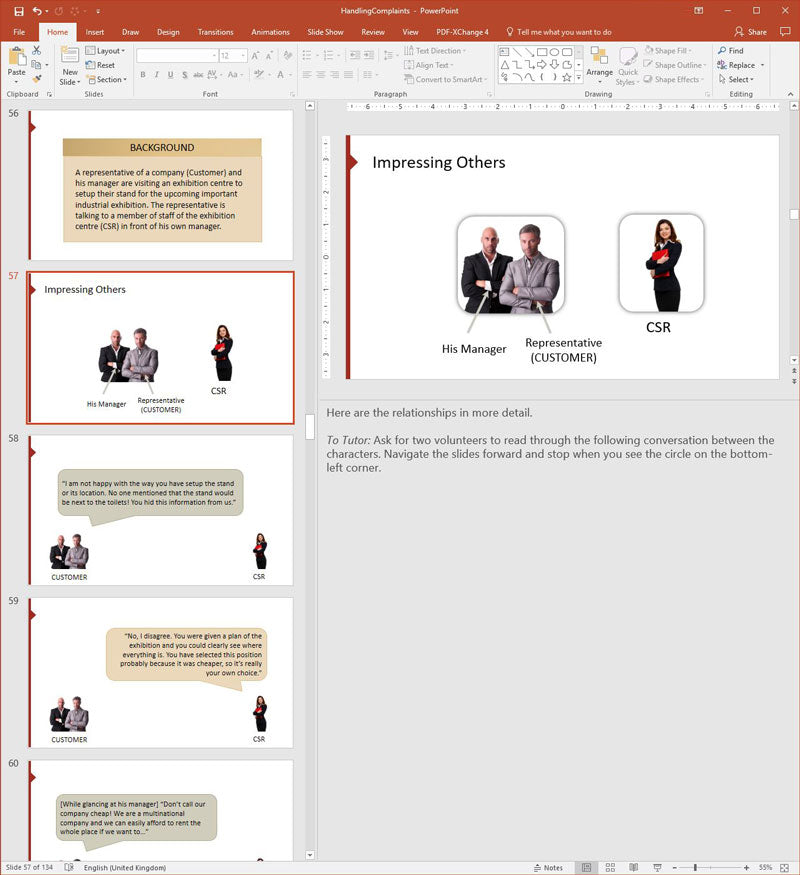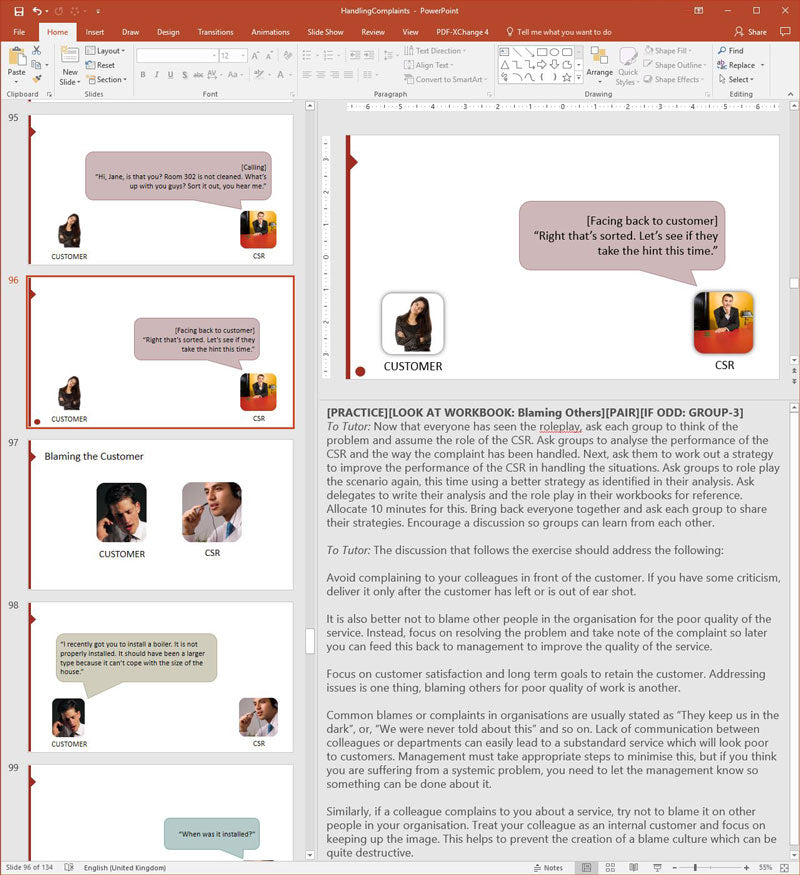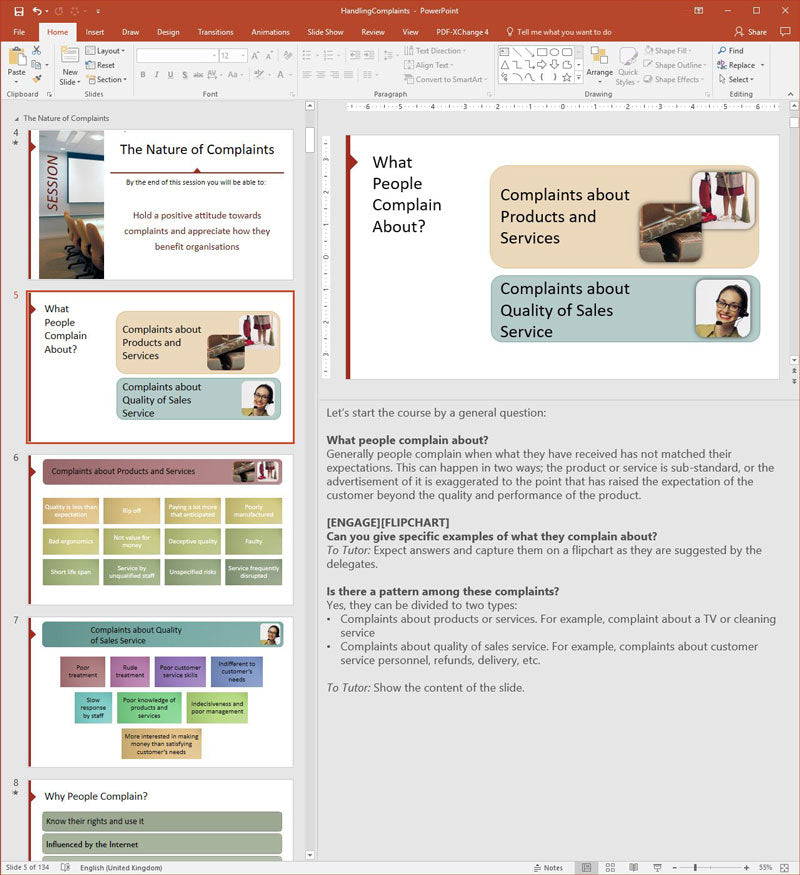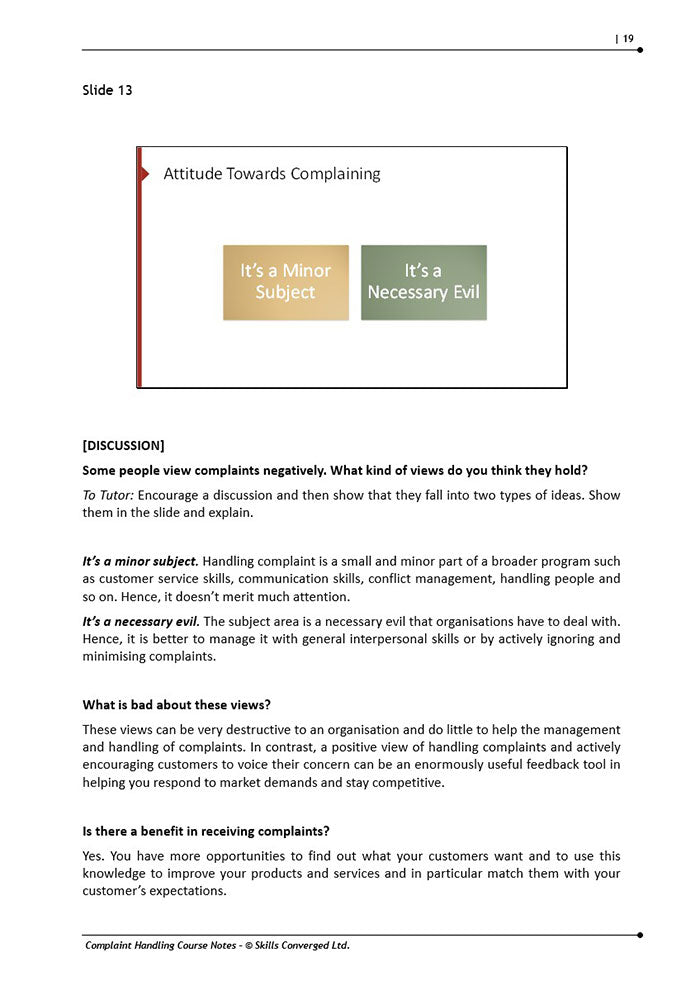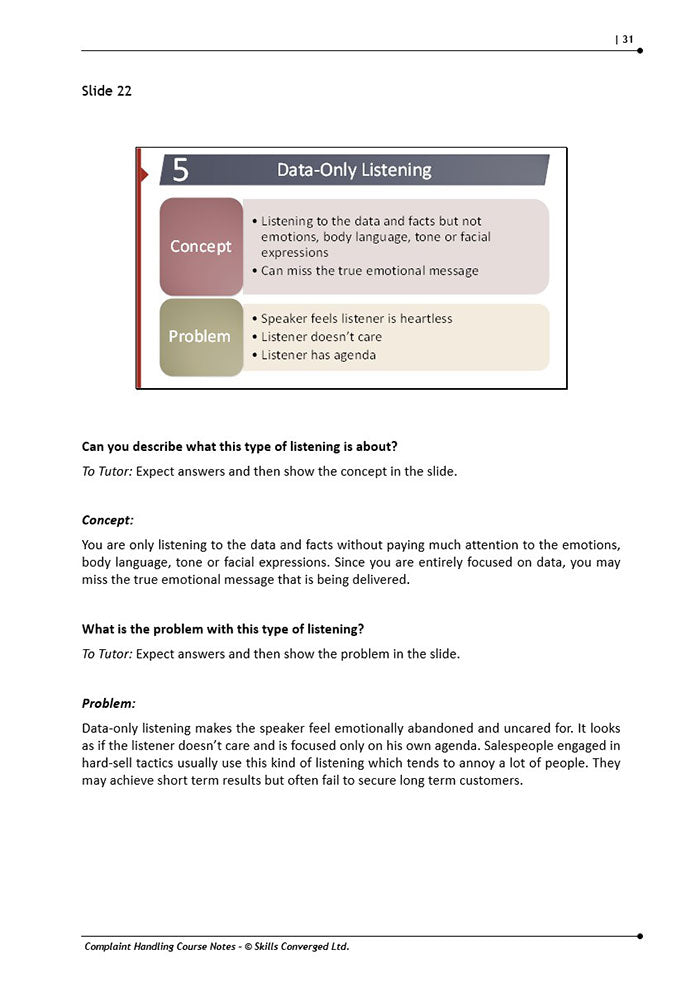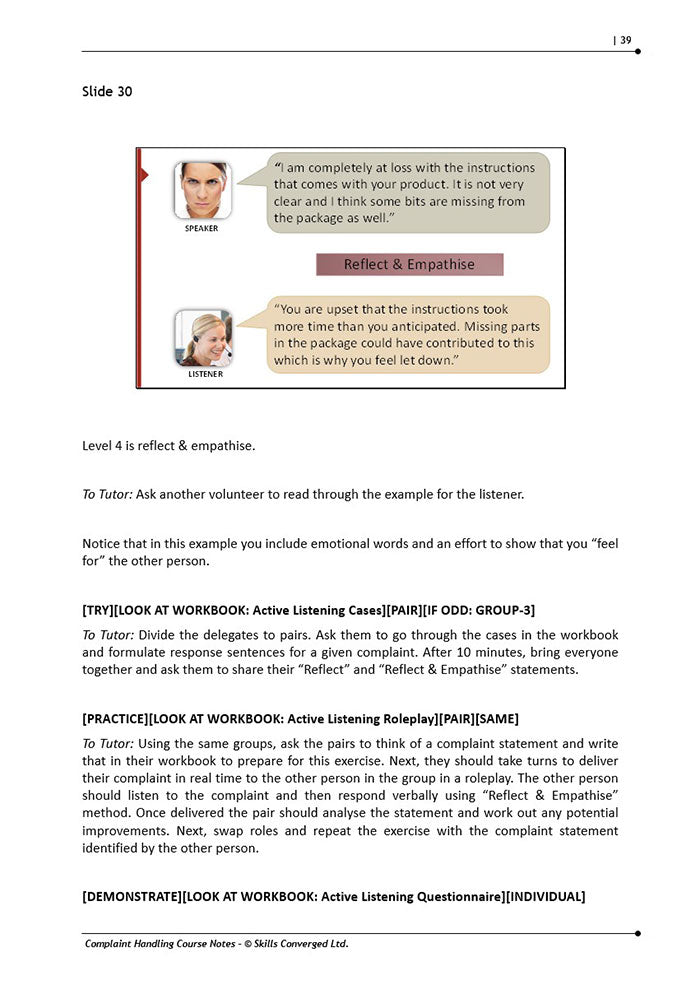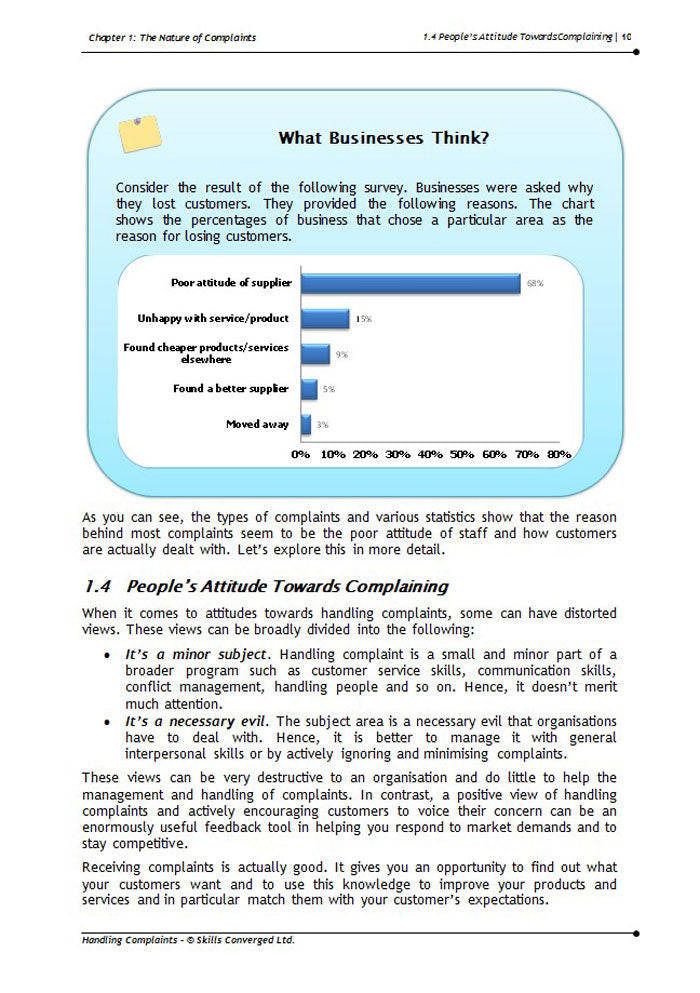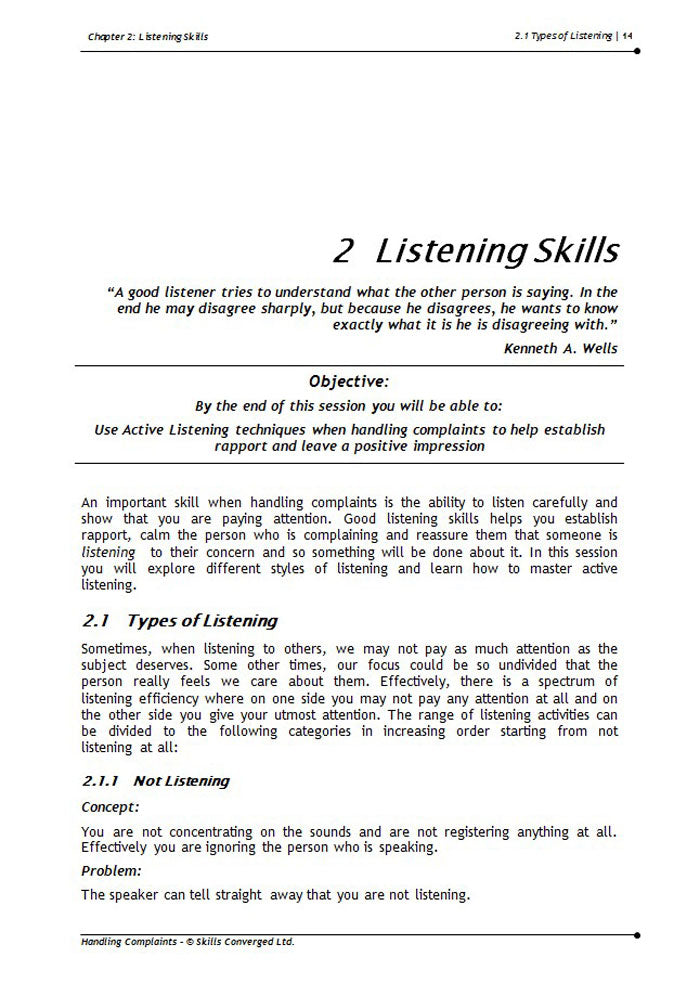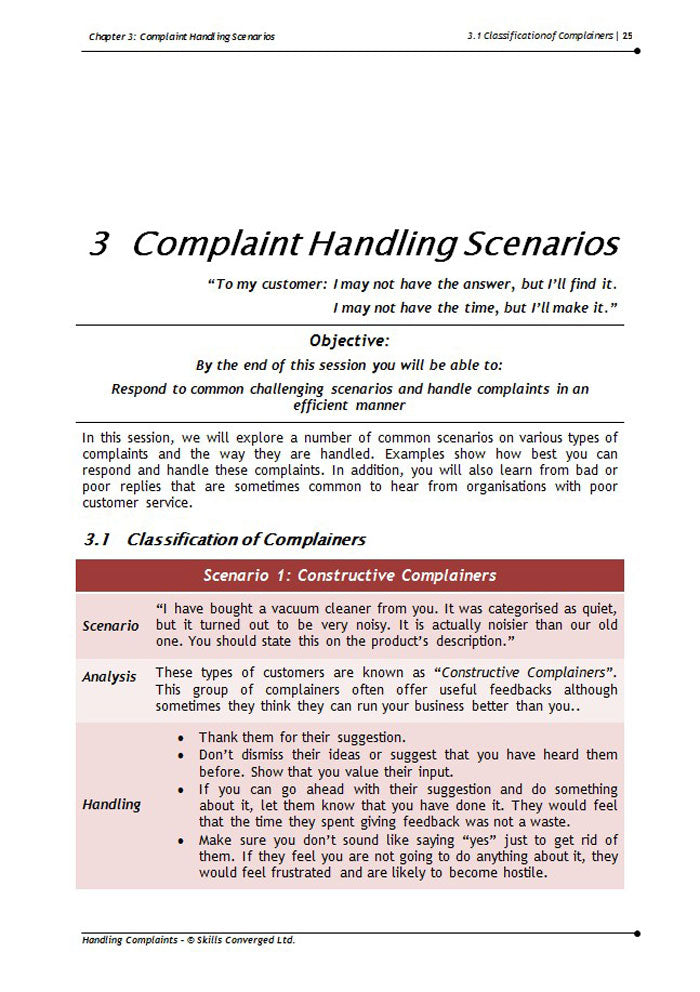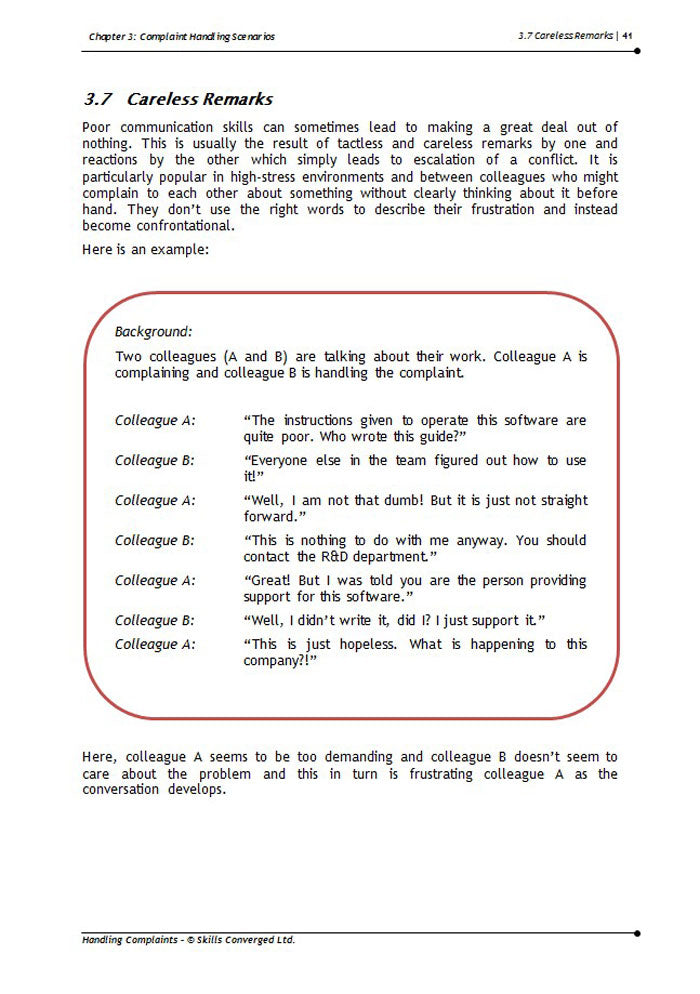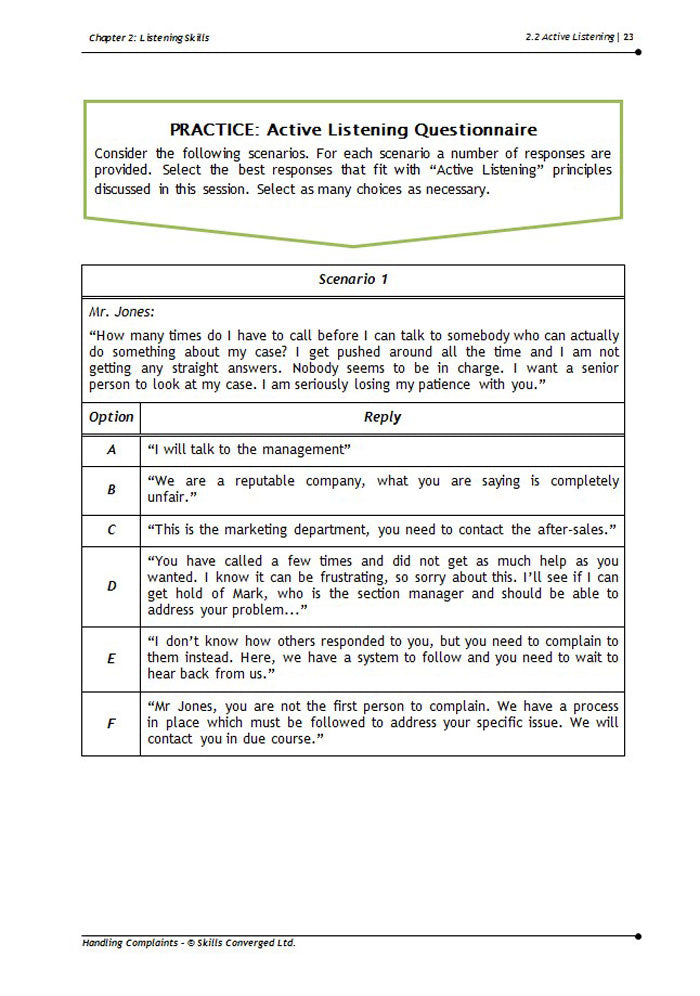 Handling Complaints
---
---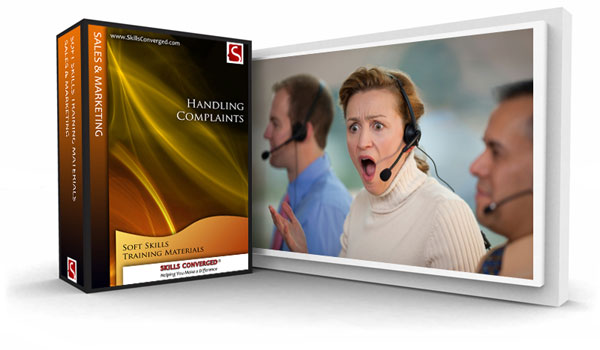 Course on How to Respond to and Manage Customer Complaints
Fully Customisable Training Course Material
Description
"Customers don't expect you to be perfect.
They do expect you to fix things when they go wrong."

Donald Porter
Complaint handling is an essential and useful skill. Whether it is your customer who is complaining, or your client, supplier or even your colleague, you have a great opportunity to see yourself from another's point of view. This feedback can prove to be invaluable and the handling of such criticism can do wonders for the image and productivity of your business.
It is often said that the way you handle a complaint is far more important than the solution you provide. Indeed, research shows that skilled handling can lead to long term customer loyalty. There is also an increased likelihood for your customers to spread the word and let others know about your great service.
Handling complaints well requires practice and an exposure to a wide variety of situations. This course is fundamentally designed around examples and scenarios to accelerate this exposure and help delegates to quickly go through a series of common scenarios. Critical examples are provided on how a particular situation can be addressed poorly and what better alternatives exist in handling such situations. By observing bad attitudes and conversations, delegates can quickly learn what doesn't work and why. This helps them to remember the skills longer and apply them more successfully in real world situations.
Delegates get to participate in interactive exercises, group activities and roleplays to master the skills and become better at handling confrontations, aggressive or difficult people.
As always, the training resources contain all your need to run a course on handling complaints, including numerous exercises, workbook and comprehensive trainer notes.
In this highly practical course delegates will learn:
Nature of Complaints
Why people complain?
Who complains?
What people think of complainers?
What is the correct attitude towards complaints and handling complaints?
Listening Skills
What types of listeners exist?
What are advantages and disadvantages of each listening type?
What is Active Listening?
How does Active Listening help you handle complaints better?
Handling Complaints
What types of complainers exist?
What are the best strategies to deal with each type of complainers?
What should you be aware of when dealing with each type to prevent the encounter from becoming unproductive?
Complaint Handling Scenarios
What are the common challenging scenarios when handling complaints or serving customers?
How to handle aggressive complainers
How to stop people from using others as an audience when complaining
What to avoid when handling complaints to reduce the likelihood of confrontations?
How to deal with slow speakers
How to manage careless remarks
Assertiveness Skills
What is assertiveness?
How to be assertive
How does assertiveness differ from aggressive or passive behaviour?
How to construct your sentences to express yourself assertively when responding to complaints
Body Language
What are the critical postures and gestures to observe when handling complaints?
How not to appear defensive and confrontational
What postures to use to make the other person feel calm and cared for?
What body language signals best suit your assertive style of communication?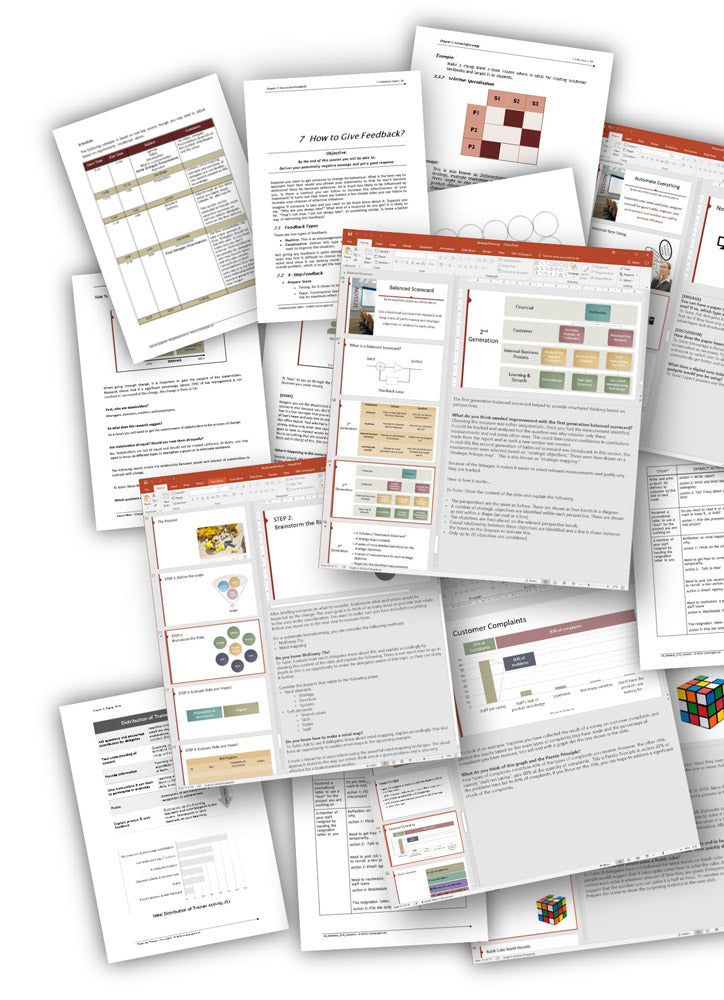 What Is Included
Everything you need to run the course:
Slides
Workbook
Exercises
Handouts
Trainer Notes
Specific Course Guidelines
Agenda
Guidelines on Training Methodology
Course Outline
Recommended Readings
Feedback Forms
Certificate of Achievement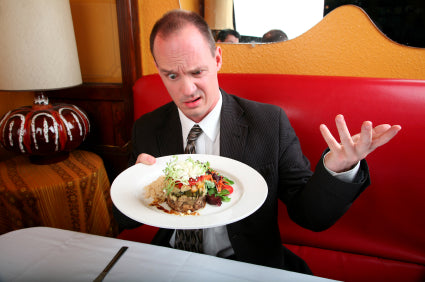 Course Objectives
By the end of this course delegates will be able to:
Courseware Features
Buy & Download Training Materials
Choose your training materials
Add to shopping cart
Get multiple courses to get discounts and create tailored training
Pay using all major debit / credit cards, PayPal, Apple Pay and Google Pay.
After payment processing, you are redirected to a download page
You will also receive emails with download links
Unzip the package and access all the training resources in MS Office format
How to Get Training Packages
Editting
You can customise, edit and modify the content as you desire
Rights
Unlimited workbook reprinting rights
Comprehensive
The downloadable training package contains all you need to deliver a course
Extensively Researched
Designed based on the latest research in educational psychology, cognitive psychology, social sciences and business practices
Facilitation Training
Designed in line with the principles of accelerated learning

Interactive
Designed to include many examples, case studies and exercises to improve learning and retention
Download
Order online and download immediately after purchase
Source Files
Receive editable source files in MS Office 365 (Word DOC/DOCX and Power Point PPT/PPTX) and previous Office versions 2003, 2007, 2010, 2013 & 2016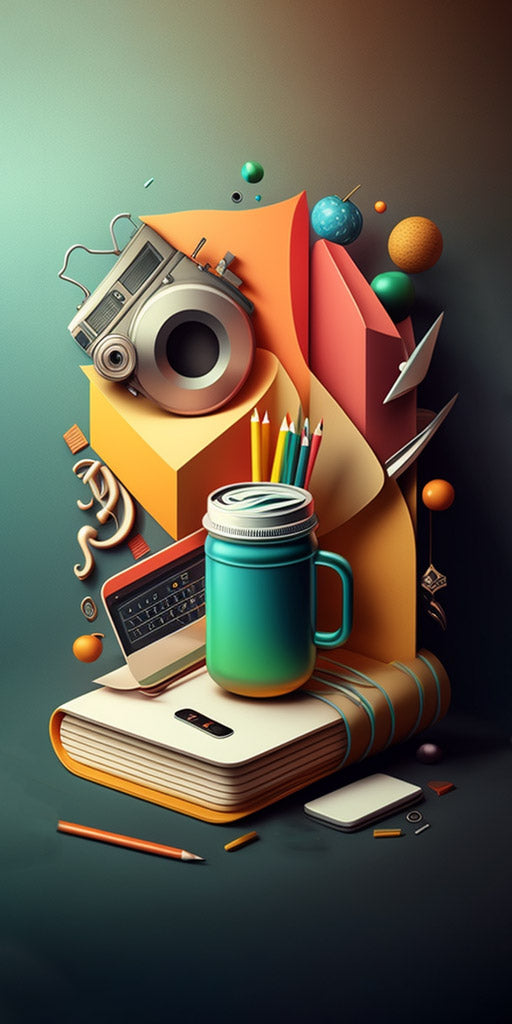 About the Design Philosophy of Handling Complaints Course
100+ Countries
Used by Trainers Worldwide
Our mission is to help you deliver memorable courses with long lasting results, while taking the least amount of effort and time to run.
Save Time & Boost Training
Skills Converged is a unique company that provides professionally designed fully-customisable training course materials based on the latest research in learning & development. Courses are designed with attention to detail both on content and style so that you can deliver unique state-of-the-art courses to your clients and get maximum results.
For Trainers
Use ready-made modular courseware, tailor to your audience, respond to market quickly & effortlessly
For People Developers
Increase HR efficiency and save by supplying consistent professionally designed training materials to your trainers and help employees reach full potential