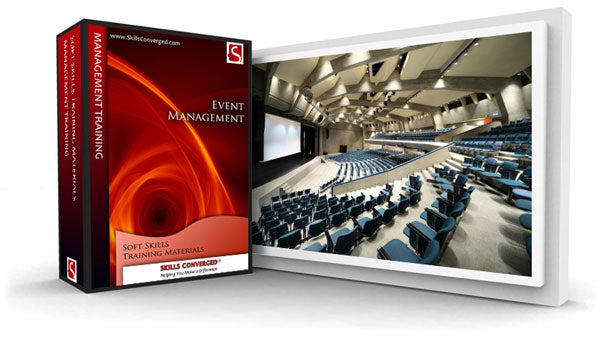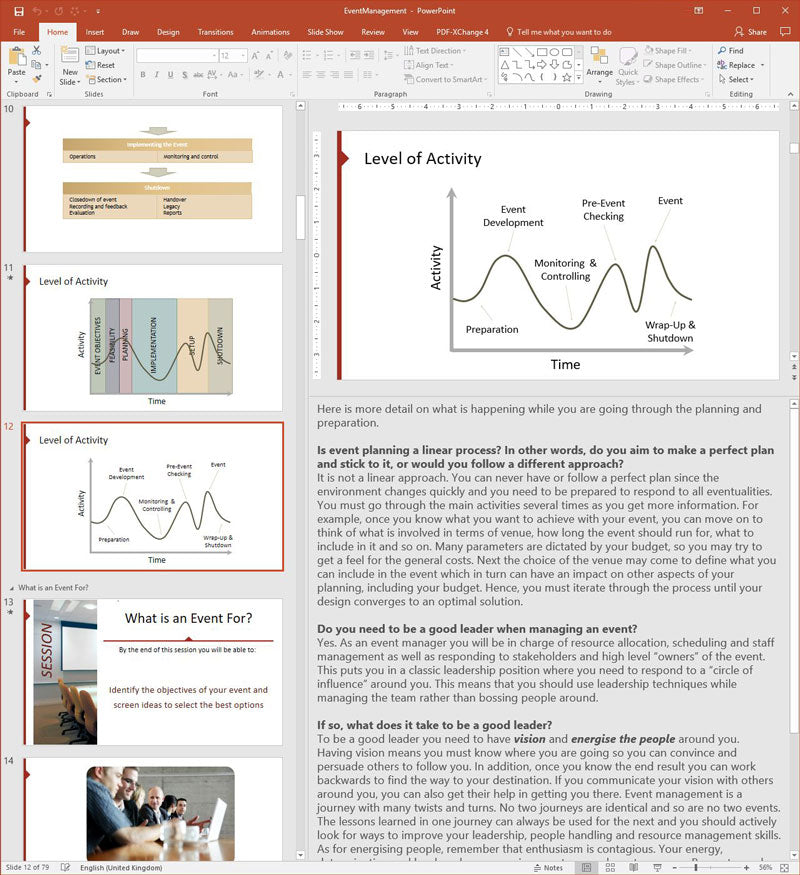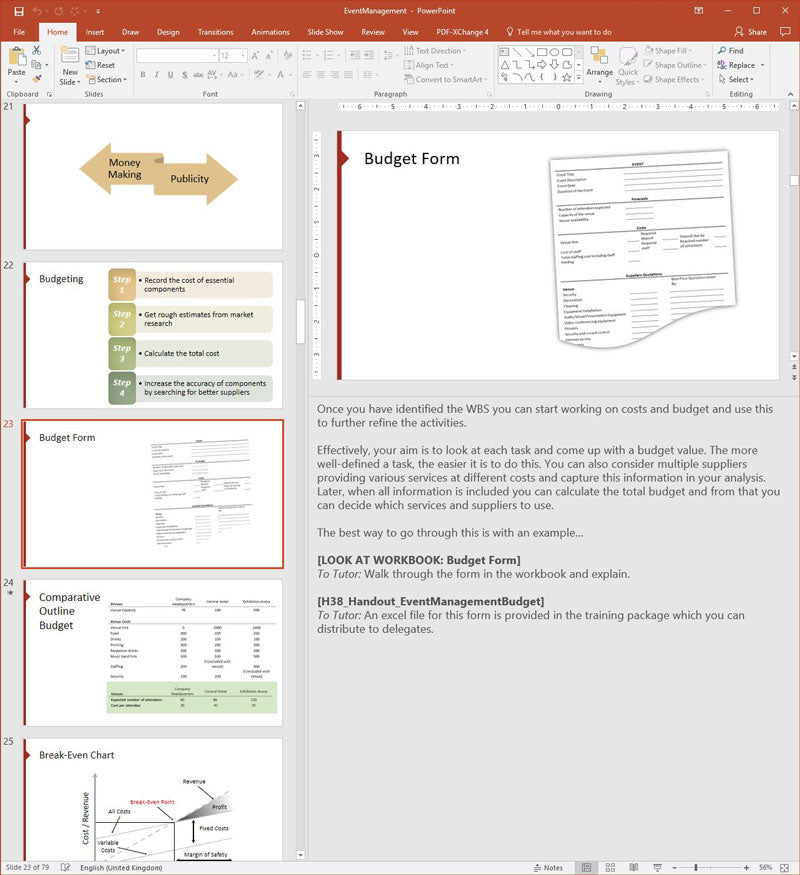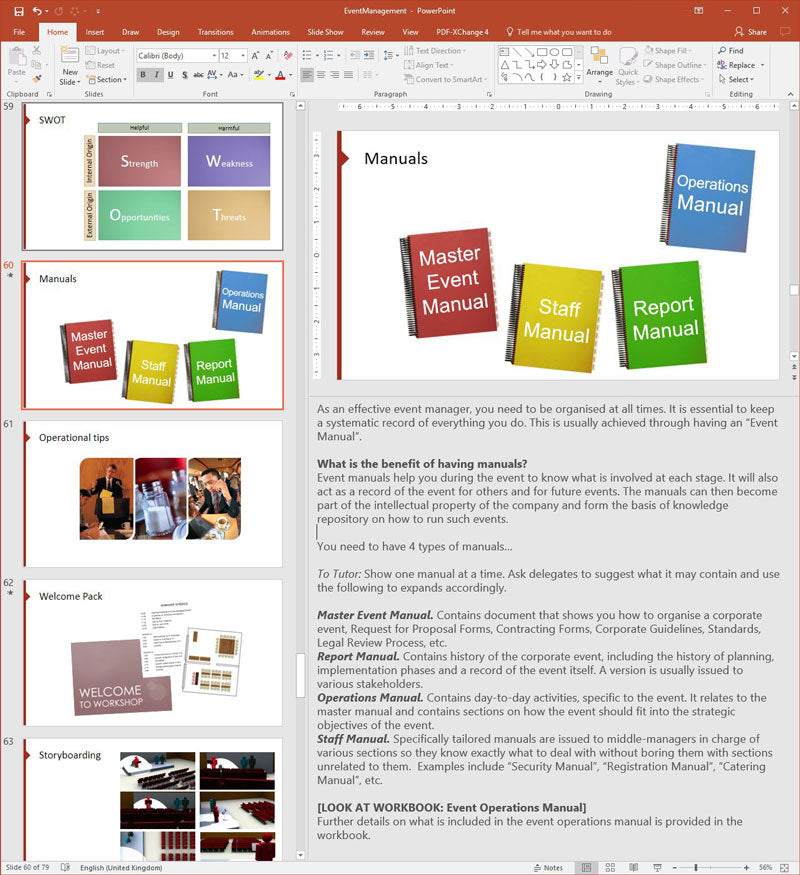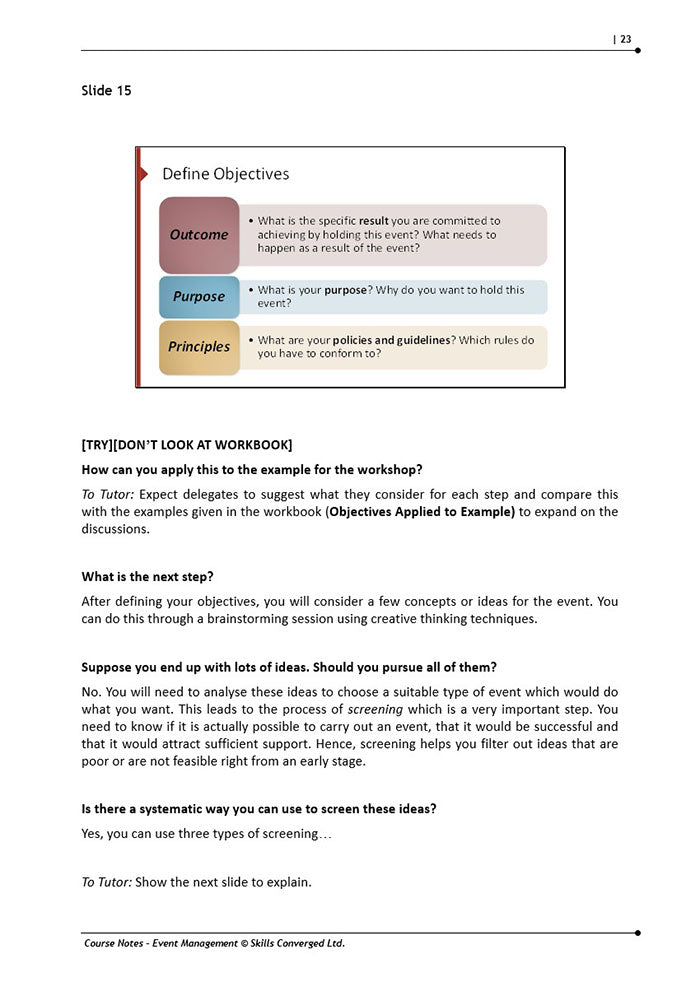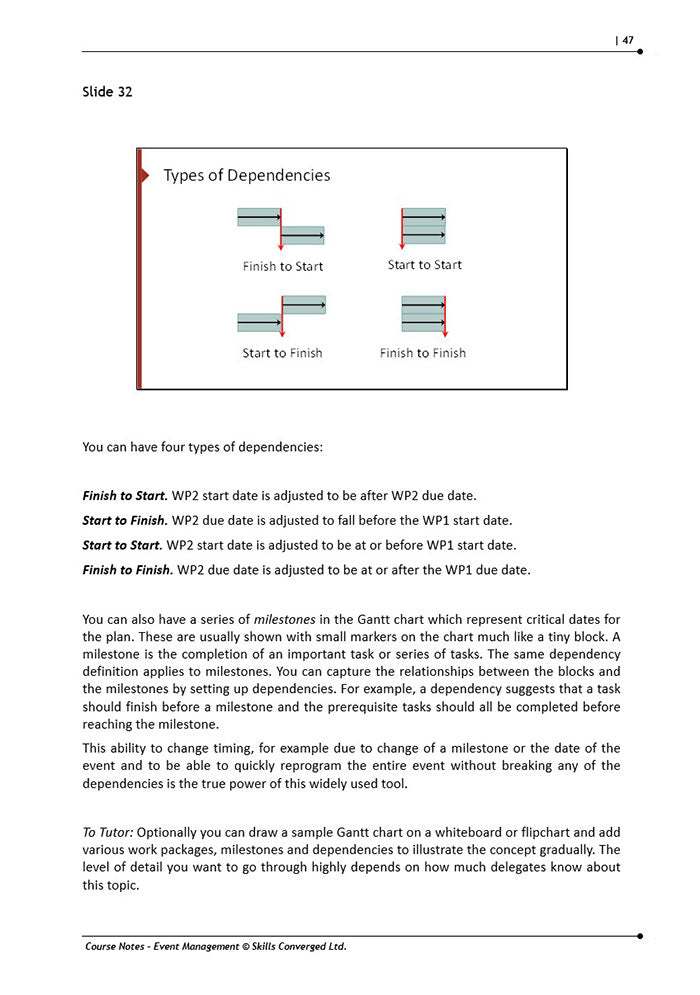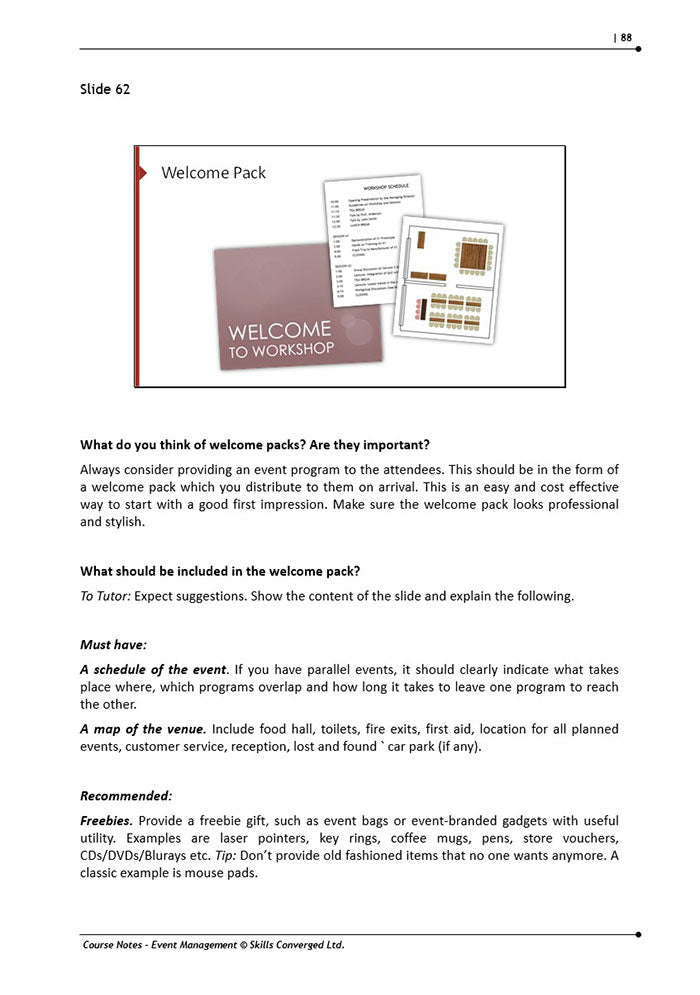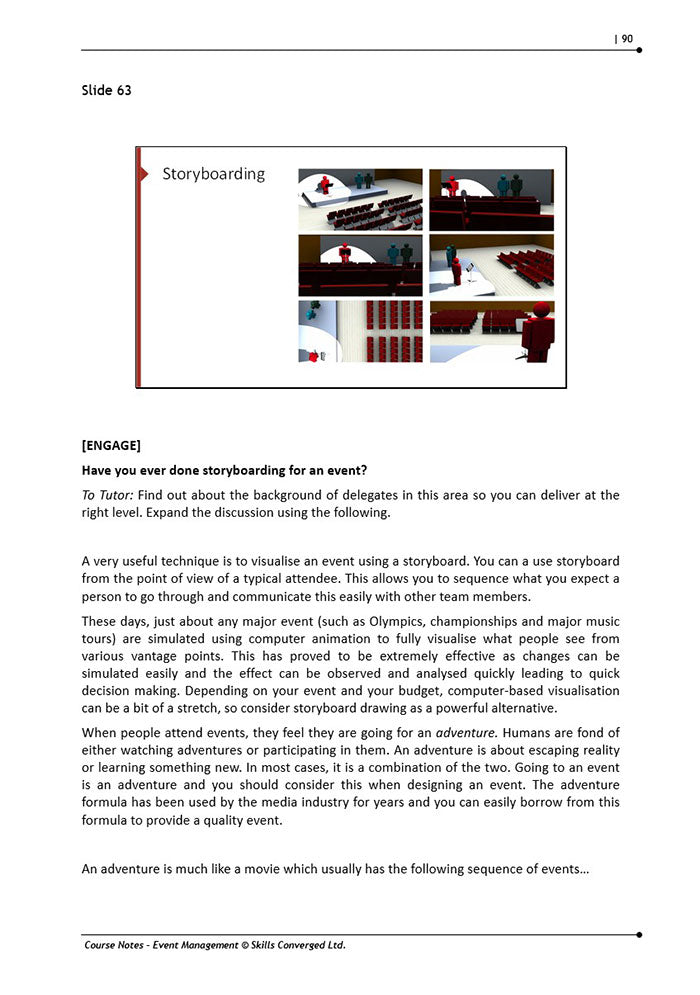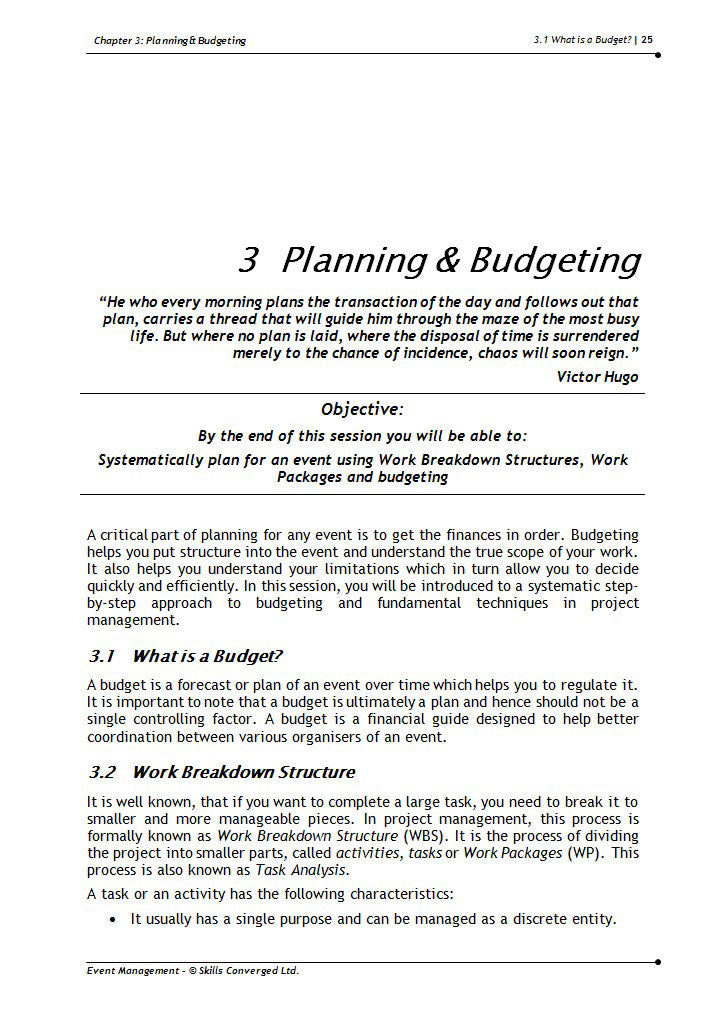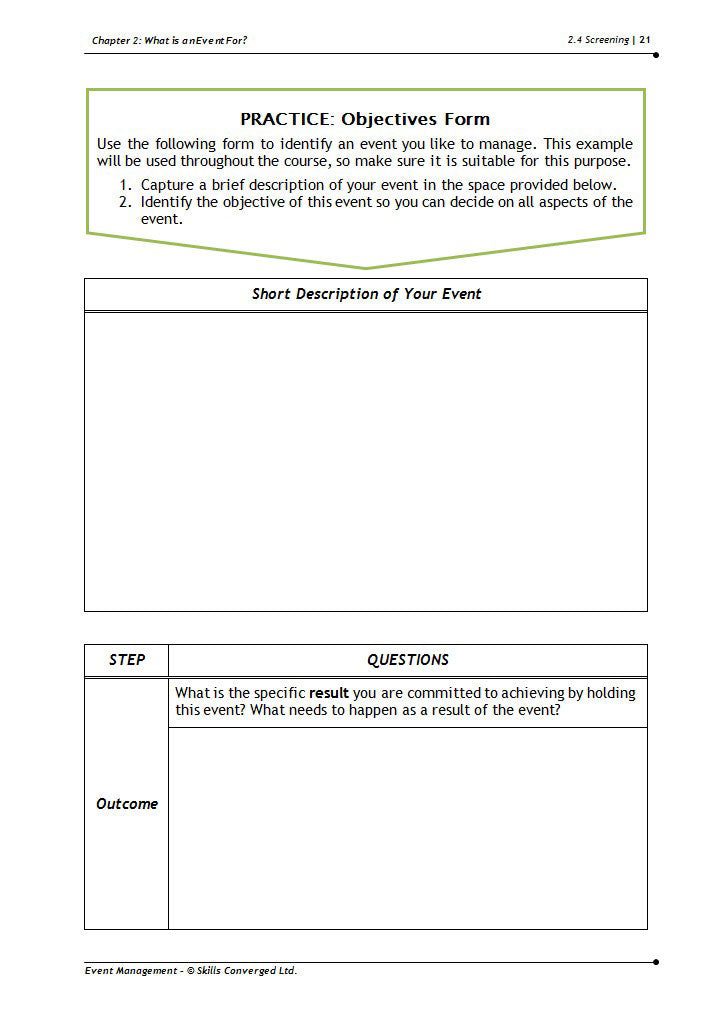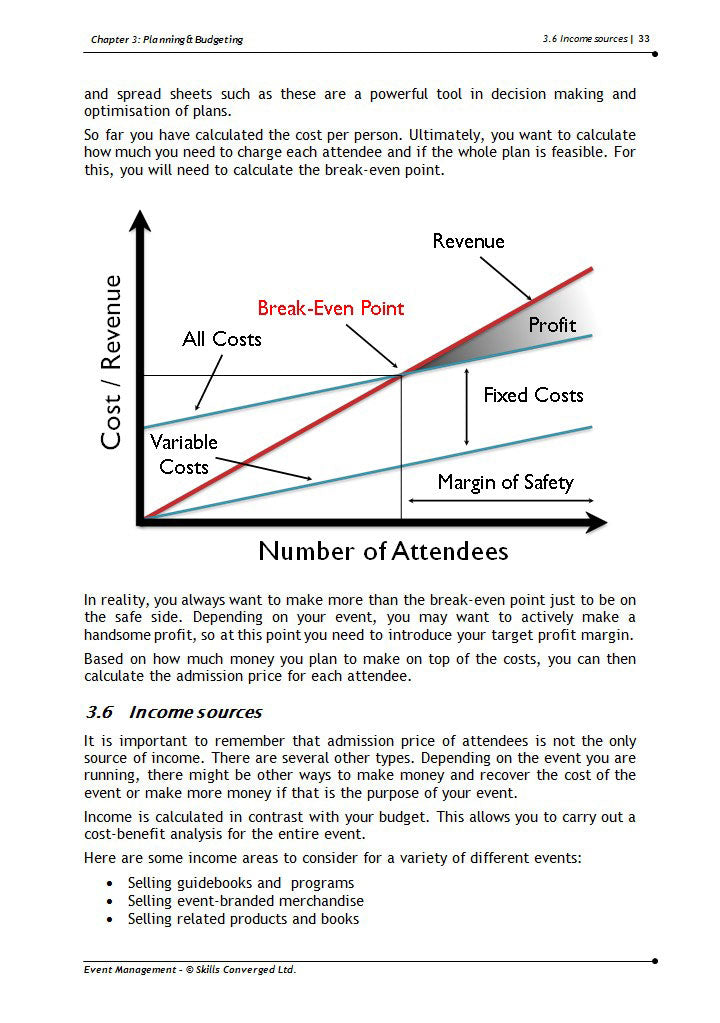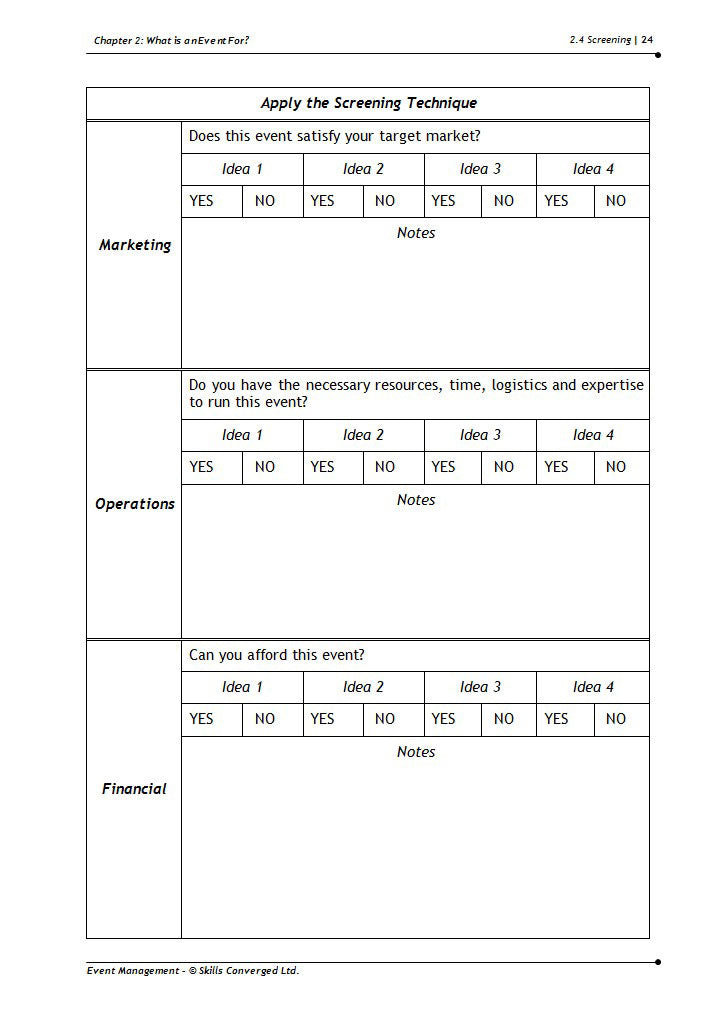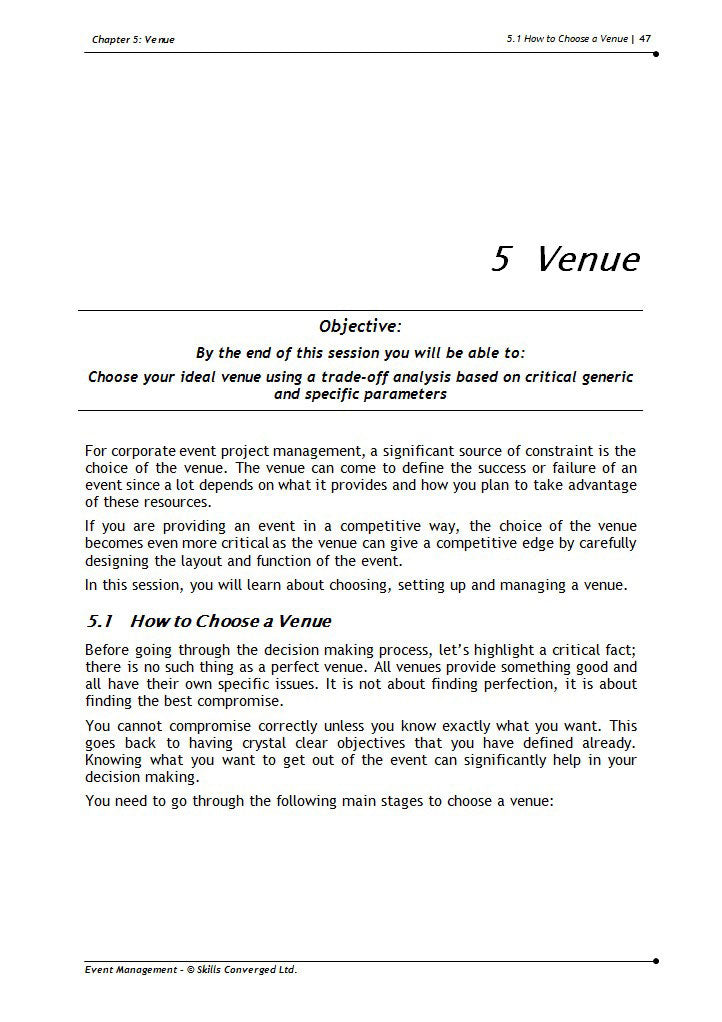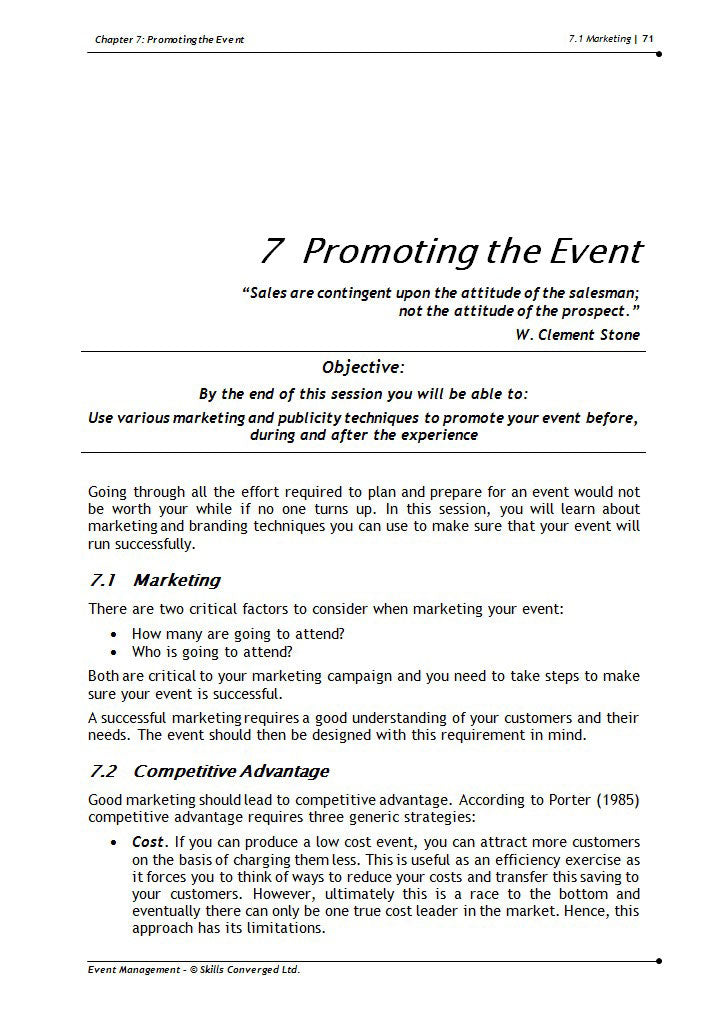 Event Management
---
---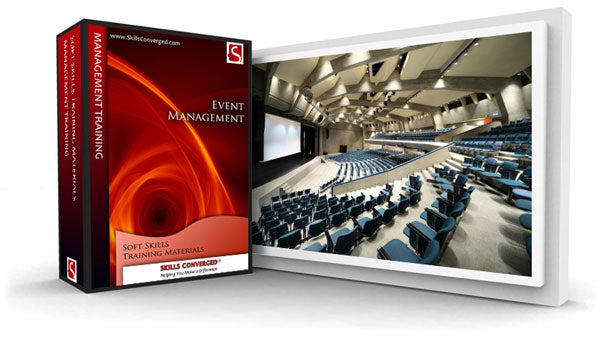 Course Covering Managing an Event, Project Management, Budgeting, Venue Selection and Planning
Fully Customisable Training Course Material
Description
"Anybody can become angry - that is easy, but to be angry with the right person and to the right degree and at the right time and for the right purpose, and in the right way - that is not within everybody's power and is not easy"

Aristotle
The event industry is growing rapidly. Today we have more events to attend than ever before. Art galleries, music tours, cultural festivals, sports of all kinds, corporate events, product launches, conferences, exhibitions and so on. The list is endless. This growth has led to a competitive market where each an event is competing for our attention against other events and activities. This competition has put pressure on event organisers to simultaneously produce more elaborate events while cutting the admission and running costs. This requires a systematic event management process while constantly thinking of creative ideas that can make your event stands out from the competition.
Events by their very nature can be quite demanding to organise. It is always a team work bringing a lot of unrelated processions together to serve an objective; to satisfy an audience's needs. Event management has grown to become a comprehensive field borrowing from the creative industry, project management, leadership, logistics management and management of technical stage equipment. This course aims to prepare delegates for the role by covering various aspects of an event management through examples and step-by-step detailed techniques. As there can be many types of events to organise, this course focuses on a common subset of them to increase clarity and make it easier for delegates to absorb the content quickly. Events include conferences, corporate hospitality, product launches, charity gala dinners, awards, exhibitions, team building, reward and appreciation events, fundraiser and workshops.
The course covers fundamental project management techniques as well as providing useful guidelines and tips on strategic management, handing event operational issues, choosing venues and scheduling. Throughout the course, examples and case studies are provided so delegates can understand the nature and complexity of various parts of event management better. Numerous exercises are also provided to help delegates immediately apply the techniques to a particular event that they plan to manage. The course can be run for 1 day or can be extended to 1.5 days as it covers a large range of topics with various optional exercises. Guidelines are provided on how to extend the course if desired.
The course is suitable for those who are new to the field or those who have some event management experience, but look forward to a more structured training.
In this highly practical course participants will learn:
Managing Events
What is an event?
What is involved in managing an event?
What is a life cycle of an event and what does this mean for an event manager?
Define Your Objectives
What should you consider before making any plans?
How to systematically screen various ideas for your event
How to filter out ideas based on what you want to get out of your event
Planning and Budgeting
What is a budget?
How to use Work Breakdown Structures for planning
What is Work Package and what should be included in it?
What is an ideal budgeting process?
What parameters should you consider to budget an event?
How to carry out a cost-benefit analysis
What is an ideal contingency plan?
How to avoid common budgeting mistakes
Timing and Risk Management
How to use a Gantt chart to plan the preparation of your event as well as the event itself
How to carry out a Critical Path Analysis to identify risky parts of your schedule
How to create a Risk Analysis Sheet
Venue
How to choose an ideal venue
What issue are important I regard with catering?
How to choose an ideal seating layout
Strategic Planning
How to carry out a feasibility study on various operational ideas
What is an Event Manual and what should it include?
What should you include in your event program?
How to benefit from storyboarding to streamline the event preparation process
What is involved in the shutdown process?
Promoting the Event
How to make your event competitively attractive
What is involved in pre-event publicity?
What is involved in at-event publicity?
What is involved in post-event publicity?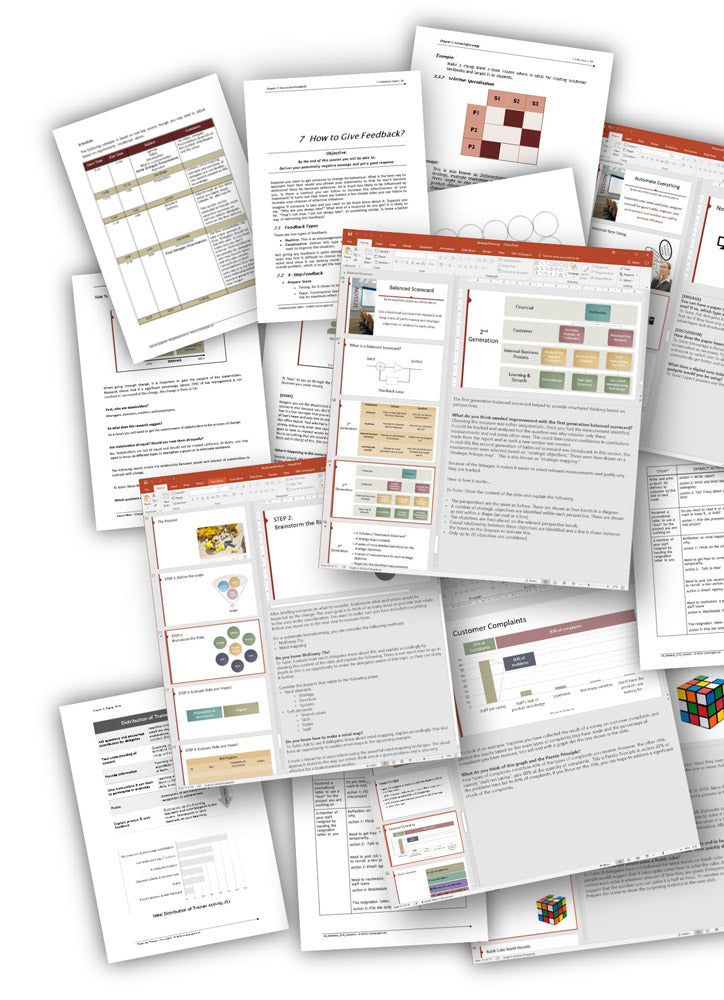 What Is Included
Everything you need to run the course:
Slides
Workbook
Exercises
Handouts
Trainer Notes
Specific Course Guidelines
Agenda
Guidelines on Training Methodology
Course Outline
Recommended Readings
Feedback Forms
Certificate of Achievement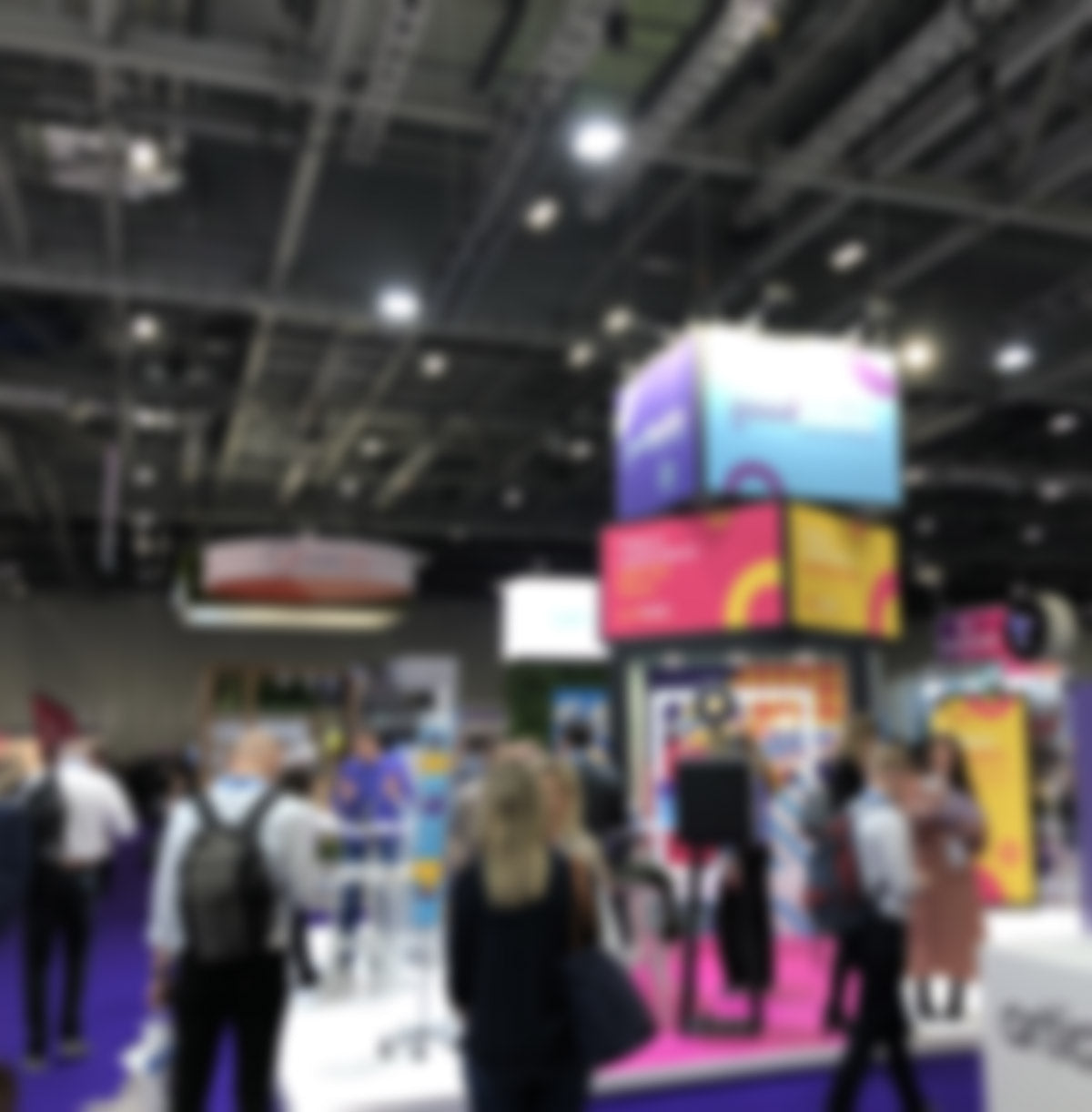 Course Objectives
By the end of this course delegates will be able to:
Courseware Features
Buy & Download Training Materials
Choose your training materials
Add to shopping cart
Get multiple courses to get discounts and create tailored training
Pay using all major debit / credit cards, PayPal, Apple Pay and Google Pay.
After payment processing, you are redirected to a download page
You will also receive emails with download links
Unzip the package and access all the training resources in MS Office format
How to Get Training Packages
Editting
You can customise, edit and modify the content as you desire
Rights
Unlimited workbook reprinting rights
Comprehensive
The downloadable training package contains all you need to deliver a course
Extensively Researched
Designed based on the latest research in educational psychology, cognitive psychology, social sciences and business practices
Facilitation Training
Designed in line with the principles of accelerated learning

Interactive
Designed to include many examples, case studies and exercises to improve learning and retention
Download
Order online and download immediately after purchase
Source Files
Receive editable source files in MS Office 365 (Word DOC/DOCX and Power Point PPT/PPTX) and previous Office versions 2003, 2007, 2010, 2013 & 2016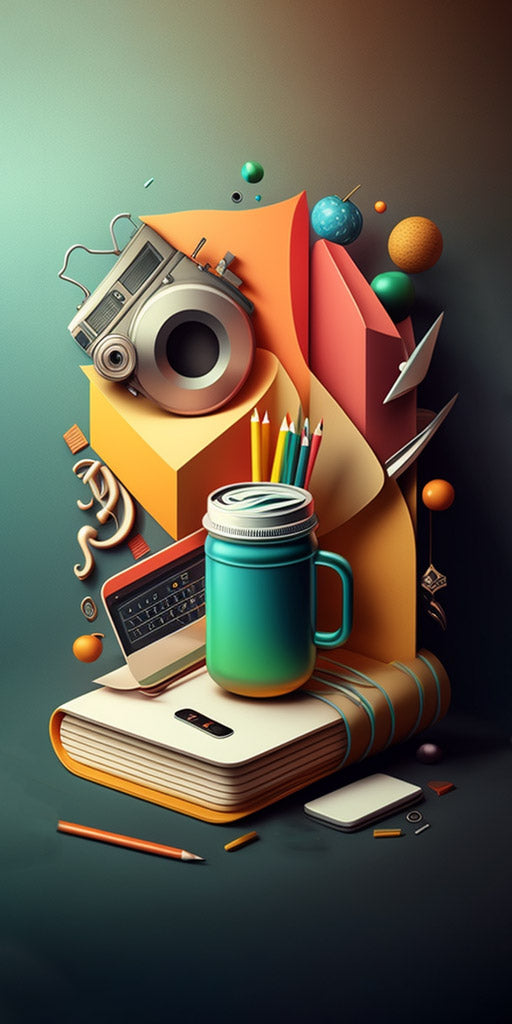 About the Design Philosophy of Event Management Course
100+ Countries
Used by Trainers Worldwide
Our mission is to help you deliver memorable courses with long lasting results, while taking the least amount of effort and time to run.
Save Time & Boost Training
Skills Converged is a unique company that provides professionally designed fully-customisable training course materials based on the latest research in learning & development. Courses are designed with attention to detail both on content and style so that you can deliver unique state-of-the-art courses to your clients and get maximum results.
For Trainers
Use ready-made modular courseware, tailor to your audience, respond to market quickly & effortlessly
For People Developers
Increase HR efficiency and save by supplying consistent professionally designed training materials to your trainers and help employees reach full potential