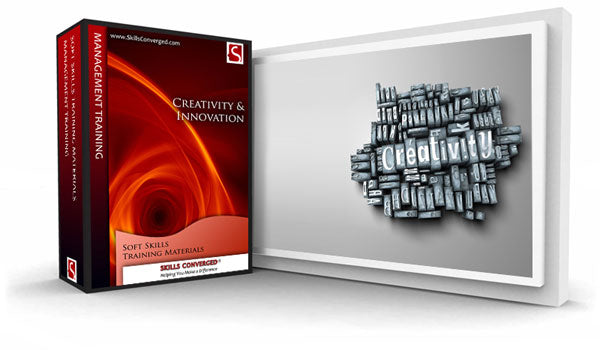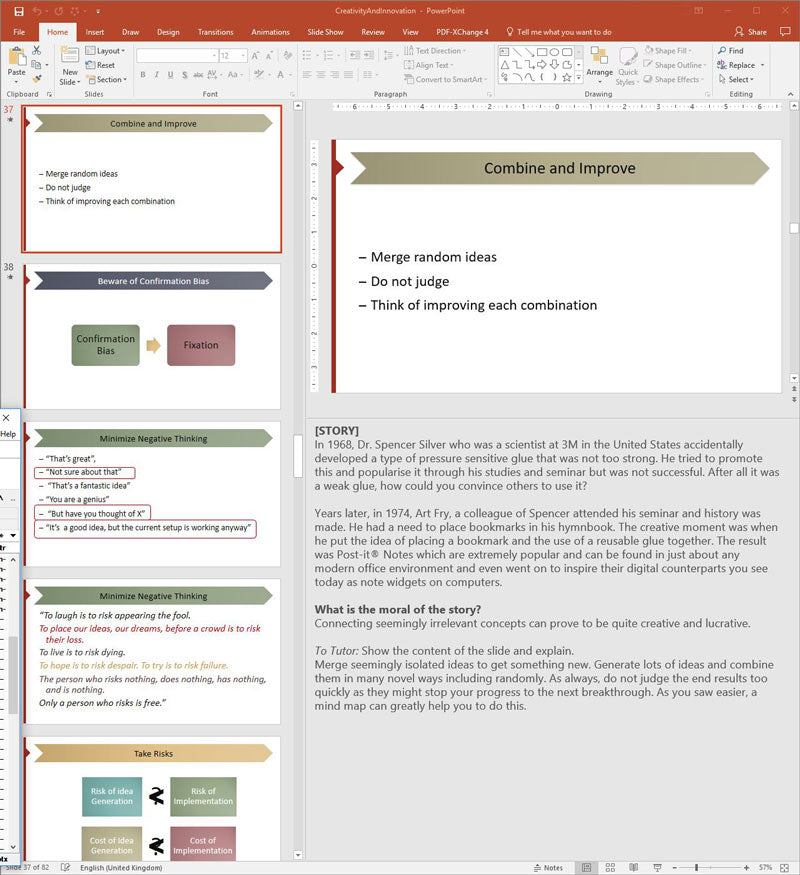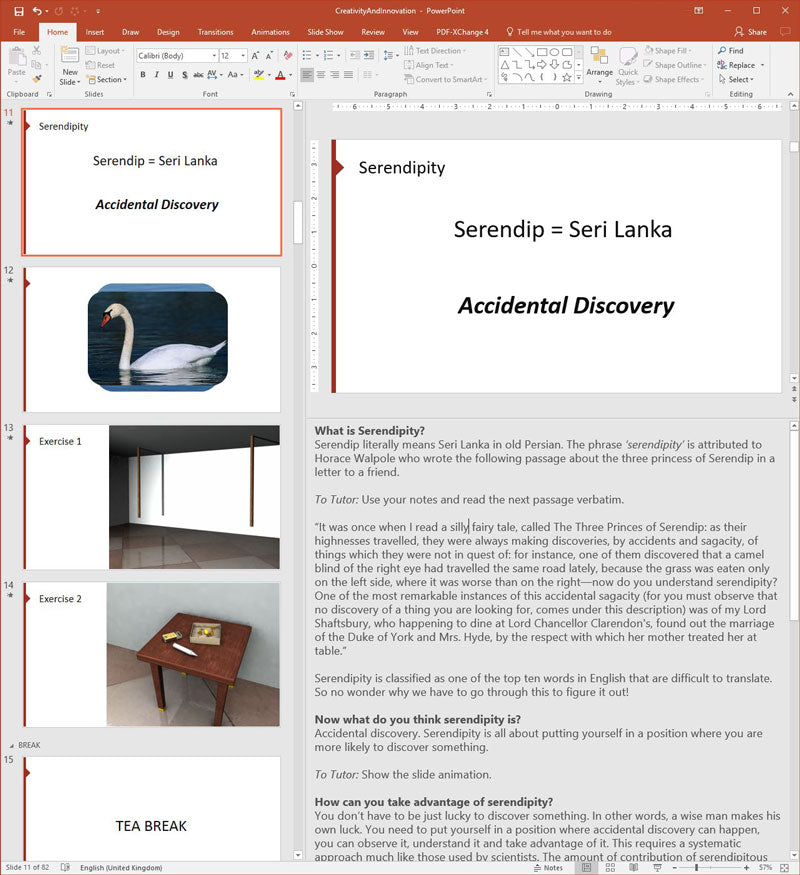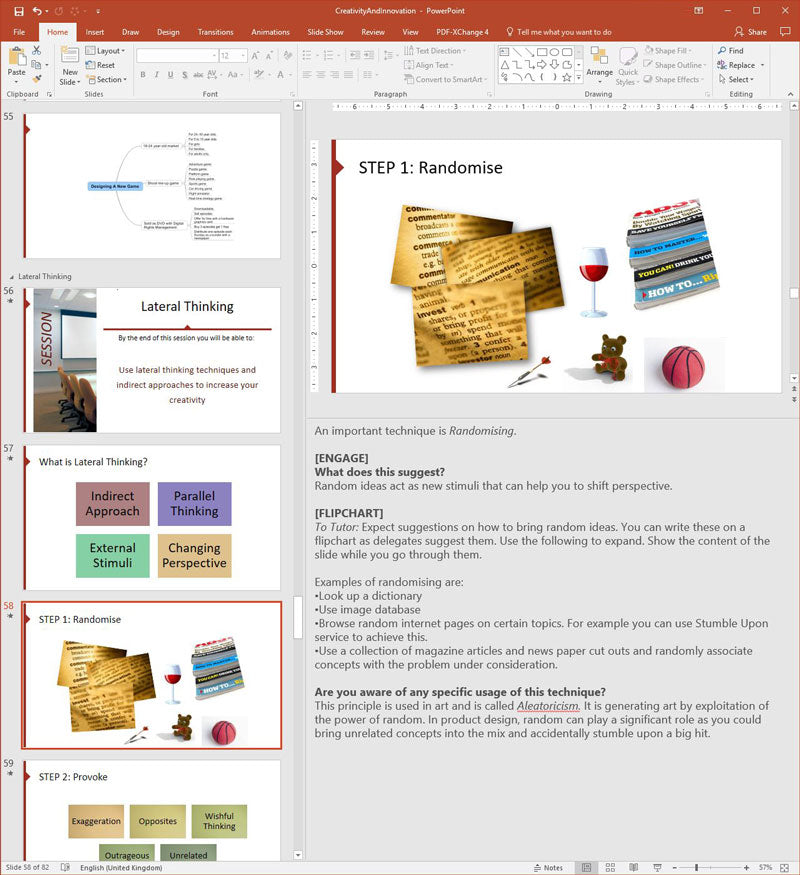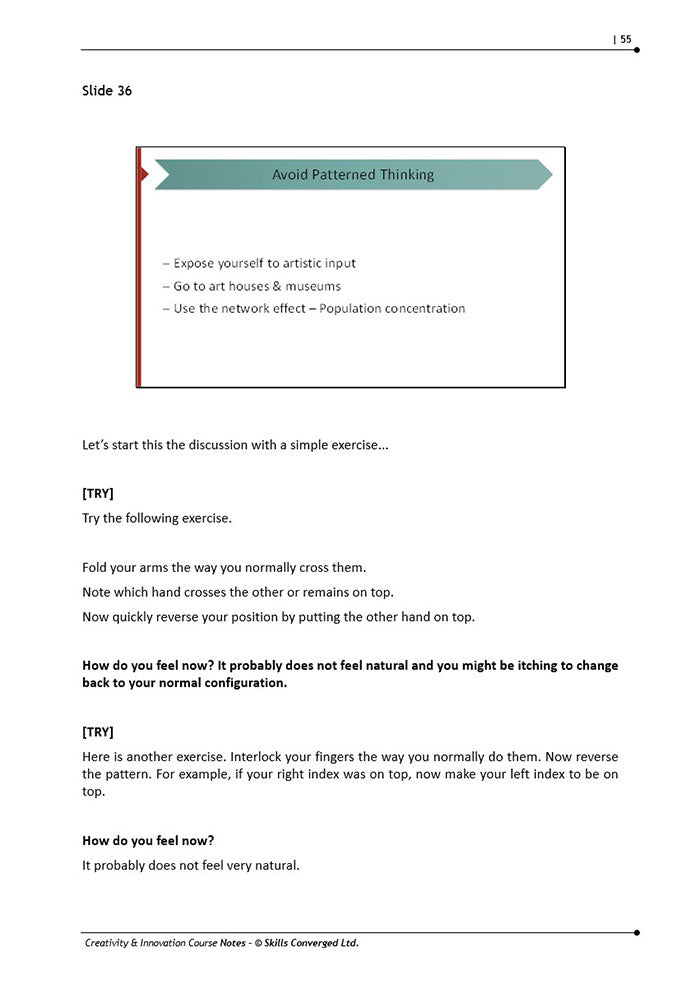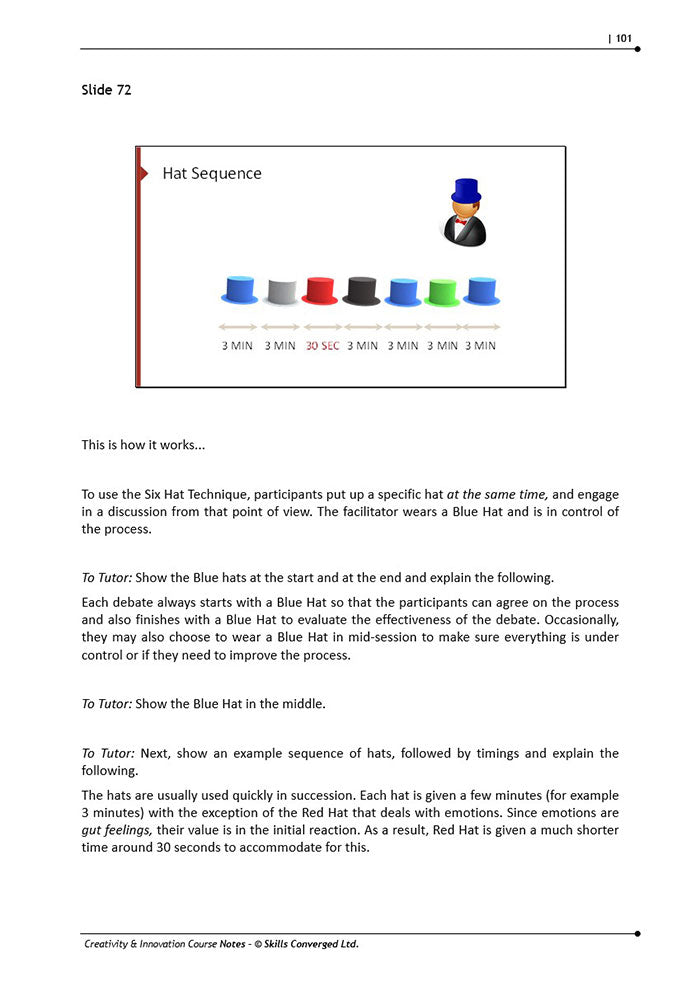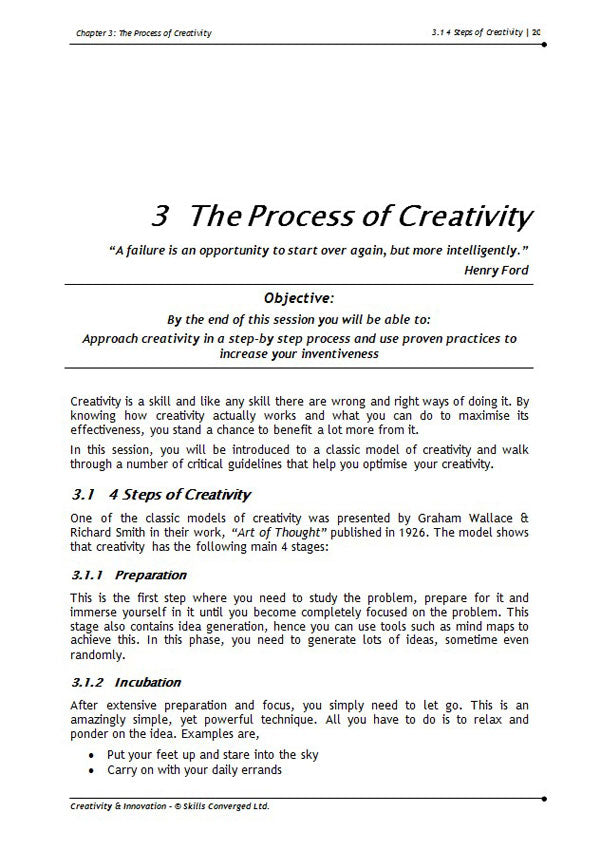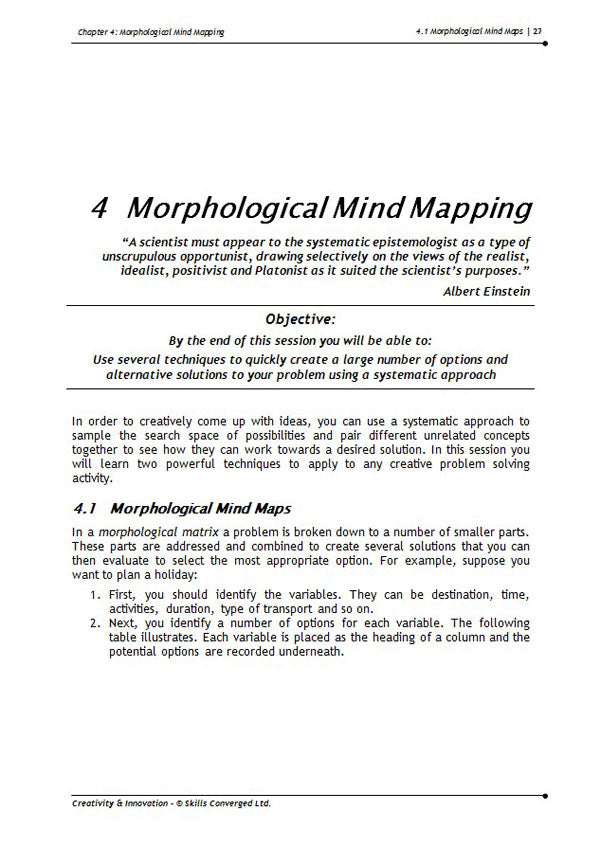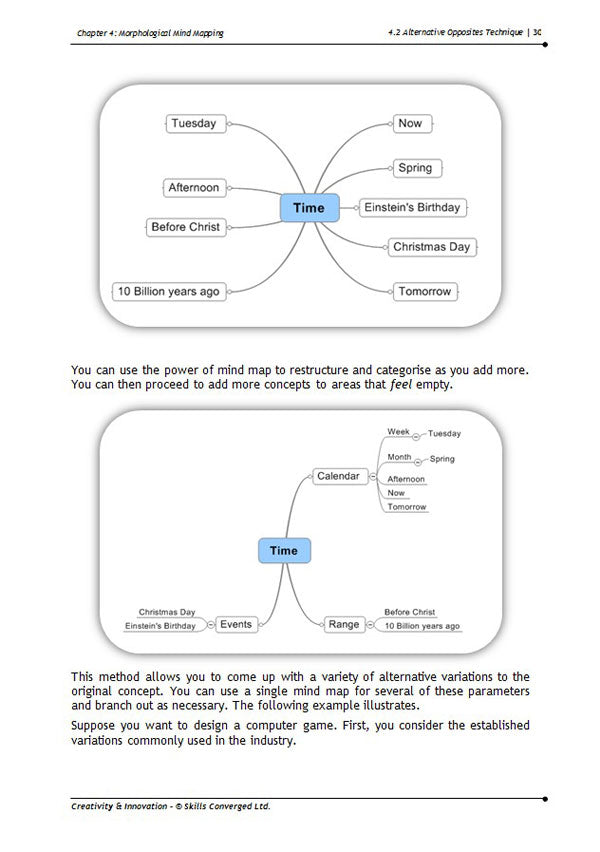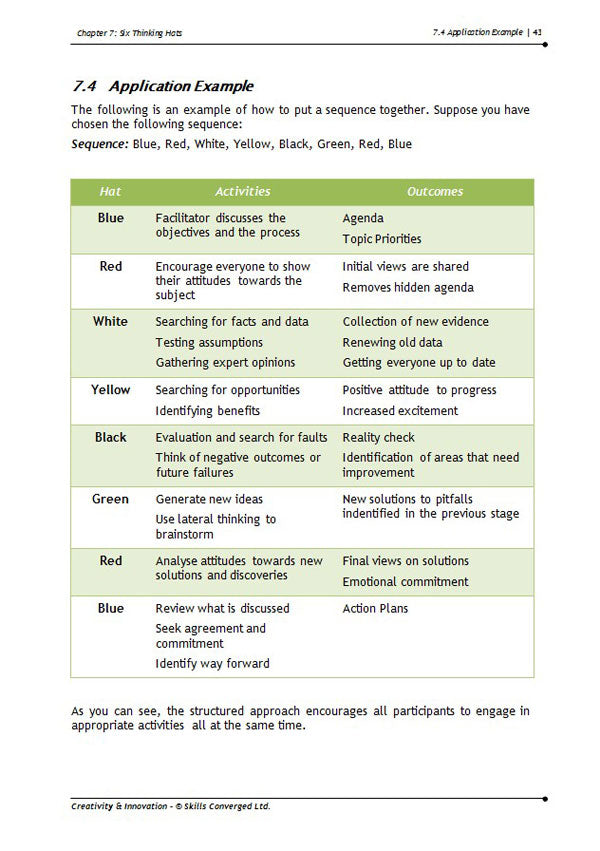 Creativity & Innovation
---
---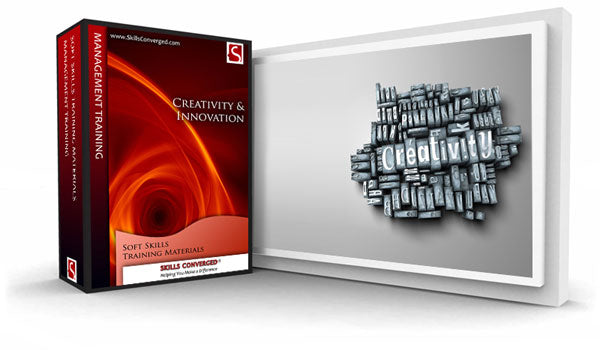 Course on How to Master the Art of Problem Solving, Decision Making & Creative Thinking
Fully Customisable Training Course Material
Description
"Imagination is more important than knowledge. For while knowledge defines all we currently know and understand, imagination points to all we might yet discover and create."

Albert Einstein
The recent significant progress in technology has increased our communication and reach and this has made the environment highly competitive. To survive in this competitive market, people need to do everything they can to stand out and win or risk falling to the bottom. It is now clear that those who innovate and use creativity in their roles in just about any job stand to succeed while those who don't use all the resources at their disposal may be overrun by others.
Creativity is not something people are born with; it is a skill. Like any other skill it can be mastered and channelled towards specific goals with incredible results. This one-day course attempts to teach people how to be creative using specific set of tools and techniques. Significant research and studies have proven that such techniques will increase individual's creativity.
Innovative organisations don't rely on geniuses to create the next best product or service. Instead, they work hard to create an innovation-friendly environment that energises the staff and helps to bring the best out of everyone.
This carefully designed course contains several step-by-step guides to teach delegates how to increase their creativity. The workbook and the trainer notes contain everything a trainer needs to teach delegates about creativity. You can't learn creativity unless you practice it. Extensive exercises with detailed instructions allow the tutor to guide and monitor the delegates in exercises based on the techniques discussed in the course. Optional exercises are also provided to train those delegates working within a team on creative brainstorming and problem solving. .
In this highly practical course delegates will learn:
Introduction to Creativity
How can you be innovative?
What is the relationship between creativity and intelligence?
What are the tenets of creativity?
How to put yourself in a position where you can benefit most from the unexpected
How to be aware of issues on predicting the future based on the past and how does this relate to creativity and innovation
Principles of Creativity
Why do you need to separate idea generation from evaluation and what does it mean in practice?
How to create as many ideas as possible in the shortest amount of time
What is Confirmation Bias and how does it relate to creativity?
How to identify and avoid bad habits to increase the likelihood of coming up with novel ideas
How to expand the search space of possibilities systematically without getting drowned
How to avoid patterned thinking
How to avoid negative thinking
Process of Creativity
What are the 4 stages of creativity and how can they help you to come up with novel ideas quicker?
What is Expanding Problems Technique?
How to manage risk
What kind of attitudes can kill creativity and how to avoid them?
Creativity Techniques
How to think in groups to use everyone's inputs efficiently
How to take advantage of random
How to use opposites to create a large number of associations and produce new concepts
How to take advantage of the immense visualisation power of the brain and create many associations systematically and with ease
How to combine the power of matrices, opposites, tree diagrams, related keywords, etc. to systematically search the space of possibilities and generate new thought
How to ask questions from yourself or from others to increase the chances of coming up with better solutions
How to encourage others to look beyond the status quo using a systematic tool
How to use provocation and challenge to generate new ideas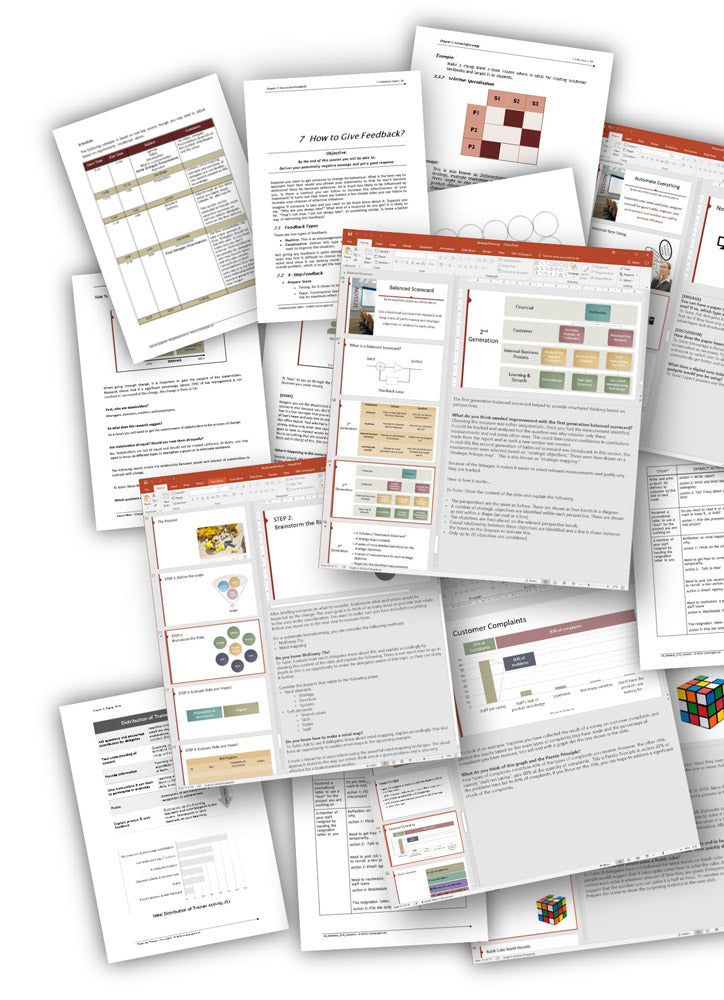 What Is Included
Everything you need to run the course:
Slides
Workbook
Exercises
Handouts
Trainer Notes
Specific Course Guidelines
Agenda
Guidelines on Training Methodology
Course Outline
Recommended Readings
Feedback Forms
Certificate of Achievement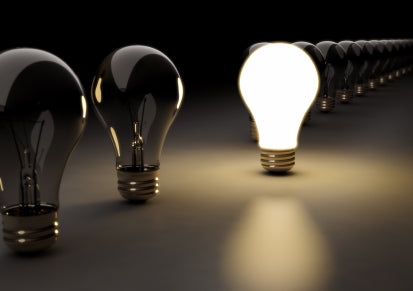 Course Objectives
By the end of this course delegates will be able to:
Courseware Features
Buy & Download Training Materials
Choose your training materials
Add to shopping cart
Get multiple courses to get discounts and create tailored training
Pay using all major debit / credit cards, PayPal, Apple Pay and Google Pay.
After payment processing, you are redirected to a download page
You will also receive emails with download links
Unzip the package and access all the training resources in MS Office format
How to Get Training Packages
Editting
You can customise, edit and modify the content as you desire
Rights
Unlimited workbook reprinting rights
Comprehensive
The downloadable training package contains all you need to deliver a course
Extensively Researched
Designed based on the latest research in educational psychology, cognitive psychology, social sciences and business practices
Facilitation Training
Designed in line with the principles of accelerated learning

Interactive
Designed to include many examples, case studies and exercises to improve learning and retention
Download
Order online and download immediately after purchase
Source Files
Receive editable source files in MS Office 365 (Word DOC/DOCX and Power Point PPT/PPTX) and previous Office versions 2003, 2007, 2010, 2013 & 2016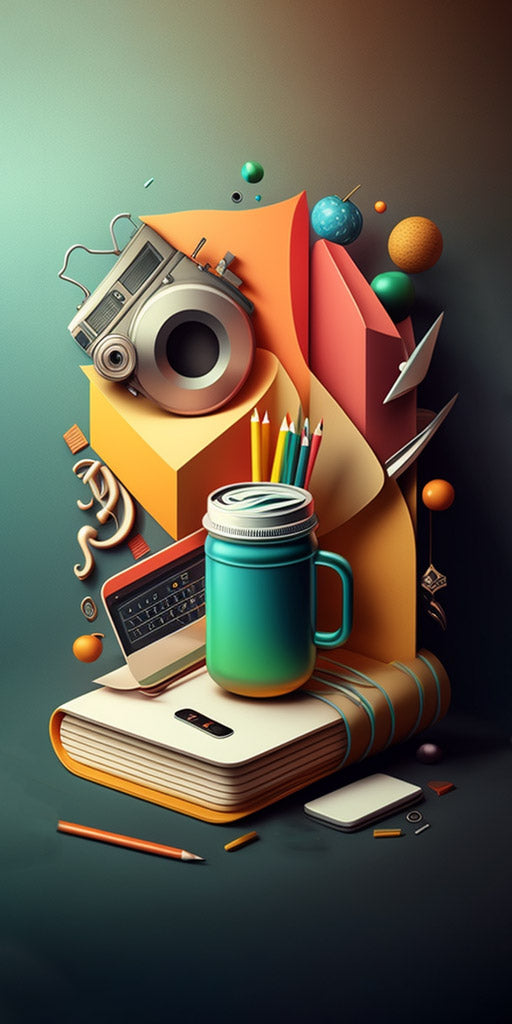 About the Design Philosophy of Creativity & Innovation Course
100+ Countries
Used by Trainers Worldwide
Our mission is to help you deliver memorable courses with long lasting results, while taking the least amount of effort and time to run.
Save Time & Boost Training
Skills Converged is a unique company that provides professionally designed fully-customisable training course materials based on the latest research in learning & development. Courses are designed with attention to detail both on content and style so that you can deliver unique state-of-the-art courses to your clients and get maximum results.
For Trainers
Use ready-made modular courseware, tailor to your audience, respond to market quickly & effortlessly
For People Developers
Increase HR efficiency and save by supplying consistent professionally designed training materials to your trainers and help employees reach full potential