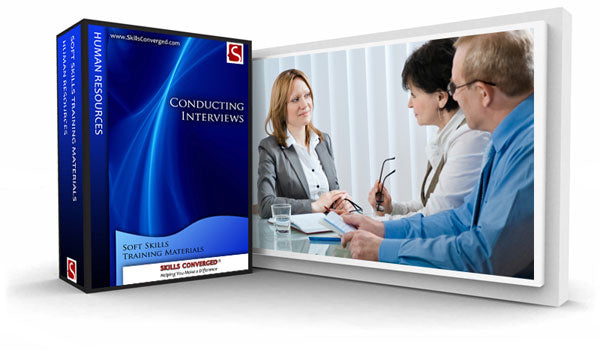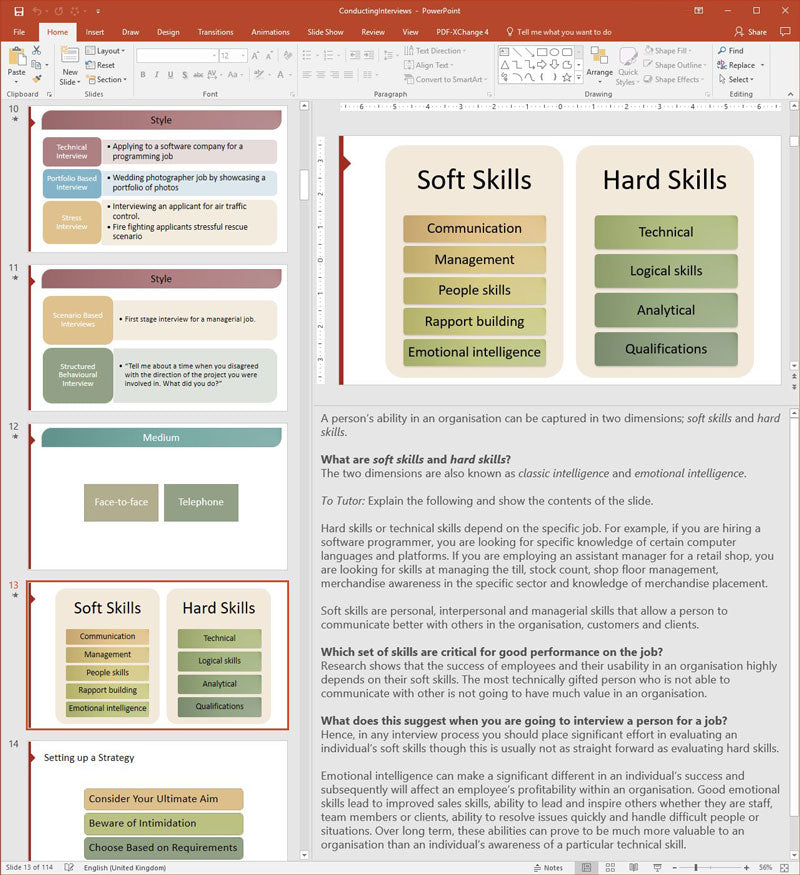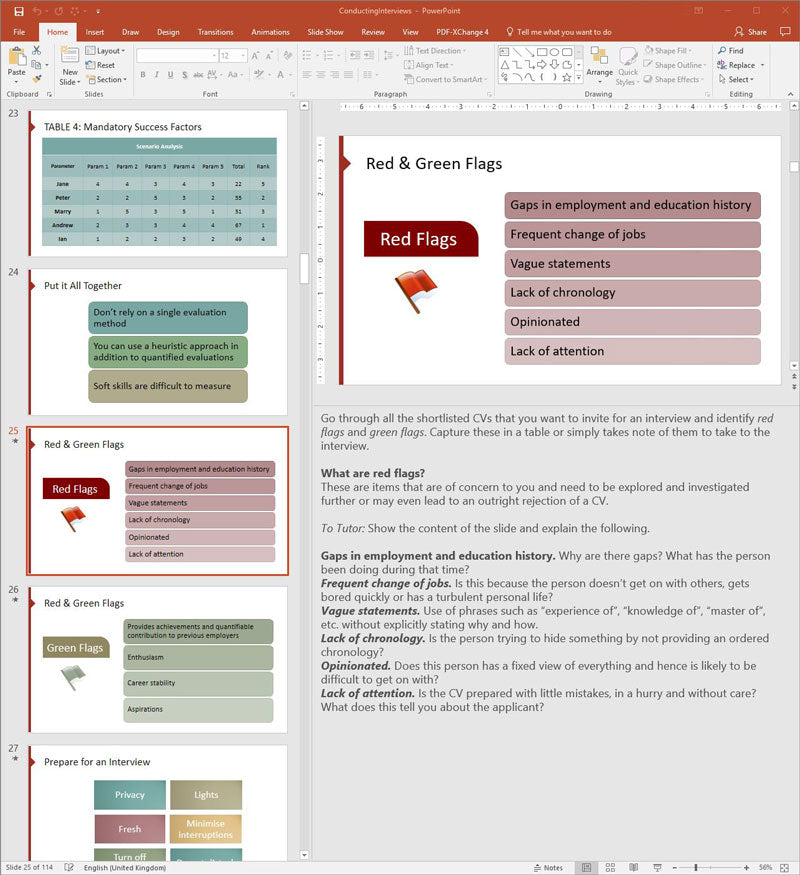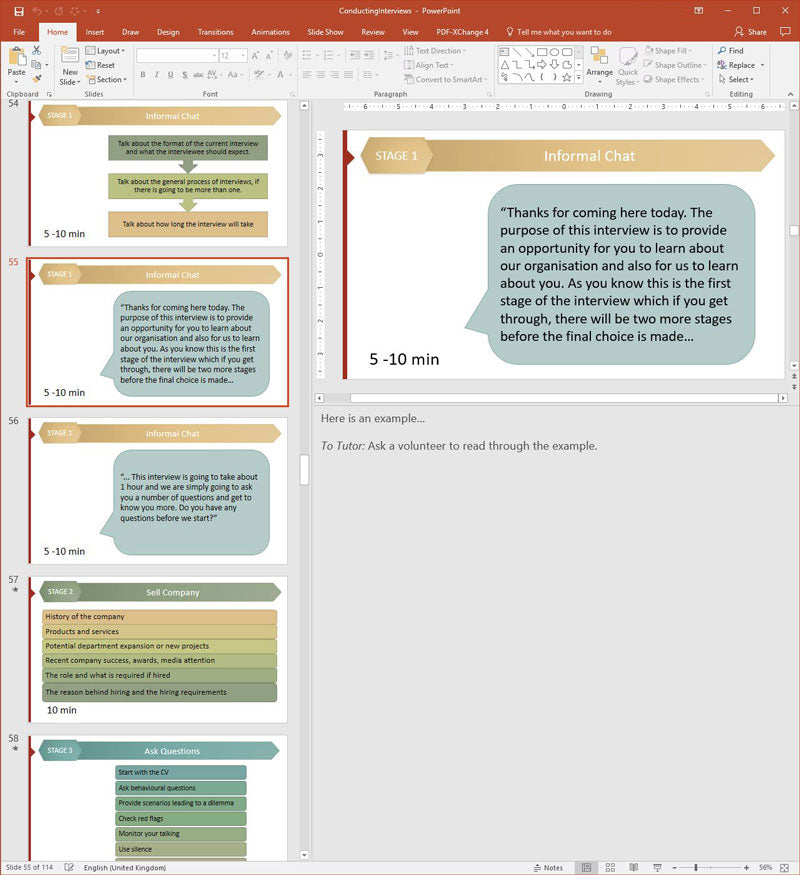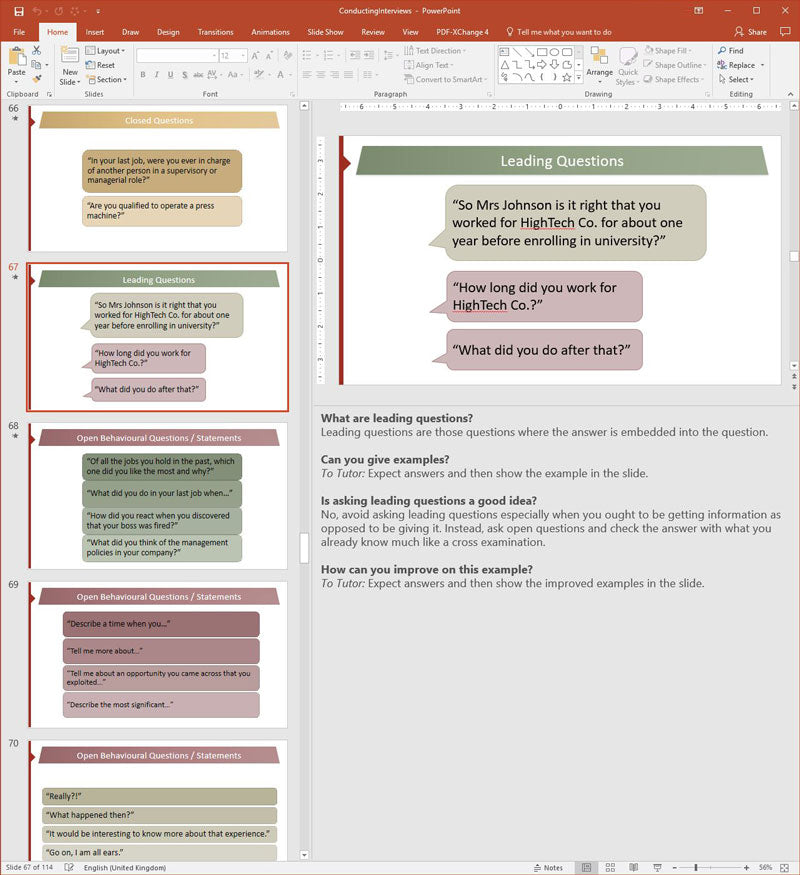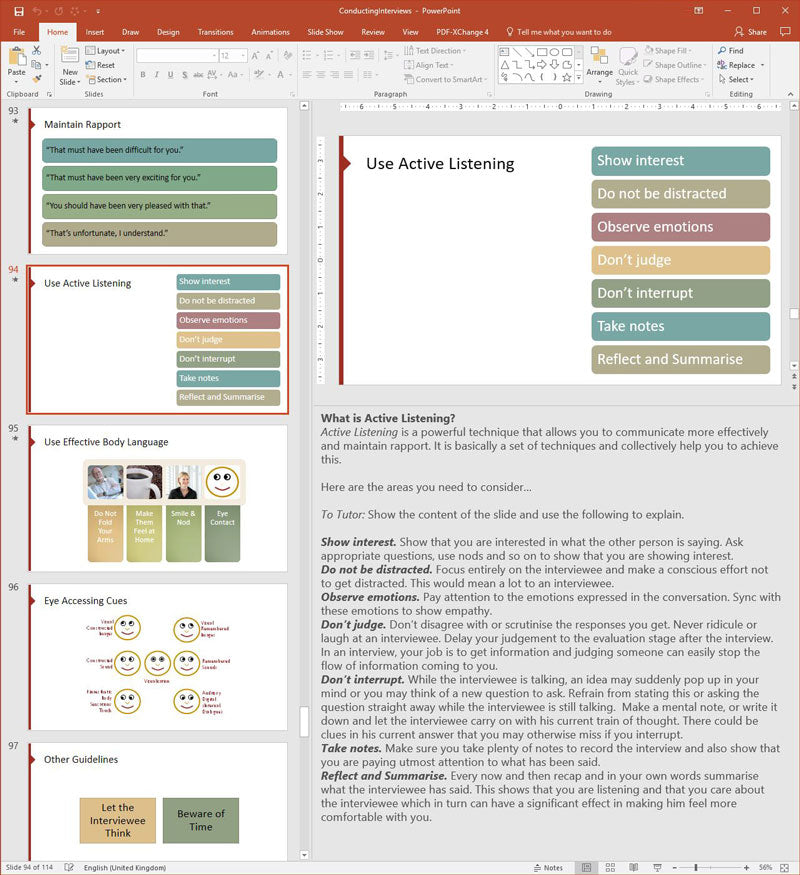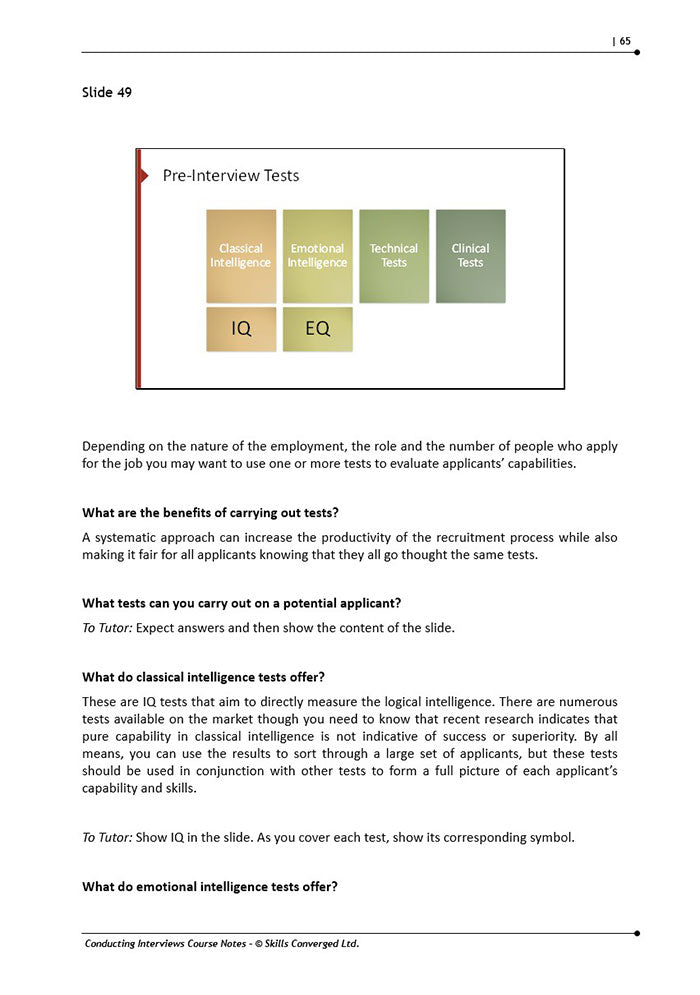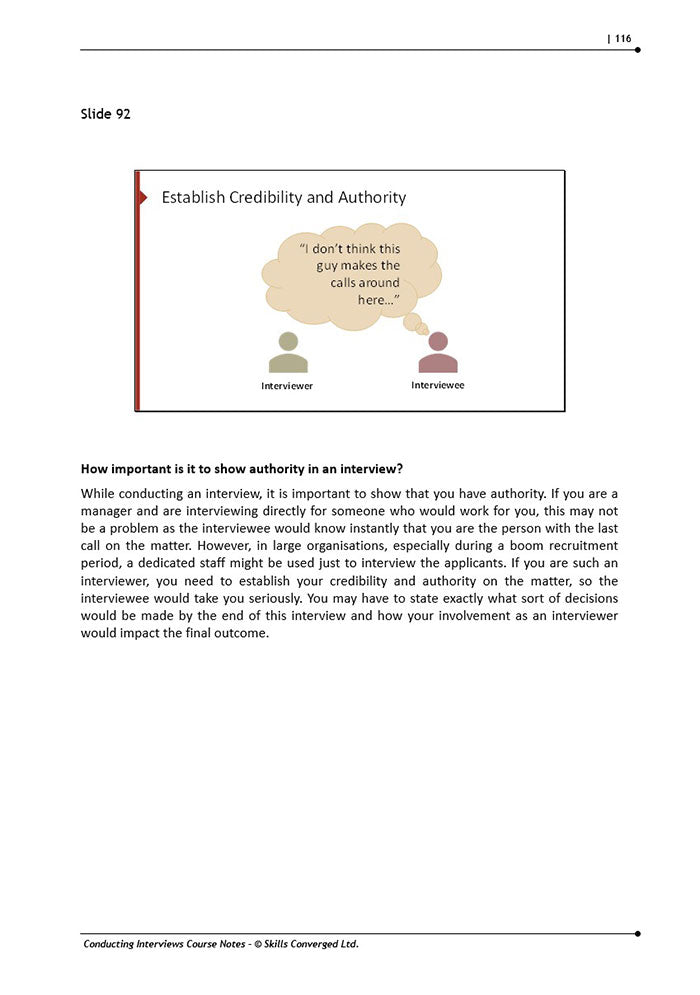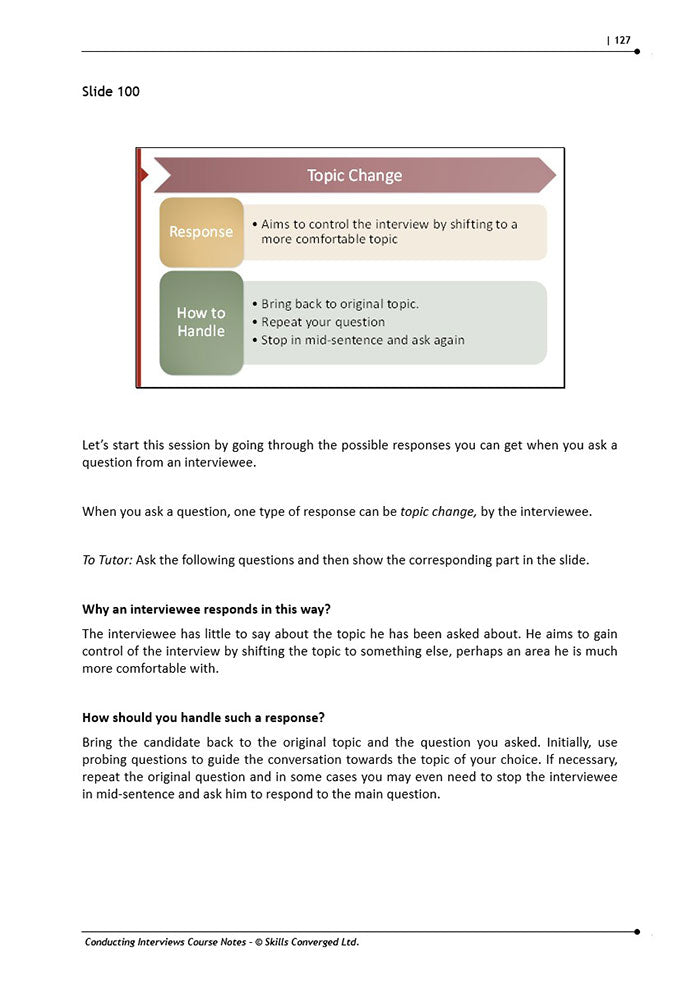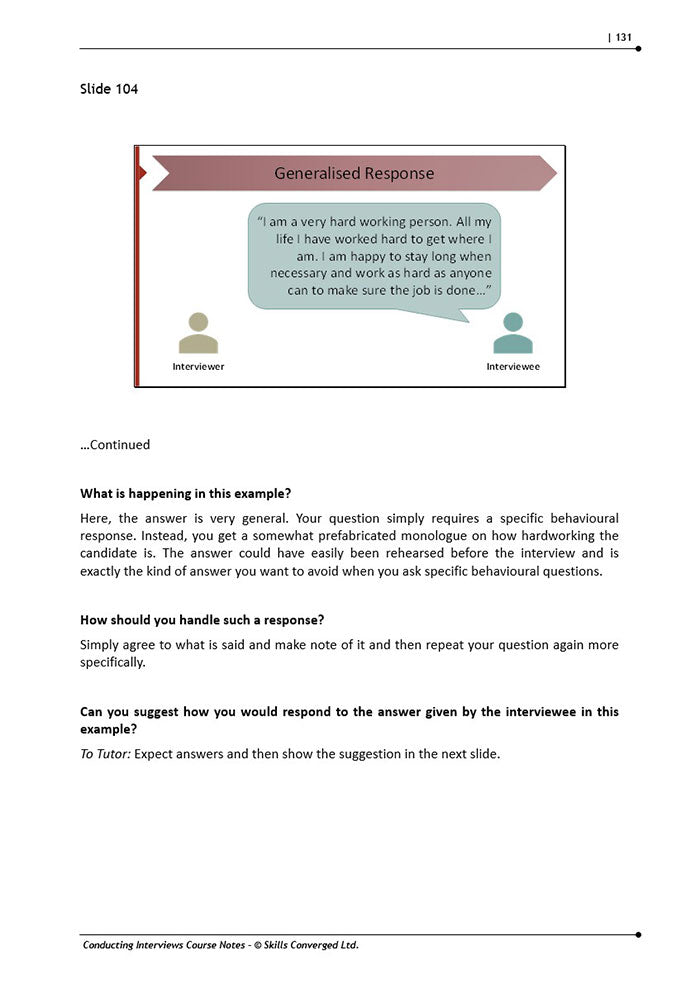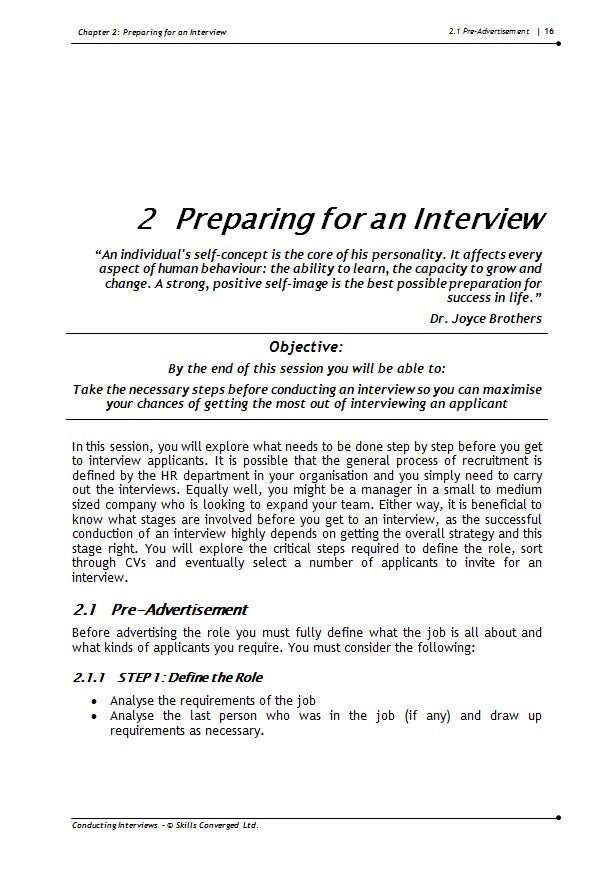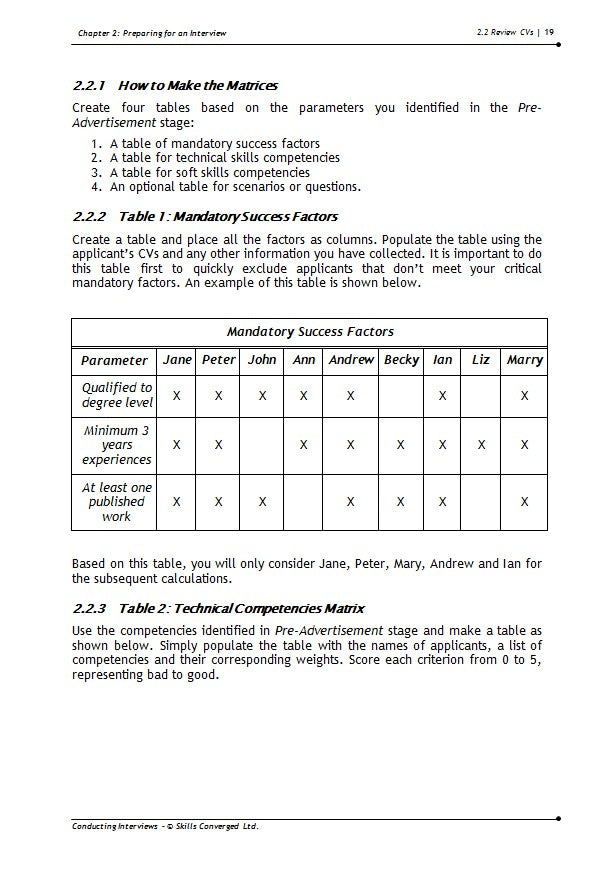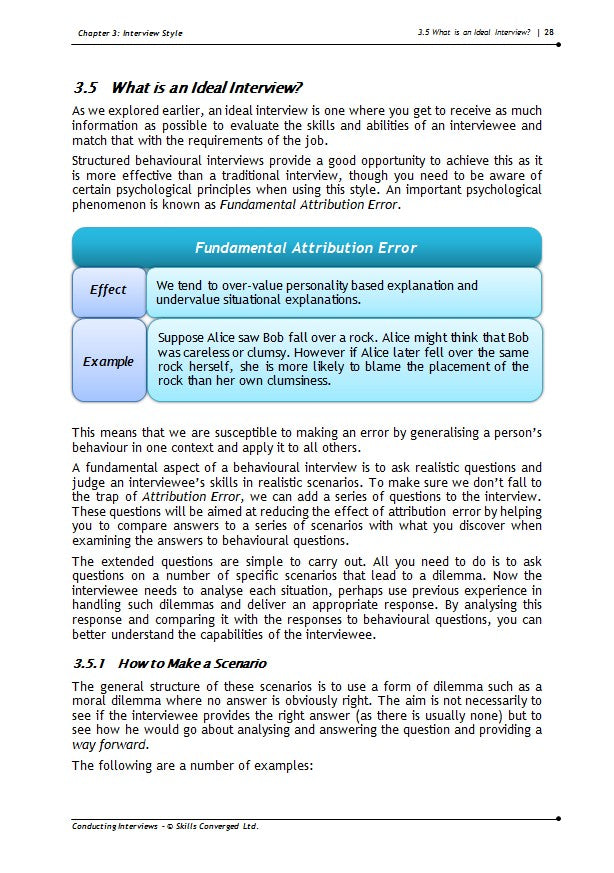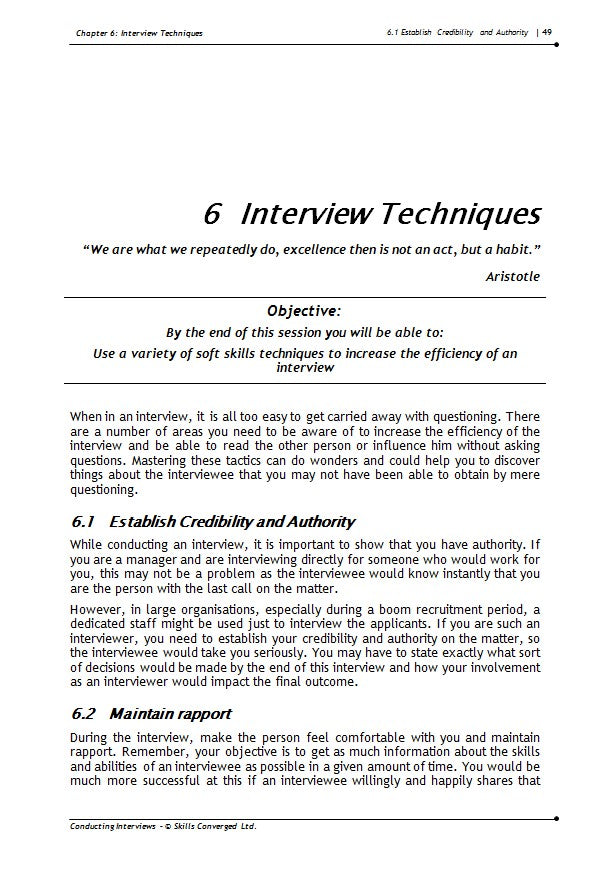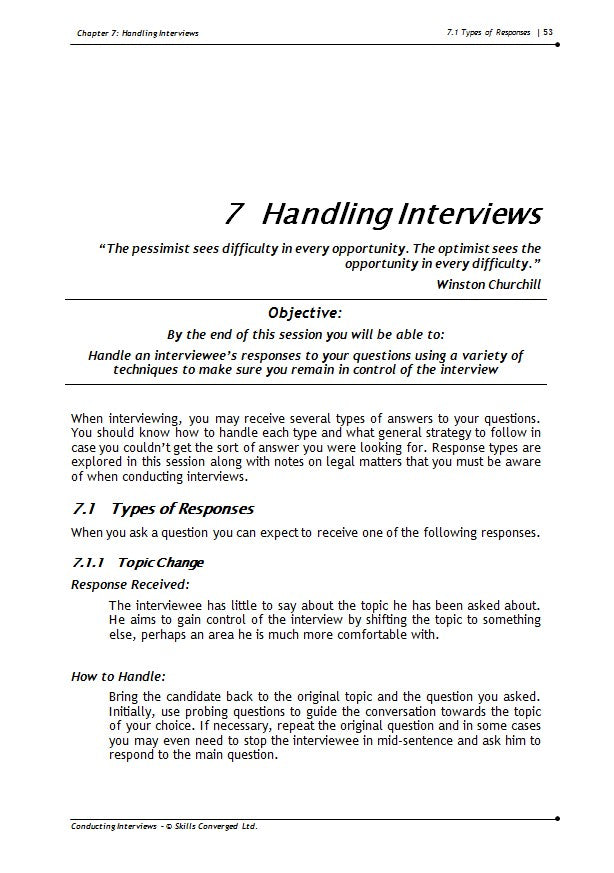 Conducting Interviews
---
---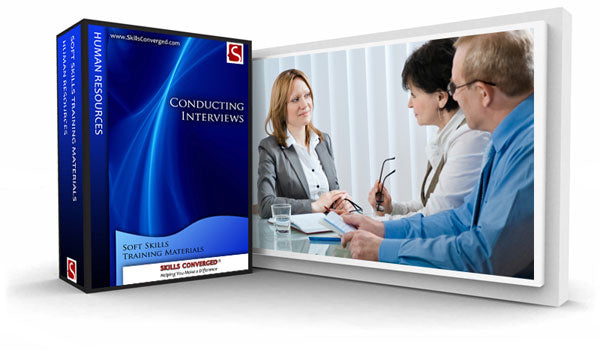 Course on How to Run an Interview and Recruit the Best Applicants
Fully Customisable Training Course Material
Description
"The people who get on in this world are the people who get up and look for the circumstances they want, and, if they can't find them, make them."

George Bernard Shaw
Your company has been prosperous and wants to go through a recruitment drive. You are a manger of this small company but feel overloaded with all the tasks you have to deal with on all fronts and need a helping hand. You are a line manager and have been fighting off other managers to access a pot of departmental budget. You have succeeded and want to use it quickly to expand your team in order to kick start several projects that would be valuable to your department.
All of these cases lead to a critical activity; interview suitable applicants to find the most ideal candidate for the job. The interview process would depend on many variables such as on the company's size, recruitment strategy, the HR department and so on. Over the years a large amount of research has been carried out to find the most effective strategies to conduct in an interview.
This course is designed based on this research and will help delegates to master the art of interviewing. This general course on conducting interviews is suitable for a variety of training requirements. Managers of a small company who simply want to learn how to run an interview, or dedicated interviewing staff who are part of a large organisation through a recruitment drive will all benefit from this course. The course covers many areas such as interview strategy, psychological behaviour, questioning skills, body language and handling interviewees. Delegates will learn what stages they need to go through before an interview to prepare for the event and then what stages to go through during an interview so they can get as much information as possible which would then help them or the organisation to pick the most ideal candidate for a particular role.
All the concepts covered in the course come with comprehensive examples so delegates can clearly see how each technique works. There are many interactive exercises that help delegates to role play running an interview and systematically improve their style while getting feedback from other delegates and the trainer. The training materials contain everything you need to run the course. You can easily modify the content to incorporate specific material on corporate recruitment strategy or extend the session on legal matters based on your local rules and regulations.
In this highly practical course delegates will learn:
Interview Strategy
What is an interview?
What kinds of interviews exist?
What are the systematic differences between various interview types?
What skills do you need to consider when recruiting?
What is your ultimate aim when interviewing?
How to Prepare For an Interview
What are the main pre-interview stages?
What should you do before advertising the role?
How should you define the role?
How should you systematically review CVs?
How should you define the parameters that you can use to compare the CVs?
How to optimise the process of CV reviewing to get the most with the least effort
What are the important guidelines on preparation when you want to conduct a face-to-face interview?
What are the ideal seating arrangements to get maximum results?
Interview Style
What recruitment strategies are out there?
What are the qualities of each strategy and how would each benefit you?
What are the benefits of structured behavioural interviews?
What psychological issues should you be aware of so that the interview process is not purely subject to the judgement of an interviewer?
What is an ideal interview?
How Should You Structure an Interview?
What are pre-interview tests?
What are the best-practice guidelines to run a smooth interview?
What are the critical 5 stages of an interview?
What should you do after the interview?
How to Ask Effective Questions
What is the importance of asking the right questions in an interview?
What are various types of questions you can ask?
What are the advantages and disadvantages of each type and how can you employ each type to achieve your ultimate objective?
What are traditional interview questions?
What are structured behavioural questions?
How should you expect an interviewee to answer your questions?
Interview Technique
What techniques can you use to better understand the applicant's capability and skills?
How to maintain rapport
What is Active Listening and how can it benefit you when interviewing?
What are various ways an interviewee can respond to your questions?
How should you handle each type of reaction?
What critical legal issues should you be aware of when interviewing?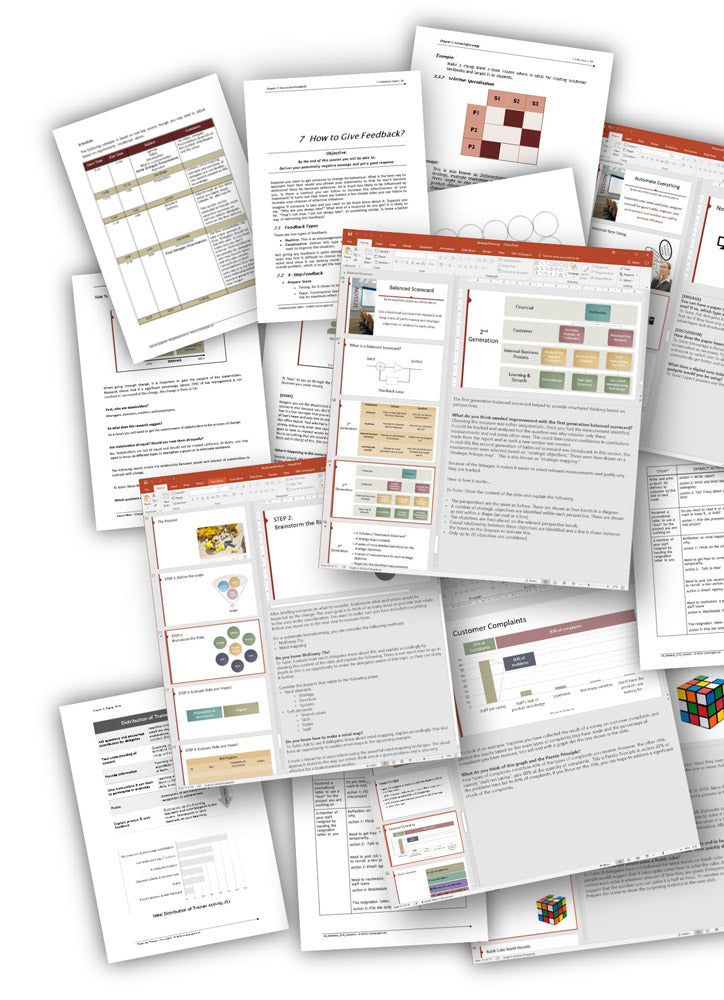 What Is Included
Everything you need to run the course:
Slides
Workbook
Exercises
Handouts
Trainer Notes
Specific Course Guidelines
Agenda
Guidelines on Training Methodology
Course Outline
Recommended Readings
Feedback Forms
Certificate of Achievement
Course Objectives
By the end of this course delegates will be able to:
Courseware Features
Buy & Download Training Materials
Choose your training materials
Add to shopping cart
Get multiple courses to get discounts and create tailored training
Pay using all major debit / credit cards, PayPal, Apple Pay and Google Pay.
After payment processing, you are redirected to a download page
You will also receive emails with download links
Unzip the package and access all the training resources in MS Office format
How to Get Training Packages
Editting
You can customise, edit and modify the content as you desire
Rights
Unlimited workbook reprinting rights
Comprehensive
The downloadable training package contains all you need to deliver a course
Extensively Researched
Designed based on the latest research in educational psychology, cognitive psychology, social sciences and business practices
Facilitation Training
Designed in line with the principles of accelerated learning

Interactive
Designed to include many examples, case studies and exercises to improve learning and retention
Download
Order online and download immediately after purchase
Source Files
Receive editable source files in MS Office 365 (Word DOC/DOCX and Power Point PPT/PPTX) and previous Office versions 2003, 2007, 2010, 2013 & 2016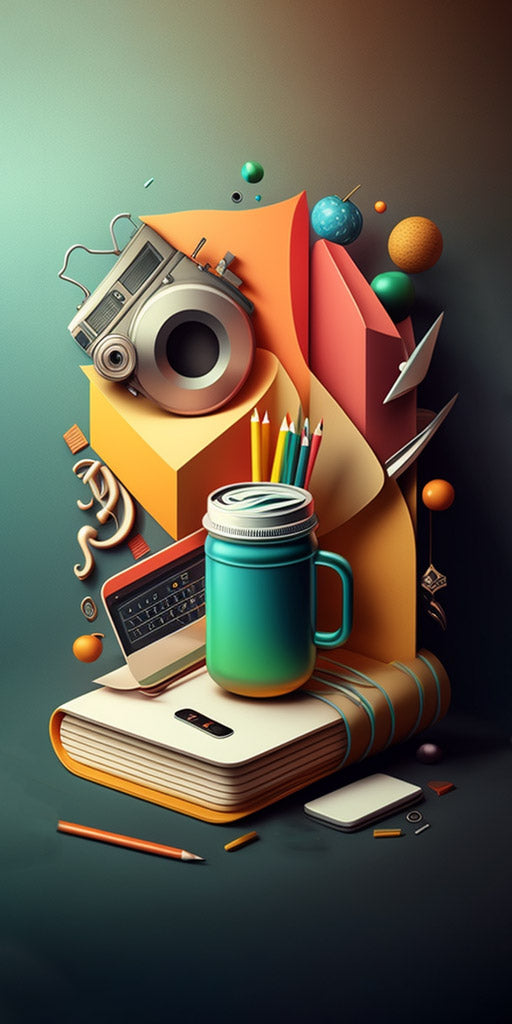 About the Design Philosophy of Conducting Interviews Course
100+ Countries
Used by Trainers Worldwide
Our mission is to help you deliver memorable courses with long lasting results, while taking the least amount of effort and time to run.
Save Time & Boost Training
Skills Converged is a unique company that provides professionally designed fully-customisable training course materials based on the latest research in learning & development. Courses are designed with attention to detail both on content and style so that you can deliver unique state-of-the-art courses to your clients and get maximum results.
For Trainers
Use ready-made modular courseware, tailor to your audience, respond to market quickly & effortlessly
For People Developers
Increase HR efficiency and save by supplying consistent professionally designed training materials to your trainers and help employees reach full potential