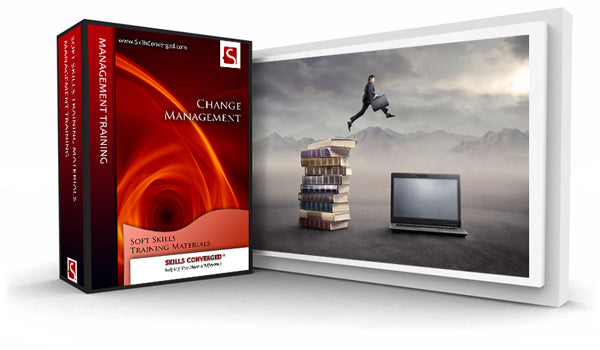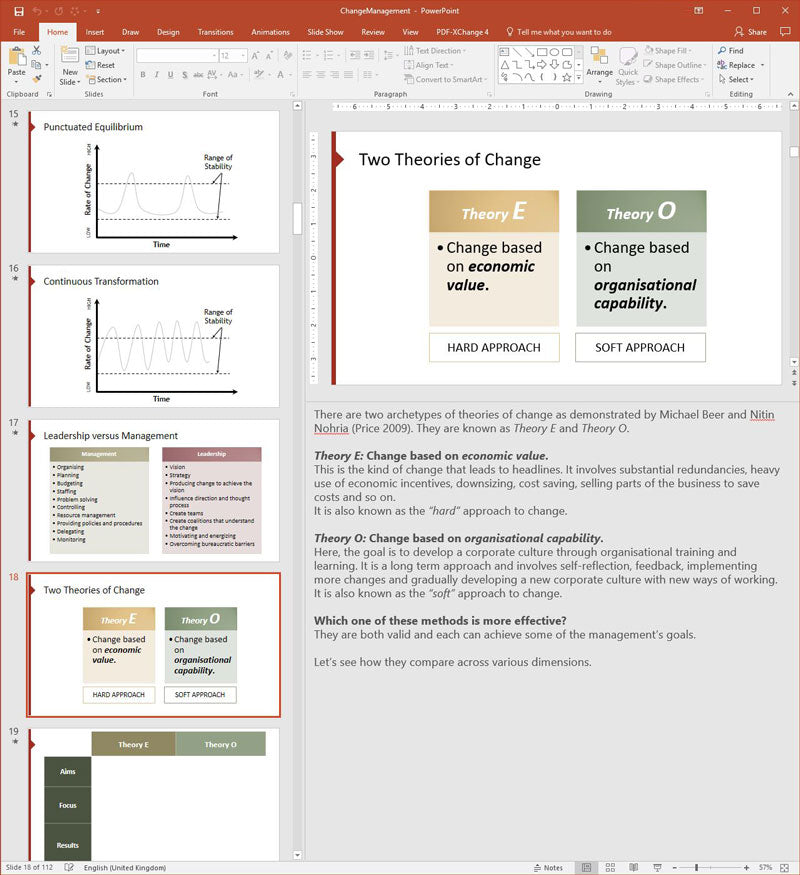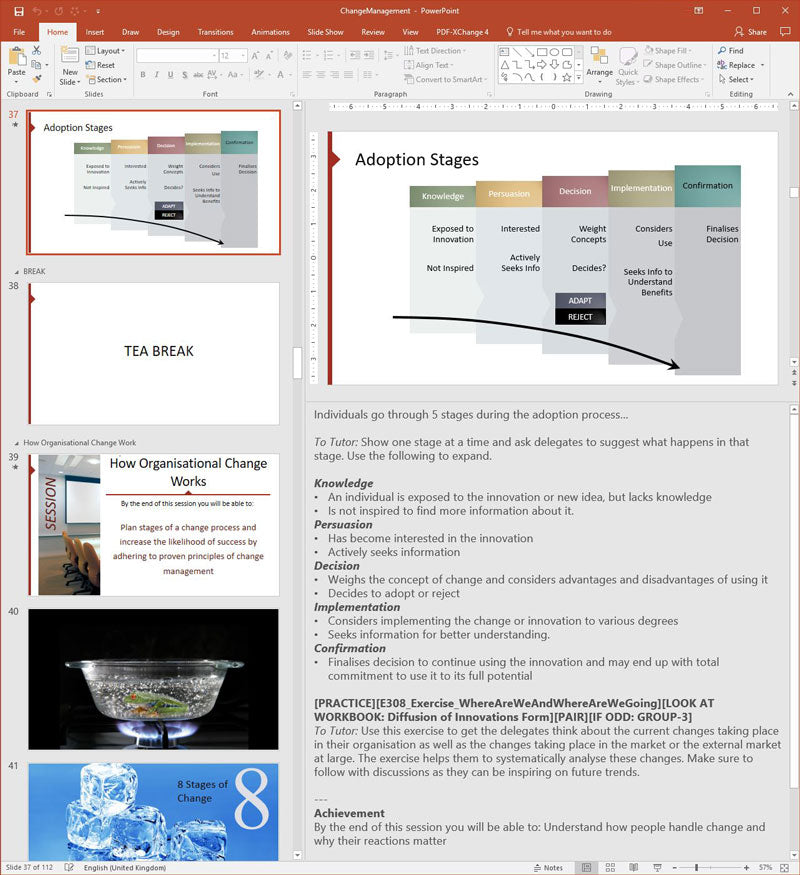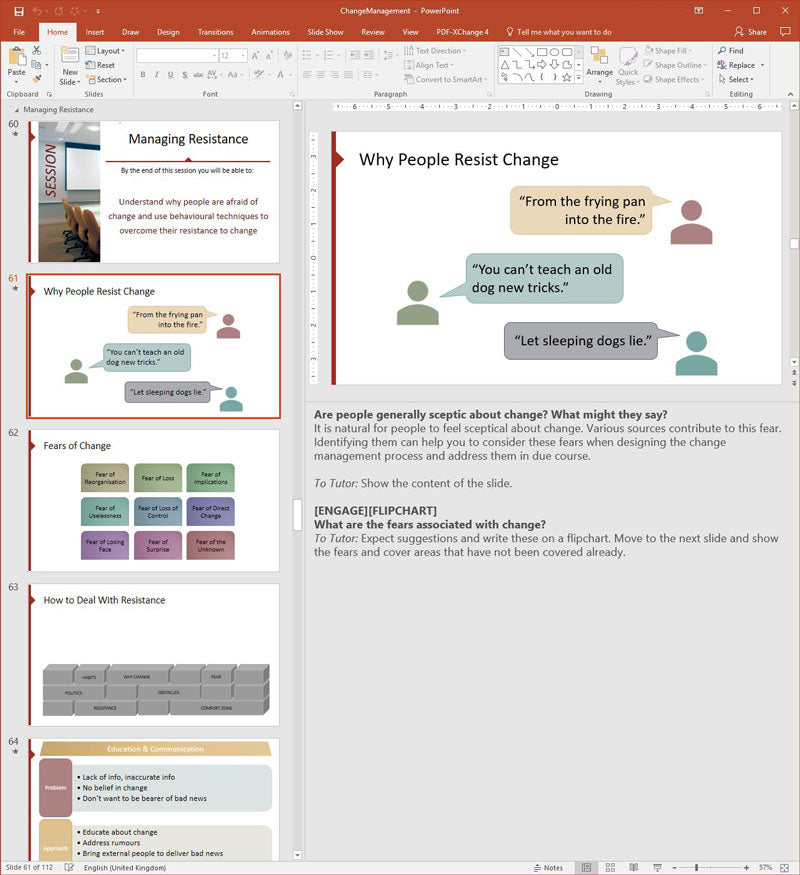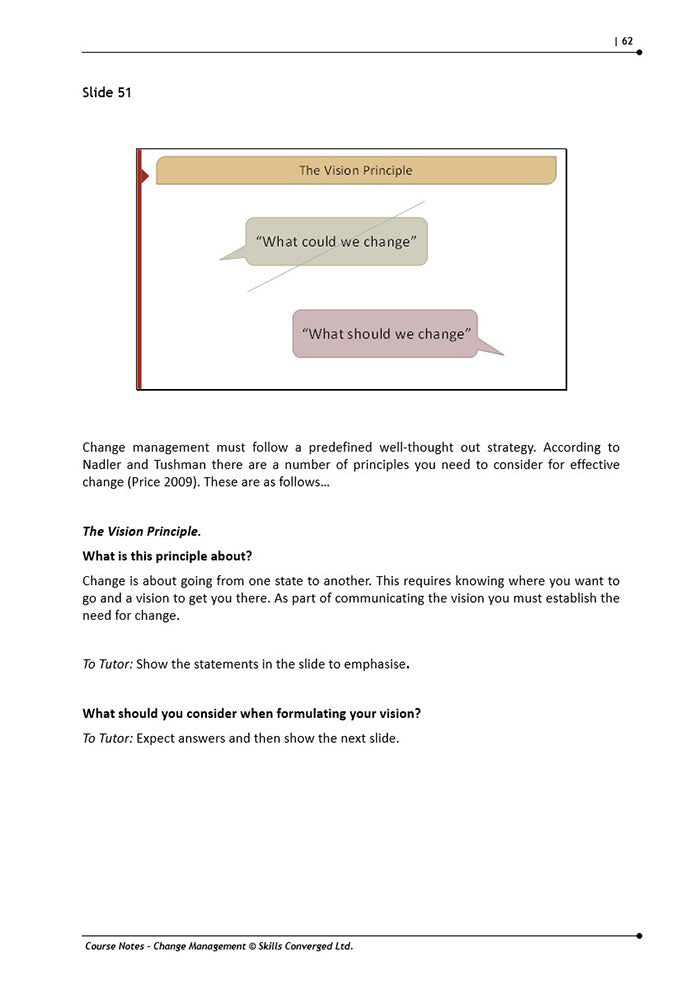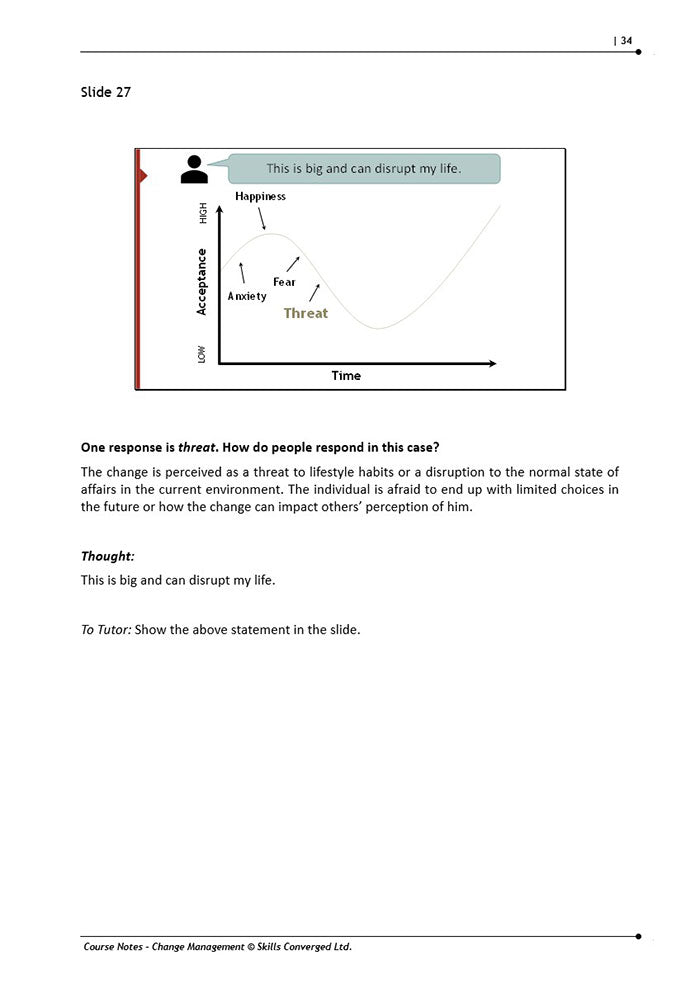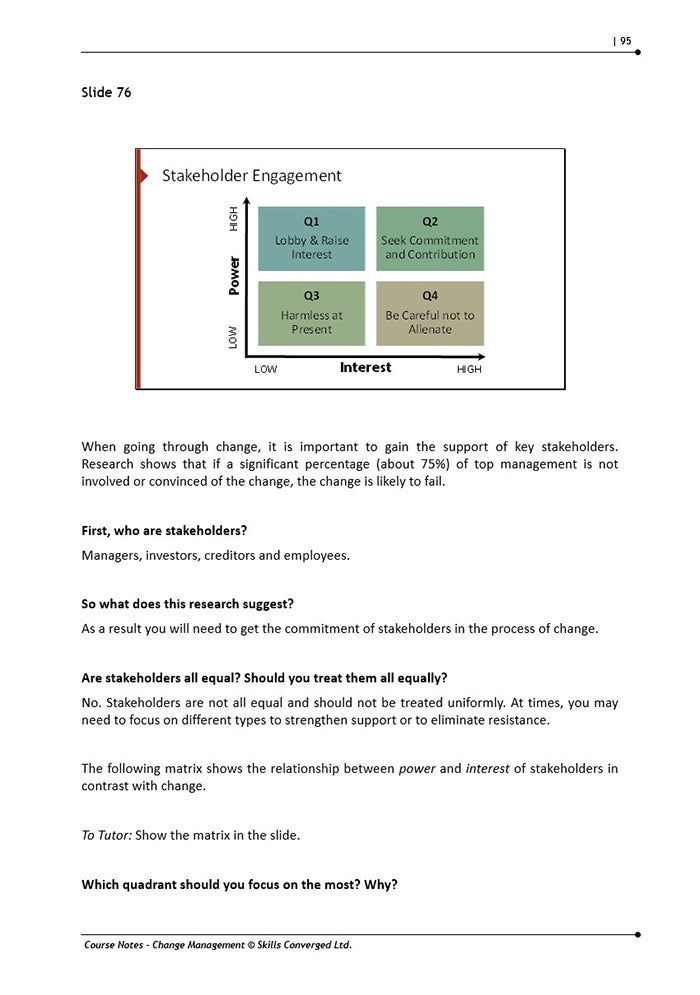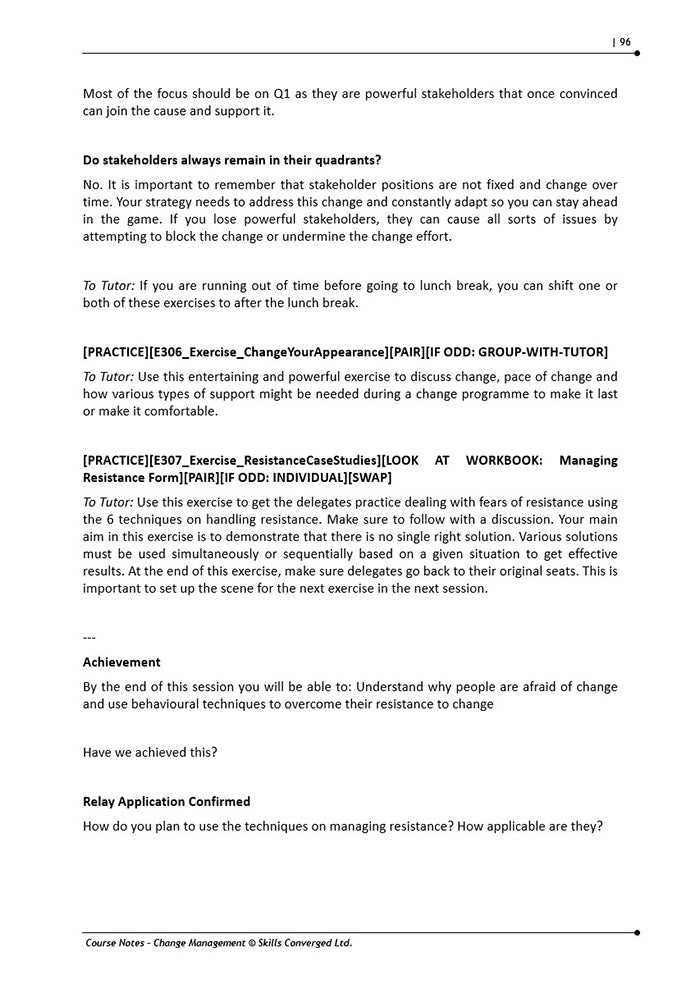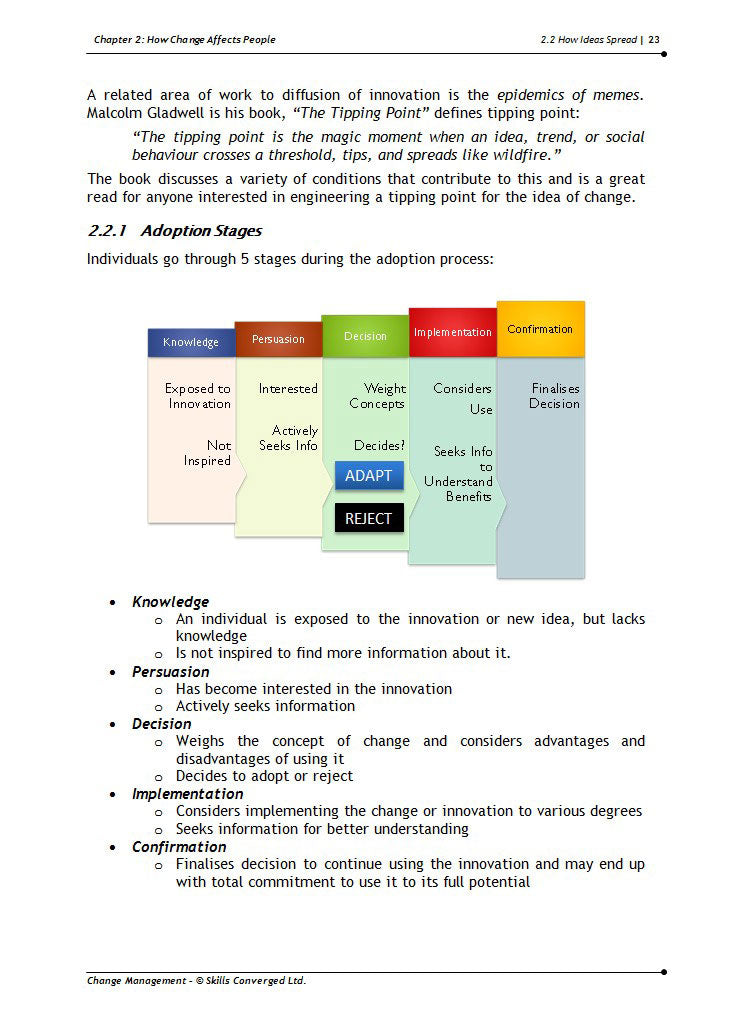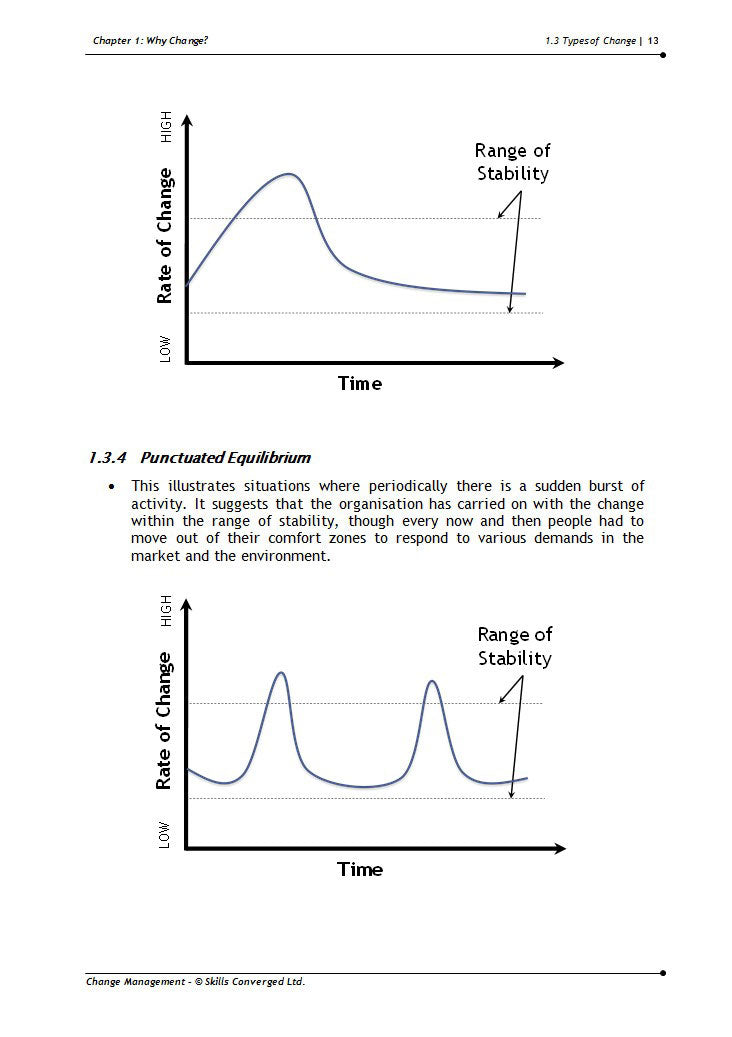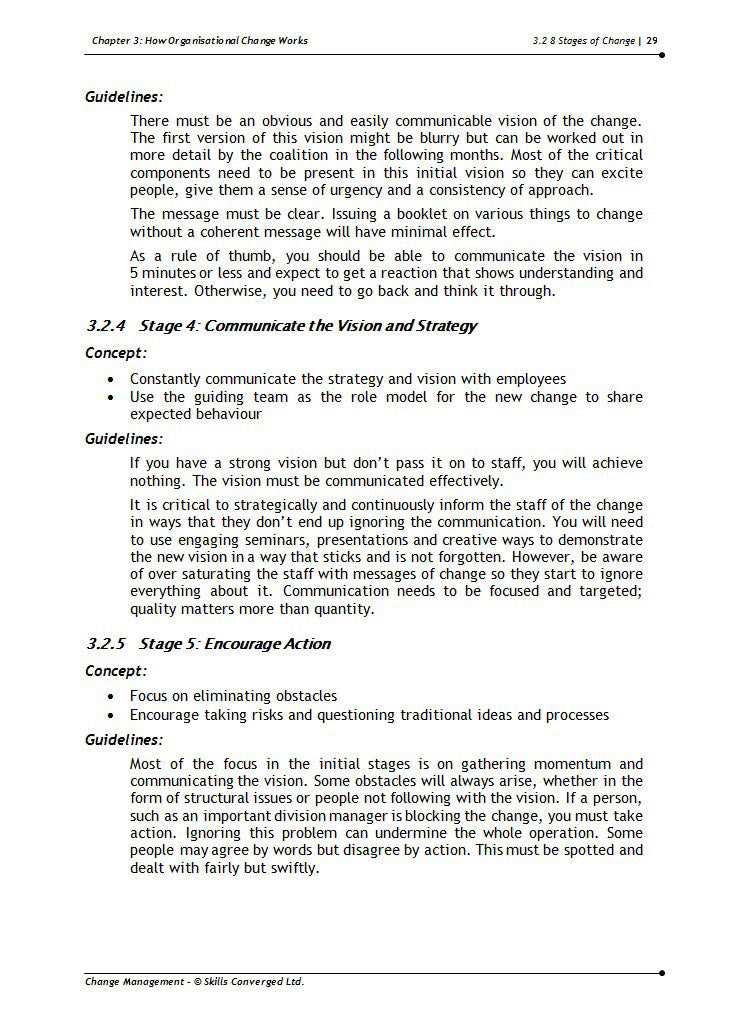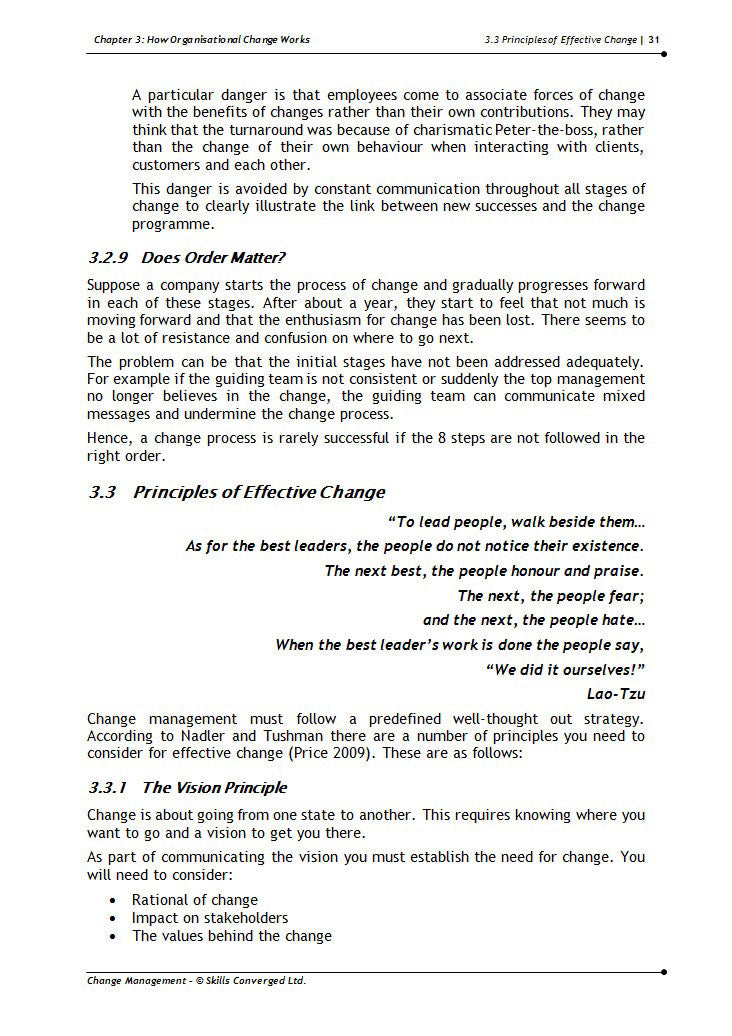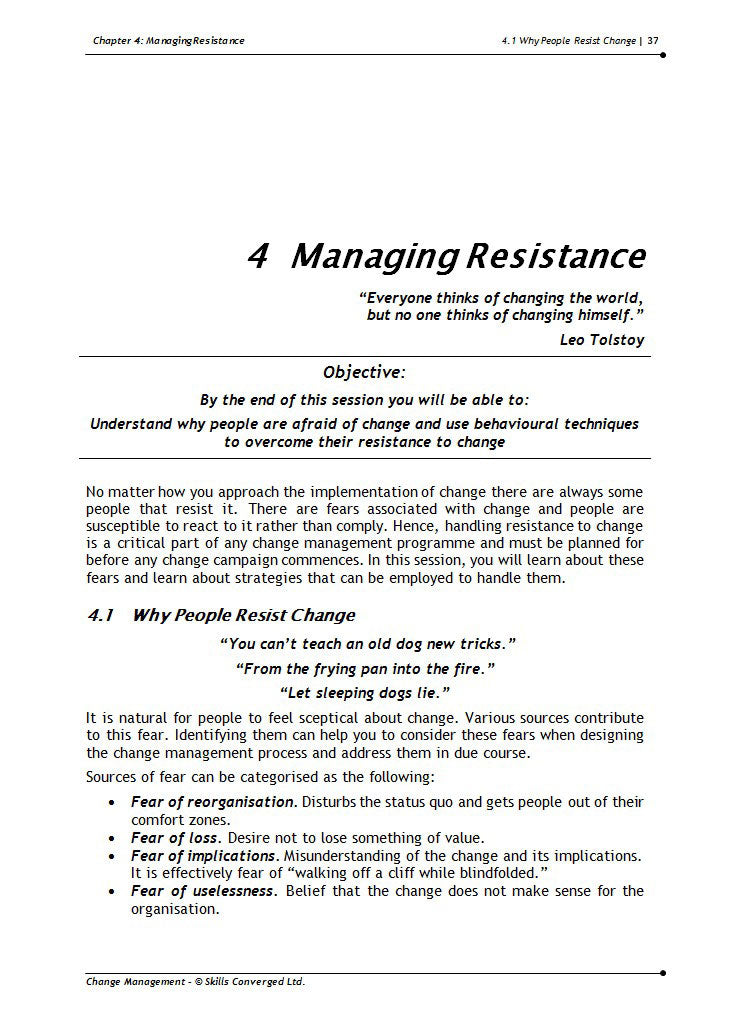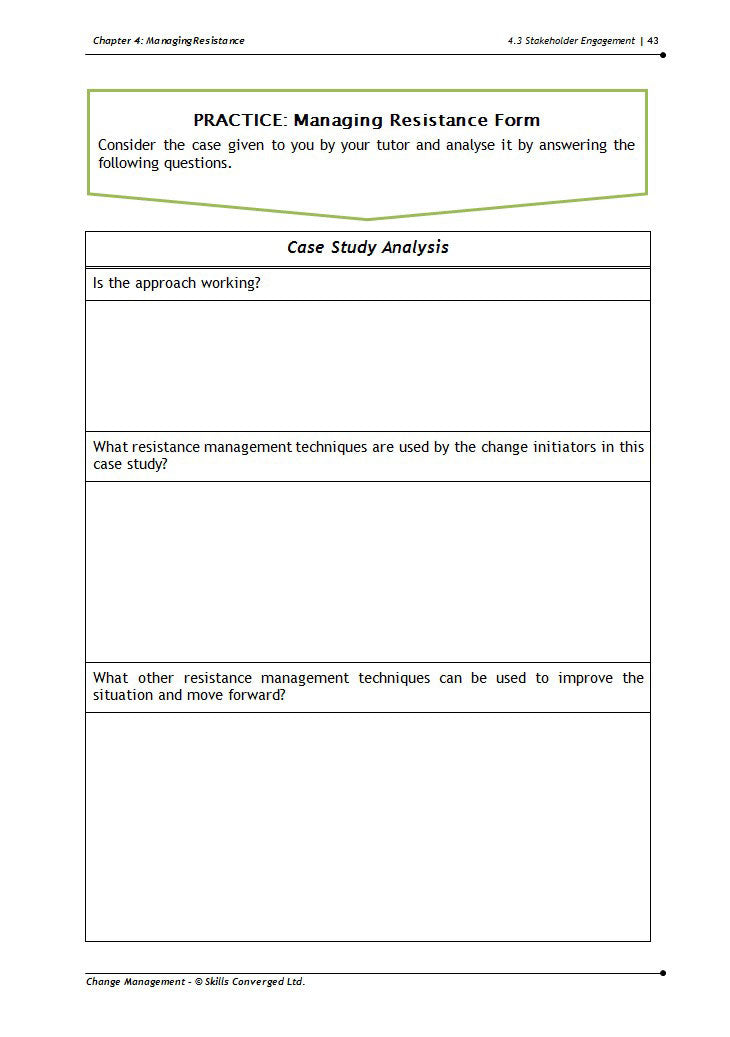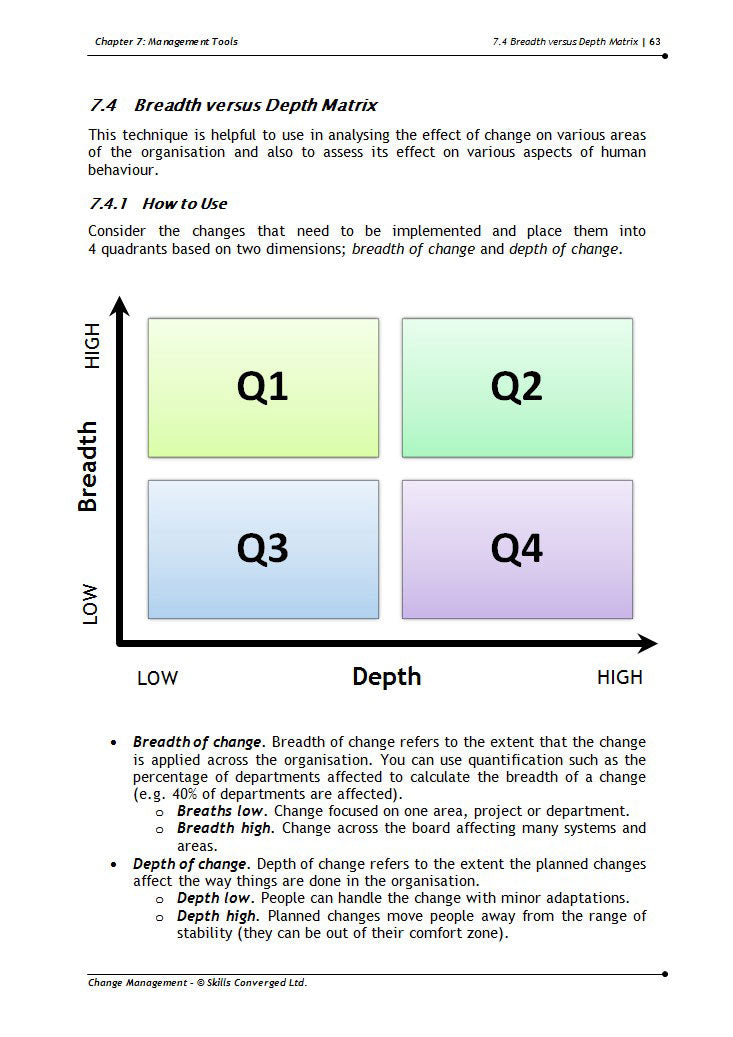 Change Management
---
---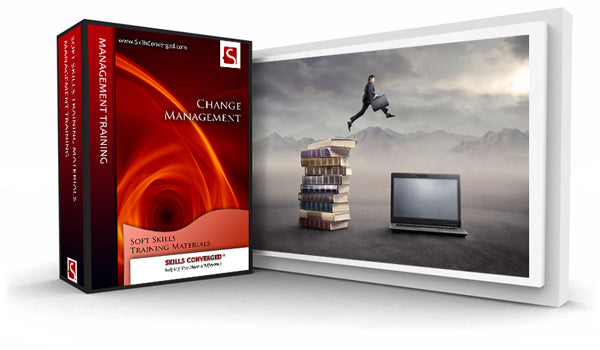 Course on Planning for Change, Motivating, Persuading and Responding to Potential Resistance
Fully Customisable Training Course Material
Description
"Whosoever desires constant success must change his conduct with the times."

Niccolo Machiavelli 
The world is changing and is changing faster than ever before. Our technological progress is affecting every area of our lives and as a result of that, the markets are changing quickly too. Organisations that want to remain competitive in this ever changing market need to be one step ahead of the change or risk losing out to those who do.
Responding to change requires a continuous change programme where the company can constantly and dynamically adapt. Alternatively, an organisation may need to go through a major change programme periodically to remain competitive.
Going through change can be quite costly, but it is a necessary part of progressing forward. People in charge of a change management progress must consider a variety of areas such as organisational change, persuasion, how to communicate the need for change, how to gain momentum, how to overcome resistance to change and how to deal with powerful resisting stakeholders to succeed.
This course is designed to help the participants familiarise themselves with these topics so they can be prepared to handle them when designing or executing a change management programme.
The course contains both theoretical and practical content. Participants will learn about established theories of change management and reasons for failure. They will learn what is involved in each stage of a change programme and what they need to consider to maximise the likelihood of its success. This is then complemented by people management techniques such as skills management, persuasion techniques, coaching, mentoring and motivating.
In this highly practical course participants will learn:
Why Change?
Why organisations fail?
What are various types of change?
What are various phases of growth?
What are major established theories on change management and how do they compare with each other?
What is the difference between leading and managing?
How Change Affects People
How do people respond to change?
What goes through people's mind when they are confronted with change in different stages?
How ideas spread and what does this mean for change management?
How Organisational Change Works
What are the 8 stages of change and what should you consider in each stage to maximise the likelihood of success?
What are the principles of effective change?
What are the common problems when managing changes that if neglected can seriously impact the change process?
Managing Resistance
Why people resist change?
How can you deal with this resistance?
What are the techniques available to persuade people on change?
How can you engage stakeholders considering their power and interest?
How to Manage Change
What are the critical three components of a change management programme?
What tools can you use to manage and monitor employee skills and identify skill gaps?
How to develop employee skill profile
What are various options in filling these skill gaps and what are each methods advantages and disadvantages?
Mentoring, Coaching and Motivating
How critical is motivation in the context of change management?
What is Skill/Will Matrix and how can you use it for coaching and managing change?
What is mentoring, what is coaching and what is the difference between them?
How can you use the GROW model to provide effective coaching?
Management Tools
What are the tools used for brainstorming ideas on change and structuring your plans and activities?
What tools can you use to identify what works for change and what works against it?
What tools can you use to monitor the scope of change and make sure that your plans are consistent and are applied at the right level?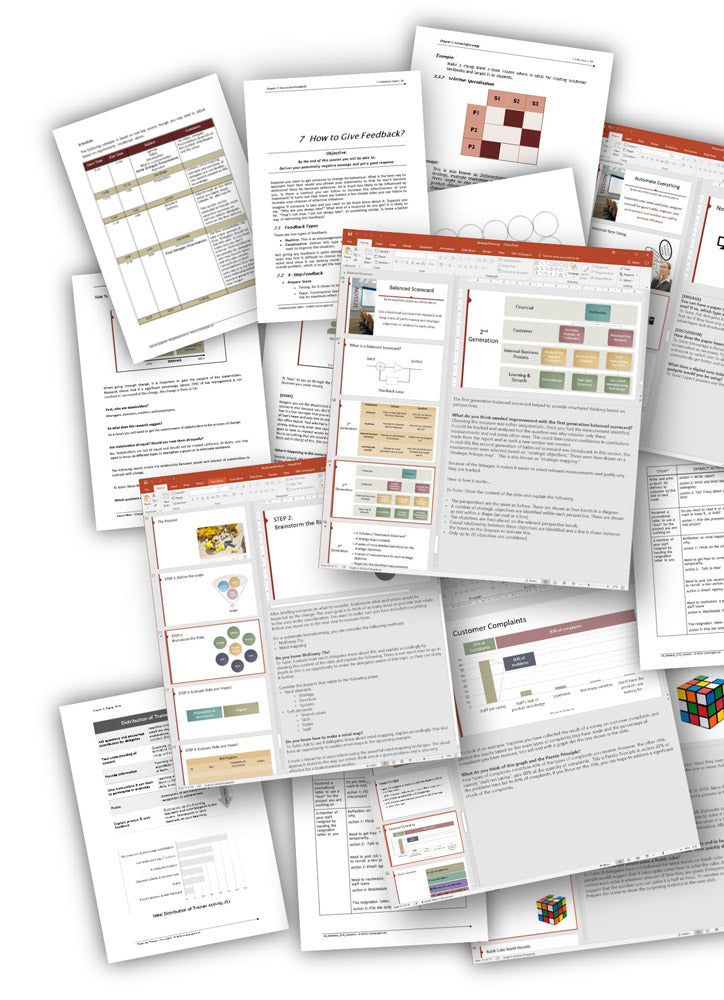 What Is Included
Everything you need to run the course:
Slides
Workbook
Exercises
Handouts
Trainer Notes
Specific Course Guidelines
Agenda
Guidelines on Training Methodology
Course Outline
Recommended Readings
Feedback Forms
Certificate of Achievement
Course Objectives
By the end of this course delegates will be able to:
Courseware Features
Buy & Download Training Materials
Choose your training materials
Add to shopping cart
Get multiple courses to get discounts and create tailored training
Pay using all major debit / credit cards, PayPal, Apple Pay and Google Pay.
After payment processing, you are redirected to a download page
You will also receive emails with download links
Unzip the package and access all the training resources in MS Office format
How to Get Training Packages
Editting
You can customise, edit and modify the content as you desire
Rights
Unlimited workbook reprinting rights
Comprehensive
The downloadable training package contains all you need to deliver a course
Extensively Researched
Designed based on the latest research in educational psychology, cognitive psychology, social sciences and business practices
Facilitation Training
Designed in line with the principles of accelerated learning

Interactive
Designed to include many examples, case studies and exercises to improve learning and retention
Download
Order online and download immediately after purchase
Source Files
Receive editable source files in MS Office 365 (Word DOC/DOCX and Power Point PPT/PPTX) and previous Office versions 2003, 2007, 2010, 2013 & 2016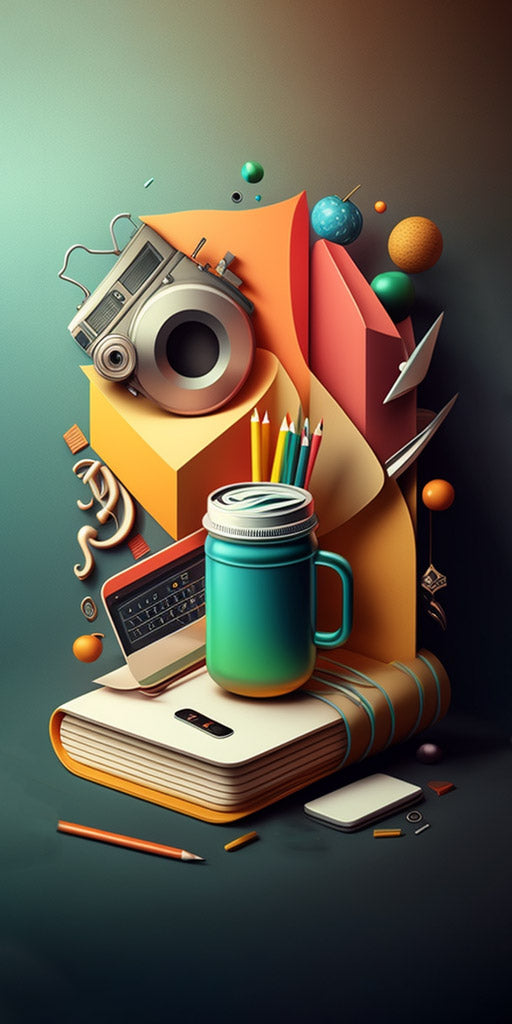 About the Design Philosophy of Change Management Course
100+ Countries
Used by Trainers Worldwide
Our mission is to help you deliver memorable courses with long lasting results, while taking the least amount of effort and time to run.
Save Time & Boost Training
Skills Converged is a unique company that provides professionally designed fully-customisable training course materials based on the latest research in learning & development. Courses are designed with attention to detail both on content and style so that you can deliver unique state-of-the-art courses to your clients and get maximum results.
For Trainers
Use ready-made modular courseware, tailor to your audience, respond to market quickly & effortlessly
For People Developers
Increase HR efficiency and save by supplying consistent professionally designed training materials to your trainers and help employees reach full potential