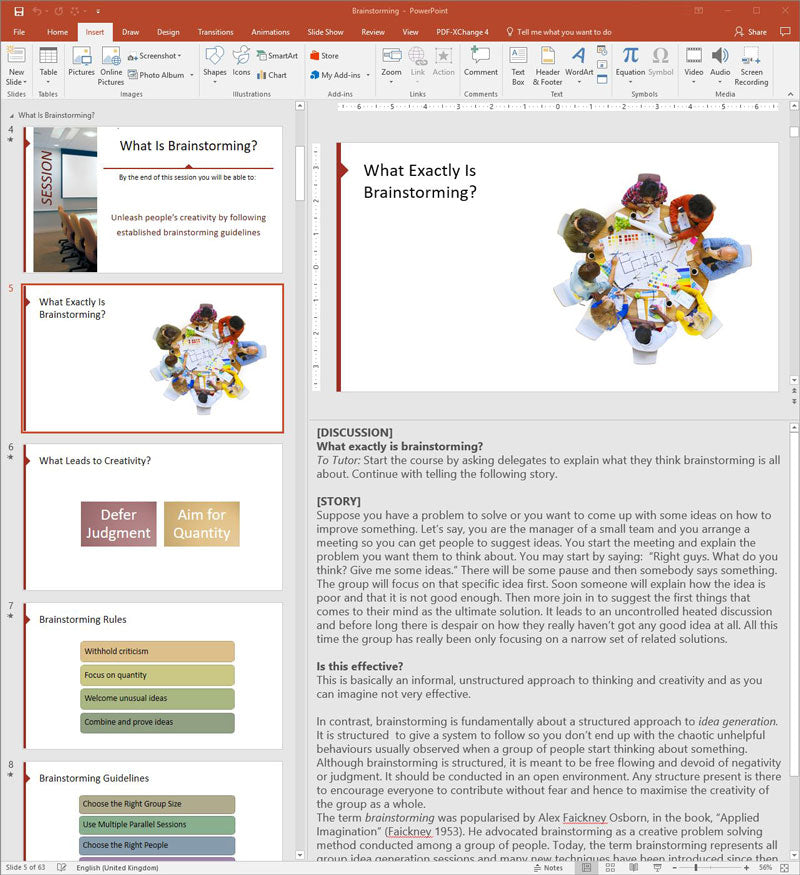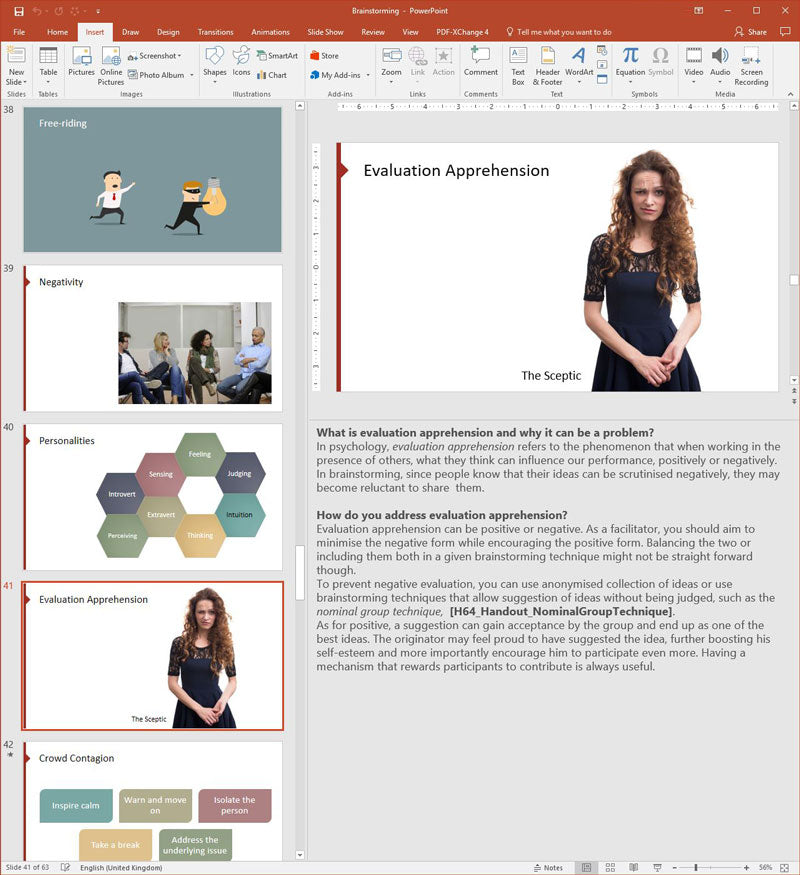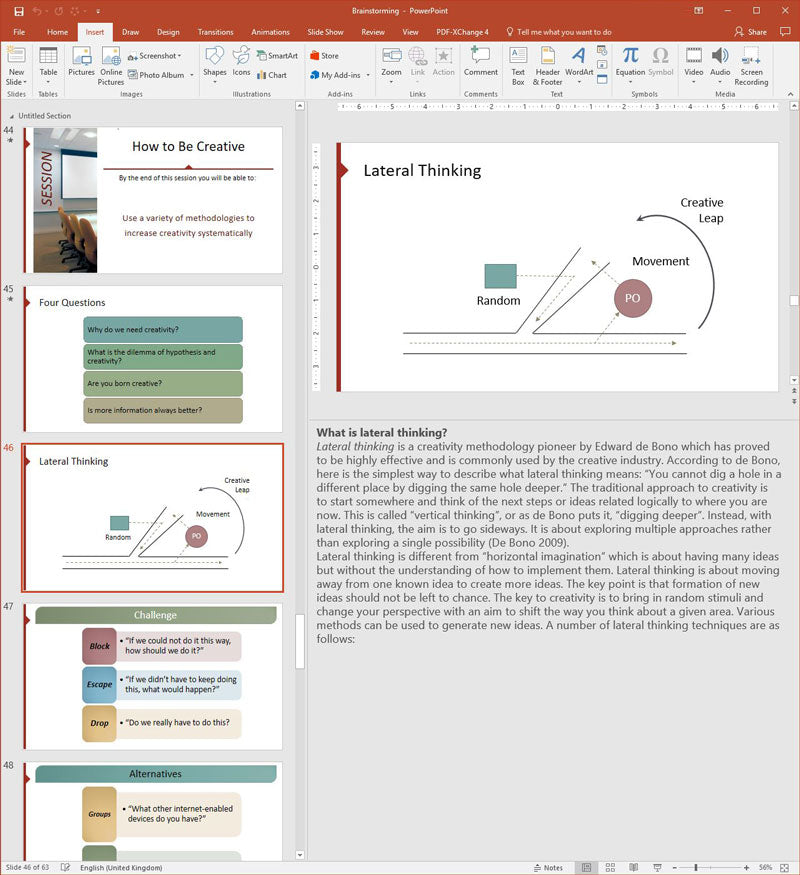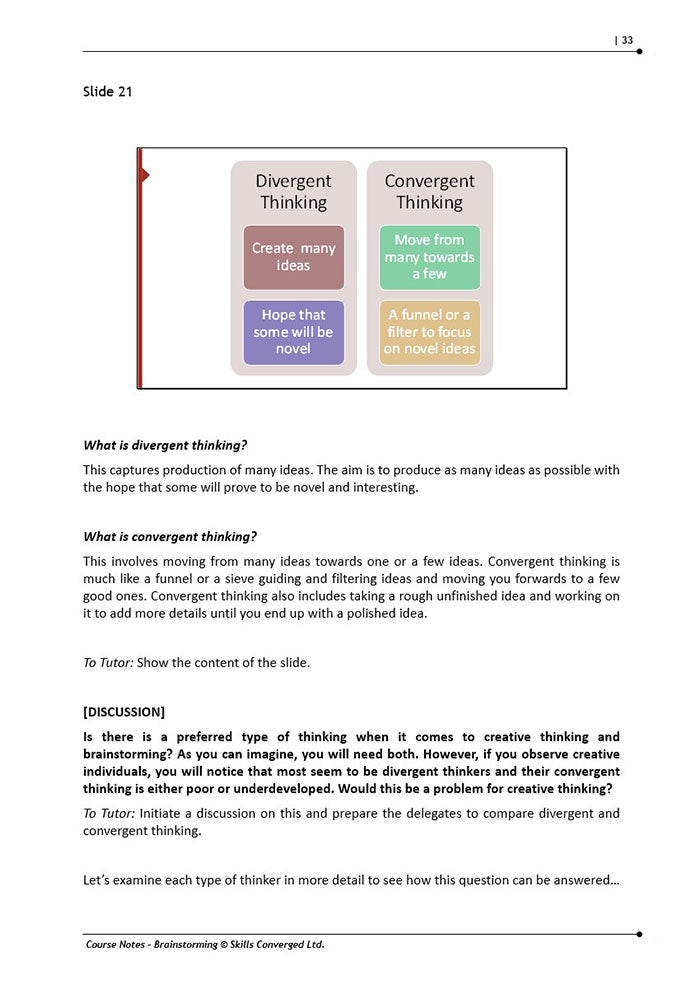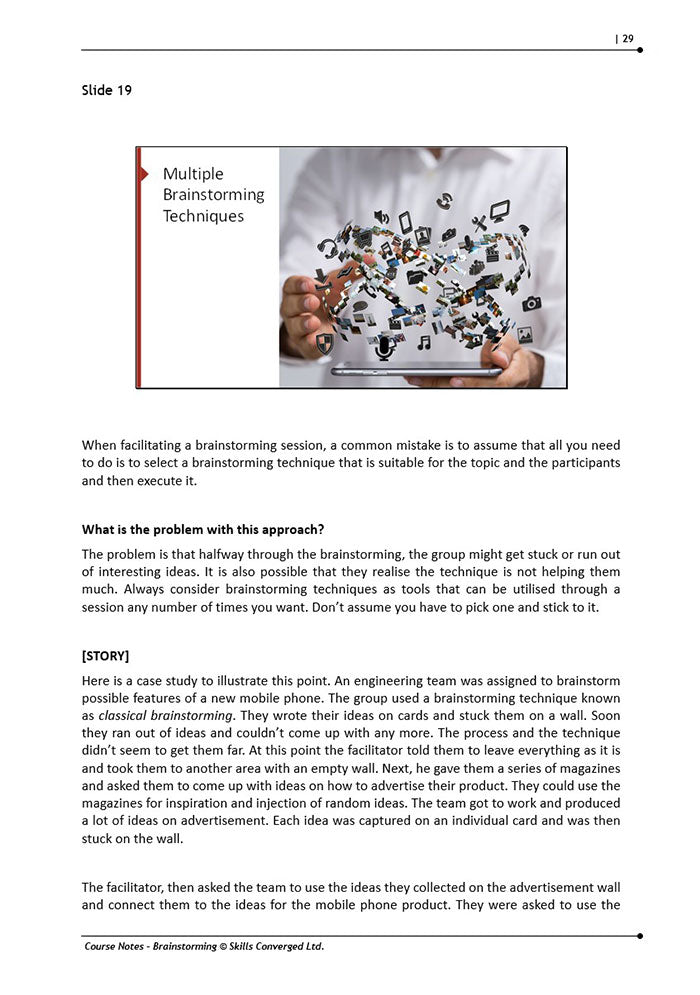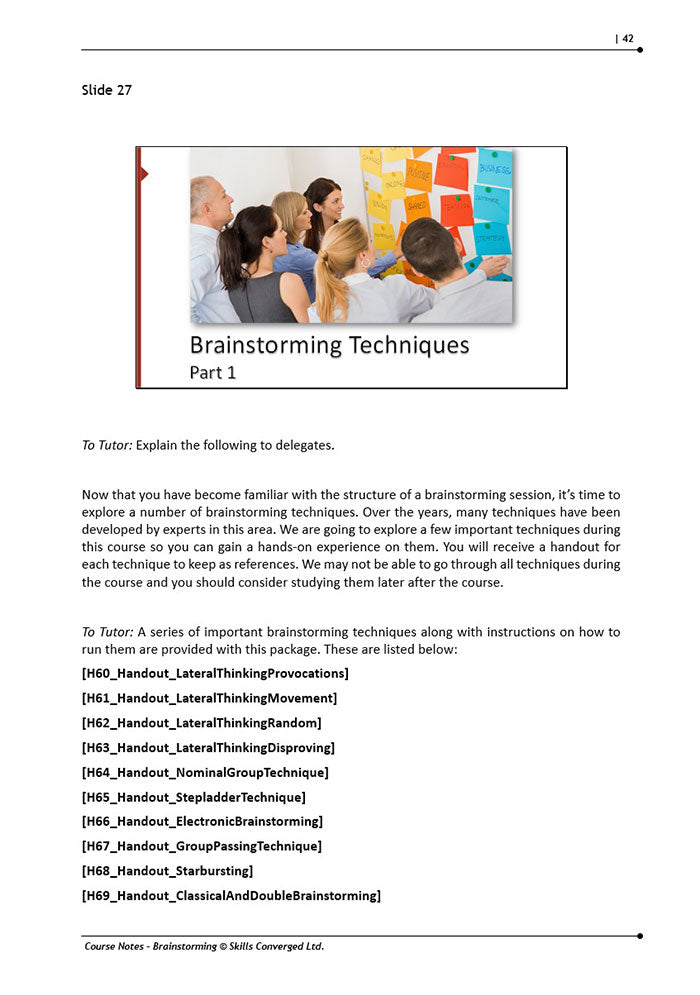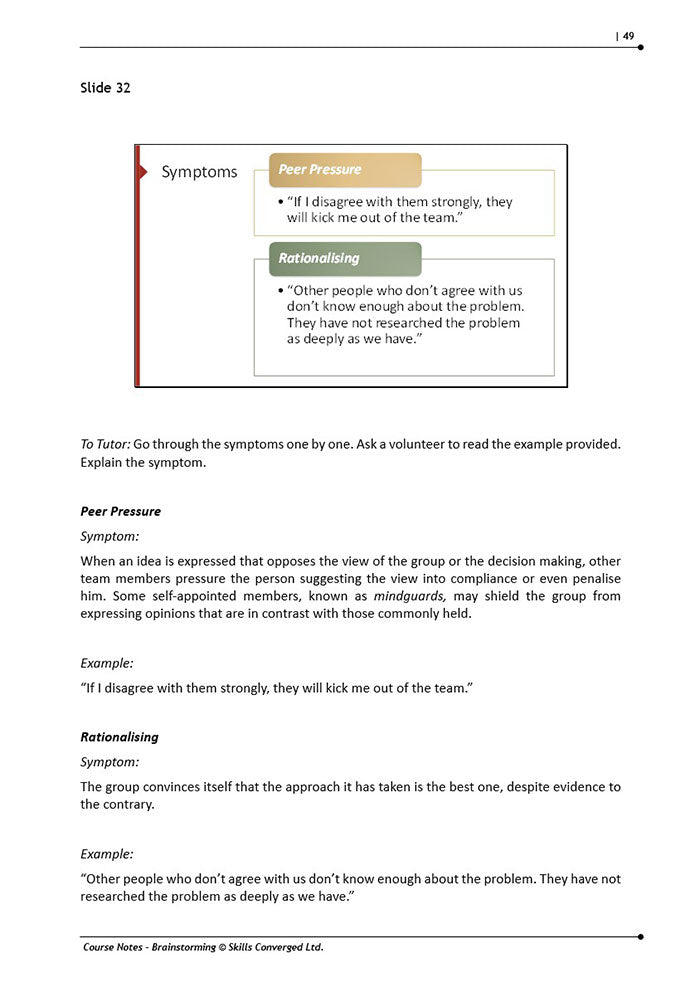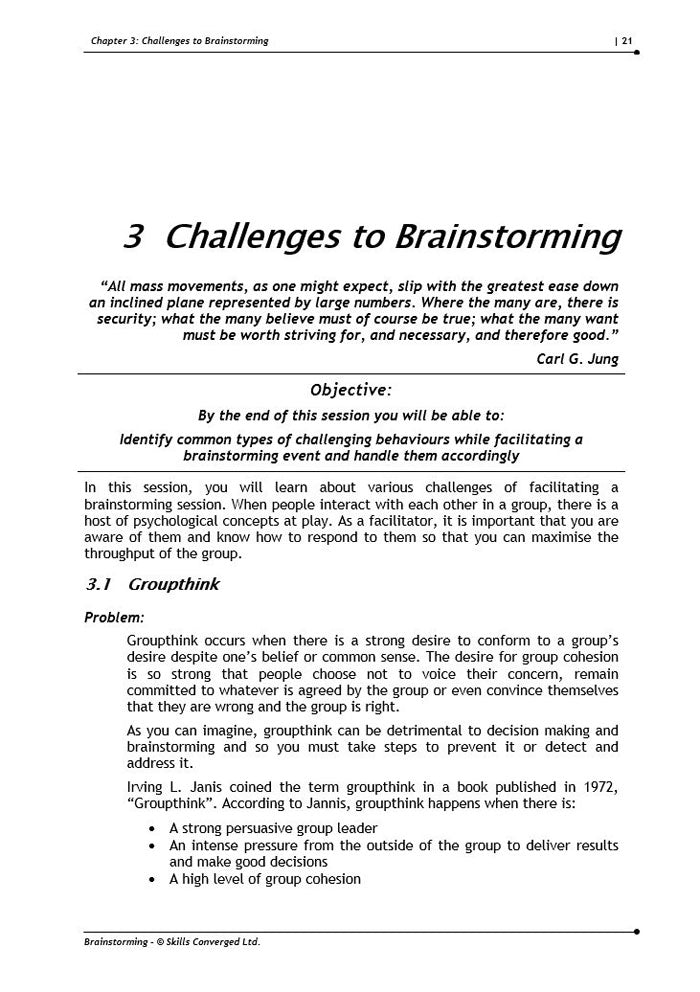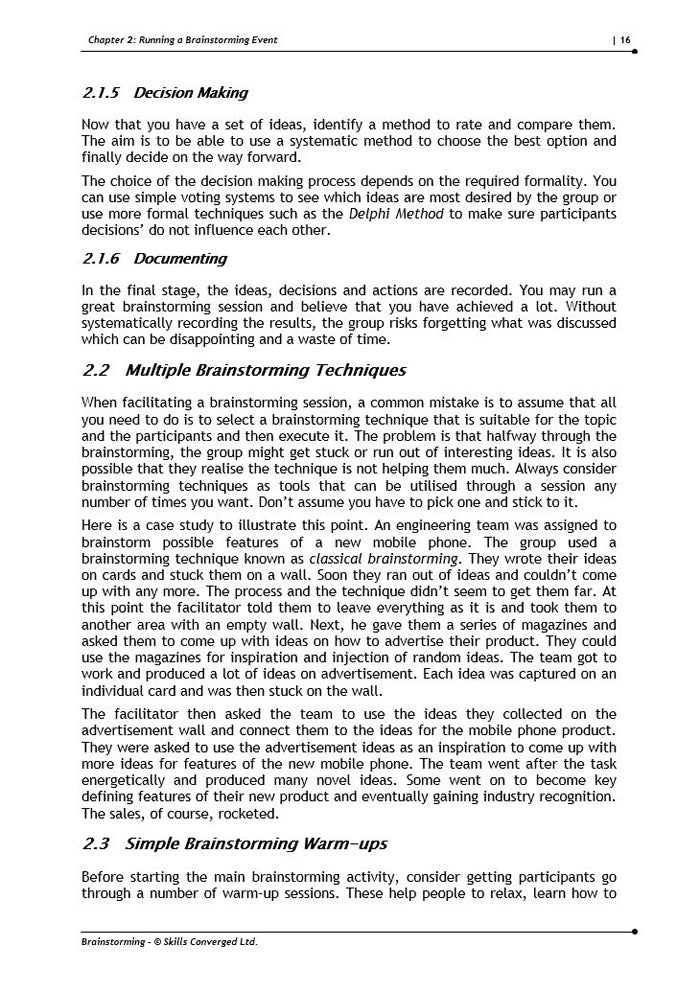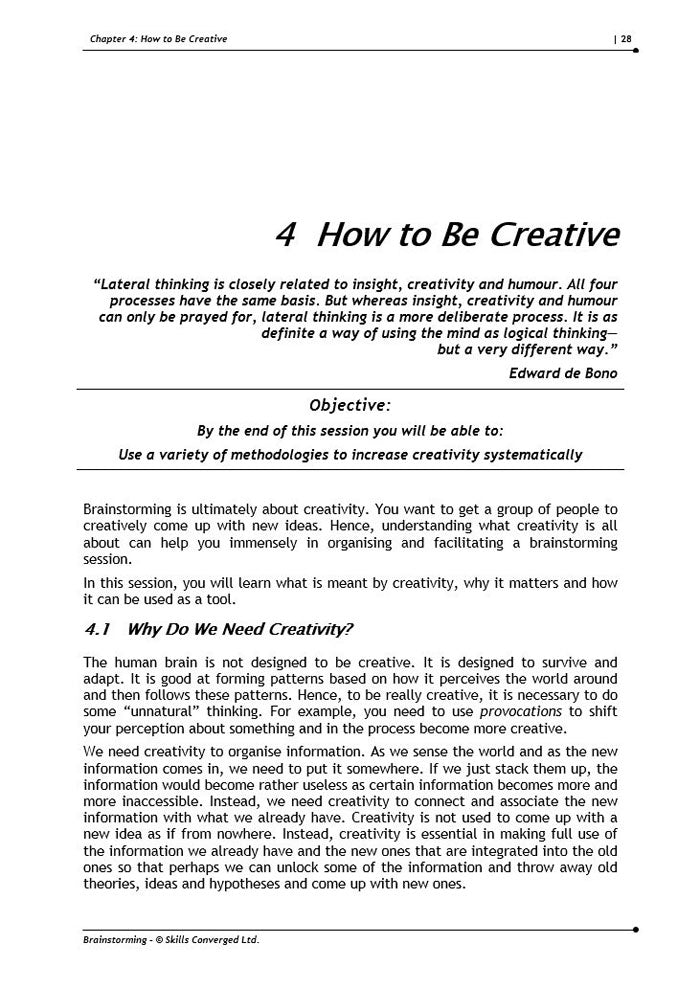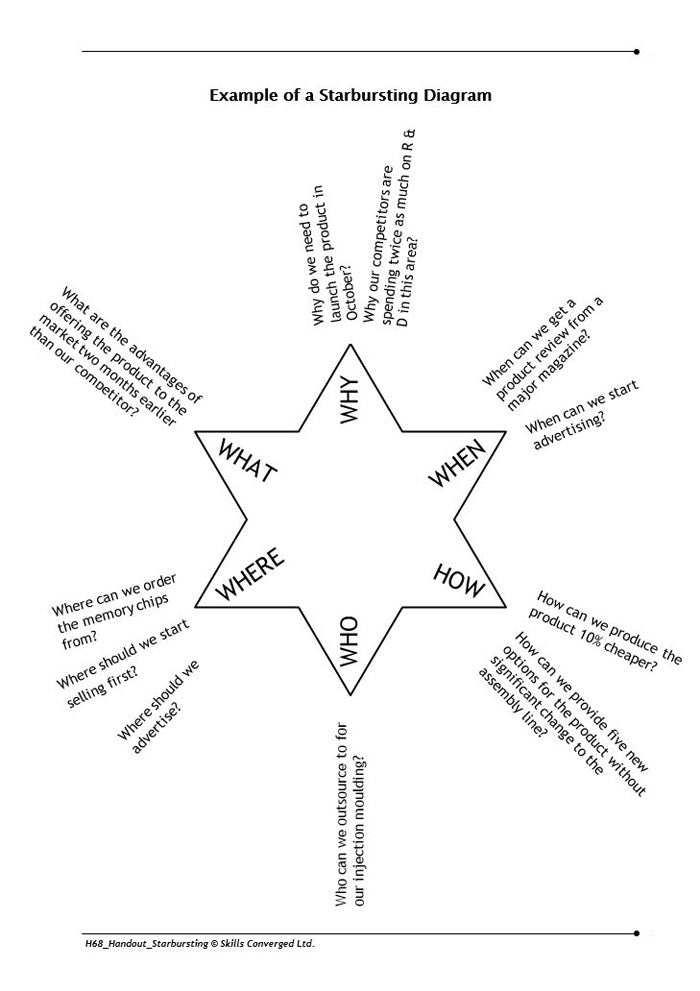 Brainstorming
---
---
Course on How to Facilitate a Brainstorming Session and Help a Group to Think Creatively Using Systematic Techniques
Fully Customisable Training Course Material
Description
"It is better to have enough ideas for some of them to be wrong, than to be always right by having no ideas at all."

 

Have you ever arranged for a team to attend a problem solving meeting or to come up with new ideas? What did you think of these sessions? Did it prove to be a waste of time? Were people frustrated that they could not express themselves? Did some people dominate the meeting with their ideas and personalities? Did you feel that the group had the potential to achieve a lot more, yet the meeting was highly unproductive because it had no structure? Ever wondered what you could do to systematically improve such meetings? This course aims to address that. It is applicable to all businesses and is ideal for anyone who wants to run a successful brainstorming session and get results.
The future belongs to the creative mind and those teams that can master the skill of creativity and come up with more interesting ideas in a given time are bound to be more successful than others. Fortunately, team creativity is a process. The right brainstorming techniques can significantly help to boost a team's creative output.
Delegates will learn about best practice guidelines on running brainstorming events and how to go through the main six stages. They will learn about facilitation skills, idea generation and evaluation, prioritisation and decision making. Delegates will also learn about handling challenges and issues that are commonly observed when a diverse group of people want to work together to solve problems or come up with new ideas. The nature of creativity is explored in this course and it also includes details on specific tools used by the creative industry to help with brainstorming.
This package contains more than 20 brainstorming techniques provided as separate handouts. Delegates get to go through these techniques in simulated exercises to learn how to conduct them.
The main focus of this course is on brainstorming though ideally you should also consider the companion course Facilitation Skills to train delegates further on this skill.
In this highly practical course delegates will learn:
What is Brainstorming?
What leads to creativity?
What are best practice guidelines when running a brainstorming session?
What is deliberate creativity?
Running a Brainstorming Event
What are the six stages of a typical brainstorming session?
How to warm-up participants before the main brainstorming event to fire up their creativity?
What are various styles of thinking and how can this affect a brainstorming session?
Challenges to Brainstorming
How can participants be challenging to the process of brainstorming?
What strategies would help to handle such challenging behaviours?
What is groupthink and how would you address it?
How can you minimise negativity or being judged?
How to Be Creative
Are you born creative?
Can you learn creativity like a skill?
What is lateral thinking?
How can you become an idea machine?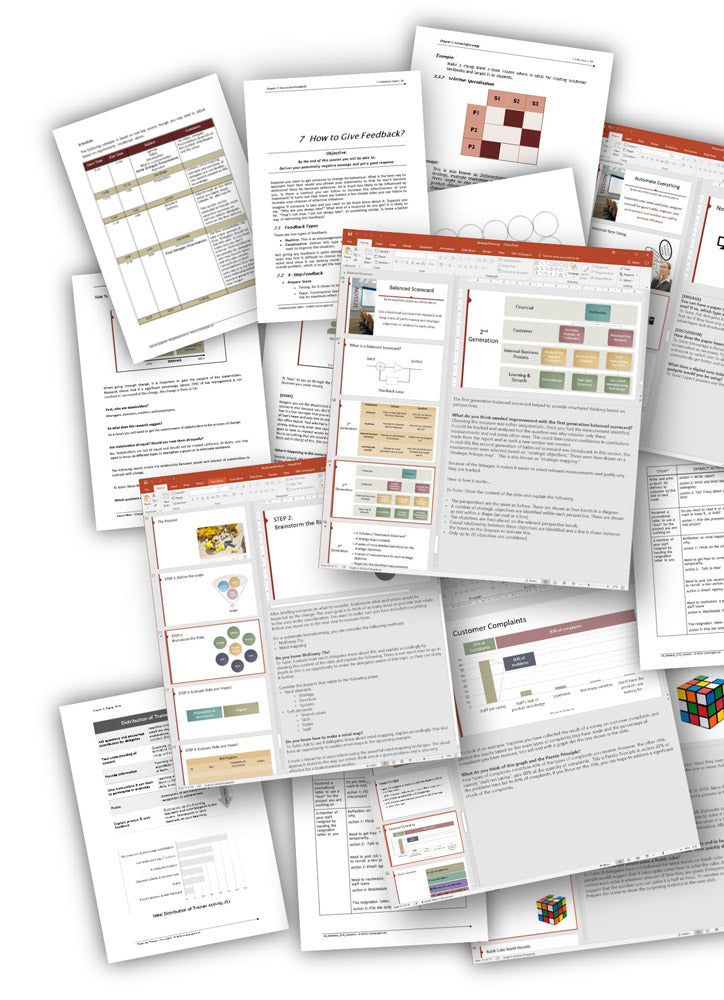 What Is Included
Everything you need to run the course:
Slides
Workbook
Exercises
Handouts
Trainer Notes
Specific Course Guidelines
Agenda
Guidelines on Training Methodology
Course Outline
Recommended Readings
Feedback Forms
Certificate of Achievement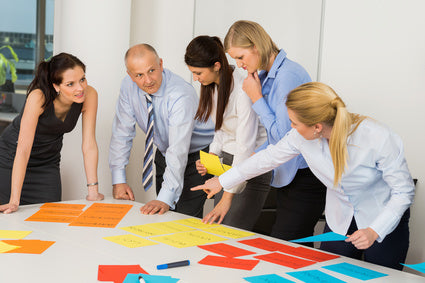 Course Objectives
By the end of this course delegates will be able to:
Courseware Features
Buy & Download Training Materials
Choose your training materials
Add to shopping cart
Get multiple courses to get discounts and create tailored training
Pay using all major debit / credit cards, PayPal, Apple Pay and Google Pay.
After payment processing, you are redirected to a download page
You will also receive emails with download links
Unzip the package and access all the training resources in MS Office format
How to Get Training Packages
Editting
You can customise, edit and modify the content as you desire
Rights
Unlimited workbook reprinting rights
Comprehensive
The downloadable training package contains all you need to deliver a course
Extensively Researched
Designed based on the latest research in educational psychology, cognitive psychology, social sciences and business practices
Facilitation Training
Designed in line with the principles of accelerated learning

Interactive
Designed to include many examples, case studies and exercises to improve learning and retention
Download
Order online and download immediately after purchase
Source Files
Receive editable source files in MS Office 365 (Word DOC/DOCX and Power Point PPT/PPTX) and previous Office versions 2003, 2007, 2010, 2013 & 2016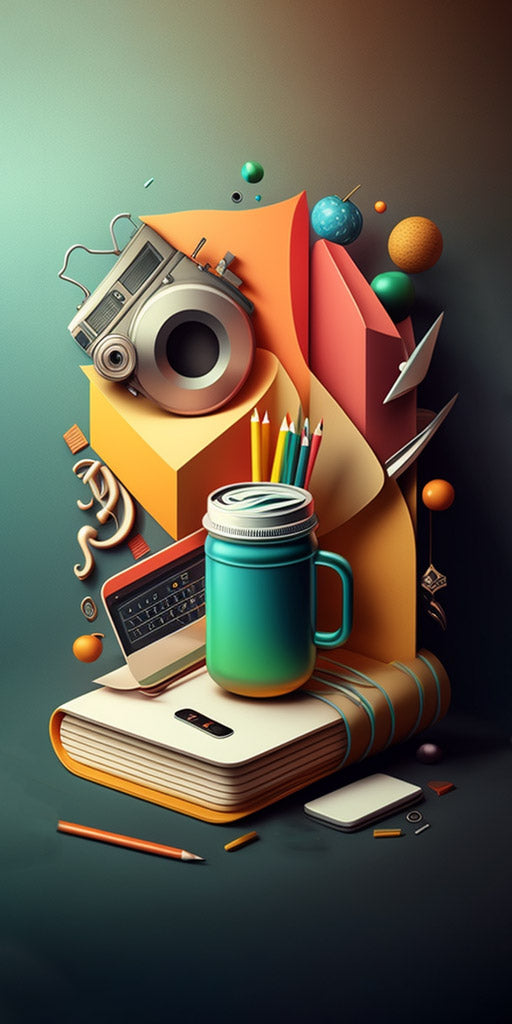 About the Design Philosophy of Brainstorming Course
100+ Countries
Used by Trainers Worldwide
Our mission is to help you deliver memorable courses with long lasting results, while taking the least amount of effort and time to run.
Save Time & Boost Training
Skills Converged is a unique company that provides professionally designed fully-customisable training course materials based on the latest research in learning & development. Courses are designed with attention to detail both on content and style so that you can deliver unique state-of-the-art courses to your clients and get maximum results.
For Trainers
Use ready-made modular courseware, tailor to your audience, respond to market quickly & effortlessly
For People Developers
Increase HR efficiency and save by supplying consistent professionally designed training materials to your trainers and help employees reach full potential