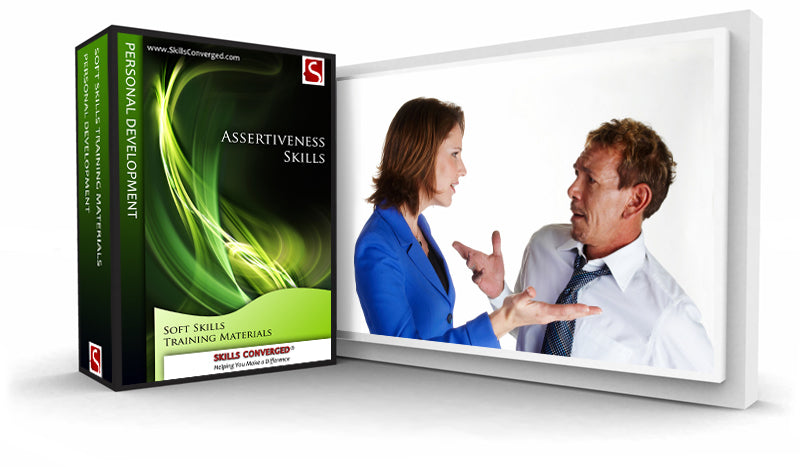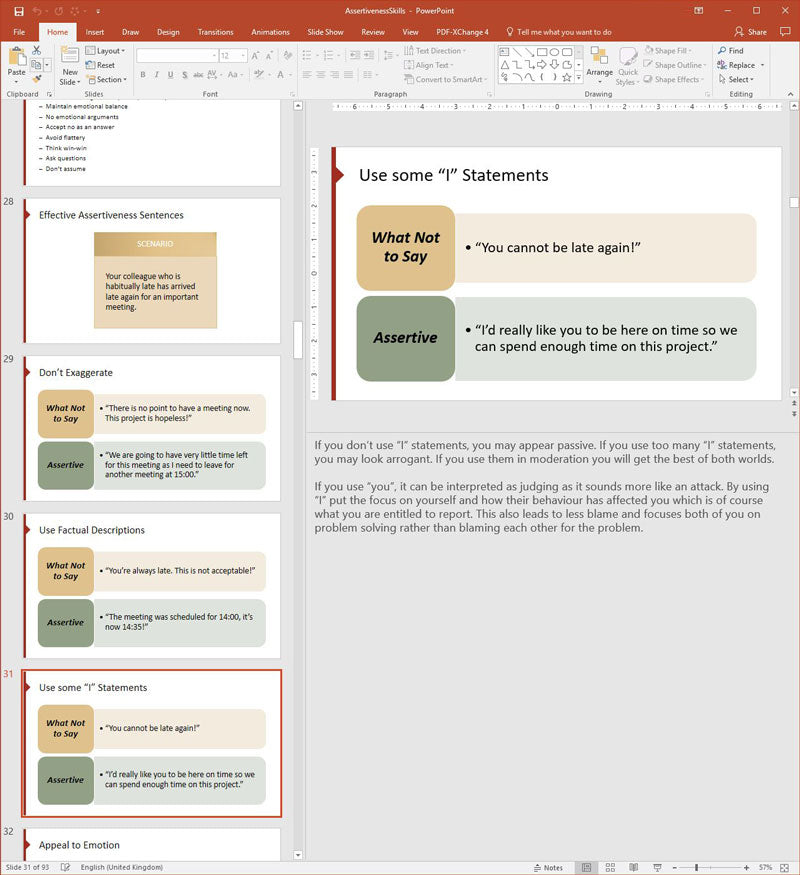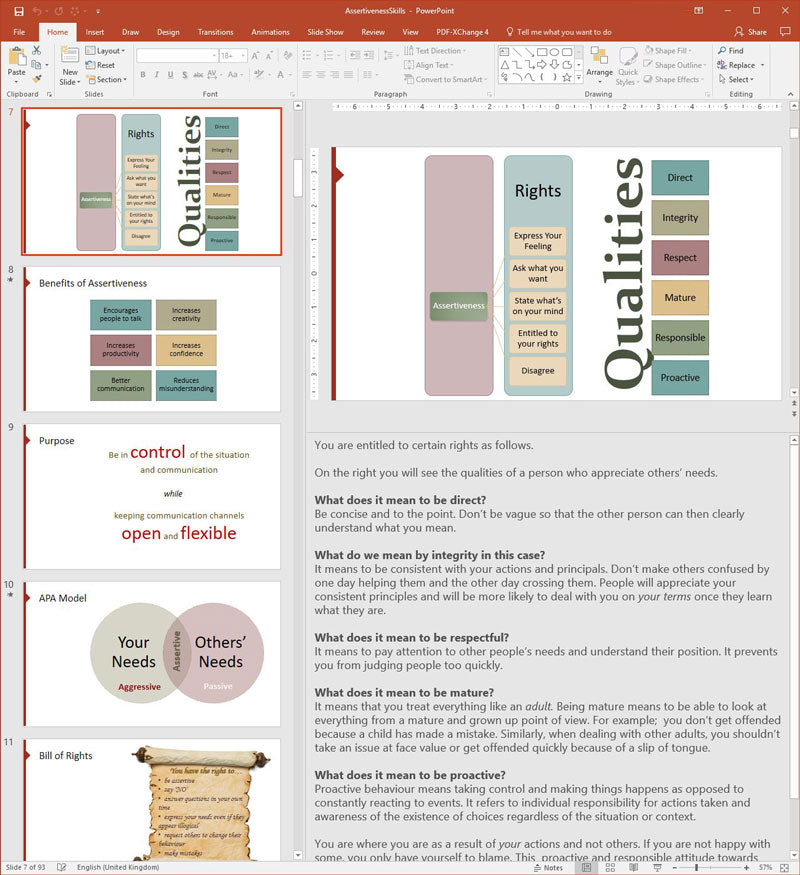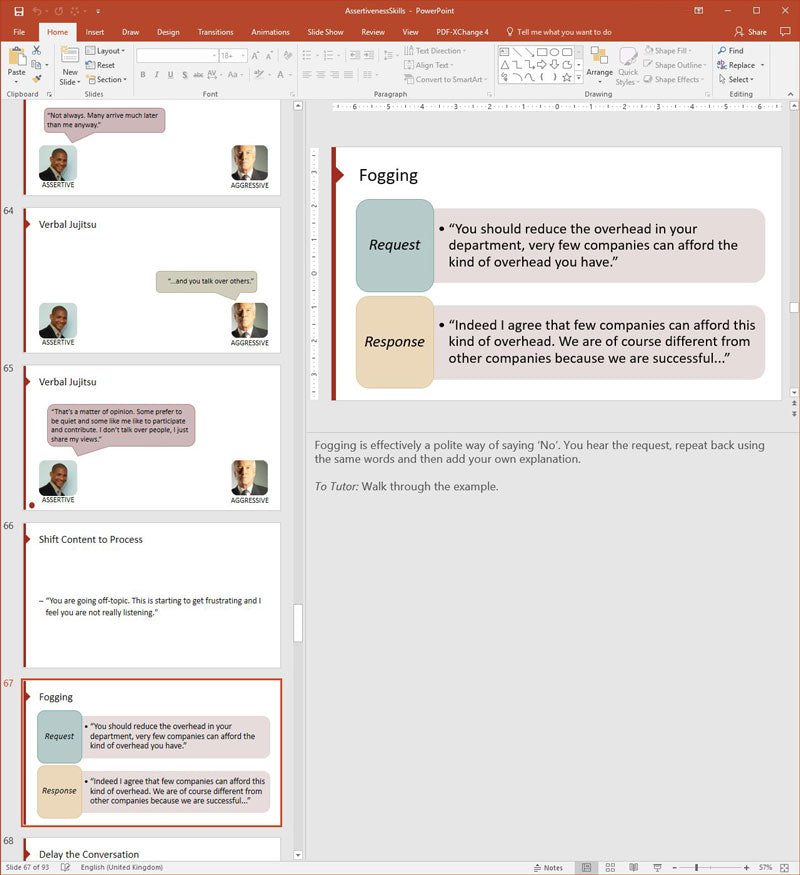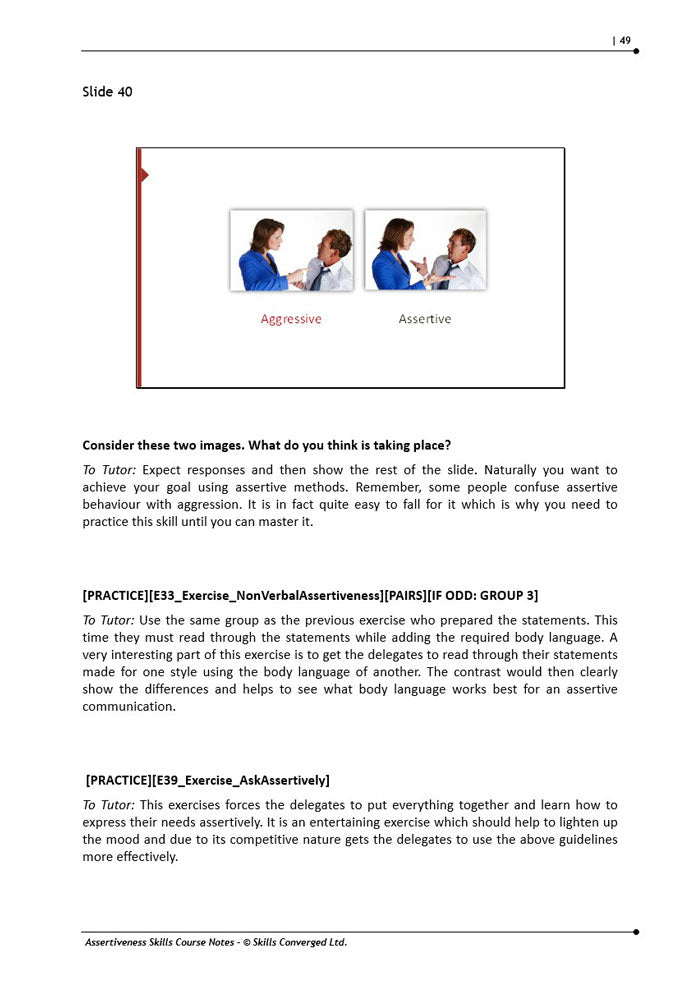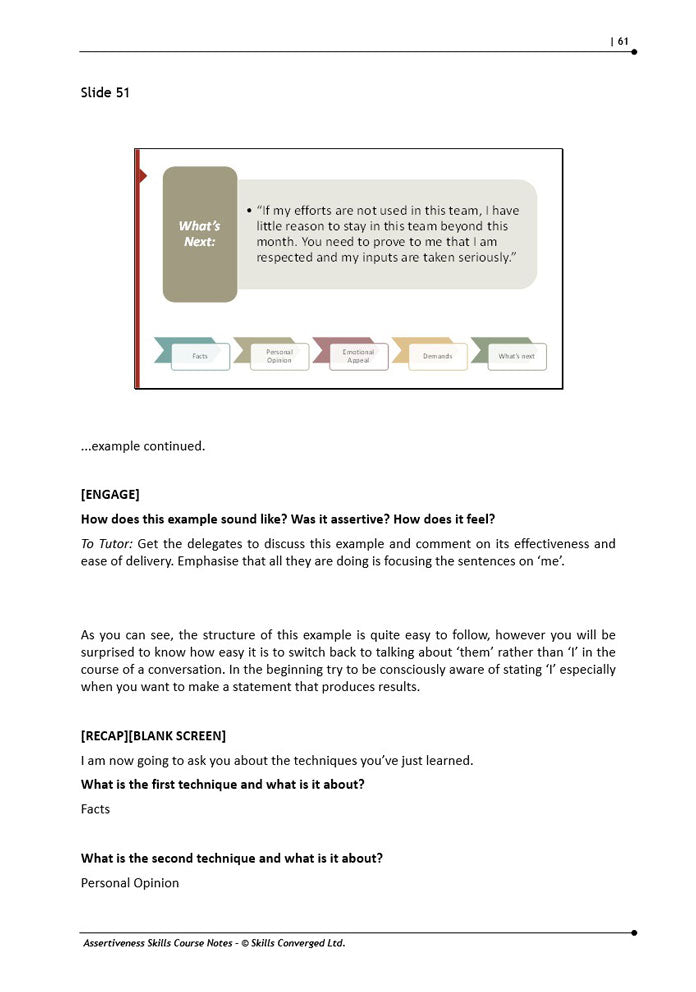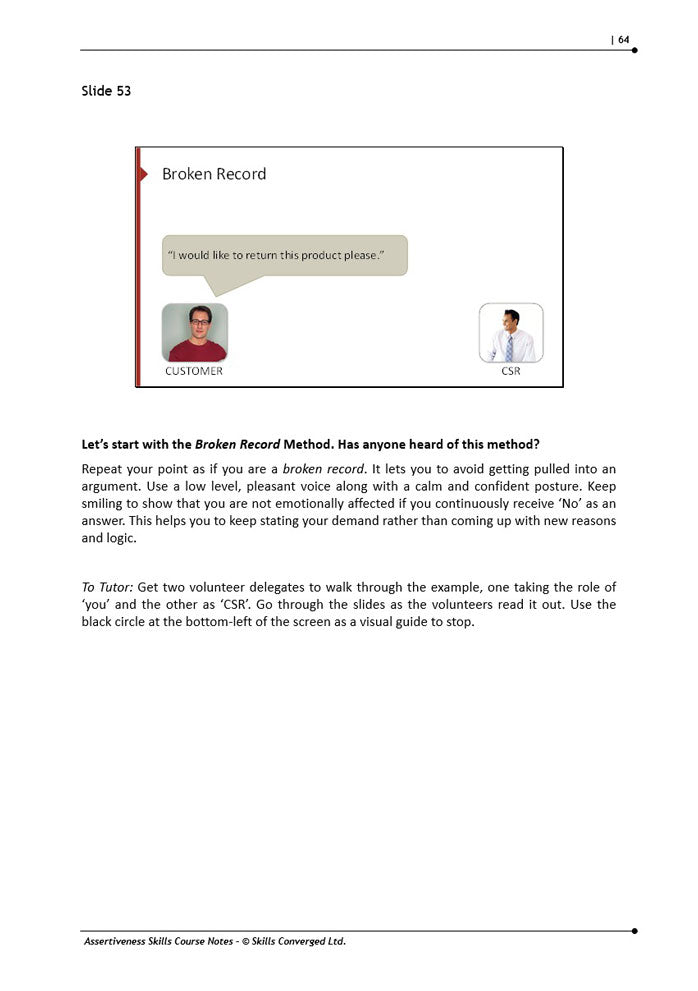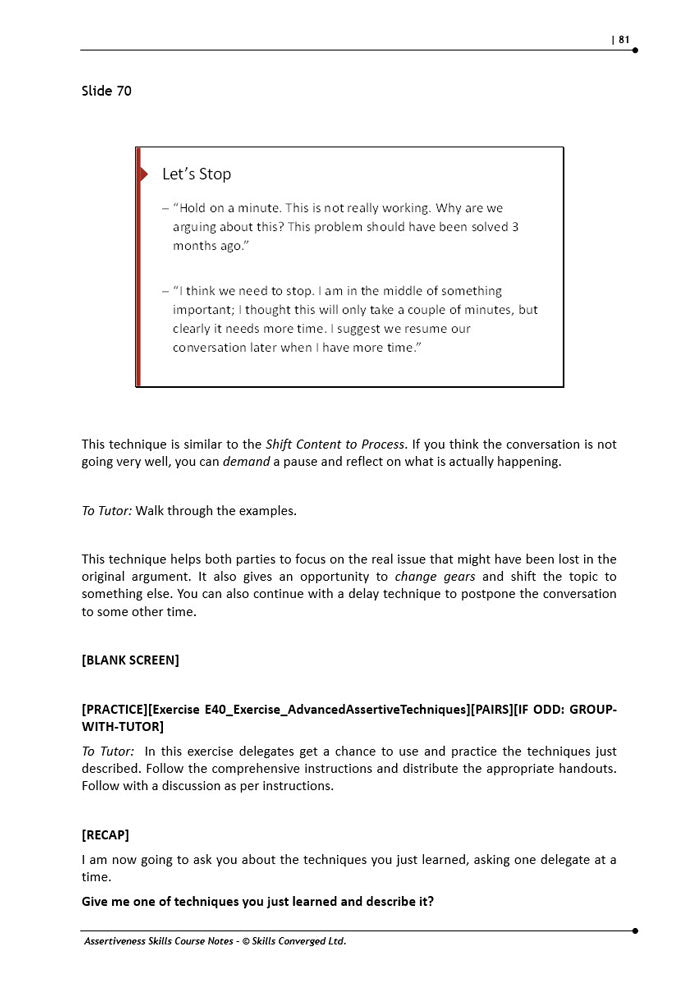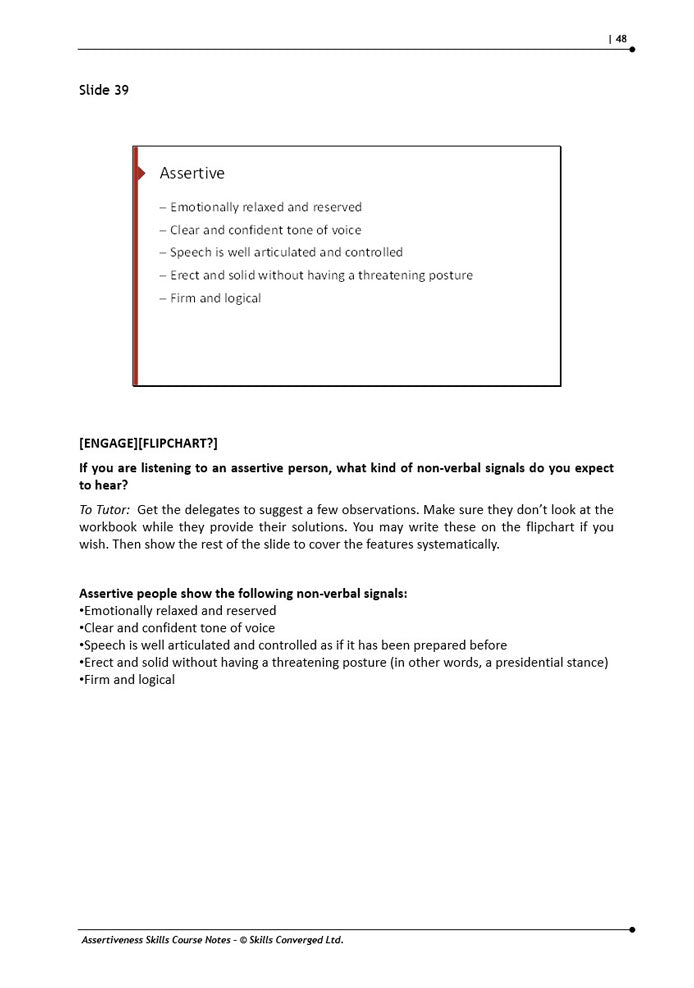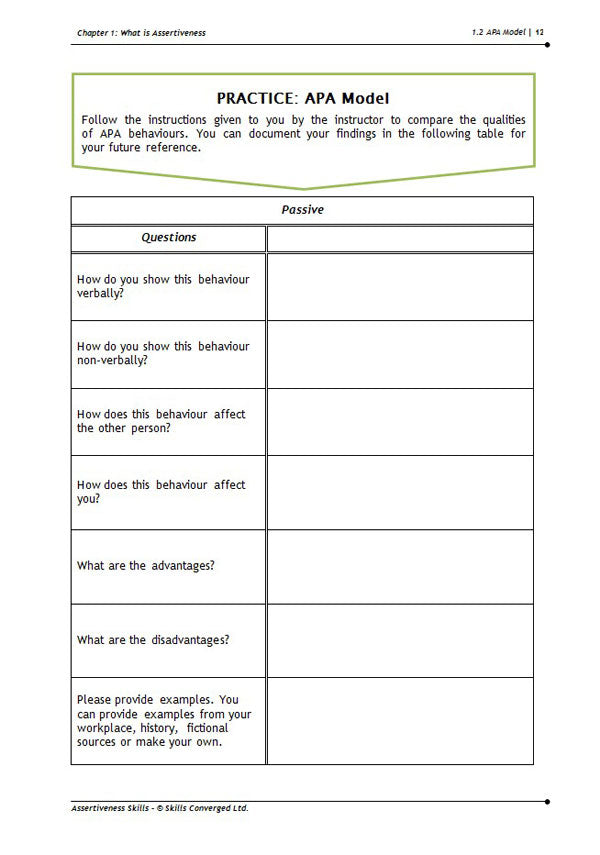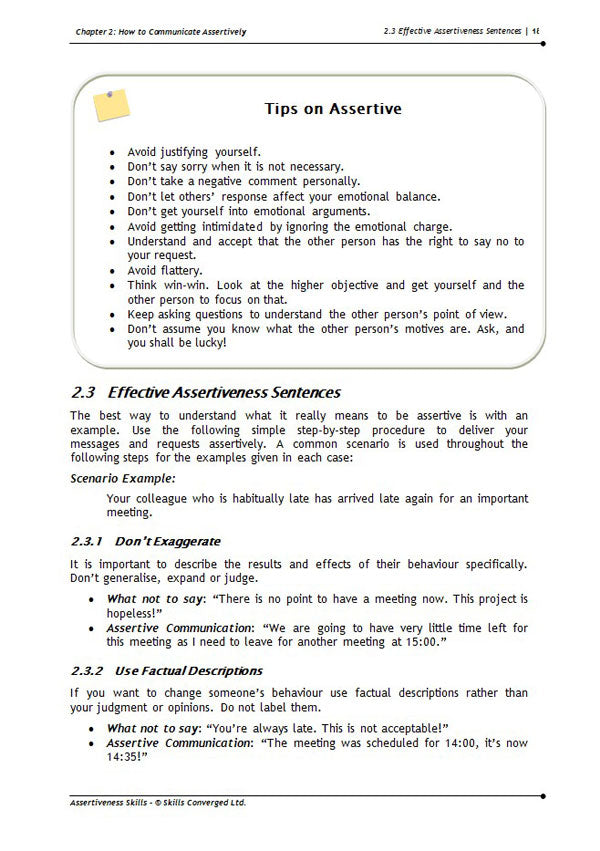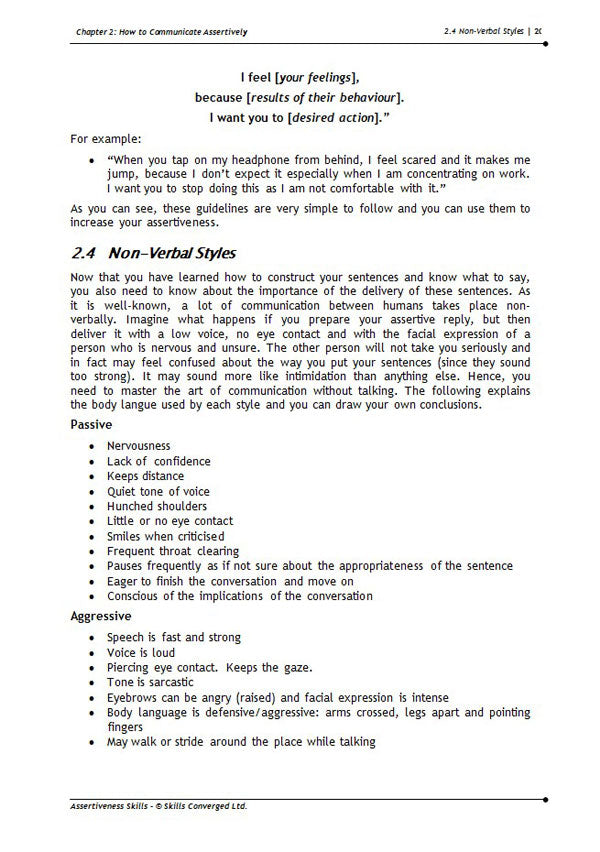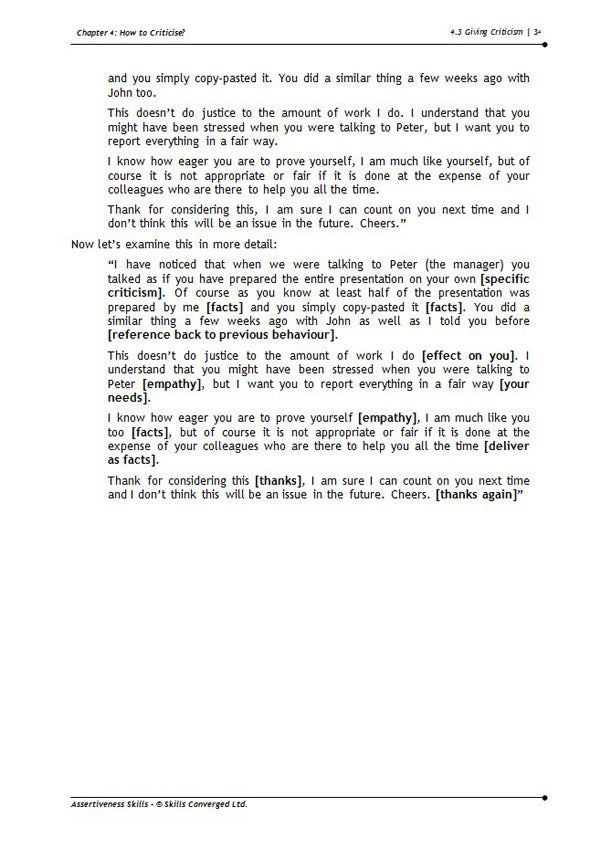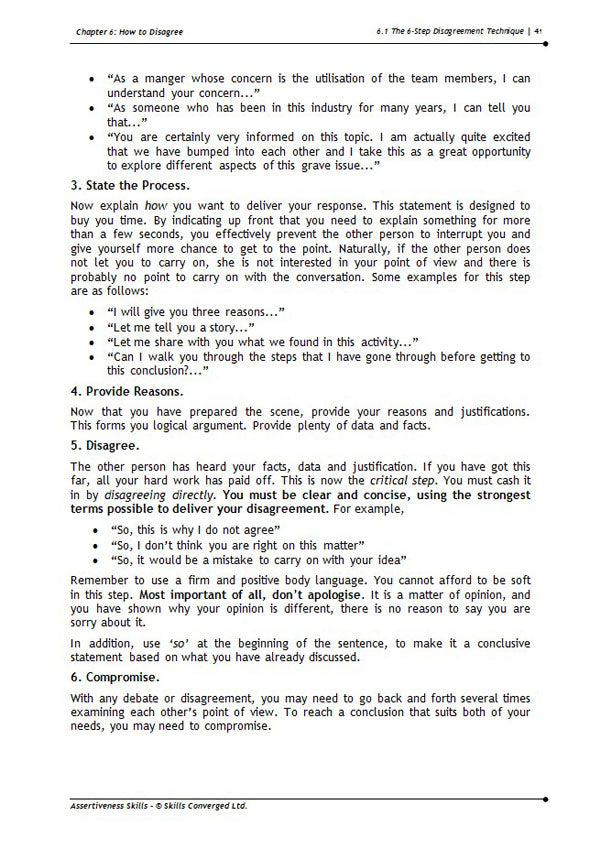 Assertiveness Skills
---
---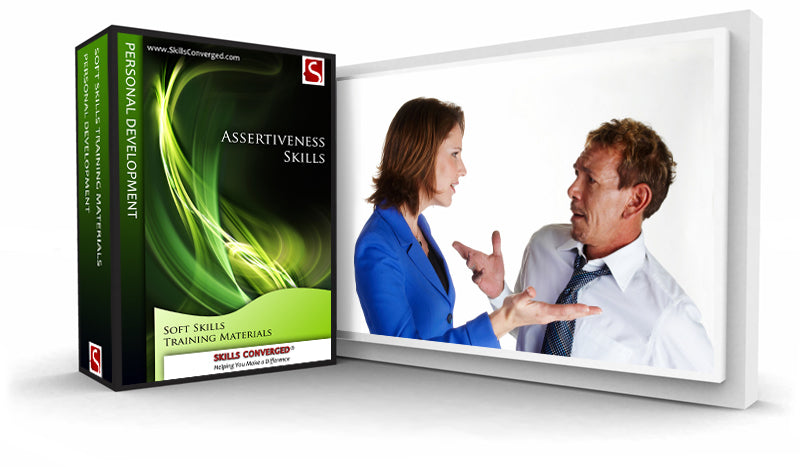 Includes Practice Sessions, Recommended Readings and Detailed Exercises
Fully Customisable Training Course Material
Description
"We are injured and hurt emotionally, not so much by other people or what they say and don't say, but by our own attitude and our own response."

Maxwell Maltz
Have you ever felt intimidated by others? How many times have you told yourself that you could have done better when handling a conversation only to repeat the same mistakes again? Do you like to stay out of conflicts and keep to yourself? Do people take advantage of you?
This course is for anyone whose answers to these questions are "yes". Delegates will learn how to boost their confidence and express themselves assertively. Handling other people, whether they are aggressive or passive, is something we all need to do no matter what we do in our jobs and doing it well consistently requires a skill. This course helps delegates to master this skill.
Assertive staff are extremely lucrative to companies because they can express themselves freely, get things done, don't take no for an answer (which is useful when dealing with clients) while at the same time appear polite, professional and fair.
This course contains many practical, step-by step guidelines on how to approach others and construct sentences to get maximum results. Delegates will learn about the right attitudes, body language, styles of communication and psychology behind manners such as passive-aggressive behaviour. Delegates also learn how to stay in control and project that feeling into others as well.
The best approach to master assertive techniques is to go through case studies, participate in practical exercises and keep repeatedly performing the skill until it is completely memorised. This approach which is used in this course allows the delegates to learn the content fully during the course and leave the course knowing that they can confidently address real-world challenges as they appear.
Ability to Extend the Course to 2 Days
Optional content and exercises are provided which you can use to extend the course to more than 1 day. Guidelines on this extension are provided in the package. If you run the course for more than one day, an exercises included in the course allows you give homework to delegates which you can subsequently use the next day to see how well delegates have learned the skills discussed in the course.
In this highly practical course you will learn:
What Is Assertiveness?
How does assertiveness differ from aggressive or passive behaviour?
What are examples of assertive behaviour?
How to avoid appearing aggressive, when you want to be assertive
What is passive-aggressive behaviour and how to deal with it?
How to Criticise?
What kinds of criticisms are good and what kinds are bad?
How different types of people react to criticism?
How to criticise and change someone's behaviour
How to receive criticism
How to use a step-by-step approach to give constructive feedback
How to Deal with Emotions?
How to appeal to emotions to get maximum effect
How to present your view systematically and assertively
How to take advantage of body language to say and get what you want
How to distinguish between different behaviours using non-verbal communications
How to Request?
How to ask for what you want
How to construct your sentences to get your message across confidently
How to use a number of advanced techniques to respond to someone when your request is not registered
How to Praise?
What does praising do?
Why praising is difficult?
How to deliver your praise to get maximum results
How to Disagree?
How to express your disagreement and stay friends
What is the 6-step disagreement technique?
How to say No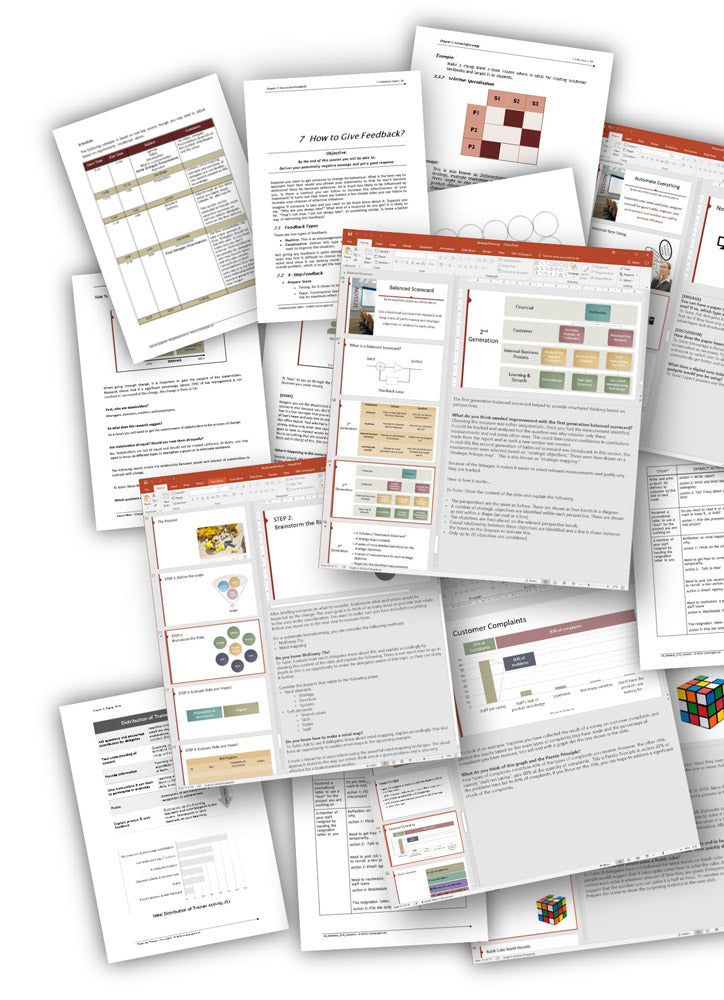 What Is Included
Everything you need to run the course:
Slides
Workbook
Exercises
Handouts
Trainer Notes
Specific Course Guidelines
Agenda
Guidelines on Training Methodology
Course Outline
Recommended Readings
Feedback Forms
Certificate of Achievement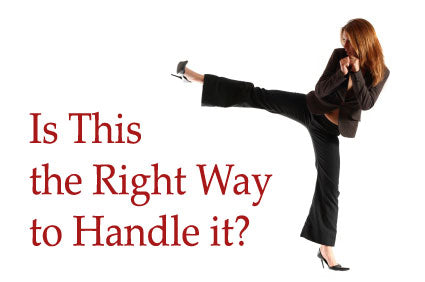 Course Objectives
By the end of this course delegates will be able to:
Courseware Features
Buy & Download Training Materials
Choose your training materials
Add to shopping cart
Get multiple courses to get discounts and create tailored training
Pay using all major debit / credit cards, PayPal, Apple Pay and Google Pay.
After payment processing, you are redirected to a download page
You will also receive emails with download links
Unzip the package and access all the training resources in MS Office format
How to Get Training Packages
Editting
You can customise, edit and modify the content as you desire
Rights
Unlimited workbook reprinting rights
Comprehensive
The downloadable training package contains all you need to deliver a course
Extensively Researched
Designed based on the latest research in educational psychology, cognitive psychology, social sciences and business practices
Facilitation Training
Designed in line with the principles of accelerated learning

Interactive
Designed to include many examples, case studies and exercises to improve learning and retention
Download
Order online and download immediately after purchase
Source Files
Receive editable source files in MS Office 365 (Word DOC/DOCX and Power Point PPT/PPTX) and previous Office versions 2003, 2007, 2010, 2013 & 2016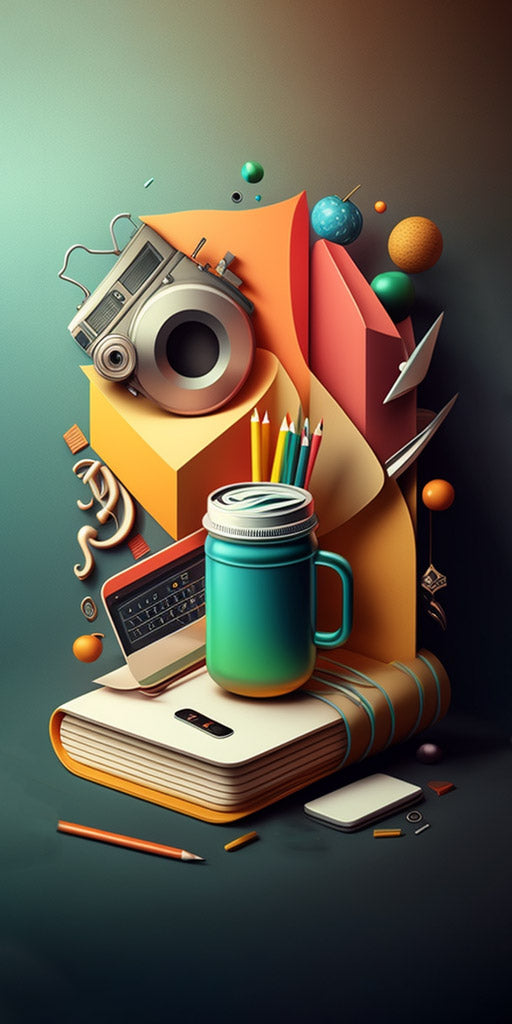 About the Design Philosophy of Assertiveness Skills Course
100+ Countries
Used by Trainers Worldwide
Our mission is to help you deliver memorable courses with long lasting results, while taking the least amount of effort and time to run.
Save Time & Boost Training
Skills Converged is a unique company that provides professionally designed fully-customisable training course materials based on the latest research in learning & development. Courses are designed with attention to detail both on content and style so that you can deliver unique state-of-the-art courses to your clients and get maximum results.
Testimonials for Assertiveness Skills
"Assertiveness Skill Course is absolutely fantastic product. Easy to use and simple and clear."
"The course content is excellent. Very easy to follow workbooks and very clear PowerPoint presentations. Very useful and easy to follow courses."

Stuart Pybus, Crucible Learning and Development, UK
More about our customers and what they think of our products
For Trainers
Use ready-made modular courseware, tailor to your audience, respond to market quickly & effortlessly
For People Developers
Increase HR efficiency and save by supplying consistent professionally designed training materials to your trainers and help employees reach full potential