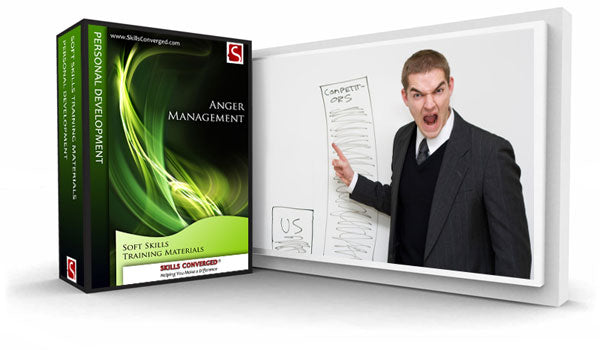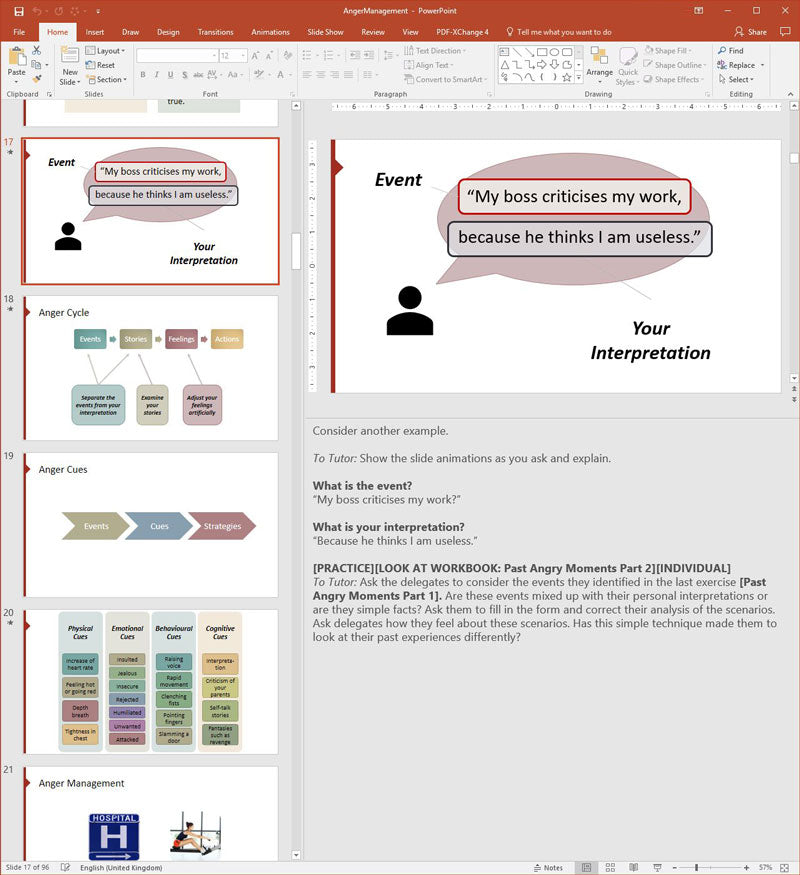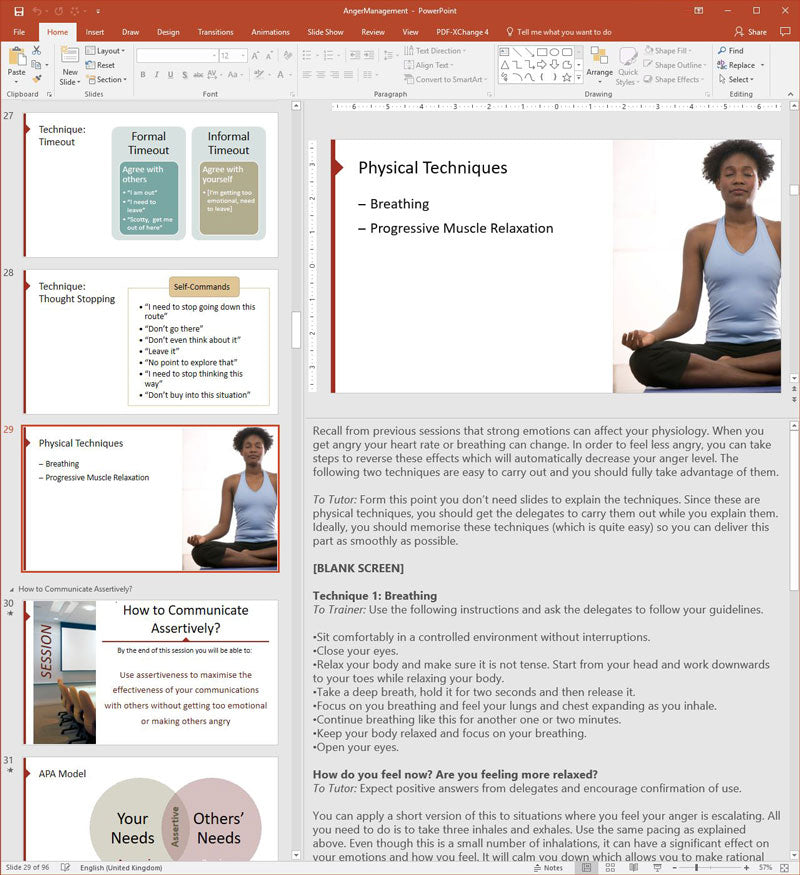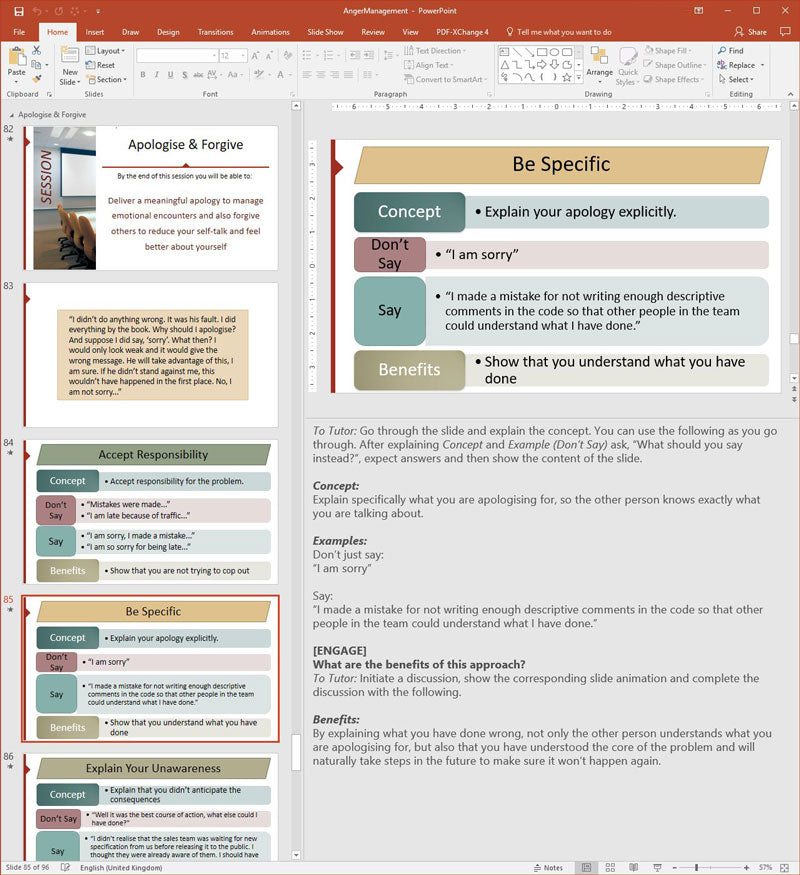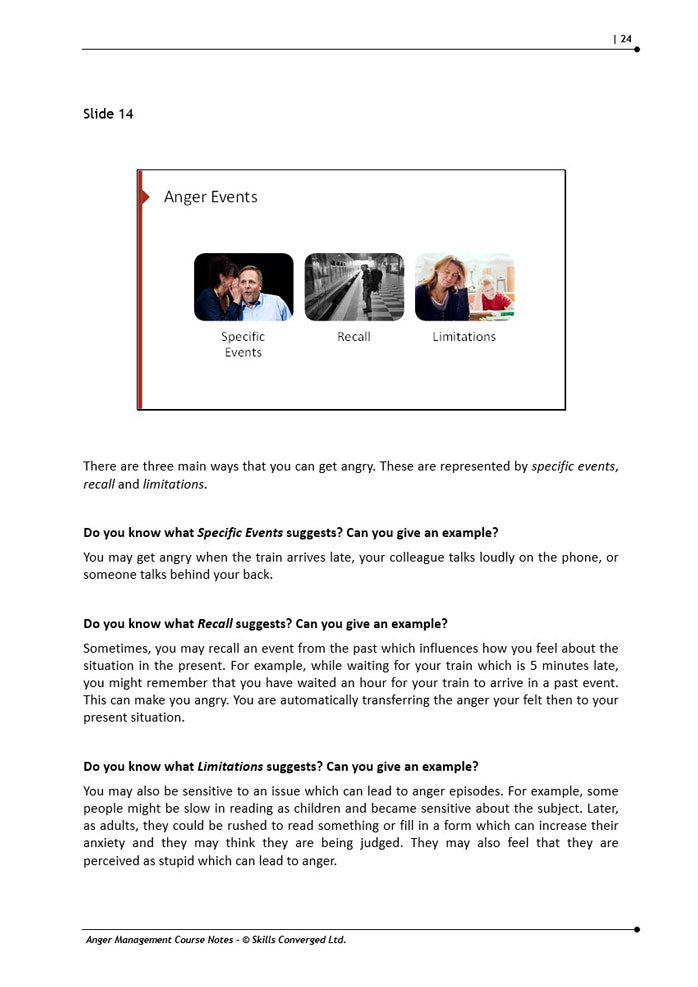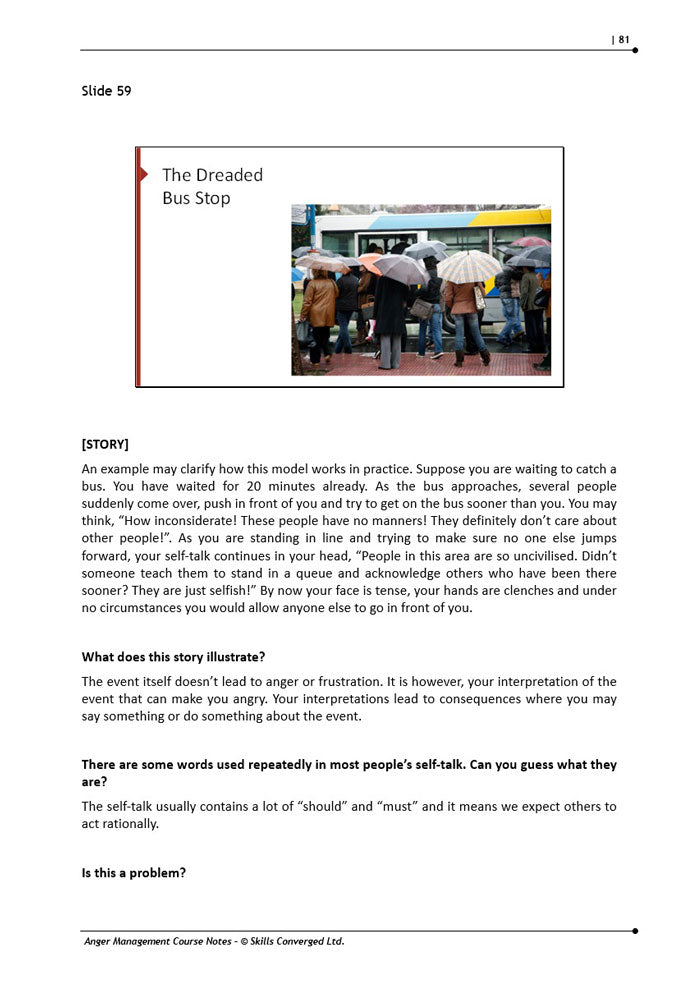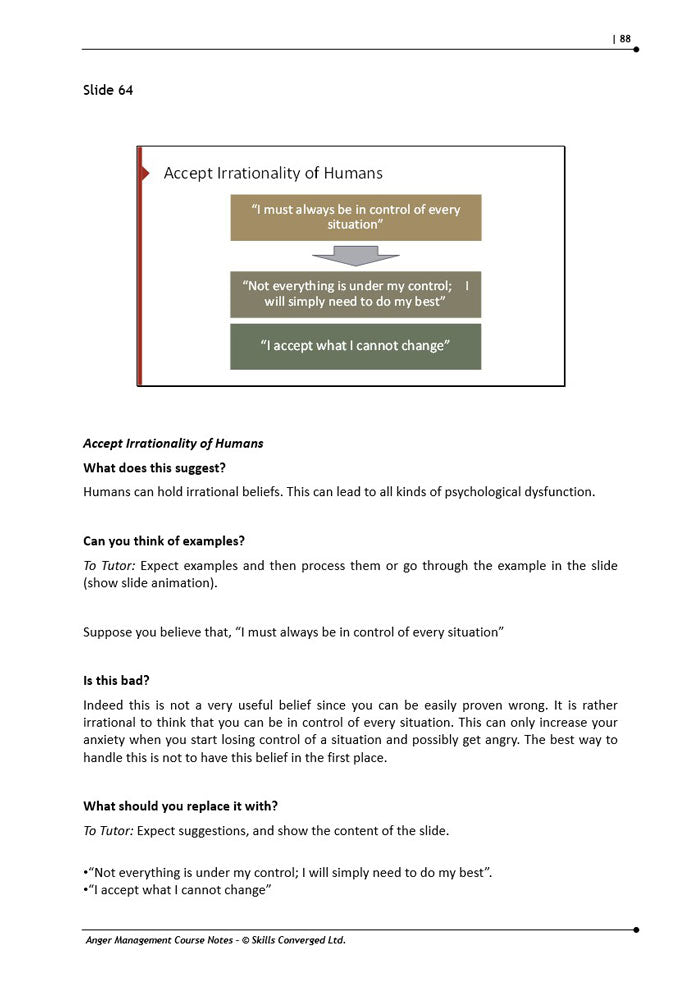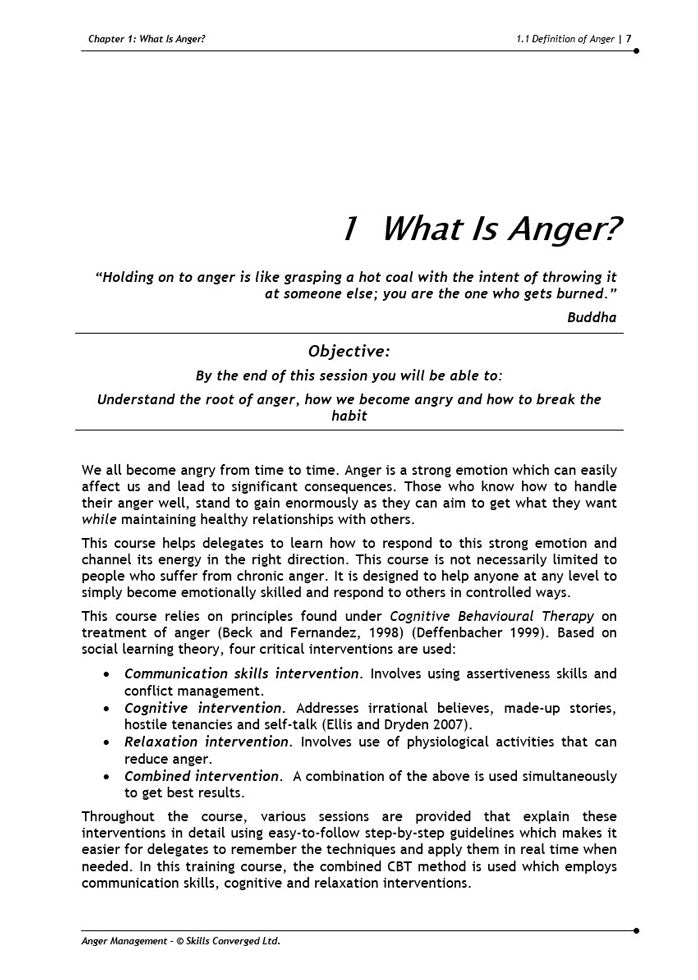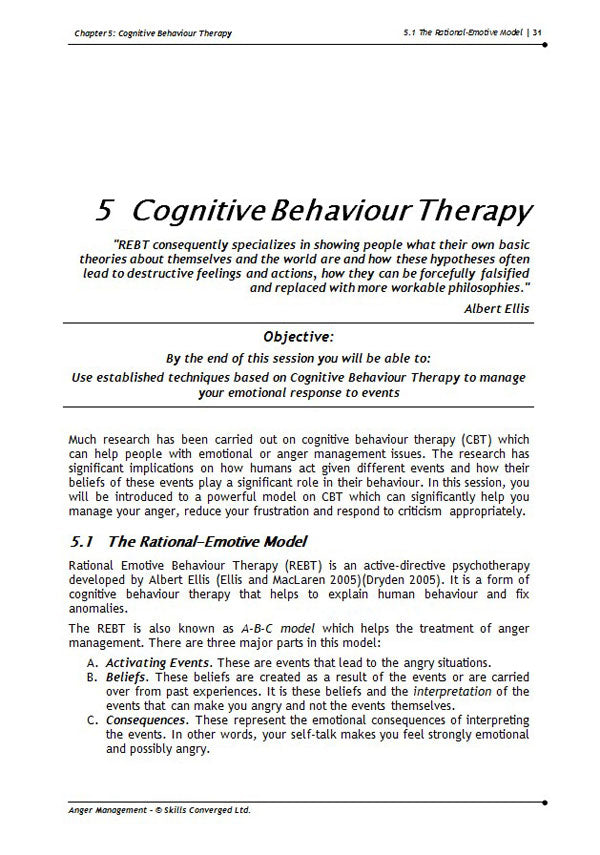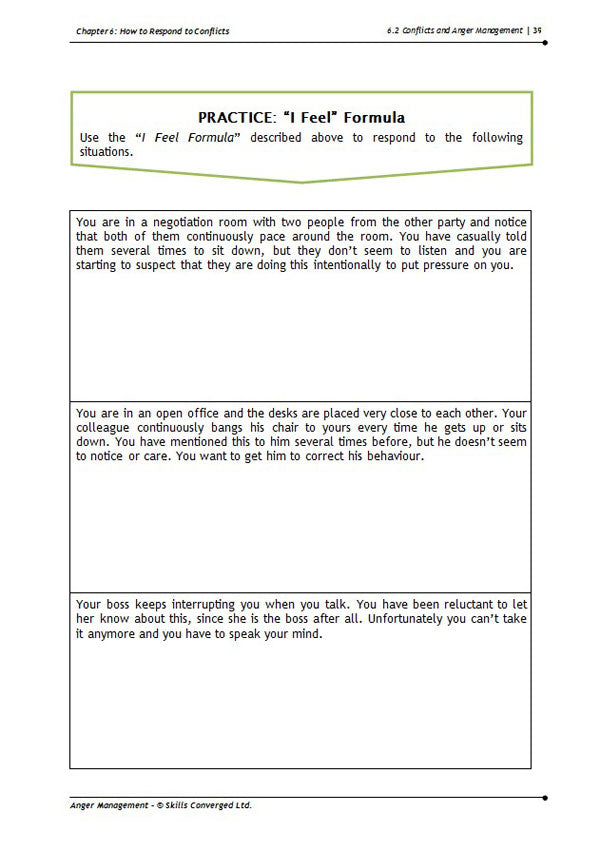 Anger Management
---
---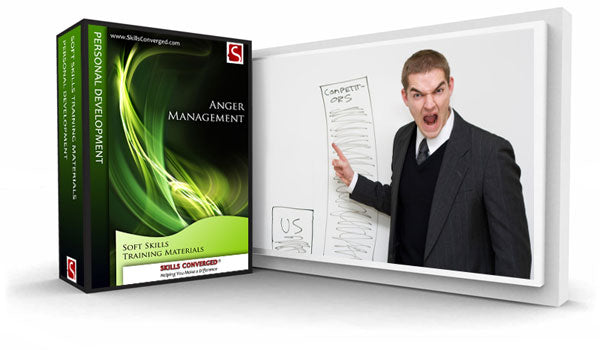 Course on How to Communicate With Others While Staying in Control of Your Emotions
Fully Customisable Training Course Material
Description
"The best years of your life are the ones in which you decide your problems are your own. You do not blame them on your mother, the ecology, or the president. You realize that you control your own destiny."

Albert Ellis
From time to time we get angry. We can be offended by people's words, behaviour or attitude and feel anger and resentment. The way we react to the feeling of anger, how we control our emotions and our communications skills are essential in managing our angry and frustrated emotions. Those people who can control their emotions and express themselves in a controlled way stand to preserve their relationship with others or to build new ones more easily. In contrast, those who have a temper can explode at the drop of a hat and have significant difficulties to communicate with others. People keep their distance from such individuals and this in itself leads them to become more isolated and angry.
The majority of difficulties in anger control come from the lack of emotional skills and not knowing how to respond to challenges and confrontations. The solution is not to stop getting angry, but to learn how to control the response and use assertive communication.
This course aims to provide several established techniques that are suitable for different kinds of delegates. The course can be offered to people who need to learn how to control their temper when they find themselves challenged or in conflicts. It is also useful for people who might suffer from repetitive expressions of anger who can systematically address their behaviour using the techniques provided in this course.
Participants learn to use Cognitive Behaviour Therapy to manage thier Self-Talk and understand the root cause of anger
This course takes advantage of Cognitive Behaviour Therapy (CBT) and provides valuable techniques to manage self-talk and help people understand the root cause of anger.
The course is provided in 8 distinct sessions that can be easily delivered across multiple days if necessary (guidelines are provided in the course notes). This way, techniques thought in the course can be applied to real world scenarios and the tutor can provide feedback in the next session based on delegates' experiences and their use of these techniques. Each session contains theory as well as specific and tailored exercises that help the delegates practice what they just learned.
In this highly practical course delegates will learn:
Definition of Anger
Why do we become angry?
Is anger good?
How does anger affect your emotions?
What are the anger myths?
Aggression Cycle
What is the sequence of events leading to aggression or temper?
How can you take advantage of this sequence to deescalate your anger?
What are anger cues and how can you respond to them?
Controlling Anger
How can you stop getting angry?
What techniques can you use to increase the effectiveness of your communication with others?
What kinds of mental and physical techniques can help you to manage your temper or escalating emotional levels?
Assertive Communication
What is assertiveness?
How to present your view systematically and assertively
How does assertiveness differ from aggressive or passive behaviour?
How can assertive communication help you to control your emotional balance?
How can you appeal to emotions to deliver your true meaning and get results?
Cognitive Behaviour Therapy
How can Cognitive Behaviour Therapy (CBT) help you manage your anger?
How can you prevent self-defeatism and irrational self-talk?
What are the fundamental beliefs that can help you to strengthen your relationships with others?
Responding to Conflicts
How can you handle emotional conflicts?
How to use a simple formula to quickly respond to potentially annoying situations without offending or feeling overtly emotional about the conflict
Managing Confrontations
How to use a powerful 5-step technique to handle confrontations and respond to events to get best results
How to hold your emotional balance and show that you are in control when confronted with others
Apologising & Forgiveness
How to deliver an apology to get maximum benefit and significantly reduce the likelihood of emotional confrontations
How to use forgiveness to feel better about yourself and defuse charged situations
How apology and forgiveness impact your self-talk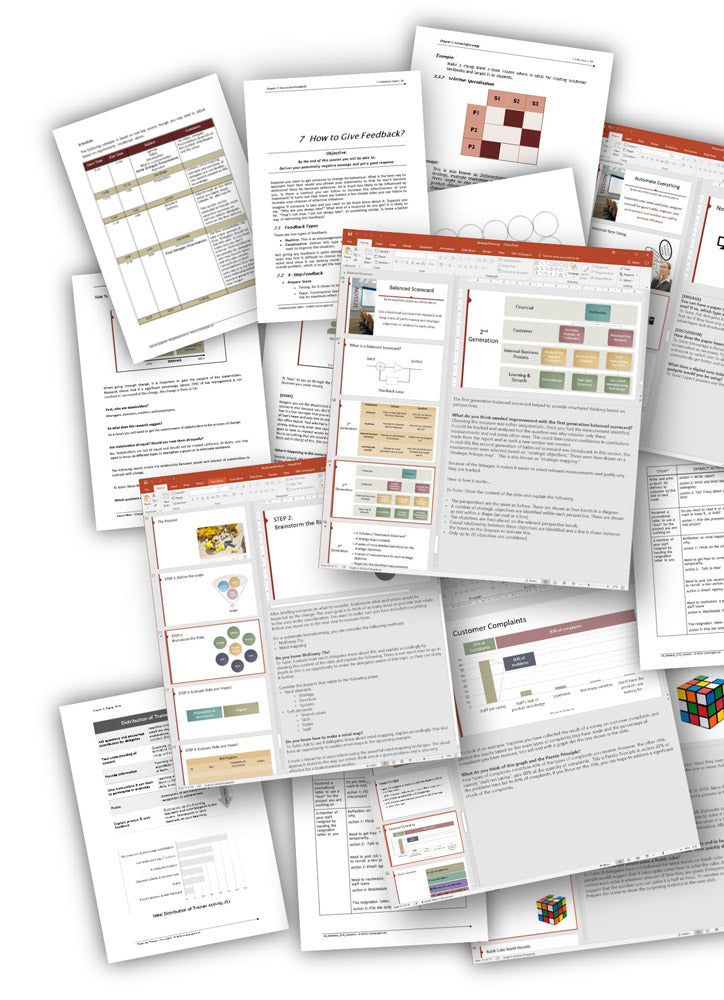 What Is Included
Everything you need to run the course:
Slides
Workbook
Exercises
Handouts
Trainer Notes
Specific Course Guidelines
Agenda
Guidelines on Training Methodology
Course Outline
Recommended Readings
Feedback Forms
Certificate of Achievement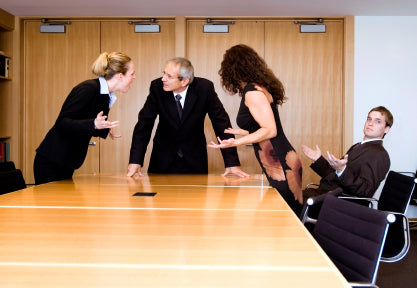 Course Objectives
By the end of this course delegates will be able to:
Courseware Features
Buy & Download Training Materials
Choose your training materials
Add to shopping cart
Get multiple courses to get discounts and create tailored training
Pay using all major debit / credit cards, PayPal, Apple Pay and Google Pay.
After payment processing, you are redirected to a download page
You will also receive emails with download links
Unzip the package and access all the training resources in MS Office format
How to Get Training Packages
Editting
You can customise, edit and modify the content as you desire
Rights
Unlimited workbook reprinting rights
Comprehensive
The downloadable training package contains all you need to deliver a course
Extensively Researched
Designed based on the latest research in educational psychology, cognitive psychology, social sciences and business practices
Facilitation Training
Designed in line with the principles of accelerated learning

Interactive
Designed to include many examples, case studies and exercises to improve learning and retention
Download
Order online and download immediately after purchase
Source Files
Receive editable source files in MS Office 365 (Word DOC/DOCX and Power Point PPT/PPTX) and previous Office versions 2003, 2007, 2010, 2013 & 2016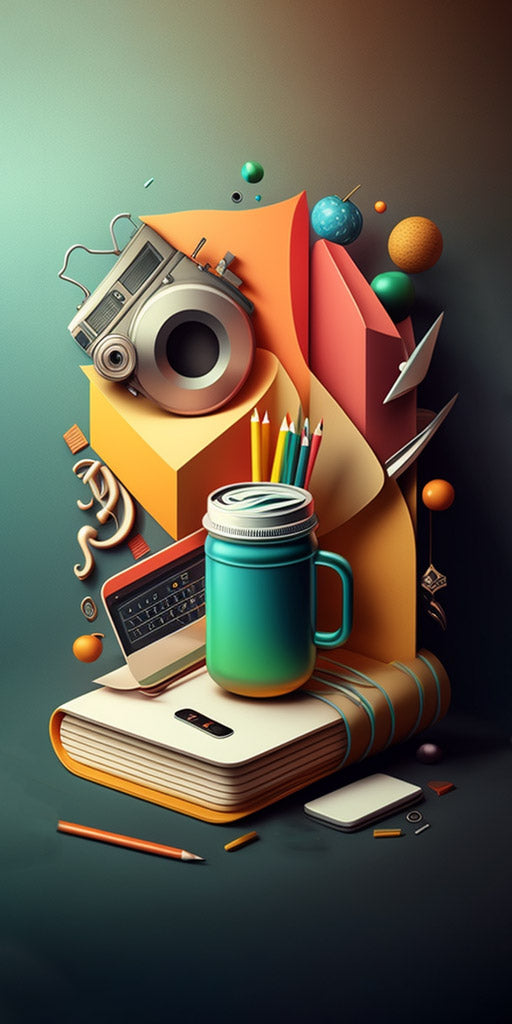 About the Design Philosophy of Anger Management Course
100+ Countries
Used by Trainers Worldwide
Our mission is to help you deliver memorable courses with long lasting results, while taking the least amount of effort and time to run.
Save Time & Boost Training
Skills Converged is a unique company that provides professionally designed fully-customisable training course materials based on the latest research in learning & development. Courses are designed with attention to detail both on content and style so that you can deliver unique state-of-the-art courses to your clients and get maximum results.
For Trainers
Use ready-made modular courseware, tailor to your audience, respond to market quickly & effortlessly
For People Developers
Increase HR efficiency and save by supplying consistent professionally designed training materials to your trainers and help employees reach full potential